When Carl B. from Middletown, NJ set out to use his vast skill set to build a 10-second turbocharged Stingray, even he didn't know for sure if his mesmerizing electronics knowledge (along with years of building turbocharged vehicles) would be enough to get the job done. After all, Carl's expertise lies mostly with 4-cylinder Mopar vehicles, and despite what the outcome may be, this build has proven to be one of the most inspiring installments of our DIY series.
As we wrap up this installment, if you missed any previous episodes for Carl's 10-second turbo build, (or need a review), here are the links: part one, part two, part three, part four, part five, part six, part seven, part eight, part nine, part ten, part eleven, part twelve, part thirteen, part fourteen, and part fifteen. Each episode is a quick read, with lots of pictures. Bonus Feature: A complete compilation of Carl's videos is available below.
When we left off, Carl had just run a 13.22 at 85.88 mph with the 4L80E trans and was still trying to decide between the BMW DCT transmission and the GM slushbox. Carl needs to make a decision soon, so he can get after that 10-second goal at the track. First he test fits the DCT to see what challenges lie ahead.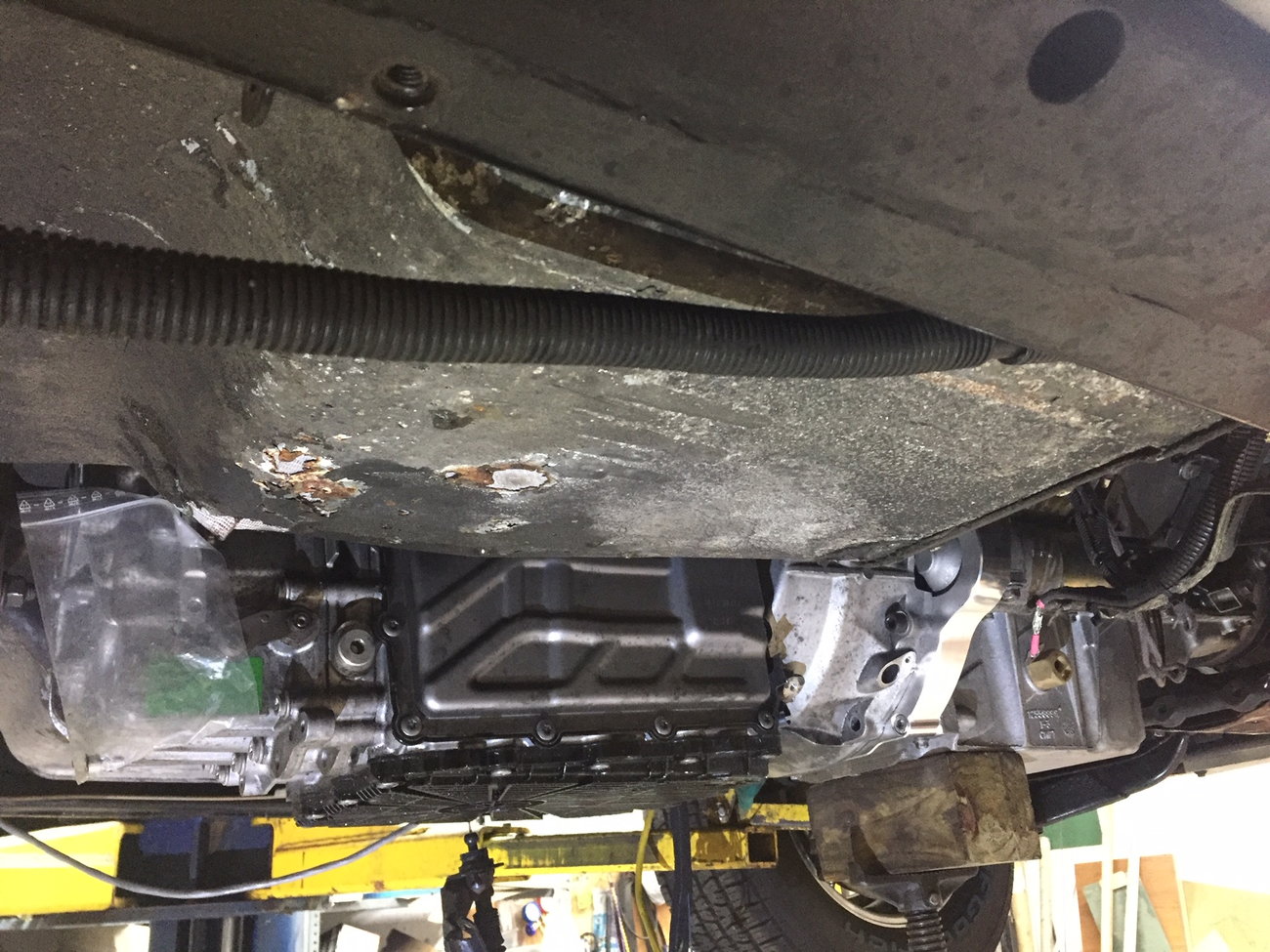 After measuring and analyzing each transmission, Carl discovers the DCT hangs about 3/4 to 1 inch lower in the back than the 4L80E does, and says "I can't raise the back anymore without modifying the tunnel… I'll drop the Vette back on the ground, with the DCT still up there, and measure the ground clearance."
So, does Carl have enough clearance for the DCT without any major modifications? Well not exactly, as Carl remarks, "The front of the oil pan can fit a 2×4 under it. The back is about 3/8 too low to fit it. Overall, I'd say the back is about an inch and 1/2 too low. If I raise the back (will need some major tunnel work) the clearance will be good front and back… I threw the 4L80e back in for now. Raising the tunnel for the DCT may be a winter project."
The 4L80E GM slushbox wins the transmission battle! Carl exclaims, "I've gotta be honest. I'm really liking the 4L80E in the Vette. The 2800 stall converter makes the turbo really wake up in a hurry. So the motivation to redo the tunnel to fit the DCT is tempered by how much fun the 4l80E is." I do have to admit, having that BMW-sourced DCT trans in this beast would have been fun to watch, but the logic behind the 4L80E makes sense.
In the meantime, Carl shows off more electronics wizardry and explains his next video by saying:
"I just added a new feature. A drag racing two-step. Only it's not on a chip like everyone is used to. Instead, it's controlled by the throttle plate, similar to how cruise cruise control operates the throttle plate in a regular car. Any RPM or boost launch control target, can be set from the touch screen.
The two-step is triggered when the brake is pressed hard. A preset high pressure triggers the two-step on. The gas pedal gets floored, but the engine RPM (optionally boost) is now controlled by the transmission controller by reducing the throttle opening and maintaining the desired RPM. Once the brake pressure drops to a preset pressure, the throttle plate goes back to normal and the car automatically launches."
Once again, I'm left in awe of Carl's skills.
Carl's 2nd Quarter-Mile Pass
"Thought I'd get a head start on trying to break things before winter sets in for good. Took the vette to Atco raceway (they're also closing forever) to test out the two step and boost control and to tune the vette under boost.
The two step worked great. The boost control worked great in 2nd and 3rd gear, but there was alot of hunting in first gear. Anyway, managed an 11.9 @115 on the first shakedown pass which was super rich. So I need to work on the the first gear boost control issues and also need to reduce the fuel maps. 1st gear was at 6psi, 2nd and 3rd gear at 8psi. Got 3 runs in, but still couldn't figure out the 1st gear boost issue, so, didn't get to turn up the power.
Sorry to disappoint, couldn't break anything this time. Best part, I got to drive it home the hour and 40 minutes from the track. I really miss the days when Englishtown was 20 minutes away."
We are getting closer! What does the Stingray have in her for the 3rd run? First, a good old-fashioned burnout video!
Are you wondering the type of patience and perseverance required for a build like this? Carl reminds us with this rundown:
"One little flaw"… I wish.
Narrowed axle twice.
Redesigned transmission controller.
Redesigned fan shroud
Redesigned upper control arm
Redesigned upper and lower coolant hoses
Redesigned alternator.
Redesigned power steering.
Raised Radiator
Forgot a spacer in the 4l80E
Forgot to re-tighten the lug nuts
Let's not even mention how many hundreds of versions of software I've had in the controller."
Carl's 3rd Quarter-Mile Pass
"Got into boost with the 3" throttle body yesterday at Island Dragway. Behaved perfectly. Another day of driving it to the track for three and a half hours, racing, and not calling a tow truck.
Now 45% throttle is about 10PSI of boost.
Even though I mistakenly started braking at 1000 ft, the car ran a new best time of 11.6 at 106 lol…"
Carl's 4th Quarter-Mile Pass
After some cooling fan upgrades, fitting some Maserati brakes on the rear for better track foot braking, and solving some detonation issues, Carl hit the track again and gave us this report:
"Drove to Atco today in the fog. It was driving by braille. They had an 85 and older race event.
Ran a new best time 10.7 @126. 14psi of boost in 2nd and 3rd."
IN THE
10s

!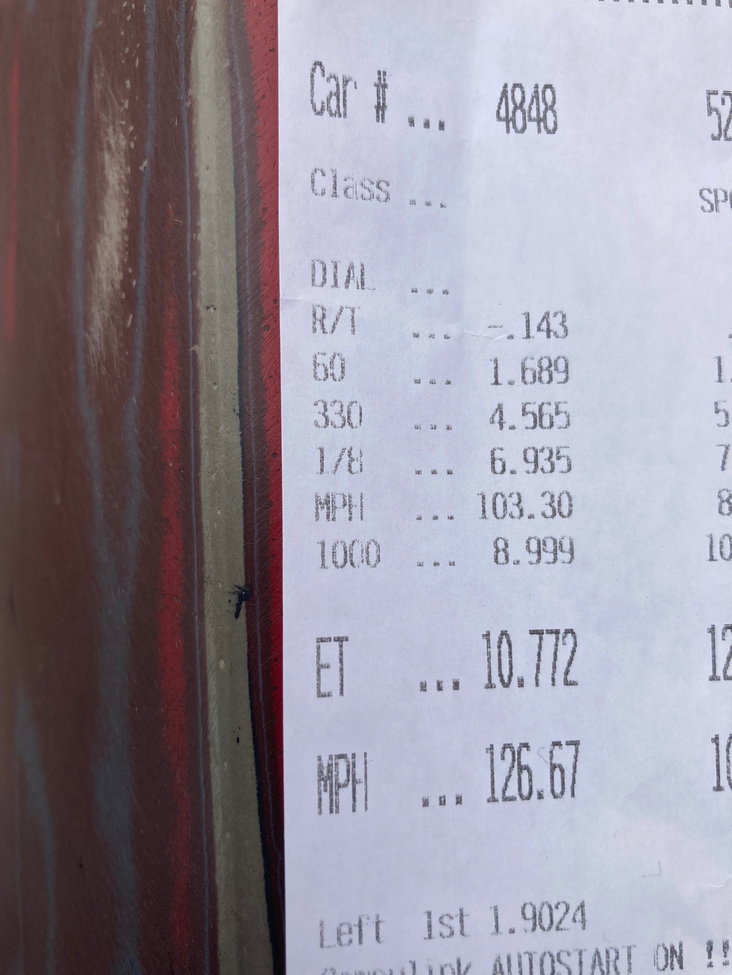 Carl's 5th Quarter-Mile Pass
"Redesigned the serpentine idler to be farther away from the exhaust and put a bigger pulley on the alternator while I was in thee. Want to reduce the alternator rotation speed at high RPM. Also added a second set of brush springs in the alternator.
Idler and larger alternator pulley are working well. I can almost maintain voltage at idle in drag mode, when almost every electric device is running. And at high RPM, the alternator is steadier, but not perfect yet.
Drove it to Atco for Friday night test and tune. Ran a new best of 10.6 @ 128.
Logs showed that there is room for improvement right after the launch. Something in the tune is causing a lean condition at the beginning of the run. I think it's related to the way the tune is reacting to a large change of the throttle. I think it's related to the "Wall Wetting Table" which is similar to a carburetor accelerator pump. I'm going to play with this table…"
Carl's 6th Quarter-Mile Pass
A week later Carl heads back to Atco Dragway for a street tire test and tune (His run is on the left).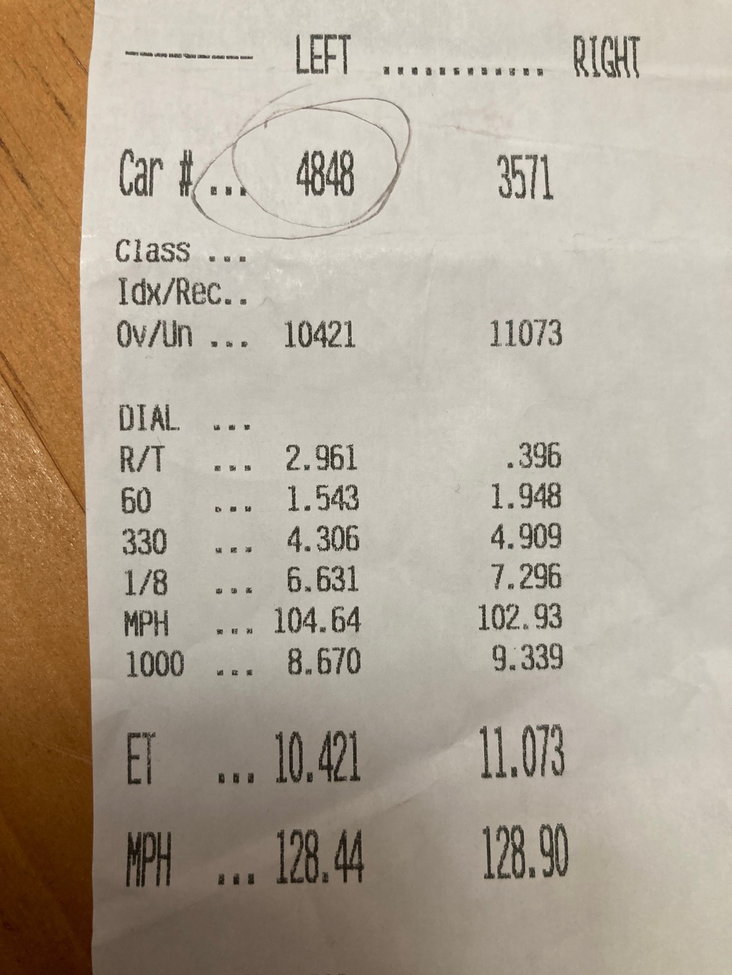 A Best of
10.42

at 128.44!

Well, only 4 passes to get into the 10s, and improvements over the next two! I would certainly call that a wild success. I hope you have enjoyed this installment of CorvSport's DIY series, and if you thought Carl's build was ambitious, just wait till you see what we have in store for you in early December! We have the fastest-growing Corvette community on our Facebook page, with over 161,000 followers (42,000 since January!). Come join other hardcore enthusiasts and say hello, Douglas B.
Video Compilation
Video 1
From Part 2
Video 2
From Part 3
Video 3
From Part 11
Video 4
From this Episode
Video 5
From this Episode