1957 Corvette Overview
In the period of just two short years, Corvette had evolved from a car that was facing the very serious threat of extinction to one that showed real promise for a long and healthy life.
While General Motors still recorded only modest sales of the Chevrolet Corvette in 1956, it was apparent to everyone that it was also beginning to be taken seriously as a sports car. Even after the immense structural, physical, and mechanical facelift it received in 1956, Corvette saw some major improvements in 1957.
A new, larger 283-cid engine was placed under the hood,   Mechanically, it was really still the existing 265-cid engine, though it had been bored out 1/8-inch (to 3.875 inches).  This modified engine delivered an impressive 220 horsepower when coupled with a four-barrel carburetor.    Dual four-barrels took it to 245 horsepower (and 270bhp.)  Better still, consumers could now also purchase GM's newly developed "Ramjet" fuel injection system which yielded 259 horsepower (or 283 bhp).
Chevy ads carried the news that the Corvette now produced "one horsepower per-cubic inch"
While fuel injection is almost universal today, the very idea of it in 1957 was completely foreign to automotive manufacturers.  While some European manufacturers had already begun experimenting with fuel injection in their production cars, Chevrolet turned to this new technology to bring added performance to its two-year-old V8 engine.
GM had considered using supercharging (as an alternative method to boost performance) but decided against it because of reliability issues.  Fuel injection provided more precise fuel metering than a carburetor allowed, so GM assembled a development team to develop its own fuel injection delivery system.  The team was comprised of Ed Cole, who had been promoted to Chevrolet's chief in 1955; Harry Barr, who designed the 1949 Cadillac V-8 and went on to become Cole's successor as Chevy's Chief Engineer; John Dolza, head of fuel injection development for the GM engineering staff; and Zora Arkus-Duntov.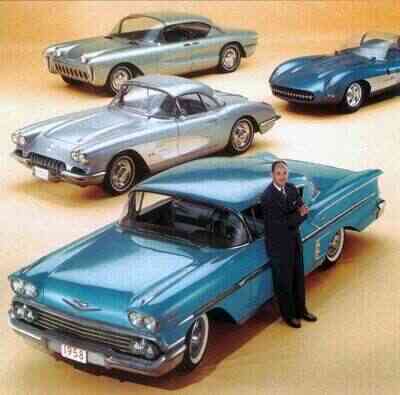 Duntov had been developing his own fuel injection system since early 1956 (after an accident while driving a prototype Corvette hardtop with experimental disc brakes at the GM Proving Grounds in April left him with a broken vertebrae in his back).
Standing erect in a body cast, and often seen wearing a skirt (as he was unable to dress himself due to the cast he was wearing), Duntov spent the next six months working on the fuel injection system while his body healed.
The team of engineers solved the problems keeping them from developing a successful fuel injection system in a reasonably short period of time, and the fuel injection system was mated with the V-8 engine and dyno testing began.
Despite the relatively inexpensive manufacturing process and the promise of successful performance improvement, the initial dyno-testing showed the fuel injection system was no more powerful than a standard dual-carburetor V-8.  Despite this, Cole wanted to make fuel injection available to the entire 1957 Chevrolet production line.
Cole believed that offering fuel injection in the new line of cars would provide a technological advancement that prospective Chevrolet customers could appreciate.  As the Chevy line of vehicles had received nothing more than an automotive "facelift" for 1957, Cole realized that fuel injection would help boost the stock-car racing image.  It was believed that the fuel-injected engines – and moreover, the horsepower that these fuel injected engines produced – would boost the performance of these racers, giving the Chevrolet models an edge over the competition.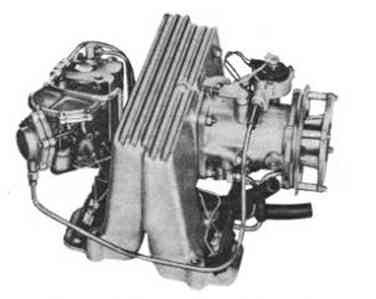 In time, Chevrolet and GM's Rochester carburetor division came up with workable system that both increased top-end engine output and increased power throughout the entire RPM range.
The inlet manifold was formed in aluminum and fuel was carefully metered via a high pressure pump that was driven direct from the distributor.  However, as with many new technologies, there were many reliability issues that began creating issues almost immediately.  The most notable was that dirt would often get into the fuel lines (probably dirt that was suspended in the fuel itself), and cause uneven running due to the injectors getting overheated.
That, combined with the fact that the new fuel injection option cost an additional $484.20 (which was approximately 15% of the total sales price of a 1957 Corvette), resulted in very few '57 Corvettes being sold with fuel injection.   In total, only 240 of the entire 6,339 Corvettes produced in 1957 came with fuel injection.
See Also 
"Ramjet Fuel Injection", as it was known in 1957, was dropped from all of Chevy's passenger car models, although Corvette continued to offer it as an option until 1965.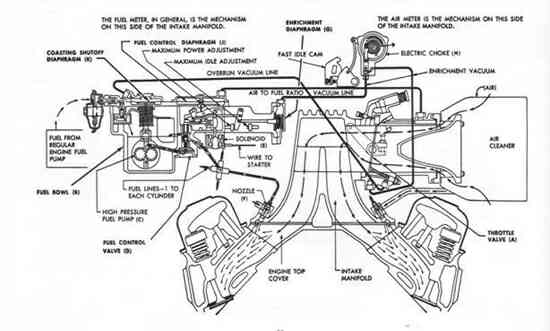 Ironically (especially in regard to all the hype surrounding "1 horsepower per cubic inch"), the top fuel injected ("fuelie" as they were referred to at that time) engine actually delivered closer to 290 bhp, which was more than the advertised 283.
This "over-performance" was attained on 10.5:1 compression – the same compression shared with the dual-carb 270 bhp engine.  The milder 250 bhp fuel injected engine ran at a lower compression – 9.5:1, which was the same as the 245 bhp twin carbureted engine.
These numbers are speculated by some historians to be inaccurate.  Although an uncommon practice, it is speculated that Chevrolet actually underrated the carbureted engine's real horsepower in favor of demonstrating that the Ramjet was the better performer.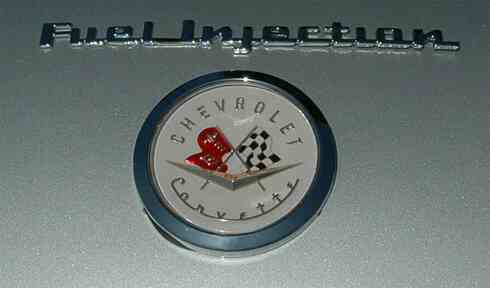 Interestingly, it was not engine performance but the four-speed manual gearbox that had the greatest impact on the performance aspect of the Chevrolet Corvette.
Available as early as April 9, 1957 and priced at only $188.30, Regular Production Option (RPO) 685 was essentially the existing three-speed Borg-Warner transmission with the reverse gear moved into the tailshaft housing to make room for a fourth forward speed.
Gear ratios were closely spaced at 2.20:1 (1st), 1.66 (2nd), 1.31 (3rd), and 1.00 (4th).  Of all the Corvettes produced that year, 667 of them included this option.
"Positraction" (referred to today simply as "Posi" amongst car enthusiasts), was another, separate option that was available with several different final-drive rear axle ratios which included 3.70:1, 4.11:1 and 4.56:1.  Chevy's new limited slip differential was intended to help get the most performance out of the new engines and transmissions regardless of the car's intended purpose – be it racing or street driving.
DID YOU KNOW: In 1957, anyone seeking to purchase a Corvette could actually purchase a genuine racing version.  When placing the order, consumers had the option of selecting the EN build code which would allow them to build a true Corvette race car. Chevy warned that the EN version was not for the street and actually refused to include heaters on cars equipped with the racing package.
To provide greater handling and stability, Chevrolet also issued RPO 684 – a heavy duty racing suspension package.  This option, priced at $780.10, included heavy duty springs, a thicker front anti-sway bar, the aforementioned Positraction rear end, larger piston shock absorbers, a tighter steering ratio that reduced turns lock-to-lock from 3.7 turns to only 2.9, and ceramic/metal brake linings with finned ventilated drums.  When mated to the 283 small-block Chevy, you truly had a race car you could purchase directly from the showroom floor.  However, with the cost of this option being even more than that of the fuel injected engines combined with it's focus really being serious racers, only 51 Corvettes were equipped with it in 1957.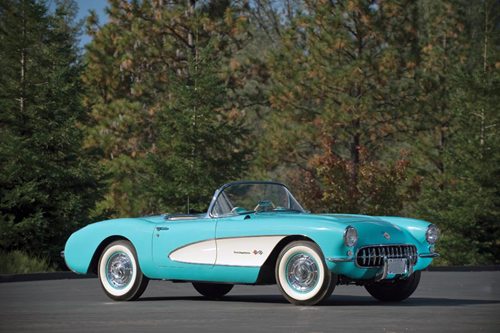 In almost any form, the 1957 Corvette delivered uncompromising, and largely unmatched, performance.  The Corvette had effectively become a street-legal sports car.  As taken from an excerpt in the book CORVETTE: Sports Car Superstar: "the '57 Corvette delivered certifiably staggering performance.
Motor Trend clocked a 250-bhp fuelie at just 7.2 seconds in the 0-60 mph sprint.  The 283-bhp version was even more formidable, with Road & Track running the same test in a four-speed with the short 4.11:1 final drive in just 5.7 seconds; it breezed through the quarter-mile in 14.3 seconds at better than 90 mph and sailed on to a maximum 132 mph."
To demonstrate just how fast the 1957 Corvette really was, a pair of production models were the first GT Class cars to finish at Sebring that year, taking 12th and 15th places.  The 12th place car finished no less than 20 laps ahead of the top qualifying Mercedes Benz 300SL, which had been, up to that point "regarded as the world's fastest road car."
The Sebring victory was a huge turning point in the life of the Corvette.  It had earned the respect of the most critical of judges and had proven that it could perform, even amongst the toughest competition.
Finally, after several years of struggles ranging from meager sales to lack luster performance to poor customer acceptance, the Corvette's future was no longer in question.  The car had made incredible progress, both mechanically and socially, and the sales numbers proved it doubling from 1956 to 1957.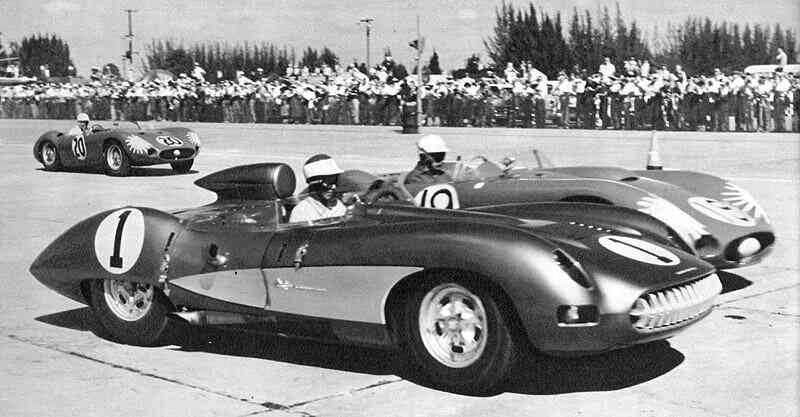 Better still, Ford had decided to withdraw the Thunderbird from the two-seater market, which Chevrolet was both aware of and believed would help escalate sales of the upcoming 1958 models to numbers in excess of 10,000 units.  In what some might consider a cruel twist of fate – during an era when Corvette was proving itself on the racetrack – the Automobile Manufacturers Association (AMA) adopted a two-point resolution that required members (including General Motors) to: 1.) Cease performance-oriented advertising and, 2.) cease competition sponsorship, including technical assistance.
This was due to pressure from the National Safety Council, which claimed that using recognizable road cars on the track, and referring to their race-bred qualities in advertising material had "a detrimental effect on the behavior of purchasers of such cars on the public highway."
As no manufacturer wanted to be seen as promoting reckless driving, GM President Harlow Curtice was among those who voted in favor of this measure, which effectively banned all factory-sponsored racing activities, which included any future competition in which Corvette might be a part.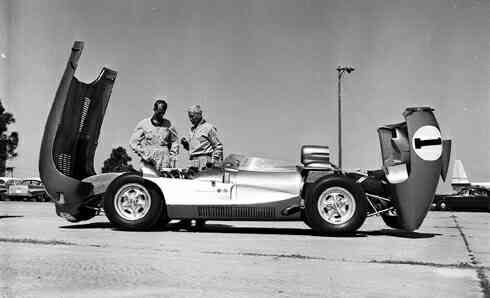 Despite this new ban, industry insiders quickly developed ways to work around it.  Engineers continued to further support automakers' racing development, supplying drivers and owners with assorted high performance, under-the-counter contraband equipment.
Duntov himself made certain that anyone who wanted a racing model Corvette could obtain one by simply choosing the correct options.
In addition, whether fueled by the ban or simply out of his own passion for speed, Duntov began developing even higher performance gear that he would implement later on into future iterations of Corvette.
He also continued to be spotted at many racing events, as did other GM executives. Still, even in the wake of the new racing ban, the Corvette had finally established itself as a real two-seat sports car and was widely embraced by both sports car enthusiasts and critics alike.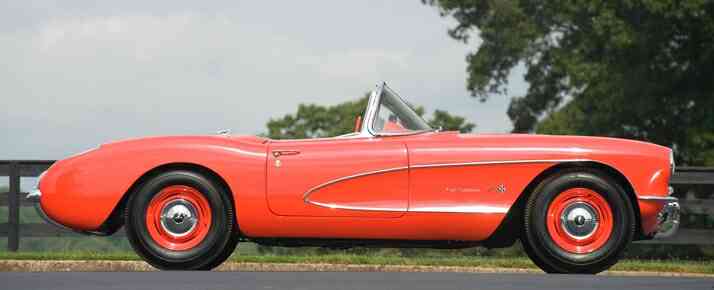 The 1957 model year ensured the future of the Corvette and now, with the successes the car was showing on a regular, repeating basis, Chevrolet added it indefinitely to its production car line.   Still, with a car that still had room to grow, the Corvette development team had to find ways to improve on a machine that had become, for many, the idealic American Sports Car.
1957 Corvette Gallery
See full 1957 Corvette Gallery
See Also:
1957 Corvette Specifications
See the complete breakdown of technical specifications for the 1953 Corvette, including engine, suspension, brakes, body dimensions, and power.
Read more: 1957 Corvette Specifications.
1957 Corvette Performance
Published Performance Results
0-30 MPH:
N/A
0-60 MPH:
5.7 Seconds
0-100 MPH:
16.8 Seconds
Quarter Mile:
14.30 Seconds
Top Speed:
132 MPH
See complete 1957 Corvette specifications & performance.
1957 Corvette Vehicle Identification Numbers (VIN)
The last six digits begin at 100001 and run thru 106339, accounting for each of the 6,339 Corvettes built in 1957. Each Vehicle Identification Number (VIN) is unique to an individual car. For all 1957 Corvettes, the location of the Vehicle Identification Number (VIN) is located on the driver-side doorpost. The VIN is also stamped on several locations on the Corvette frame.
Read more: 1957 Corvette VINs.
1957 Corvette Factory Options
| | | | |
| --- | --- | --- | --- |
| CODE | DESCRIPTION | QUANTITY | RETAIL PRICE |
| 2934 | Base Corvette Convertible | 6,339 | $3,176.32 |
| 101 | Heater | 5,373 | $118.40 |
| 102 | AM Radio, Signal Seeking | 3,635 | $199.10 |
| 107 | Parking Brake Alarm | 1,873 | $5.40 |
| 108 | Courtesy Lights | 2,489 | $8.65 |
| 109 | Windshield Washers | 2,555 | $11.85 |
| 276 | Wheels, 15 x 5.5 (5) | 51 | $15.10 |
| 290 | Whitewall Tires, 6.70 x 15 | 5,019 | $31.60 |
| 303 | 3-Speed Manual Transmission, close ratio | 4,282 | $0.00 |
| 313 | Powerglide Automatic Transmission | 1,393 | $188.30 |
| 419 | Auxillary Hardtop | 4,055 | $215.20 |
| 426 | Power Windows | 379 | $59.20 |
| 440 | Two-Tone Paint Combination | 2,794 | $19.40 |
| 469A | 283ci, 245HP Engine (2×4 Carburetors) | 2,045 | $150.65 |
| 469C | 283ci, 270HP Engine (2×4 Carburetors) | 1,621 | $182.95 |
| 473 | Power Operated Folding Top | 1,336 | $139.90 |
| 579A | 283ci, 250HP Engine (Fuel Injection) | 182 | $484.20 |
| 579B | 283ci, 283HP Engine (Fuel Injection) | 713 | $484.20 |
| 579C | 283ci, 250HP Engine (Fuel Injection) | 102 |  $484.20 |
| 579E | 283ci, 283HP Engine (Fuel Injection) | 43 | $726.30 |
| 677 | Positraction Rear Axle, 3.70:1 |  327 | $48.45 |
| 678 | Positraction Rear Axle, 4.11:1 | 1,772 | $48.45 |
| 679 | Positraction Rear Axle, 4.56:1 |  – | $48.45 |
| 684 | Heavy Duty Racing Suspension | 51 | $780.10 |
| 685 | 4-Speed Manual Transmission | 664 | $188.30 |
1957 Corvette Dealers Sales Brochure
You can download the 1957 Corvette Dealers Sales Brochure for a quick look at the features of the car.
Read more: 1957 Corvette Sales Brochure
See Also