C1 Corvette Engines – The Full List & Guide
The Chevrolet Corvette line is synonymous with street-pounding performance, often pushing the bounds of what many critics perceived to be possible. Behind this legacy are the many legendary powerplants to have served beneath the Corvette's hood. Much like the Corvette itself, each of these engines were meticulously refined to the point of near-perfection before being greenlit for production.
This tradition dates back as far as the Corvette itself—taking root in pre-production efforts of 1952-1953, with the development of the "Blue Flame" inline-six. Amazingly, less than a decade later, consumers could choose to have their Corvette equipped with a 327CI fuel-injected V8, which produced more than double the output of the Blue Flame before it.
The following is a comprehensive account of C1 Corvette development, spanning from 1953-1962.
Blue Flame Inline 6 C1 Corvette Engine: 1953–55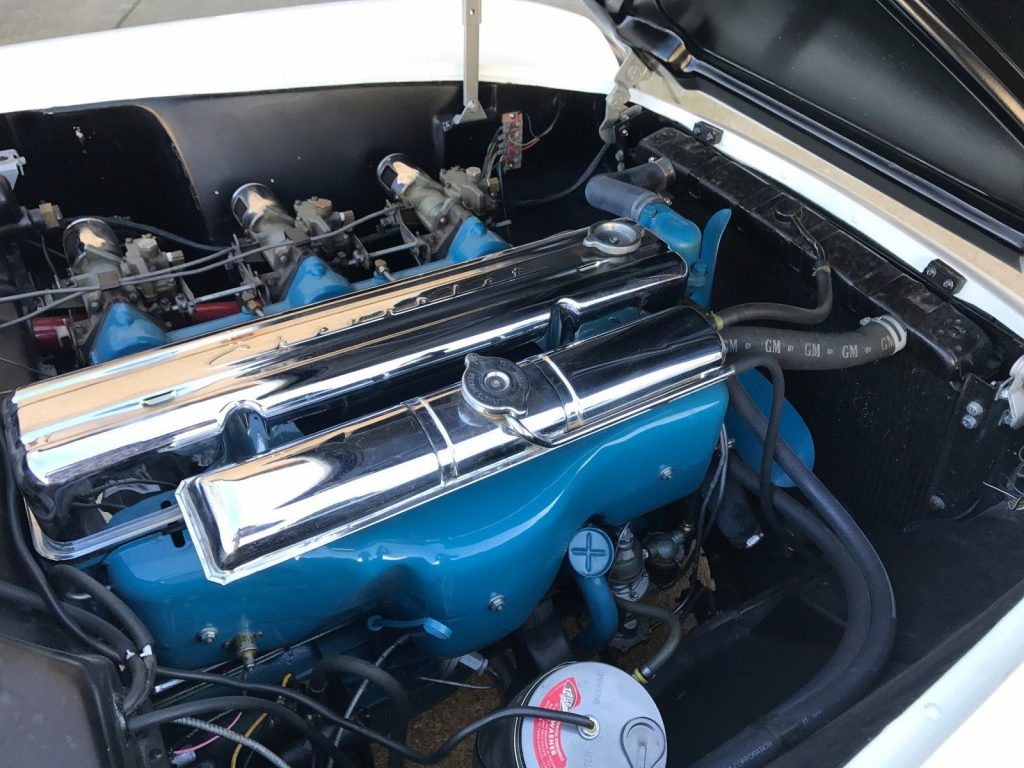 Though those at GM were already fast at work designing their inaugural V8 by the early 1950s, such plans did not come to fruition in time for the Corvette's debut. This left those behind the Corvette's design searching for a powerplant to motivate Chevrolet's budding sports car.
As such, the decision was made to adopt GM's already proven Stovebolt-Six for use beneath the Corvette's hood. By this time, numerous engines of the same basic design had powered everything from Chevrolet pickups to sedans, with a great deal of success. Therefore, it stood to reason that with a few additions and revisions, the Stovebolt-Six would also be Corvette-worthy.
Armed with a special "high-lift" camshaft (1.52" intake/ 1.29" exhaust), beefier solid-lifters, and operating on an 8.0:1 compression ratio, the revitalized Stovebolt-Six entered service as the 150 horsepower Blue-Flame. This engine also came equipped with a free-flowing aluminum intake manifold, armed with three single-barrel Carter carburetors.
Though the Blue Flame has served as the butt of many jokes over the past several decades due to its perceived lack of performance, one cannot help but respect the engine's historical significance. If nothing else, the Blue Flame served as the genesis of GM's Corvette engine development program.
Inline 6 "Blue Flame" Corvette Engine Specs
Horsepower: 150 hp @ 4,200 rpm
Torque: 223 lb-ft @ 2000 RPM
Compression Ratio: 8.0:1
Displacement: 235CI (3.9L)
Cylinder Bore: 3.562" (90.5 mm)
Stroke: 3.93" (100 mm)
4.3L 265CI V8 C1 Corvette Engine: 1955–56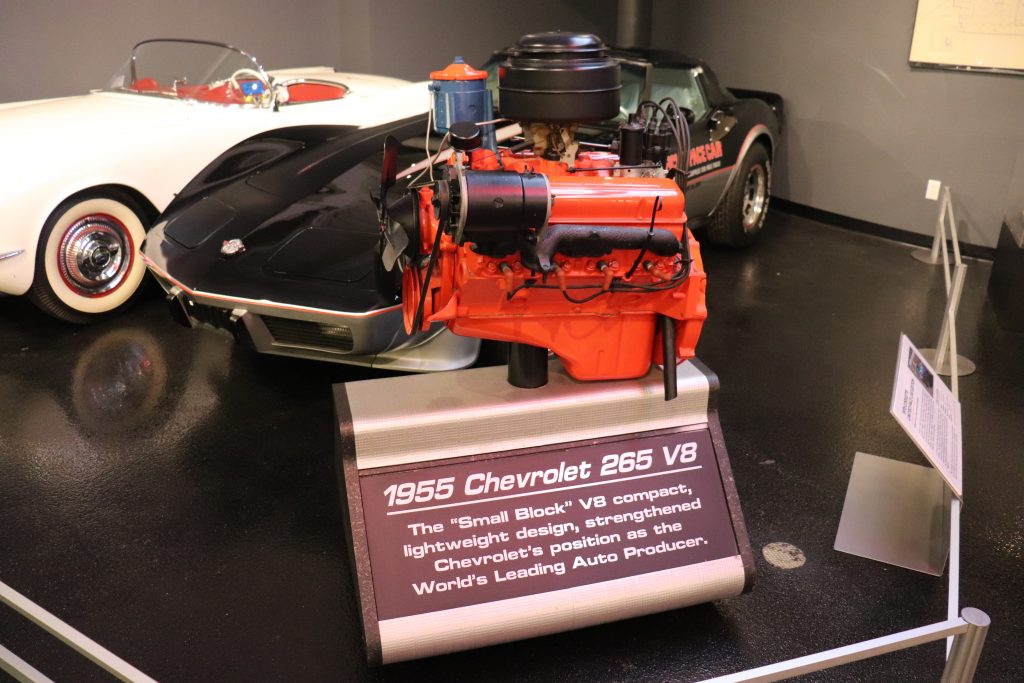 Perhaps the era's single most significant development in engine technology came with the unveiling of the 265CI small-block in 1955. Ironically, this was not only the birth of GM's legendary small-block platform but also a monumental turning point in Corvette history.
At the time, the Corvette was on the verge of discontinuation over a general lack of consumer interest, much of which centered around the early sports car's relative lack of performance. The Corvette's Blue Flame inline-six powerplant only afforded consumers 150 horsepower to work with, leaving many underwhelmed.
After an intervention from several design luminaries, including engineer Zora Arkus-Duntov, a new 265CI V8 was unveiled as an optional powerplant for the 1955 Corvette. This engine utilized a cast-iron engine block topped with heads of similar construction and featured cylinder bores of 3.5", with a working stroke of 3".
Also of significance was the 265CI V8's use of a specialty high-lift camshaft, which proved substantially more aggressive than the standard cam offered in the base 265CI. This camshaft actuated a set of hydraulic lifters topped by hollow pushrods. The use of this cam, along with a single four-barrel carburetor, was enough to propel the 265CI to top speeds in excess of 120 MPH, churning out up to 195 HP along the way.
4.3L 265CI V8 Corvette Engine Specs
Horsepower: 195hp @ 5000 RPM
Torque: 260 lb-ft @ 3000 RPM
Compression Ratio: 8.0:1
Displacement: 265CI (4.3L)
Cylinder Bore: 3.5" (88.9mm)
Stroke: 3.0" (76.2mm)
4.6L 283CI V8 (Fuel-injected or Carbureted) C1 Corvette Engine: 1957–61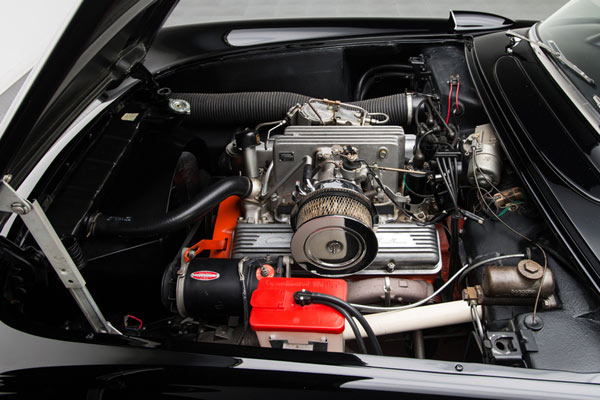 Almost immediately following the 265CI V8's release, work began on furthering the output of GM's new small-block. While a number of ideas surfaced regarding how best to increase the 265CI's output, engineer Zora Arkus-Duntov was fast at work designing his own revolutionary fuel-injection system.
Though fuel-injection had begun garnering popularity in foreign markets, such technology was relatively unheard of in American production. Undeterred, Duntov persevered, creating an early prototype for what would become GM's Rochester fuel-injection system. This system would ultimately be presented as an option for the manufacturer's coming generation of small-block.
The earlier 265 cubic-inch small-block's bore measurements were also increased (3.875"), thereby bringing the engine's total displacement to 283 cubic inches. In its revised configuration, Chevy's small-block was offered in both carbureted and fuel-injected forms—the latter of which churned out 283 horsepower, thereby achieving a rated output of one-horsepower per inch of displacement.
Ironically, Duntov's early efforts toward the advancement of fuel injection fell somewhat flat. Though the "Fuelie" 283CI V8 posted top marks in the performance department, it was actually the carbureted version of this engine that became a fan favorite.
4.6L 283CI V8 Corvette Engine Specs
Horsepower: 220bhp @ 4,600 rpm (single four-barrel), 270bhp @ 6000 rpm (dual four-barrel), 283bhp @ 6,200 RPM (fuel-injected)
Torque: 300 lb-ft @ 3,000 rpm (single four-barrel), 285 lb-ft @ 4,500 rpm (dual four-barrel), 290 lb-ft @ 4,400 rpm (fuel-injected)
Compression Ratio: 9.5:1/ 10.5:1
Displacement: 283CI (4.6L)
Cylinder Bore: 3.875" (98.425mm)
Stroke: 3.0" (76.2mm)
5.4L 327CI V8 (Fuel-injected or Carbureted) C1 Corvette Engine: 1962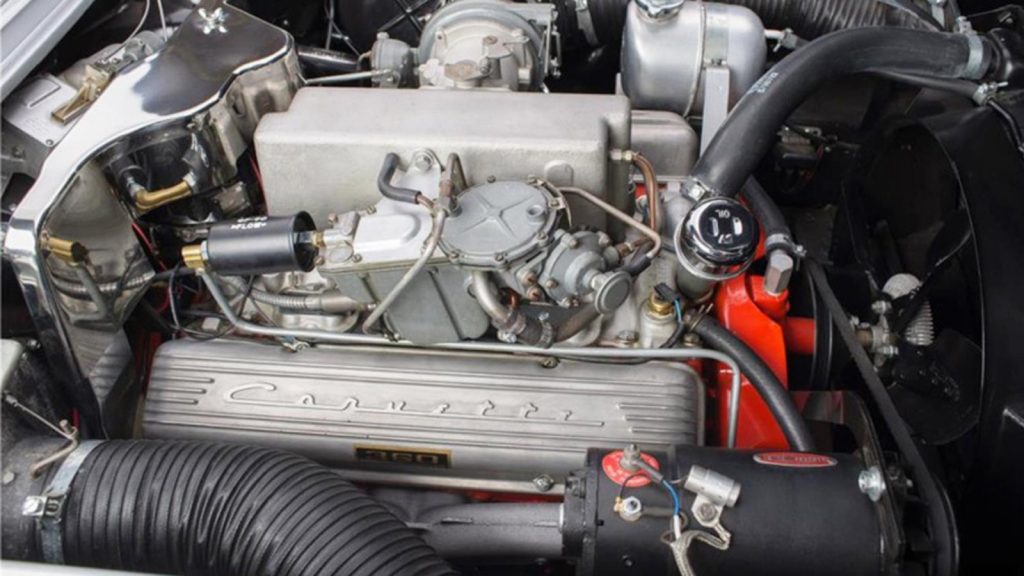 By 1962, those within GM's design and development team understood that the C1 Corvette was beginning to grow long in the tooth. As such, efforts got underway to create a new, second-generation Corvette, sure to catch the discerning eye of consumers. Likewise, many also understood that further refinement of GM's existing small-block would be required.
To accomplish this goal, the prior 283CI V8's small-block was bored and stroked, providing yet another increase in displacement. GM's famed small-block now touted a total displacement of 327 cubic inches, operating on a displacement of 11.25:1 (high-output). The 327CI also came armed with a high-lift "Duntov" camshaft when equipped with the largest of the engine's three available carburetors—or with GM's Rochester Ramjet fuel injection system.
Even the 327's Ramjet fuel injection system was upgraded, proving far more efficient than similar systems featured on the earlier 283CI. In this revised form, the Ramjet injection system provided a more direct passage of air/fuel to the 327's intake, thus providing for improved throttle response and increased performance.
In the most potent of its carbureted forms, the 327CI small-block produced a total of 340 horsepower and 344 lb.-ft. of torque. When equipped with Rochester Ramjet fuel injection, the 327CI V8 churned out 360 horsepower and 352 lb.-ft. of torque.
5.4L 327CI V8 Corvette Engine Specs
Horsepower: 340 HP @ 6,000 RPM (Carbureted), 360 HP @ 6,000 RPM (Fuel Injected
Torque: 344 lb-ft @ 4,000 RPM (Carbureted), 352 lb-ft @ 4,000 RPM (Fuel Injected)
Compression Ratio: 11.25:1 (High-Output), 10.5:1 (Base)
Displacement: 327CI (5.4L)
Cylinder Bore: 4.00" (101.6mm)
Stroke: 3.25" (82.55mm)