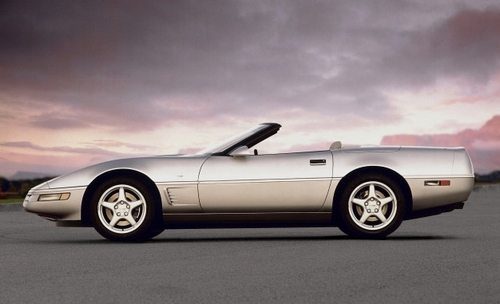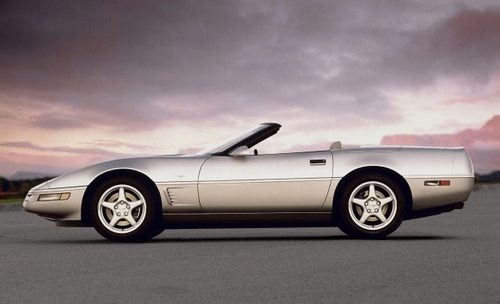 1996 Corvette – The Ultimate Guide
The 1996 model year would mark the final year of both the C4 and the Generation II small block engine that powered it.  As such, Chevrolet was prepared to commemorate its departure by offering two special edition Corvettes, both of which would feature an upgraded version of the LT1 power plant.  Denoted as the LT4, the 330-horsepower engine would be showcased in both the Collectors Edition Corvette and a limited edition Grand Sport Corvette.
The LT4 engine featured a number of enhancements over its LT1 counterpart. To start, the LT4 received newly designed aluminum heads that featured taller ports and bigger valves; 2.00-inch intakes and 1.55 inch exhaust.  Each of these valves had hollow stems that were specially designed to save weight. They each received special oval-wire springs that could handle increased lift without binding.  To help increase the LT4's valve lift, Chevrolet employed the Crane Company to provide higher ratio (1.6:1) roller rocker arms.
Revised lift specs called for 0.476 inch on the intakes and 0.479 inch on the exhaust.   In addition, Cam duration was increase from 200 degrees to 203 degrees on the intake side and 207 degrees to 210 degrees on the exhaust side.
Other improvements that were developed solely for use on the LT4 included a freer-flowing intake (which featured taller ports to match the heads), a roller-type timing chain, and a compression increase to 10.8:1, which was a noted increase over the 10.4:1 compression found on the LT1.
Additionally, the LT4's crankshaft, camshaft, water-pump, drive gear, and main bearing gaskets were all improved upon to bolster horsepower, while premium head gaskets were installed to deal with the extra compression.  While the LT4 shared distinct components with the LT1 – such as a newly designed throttle body, the LT4's 330 horsepower was a marked improvement of 30 horsepower over the LT1.
It was for this reason that the LT4 engine was specified for the multiple special edition Corvettes that year.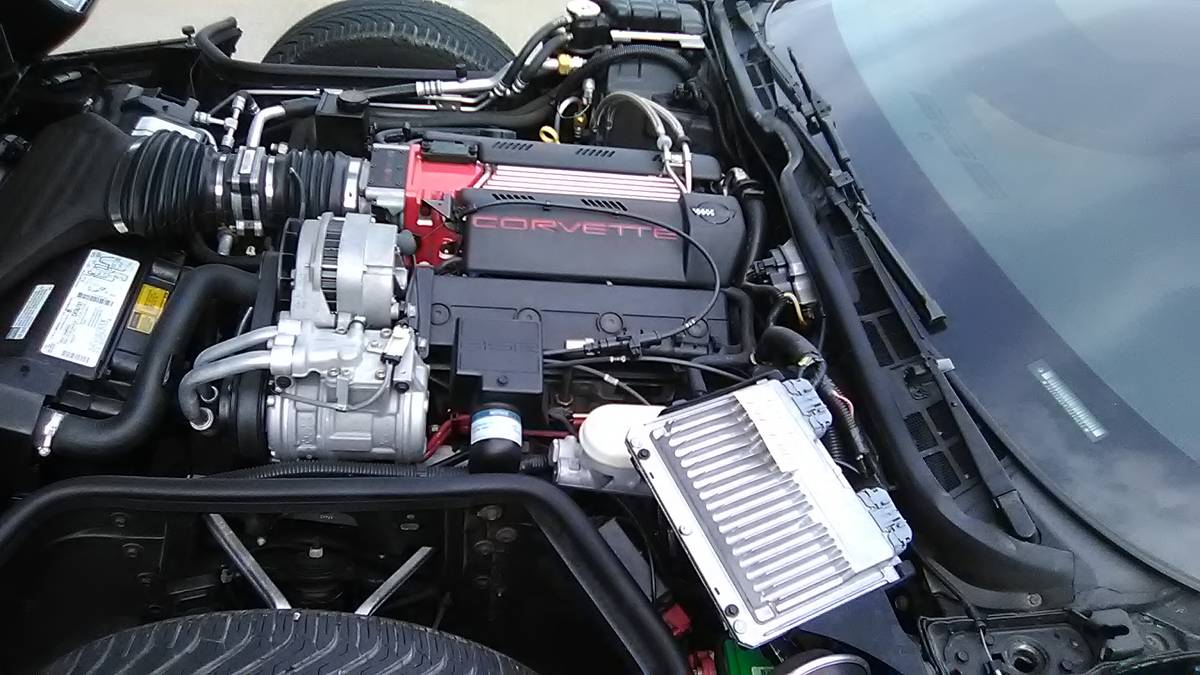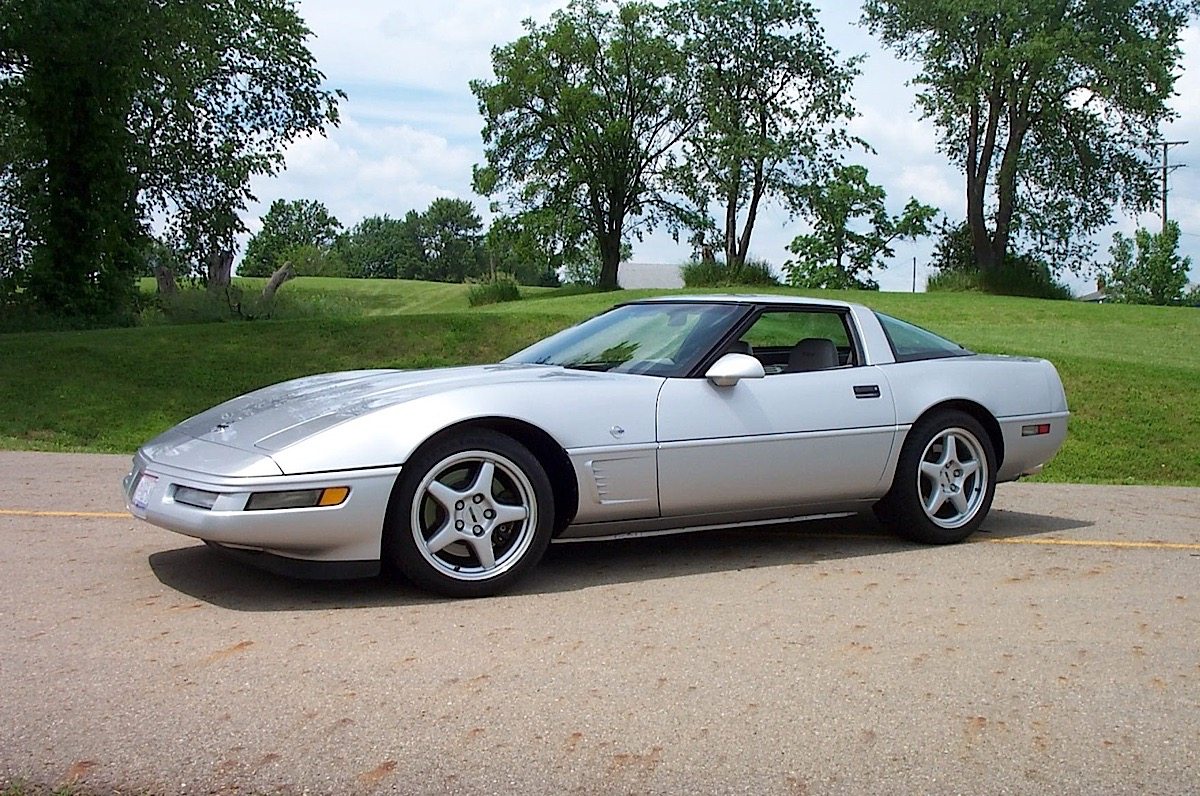 The Special Edition Corvette, which included a special Sebring Silver paint color, 5-spoke matching alloy wheels with special "collector edition" wheel cap centers, perforated sport seats accentuated with "Collector Edition" embroidery, black brake calipers with "Corvette" lettering, and a special trim package featuring chrome "Collector Edition" badges, the 1996 Collector Edition Corvette was solely designed to help honor the end of the C4 era.  It would be made available to consumers as both a coupe and a convertible.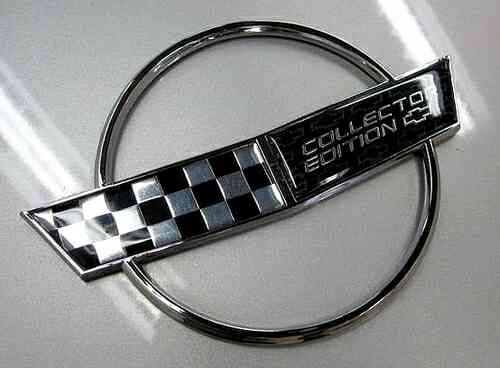 If the Special Edition Corvette was a welcome addition, the limited-edition Grand Sport was nothing short of a game-stopper.
Priced at an additional $3250  for the coupe or an additional $2880 for the convertible, the Grand Sport package included exclusive Admiral Blue paint and featured a single white stripe that ran the length of the body as well as two red accent stripes (also known as "Sebring Stripes") on the driver side front fender.  This unique paint scheme was deliberately developed by GM to pay homage to the classic Corvette Grand Sport Racer of the 1960's.
The coupe used ZR-1 wheels and tires – P275/40ZR17s in the front and P315/35ZR17s in the rear.  The convertible used P255/45ZR17s in the front and P285/40ZR17s in the rear.  Unlike the ZR-1, which showcased a wider backend, the Grand Sport featured rear render flares to cover the wider back tires.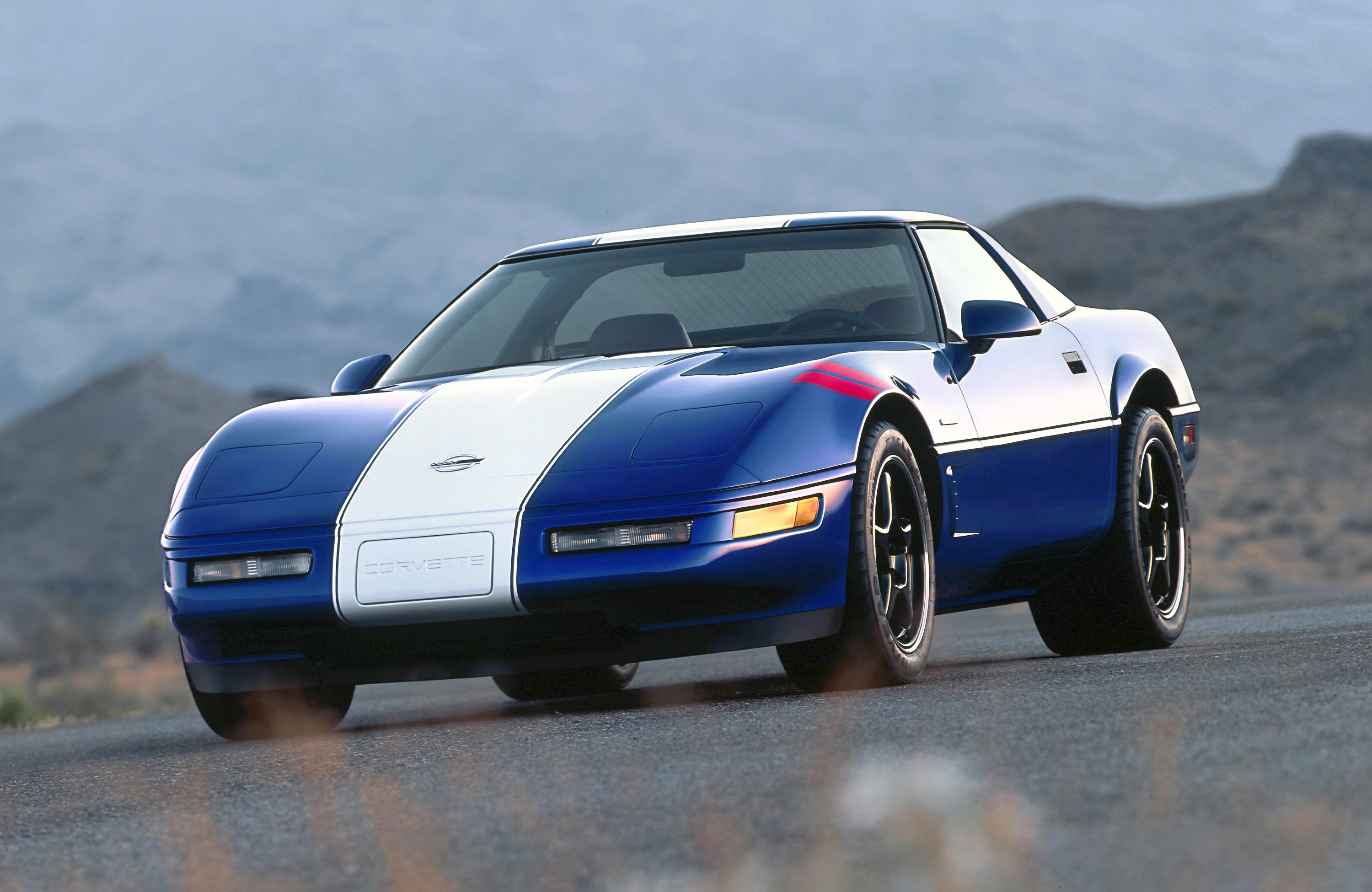 The Grand Sport's interior upholstery was offered either in an all black or a sporty red/black combination, and all of the Grand Sport interiors featured a specialized embroidered headrest which featured the Grand Sport emblem.  All Grand Sports –both coupes and convertibles- were equipped with a six speed manual transmission.  Likewise, all Grand Sports were equipped with the newly revised LT4 5.7 liter small-block V-8 engine.  When ordered with the Grand Sport model, the engine received a special "dress" kit that included bright red paint and red ignition wires.  In all, Chevy built 1,000 Grand Sports, and each was given a special, sequential serial number.
Although the LT4 engine was included as part of every special edition Corvette, it was not limited to the Grand Sport or the Collector's Edition Corvette.  Any Corvette built in 1996 could be ordered with the LT4 engine (for an additional $1450).  Since the new LT4 engine redlined at 6,300 rpm (700 rpm more than the LT1 engine), models equipped with the LT4 engine included a special 8,000 rpm tachometer instead of the standard 6,000 rpm tachometer.
Despite its improved horsepower over the LT1 engine, the LT4 was not considered a showstopper for many automotive reviewers that year.  The fact remained that while the LT4 produced an extra 30 horsepower than the LT1, there was no notable difference in acceleration.  In fact, both the LT1 and LT4 equipped Corvettes ran similar 0-60mph times.  Another noted complaint of the LT4 engine was the fact that, because it lacked an engine oil cooler, it tended to overheat at sustained top speeds of around 186 miles per hour.
Further it was noted that the larger tires actually inhibited the Grand Sport's ability to launch quickly from a standing start.  At the same time, the tires were also recognized for improving the Grand Sports cornering abilities, although it was determined that they also caused excessive over-steering during extreme handling situations (while at high speeds).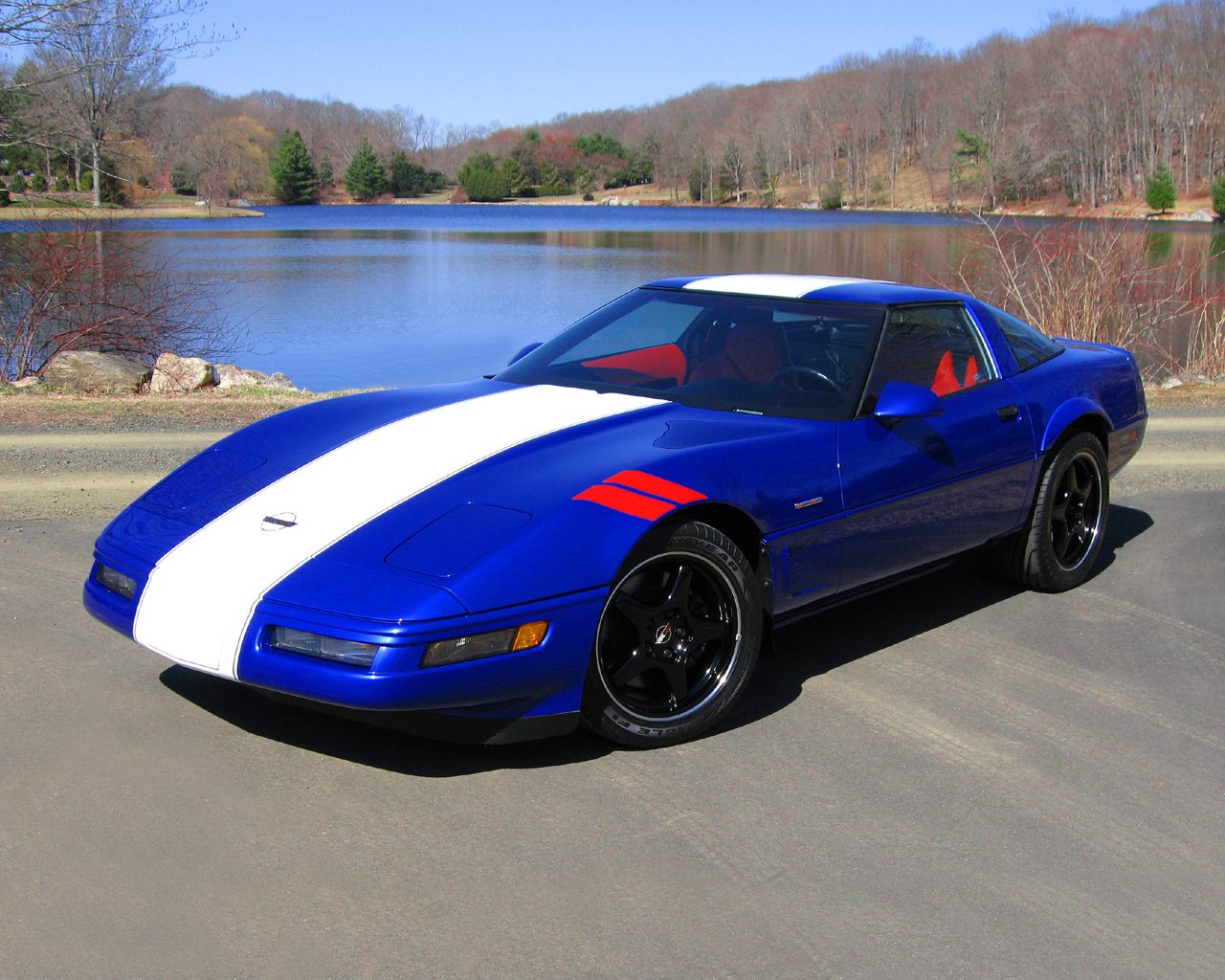 Beyond the engine, other revisions were made to the entire Corvette line for 1996.  The standard four-speed automatic transmission received a number of minor revisions which resulted in better shift quality.  Additionally, the introduction of new torque converters promised greater and prolonged durability.
Selective Real Time Damping was introduced to replace the previous Selective Ride suspension option. Available under option code RPO F45, the Real Time Damping suspension calculated the optimal damping mode for its custom shock absorbers to maintain ride and handling quality via data that was gathered from individual sensors at each of the four wheels.  This system could alter the load level/resistance of each shock individually, and it made these adjustments at intervals of once every 10 to 15 milliseconds, which translates roughly into approximately 1 (one) foot of road traversed when travelling at a speed of approximately 60 miles per hour.
After being absent for five years, the Z51 Handling Package returned to the options list for the 1996 Corvette coupes.  The option once more offered Bilstein shocks, unique front and rear springs, bushings and stabilizers, and 9.5 inch-wide, 17 inch wheels with P275/40ZR17 tires.  When ordered with an automatic transmission, a 3.07:1 axle ratio was specified.   As with before, the Z51 package was criticized as generating too harsh a ride, especially on roads that required even minor repair.  However, it was agreed that the re-introduction of the Z51 option was ideal for drivers who were purchasing Corvettes to race in autocross event.
DID YOU KNOW: Besides the 1990-1995 ZR-1, the 1996 Grand Sport was the only Corvette ever built with a unique Vehicle Identification Number (VIN) sequence, separate from all other regular production Corvettes of that year. The 1996 Grand Sport is readily identified by it's striking Admiral Blue and Arctic White stripe paint scheme. What many do not know, however, is that the pinstriping on either side of the large white center stripe, is actually a two-color decal, both blue and white. This was done to ensure a perfectly straight line. In early production 1996 Grand Sports models, there is a small area behind the hatch roof (and in front of the panel that attaches to the rear window) that is taped instead of painted. The tape is 1 inch long and about 18 inches wide whose purpose was to eliminate a problem area in the paint booth during manufacturing.
Of course, over its 43 year history, the Corvette had seen many evolutions of its former self, constantly transforming peoples' perception of what a sports car should be.  From the fiberglass bodied 1953 Motorama prototype up through the 1996 Grand Sport, the Corvette had evolved into a truly remarkable driving machine – one that was fully capable of holding its own with some of the stoutest competition from around the world.  Now, with the next iteration of Corvette looming on the horizon for the 1997 model year, many were already questioning whether or not General Motors would surpass the C4 with their next generation Corvette.  Little did anyone realize that the technology that had been developed for the C4 would continue to be utilized, making way for a Corvette that was more technologically savvy than anything that been seen before it.
Production Volumes
As the model year drew to a close, and the fourth generation Corvette prepared to pass the torch to its successor, it was satisfying to General Motors executives to see a small, but significant, sales increase had occurred.  While few denied the probability that much of it had to do with the introduction of both the Grand Sport and the Special Edition Corvette, the sales numbers had increased to a total of 21,536 units.  Although General Motors noted the increase in sales over the previous year, it was also acknowledged that these increases were still a far cry from the C4's 1984 introductory model, which had sold more than 51,000 units in its first year of production.  Still, the C4 had evolved from a respectable, if somewhat lackluster sports coupe into a true supercar that continued to push boundaries with each passing model year.  Despite a nearly 70% in cost from 1984 to 1996, Corvette had remained profitable year after year.
1996 Corvette Specifications & Performance
See the complete breakdown of technical specifications for the 1996 Corvette, including engine, suspension, brakes, body dimensions, and power. Read more: 1996 Corvette Specifications.
Engine, Transmission & Performance
A new Corvette engine – the LT4 – debuted for 1996. The LT1 was still available and a dividing line of sorts was established with all LT4s mated to manual transmissions and the LT1s assigned automatic transmission duties. The LT4 (RPO LT4; $1,450.00) was an update of the highly appreciated LT1 and boasted high flow aluminum heads, larger valves supported by high load springs, a more aggressive camshaft and higher compressions (10.8:1) pistons. Redline was 6,300 RPM.
1996 Corvette Vehicle Identification Numbers (VIN)
The last six digits begin at 100001 and run thru 120536, accounting for each of the 20,536 Corvette Coupes/Convertibles built in 1996. Additionally, 1,000 Grand Sport Corvettes were also built in 1996. Each Vehicle Identification Number (VIN) is unique to an individual car. For all 1996 Corvettes, the Vehicle Identification Number was stamped on a plate on the inner vertical surface of the left windshield pillar visible through the windshield. Read more: 1996 Corvette VINs.
1996 Corvette Price & Options
Core Features & Factory Options
A collector edition was also available for 1996 (RPO Z15; $1,250.00) and was especially attractive with its Sebring Silver exterior. Five spoke ZR-1 9 ½" wheels, painted silver, was a nice touch. Below: Included was special badging (front nose, left; front fender, right) and "Collector Edition" seat embroidery.
Colors
Dark Purple Metallic, Arctic White, Sebring Silver Metallic, Admiral Blue, Black, Bright Aqua Metallic, Polo Green Metallic, Competition Yellow, Torch Red. Of the nine colors for 1996, once again Bright Red was most popular, making up 20.5% of total production. Black and White were also popular, with 18.19% and 14.9% of total production respectively. Sebring Silver Metallic became really popular in 1996, making up 25% of production. Read more: 1996 Corvette colors.
Pricing & Options
The Base Corvette Coupe with 350 cu. in. 300 hp engine and four speed automatic transmission cost $37,225 and the Base Corvette Convertible with 350 cu. in. 300 hp engine and four speed automatic transmission cost $45,060. The Grand Sport Package was another $3,250 on top of the base price.
| | | | |
| --- | --- | --- | --- |
| CODE | DESCRIPTION | QUANTITY | RETAIL PRICE |
| 1YY07 | Base Corvette Sport Coupe | 17,167 | $37,225.00 |
| 1YY67 | Base Corvette Convertible | 4,369 | $45,060.00 |
| AG1 | Power Driver Seat | 19,798 | $305.00 |
| AG2 | Power Passenger Seat | 17,060 | $305.00 |
| AQ9 | Sport Seats | 12,016 | $625.00 |
| CC2 | Auxillary Hardtop (convertible) | 429 | $1,995.00 |
| C2L | Dual Removable Roof Panels (coupe) | 3,983 | $950.00 |
| 24S | Removable Roof Panel, blue tint (coupe) | 6,626 | $650.00 |
| 64S | Removable Roof Panel, bronze tint (coupe) | 2,492 | $650.00 |
| F45 | Selective Real Time Dampening, electronic | 2,896 | $1,695.00 |
| G92 | Performance Axle Ratio | 9,801 | $50.00 |
| LT4 | 350 Cubic Inch, 330 Horsepower Engine | 6,359 | $1,450.00 |
| MN6 | 6-Speed Manual Transmission | 6,359 | $0.00 |
| N84 | Spare Tire Delete | 986 | -$100.00 |
| UJ6 | Low Tire Pressure Warning Indicator | 6,865 | -$325.00 |
| U1F | Stereo System With CD, Delco-Bose | 17,037 | $396.00 |
| WY5 | Tires, Extended Mobility | 4,945 | $70.00 |
| Z15 | Collector Edition | 5,412 | $1,250.00 |
| Z16 | Grand Sport Package ($2,880 w/convertible) | 1,000 | $3,250.00 |
| Z51 | Performance Handling Package | 1,869 | $350.00 |
Read more: 1996 Corvette pricing and factory options.
1996 Corvette Gallery
The Corvette had evolved remarkably during those 14 years. See full 1996 C4 Corvette Image Gallery
1996 Corvette Videos
See more 1996 Corvette Videos