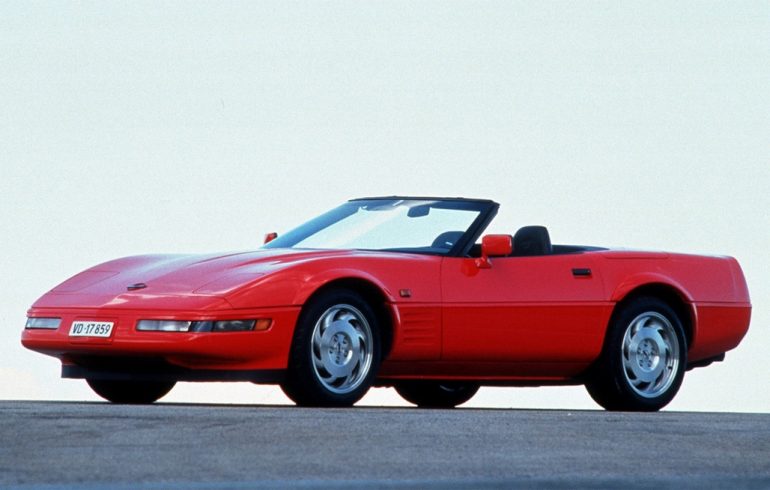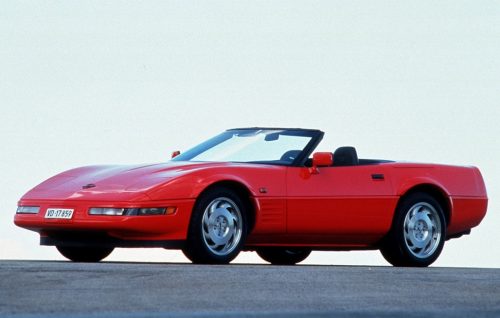 1991 Corvette – The Ultimate Guide
With the arrival of the ZR-1 in 1990, the Corvette had once more been elevated to a stature that had been missing since the early seventies.  The "King of the Hill" had arrived and had met or exceeded the expectations of most enthusiasts and automobile reviewers alike.
Its arrival had been anticipated for so long that prospective buyers gladly paid well in excess of the $58,995 list price. And yet, as fate would have it, the high priced ZR-1 that was so widely embraced in 1990 would be the same car that would ultimately bring about its own decline beginning just a year later in 1991.
While there was no mistaking the ZR-1's high-tech approach to mastering triple-digit speeds on command, there were glaring deficiencies elsewhere in the car that adversely impacted the ZR-1's success in the commercial market place.
Admittedly, despite the hefty $31,683 premium that accompanied the RPO ZR1 package option (note that this was in addition to the already expensive $32,455 base coupe price tag), the ZR-1 Corvette was still far more affordable than most exotic European sports cars.  The most glaring (and looking back, most obvious) criticism of the ZR-1 was the minimal styling enhancements to the body and interior of the car.
While, by comparison, there was no mistaking a Porsche 911 from a Porsche 944, it took a trained eye to discern the differences between the base coupe and the far more expensive ZR-1
What made things worse for the 1991 model year was the fact that Chevrolet further blurred the line between the two Corvettes when they introduced some cosmetic enhancements to the 1991 base model coupe and convertible.
While the ZR-1 did retain its unique doors and rear fenders that were required to accommodate the 11-inch-wide rear wheels and tires, the standard coupe and convertible received a ZR-1 inspired rear fascia, with a similar convex styling and four rectangular shaped tail lamps.  With this new backend on the base Corvettes, the only distinguishing features of the ZR-1 that remained were the slightly wider rear flanks, the roof-mounted center stop-lamp, and a single badge to distinguish a ZR-1 from a base coupe. In contrast, on 1991 (and beyond) base coupes and convertibles, the third taillight was integrated into the rear fascia just above the CORVETTE emblem.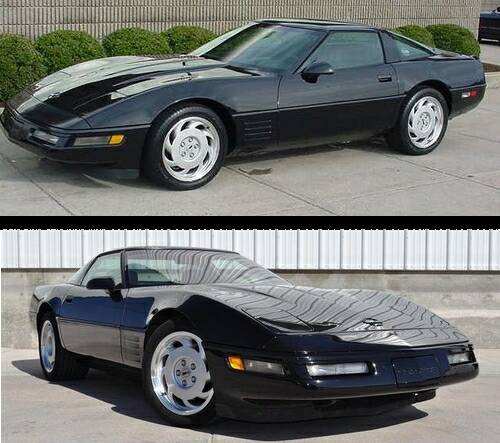 Another devastating event to adversely impact the ZR-1 line came from outside anything that Chevrolet could readily counteract.  In early 1991, Dodge announced that they would be introducing an all-new sports car as part of their 1992 model line – the Dodge Viper.
The Viper would include a 400 horsepower V-10 engine and promised sports car enthusiasts a more expressive way to spend their performance-car dollars.  Hailed as "offering some of the most aggressive race-car looks to date", the Shelby Cobra inspired Dodge Viper would have a dramatically negative impact on the sale of ZR-1's over the course of the 1991 model year.  Where Chevrolet had planned on selling 4000-8000 ZR-1's per year, total sales of the super Corvette dropped to just 2,044 units in 1991. It appeared that, despite its initial novelty and promise of unsurpassed performance, the ZR-1 had quickly degenerated into "yesterday's news
Making matters even worse for GM, it was determined that an all-new Corvette, which had originally been projected for a 1995 arrival, would still be several years away.  Due largely to their struggling financial situation, GM's top brass delayed the program until as late as 1998.  In fact, overall Corvette sales had waned so dramatically that Chevrolet General Manager Jim Perkins was brought before the GM brass to determine whether Chevrolet should continue to produce the Corvette at all.  Though ultimately it was agreed that the Corvette would, and should, continue as the division's flagship, it was also agreed that, until financial conditions improved, Chevrolet would not have the ability to fund the research necessary to develop a mid-engine model, (an endeavor that had been the silent ambition of Corvette designers for generations).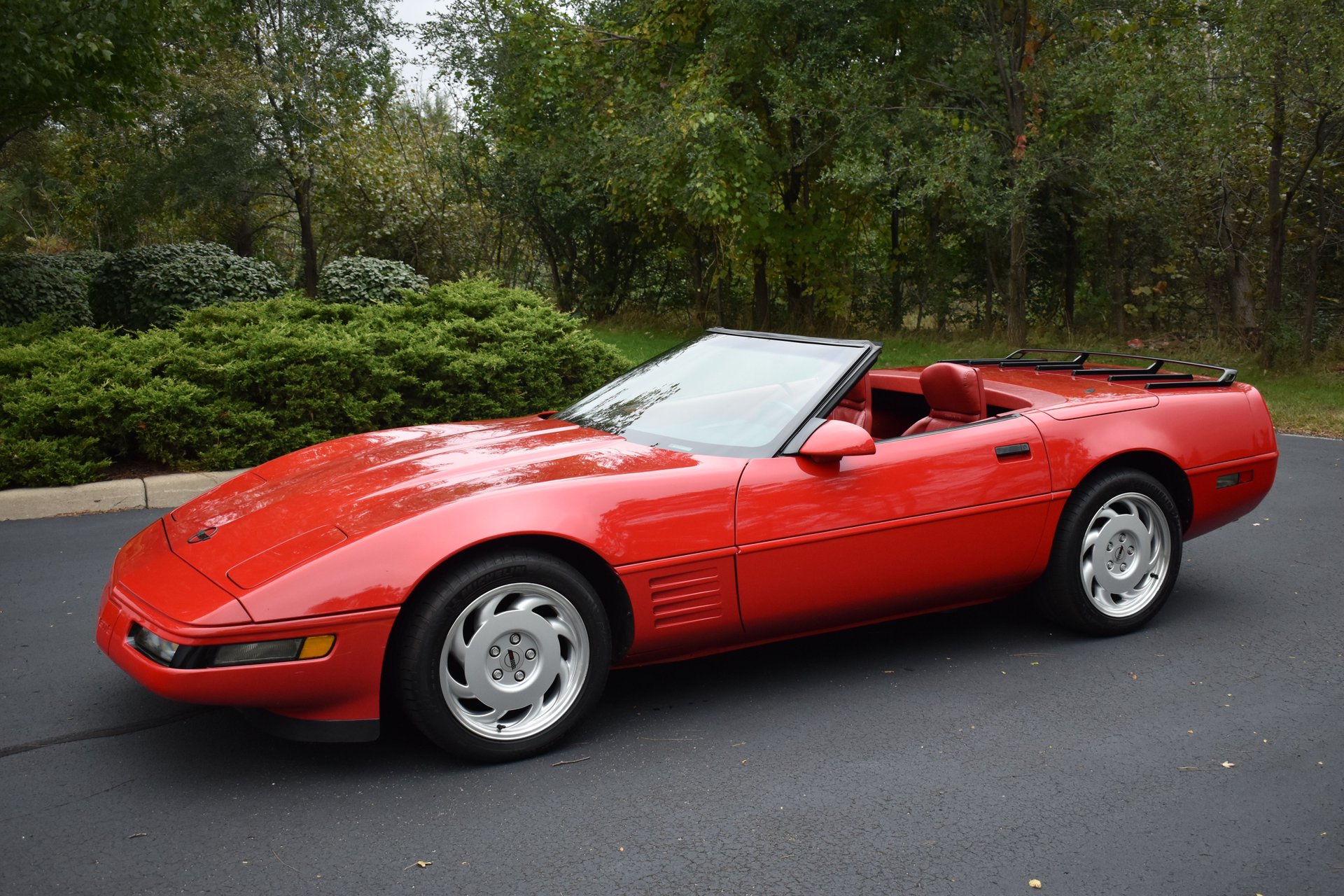 Despite these setbacks, 1991 was not all bad news for the Chevy Corvette. Cosmetically, the C4 Corvette received many additional enhancements to those listed earlier, including a smoother, slimmer front fascia with wraparound parking/cornering/fog lights, wider body-side moldings that were now painted to match the body color, and horizontal front-fender strakes that replaced the previous gill-like louvers.
Additionally, the 9.5 inch wide aluminum wheels were re-designed and now featured a turbine-like appearance.
While the cosmetic makeup of the 1991 Corvette's interior remained largely unchanged, it did receive a number of mechanical/electrical updates that improved overall operability. A new power-delay feature was added to the audio system and power windows which allowed both to operate after the ignition was switched off until such time as either the driver or passenger doors were opened or for a maximum of fifteen minutes (whichever came first.)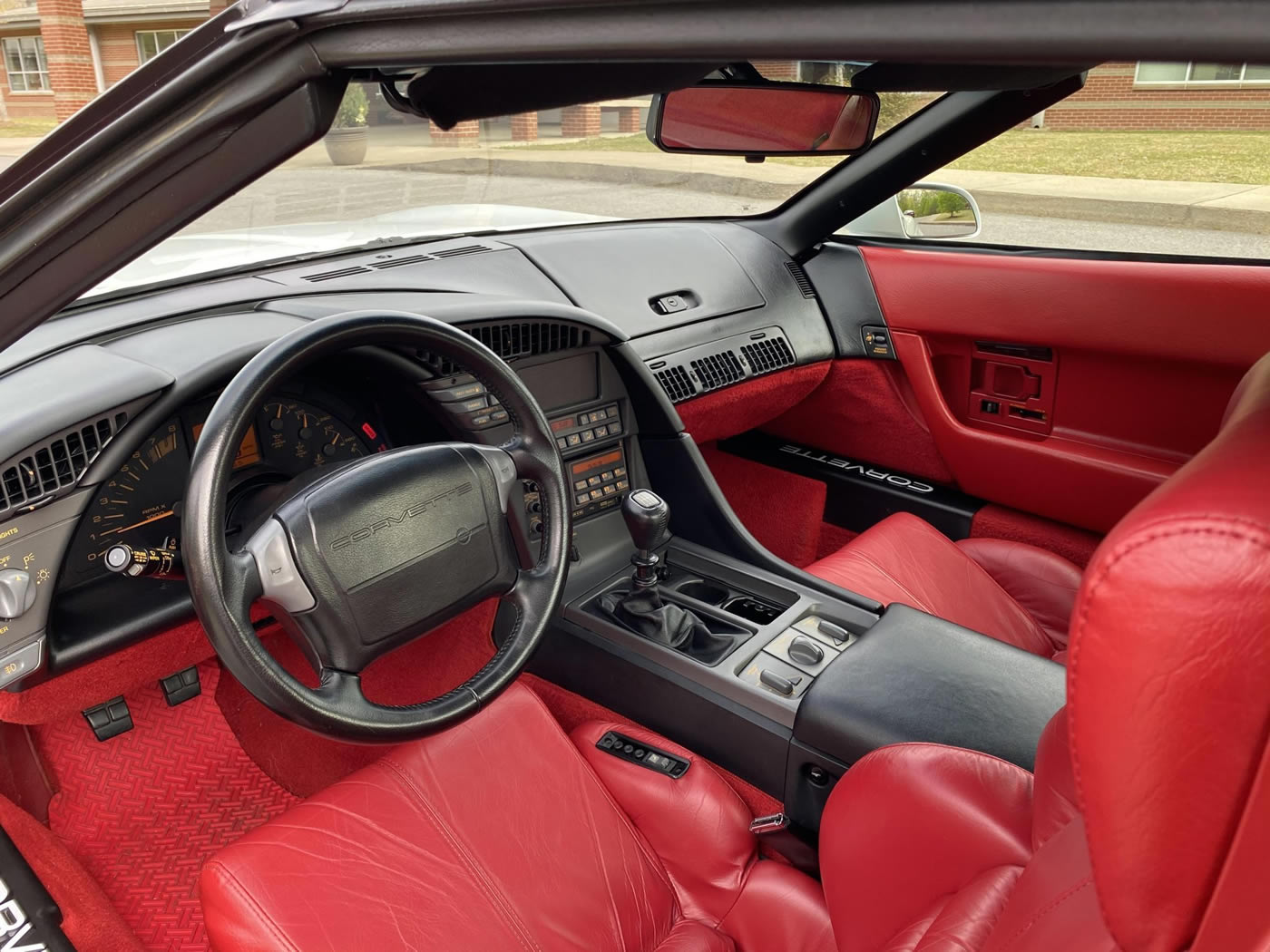 Additionally, a "low oil" indicator was added to the driver information center, and all models were pre-wired to accommodate a cellular telephone or other 12-volt accessory.  On the ZR-1's, the "full power" indicator light was relocated to alongside the valet-selection key.
The Corvette's exhaust system underwent some revisions for 1991.  Included in the update were larger muffler sections with a more finely tuned exhaust note and lower back pressure.  While the introduction of these new mufflers was intended to add power to the existing L98 engine, the horsepower ratings remained unchanged.  In addition to the upgraded exhaust system, a finned power-steering cooler was also installed with the intent of improving performance.
Continuing beneath the car, the suspension package was revamped for 1991 as well.  New for the 1991 Corvette was RPO Z07.  Priced at $2155, this option effectively combined the previous Z51 performance handling package with the FX3 selective ride and handling option.  It offered prospective owners the option of an all heavy-duty suspension system that drivers could manually adjust the ride characteristics between "firm" and "very firm".  Limited only to Corvette coupes, the Z07 package was intended for true sports car enthusiasts and racers.
The World Challenge racing series was continued in 1991, but Chevrolet no longer offered a specially modified Corvette to run in the series.  Instead, consumers would have to purchase a Corvette and perform the modifications themselves.
DID YOU KNOW: The 1991 model year marked the 10th anniversary of the Chevy Corvette's production at the Bowling Green Corvette Assembly Plant in southern Kentucky.
1991 also marked the final year for the dealer installed Callaway Twin-Turbo package.  Much like the ZR-1 option, dwindling sales drove Chevrolet executives to make the decision to discontinue the Callaway option.  In fact, only sixty-two Callaway Corvettes were sold in 1991 (at an additional $33,000 a piece).  Despite the dwindling sales numbers of Callaway Corvettes, Chevrolet did recognize the build of the 500th Callaway Corvette on September 26, 1991.  The subsequent Callaway Corvettes that rolled off the assembly line were dubbed "Callaway 500" and could be specially optioned (for an additional $600.00) to include a series of commemorative "Callaway 500" badges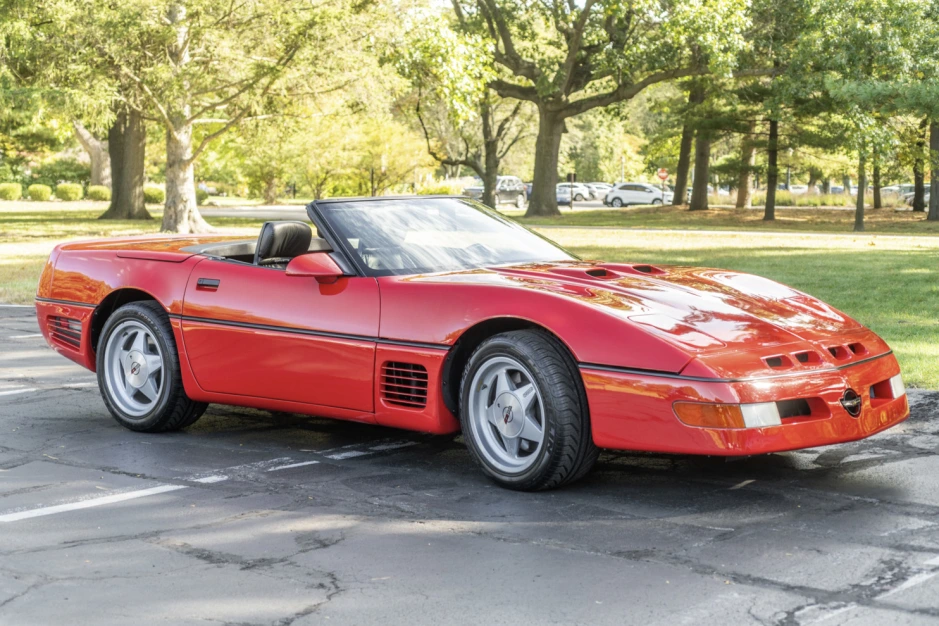 Notwithstanding Chevrolet's decision to discontinue the Callaway line as part of Corvette's RPO (available options package), Reeves Callaway introduced a Corvette conversion kit of his own for the 1991 model year.  Dubbed the Twin-Turbo Callaway Speedster convertible, this aftermarket variant mated two turbo-chargers to the L98 engine to produce 450 horsepower and 600 lbs/ft of torque.  The 1991 Speedster was somewhat reminiscent of the earlier 1988 Corvette Sledgehammer, although its overall appearance was more aerodynamic.  The Speedster featured O.Z. brand racing wheels and a Connolly leather interior.  Priced at $107,000 (and higher), a total of 10 of these cars were built in 1991.
Production Volumes
Overall, sales of the 1991 Chevy Corvette followed the downward trend started earlier in the model year by the ZR-1.  In all, 20,639 units were sold, with coupes outselling convertibles at a ratio of about three-to-one.
With the ZR-1's sales numbers crumbling around them, and with General Motors unable to fund the development of an all-new Corvette for the foreseeable future, Corvette engineers knew that a happy medium would have to be reached between the performance limited L98 base model and the overly priced ZR-1.
If Corvette was going to retain its stature as a true American sports car against future competitors like the Dodge Viper, there was no question that improvements would have to be made to ensure that every Corvette – not just the super exclusive ZR-1 – would be able to hold its own in the future.
1991 Corvette Specifications & Performance
See the complete breakdown of technical specifications for the 1991 Corvette, including engine, suspension, brakes, body dimensions, and power. Read more: 1991 Corvette Specifications.
Engine, Transmission & Performance
1991 Corvette Vehicle Identification Numbers (VIN)
The last six digits begin at 100001 and run thru 118595, accounting for each of the 18,595 Corvette Coupes/Convertibles built in 1991. Additionally, the last six digits of the ZR-1 VIN begin at 800001 and run thru 803049, accounting for each of the 2,044 ZR-1 Corvette Coupes built in 1991. Each Vehicle Identification Number (VIN) is unique to an individual car. For all 1991 Corvettes, the Vehicle Identification Number was stamped on a plate on the inner vertical surface of the left windshield pillar visible through the windshield. Read more: 1991 Corvette VINs.
1991 Corvette Price & Options
Core Features & Factory Options
A styling makeover was the big news for the 1991 Corvette. A new look was overdue since it had been the same body shape since March 1983 when the C4 was first available. Eight years is long time for a car whose claim to fame is an exciting shape. The update included a new wraparound and integrated front turn signal – auxiliary lamp – cornering light – side marker light area. While not a drastic change, the upgrade somehow managed to make the whole car more up to date. Also new for '91: A turbine style wheel made its debut and is sometimes referred to as the "Cuisinart Wheel". A set of four horizontal indentations behind the front wheels replaced the two vertical marks seen since 1984.
Colors
White, Steel Blue Metallic, Yellow, Black, Turquoise Metallic, Dark Red Metallic, Quasar Blue Metallic, Bright Red, Polo Green Metallic, Charcoal Metallic. Of the ten colors for 1991, once again Bright Red was most popular, making up 26% of total production. Black and White were also popular, with 19% and 21% of total production respectively. Read more: 1991 Corvette colors.
Pricing & Options
The Base Corvette Coupe with 350 cu. in. 245 hp engine and four speed automatic transmission started at $32,455. The Base Corvette Convertible with 350 cu. in. 240 hp engine and four speed automatic transmission started at $38,770. 1991 was the last year Callaway Corvettes (RPO B2K; $33,000.00) were part of the options list. 71 were sold; a total of about 500 Callaway twin turbo Corvettes had been built under the program.
| | | | |
| --- | --- | --- | --- |
| CODE | DESCRIPTION | QUANTITY | RETAIL PRICE |
| 1YY07 | Base Corvette Sport Coupe | 14,967 | $32,455.00 |
| 1YY67 | Base Corvette Convertible | 5,672 | $38,770.00 |
| AC1 | Power Passenger Seat | 17,267 | $290.00 |
| AC3 | Power Driver Seat | 19,937 | $290.00 |
| AQ9 | Sport Seats, leather | 10,650 | $1,050.00 |
| AR9 | Base Seats, leather | 9,505 | $425.00 |
| B2K | Callaway Twin Turbo (not GM installed) | 71 | $33,000.00 |
| CC2 | Auxillary Hardtop (convertible) | 1,230 | $1,995.00 |
| C2L | Dual Removable Roof Panels (coupe) | 5,031 | $915.00 |
| 24S | Removable Roof Panel, blue tint (coupe) | 6,991 | $615.00 |
| 64S | Removable Roof Panel, bronze tint | 3,036 | $615.00 |
| C68 | Electronic Air Conditioning Control | 19,233 | $180.00 |
| FX3 | Selective Ride and Handling, electronic | 6,894 | $1,695.00 |
| G92 | Performance Axle Ratio | 3,453 | $22.00 |
| KC4 | Engine Oil Cooler | 7,525 | $110.00 |
| MN6 | 6-Speed Manual Transmission | 5,875 | $0.00 |
| NN5 | California Emission Requirements | 3,050 | $100.00 |
| UJ6 | Low Tire Pressure Warning Indicator | 5,175 | $325.00 |
| UU8 | Stereo System, Delco-Bose | 3,786 | $823.00 |
| U1F | Stereo System With CD, Delco-Bose | 15,345 | $1,219.00 |
| V56 | Luggage Rack (convertible) | 886 | $140.00 |
| Z07 | Adjustable Suspension Package (coupe) | 733 | $2,155.00 |
| ZR1 | Special Performance Package (coupe) | $2,044.00 | $31,683.00 |
Read more: 1991 Corvette pricing and factory options.
1991 Corvette Gallery
A styling makeover was the big news for the 1991 Corvette. A new look was overdue since it had been the same body shape since March 1983 when the C4 was first available. See full 1991 CY Corvette Image Gallery
1991 Corvette Videos
See more 1991 Corvette Videos