1964 Chevrolet Corvette History
Read more: the 1964 Chevrolet Corvette guide.
The 1964 Chevy Corvette was greeted with as much enthusiasm as its 1963 counterpart had been the year before.
With the monumental success that Chevrolet had experienced after the introduction of its second-generation Corvette Sting Ray. GM executives understood that the C2's sophomore year would require little more than continued refinement to the already intensely popular sports car to maintain its success.
There would be functional changes of course, and a few minor cosmetic refinements, but for the most part the 1964 Corvette would retain much of the ingenuity and design cues that had contributed to its initial success the previous year.
| | |
| --- | --- |
| Model: | 1964 Corvette |
| Generation: | C2 Corvette |
| Type: | 2 Door Coupe/Convertible |
| Available Colors: | Tuxedo Black, Silver Blue, Daytona Blue, Riverside Red, Saddle Tan, Ermine White, Satin Silver |
| Engine: | 327ci ohv V8 (fuel injected or carbureted (multiple-horsepower options available.)) |
| VIN: | 40837S100001 – 40837S122229 |
| Transmission: | 3-speed manual (standard), 4-speed manual (optional), 2-speed Powerglide (optional) |
| Original Price: | $4252.00 (Coupe), $4037.00 (Convertible) |
| Units Produced: | 22,229 |
| Corvette | 1964 Corvette Spec List |
Most of the styling refinements that were made to the exterior of the 1964 model were subtle.  The most notable change involved the replacement of the rear split-window that had been introduced in 1963.  The split-window was abandoned completely by General Motors in 1964, replaced instead by a rear window that was constructed of a single piece of glass.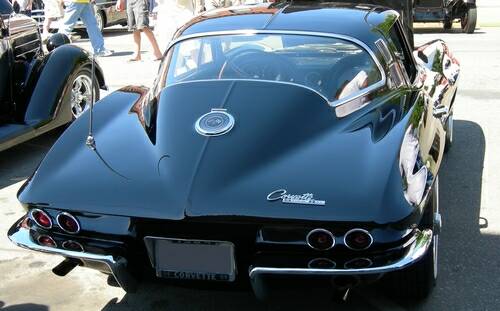 Another notable change that was made to the body lines on the 1964 model involved the removal of the faux hood vents that had adorned the 1963 model.  Although the vents themselves were stripped from the design, the recessed areas where they had been mounted remained, giving the 1964 Corvette hood a distinctive look all its own.
Also on the coupe's rear pillar panels, which had been cosmetic just a year before, was now made fully functional, but only on the driver's side. The addition of these vents aided in the venting of the cockpit on all coupes.
Still other cosmetic refinements, while less notable, still enhanced the 1964 Sting Ray's overall appearance.  The car's rocker panel trim, which had previously featured a series of ribs that ran the length of the panel, was replaced by a new panel that featured a  black divider that ran down its length.  Wheel covers were simplified.
The fuel filler neck cover/deck emblem was redesigned to include concentric circles around its crossed-flags insignia. been included in the 1963 Corvette's bottom cushions were eliminated in the 1964 model.  Lastly, the original color-keyed steering wheel rim was replaced by a wheel molded in simulated walnut.  Also, all inside door release knobs were chromed. Other changes to the interior were invisible to the human eye, but were quite significant to the human ear.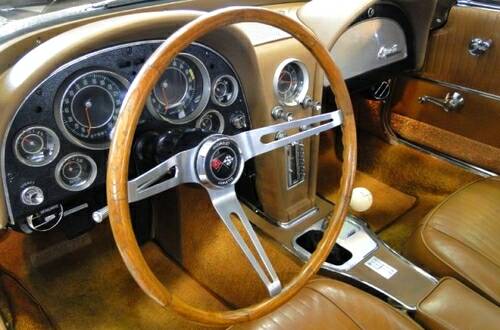 The European press had criticized the 1963 Corvette for having fairly high interior noise levels.  To correct this issue, Chevrolet added more sound insulation and revised body and transmission mounts to reduce the amount of noise being generated during normal vehicle operation.
Chevrolet also installed additional bushings to quiet the shift linkage and placed a new boot around the shift lever mechanism.  All of these considerations were made with the intent of making the 1964 Corvette a bit more drivable on a daily basis.
Mechanically, few real changes were made to the car.  The drivetrain choices remained pretty much the same as they had in 1963: four 327 cubic inch diameter V-8 engines were mated to either a three-speed, a four speed manual transmission or the Powerglide automatic transmission.  Of these engines, the two least-powerful engines returned with 250 and 300 horsepower at a 10.5:1 compression ratio.  The high-performance engines, however, did receive some noteworthy upgrades.  To start, the carbureted engine was improved upon with the introduction of a Holley carburetor instead of the original base engine's Carter unit.  The engine, now fed through the big four-barrel Holley carburetor duration camshaft that helped to produce 365 horsepower.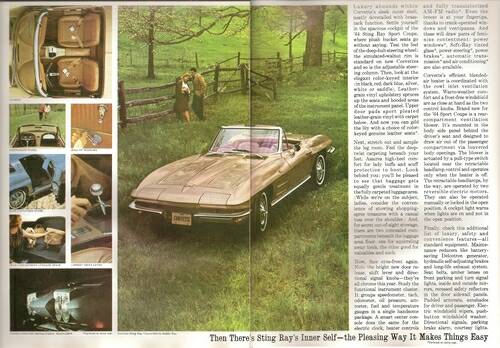 The fuel-injected variant gained an additional fifteen horsepower over the previous year.  Now rated at 375 horsepower (at 6,600 rpm), this last engine introduced a re-profiled camshaft with a greater life and a longer dwell, as well as improved ports and valve gear.  Unfortunately, the fuel injected engine also carried with it a hefty price bump – $538 to be specific – that was deemed too expensive by most automobile buyers.
Transmission options did not vary much in 1964, though the two Borg-Warner T-10 four-speed transmissions were superseded by a pair of "Muncie" gearboxes.  The "Muncie" transmissions were so called because of where they were built – namely, General Motors Muncie, Indiana transmission facility.
The Muncie transmissions were already being installed in a number of other GM models, so it made sense that Corvette utilize the same transmissions as well, thereby reducing transmission cost – both in materials and in manufacturing.   Known as a synchromesh style transmission, the Muncie gearbox featured an aluminum case similar to the earlier Borg-Warner design, though it came with stronger synchronizers and wider gear ratios making it more durable and providing greater drivability.  Also like the Borg Warner transmission, Muncies had a reverse lockout trigger, though it was mounted to a thicker shifter
DID YOU KNOW: Starting with the 1964 model year (and lasting thru 1967), some Corvette bodies were supplied by Dow-Smith (located in Ionia, Michigan.) Dow-Smith is a division of the A.0. Smith Company. Also, while it is true that the C2 Corvette did introduce the factory installation of bodyside exhaust pipes, they were not a factory option until 1965. Every Corvette (coupe or convertible) that is titled as a 1963 or 1964 should only have exhaust coming out of the rear of the car. Any other configuration is an aftermarket add and may hurt the collectability of that particular Corvette.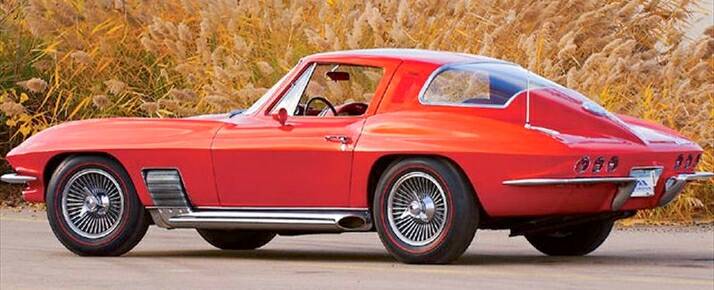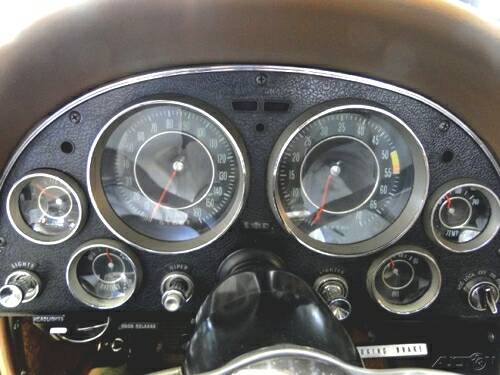 The Muncie 4-speed manual transmission, sold under production option M20, was installed in more than 85 percent of all Corvettes that year.  Of these, 10,538 were mated to wide ratio, 250hp and 300hp engines, while the other 8,496 were mated to 365hp and 375hp engines.
While the 1964 Corvette actually came standardly equipped with a 3-speed manual transmission, only 3.2 percent of the Corvettes built that year came so equipped.  Once again, the optional Powerglide 2-speed automatic transmission was also offered in 1964, but only accounted for approximately 11 percent of all the Corvettes built.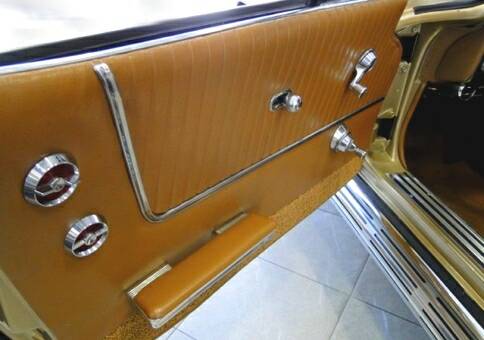 Interestingly, Positraction was not a standard option at the onset of the C2.  While commonplace in Corvettes today, positraction was still an option in 1964 – though a very affordable one.  Priced at only $43.05, more than 80 percent of all Corvettes purchased and owned in 1964 included the option.
What made positraction so attractive to consumers was that it naturally enhanced off-the-line wheel adhesion.  The clutch-type differential was designed to send engine torque to the rear wheel with greater traction.
This was advantageous to drivers in most conditions, though it did cause fishtailing in instances where the car was exposed to snow or ice.  In such instances, Corvette owners learned to drive with a lot more caution and a much lighter foot.
While positraction may have been relatively inexpensive, the optional J56 braking package was very costly.  Priced at $629.50, the sintered-metallic brakes featured fade-free stopping power and included the Al-Fin drums that had been introduced in 1963 as part of the Z06 package (which was not offered as an option in 1964.)
The "Special Sintered Brake Package" option was specifically aimed for performance-focused drivers, and required a number of other pricey upgrade options – including option (the Positraction rear axle) – before these brakes could even be installed.  Given the number of other upgrades combined with the brake package's hefty price, RPO J56 only made its way into 29 cars that year.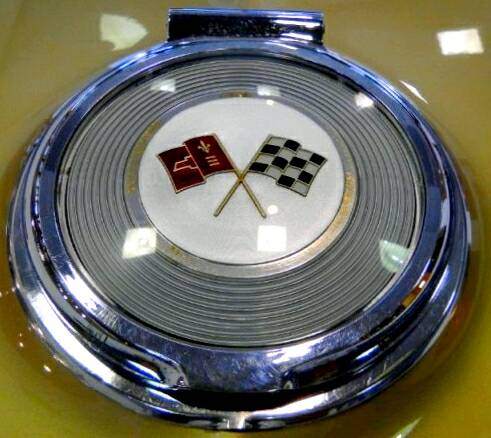 Where the 1963 Corvette had been eagerly anticipated and well-received by the press, the 1964 Sting Ray was absolutely loved by both critics and consumers alike.  There were virtually no criticisms of the car at all, from any reputable critic, save for some writers making a specific complaint about the convertible's tendency to "rattle and shake on rough roads."
Despite this seemingly single criticism, the critics revealed at the car's robust performance numbers.  Motor Trend Magazine, for example, tested a fuel-injected four-speed coupe with a 4.11:1 rear axle ratio, sintered-metallic brakes and Positraction by timing it in a quarter-mile run.
The results were impressive.  The car completed a quarter-mile run in 14.2 seconds at a speed of 100 miles per hour, with a 0-60 time of just 5.6 seconds (which were both impressive performance numbers for 1964.)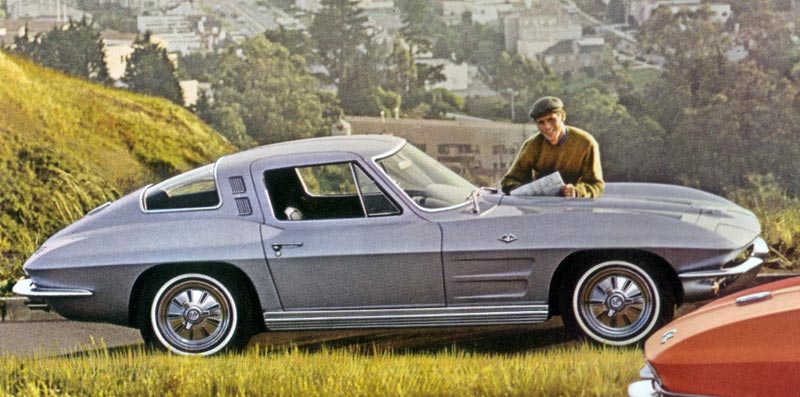 Despite the critics' positive reviews, there were some minor concerns from some GM executives that the Corvette's sales numbers might be diminished after Ford's introduction of the Mustang in 1964.  Like the original Corvette, the first Mustang came equipped standard with a six-cylinder engine, though Ford introduced an optional V8 engine from the start.  What was more alarming was that the Mustang quickly found its way into a number of competitive events – including the 1964 Tour de France, where it scored a victory in its very first year.  The concerns were, of course, unfounded as the Mustang was represented by Ford as a four-seat "tourer" coupe.  The Corvette, by contract, had earned a solid being a true sports car.  As history would eventually reveal, the two cars would never be direct competitors, or even be recognized by car enthusiasts as being comparable to one another.
Ultimately, the concerns surrounding the Mustang would prove to be unfounded.  The 1964 Sting Ray sold a total of 22,229 units, which set another Corvette sales record (though by less than a thousand units over the previous record set just a year earlier in 1963.)  Of the units sold, only 8,304 coupes were manufactured.  The remaining 13,925 convertibles proved yet again that the Corvette Roadster was still the favorite amongst Corvette consumers.
1964 Corvette Image Gallery
See full 1964 Corvette Image Gallery
1964 Corvette Specifications
The least-powerful 1964 Corvette came with 250 horsepower from a 327 ci V8 engine, though you could upgrade to the monstrous 375 horsepower version. The '64 Vette came with your choice of a three-speed or four-speed manual, or three-speed Powerglide automatic transmission.
1964 Corvette Pricing
Pricing for a brand-new 1964 Corvette started at $4,037 for the convertible and $4,252 for the Coupe. Options included the L75, L76, and L84 V8 engines. See complete 1964 Corvette pricing.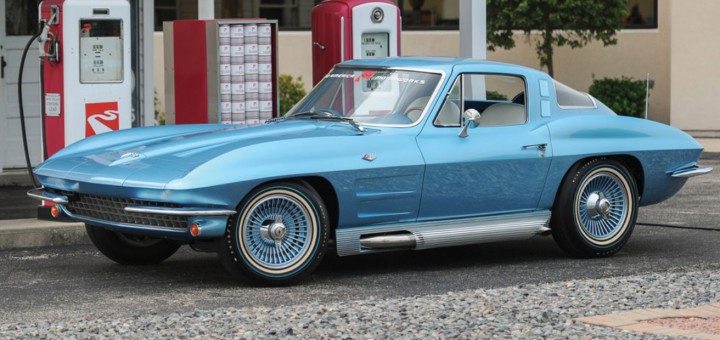 1964 Corvette Recalls, Service Bulletins, & Maintenance Schedule
From the 1964 Service Manual: The time or mileage intervals are intended as a guide for establishing regular maintenance and lubrication periods for your Corvette.  Sustained heavy duty or high-speed operations or operation under adverse conditions may necessitate more frequent servicing.
See all 1964 Corvette Recalls, Service Bulletins, & Owners Maintenance.
1964 Corvette Brochures & Owners Manuals
See the original 1964 Corvette owners manual and sales brochure.