1986 Corvette Overview
For those that lived through that era, 1986 probably resonates as one of the most innovative and exciting years of the entire decade.  It was the year that the Human Genome Project began, a study that would help scientists understand and map the genetic structure of the human body.  IMAP (Internet Mail Access Protocol), the groundwork for Email, was put into place, forever changing the way humans would communicate with each other.  IBM unveiled the "PC Convertible", the first-ever laptop computer.
Model:
1986 Corvette
Generation:
C4 Corvette
Type:
2 Door Coupe, 2 Door Convertible
Available Colors:
Silver Metallic, Medium Grey Metallic, Medium Blue Metallic, Yellow, White, Black, Gold Metallic, Silver Beige Metallic, Copper Metallic, Medium Brown Metallic, Dark Red Metallic, Bright Red, Silver/Grey, Grey/Black, White/Silver, Silver Beige/Medium Brown, Silver Beige/Black
Engine:
350CI, 230/235 Horsepower, Tuned-Port Fuel Injected L98 V8 Engine.
VIN:
1G1YY0789G5100001 – 1G1YY0789G5127794 (Coupe)
1G1YY6789G5900001 – 1G1YY6789G5907315 (Convertible)
Transmission:
4-speed automatic (standard), 4+3 speed manual (optional)
Original Price:
$27,027.00 (Coupe), $32,032.00 (Convertible)
Units Produced:
35,109
Specs:
1986 Corvette Spec List
And, in its own way, General Motors was also pioneering new territory as they continued the evolution of their famous sports car. With the continual refinement of their L98 engine, a bigger focus on safety and security, and the development of many new functions and luxury features, the arrival of the 1986 Corvette carried with it the continuation of the spirit of innovation that had helped Corvette rise to become a world leader in the sports car market since its humble beginnings in 1953.
Since the introduction of the C4 Corvette in 1984, a significant increase in Corvette theft had been reported all across the country.  Of all the Corvettes built in 1984 and 1985, approximately 7 percent had been stolen.  Recognizing a need to make their cars more secure for the customers who were purchasing them, General Motors introduced a new security technology as a standard feature on all Corvettes.
"VATS" or "Vehicle Anti-Theft System" was a simple but effective addition to the existing alarm system.  A small metal pellet with a specific electrical resistance was impeded in the ignition key, and had to be read by a hidden, electronic "decoder" before the engine could start.
Using the wrong key would cause the decoder to shut down both the starter relay and the fuel pump for a minimum of two minutes (although there are recorded incidents where the car would remain immobilized for as long as 15 minutes) before allowing the operator another attempt at starting the car.  After the introduction of the VATS system in 1986, Corvette theft dropped from 7% to less than 1% in 1986 and to near 0% by late 1987/early 1988.
The results of this technology was significant enough to prompt many automotive insurance companies to reduce their comprehensive premium rates for Corvettes equipped with VATS by 20-25 percent.
Another advancement of the 1986 model year involved the introduction of the first anti-lock braking system to the Chevrolet Corvette.  Antilock brakes (or ABS), which utilized the latest ABS II setup from Bosch in Germany, prevented wheel lock up in extreme braking conditions and reduced/eliminated skidding and subsequent loss of control of the car.  ABS was relatively new in 1986 and its usage was limited mainly to high-cost luxury cars.  Although no additional changes were made to the Corvette's braking system, the addition of the ABS helped the Corvette further gain acceptance as the true world-class sports car that Chevy said it was.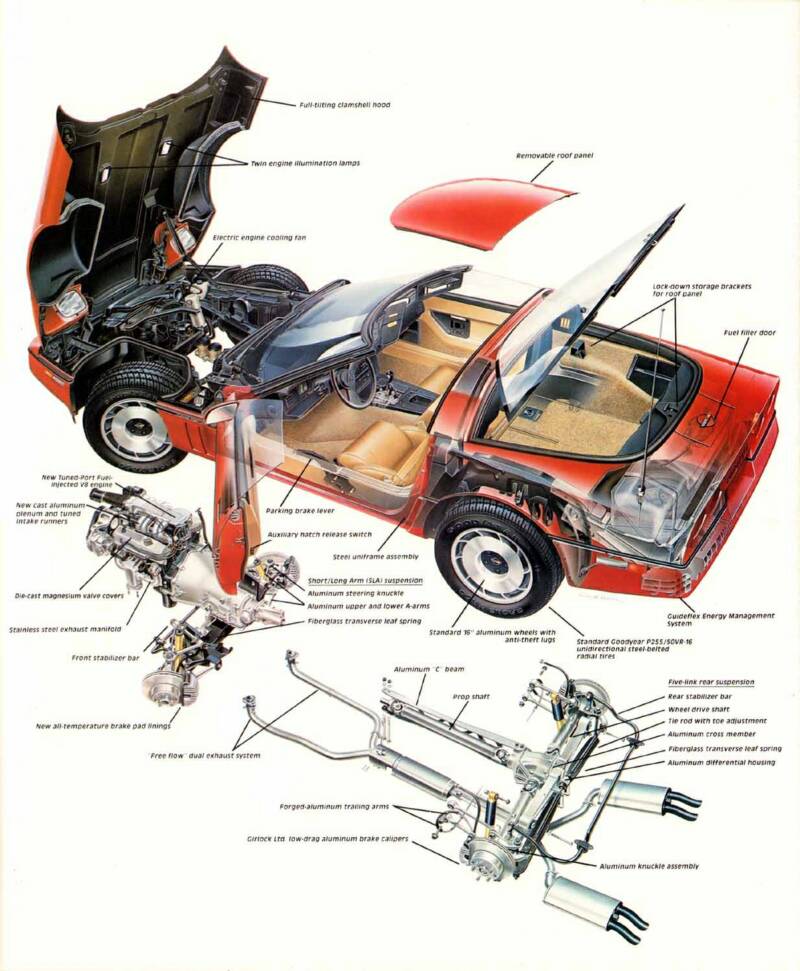 Still other, less notable (but equally significant) changes were made.  Under the hood, the L98 engine received an upgrade when the cylinder heads were changed from cast-iron to aluminum, reducing the car's curb weight by 125 pounds.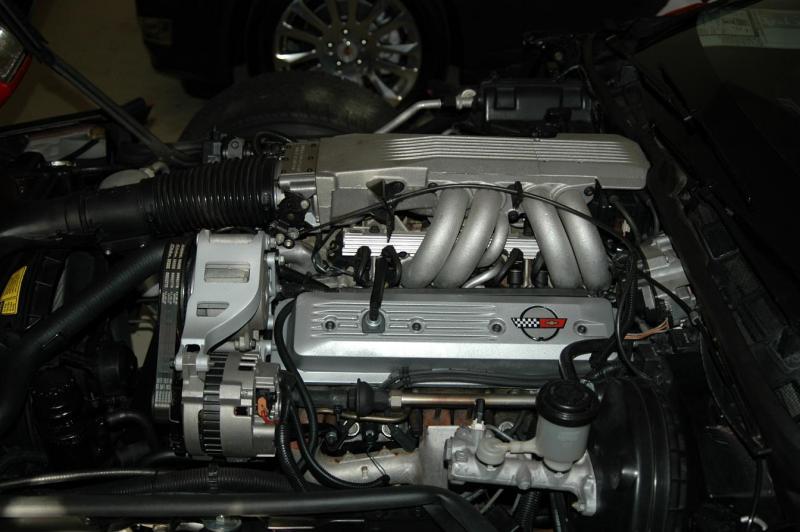 This reduction in weight made the 1986 Corvette the first 'Vette in twenty years to weigh less than 3,000 pounds.  However, reducing the car's weight resulted in defective components under the hood.  The new L98 engine aluminum heads were discovered to be a little too thin during durability testing, the result of which was cracking around the head attachment bosses during high engine loads.  As a result, it was quickly determined that the heads had to be replaced with thicker ones.  Although the replacement heads were delayed until well into the middle of the model year, they proved to be a most valuable addition.  The replacement heads incorporated centrally located copper-core spark plugs for better combustion.  They also included larger intake ports and sintered-metal valve seats.   The engines that were fitted with aluminum heads were rated at 235 horsepower, which was a 5 horsepower increase from 1985 and early 1986 models that were fitted with cast iron heads.
DID YOU KNOW: Fifty 1986 "Malcolm Konner Commemorative Edition" Corvettes were built in a special arrangement honoring the New Jersey Chevrolet dealership's founder, Malcolm Konner. Each Corvette was painted a two-tone paint scheme: Silver Beige over Black. Window stickers reflected 4001ZA as the RPO, and a $500.00 cost was listed for MALCOLM KONNER SP. EDIT. PAI (Malcolm Konner Special Edition Paint). All of the Malcolm Konner Special Edition cars were coupes. Twenty were built with manual transmissions while the other thirty were fitted with automatics. All had graphite leather interiors.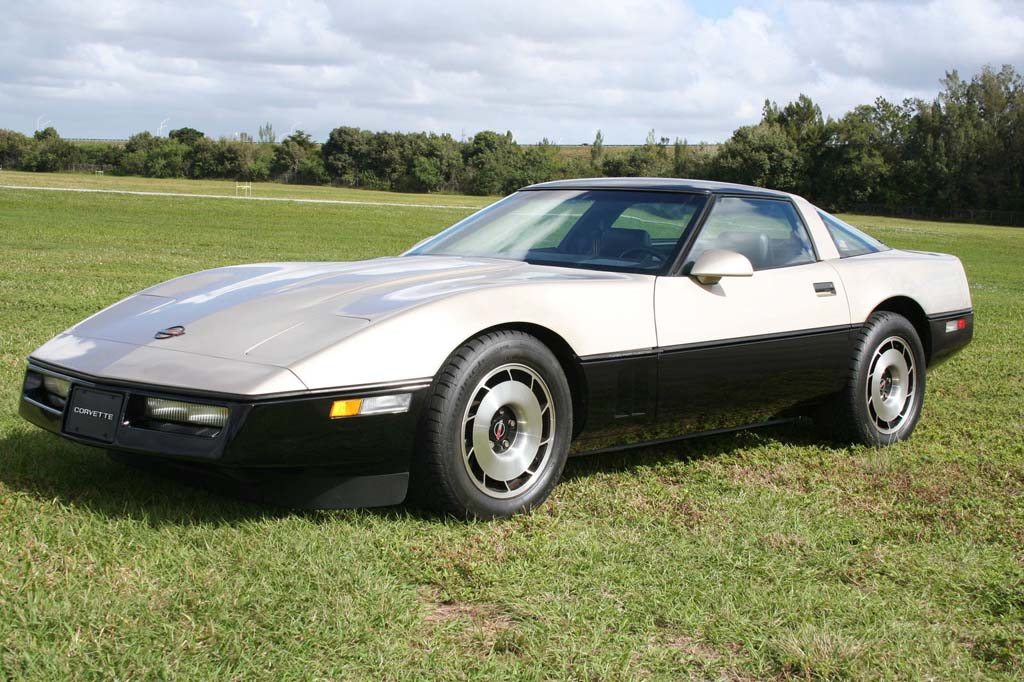 Other mechanical changes were made to the Corvette as well, though none provided any performance improvement.
Amongst these changes, the exhaust system was revised, introducing triple catalytic converters to meet the ever increasing Federal emissions standards that were put into place for 1986.
Wheel caster was changed from 3.8 degrees to 6.0 degrees to improve on-center road feel and to decrease wander.  The standard tires were changed to P245/VR5016s, which was an increase in size from the previous year's model line.
However, for the Z51 package, the tires continued to be P255s.  The overall size of the fuel tank was reduced by two gallons on automatic Corvette models.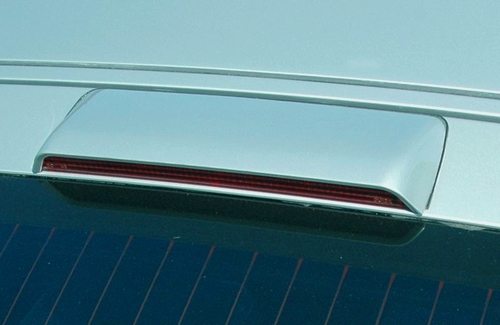 Cosmetic, but functional, changes were also introduced on the 1986 Corvette.  Above the rear hatch window, a high-mounted stop lamp was added.  This brake light, which was introduced as part of a new Federal requirement, was a key distinguishing feature of the 1986 Corvette, as it was one of the few outward changes that was made to the C4 since its introduction in 1984.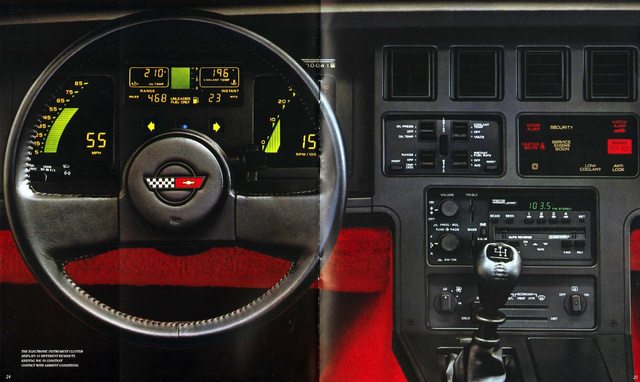 Elsewhere, small changes appeared throughout the car.  In the cockpit, the LCD instruments were re-angled to aid in daytime legibility.  Despite the re-angling, the digital dashboard continued to be a problem during daytime operation of the Corvette.
New to the dash cluster in '86 was the introduction of an upshift indicator light which was intended to help drivers achieve maximum fuel mileage by signaling the optimal time to shift gears during vehicle operation.
While considered an unnecessary feature by many consumers, it's intent was to help keep the car's EPA mileage figures above the gas-guzzler level.  (As an interesting side note, the shift indicator light was tied into all automatic transmissions as well.)
Additionally, "low coolant" and "anti-lock" (in reference to the anti-lock brakes) instrument displays were also added.  Wheels were given raised hub emblems and a bright brushed finish which replaced the black centers of the 1984 and 1985 models.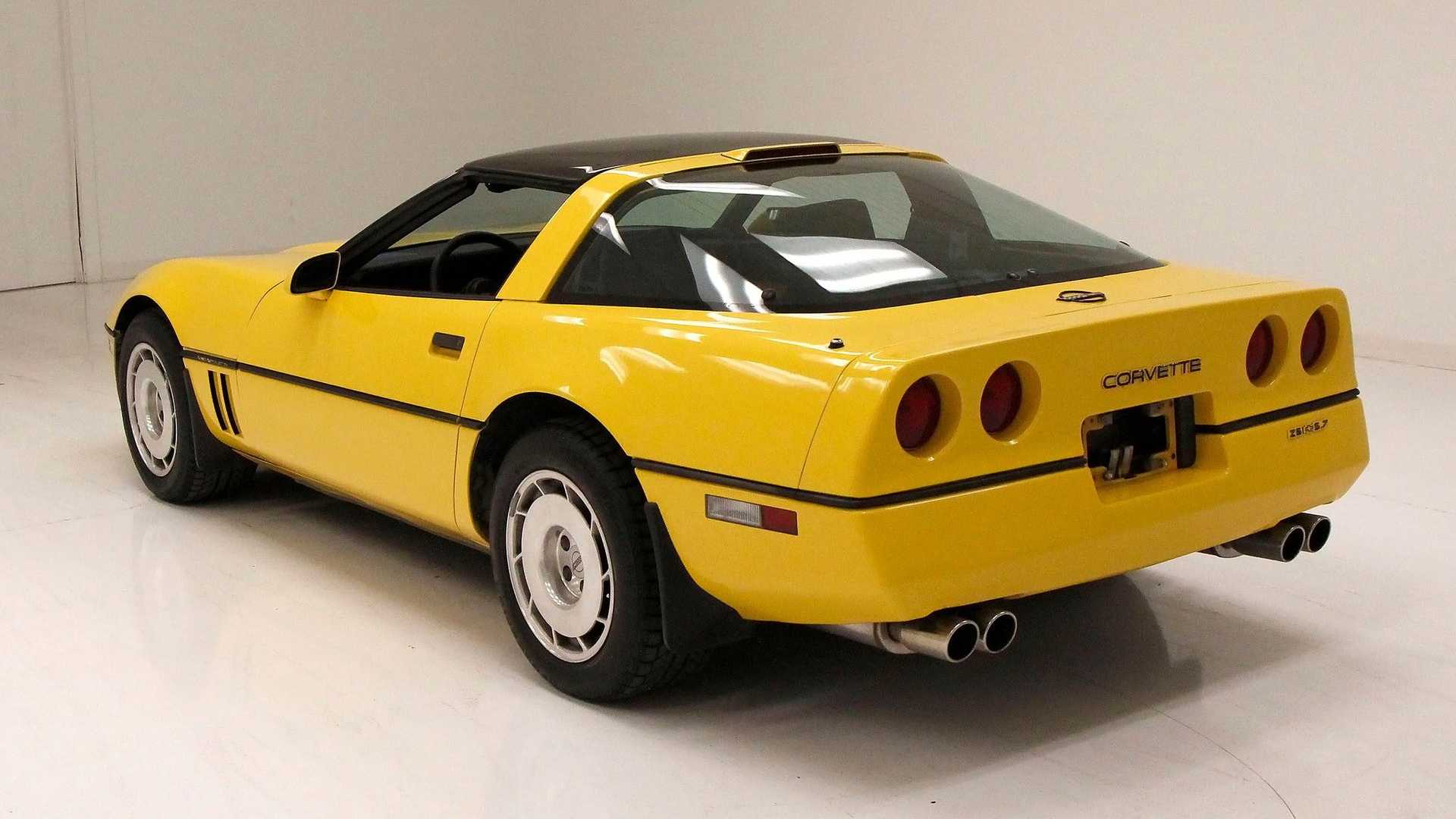 But for all of this, the most significant change didn't come as an optional component, but rather as an entirely optional model type – the Corvette Convertible.  Chevrolet engineers, aided in part by engineers from the "American Sunroof Company", had stated that the C4 Corvette's design had always been intended to support a convertible variant of the beloved coupe, and so they knew that transforming the car from coupe to convertible would be a straight forward process.  Because the absence of the roof pillar (and other supporting hardware) would increase body flex in the car, reinforcement was applied to the frame cross member in front of the engine.  Larger X-braces were added to tie door-hinge pillars to the rear chassis torque boxes and larger K-shape braces were used to connect the under engine member to the frame rails.   Additional structural reinforcements were added to the cowl structure, including the steering column, its mounts, the front torque box and the dashboard mounting beam.  Similarly, a crossbeam was added to the rear torque box, and the steel rider behind the seats became a sturdier, double-wall structure.
Although the 1986 Corvette did not see any track time (as a race car) when introduced, 1986 was still a significant year for Corvette Racing. It was the year that Tommy Milner, driver of the #3 Compuware C6.R Corvette, entered the world. Milner was born on January 28, 1986 in Washington D.C. and  joined the No. 3 Compuware C6.R Corvette Racing team in 2011, where he was partnered with Oliver Beretta, the most successful driver in ALMS history. This pairing of youth and experience proved to be a winning combination as, in his rookie year, Milner helped Beretta bring the No. 3 Corvette to victory in the 2011 running of the 24 Hours of LeMans.
Subtle cosmetic changes were made for the convertible as well, although the Corvette maintained a clear likeness to its coupe counterpart.  For one, the rear center taillight was moved from the rear deck lid glass and was instead inserted in the upper center of the rear bumper fascia, just above the rear Corvette nameplate.  For another, the cockpit featured a cowling that discreetly covered the convertible top, giving the 1986 Corvette an appearance that was as much "roadster" as convertible.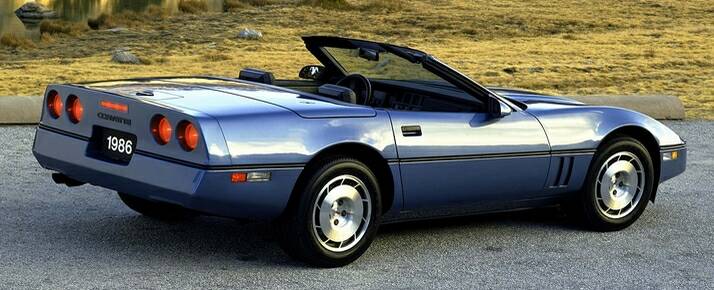 The new Corvette convertible was only fifty pounds heavier than the coupe and, because of the careful attention spent in reinforcing its structural design, was actually more rigid than the coupe, proving that the convertible could be as competitively functional as the coupe.  Of course, this type of additional innovation carried additional cost, and the convertible Corvette was no exception.  Its introduction in 1986 was accompanied by a $5000.00 price increase over the coupe.
The arrival of the convertible brought with it Corvette's ceremonial return to racing.  Although the announcement came late in the automotive season, its introduction occurred in time for the Corvette to be invited to participate in that year's Indianapolis 500 as the official Pace Car.  The 1986 Corvette convertible would become the second Corvette in history (second only to its 1978 forerunner) to serve as a pace car at the Indianapolis 500, and Chevrolet was more than proud that its two-seat convertible needed no special performance or engineering modifications to help the car reach the necessary speeds to lead a field of race cars around the famous Brickyard racetrack.    With the exception of safety-conscious strobe lights, a pair of five point harnesses (driver and passenger), and an onboard fire system, the yellow, 230-horsepower convertible that led the pace lap on May 31, 1986 was nearly identical to all other Corvette convertibles sold to the public that year.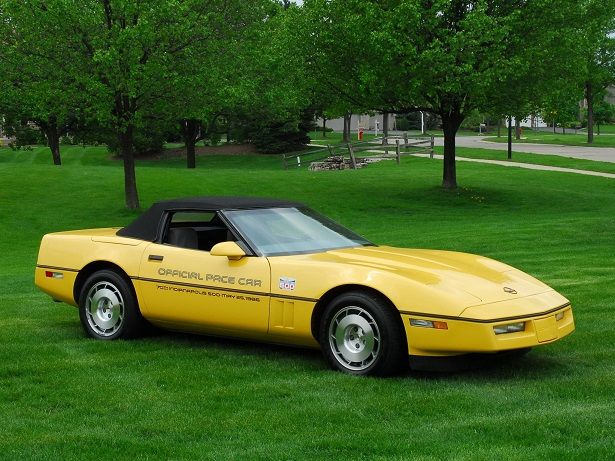 Although the actual pace cars were painted a bright yellow and wore special "Official Pace Car" badges, General Motors deemed that every Corvette convertible built in 1986 would be a street-going Indy pacer, regardless of color.  In fact, no special limited-edition "pace car" package option was ever offered, but instead, consumers were given the option of adding a dealer-offered commemorative decals to the doors of their 1986 Corvette.
Interestingly, the arrival of the new Corvette Convertible in 1986 resulted in less than stellar sales. Probably due in large part to "sticker shock", there was only 7,315 Corvette convertibles sold that year.  While there was certainly no question that Corvette engineers, workers and fans alike welcomed back the nostalgia-filled convertible, its price proved to put the car just out of reach for most consumers looking to purchase a convertible sports car that year.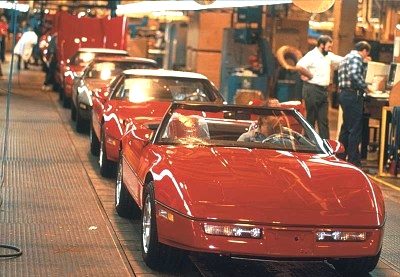 Instead, sales of the Z51 Corvette continued to lead the way, although this option was only made available in coupe form.  Even with its integral X-member reinforcement, the convertible chassis was still no match for the hearty, bone chattering Z51 performance package.
In all, 35,109 Corvettes were sold in 1986.  While this number was still considered to be very respectable, it was the second year in a row that overall Corvette sales numbers had slipped.  Despite these diminished numbers, there was no question that Corvette was continuing to move in the right direction.
---
1986 Corvette Image Gallery
See full 1986 CY Corvette Image Gallery
1986 Corvette Specifications
See the complete breakdown of technical specifications for the 1986 Corvette, including engine, suspension, brakes, body dimensions, and power.
Read more: 1986 Corvette Specifications.
---
1986 Corvette Pricing & Options
| | | | |
| --- | --- | --- | --- |
| CODE: | DESCRIPTION: | QUANTITY: | RETAIL PRICE: |
| 1YY07 | Base Corvette Sport Coupe | 27,794 | $27,027.00 |
| 1YY67 | Base Corvette Convertible | 7,315 | $32,032.00 |
| AG9 | Power Driver Seat | 33,983 | $225.00 |
| AQ9 | Sport Seats, leather | 13,372 | $1,025.00 |
| AR9 | Base Seats, leather | —- | $400.00 |
| AU3 | Power Door Locks | 34,215 | $175.00 |
| B4P | Radiator Boost Fan | 8,216 | $75.00 |
| B4Z | Custom Feature Package | 4,832 | $195.00 |
| C2L | Dual Removable Roof Panels (coupe) | 6,242 | $895.00 |
| 24S | Removable Roof Panel, blue tint (coupe) |  12,021 | $595.00 |
|  64S |  Removable Roof Panel, bronze tint (coupe) |  7,819 | 4595.00 |
| C68 | Electronic Air Conditioning Control | 16,646 | $150.00 |
| D84 | Two-Tone Paint (coupe) | 3,897 | $428.00 |
| FG3 | Delco-Bilstein Shock Absorbers | 5,521 | $189.00 |
| G92 | Performance Axle Ratio, 3.07:1 | 4,879 | $22.00 |
| KC4 | Engine Oil Cooler | 7,394 | $110.00 |
| K34 | Cruise Control | 34,197 | $185.00 |
| MM4 | 4-Speed Manual Transmission | 6,835 | $0.00 |
| NN5 | California Emission Requirements | 5,697 | $99.00 |
| UL5 | Radio Delete |  166 | -$256.00 |
| UM6 | AM-FM Stereo Cassette | 2,039 | $122.00 |
| UU8 | Stereo System, Delco-Bose | 32,478 | $895.00 |
| V01 | Heavy Duty Radiator | 10,423 | $40.00 |
|  Z51 | Performance Handling Package (coupe) | 10,423 | |
| Z6A | Rear Window + Side Mirror Defog (coupe) | 12,821 | $165.00 |
|  4001ZA |  Malcolm Konner Special Edition (coupe) | 50 | $500.00 |
Read more: 1986 Corvette pricing and factory options.
---
1986 Corvette Vehicle Identification Numbers (VIN)
For all 1986 Corvettes, the location of the Vehicle Identification Number (VIN) is stamped on a plate attached to the left front body hinge pillar. Read more: 1986 Corvette VINs.
1986 Corvette Recalls, Technical Service Bulletins, & Maintenance Schedule
The information contained on this page is for reference only.  The time and mileage intervals for each of the maintenance items included on this page were established by General Motors with the introduction of the 1986 Chevy Corvette.  Please note that the original service intervals may not reflect the standard service intervals used in current automobile engines.
Read more: 1986 Corvette Recalls, Technical Service Bulletins, & Maintenance Schedule.
---
1986 Corvette Common Issues
The following list of common issues is intended for individual reference only, and may not reflect the specific issues of every 1986 Corvette.  This information comes from a variety of sources including the NHTSA Defects Reports pages.  While the intent of this page is to identify the common issues pertaining to the 1986 Corvette, it is not an all-inclusive list and should be used for reference only.
Read more: 1986 Corvette Common Issues.
1986 Corvette Dealers Sales Brochure
See the original 1986 Corvette sales brochure here.