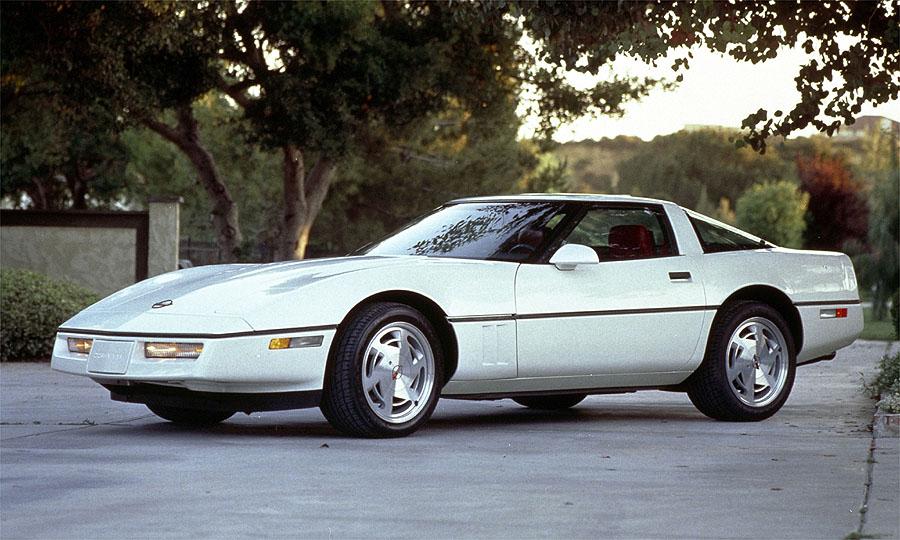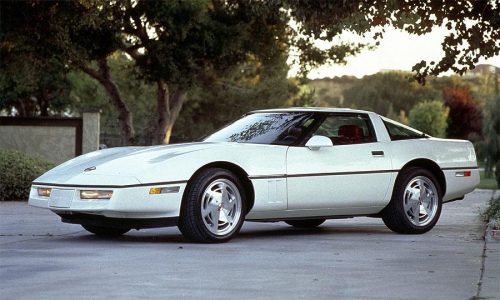 1989 Corvette – The Ultimate Guide
Since its introduction in 1984, the C4 had undeniably evolved into a sports car that could hold its own as a contender amongst some of the staunchest sports car competitors from around the world. With each passing model year, ongoing modifications to the engine, drive train, suspension and steering had transformed the C4 Corvette from a car that was recognized more for its handling than its performance into a machine which had successfully mated technology and horsepower.
The result of this fusion had created a platform upon which Corvette's engineers and designers could (and would) breathe life into a car which was even more powerful than anything that had come before it.  The fullness of that potential would manifest itself late in the 1989 model year and would transform the future of Corvette for all time – and would give rise to one of the most sought after Corvettes of all time – the ZR1.
As early as 1988, the rumblings and rumors of a new ZR-1 model Corvette had begun to circulate. With fuzzy spy photographs and a growing rumble amongst the Detroit automotive community, there had been a growing speculation that a new "King of the Hill" Corvette was on its way.
Chevrolet neither confirmed nor denied the rumors, at least until the 1989 Geneva Auto Show, when the ZR-1 was officially debuted.  Boasting an incredible 375 horsepower LT-5 engine (which had been developed by a team of engineers led by Lotus's former Technical Director Tony Rudd), and a fully redesigned performance package, the car achieved an almost instant legend status amongst both Corvette enthusiasts and automotive critics alike.
After its unveiling in Geneva, General Motors invited a select group of automotive (and assorted other) media from around the world to the walled city of Carcasonne, France, where they were given the opportunity to test drive the ZR-1 Corvette.  Additionally, General Motors employed a Good Year test track in Mireval, France to show off the new supercar's performance and improved handling abilities in a series of high-speed and wet-pavement tests.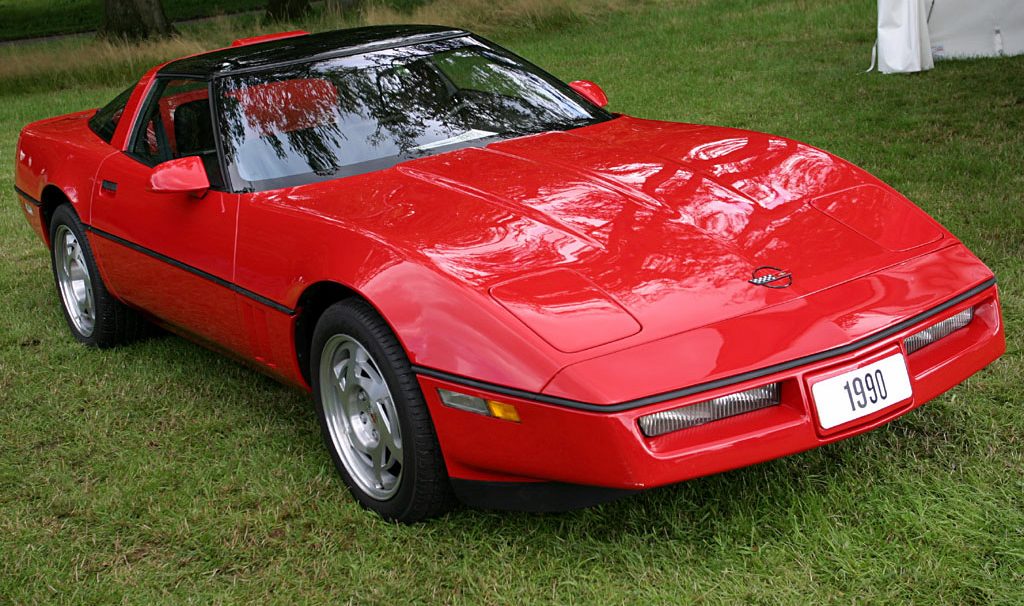 Media reaction to the ZR-1 was initially fantastic. Within days of its unveiling in Geneva, the ZR-1 owned the cover of virtually every magazine in the world. It was featured prominently in publications such as Germany's Auto Motor und Sport as well as England's Car and AutoCar, to say nothing of the assorted American publications which hosted the new ZR-1 as their cover story.
However, despite the unprecedented and overwhelming media coverage further promoting the arrival of the "King of the Hill" ZR-1 Corvette, it was announced by Chevrolet on April 19, 1989 that the ZR-1 would not be available as a production model until the 1990 model year.  While both the media and Corvette fans vehemently protested the announcement, GM gave the reasoning that there was "insufficient availability of engines caused by additional development."   Eighty-four 1989 ZR-1 Corvettes were built for evaluation, testing, media preview and photographing, but no 1989 model ZR-1's were made available for public purchase.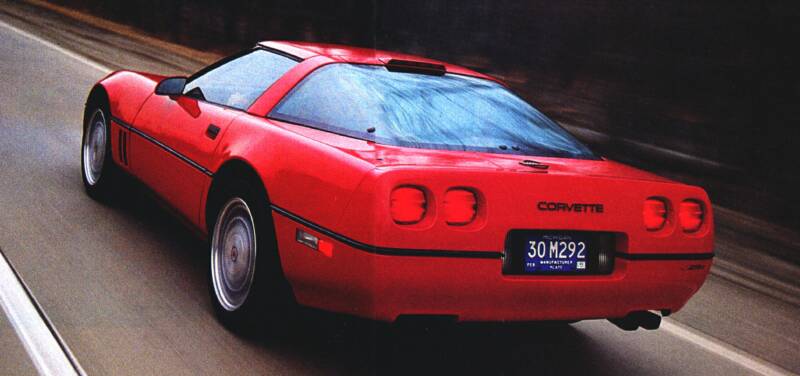 Despite the disappointing news surrounding the delayed sales release of the ZR-1, 1989 Corvette owners would get their first glimpse of the future of the C4 Corvette, and a taste of things to come in following years.  The first significant improvement to the Corvette in nearly half a decade involved the introduction of an entirely new manual transmission for the 1989 model year.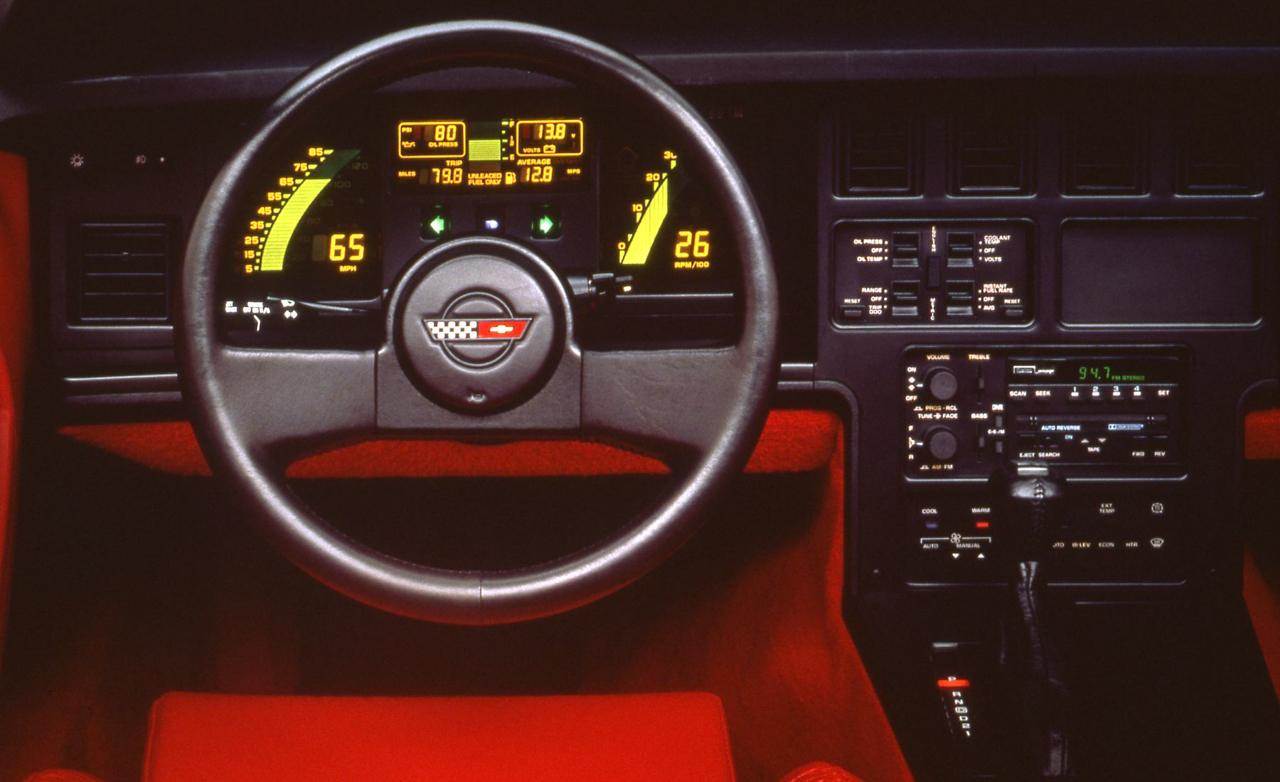 Designed in a joint effort between Chevrolet and Germany's ZF (Zandfabrik Friedrichshafen), the new six speed transmission would prove to be a massive improvement over the never-popular Doug Nash 4+3 manual transmission which had been a part of the C4 Corvette program since its introduction in 1984.
The arrival of the new six speed transmission would be met with unquestioning approval, although its introduction would carry with it a certain amount of controversy as well.
In order to improve fuel economy as well as working to keep the Corvette from attaining a "gas guzzler" status, the new 6-speed transmission was built to include a new, Computer Aided Gear Selection (or "CAGS" for short) system.  When operating the Corvette in low throttle conditions (anything under 35% throttle) or at speeds of between twelve and nineteen miles per hour, the CAGS system would lock out second and third gears, forcing the driver to shift directly from first to fourth.  This feature, combined with a monumentally tall sixth gear for highway cruising, would help to keep the Corvette out of the EPA's records.
While this feature of the six speed transmission has been deemed "annoying" by many early testers, GM assured consumers that the lock out option could easily be defeated simply by "clipping a single red wire" according to Chevy engineers.
DID YOU KNOW: The SCCA's Corvette Challenge would run for the last time in 1989. For the series, Chevrolet built sixty cars, thirty of which would have their stock engines swapped with higher-output engines from the CPC (Chevrolet-Pontiac-Canada group) engine plant in Flint, Michigan. At the end of the series, Chevrolet returned the original, numbers-matching engine to each of the Corvette race cars.
Another significant change for 1989 involved standardizing the Z52 package.  While the Z52 option had been optional in previous years, it was now made standard on all models of the 1989 Corvette.  For 1989, seventeen inch wheels and tires replaced the smaller, sixteen inch wheels which had been used on the C4 Corvette since 1984.  Additionally, all models now included fast-ratio steering, Delco/Bilstein gas-charged shocks, and a fortified front end structure.   For cars that were equipped with the new six-speed manual transmission, Chevrolet standardized the heavy-duty engine oil cooler, the heavy-duty radiator and the auxiliary radiator fan.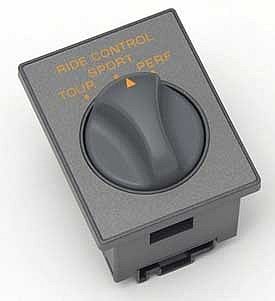 While the equipment previously associated with the optional Z52 became standard on all Corvettes, future Corvette owners were presented with an all new suspension option.  RPO FX3 featured a selective ride and handling package.  Priced at $1,695, and only available on Corvettes also equipped with the Z51 option, the FX3 system adjusted shock damping by adjusting suspension firmness levels specified by a console-mounted switch.
Developed by GM's Delco division, in association with Bilstein, the SRC (Selective Ride Control) system used microprocessors to activate miniature electric motors at the top of each shock absorber.  These, in turn, operated rotary valves that controlled the flow of fluid into the pistons.  The system monitored and adjusted itself ten times per second and functioned during compression as well as during rebound.
Three suspension modes were available to select from during vehicle operation: touring, sport, or competition, and each was designed to suit the mood of the driving condition.  Within each setting, the damping rate increased with the car's speed in six, twenty-five-mile-per-hour steps, from 25 miles per hour to 150 miles per hour.
Conversely, for periods during which damping was reduced, the set points were deliberately set five miles per hour slower to avoid the car constantly shifting between settings while cruising at one of the above speeds.  When set to touring, the suspension would partially absorb ruts and pot-holes on back roads whereas when set to performance, the Corvette was effectively transformed into handling like a race car.
By 1989, the Corvette's interior, which had seemed futuristic in its appearance and styling when introduced in 1984, had become dated in its appearance.
While a complete transformation was still a year away, the interior did receive a fresh look with the introduction of restyled seats.  Both the cloth, the standard leather and the more expensive sports leather material options remained available, though the leather was restricted to cars equipped with the Z51 option.
A stylized, removable, bolt-on hardtop was introduced for the 1989 model year as well.  Made of fiberglass-reinforced polyester resin over rigid urethane, it was molded around a steel/aluminum "cage" and coated with polyurethane inside and out.  A cloth headliner and window weather-stripping were included, as well as an electrically heated rear window (which plugged into a special rear-deck socket.)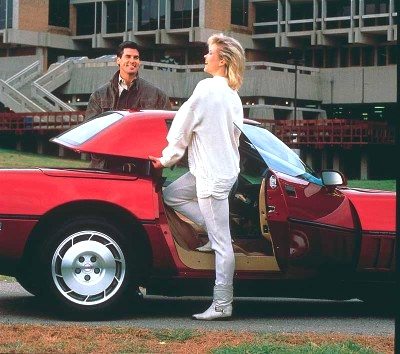 Priced at $1,995, the optional removable hardtop provided convertible owners the option (and function) of driving a convertible without the increased wind noise that sometimes accompanied a canvas soft-top.  For consumers that preferred the factory soft-top, the convertible mechanism was simplified for easier operation.
For the first time in several years, the 1989 model year would actually see an increase in the total sales numbers of the Chevrolet Corvette.  Even with the knowledge that the ZR-1 Corvette's arrival was certain in 1990, Chevrolet sold a total of 26,412 Corvettes in 1989, of which nearly 10,000 units were convertibles.
The Callaway twin-turbo option, which now carried an additional cost of $25,895 over the Corvette's base price, accounted for a mere 69 Corvette sales in 1989.
It seemed certain that the Corvette was about to take a huge leap forward with the arrival of the ZR-1, which relied on pure horsepower, and not turbochargers, to boost the performance numbers of the Corvette into realms never experienced before.
While the Callaway would not return for the following model year, its namesake would live on for generations of Corvette enthusiasts, becoming a sought after and highly collectible entry in the world of Corvette.
1989 Corvette Specifications & Performance
See the complete breakdown of technical specifications for the 1989 Corvette, including engine, suspension, brakes, body dimensions, and power. Read more: 1989 Corvette Specifications.
Engine, Transmission & Performance
Performance for the car stayed exactly the same as it had been last year. All Corvettes received the same 350 CID small-block V8. The coupe version produced 245 horsepower while the convertible version fell slight behind at 240. However, the engine did have new Multec fuel injectors that were designed for the ZR-1 powerplant. Though they did not change performance, they foreshadowed a big shakeup for 1990. Read more: 1989 Corvette Performance.
1989 Corvette Vehicle Identification Numbers (VIN)
The last six digits begin at 100001 and run thru 126328, accounting for each of the 26,328 Corvette Coupes/Convertibles built in 1989. In addition to the 26,328 Corvettes that were built for commercial sale, there was an additional 84 ZR-1 Corvette's but that were not sold to the public. Each Vehicle Identification Number (VIN) is unique to an individual car. For all 1989 Corvettes, the Vehicle Identification Number was stamped on a plate on the inner vertical surface of the left windshield pillar visible through the windshield. Read more: 1989 Corvette VINs.
1989 Corvette Price & Options
Core Features & Factory Options
The Z52 performance suspension package comes as standard. The package had originally been introduced in 1987 as a middle ground between the racing inspired Z51 package and the standard models. The Z52 package provided sportier handling without sacrificing a comfortable ride. And the 17-inch wheels that came with it made sure all 1989 Corvettes were looking their sportiest.
The big news for 1989 was the completely new six speed manual transmission. It was designed for the Corvette by Zahnradfabrik Friedrichshafen A.G. (ZF) a German transmission builder with an excellent background for producing bulletproof transmissions for high horsepower applications. It replaced the "4+3" manual plus overdrive Doug Nash unit that first appeared in 1984 Corvettes. It was a no-cost option (the four speed automatic was standard) with improved shifting characteristics as part of the bargain. Similar in some ways to the overdrive function of the "4+3" manual, the new transmission featured a Computer Aided Gear Selection (CAGS) system. Under certain circumstances (engine warmed up, less than 35% throttle) shifting up from first caused fourth gear to be selected. Any other circumstances (in other words, spirited driving) caused the transmission to behave like a conventional six speed. The goal was improved fuel economy and the system resulted in an EPA rating of 16 mpg city / 25 mpg highway rating – and once again the Corvette was not subjected to the gas guzzler tax.
Colors
White, Medium Blue Metallic, Dark Blue Metallic, Black, Dark Red Metallic, Bright Red, Gray Metallic, Charcoal Metallic. Of the eight colors for 1989, once again Bright Red was most popular, making up 29% of total production. Black and White were also popular, with 18.38% and 20.54% of total production respectively.
Pricing & Options
The Base Corvette Coupe with 350 cu. in. 245 hp engine and four speed automatic transmission started at $31,545 and the Base Corvette Convertible with 350 cu. in. 240 hp engine and four speed automatic transmission started at a hefty $36,785.
A 1989 option was the Selective Ride System (RPO FX3; $1,695.00). It required the Performance Handling Package (RPO Z51; $575.00) which was was available only with manual transmission coupes so the price added up. The 1989 Corvette continued its mission as a showcase for GM technologies with the optional Low-Tire Pressure Warning Indicator (RPO UJ6; $325.00). A factory sourced hardtop (RPO CC2; $1,995.00) became available in 1989 and there was a lot to back up the high price.
| | | | |
| --- | --- | --- | --- |
| CODE | DESCRIPTION | | RETAIL PRICE |
| 1YY07 | Base Corvette Sport Coupe | 16,663 | $31,545.00 |
| 1YY67 | Base Corvette Convertible | 9,749 | $36,785.00 |
| AC1 | Power Passenger Seat | 20,578 | $240.00 |
| AC3 | Power Driver Seat | 25,606 | $240.00 |
| AQ9 | Sport Seats, leather | 1,777 | $1,025.00 |
| AR9 | Base Seats, leather | 23,364 | $400.00 |
| B2K | Callaway Twin Turbo (not GM installed) | 67 | $25,895.00 |
| B4P | Radiator Boost Fan | 20,281 | $75.00 |
| CC2 | Auxillary Hardtop (convertible) | 1,573 | $1,995.00 |
| C2L | Dual Removable Roof Panels (coupe) | 5,274 | $915.00 |
| 24S | Removable Roof Panel, blue tint (coupe) | 8,748 | $915.00 |
| 64S | Removable Roof Panel, bronze tint (coupe) | 4,042 | $615.00 |
| C68 | Electronic Air Conditioning Control | 24,675 | $150.00 |
| D74 | Illuminated Driver Vanity Mirror | 17,414 | $58.00 |
| FX3 | Selective Ride and Handling, electronic | 1,573 | $1,695.00 |
| G92 | Performance Axle Ratio | 10,211 | $22.00 |
| K05 | Engine Block Heater | 2,182 | $20.00 |
| KC4 | Engine Oil Cooler | 20,162 | $110.00 |
| MN6 | 6-Speed Manual Transmission | 4,113 | $0.00 |
| NN5 | California Emission Requirements | 4,501 | $100.00 |
| UJ6 | Low Tire Pressure Warning Indicator | 6,976 | $325.00 |
| UU8 | Stereo System, Delco-Bose | 24,145 | $773.00 |
| V01 | Heavy-Duty Radiator | $20,888.00 | $40.00 |
| V56 | Luggage Rack (convertible) | 616 | $140.00 |
| Z51 | Performance Handling Package (coupe) | 2,224 | $575.00 |
Read more: 1989 Corvette pricing and factory options.
1989 Corvette Gallery
See full 1989 C4 Corvette Image Gallery