1979 Corvette Overview
By the late 1970's, Corvette production was moving at a pace that had never been seen in the history of the car.  As Chevrolet General Manager, Robert Lund, had stated in March 1977,  "The St. Louis Plant is operating two nine-hour shifts daily and working overtime two Saturdays a month just to meet sales demand.  Current demand is running more than 29 percent ahead of last year."  Little did anyone realize that, after the popularity of the 1978 Pace Car and Silver Anniversary Editions in 1978, Corvette was about to set another production record – manufacturing more than 50,000 Corvettes in one year – with the 1979 model year.  At the same time, Corvette was about to surpass another record – a base sales price of more than $10,000 – for the first time in the car's history.
| | |
| --- | --- |
| Model: | 1979 Corvette |
| Generation: | C3 Corvette |
| Type: | 2 Door Coupe |
| Available Colors: | Classic White, Silver, Black, Corvette Light Blue, Corvette Yellow, Corvette Dark Green, Corvette Light Beige, Corvette Red, Corvette Dark Brown, Corvette Dark Blue |
| Engine: | 350ci, 195HP Engine (standard), 350ci, 225HP Engine |
| VIN: | 1Z8789S400001 – 1Z8789S453807 (Corvette Coupe) |
| Transmission: | 4-speed manual (standard) 4-speed manual (close ratio) 3-speed Turbo Hydra-Matic automatic (optional) |
| Original Price: | $10,220.23 (Coupe) |
| Units Produced: | 53,807 |
| Specs: | 1979 Corvette Spec List |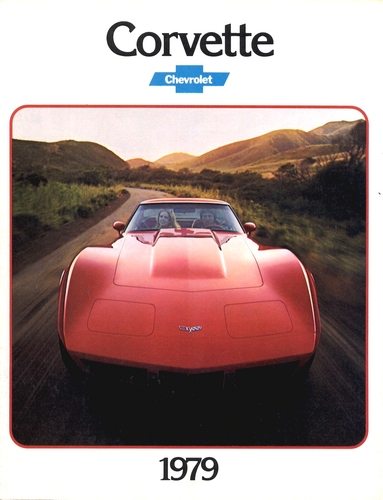 The price increase in the 1979 model year was well justified, especially given that the Corvette had been fast approaching that cost threshold for the past couple of years.
As before, Chevrolet engineers had continued adding more of the previously optional features available to consumers to the standard base package.
While in 1978, tilt-telescopic steering columns, air conditioning, and power windows had all been optional, nearly 80 percent of all the cars sold that year included all three of these options – which, when added up, cost consumers an additional $910.00 over the base price of $9,351.89.  In early 1979, while these items remained optional for a time (now at a combined cost of $966.00,) it was that this trio of optional equipment become a standard part of the car.
On May 7, 1979, they officially became part of the standard equipment group, and Corvette's base price climbed to $10,220.23.  By the end of the production year, the base price would soar even higher as additional options – along with a strong inflationary spiral on the cost of some of the standard equipment – pushed the car's base price north of $12,000.00.
While the fastback Corvette design introduced in 1978 carried over into the 1979 model year, there were a few, mostly subtle, refinements made to the car's overall appearance.  For one, the "25th Anniversary" emblems were replaced by the more traditional "crossed flags" which had been a key identifier of the Chevy Corvette for more than a quarter century.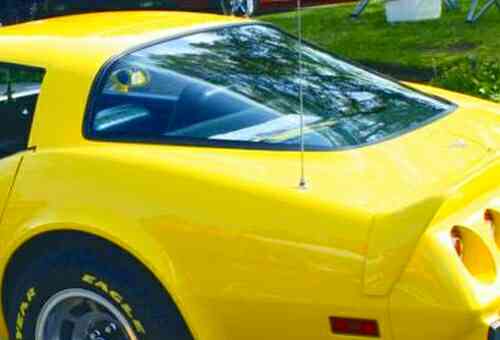 Additionally, the chrome trim that wrapped the 1978 rear window and the roof panels was replaced with black trim moldings.  Tungsten-halogen headlights were phased into 1979 production early in the model year for increased visibility.  The tungsten-halogen headlight beams replaced only the high-beam units.  Lastly, a couple of items the 1978 Pace Car Package became options for the 1979 model year.
Tinted roof panels (RPO CC1) became available to consumers, as did the front and rear spoilers (RPO D80).  The spoilers were functional, decreasing drag by about 15% and increasing fuel economy by about a half-mile per gallon.
Despite this, sales of Corvettes with this option in 1979 accounted for just under 13% of total sales that year.
Moving inward, the interior received slightly more refinement than the exterior.  The biggest, most notable change centered around the introduction of the new "high back" seat style previously introduced on the 1978 Pace Car Replicas.  These same seats were now standard equipment for the 1979 model year.  The seats used an extensive amount of plastic in their frame structure which resulted in an overall weight reduction of about twelve pounds per seat.
DID YOU KNOW: The 1979 Corvette was the first model year to offer an AM/FM Radio as standard equipment. Prior to 1979, if a Corvette owner wanted to include a radio, they ordered it at an additional cost to the base price.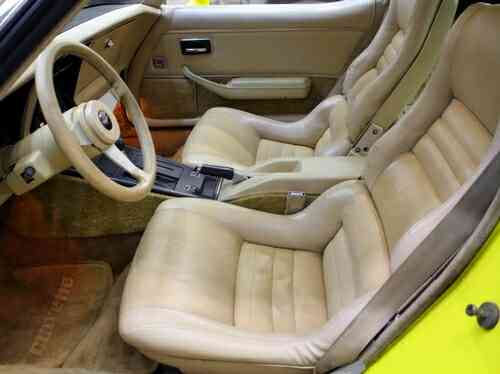 At the same time, the new seats offered improved side bolster support to its occupants.  They also featured seat backs that folded at a higher point (than most conventional seats) to permit easier rear storage area access.
Inertia introduced which restrained the seat backs during sudden deceleration, which negated the need for manual locks on these new, folding seats.   Despite all this, the new seats did not offer reclining seatbacks, which were becoming increasingly available in most vehicles – even the cheapest Japanese cars being built that year.
While the seats received a great deal of attention, the rest of the interior was subject to a number of other small changes as well.  The driver and passenger seat tracks were redesigned to provide an additional inch of forward travel.
The ignition cylinder lock received additional shielding to reinforce it, making it more difficult to access in the event of an attempted car theft. The previously optional AM-FM radio became standard equipment, while an illuminated visor-mirror combination for the passenger sunvisor became an available option on the 1979 Corvette.  An 85 miles-per-hour (max.) speedometer, which would be officially introduced as standard equipment in the 1980 Corvette, was installed on some late-production 1979 models.  This last was the result of a Federal mandate that was slated to begin in September, 1979 and would remain in effect until March, 1982.
Mechanically, both the base L48 and optional L82 engines received a 5 horsepower increase due to a new "open flow" muffler design.  Additionally, the low restriction, dual snorkel air intake that had been introduced on the L82 engine was added to the L48 engine, which gave the base engine an additional 5 horsepower boost, resulting in an overall output of 195hp for the L48 and 225hp for the optional L82 engines, respectively.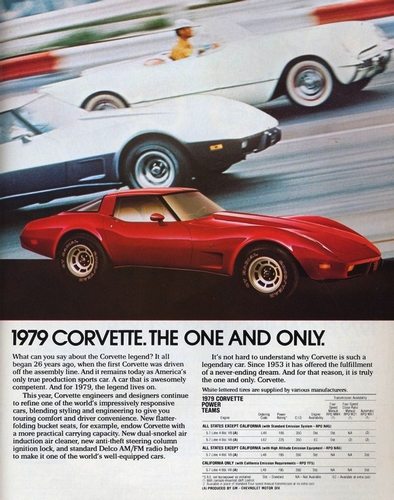 Elsewhere on the car, shock absorber rates were standardized so that they were the same, regardless of the type of transmission (manual or automatic) installed.  On cars equipped with an automatic transmission, the final drive ratio was lowered from 3.08:1 to 3.55:1.  The fuel filler pipe was redesigned to make it more difficult for consumers to modify for leaded-fuel access.
In total, Chevrolet manufactured 53,807 Corvettes in 1979, which set the record for the most Corvettes built in a single year of the car's 26 year history (and a record which remains even today!)
It was the height of the Corvette's acceptance, which was ironic given that General Motors had once been convinced that the C3 model would never sell half as well.  Instead, the car's popularity was stronger than ever, despite an increasing number of competitors vying for consumer attention.  It had proven to be indispensable as both a high-profit personal car as well as a showroom sweetheart.
Automotive reviewers and critics remained skeptical of the car's value given its steadily rising prices and the availability of comparatively priced sports cars like the Mazda RX-7 (with base pricing starting at just $6,395), the Datsun 280ZX ($9,899.00), and even the 1979 Porsche 924 ($12,025.00).
Still, none could argue that the Corvette was still an impressive straight-line contender in this field of European and Asian imports.  Road & Track Magazine test drove a 1979 Corvette equipped with an L82 engine and recorded a 0-60 time of just 6.6 seconds, a standing quarter-mile time of 15.3 seconds at 95 mph, and a top speed of 127 mph.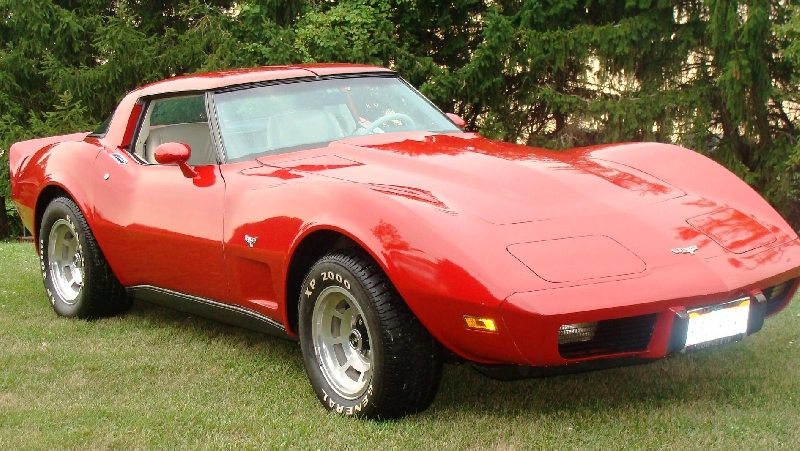 Still, most critics agreed that the C3 was again getting "long in the tooth" and, while the prestige of owning a Corvette continued to flourish amongst consumers, serious automobile enthusiasts were beginning to question how much longer it would be before Chevrolet introduced the "next generation" of the beloved sports car.
With more than a half decade to go before the actual arrival of the C4, the speculation would continue, though the engineers behind Corvette still had a few tricks up their sleeves, as would be seen in the coming years as the production of the third-generation "Shark" started to draw to a close.
See Also
---
1979 Corvette Image Gallery
See full 1979 Corvette Image Gallery
1979 Corvette Specifications
See the complete breakdown of technical specifications for the 1979 Corvette, including engine, suspension, brakes, body dimensions, and power.
Read more: 1979 Corvette Specifications.
1979 Corvette Pricing & Options
| | | | |
| --- | --- | --- | --- |
| CODE: | DESCRIPTION: | QUANTITY: | RETAIL PRICE: |
| 1YZ87 | Base Corvette Sport Coupe | 53,807 | $10,220.23 |
| A31 | Power Windows | 20,631 | $141.00 |
| AU3 | Power Door Locks | 9,054 | $131.00 |
| CC1 | Removable Glass Roof Panels | 14,480 | $365.00 |
| C49 | Rear Window Defogger | 41,587 | $102.00 |
| C60 | Air Conditioning | 47,136 | $635.00 |
| D35 | Sport Mirrors | 48,211 | $45.00 |
| D80 | Spoilers, Front and Rear | 6,853 | $265.00 |
| FE7 | Gymkhana Suspension | 12,321 | $49.00 |
| F51 | Heavy Duty Shock Absorbers | 2,164 | $33.00 |
| G95 | Optional Rear Axle Ratios | 428 | $19.00 |
| K30 | Cruise Control | 34,445 | $113.00 |
| L82 | 350ci, 225hp Engine | 14,516 | $565.00 |
| M21 | 4-Speed Manual Trans, Close Ratio | 4,062 | $0.00 |
| MX1 | Automatic Transmission | 41,454 | $0.00 |
| NA6 | High-Altitude Emission Equipment | 56 | $35.00 |
| N37 | Tilt-Telescopic Steering Column | 47,463 | $190.00 |
| N90 | Aluminum Wheels (4) | 33,741 | $380.00 |
| QBS | White Letter SBR Tires, P255 / 60R15 | 17,920 | $226.20 |
| QGR | White Letter SBR Tires, P225 / 70R15 | 29,603 | $54.00 |
| UA1 | Heavy Duty Battery | 9,256 | $90.00 |
| UM2 | AM-FM Radio, stereo with 8-track tape | 21,435 | $228.00 |
| UN3 | AM-FM Radio, stereo with cassette | 12,110 | $234.00 |
| UP6 | AM-FM Radio, stereo with CB | 4,483 | $439.00 |
| U58 | AM-FM Radio, stereo | 35,730 | $52.00 |
| U75 | Power Antenna | 37,754 | $52.00 |
| U81 | Dual Rear Speakers | 3,405 | $21.00 |
| YF5 | California Emission Certification | 3,798 | $83.00 |
| ZN1 | Trailer Package | 1,001 | $98.00 |
| ZQ2 | Power Windows and Door Locks | 28,465 | $272.00 |
| ZX2 | | | |
Read more: 1979 Corvette pricing and factory options.
1979 Corvette Vehicle Identification Numbers (VIN)
For all 1979 Corvettes, the location of the Vehicle Identification Number (VIN) is stamped on a plate attached to the left front body hinge pillar. Read more: 1979 Corvette VINs.
1979 Corvette Recalls, Technical Service Bulletins, & Maintenance Schedule
The information contained on this page is for reference only.  The time and mileage intervals for each of the maintenance items included on this page were established by General Motors with the introduction of the 1979 Chevy Corvette.  Please note that the original service intervals may not reflect the standard service intervals used in current automobile engines.
Read more: 1979 Corvette Recalls, Technical Service Bulletins, & Maintenance Schedule.
1979 Corvette Dealers Sales Brochure
See the original 1979 Corvette sales brochure here.
See Also