1974 Corvette Overview
The arrival of the 1974 Chevy Corvette occurred during an abysmal period in automotive history.  The period in question actually began in October, 1973 when OAPEC, (the Arab members of OPEC (the Organization of Petroleum Exporting Countries) plus Egypt, Syria, and Tunisia) proclaimed an oil embargo against the United States after the United States came to the aid of the Israelis during a military altercation between Egypt, Syria, and Israel.
| | |
| --- | --- |
| Model: | 1974 Corvette |
| Generation: | C3 Corvette |
| Type: | 2 Door Coupe/Convertible |
| Available Colors: | Classic White, Silver Mist, Corvette Gray, Corvette Medium Blue, Dark Green, Bright Yellow, Dark Brown, Medium Red, Mille Miglia Red, Corvette Orange |
| Engine: | 350ci – 195HP Engine (standard),  350ci – 250HP Engine, 454ci – 270HP Engine |
| VIN: | 1Z37J4S400001 – 1Z37J4S437502 |
| Transmission: | 4-speed manual (standard), 4-speed manual (optional), 3-speed Turbo Hydra-Matic automatic (optional) |
| Original Price: | $6,001.50 (Coupe), $5,765.50 (Convertible) |
| Units Produced: | 37,502 |
| Specs | 1974 Corvette Spec List |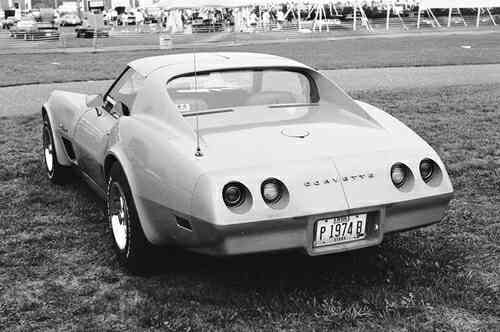 While the actual embargo only lasted a few months (it ended in March, 1974, after OPEC received considerable pressure from NATO), the impact the embargo had on the automotive community was detrimental.
Gas prices had soared, and massive fuel shortages had occurred, leaving motorists waiting in long lines at the pumps.  In some instances, gasoline was actually rationed, especially in more densely populated areas.
While the embargo was short-lived, it made automotive manufacturers seriously question the value that heavy, fuel-thirsty cars were bringing to the marketplace.
In many ways, the 1974 Corvette would represent the end of an era.  Perhaps because of the embargo, and certainly a byproduct of it, The 1974 model would be the last year to be offered with an optional big-block 454 cubic inch V-8 engine.  Additionally, all future engines offered with the Corvette would only run on unleaded gasoline – a decision would come in conjunction with the industry-wide requirement to install catalytic converters in every 1975 (and later) model. For its own part, the 1974 Corvette required 91-octane leaded or low-lead fuel.
Lastly dual exhaust would give way to separate manifolds routed to a single catalytic converter, then onward to separate pipes and motors.  In fact, the 1974 Corvette would be the last model year that would exclude the installation of catalytic converters.
DID YOU KNOW:  RPO YJ8 Cast Aluminum Wheels appeared on early 1974 option lists, but records indicate that none were sold. Since RPO P02 Deluxe Wheel Covers were no longer available, there were no optional wheels or wheel-covers available for the 1974 Corvette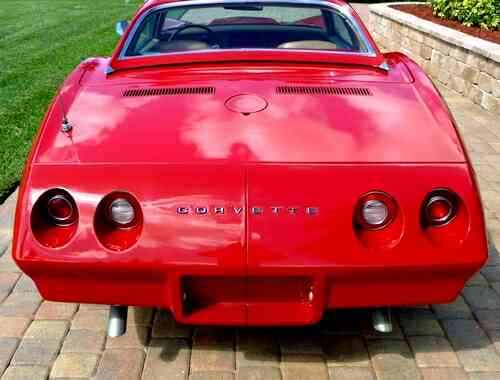 Cosmetically, the 1974 Corvette received a new body-color rear-end treatment that was made to comply with a new, Federally imposed five-mile-per-hour impact standard.
Sheathed in urethane like the 1973's front-bumper revision, the skin actually covered an aluminum impact bar that was mounted to the Corvette's chassis by two telescopic brackets.
The new rear bumper conveyed a smoother, more integrated look, and while it tapered downward instead of upward (as the previous Kammtype rear end had done), it did not harm the car's aerodynamics.  The urethane plastic skin had built in recesses for the license plate and the taillights, and was actually assemble of two main sections that were divided by a vertical, center seam.  This detail is unique to the 1974 model year and makes it easy to identify.
Turning to the interior, the 1974 Corvette received only minor enhancements.  Perhaps the most notable improvement over the previous models was that the 1974 Coupe now featured an integrated shoulder belt/lap belt assembly for the first time.  Shoulder belts remained optional in the convertible models, and if they were so equipped, continued to be a separate assembly from the lap belts.  The locking mechanisms in the shoulder restraints also changed design from a pull-rate type (which would catch based on the amount of force applied to the belt) to a swinging-weight type that was activated by the car's deceleration.
Elsewhere in the interior, the stock inside rearview mirror increased in width from 8 to 10 inches.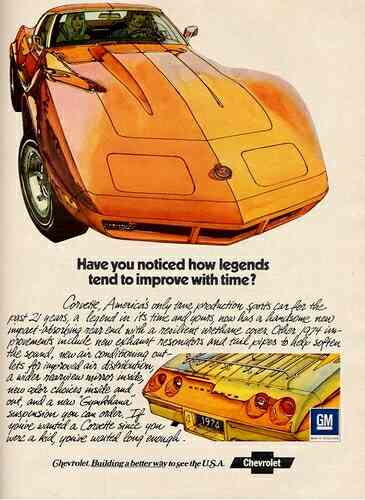 Mechanically, a handful of improvements were made to the car.  The standard RPO ZQ3 engine's output increased slightly from the previous model year to 195 horsepower.
The market's growing preference for performance automatic transmissions resulted in a more durable Turbo Hydra-Matic.  Designated by RPO M40, the transmission was no-cost upgrade to consumers and was installed in nearly two-thirds of all the Corvettes built that year.
The radiator was redesigned for more efficient cooling at low speeds.  The power steering pump was made more durable via the use of magnets, which were installed to attract (and capture) debris in the power steering fluid.
Downstream from the engine, resonators were added to the exhaust system, which enhanced the tone of the car during operation.
With the newly designed rear bumper in place, the exhaust pipes were re-routed to exit just below the bumper (instead of cut into the rear fascia assembly as before.)  Lastly, the alarm activator was relocated from the rear of the car to the driver side front fender.
New for the 1974 Corvette was one of the most bargain-priced performance packages of all-time.  The Gymkhana Suspension Package (RPO FE7) cost a mere seven dollars, featured a higher-rate spring assembly and firmer, specially calibrated shocks.  This setup – which had been introduced and used since the mid-Sixties as part of Chevy's popular F41 Suspension Package – provided much improved handling on the 1974 Corvettes that were so equipped.
The F41 itself, which had begun with the Z06 racing option back in 1963, was still available as part of RPO Z07, and included the aforementioned suspension setup as well as heavy-duty brakes.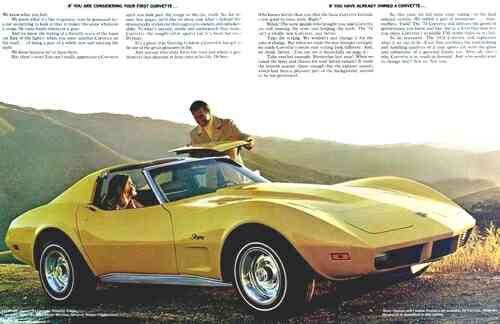 Given the performance constraints placed before it by Federal Emission Regulations, oil embargos, and a struggling economy, the 1974 Corvette still presented drivers with a respectable level of acceleration and performance.
While it was hard to compare the 1974 Corvette to its slightly older, big-block brothers and sisters, its numbers spoke for themselves.
When equipped with the 250 brake horsepower L82 engine, the '74 Corvette could accelerate from 0 to 60 miles per hour in approximately 7.5 seconds and reach a top speed of 125 miles per hour while still averaging about 14-15 miles per gallon.  Moreover, what it lacked in outright performance it made up for in luxury.
The 1974 Corvette would become widely recognized as a very refined, grand touring car with plenty of creature comforts.  The 1974 Corvette defined industry standards by having a near-record sales year.  In total, 37,502 Corvettes were sold – 32,028 coupes at a base price of $6,001.50, and a mere 5,474 convertibles at a base price of $5,765.50.
1974 Corvette Image Gallery
See full 1974 Corvette Image Gallery
See Also
---
1974 Corvette Specifications
See the complete breakdown of technical specifications for the 1974 Corvette, including engine, suspension, brakes, body dimensions, and power.
Read more: 1974 Corvette Specifications.
---
1974 Corvette Pricing & Options
| | | | |
| --- | --- | --- | --- |
| CODE: | DESCRIPTION: | QUANTITY: | RETAIL PRICE: |
| 1YZ37 | Base Corvette Sport Coupe | 32,028 | $6,001.50 |
| 1YZ67 | Base Corvette Convertible | 5,474 | $5,765.50 |
| — | Custom Interior Trim | 19,959 | $154.00 |
| A31 | Power Windows | 23,940 | $86.00 |
| A85 | Custom Shoulder Belts (std with coupe) | 618 | $41.00 |
| C07 | Auxiliary Hardtop (for convertible) | 2,612 | $267.00 |
| C08 | Vinyl Covered Auxiliary Hardtop | 367 | $329.00 |
| C50 | Rear Window Defogger | 9,322 | $43.00 |
| C60 | Air Conditioning | 29,397 | $467.00 |
| FE7 | Gymkhana Suspension | 1,905 | $7.00 |
| — | Optional Rear Axle Ratios | 1,219 | $12.00 |
| J50 | Power Brakes | 33,306 | $49.00 |
| LS4 | 454ci, 270hp Engine | 3,494 | $250.00 |
| L82 | 350ci, 250hp Engine | 6,690 | $299.00 |
| M21 | 4-Speed Manual Transmission, close-ratio | 3,494 | $0.00 |
| M40 | Turbo-Hydro-matic Automatic Transmission | 25,146 | $0.00 |
| N37 | Tilt-Telescopic Steering Column | 27,700 | $82.00 |
| N41 | Power Steering | 35,944 | $117.00 |
| QRM | White Stripe Steel Belted Tires, GR70x15 | 9,140 | $32.00 |
| QRZ | White Letter Steel Belted Tires, GR70x15 | 24,102 | $45.00 |
| U05 | Dual Horns | 5,258 | $4.00 |
| U58 | AM-FM Radio, Stereo | 19,581 | $276.00 |
| U69 | AM-FM Radio | 17,374 | $173.00 |
| UA1 | Heavy Duty Battery (std with LS4) | 9,169 | $15.00 |
| UF1 | Map Light (on rearview mirror) | 16,101 | $5.00 |
| YF5 | California Emission Test | — | $20.00 |
| Z07 | Off Road Suspension and Brake Package | 47 | $400.00 |
Read more: 1974 Corvette pricing and factory options.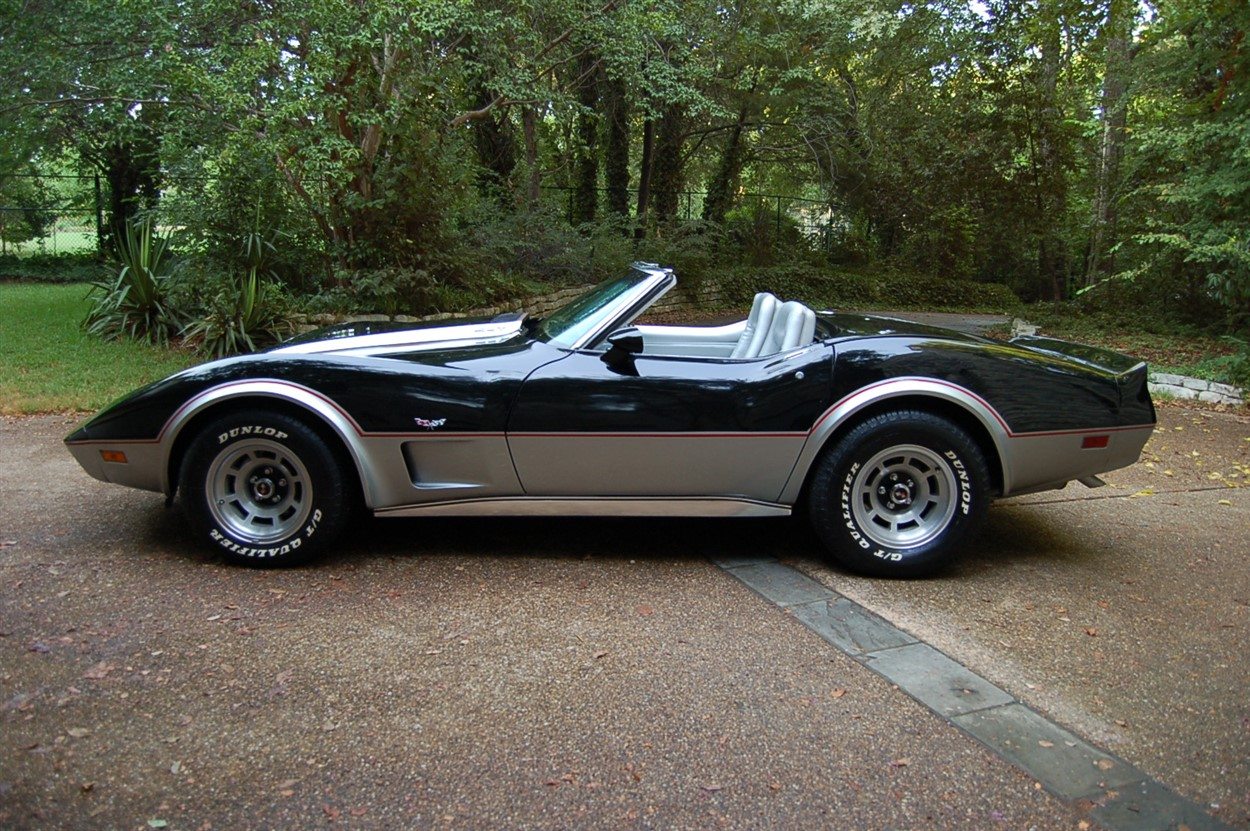 1974 Corvette Vehicle Identification Numbers (VIN)
For all 1974 Corvettes, the location of the Vehicle Identification Number (VIN) is stamped on a plate attached to the left front body hinge pillar. Read more: 1974 Corvette VINs.
1974 Corvette Common Issues
None.
1974 Corvette Recalls, Technical Service Bulletins, & Maintenance Schedule
The information contained on this page is for reference only.  The time and mileage intervals for each of the maintenance items included on this page were established by General Motors with the introduction of the 1974 Chevy Corvette.  Please note that the original service intervals may not reflect the standard service intervals used in current automobile engines.
Read more: 1974 Corvette Recalls, Technical Service Bulletins, & Maintenance Schedule.
1974 Corvette Dealers Sales Brochure