1968 C3 Corvette Overview
Despite the economic prosperity of the fifties and the early sixties, there had been a great many who believed that the sustainability of such financial growth was impossible and that more challenging financial times lay ahead within the United States, and even globally. The arrival of the 1968 Corvette occurred at a time when the world, much like the Corvette itself, was struggling to find an identity of its own amidst political, social, and financial turbulence.
For its own part, General  Motors had recognized that skyrocketing gas prices and performance-car insurance premiums coupled with spiraling inflation made purchasing and owning a Corvette increasingly expensive for future consumers.
Model:
1968 Corvette
Generation:
C3

Corvette

Type:
2 Door Coupe/Convertible
Available Colors:
Tuxedo Black, Polar White, Rally Red, LeMans Blue, International Blue, British Green, Safari Yellow, Silverstone Silver, Cordovan Maroon, Corvette Bronze
Engine:
327ci – 300HP Engine (std), 327ci -350HP Engine, 427ci – 390HP Engine, 427ci -400HP Engine, 427ci – 430HP Engine, 427ci – 435HP Engine
VIN:
194378S400001 – 194378S428566
Transmission:
3-speed manual (standard), 4-speed manual (optional), 3-speed Turbo Hydra-Matic automatic (optional)
Original Price:
$4,663.00 (Coupe), $4,320.00 (Convertible)
Units Produced:
28,566
Corvette Specs:
1968 Corvette Spec List
It was from these beliefs that GM had settled on redesigning only the exterior of their extremely popular sports car, utilizing the structural and mechanical aspects of the second-generation Corvette in lieu of allowing engineers to fully re-envision it from the ground up.  After all, GM had spent a fortune developing the Sting Ray, and yet it had been doomed to a short life – an indirect (though intentional) result of the even earlier first-generation C1's decade-long production run.
Still, the Sting Ray's development had cost GM a fortune, and there was no way that they were going to repeat that expensive process just four years into the production run of the C2.  Instead, the management at General Motors had hoped that Duntov, Mitchell, and the team behind Corvette could develop a new design that would top (literally) the current Sting Ray.
Further, given the lagging sales numbers of the C2, Chevrolet had hoped that a sexy new exterior that showcased the high-performance engines and drivetrains of the C2 Corvette would be enough to keep the sales numbers of the car on an upward climb.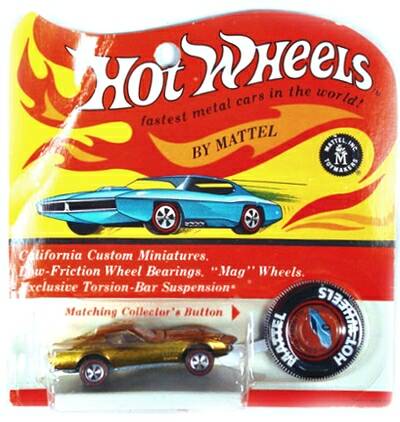 As much as General Motors tried to keep the new design of the 1968 Corvette a secret, the unveiling of the new body style would actually take place a few weeks before the car was officially unveiled to the public.
Just before the 1968 Corvette was to be introduced, toy manufacturer Mattel™ had released its new line of Hot Wheels™ and, much to the surprise of General Motors Executives, introduced an unauthorized version of a car called the 'Custom Corvette' which closely resembled the (as-yet) unveiled Corvette.
The irony behind the 1968 Corvette's unveiling is that the third-generation Corvette was actually supposed to have been introduced a full year earlier – in 1967.
The reasoning behind delaying its introduction had been as much a financial decision as anything, though critics would actually use the delay as a further opportunity to lash out at the car when it did finally arrive.  The reality, however, is that sales of the 1967 model had dipped considerably – from 27,720 Corvettes in 1966 to a disappointing 22,940 in 1967.  It had been believed (and hoped) that delaying the Corvette's release would increase the anticipation of the new model's arrival for potential customers.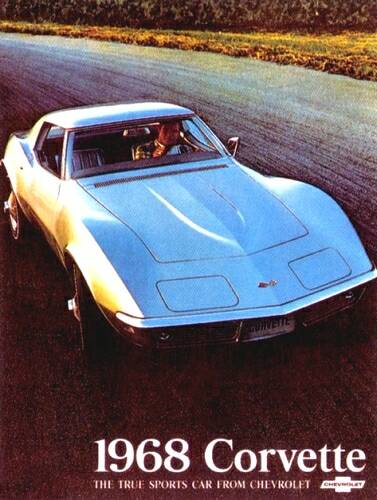 Beyond the lagging sales numbers of the 1967 C2 Corvette, the C3 had also suffered developmental problems which had prevented the possibility of an earlier unveiling.  Prototypes of the new car had showed an alarming tendency to lift under acceleration.
This item was resolved by cutting vents in the front fenders and by increasing the spring rates.  Also, due to the "wasp-waisted" (so named for the narrowing of the body between the front and rear axles) body design, the passenger compartment was narrow and cramped.  Additionally, the low roofline restricted both driver and passenger headroom.
Despite all of these items, the manufacturing challenges (and the subsequent delays they caused) were not entirely a bad thing.  The Federal government had issued the first-ever safety and emissions standards, with the implementation of these standards to begin with the 1968 model year.
Chevrolet would have seen to it that their next-generation Corvette was built to these standards, but by delaying the introduction of the new Corvette until 1968, Chevrolet's engineers were instead able to focus some of their attention on the five other higher-selling model lines in the 1967-68 Chevrolet fleet.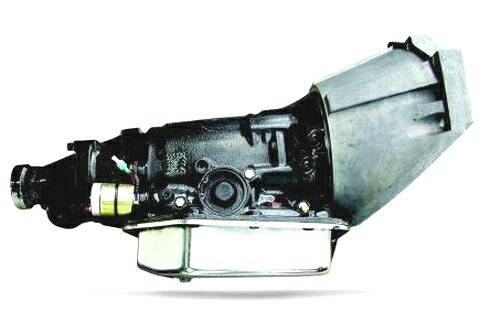 The new Corvette did feature many aspects of the beloved second-generation Corvette, including engine and powertrains that were retained from the previous year.
The one exception to these carryovers was the introduction of General Motors Turbo Hydra-Matic three-speed automatic transmission to the 1968 Corvette.
The Turbo Hydra-Matic, which replaced the optional two-speed Powerglide Transmission, was a far superior option to what had been available to consumers just the year before.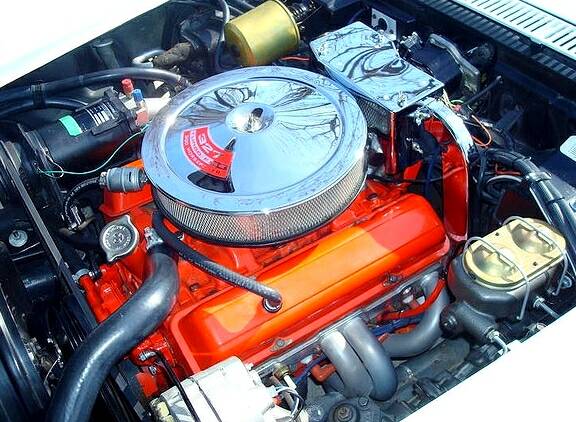 In addition to its factory default option, the 1968 Corvette offered no less than six optional engines to consumers.  The output of these engines ranged from the standard, factory-installed, somewhat conservative 300 horsepower, 327 cubic inch small block (which was mated to a three-speed manual gearbox,) to the earth-shaking, high output 435 horsepower, 427 cubic inch, big-block  L71 V8 engine.
In between these two extremes, the lineup included the L79 327 cubic inch small block which was rated at 350 horsepower.  Next came the 427 big blocks: the 390 horsepower L36 engine, and its triple-carbureted stablemates, the 400 horsepower L68 (and the aforementioned L71 engine.)
Topping things off were the L88 and the L89 aluminum-head packages for the L71.  While some critics claimed that the later of these engines was "too brutish a beast", the small-block V8's did offer consumers enough power to satisfy most appetites for high-end speed and quick, off-the-line acceleration.  All-in-all, the new 1968 Corvette received high marks for its straight-line performance.  Of course, these "new" engines (and the corresponding factory drivetrain that came standard with them) were carryovers from the previous year.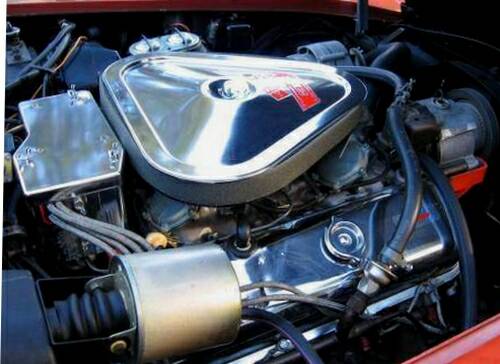 All of the 427 cubic inch engines (with the exception of the L88) were fitted with new low-rise intake manifolds that had been designed to allow the carburetor (or carburetors) adequate clearance beneath the third-generation Corvette's low-sitting hood.
Efficient intake flow was ensured and protected by sinking the manifold's underside into the big block's lifter valley. For its own part, the 1968 L88 427 engine included the addition of smog controls, which included a PCV valve and Chevrolet's air injection reaction (AIR) system.
Similarly, both the Muncie four-speed manual transmission and the aforementioned Turbo Hydra-Matic also received praise from critics and enthusiasts alike.  However, there was still some criticism about how the power transfer to the rear wheels affected the drivability of the car.
When it came to handling, the critics noted that while they liked the skidpad and slalom numbers that the new Corvette was produced, they did not like the way the car felt when generating them.  The new Corvette had a harsher ride than its predecessor, a fact that did not go unnoticed by the automotive press.
The car had a tendency to understeer, (a regrettably recognizable trait of the early-generation Corvettes,) which was a direct result of installing stiffer rear springs to reduce front end lift during acceleration.  The rear roll center was also lowered, which, when coupled with the suspension tuning, further added to the understeering issue.
Still, when combined with the decision to fit the 1968 Corvette with wider (7 inch) wheels and low-profile F70 x15 tires, it served to increase the car's cornering limit from 0.75g to 0.84g, allowing the Corvette to hug the pavement even better than the Sting Ray had.  These modifications to the suspension were so well-conceived that even Road & Track's staunchest critics reported favorably about it: "No question about it, the Corvette is one of the best-handling,front-engine production cars in the world."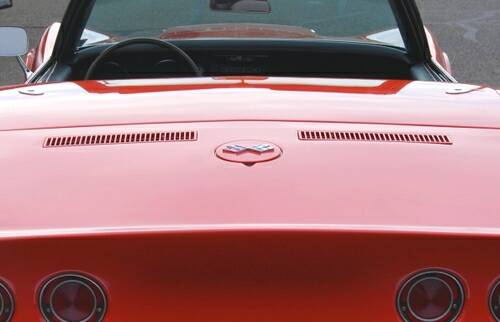 Elsewhere on the car, changes had been made to further help distribute weight more evenly or to improve on drivability.
The C3's battery was relocated behind the seats which also provided additional room under the hood.  The second-generation Corvette's side vent windows were eliminated in favor of a new fresh-air "Astro Ventilation" system.  The Astro Ventilation system routed fresh moving air in through the front cowl, around the interior airspace, and out through grilles located in the rear deck right behind the back window.
For maximum ventilation, the rear window could also be removed.  Shoulder belts were introduced in 1968 as a "no-cost" option for all Corvette coupes (although the option remained an additional expense on convertible models.) Additional new features for the 1968 model year included an electric rear-window defroster, speed warning indicator, AM/FM stereo radio, and a high-tech, futuristic fiber-optic light monitoring system.
The 1968 Corvette sat lower than its predecessor had.  It was also longer, wider, and heavier.  The overall length of the new Corvette increased from 175 inches to 182 inches, and most of this was the direct result of the greatly increased overhanging nose assembly at the front of the car.  In fact, the wheelbase remained unaltered from the Sting Ray's 98 inches.  The track width increased at both the front and rear of the car, from 56.5 inches to 58.7 inches in the front and from 57.0 inches to 59.4 inches in the rear.  Its weight had increased by nearly 200 pounds over the 1967 Sting Ray, so that the new Corvette now weighed approximately 3,400 pounds.
The interior of the car also received a fair amount of scrutiny and criticism.  While the car's body was physically larger than its predecessor, the cockpit had less room in it.  This had been the direct result of a decrease in the 1968 Corvette's overall height from the 1967 model – a reduction from 49.6 inches to 47.8 inches.
Because of this height reduction, it had been necessary to tilt both the driver and passenger seats back, increasing their fixed angle from 25 to 33 degrees.  This was done intentionally to account for the car's low roofline.  Unfortunately, adjusting the seat angles had an adverse effect on the Corvette's occupants: it not only cause discomfort for both the driver and the passenger, but it also meant that both were continually sliding forward during vehicle operation.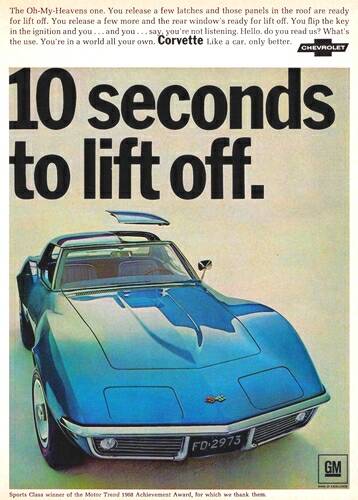 Beyond the general aesthetics of the car, the critics also felt that the Corvette's fit and finish was sorely lacking.  They gave the car low marks on a number of items: it lacked luggage space, its ride was harsh, it was awkward to get into and out of, the vehicle's interior ventilation system was sorely lacking, the concealed windshield wipers worked intermittently, the cockpit was noisy, and the dashboard instrument panel was poorly laid out.  Even the newly introduced T-tops, which incorporated a central brace in an attempt to reduce body shake, were prone to leaking during wet driving conditions.  Overall, the car's overall build quality was generally judged as "abysmal."   Car & Driver Magazine returned their initial test car to Chevrolet, saying that the 1968 Corvette was "unfit to road test."
Despite the critics many negative comments, the 1968 Corvette received much acclaim from Corvette owners and enthusiasts.  The poor reviews did not bother the masses, and why should they?  Despite its flaws, the new Corvette was still an exhilarating car, giving owners a thrilling driving experience that was every bit as impressive as any Corvette that had come before it.  The car produced plenty of power regardless of engine choice, and its all-independent suspension afforded drivers better than expected handling.  Even acknowledging that the third-generation Corvette was not "state of the art", it was generally accepted by enthusiasts as being more than satisfactory.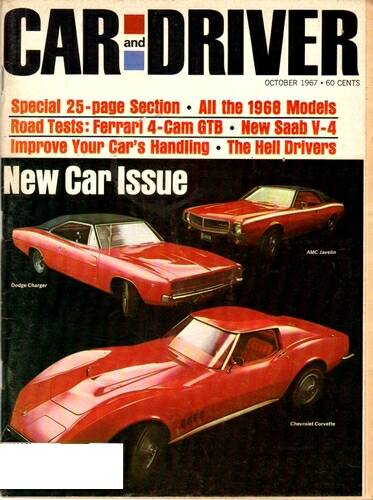 While testing a 350-bhp 327 roadster with the four-speed transmission and a 3.70:1 final drive, Road & Track Magazine reported that the new Corvette achieved a top speed of 128 miles per hour, a standing quarter-mile of 15.6 seconds at 92 miles per hour, and a 0-60mph time of 7.7 seconds.  By contrast, Car & Driver Magazine tested a 400-bhp 427 coupe, which achieved a 0-60 mph time of just 5.7 seconds and a 14.1-second quarter mile at a speed of 102 miles per hour.  Naturally, fuel economy suffered as drivers selected larger engines, with the big-block Corvettes getting a mere 11-15 miles per gallon which, when utilizing the standard 20-gallon fuel tank, gave the new Corvette a total range of just 220-300 miles per tank.
Yet, despite the poor reviews and the laundry list of mechanical and structural issues surrounding the new car, more people purchased a Corvette in 1968 than ever before.
In fact, model year sales set a new record at 28,566 units, which was up approximately 5,000 units from the final Sting Ray.  Part of the Corvette's renewed popularity likely had something to do with the highly competitive pricing that GM implemented – a mere $4,320 for a convertible and $4,663 for the coupe.
Ultimately though, the comments written in the May, 1968 edition of Car and Driver perhaps best summed up what made the new third-generation Corvette desirable to consumers: "The Corvette is not a copy of anything. It produces a whole new set of emotions in its beholders. It's American and no other description begins to capture it. It's big and why not? America has always demanded big cars — we've got plenty of space. Mechanically it feels unbreakable and it delivers a full measure of performance that its competitors can't match at double the price. Handling is impeccable, limited only by street tires, and the Corvette's pitch and float-free ride is ideally suited to high speed touring on American highways."
1968 Corvette Image Gallery
See full 1968 Corvette Image Gallery
1968 Corvette Specifications
See the complete breakdown of technical specifications for the 1968 Corvette, including engine, suspension, brakes, body dimensions, and power.
Read more: 1968 Corvette Specifications.
---
1968 Corvette Powertrain Specifications
| | | | |
| --- | --- | --- | --- |
| Order Code | Standard | L79 | L36 |
| Manufacturing Location | Flint, Michigan | Flint, Michigan | Flint, Michigan |
| Type | 90 degree V, Valve-In-Head | 90 degree V, Valve-In-Head | 90 degree V, Valve-In-Head |
| Cylinders | 8 | 8 | 8 |
| Displacement (cid) | 327 | 327 | 427 |
| Fuel Induction System | Carburetor | Carburetor | Carburetor |
| Horsepower | 300 @ 5,000 | 350 @ 5,800 | 390 @ 5,400 |
| Torque | 360 @ 3,200 | 360 @ 3,600 | 460 @ 3,600 |
| Bore x Stroke (in.) | 4.00 x 3.26 | 4.00 x 3.26 | 4.251 x 3.76 |
| Compression Ratio | 10.0:1 | 11.0:1 | 10.25:1 |
| Firing Order | 1-8-4-3-6-5-7-2 | 1-8-4-3-6-5-7-2 | 1-8-4-3-6-5-7-2 |
| Cylinder Number System (Left) | 1-3-5-7 | 1-3-5-7 | 1-3-5-7 |
| Cylinder Number System (Right) | 2-4-6-8 | 2-4-6-8 | 2-4-6-8 |
| Recommended Fuel | Premium | Premium | Premium |
| | | | |
| --- | --- | --- | --- |
| Order Code | L68 | L71 | L88 |
| Manufacturing Location | Flint, Michigan | Flint, Michigan | Flint, Michigan |
| Type | 90 degree V, Valve-In-Head | 90 degree V, Valve-In-Head | 90 degree V, Valve-In-Head |
| Cylinders | 8 | 8 | 8 |
| Displacement (cid) | 427 | 427 | 427 |
| Fuel Induction System | Carburetor | Carburetor | Carburetor |
| Horsepower | 400 @ 5,400 | 435 @ 5,800 | 430 @ 5,200 |
| Torque | 400 @ 3,600 | 460 @ 4,000 | 485 @ 4,000 |
| Bore x Stroke (in.) | 4.251 x 3.76 | 4.251 x 3.76 | 4.251 x 3.76 |
| Compression Ratio | 10.25:1 | 11.0:1 | 12.5:1 |
| Firing Order | 1-8-4-3-6-5-7-2 | 1-8-4-3-6-5-7-2 | 1-8-4-3-6-5-7-2 |
| Cylinder Number System (Left) | 1-3-5-7 | 1-3-5-7 | 1-3-5-7 |
| Cylinder Number System (Right) | 2-4-6-8 | 2-4-6-8 | 2-4-6-8 |
| Recommended Fuel | Premium | Premium | 103 RON Minimum |
1968 Corvette Pricing & Options
| | | | |
| --- | --- | --- | --- |
| CODE: | DESCRIPTION: | QUANTITY: | RETAIL PRICE: |
| 19437 | Base Corvette Sport Coupe | 9,936 | $4,663.00 |
| 19467 | Base Corvette Convertible | 18,630 | $4,320.00 |
| | Genuine Leather Seats | 2,429 | $79.00 |
| A01 | Soft Ray Tinted Glass, All Windows | 17,635 | $15.80 |
| A02 | Soft Ray Tinted Glass, Windshield | 5,509 | $10.55 |
| A31 | Power Windows | 7,065 | $57.95 |
| A82 | Headrests | 3,197 | $42.15 |
| A85 | Custom Shoulder Belts (std. with coupes) | 350 | $26.35 |
| C07 | Auxiliary Hardtop (for convertibles) | 8,735 | $231.75 |
| C08 | Vinyl Covering (for auxiliary hardtop) | 3,050 | $52.70 |
| C50 | Rear Window Defroster | 693 | $31.60 |
| C60 | Air Conditioning | 5,664 | $412.90 |
| F41 | Special Front and Rear Suspension | 1,758 | $36.90 |
| G81 | Positraction Rear Axle, all ratios | 27,008 | $46.35 |
| J50 | Power Brakes | 9,559 | $42.15 |
| J56 | Special Heavy Duty Brakes | 81 | $384.45 |
| K66 | Transistor Ignition System | 5,457 | $73.75 |
| L36 | 427 Cubic Inches, 390 Horsepower Engine | 7,717 | $200.15 |
| L68 | 427 Cubic Inches, 400 Horsepower Engine | 1,932 | $305.50 |
| L71 | 427 Cubic Inches, 435 Horsepower Engine | 2,898 | $437.10 |
| L79 | 327 Cubic Inches, 250 Horsepower Engine | 9,440 | $105.35 |
| L88 | 427 Cubic Inches, 430 Horsepower Engine | 80 | $947.90 |
| L89 | Aluminum Cylinder Heads with L71 | 624 | $805.75 |
| M20 | 4-Speed Manual Transmission | 10,760 | $184.35 |
| M21 | 4-Speed Manual Transmission, close ratio | 12,337 | $184.35 |
| M22 | 4-Speed Manual Transmission, close-ratio, heavy-duty | 80 | $263.30 |
| M40 | Turbo Hydra-Matic Automatic Transmission | 5,063 | $226.45 |
| N11 | Off-Road Exhaust System | 4,695 | $36.90 |
| N36 | Telescopic Steering Column | 6,477 | $42.15 |
| N40 | Power Steering | 12,364 | $94.80 |
| P01 | Bright Metal Wheel Cover | 8,971 | $57.95 |
| PT6 | Red Stripe Tires, F70x15, nylon | 11,686 | $31.30 |
| PT7 | White Stripe Tires, F70x15, nylon | 9,692 | $31.30 |
| UA6$ | Alarm System | 388 | $26.35 |
| U15 | Speed Warning Indicator | 3,453 | $10.55 |
| U69 | AM-FM Radio | 24,609 | $172.75 |
| U79 | AM-FM Radio, stereo | 3,311 | $278.10 |
Read more: 1968 Corvette pricing and factory options.
1968 Corvette Vehicle Identification Numbers (VIN)
The last six digits begin at 400001 and run thru 428566, accounting for all 28,566 Corvette Coupes/Convertibles built-in 1968. Each Vehicle Identification Number (VIN) is unique to an individual car. Read more:
1968 Corvette VINs
.
1968 Corvette Common Issues
The following list of common issues is intended for individual reference only, and may not reflect the specific issues of every 1968 Corvette.  While the intent of this page is to identify the common issues pertaining to the 1968 Corvette, it is not an all-inclusive list and should be used for reference only.
Read more: 1968 Chevrolet Corvette common issues.
1968 Corvette Recalls, Technical Service Bulletins, & Maintenance Schedule
The information contained on this page is for reference only.  The time and mileage intervals for each of the maintenance items included on this page were established by General Motors with the introduction of the 1968 Chevy Corvette.  Please note that the original service intervals may not reflect the standard service intervals used in current automobile engines.
Read more: 1968 Corvette Recalls, Technical Service Bulletins, & Maintenance Schedule.