2003 Corvette Overview
The arrival of the 2003 Chevrolet Corvette represented the culmination of fifty years of evolution for General Motors flagship automobile.  It had been during the spring of 1953 that the first Corvette had been unveiled at GM's "Motorama".
Since that time, it had transformed into an entirely new vision of Corvette with each evolution.  "Few vehicles have had the staying power of Corvette" said Rick Baldick, Corvette Brand Manager. "We believe that much of that success comes from a willingness to embrace advancing technology while remaining true to Corvette's glorious history.
As we celebrate our golden anniversary in 2003, we honor our past and cast a bright eye toward the future."
| | |
| --- | --- |
| Model: | 2003 Corvette |
| Generation: | C5 Corvette |
| Type: | 2 Door Coupe/Z06 Coupe/Convertible |
| Available Colors: | Quicksilver, Electron Blue, Speedway White, Black, Torch Red, Millenium Yellow, Medium Spiral Gray, Anniversary Red |
| Engine: | LS1, 346C.I., 5.7 Litre V8 (Coupe/Convertible) LS6, 346C.I., 5.7Litre V8 (Z06) |
| VIN: | 1G1YY22G535100001 – 1G1YY22G235135469 |
| Transmission: | 4-speed automatic (standard), 6 speed manual (optional) |
| Original Price: | $43,895 (Coupe), $50,370 (Convertible), $51,155 (Z06) |
| Units Produced: | 35,469 |
| Specs: | 2003 Corvette Spec List |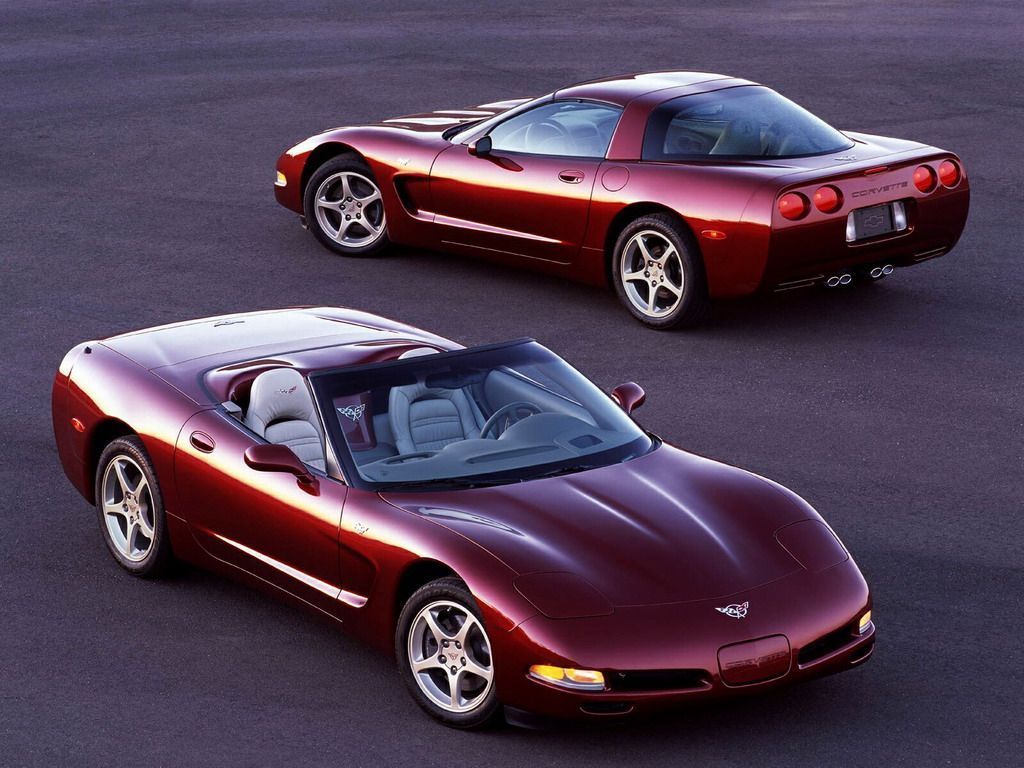 Now, with fifty years behind it, Chevrolet executives were prepared to commemorate the half-century-old sports car through a series of planned events that included the introduction of a Special Edition 2003 C5 Corvette.
The "50th Anniversary Special Edition" Corvette package, available only on base coupes and convertibles, consisted of a special metallic-burgundy Anniversary Red exterior with champagne colored wheels and specific "anniversary edition" badging.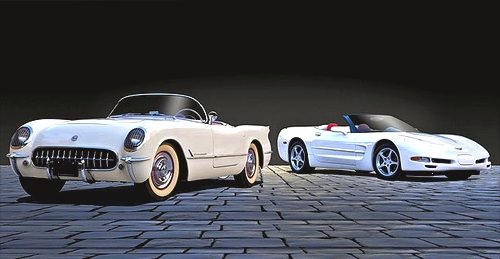 Complementing the exterior, a shale colored interior was highlighted with embroidered emblems on the seats and floor mats, armrests, and grips.
When included as part of the convertible package, the collapsible top also featured the matching shale-color.  This option was only available to consumers as part of a preferred equipment group.
RPO 1SC, Preferred Option Group Number 2, included the special paint and trim package, as well as Magnetic Selective Ride Control, along with other options included with RPO 1SB.  This option, despite the additional $5,000.00 cost to consumers, was ordered by more than 11,500 customers.
With regards to the aforementioned Selective Ride Control that was included as part of RPO 1SC, consumers wishing to equip their Corvettes with this option could do so without purchasing the costly anniversary package.
Listed as RPO F55, the Magnetic Selective Ride Control suspension was very similar to a system that GM had previously introduced on the 2002 Cadillac STS.  The Selective Ride Control system used a unique damper design to govern wheel and body motion by utilizing a "Magneto-Rheological" fluid in each shock absorber.  Essentially, this fluid was little more than synthetic oil permeated with millions of tiny iron balls that floated uniformly within the shock fluid.  To adjust the level of ride damping, an electrical current was fed into an electromagnetic coil, thereby causing the iron-ball infused oil to change viscosity – allowing the car's ride to almost instantly go from no damping to virtually solid damping.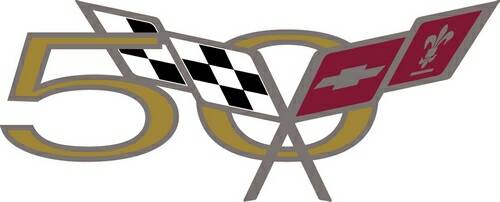 The F55 Magnetic Selective Ride Control suspension was designed to make more than 1,000 minute adjustments per second.  Controlled by a dual-processor computer chip, the suspension utilized the car's speed, steering-wheel angle, wheel travel, braking, lateral acceleration, and outside temperature to adjust the car's ride.
The system was designed to isolate and smooth the ride of each tire to help minimize bouncing, vibration, and noise.  As a result, the  2003 Corvette produced a quieter, flatter ride with more responsive and more precise handling, especially during high-speed driving maneuvers.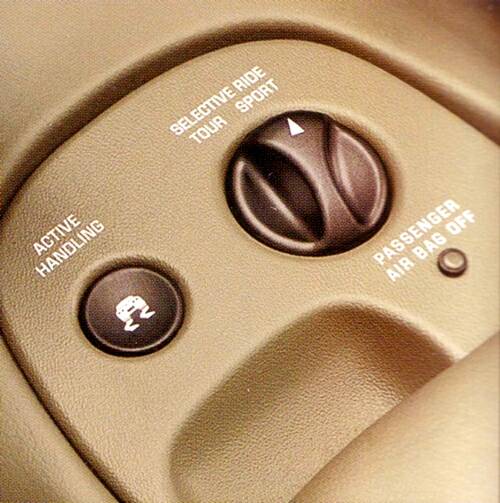 Working in conjunction with both the mum balance and ride stability over a full range of road conditions.  This option included a console-mounted switch that allowed drivers the ability to manually select the ride type – either "Tour" which provided drivers with a smoother, more comfortable ride or "Sport" which gave drivers a more rigid suspension that also reduced body roll.
While most critics agreed that the F55 Ride Control Option did improve overall drivability of the Corvette, the inclusion of the F55 Ride Control System added just over 13 pounds to the car.  As a result, the Z06 did not receive this option, as increased weight would result in diminished performance at the rear wheels.
The coupes and convertibles did include a number of equipment options that were now standard when ordering a 2003 Corvette.  New Corvette owners could now expect to receive a car that included fog lamps, sports sears, dual-zone auto climate control, and a power passenger seat.  The 2003 Corvette coupes also received a standard parcel net and privacy shade for the hatch area.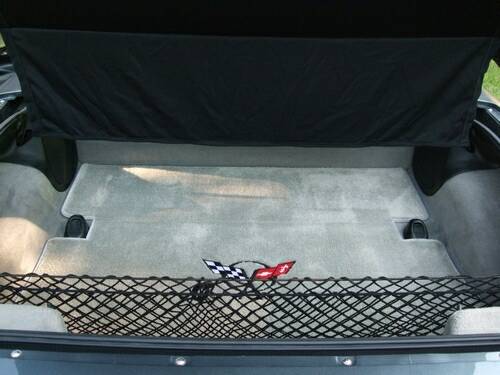 An interesting addition to the coupe, (given the specific nature of a two-seat sports car) was the introduction of special hooks that were installed on the passenger's seat to facilitate the connection of a specially equipped child seat (an option that was only recommended when used in conjunction with a passenger-side airbag-cutoff switch).
All Corvettes (coupe, convertible, and the Z06) were fitted with special silver 50th Anniversary emblems at the front and rear that featured the number "50" along with the signature Corvette crossed flags logo.
DID YOU KNOW: In an effort to meet stricter standards for occupant protection, the Z06 Corvette hardtop headliners were made thicker for the 2003 model year. Additionally, the interior area for the A-pillar of all models and the B-pillar in the Coupe/Z06 were modified.

Also, for the 2003 model year, a number of factory features that were previously optional were made standard in coupes and convertibles. These included fog lamps, sports seats, power passenger seats, dual-zone air conditioning, and (in the coupe only) the parcel net and luggage shade.
While the C5 Corvette had certainly earned the respect of automobile enthusiasts around the world, Chevrolet was still faced with some unique challenges for the 2003 model year.  For the first time in a generation, a number of genuine automotive competitors had arrived, and each posed a threat that might draw consumers away from Corvette.
Dodge introduced a redesigned Viper Roadster with a robust V-10.  While the Viper was considerably more expensive than the Corvette, its $80,000 price tag was not so far out of reach as to discourage prospective Corvette owners from exploring their options. A more serious threat to the Corvette was the arrival of Nissan's all-new V-6 powered 350Z, a car that provided solid, swept-back looks, and 'Vette-like handling starting at just $26,269.  Even Porsche's mid-engine Boxster remained a formidable rival at a price-point that continued to match the Corvette Convertible.
Still, despite the competition, the 2003 Corvette still boasted fairly impressive sales numbers, even given the fact that all three iterations of Chevy's sports car saw another price increase for the new model year.  For 2003, Chevrolet sold 12,812 coupes starting at a price of $43,255, a total of 14,022 convertibles starting at $49,700, and 8,635 Z06 coupes starting at $50,485.  All total, 2003 produced total sales of 36,026 Corvettes, which was still an improvement over the 2002 model year, though only by 88 units.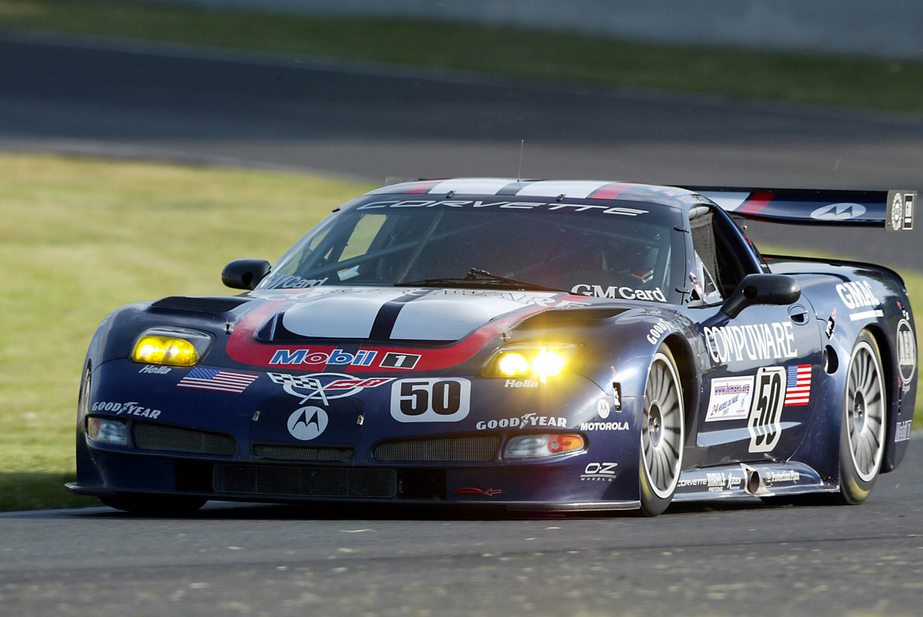 Of course, by late 2003, everyone knew that the C5 Corvette was headed for retirement.  The automotive press had already flooded the media with design rumors and spy photos of the replacement C6 Corvette.
Still, with more than a year before the arrival of the C6 Corvettes, General Motors continued to rally behind the C5, especially on the race track – and the 2003 C5-R's commemorated the racing season by dominating their field with a third straight manufacturer's title in the American LeMans Series and a second-third finish at the 24 Hours of LeMans that same year.  In fact, the C5-R's season-long performance was so strong that one of the only changes made to the 2004 Corvette would be to commemorate the 2003 racing season.
RACING: As Corvette celebrated its 50th Anniversary, the Corvette Racing Teams helped commemorate the special anniversary by placing 2nd and 3rd place at the 24 Hours of Le Mans.

The #50 Corvette C5-R, co-driven by Oliver Gavin, Kelly Collins and Andy Pilgrim completed 326 laps to finish 11th overall and second in the GTS class. Collins and Pilgrim notched their fourth straight podium finish while Gavin took home his second in a Corvette at Le Mans.

The #53 Corvette C5-R, co-driven by Ron Fellows, Johnny O'Connell and Franck Freon completed 326 laps of the 8.6 mile circuit to finish 12th overall and third in the production-based GTS class. Fellows and O'Connell also co-drove to class victories in 2001 and 2002, while Freon experienced his tenth straight Le Mans appearance and fourth podium finish at Le Sarthe with Corvette.
As the Corvette celebrated its 50th anniversary, it was an interesting point of note that the Corvette was one of the longest-lived sports cars in the world.  Yet, despite its many iterations and its incredible complexity, Corvette has remained faithful to the pioneers who designed and built it as well as to the owners who have owned and enjoyed driving it for fifty years.
In fact, at its 50th anniversary, the 2003 Corvette continued to share its GRP (fiberglass) body panels and its front-engine, rear-wheel drive layout of the 1953 model.  Without question, at fifty, Corvette continued to be the proud legacy of Harley Earl, who envisioned a two-seat roadster a half-century earlier.  Yet, as far as the Corvette had evolved since its earliest ancestor, the best was still to come.
2003 Corvette Image Gallery
See full 2003 C5 Corvette Image Gallery
2003 Corvette Specifications
See the complete breakdown of technical specifications for the 2003 Corvette, including engine, suspension, brakes, body dimensions, and power.
Read more: 2003 Corvette Specifications.
2003 Corvette Pricing & Options
| | | | |
| --- | --- | --- | --- |
| CODE: | DESCRIPTION: | QUANTITY: | RETAIL PRICE: |
| 1YY07 | Base Corvette Sport Coupe | 12,812 | $43,895.00 |
| 1YY37 | Base Corvette Z06 Hardtop | 8,635 | $51,155.00 |
| 1YY67 | Base Corvette Convertible | 14,022 | $50,370.00 |
| 1SB | Preferred Equipment Group – Coupe | | $1,200.00 |
| 1SB | Preferred Equipment Group – Convertible | 6,643 | $1,200.00 |
| 1SC | 50th Anniversary Edition – Coupe | 4,085 | $5,000.00 |
| 1SC | 50th Anniversary Edition – Convertible | 7,547 | $5,000.00 |
| AAB | Memory Package (Z06 Hardtop) | 8,241 | $750.00 |
| B84 | Body Side Moldings | 22,243 | $150.00 |
| CC3 | Removable Roof Panel, Blue Tint (Coupe) | 5,184 | $1,200.00 |
| C2L |  Dual Removable Roof Panels (Coupe) | 3,150 | $750.00 |
| DDO |  Electrochromatic Mirrors (Z06 Hardtop) | 8,227 | $120.00 |
| F55 | Magnetic Selective Ride Control (Coupe & Convertible) | 14,992 | $1,695.00 |
| G92 | Performance Axle Ratio (3.15 ratio) (automatic) | 9,785 | $395.00 |
| MN6 | 6-Speed Manual Transmission (Coupe & Convertible) | 8,590 | $915.00 |
| N73 | Magnesium Wheels (Coupe & Convertible) | 293 | $1,500.00 |
| QF5 | Polished Aluminum Wheels (Coupe & Convertible) | 10,290 | $1,295.00 |
| R8C | Corvette Museum Delivery | 787 | $490.00 |
| ULO | Delco Stereo Cassette (Replaces Standard Radio) | 4,664 | $0.00 |
| U1S | Remote Compact 12-Disc Changer (Coupe & Convertible) | 15,979 | $600.00 |
| V49 | Front License Plate Frame |  20,605 | $15.00 |
| Z51 |  Performance Handling Package (Coupe & Convertible) |  2,592 | $395.00 |
| 79U | Millennium Yellow Paint with tint coat | | |
Read more: 2003 Corvette pricing and factory options.
2003 Corvette Vehicle Identification Numbers (VIN)
For all 2003 Corvettes in the U.S. and Canada, the Vehicle Identification Number (VIN) was stamped on a plate on the inner vertical surface of the left windshield pillar visible through the windshield. Read more: 2003 Corvette VINs.
2003 Corvette Recalls, Technical Service Bulletins, & Maintenance Schedule
The information contained on this page is for reference only.  The time and mileage intervals for each of the maintenance items included on this page were established by General Motors with the introduction of the 2003 Chevy Corvette.  Please note that the original service intervals may not reflect the standard service intervals used in current automobile engines.
Read more: 2003 Corvette Recalls, Technical Service Bulletins, & Maintenance Schedule.
2003 Corvette Common Issues
The following list of common issues is intended for individual reference only, and may not reflect the specific issues of every 2003 Corvette.  This information comes from a variety of sources including the NHTSA Defects Reports pages.  While the intent of this page is to identify the common issues pertaining to the 2003 Corvette, it is not an all-inclusive list and should be used for reference only.
Read more: 2003 Corvette Common Issues.
2003 Corvette Service Manual
See the original 2003 Corvette service manual here.