1992 Corvette Overview
Late in 1991, it was decided by General Motors that an all-new generation of Corvette would have to be put on hold until as late as 1998.  While the next generation of Corvette was originally anticipated to arrive in 1995, poor sales prevented General Motors from expending the budgets necessary to develop a new model.   Despite this economic downturn, GM did unveil a new concept car in January, 1992.
Model:
1992 Corvette
Generation:
C4 Corvette
Type:
2 Door Coupe, 2 Door Convertible
Available Colors:
White, Yellow, Black, Bright Aqua Metallic, Polo Green II Metallic, Black Rose Metallic, Dark Red Metallic, Quasar Blue Metallic, Bright Red
Engine:
350CI, 300 Horsepower, Multi-Port Fuel Injected LT1 V8 Small Block Engine.
VIN:
1G1YY23P6N5100001 – 1G1YY23P6N5119977 (Corvette Coupe & Convertible)
1G1YZ23J6N5800001 – 1G1YZ23J6N5800502 (ZR-1 Corvette)
Transmission:
4-speed automatic (standard), 6 speed manual (optional)
Original Price:
$33,635.00 (Coupe), $40,145 (Convertible)
Units Produced:
20,479
Specs:
1992 Corvette Spec List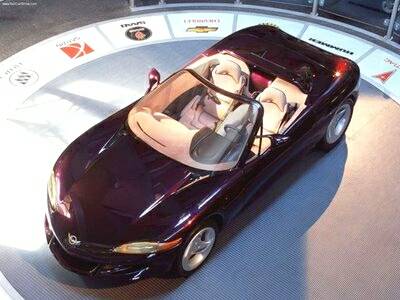 Known only as the Sting Ray III, the car was introduced to the world at the 1992 North American International Auto Show.  The car's origins reach as far back as 1989, when Chevy 3 studios had begun developing the first treatments of a possible next generation C5 Corvette concept.
Although Chevy 3's primary focus during that time was the development of an all new F-body Camaro.
John Cafaro, a designer with Chevy 3, felt that he should be given the opportunity to champion the new design.
Charles Jordan, GM's design chief during that time, completely disagreed, stating early on that he had not been impressed with Chevy 3's C5 proposals.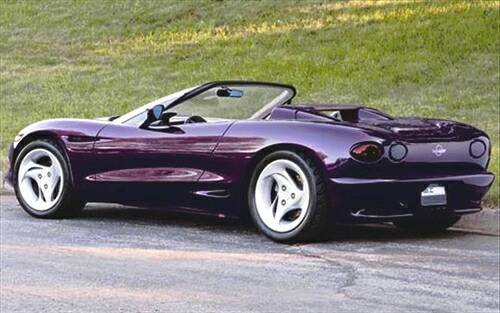 After directing an extensive series of changes to the new Camaro, Jordan informed Cafaro (and the Chevy 3 team) that they needed to improve upon their initial effort or else he would find someone that could.  Shortly thereafter, Jordan invited Advanced Concepts Center (ACC) in Newbury Park, California, and more directly John Schinella, to champion the design of the new C5 Corvette.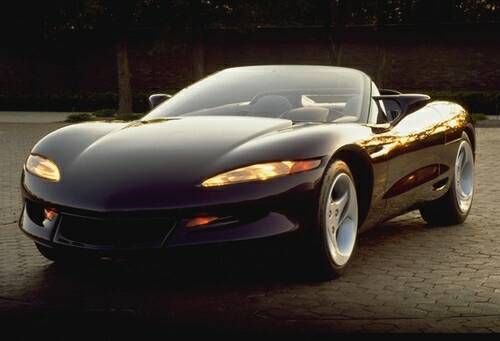 In the spring of 1990, Schinella's prototype made its first appearance.  Painted in a black cherry paint, this concept convertible, nicknamed "the purple car", was both sweet and sassy.
The car featured both a functional trunk and exposed headlights – both features that had been absent from regular production Corvettes since 1962.   Interestingly, the purple car would, despite the mixed reactions it initially received from critics, would serve as a guidepost for things to come on the eventual C5 Corvette.
The functional trunk feature would re-appear in 1998 on the C5 Convertible and FRC models.  The exposed headlights would be reintroduced a few years later with the introduction of the C6 Corvette in 2005.  Even the transmission, which was mounted in the rear of this prototype, would find its way into future generations of the Chevy Corvette.
DID YOU KNOW: The Corvette Americana Hall of Fame and Americana Museum, created by Dr. Allen Schery, was opened on July 31, 1992, in Cooperstown, New York. The museum included a unique display of 35 Corvettes. Schery's purpose behind opening the Hall of Fame was to show how the Corvette fit in the American culture and the exhibits included enough Americana to entertain men, women, children, Corvetters and non-Corvetters alike. The exhibits included celebrity collections from James dean, Elvis, the Beatles, Madonna, Marilyn Monroe and Bruce Springsteen. It also featured an "Indy Room" which featured several pace cars which had been driven at various Indianapolis 500 races.
While there were many within GM, and most especially within Chevy 3's team of designers, that did not care for the purple car, which had been dubbed "Sting Ray III", it was a huge hit with the public when it was unveiled in Detroit.  Most people loved its fresh face, but even more loved the prospect of what the Sting Ray III represented financially.  Where it had appeared that GM's focus was on building prohibitively expensive Corvettes like the ZR-1, early estimates claimed that the Sting Ray III would sell in the $20,000 to $25,000 range, making the car far more affordable to consumers around the globe.
Unfortunately, this never came into fruition and the Sting Ray III disappeared into the annals of history like many prototypes before it.  Interestingly though, in the year that would follow the Sting Ray III, it would ultimately be John Cafaro who would most directly impact the final design of the production C5 Corvette.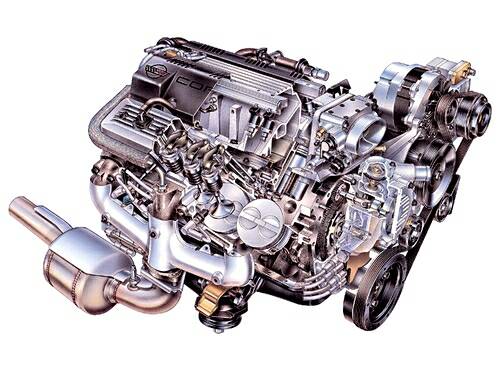 Just as GM had showcased the Sting Ray III as one of their concept cars at the 1992 Detroit Auto Show, so too did they showcase a new powertrain for the 1992 Corvette.
In an effort to strike a happy medium between the moderately aggressive L98 and the incredibly powerful LT-5 (found in every ZR-1 Corvette) Chevrolet decided to roll out a standard pushrod small-block engine that would increase horsepower in the Corvette for the 1992 model year.  And increase horsepower it did.  In all, the new LT-1 V-8 small block engine produced a significant boost in power – 50 horsepower to be exact.
Now rated at a hearty 300 horsepower (at 5,000 rpm), with 300 lbs/ft of torque (at 4,000rpm), the LT-1 engines improved performance was the result of a number of improvements and refinements to the existing 5.7-liter V-8.  Amongst these improvements was the introduction of computer-controlled engine timing, a new low-restriction exhaust system that utilized two catalytic converters and oxygen sensors (one for each cylinder bank), a new camshaft profile, a higher compression ratio (10.5:1), free-flow cylinder heads, and a revised multiport fuel-injection system.  Cast iron exhaust manifolds were also introduced, replacing the previously used stainless-steel ones.  This, along with other minor modifications, resulted in the LT-1 engine weighing 21 pounds more than its predecessor. To its credit, however, this engine was capable of providing impressive performance numbers even while operating on low octane gasoline.
The LT-1 engine was also the first powerplant to utilize "reverse flow cooling", a process in which the engine routed coolant directly to the cylinder heads, rather than sending through the engine block first.
The 1992 SCCA Pro Racing World Challenge season was the third running of the Sports Car Club of America's World Challenge serie. It was the first not to be sponsored by Escort radar detectors. The series would not receive another corporate sponsor until its acquisition by SpeedVision in 1999. It included a 24 hour race at Mosport Park. It would be the final year with four or more groups until 1996. The season would also mark the end of the endurance racing the series was founded upon, gradually phased out until by 1999 its endurance races were replaced with one hour sprints.
The primary purpose of this revised cooling process was to allow higher bore temperatures and reduced ring friction, while also providing better cooling at key points.  Additionally, General Motors introduced Mobil 1 synthetic oil as the factory recommended motor oil for all LT-1 engines.  The concept of using synthetic oils in place of conventional motor oils had been pioneered by European automotive manufacturers (including Porsche), and it seemed only logical that as the Corvette's performance factors continued to evolve, it should follow in the wake of some of the world's greatest supercars.  As an added benefit, the introduction of synthetic oil eliminated the need for an engine-oil cooler.  For the 1992 model year, an engine oil cooler was no longer even offered as an option.
Beyond the engine, the 1992 Corvettes benefited from a new standard traction-control system called Acceleration Slip Regulation which was developed in conjunction with Germany's Bosch company.   It used the ABS sensors to detect rear-wheel slip and apply the brakes to the affected wheels and/or throttle back power to maintain traction.  In some instances, it would even cause the brake pedal to push back against the driver's foot, thereby letting them know that the system was engaged.  During wet and slippery conditions, the ASR was a significant safety feature which allowed the Corvette to be driven notably faster (in less than ideal driving conditions) although it would also result in a significant increase in rear brake pad wear (due specifically to increased braking control).  Whenever a driver wanted to take their Corvette to the track, a dashboard switch could be activated to disable the system.
Also new for 1992 was the addition of standard new directional/asymmetric-tread Goodyear GS-C tires. Their introduction was intended to work in conjunction with the Acceleration Slip Regulation system to regulate road slip and help the LT-1 Corvette hug the road during even the most aggressive driving conditions.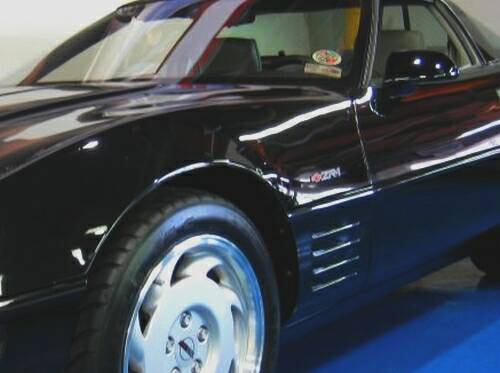 While mechanically the 1992 Corvette was a major improvement over its predecessors, there were virtually no physical changes between it and any of its other C4 predecessors.
The ZR-1 Corvette received additional badges on its front fenders, and all Corvettes (base coupe, convertible and ZR-1 variants) received twin exhaust outlets that were rectangular in shape.  For 1992, General Motors made the decision to reduce the formerly standard six-way power passenger seat to an extra-cost option.  This decision was short-lived and returned as a standard option in 1993.
The interior was also devoid of any real physical changes, although a number of subtle improvements were made.  For 1992, the digital speedometer was relocated above the fuel gauge.
Additionally, the instrument face plates and buttons were changed from 1990–1991's grey-black combination to an all-black color scheme.  Other subtle, but significant, changes were made as well.  An improvement was made to the weather sealing with the introduction of improved weatherstrip seals.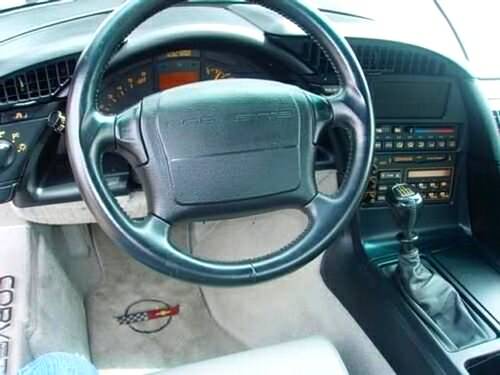 The introduction of improved insulation to the inside of the doors and the transmission tunnel cut down on road noise.  Lastly, the power delay feature, (which was originally introduced to the Chevy Corvette in 1991, (and which allowed the radio and windows to operate after the ignition was turned off)), was modified so that the passenger door also cut power.
While there had been little doubt that the LT-1 would be well received by the automotive critics, it did come as a surprise to Chevrolet that automotive reviewers would also declare that the LT-1 and its 300 brake horsepower (bhp) made the ZR-1 Corvette, (which only offered consumers an additional 75 horsepower (for nearly double the price of the base LT1 coupe)), somewhat irrelevant.
The numbers spoke for themselves – there was only a half second difference (4.7 seconds versus 5.1 seconds) in the 0-60 times between the ZR-1 and the LT-1 Corvettes.  While the ZR-1 did offer a higher top speed over the standard coupe (179 miles per hour versus 161 miles per hour), few consumers could justify spending an extra $31,683 for a top speed few (if any) would ever reach.  As a result, only 502 ZR-1 Corvettes would be sold in 1992.
Falling sales numbers weren't isolated to the ZR-1 Corvette alone.  In all, General Motors sold a mere 20,479 Corvettes during the course of its 1992 model year, which resulted in the lowest sales output since 1962.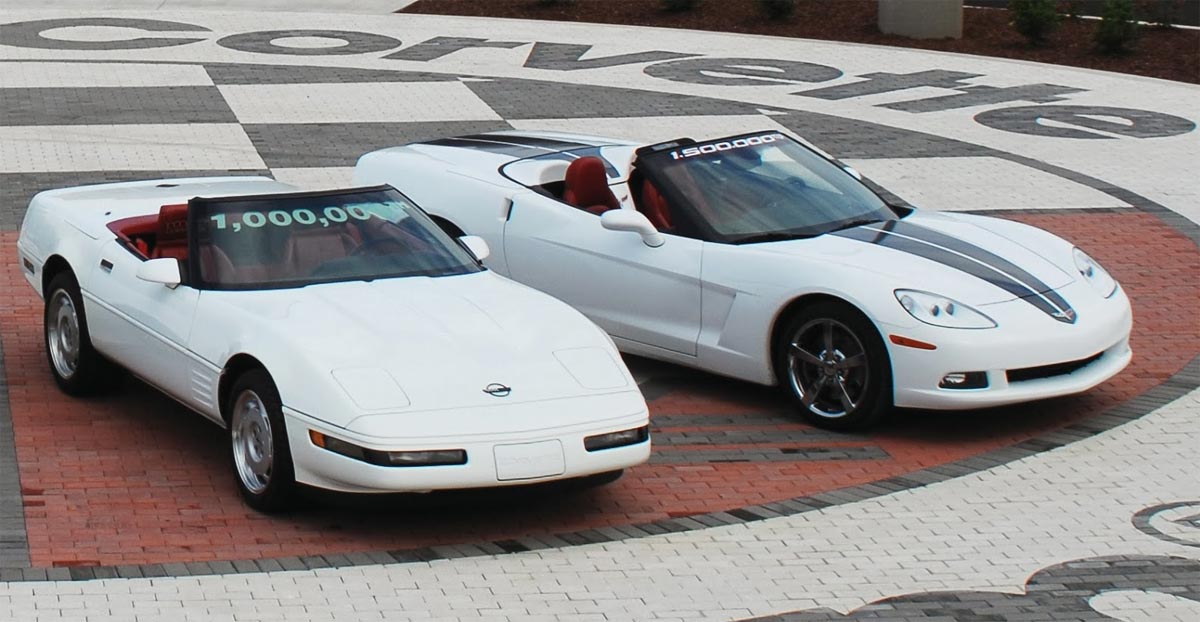 During the course of the 1992 production run, the 1-millionth Corvette rolled off the Bowling Green, Kentucky assembly line.  This special Corvette convertible received individually stitched headrests that commemorated this milestone.
To help celebrate this milestone, Zora Duntov and other Chevy officials gave a thumbs-up to the 1-millionth Corvette, which was produced on July 2, 1992 and, like the very first 1953 Corvette, rolled off the assembly line with a white exterior. Interestingly, the 1- millionth Corvette would also be one of the least travelled Corvettes ever. Destined for the National Corvette Museum in Bowling Green, Kentucky, the car would literally travel less than a mile once it drove off the assembly line (as the NCM is literally located directly across the street from the Corvette manufacturing plant – also in Bowling Green, Kentucky.)
1992 Corvette Image Gallery
See full 1992 C4 Corvette Image Gallery
1992 Corvette Specifications
See the complete breakdown of technical specifications for the 1992 Corvette, including engine, suspension, brakes, body dimensions, and power.
Read more: 1992 Corvette Specifications.
1992 Corvette Pricing & Options
| | | | |
| --- | --- | --- | --- |
| CODE: | DESCRIPTION: | QUANTITY: | RETAIL PRICE: |
| 1YY07 | Base Corvette Sport Coupe | 14,604 | $33,635.00 |
| 1YY67 | Base Corvette Convertible | 5,875 | $40,145.00 |
| AC1 | Power Passenger Seat | 10,565 | $475.00 |
| AC3 | Power Driver Seat | 752 | $555.00 |
| AQ9 | Sport Seats, leather | 7,973 | $1,100.00 |
| AQ9 | Sport Seats, White Leather | 709 | $1,180.00 |
| AR9 | Base Seats, leather | 16,179 | $305.00 |
| AR9 | Base Seats, White Leather | 19,378 | $305.00 |
| CC2 | Auxiliary Hardtop (convertible) | 915 | $1,995.00 |
| C2L | Dual Removable Roof Panels (coupe) | 3,739 | $950.00 |
| 24S | Removable Roof Panel, blue tint (coupe) | 6,424 | $650.00 |
| 64S | Removable Roof Panel, bronze tint (coupe) | 3,005 | $650.00 |
| C68 | Electronic Air Conditioning Control | 18,460 | $205.00 |
| FX3 | Selective Ride and Handling, electronic | 5,840 | $1,695.00 |
| G92 | Performance Axle Ratio | 2,283 | $50.00 |
| MN6 | 6-Speed Manual Transmission | 5,487 | $0.00 |
| NN5 | California Emission Requirements | 3,092 | $100.00 |
| UJ6 | Low Tire Pressure Warning Indicator | 3,416 | $325.00 |
| UU8 | Stereo System, Delco-Bose | 3,241 | $823.00 |
| U1F | Stereo System With CD, Delco-Bose | 15,199 | $1,219.00 |
| V56 | Luggage Rack (convertible) | 845 | $140.00 |
| Z07 | Adjustable Suspension Package (coupe) | 738 | $2,045.00 |
| ZR1 | Special Performance Package  (coupe) | | |
Read more: 1992 Corvette pricing and factory options.
1992 Corvette Vehicle Identification Numbers (VIN)
For all 1992 Corvettes, the Vehicle Identification Number was stamped on a plate on the inner vertical surface of the left windshield pillar visible through the windshield. Read more: 1992 Corvette VINs.
1992 Corvette Recalls, Technical Service Bulletins, & Maintenance Schedule
The information contained on this page is for reference only.  The time and mileage intervals for each of the maintenance items included on this page were established by General Motors with the introduction of the 1992 Chevy Corvette.  Please note that the original service intervals may not reflect the standard service intervals used in current automobile engines.
Read more: 1992 Corvette Recalls, Technical Service Bulletins, & Maintenance Schedule.
1992 Corvette Common Issues
The following list of common issues is intended for individual reference only, and may not reflect the specific issues of every 1992 Corvette.  This information comes from a variety of sources including the NHTSA Defects Reports pages.  While the intent of this page is to identify the common issues pertaining to the 1992 Corvette, it is not an all-inclusive list and should be used for reference only.
Read more: 1992 Corvette Common Issues.
1992 Corvette Dealers Sales Brochure
See the original 1992 Corvette sales brochure here.