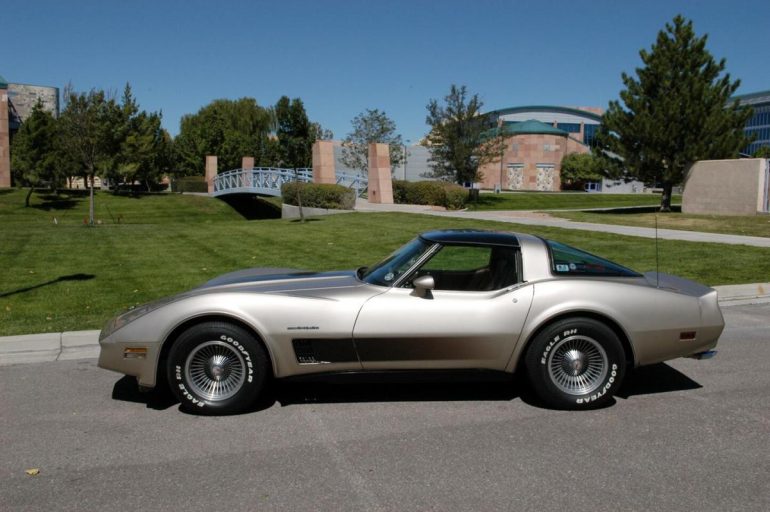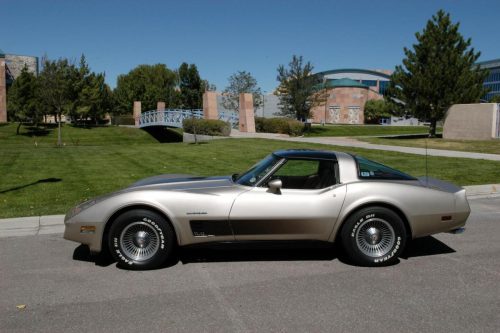 1982 Corvette – The Ultimate Guide
After General Motors opened the Corvette manufacturing plant in Bowling Green, Kentucky in the summer of 1981, many enthusiasts began to suspect that the arrival of a next-generation Corvette was imminent.  Their suspicions were correct.
While most of the design specifics surrounding the new C4 Corvette model were still a carefully kept secret from the general public, it was known among automotive enthusiasts that a new model was coming, and that it would be another front-engine design keeping in the tradition of Corvette since 1953.
Of course, it wasn't only the introduction of a new manufacturing plant that indicated a coming change in Corvette's near future.
Certain design changes to the 1981 C3 had already unveiled clues – such as the introduction of fiberglass mono-leaf springs – about what enthusiasts might expect from the next-generation Corvette.
Despite the certainty that the next-generation Corvette was close at hand, a decision was made by General Motors brass to continue production of the existing Corvette for one final year.
Chevrolet executives knew that testing out new manufacturing machinery and developing standardized assembly procedures made more sense when working on a familiar design, rather then trying to develop all of these production standards while simultaneously attempting to manufacture an all-new vehicle.  Hence, the 1982 Corvette would, for one last model year, continue to be a third-generation model.
Ironically, while the 1982 model would continue to carry forward traits from older-generation Corvettes – the 1982 Corvette was the last of a generation which dated its basic body structure to the 1968 model and its chassis back to 1963 – it would also continue to be a "test bed" for technology destined for the fourth-generation Corvette.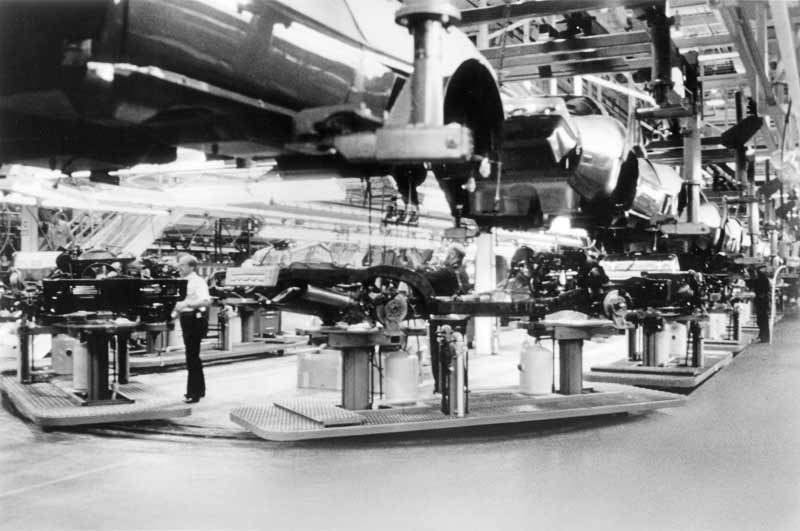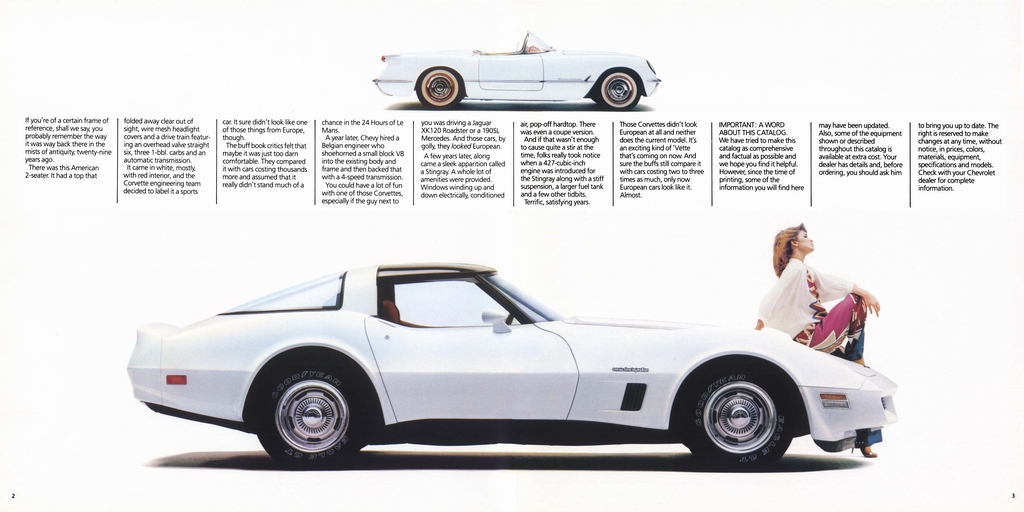 Chevrolet recognized that it did not make sense to release a new drivetrain at the same time as a new overall design, so it was decided that the 1982 C3 Corvette would be fitted with the revised engine and transmission developed for the new C4.
DID YOU KNOW:  Sometimes, it's all in the details… In the 1982 Corvette, console mounted clocks were quartz units and had the word "QUARTZ" printed on the face of the clock. While this may seem a small detail to most, this is nonetheless a unique characteristic of the 1982 Corvette. While the 1980 and 1981 Corvettes had console mounted clocks, they were not quartz units and were therefore not labeled as such, making the "QUARTZ" clock a defining characteristic of the last model of the C3 Corvettes.
"It's a harbinger of things to come" said David McLellan, Chief Engineer for Corvette, "For the 1982 model is more than just the last of a generation; it's stage one of a two-stage production.  We're doing the power team this year.  Next year, we add complete new styling and other innovations."
Although Corvette fans would actually end up waiting nearly 18 months before they'd finally be able to see the re-designed fourth-generation Corvette, they were able to see the future Corvette's engine and drivetrain immediately.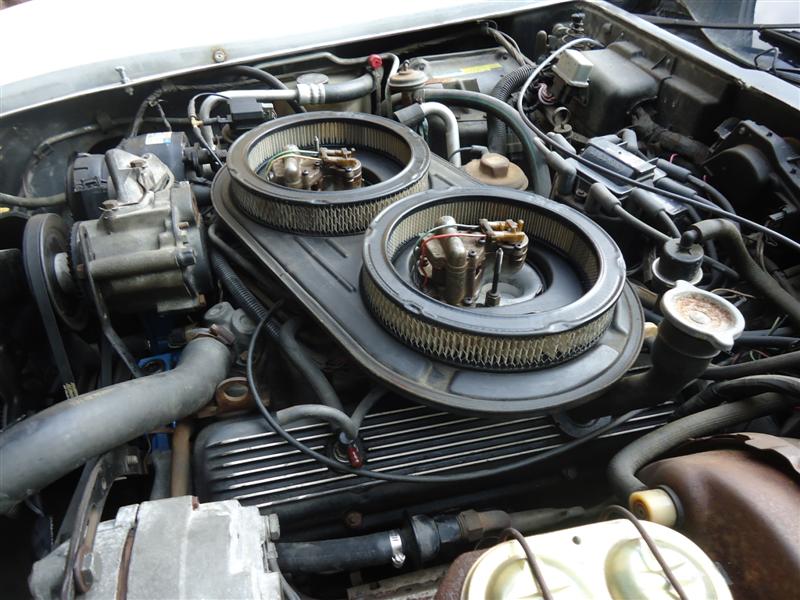 The new engine was essentially the time-proven 350 cubic-inch V-8 that had powered Corvettes since the mid-1950's, though it now came equipped with a newly developed twin throttle-body fuel-injection system instead of a carburetor.
The result of this change was the introduction of the first production Corvette "fuelie" since 1965.  However, this wasn't fuel injection of the type that had been available like that found from 1957 thru 1965.  Instead, it featured an injector unit within a carburetor-like throttle body for each cylinder bank (a total of two injectors), while a crossover intake manifold fed the air/fuel mixture to the bank on its opposite side.  This process sped up mixture velocity for more complete combustion, which resulted in greater thermal efficiency and power, plus the added benefit of reduced emissions.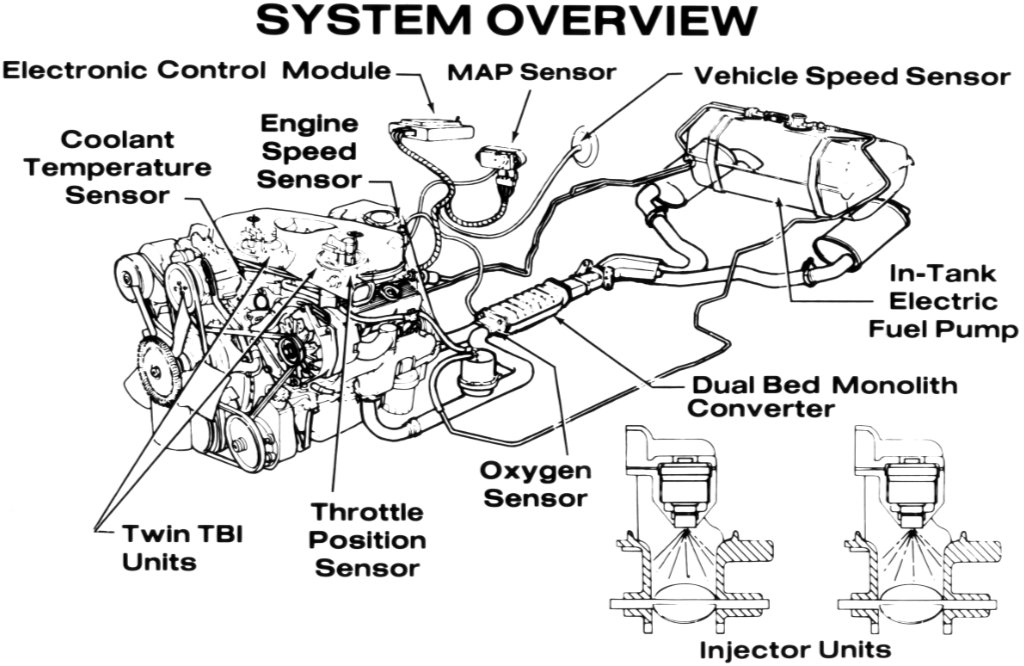 Improved Computer Command Control (CCC) electronics, a technology that first appeared along with the lG4 California V-8 engine in 1980, governed the duration of injector opening in response to signals from various engine-mounted sensors.
The new CCC was capable of making eighty adjustments per second (compared to just ten adjustments per second on earlier versions of the system).  The fuel delivery system was given the name "Cross Fire Injection."
The "Cross Fire" 350 was given the engine designation L83, and was rated at a respectable 200 bhp at 4,800 rpm, which was a 10 horsepower increase over the 1981 Corvette's L81 engine.
The engine also delivered a peak torque of 285lbs/ft at 2,800 rpms.  While neither of these numbers was overly impressive, the modest increases in horsepower and torque was still an improvement over the 1981 Corvette.  More important, though, was the fact that this horsepower increase was achieved while emission outputs were reduced at the same time.  Interestingly, the L83 engine was the only engine offered to consumers during production of the 1982 Corvette.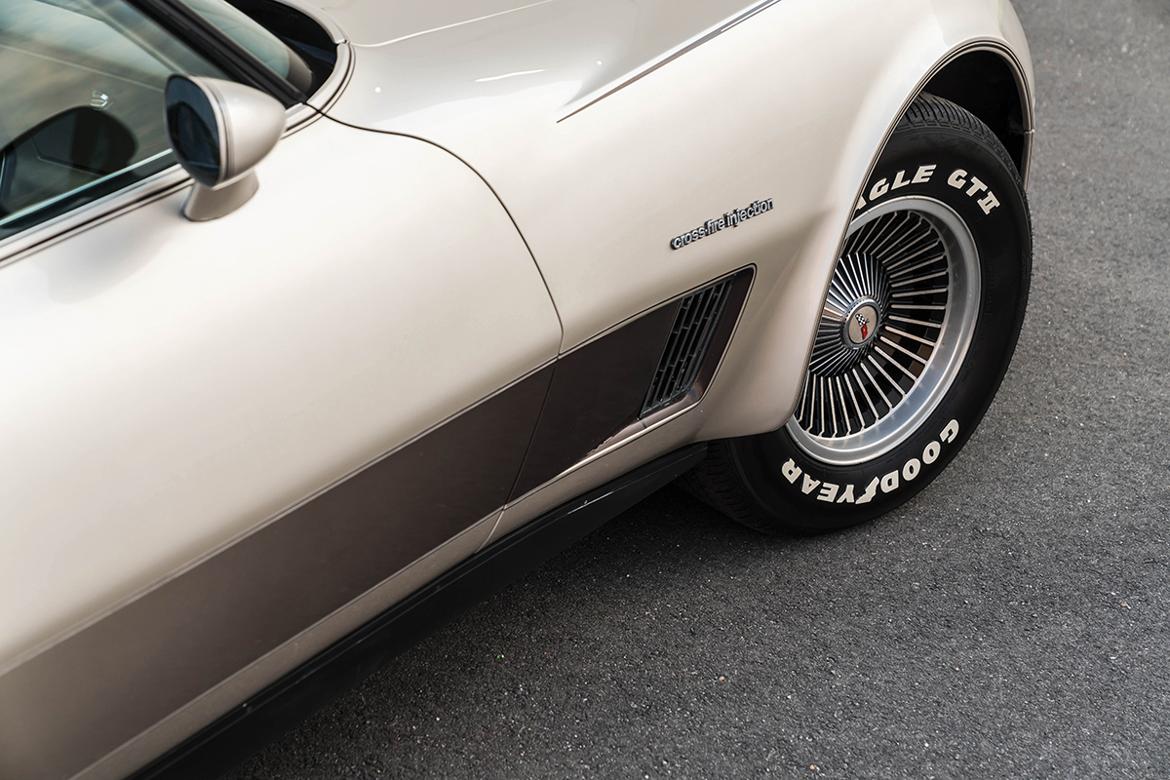 Similarly, only a single transmission option was offered in 1982.  While a manual gearbox had been available in every Corvette built since 1955, the 1982 Corvette was only offered with a standard four-speed automatic transmission.
Designated 700-R4, the four-speed automatic was basically a variation of the three-speed Turbo-Hydra-Matic with a long striding overdrive fourth gear added on.  The 700-R4 automatic was electronically linked to the car's ECM (Engine Control Module).  Shifts and the torque converter's lockup clutch feature were precisely controlled by the ECM, depending on varying speed and load data inputs.
As before, there was a torque converter lockup effective on all forward gears except first. It used a higher first gear ratio (3.07:1) for improved acceleration.
This synchronization between transmission and ECM was one of the most advanced setups ever developed for use in any Corvette to that point.
Other mechanical changes to the 1982 Corvette included the addition of an in-tank electric fuel pump as well as a new fuel metering system which included a positive fuel cutoff to prevent engine run-on (dieseling.)
A new solenoid-operated trap door was installed in the hood that opened at full throttle to allowed the engine to "breathe" better.  The charcoal air filtering element of the 1981 model was replaced with a paper element.  The exhaust system was extensively redesigned around a significantly smaller and lighter catalytic converter.
The exhaust pipes leading into the converter were redesigned to deliver hotter exhaust gases to the converter to increase its efficiency.
Outwardly, the base coupe model received few cosmetic alterations.  The most notable outward changes were the addition of "Cross Fire Injection" labels above the front fender vents and a two-tone paint option – silver over a deep burgundy – that was reminiscent of the 1978 Pace Car Replica models (those these earlier cars were actually painted silver and black.)
Similarly, the interior of the base coupes remained nearly the same.  Although not a unique feature to the newest Corvette, 1982 would mark the last year that an 8-track radio (RPO UM4) would be available to consumers looking to take possession of a future generation Corvette.
To celebrate the departure of the third-generation Corvette, Chevrolet decided to offer a final commemorative "Collectors Edition" model.  However, recalling their experience with the 1978 Pace Car Replicas – namely, the number of bogus Pace Cars that were created by consumers who converted base level coupes into Pace Car "clones" – it was decided that the 1982 Collector Edition Corvettes would be built only "as needed" to satisfy customer orders.  Additionally, unique vehicle identification plates were affixed to help further deter someone from turning a standard car into a Collectors Edition knock-off.
For many enthusiasts and critics alike, the 1982 Collectors Edition Corvette was the best C3 of them all.  David McLellan stated that it was "a unique combination of color, equipment and innovation (resulting in) one of the most comprehensive packages ever offered to the Corvette buyer."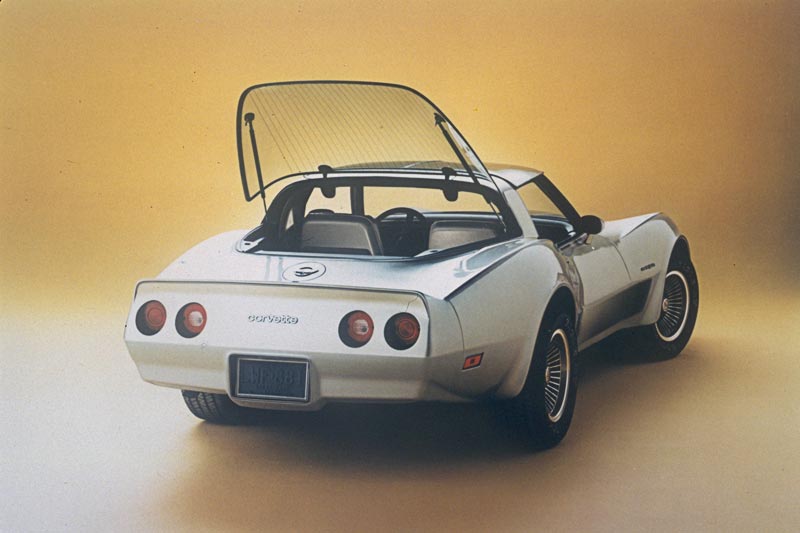 First and foremost, the 1982 Collectors Edition Corvette introduced a frameless lifting rear-glass hatchback – a Corvette first – in place of the customary fixed backlight (which had been standard on the C3 since its introduction in 1968.
The introduction of the rear hatch on the Collectors Edition C3 was a definite precursor to the next-generation C4 Corvette.  Aside from the glass hatch, the Collectors Edition also featured many unique accouterments that set it apart from other 1982 Corvettes.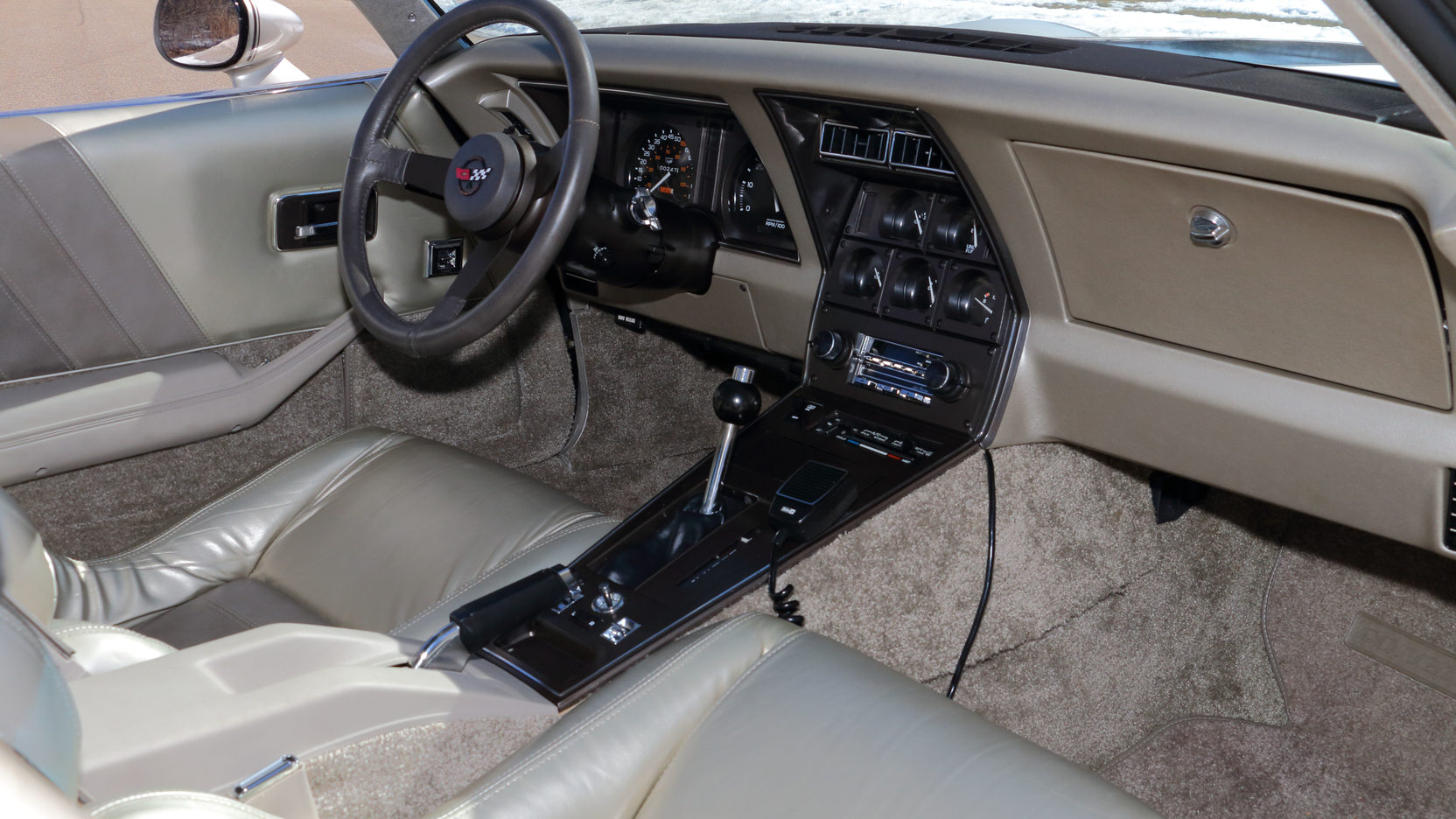 Outwardly, the car featured cloisonne emblems – including a special crossed-flag emblem on the hood that read "Corvette Collector Edition" around the rim.  Addition emblems were located on the rear deck, and steering wheel.
The car was finished in a special silver-beige metallic paint with graduated shadow-like contrast striping on the hood, fenders, and doors.  It received special bronze-tinted glass T-tops. It also featured finned "turbine" alloy wheels like the ones first introduced on the 1963 split-window Stingray.
Within the interior of the Collectors Edition, the car featured a silver-beige leather upholstery and door trim that matched the car's exterior paint color.  In addition to the leather upholstery, the steering wheel also received a matching hand-sewn leather wrap including the horn cap.
High end, color-matched, luxury carpeting was also installed in all Collector coupes.  An optional radio was also offered at a reduced price to consumers purchasing the Collectors Edition package.  RPO UN5, a Delco ETR AM/FM stereo with cassette deck and CB radio, could be purchased at a discounted $695.00 instead of the regular price of $755.00.
The 1982 Collector Edition Corvette Coupe carried a special VIN code (which could be used to uniquely identify a real car from a clone).  It was represented with the number ZERO in the sixth digit, though the collectors edition Corvettes did not have a separate serial number sequence.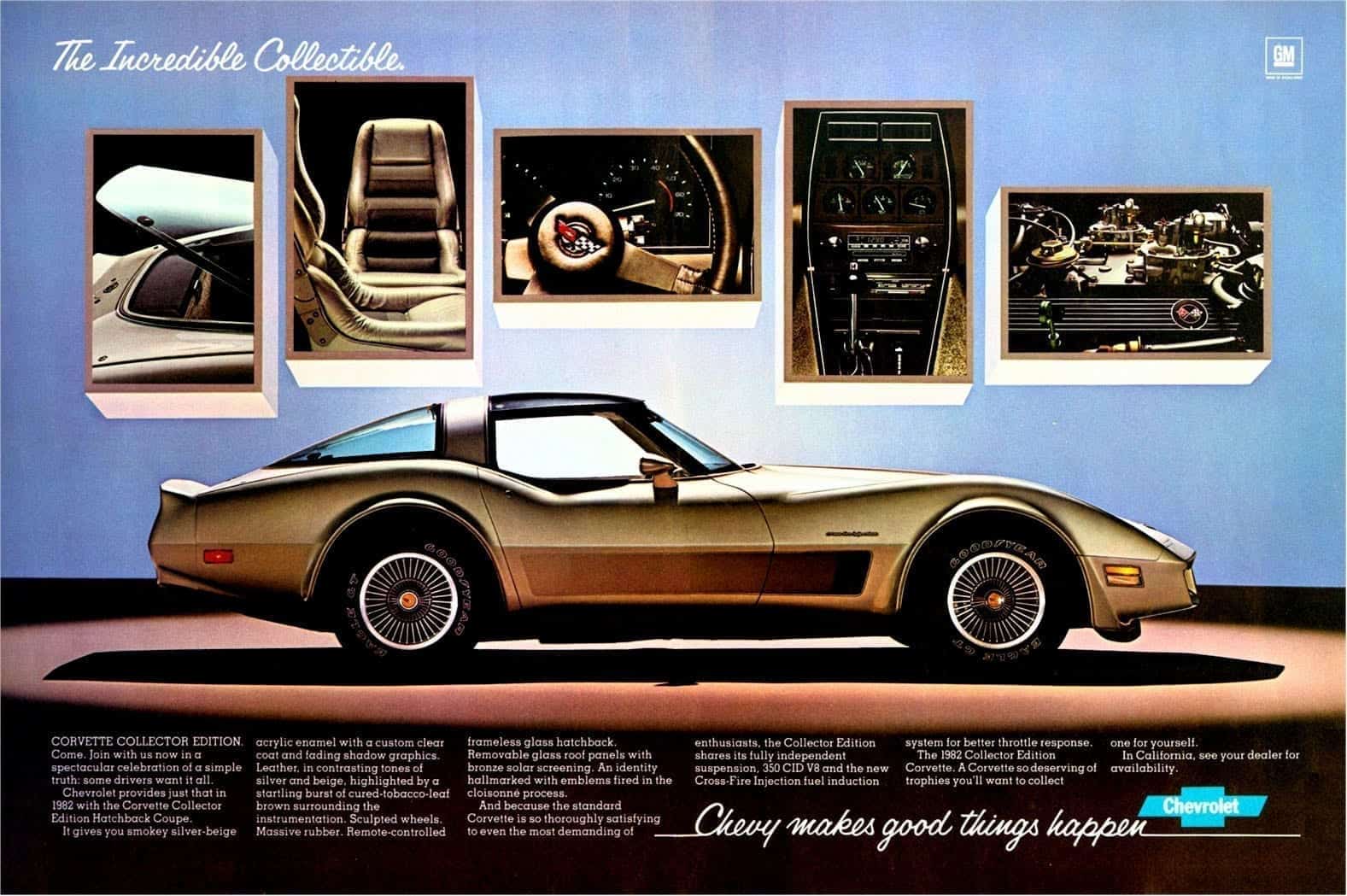 In addition to its unique VIN number, the 1982 Collector Edition Corvette was the first Corvette to break the $20,000 price barrier. The new coupe, which listed at $22,537.59, was considerably more advanced – and more expensive – than a well equipped 1968 coupe, which would have retailed for around $4600.00.  In all, Chevrolet sold 6,759 of the Collector Edition Corvette.
The base coupe, while less expensive than the more coveted Collector Edition Coupe, still commanded a hefty price of $18,290.07, and that was without any additional options added to it.  Chevrolet sold only a modest 18,648 of these.  Some speculated that it was because of the Corvette's steadily rising price tag, while others stated that the decline in sales was the result of an ailing economy, but most critics and enthusiasts alike agreed that it was most likely the result of GM's announcement that a fourth-generation Corvette was on its way and that the 1982 Corvette would officially mark the last of the third-generation model.
Due in large part to the Cross-Fire Fuel Injection system and the improved horsepower output of the 350 cubic-inch engine, the final C3 small-block Chevy engine showed definite performance improvements.  This occurred despite its performance limitations as the result of Corvette not offering a manual transmission in 1982.  Road & Track magazine timed the '82 Corvette's quarter mile time at 16.1 seconds, running at a speed of 84.5 miles per hour and accelerating from 0 to 60 miles per hour in just 7.9 seconds.
Throughout its fifteen year production run, the third-generation C3 Corvette was solidify itself as a true survivor.  Throughout the sixties and seventies, the Corvette had been plagued with a number of challenging events  – including oil embargoes and increasing emissions standards – yet the car persevered.  While the "Shark" model of Corvette underwent a number of mechanical, and cosmetic changes, it never lost sight of the car's essential mission and character.
1982 Corvette Specifications & Performance
See the complete breakdown of technical specifications for the 1982 Corvette, including engine, suspension, brakes, body dimensions, and power. Read more: 1982 Corvette Specifications.
Engine & Transmission
The fuel-injected engine powered some of the best Corvettes of the past before it was discontinued 17 years prior to the 1982 model, so it was great to see it return, even if it didn't help power all that much in its first year. But it would be just about the only thing from the third-generation Corvette that would carryover into the next generation, so it was a welcome sight. Like the previous year, the Corvette came with only one engine. It was still a 350 CID small-block V8, the new engine increased horsepower by ten from the before, and was rated at 200 horsepower. This would further increase in the years to come. Though some enthusiasts were likely upset at the lack of a manual transmission option, it seemed Chevy tried to appease them with a new four-speed automatic transmission. This replaced the previous Turbo-HydraMatic, which was a three-speed.
Performance
A 7.9 sec zero to 60 mph time and 16.1 sec @ 84.5 mph quarter mile was achieved by Road and Track  in November 1982 in a real world test. More performance data here. 
1982 Corvette Vehicle Identification Numbers (VIN)
The last six digits for the Corvette Coupe begin at 100001 and run thru 125408 accounting for all 25,407 Corvette Coupes built in 1982. Each Vehicle Identification Number (VIN) is unique to an individual car. For all 1982 Corvettes, the location of the Vehicle Identification Number (VIN) is stamped on a plate attached to the left front body hinge pillar. Read more: 1982 Corvette VINs.
1982 Corvette Price & Options
Core Features & Factory Options
A new look came on the special "Collector's Edition" model of the car. This model was distinguished by a silver-beige paint color, bronze-colored glass room panels, unique wheels and a rear glass window that opened hydraulically. Even though the cost of these models was $22,538 – the first time a Corvette had a sticker price over $20,000 – a total of 6,759 were produced.
Drivetrain choices unfortunately hit a new low in 1982. Basically there were no choices. Only one engine was possible: 350 cu. in., 200 hp. Mated to it was a four speed automatic transmission new that year to Corvettes. It featured a new fuel saving torque convertor clutch in gears two, three and four. A manual transmission was not available. California Corvettes were the same as those sold elsewhere. Other years in which the Corvette was similarly restricted include 1953, 1954 and 2020. First available in 1981 automatic transmission Corvettes, a new weight saving and performance enhancing fiberglass leaf spring was part of the rear suspension in all 1982 Corvettes.
Colors
White 2,975 (11.71%), White / Silver 664 (2.61%), Silver 711 (2.80%), Silver / Charcoal 1,239 (4.88%), Silver / Dark Claret 1,301 (5.12%), Black 2,357 (9.28%), Silver Blue 1,124 (4.42%), Silver Blue / Dark Blue 1,667 (6.56%), Dark Blue 562 (2.21%), Bright Blue 567 (2.23%), Charcoal 1,093 (4.30%), Silver Green 723 (2.85%), Gold 648 (2.55%), Silver Beige 6,759 (26.60%), Red 2,155 (8.48%) and Dark Claret 853 (3.36%. Note that Color code 59 (Red) was Collector Edition only. More 1982 Corvette color information.
Pricing & Options
The Base Corvette Coupe with 350 cu. in. 200 hp engine with automatic transmission started at $16,258.52. The Collector Edition Hatchback was $22,537.59.
| | | | |
| --- | --- | --- | --- |
| CODE: | DESCRIPTION: | QUANTITY: | RETAIL PRICE: |
| 1YY87 | Base Corvette Sport Coupe | 18,648 | $18,290.07 |
| 1YY07 | Corvette Collector Edition Hatchback | 6,759 | $22,537.59 |
| AG9 | Power Driver Seat | 22,585 | $197.00 |
| AU3 | Power Door Locks | 23,936 | $155.00 |
| CC1 | Removable Glass Roof Panels | 14,763 | $443.00 |
| C49 | Rear Window Defogger | 16,886 | $129.00 |
| DG7 | Electric Sport Mirrors | 20,301 | $125.00 |
| D84 | Two-Tone Paint | 4,871 | $428.00 |
| FE7 | Gymkhana Suspension | 5,457 | $61.00 |
| K35 | Cruise Control | 24,313 | $165.00 |
| N90 | Aluminum Wheels (4) | 16,844 | $458.00 |
| QGR | White Letter SBR Tires, P225 / 70R15 | 5,932 | $80.00 |
| QXH | White Letter SBR Tires, P255 / 60R15 | 19,070 | $542.52 |
| UL5 | Radio Delete | 150 | –$124.00 |
| UM4 | AM-FM Radio, electronically tuned stereo with 8-track tape | 923 | $386.22 |
| UM6 | AM-FM Radio, electronically tuned stereo with cassette | 20,355 | $423.00 |
| UN5 | AM-FM Radio, electronically tuned stereo with cassette / CB | 1,987 | $755.00 |
| U58 | AM-FM Radio, stereo | 1,533 | $101.00 |
| U75 | Power Antenna | 15,557 | $60.00 |
| V08 | Heavy Duty Cooling | 6,006 | $57.00 |
| V54 | Roof Panel Carrier | 1,992 | $144.00 |
| YF5 | California Emission Certification | 4,951 | $46.00 |
Read more: 1982 Corvette pricing and factory options.
1982 Corvette Gallery
Most of the 1982 Corvettes didn't look very much different on the outside than the 1981 Corvette, though a new "Cross-Fire Injection" label was placed on the side of the car. Additionally, a new two-tone paint scheme option was introduced that had a silver top and a deep burgundy bottom. The two colors were separated by a red pin stripe. See full 1982 Corvette Image Gallery