2023 C8 Chevrolet Corvette Z06 & Stingray: Overview, VIN, Options, Performance & More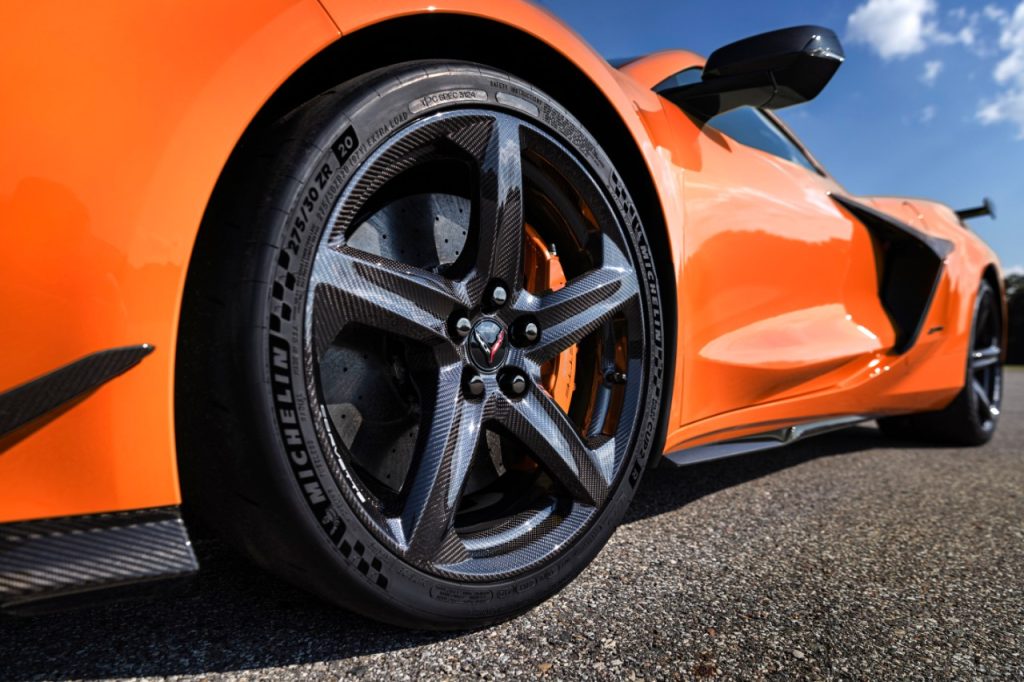 Introducing the 2023 Chevrolet Corvette Z06
When it comes to Corvette performance, there are few models more celebrated that the Z06.  Sure, Chevrolet introduced a series of ZR1 models over the Corvette's seventy-year history, but for genuine, track-ready performance, the Z06 package has become the gold standard for America's sports car.  Interestingly, the Z06 is almost as old as the Corvette itself.  Born in 1963 as an optional Special Equipment Package for would-be racers, RPO Z06 became the "secret code" created by Zora Arkus-Duntov to allow consumers to purchase a race-ready Corvette when the AMA ban prevented Chevrolet from "officially" offering such a package.
Of course, that was then….and this is now.
For the first time since its introduction in 2020, the eighth-generation Corvette Stingray now includes a Z06 package.  And, much like its predecessors, this Z06 sets the tone for the future of the Corvette program.  To paraphrase Chevrolet's marketing campaign, the 2023 Corvette Z06 is America's newest supercar….and it's putting the world on notice.
A Look Inside…the All-New LT6 Engine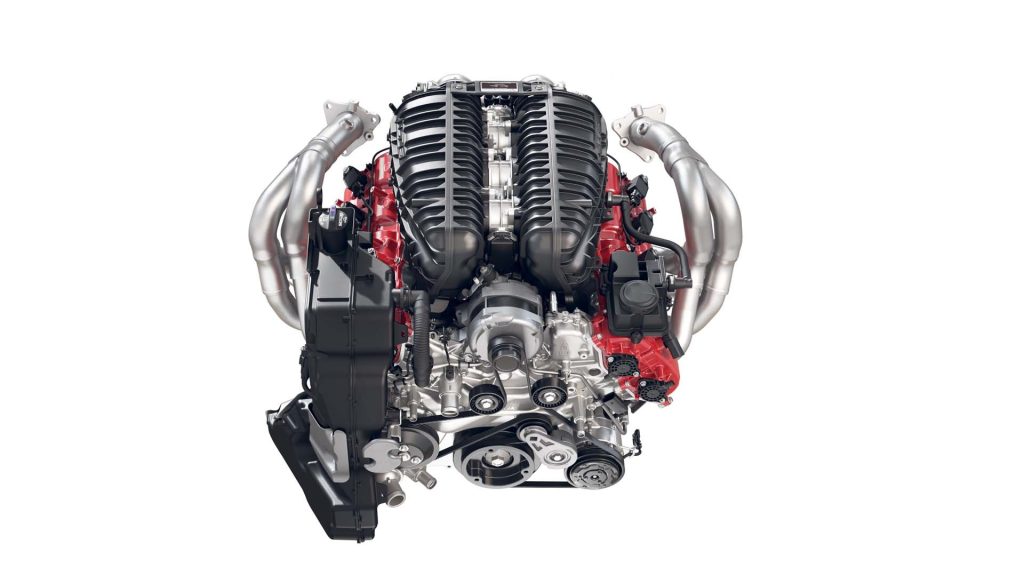 The 2023 Z06 was designed and engineered to be a "precision tool" for the race track.  While the DNA of every modern Corvette evolved from its racing car heritage, the new Z06 has blurred the lines between street car and race car to such an extent that it is hard to decide which environment this car is best suited for.  Everything about this car – from its outward aesthetic, to its wider front and rear fascias,  its exotic proportions, and its luxuriously appointed interior – all state unequivocally that the 2023 Z06 is not just a Corvette – but a car thats fully capable of holding its own in the supercar stratosphere.
"Corvette has always brought a discerning customer to the Chevy family," said Steve Hill, vice president of Chevrolet. "This new Z06 was designed and engineered to set a higher bar with increased levels of craftsmanship, personalization and performance so customers can truly have their own bespoke performance car."
An all-new 5.5L LT6 engine sits at the heart of this beast.  Rated at an incredible 670 horsepower, this NATURALLY ASPIRATED V8 is the most power engine of its kind to be introduced in ANY production car….EVER.  The LT6 features an all-new, lightweight, flat-plane crankshaft designed to rev the engine to a staggering 8,600 rpm.  It's at this point that the engine hits its peak horsepower.   Where past iterations of the Z06 relied heavily on superchargers to achieve this level of horsepower, Chevrolet's engineers recognized an opportunity to return to a naturally aspirated engine without compromising horsepower or responsiveness.  In fact, engine responsiveness and trackability were both identified as top priorities for the eighth-generation Z06.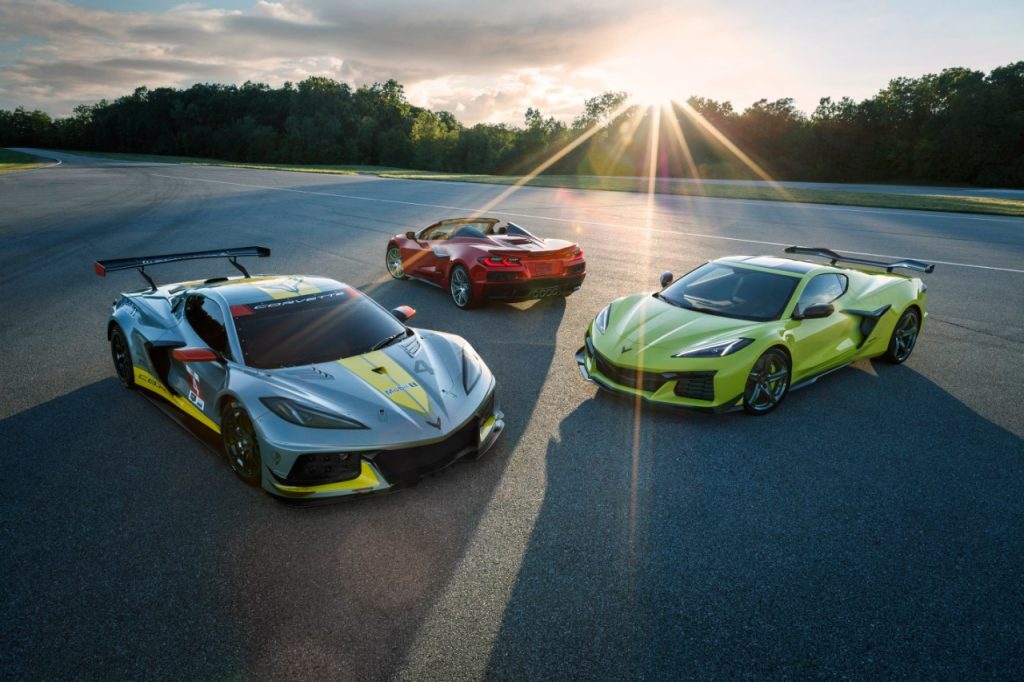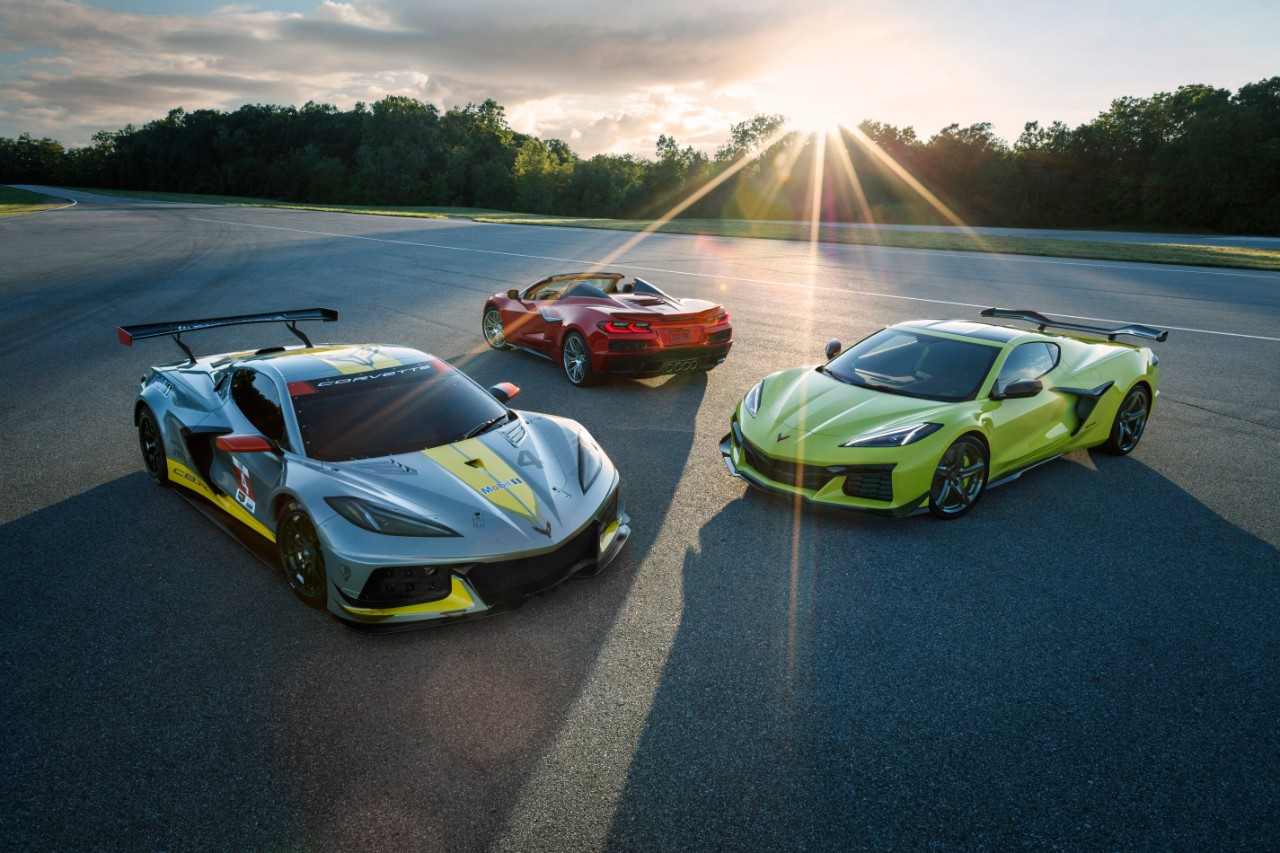 In addition to massive horsepower, the new LT6 was designed to enhance every aspect of the Z06's track-focused driving experience.  Corvette's engineers spent two years developing the car's distinctive, rich exhaust tone.  Truth be told, both the sound and appearance of the Z06 evolved directly from the Corvette Racing program. Both the C8.R and the eighth-generation Stingray (including the 2023 Z06) have shared the same underpinnings since their introduction in 2020.  Now, in addition to its shared chassis, the Z06 also shares a similar engine architecture and exterior proportions to the C8.R.  In fact, the C8.R has been internally referred to as "the Z06 hiding in plain sight."
"Racing was the reason the Z06 was developed in 1963, and it continues to support development of the road models that make them better on the street and the track," said Tadge Juechter, executive chief engineer, Corvette. "It also means we've tested the Z06 on the best tracks around the world, from Circuit of the Americas here in the United States, to the Nürburgring in Germany."
A version of the LT6 has powered every C8.R race car since 2019, and the rigors of endurance road racing has enabled Chevrolet's engineers to refine the engine's performance and durability.
Additional engine highlights include:
All-new aluminum cylinder block casting with the Small Block engine family's signature 4.4-inch (111.76 mm) bore spacing
All-new dual-overhead-camshaft cylinder head design with fully CNC-machined combustion chambers and intake ports, supporting a mechanical "finger-follower" valvetrain
Dual-coil valve springs to support titanium intake and sodium-filled exhaust valves
Forged aluminum pistons and forged titanium connecting rods for low mass and high strength
Distinctive Edge Red camshaft covers
All-new active split intake manifold with twin 87 mm throttle bodies
All-new six-stage dry-sump oiling system with individual crank bay scavenging
Four-into-two-into-one stainless steel exhaust headers
670 hp at 8,400 rpm (GM tested per SAE J1349)
460 lb-ft (623 Nm) of torque @ 6300 rpm (GM tested per SAE J1349)
Each LT6 engine is hand-assembled by master engine builders at the Performance Build Center located within the Corvette Assembly Plant in Bowling Green, Kentucky.  Each engine builder hand fits the engine components together while using precision tooling to assemble the engine to Chevrolet's exact specifications.  Upon completion, each engine is fitted with a plaque on the intake manifold which contains the signature of the technician who assembled the engine in its entirety.
A Racing Heritage – A Look at the Exterior of the 2023 Corvette Z06!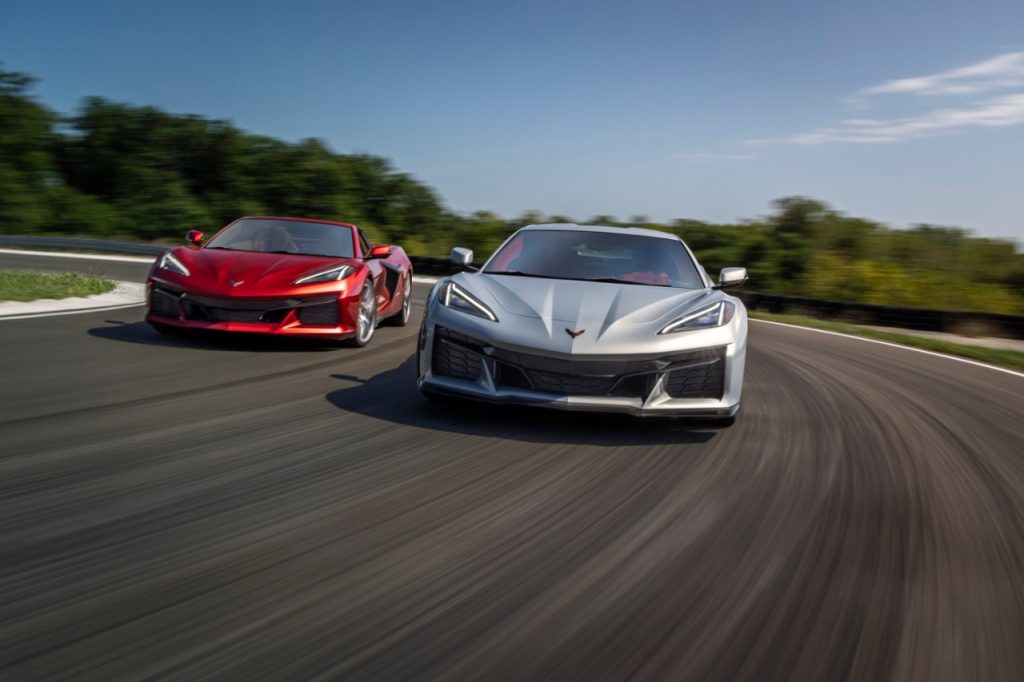 The Z06 Corvette has represented dominance at the race track since its introduction in 1963.  Today, the Z06 moniker continues that tradition.  It has become synonymous with the ultimate fusion of a street-legal supercar and a bonafide race car.
"The new Corvette Z06 defines the American supercar," said General Motors President Mark Reuss. "It builds on the distinctive design and groundbreaking dynamics introduced with the mid-engine Corvette and elevates them to deliver refined but uncompromising track capability with world-class performance."
Since its introduction at Daytona during the Rolex 24 in 2020, the Corvette C8.R has been a dominant contender in the IMSA sportscar championship series.  In 2020, the Corvette Racing program won the GT Manufacturers title (Chevrolet), and in 2021, the No. 3 Corvette Racing Chevrolet Corvette C8.R piloted by co-drivers Antonio Garcia and Jordan Taylor, swept all the championship titles, including Driver, Team, and Manufacturer's championship (Chevrolet)!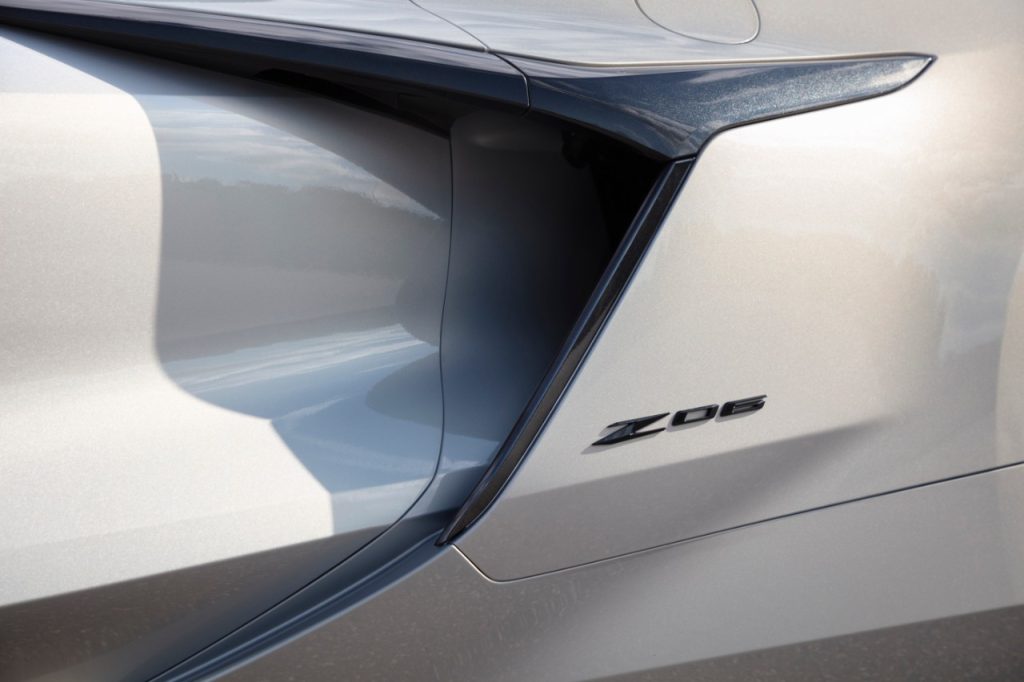 Everything about the 2023 Corvette Z06 – including its performance envelope, profile, extended wheelbase, and entire architecture – all evolved from the foundation established when developing the production Stingray and the C8.R race car.  Both of these cars evolved simultaneously, and from these cars, the Corvette's design team has created a truly remarkable architecture that incorporates the best of both cars.
Some of the 2023 Corvette Z06's many features include:
A stance that is 3.6 inches (9.4 cm) wider than the base-model Stingray.  This wider stance allows the Z06 to accommodate its massive 345-series rear tires and also allows for more airflow through the side air vents.
Unique front and rear fascias, which is a first for the Z06. The front fascia is designed to optimize the Z06's cooling needs, including channeling air to a center heat exchanger, which is one of five for maximum cooling performance
A unique, standard reconfigurable rear spoiler with adjustable wickerbill elements designed to improve high-speed stability and cornering capability on a racetrack
Standard 20-inch front and 21-inch rear forged aluminum "spider" wheels (with five available finishes) — the largest wheels ever available on a production Corvette
Available lightweight and rigid carbon fiber wheels that deliver a 41-pound (18.6-kg) reduction in unsprung mass, which contributes to more agile and responsive handling
Specific suspension tuning, including Magnetic Ride Control 4.0, and larger brakes (six-piston front) than the Stingray, contribute to making the 2023 Corvette Z06 the most track-capable Corvette ever
Eight-speed dual-clutch transmission with a specific, "shorter" 5.56 final drive ratio compared to the Corvette Stingray, which enhances acceleration capability
Elevated cockpit surrounding the driver, with rich materials and textures, including more carbon fiber trim and new options
Available Z07 performance package that offers the greatest track capability and provides 734 pounds of downforce at 186 mph, more than any Corvette ever. It includes a carbon fiber high rear wing and ground effects, specific chassis tuning, specific Magnetic Ride Control calibration, and unique Michelin Cup 2 R ZP tires, along with Brembo carbon-ceramic brakes and optional carbon fiber wheels.
"Virtually every component that distinguishes the Z06 was developed to support or enhance its capability," said Juechter. "By leveraging the mid-engine architecture's inherent advantages, we are able to achieve six percent more downforce than a seventh-gen ZR1 at eight percent lower drag."
Track-Proven Performance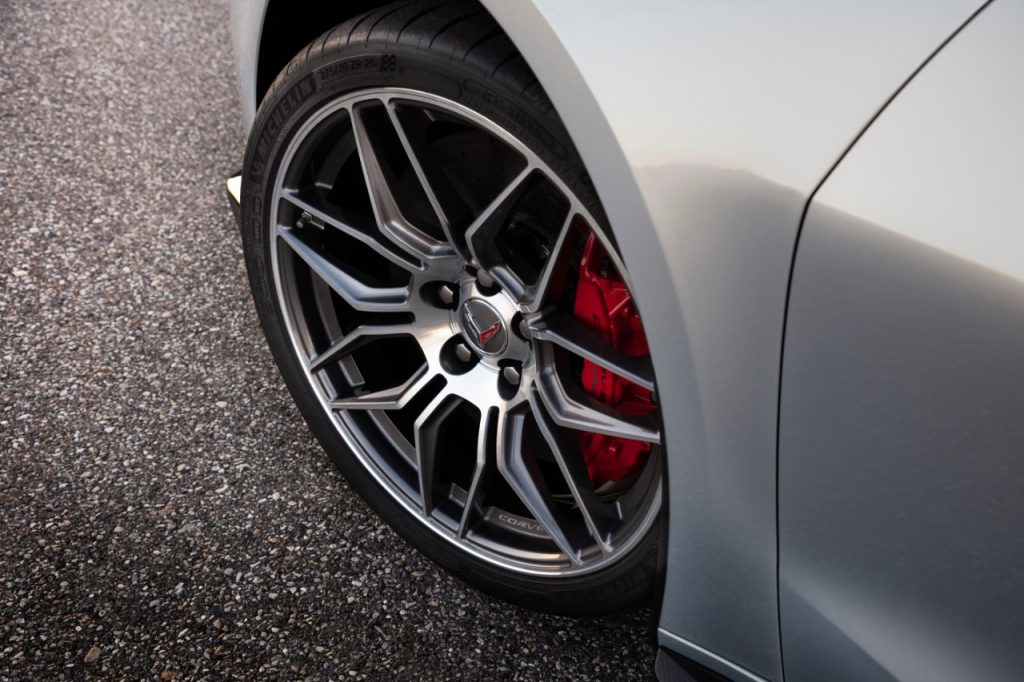 The eighth-generation Corvette Z06 utilizes the technologies introduced on the mid-engine Corvette in 2020, which in-turn have evolved from technologies originally introduced on the seventh-generation Stingray.  For the 2023 Corvette Z06, the driver is treated to an augmented version of these technologies, which include unique features that are specifically calibrated for this incredible, track-capable sports car.
The new Z06 utilizes the same SLA-type front and rear suspension design of the Corvette Stingray, but these components have been calibrated to accomodate the Z06's higher-performance capabilities. Magnetic Selective Ride Control 4.0 comes standard.  It can be adjusted for touring comfort or maximum track performance via the standard Driver Mode Selector.
As with past Stingrays, the Driver Mode Selector tailors more than a dozen features of the Z06 to suit the driver's environment, including:
Launch control: Available in Track mode for maximum off-the-line acceleration
Active handling (StabiliTrak Electronic Stability Control): Z06 has performance traction management standard
Traction control: Weather mode tailors traction control and engine torque for driving in inclement conditions
Performance Traction Management: Available in Track mode and offers five settings of torque reduction and brake intervention for track driving
Electronic Limited Slip Differential: Adjusts the rate at which the limited slip engages to balance between steering response and stability in different driving conditions
Because the Z06 is intended to perform to the rigors of a true track car, its stopping power has also been bolstered with greater braking capability thru the use of larger 14.6-inch-diameter (370 mm) front and 15-inch-diameter (380 mm) rear Brembo rotors.   The Z06 comes equipped with beefier six-piston front calipers compared to the four-piston calipers found on the base Stingray.  When equipped with the Z07 package, the Corvette Z06 is also fitted with larger, carbon-ceramic rotors.
The Z07 Performance Package also includes the following items:
Carbon fiber aero package with larger front splitter, front-corner dive planes, a rear wing, and underbody strakes that enhance downforce.
Unique FE7 suspension with specific Magnetic Ride Control 4.0 calibrations.
Michelin Sport Cup 2 R ZP tires were developed specifically for the Z06.
Available carbon fiber wheels that deliver a 41-pound (18.6 kg) reduction in unsprung mass.
Brembo carbon-ceramic brake system featuring larger, 15.7-inch-diameter (398 mm) front rotors and 15.4-inch-diameter (391 mm) rear rotors.
When equipped with the Z07 performance package in the track prepared configuration on a 300-foot diameter circle, the car is capable of 1.22 g of road-hugging grip.
And On the Inside…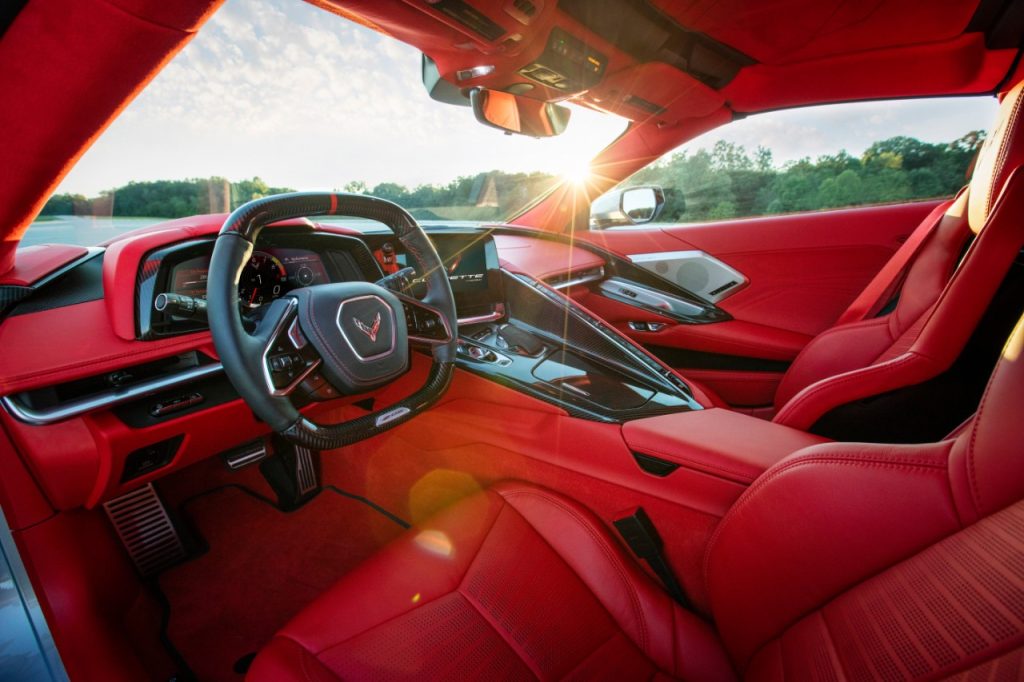 "To match its performance, the Z06 is an elevated execution of the eighth-generation design," said Phil Zak, executive design director, Chevrolet. "From its wide planted stance with sculpted surfaces to its premium and carbon fiber materials, the Z06 instills an aura of raw power and performance with bespoke craftsmanship."
The 2023 Corvette Z06 offers consumers a number of unique features, including an available carbon fiber-wrapped steering wheel, shift paddles, and a new carbon-fiber interior trim package when ordering the 2LZ trim level or above. The Z06 also features hand-wrapped leather interior options, including an all-new, available fully trimmed interior in Adrenaline Red.
Additional new wheel, color, and trim options have also been created to allow Z06 customers the most personalization choices in the history of the Corvette lineup.  Included in these are:
Twelve available exterior colors
Seven available wheel packages, including five finishes on the standard forged aluminum wheels and available carbon fiber wheels
Seven interior colors with the opportunity to expand it to thousands of combinations
Three seat choices and six seatbelt options
Two interior carbon-fiber trim packages, plus a Stealth Aluminum trim option
Six available brake caliper colors
The 2023 Corvette Z06 will be seen, heard and experienced around the globe when production begins this summer. It will be built at the Corvette Assembly Plant in Bowling Green, Kentucky and will be available to consumers in both left- and right-hand drive.