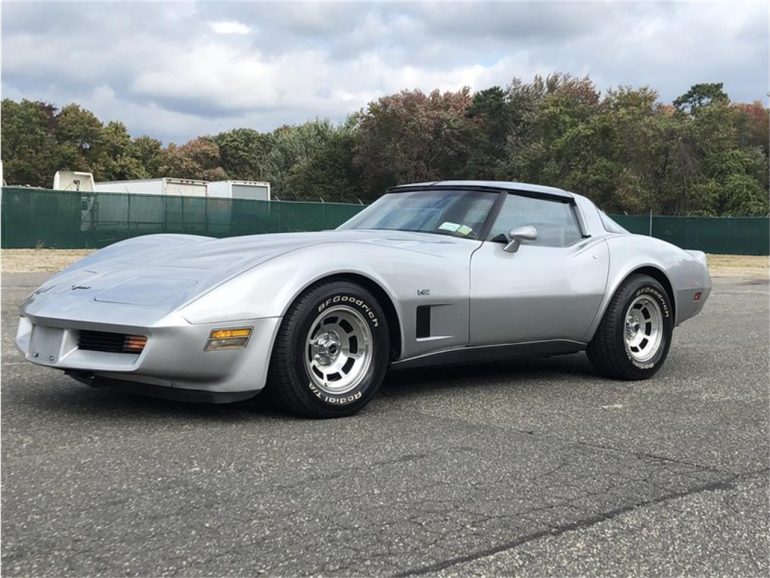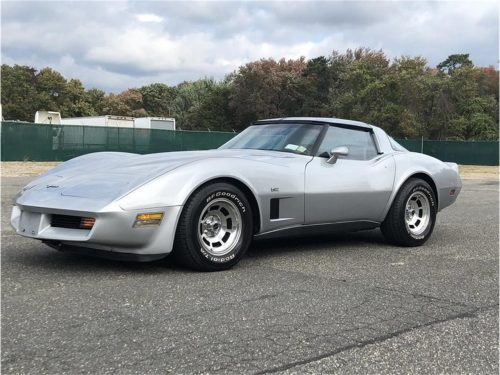 1980 Corvette – The Ultimate Guide
The arrival of the 1980 Chevy Corvette came on the heels of another fuel crisis that had impacted the American automotive market – and, more generally, the national economy – as a whole.  Much like the fuel crisis of the early seventies, when the 1973 Arab Oil Embargo had cutoff petroleum exports to many parts of the world, a second energy crisis had emerged after the Shah of Iran was overthrown during a revolution that had occurred in that country – and the results were nearly the same.
Just as OPEC (Organization of Petroleum Exporting Countries) had caused dramatic increases in the cost of fuel exports, the dissent and fallout from Iran's political upheaval had caused similar price increases.  The United States, in response to the 1973 OPEC embargo on petroleum, had enacted CAFE (Corporate Average Fuel Economy). CAFE had aimed to improve the average fuel economy of cars and light trucks sold throughout the U.S.  Now, given the continued upheaval in the Middle East and the resulting increase to petroleum prices, new CAFE standards were being implemented.  This meant the Corvette would have to be put on a "diet" if it was to continue being a viable production vehicle.
In response to the CAFE mandate, Chevrolet decided that the first-stage of trimming back the Corvette would mean the elimination of some 250 pounds from the current design.  Engineers considered every option to lighten the car's structure while trying to maintain its structural integrity.
As a start, the differential housing and front-frame cross-member were switched from steel to aluminum.  Similarly, the aluminum intake manifold that had been previously used on the optional L82 engine was now included on the base L48 engine as well. Externally, engineers trimmed weight by using lower density roof panels, and by reducing the material thickness of the hood and the outer door skins.
Exterior chrome was kept to a minimum, which meant the elimination of the crossed-flag emblems from the front fenders.  Lastly, greater use was made of plastics throughout the car on everything from interior trim components to sub-assemblies in seats, and so on.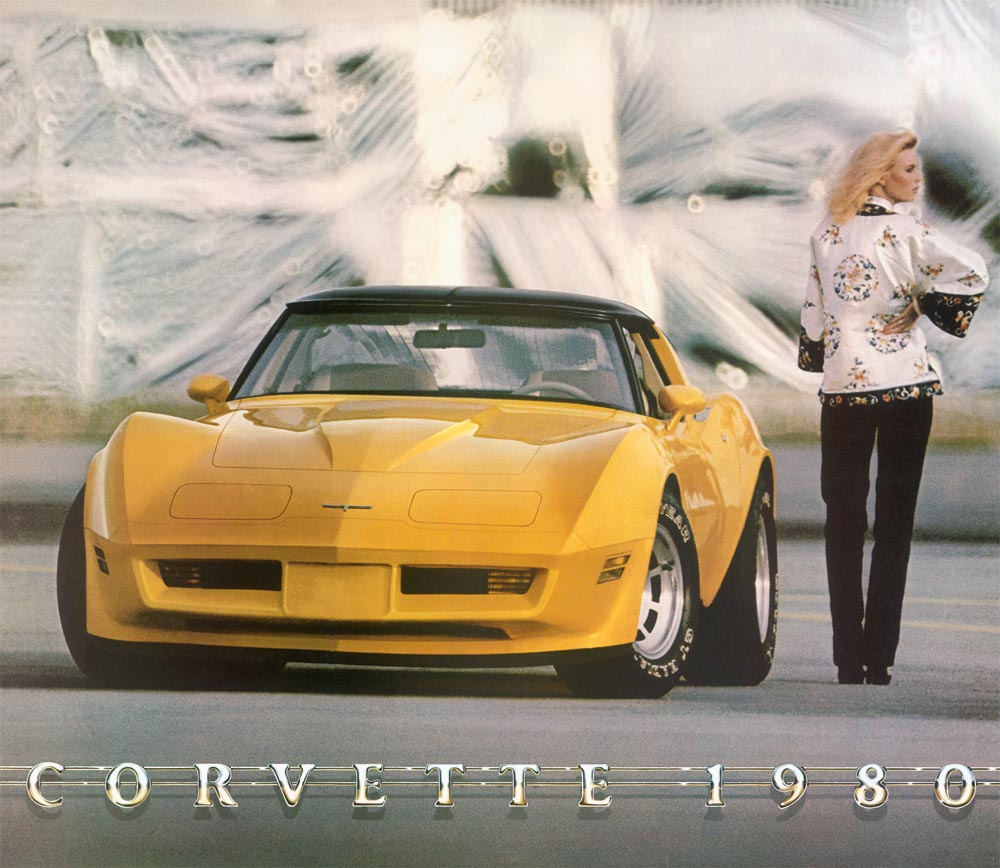 In addition to weight reduction measures, engineers also focused on getting the Corvette to produce better overall gas mileage results.  The previously optional front and rear spoilers were reshaped and made an integral part of the bodywork.  Additionally, the front grilled was raked back slightly.  As a result of these changes, the coefficient of drag (Cd) fell from 0.503 to a more respectable 0.443.  While this number was still not optimal, it was a notable improvement nonetheless.
Additionally, urethane was applied during the molding of the body panels forward of the firewall and was also applied to the roof panels.  This application resulted in improved surface quality, which also helped in the reduction of drag.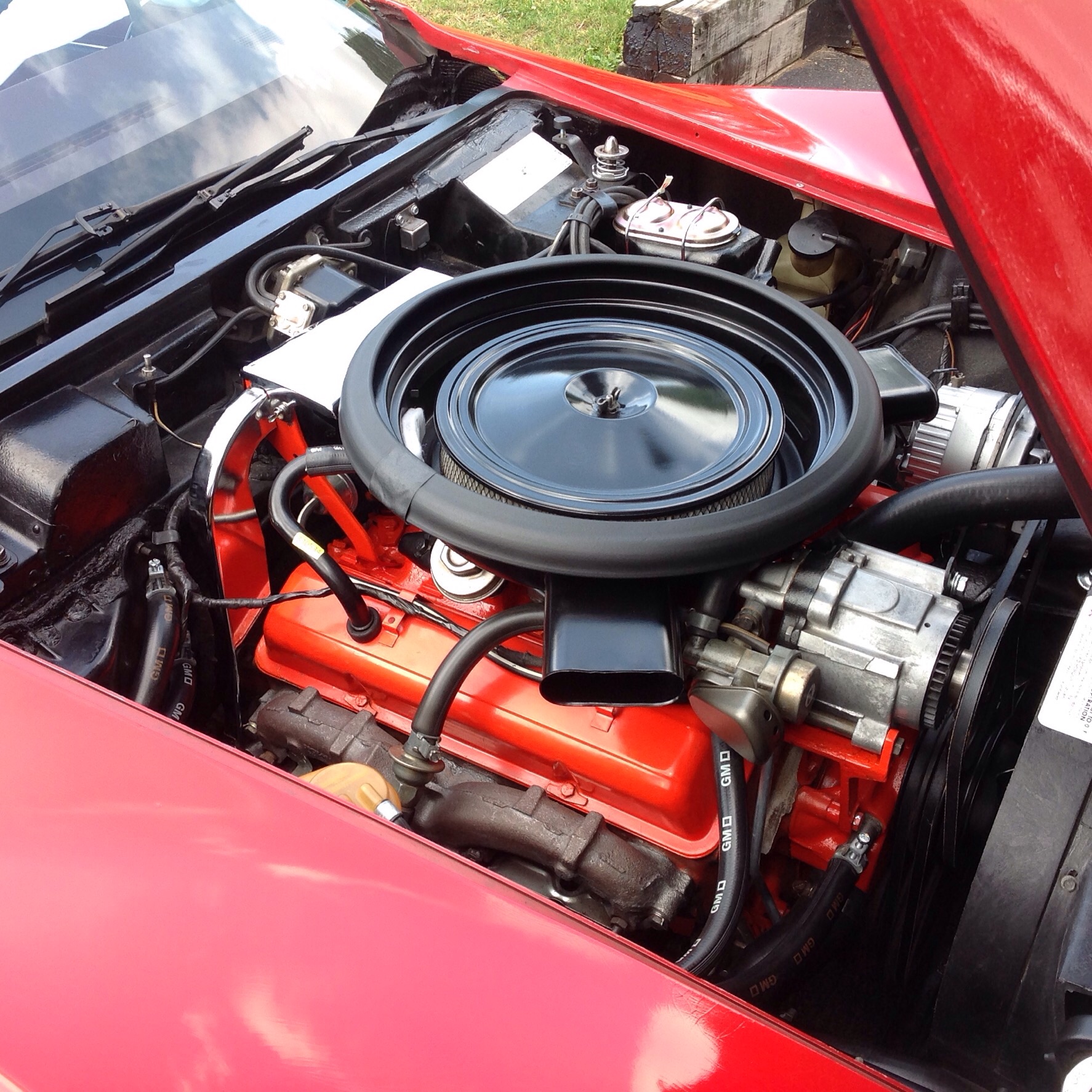 Mechanically, the 1980 Corvette suffered some because of increasingly stringent emissions regulations. The base L48 engine, which had been rated at 195 horsepower in 1979, lost five bhp as a result of emissions tuning – taking it back to 190HP at 4,400rpm and 280lbs/ft. of torque at 2,400rpm.  Worse was the impact that California emission standards had on the Corvette.
For the 1980 model, California consumers were forced to settle for a 305 cubic inch engine – the same used in Chevrolet's standard passenger car models.
However, the California version of this engine came equipped with stainless-steel tubular exhaust headers, a computer command control system that mixture and ignition timing on demand, and an oxygen sensor in a closed loop system.
Given these improvements, and in spite of its lower displacement and more stringent emissions requirements, the Corvette 305ci engine still managed to produce 180 horsepower – which was just 10HP less than the standard L48.  This option – RPO LG4 – was mandated because Chevrolet could not certify that the small-block 350CI engine could meet all of California's emission requirements.
While California consumers received a $50.00 credit as a result of this downgrade, the LG4 305ci engine was also only available with an automatic transmission, making it even less desirable to true sports-car enthusiasts.
The only engine that actually benefited from the on-going changes to the engine program in 1980 was the L82, which actually picked up an additional five horsepower, boosting its overall rating to 230 horsepower.
However, even the L82 had restrictions placed upon it, as the optional 4-speed manual transmission was no longer available to consumers when ordering a Corvette with the more robust engine (though it is believed that some early 1980 models did come equipped with this combination.)
GM engineers were never able to certify the "high-compression" (9:1) small block for California use, and its demand had already dropped off considerably across the rest of the United States by the end of 1979.  As such, 1980 would be the last year that the optional L82 engine was offered.

Outwardly, the Corvette received few design changes, save for the aforementioned front and rear spoilers, the raked back grill, and the removal of the Corvette emblems from the side fenders.  However, the Corvette emblem itself was modified some, and now featured a new, more elongated design.  Additionally, the hood featured a lower profile, and new cornering and taillights were introduced.
Inwardly, a number of other changes were implemented, many of which were the result of either Federal requirements or the need to make cosmetic changes as a result of functional improvement.  To start, the speedometers of all 1980 Corvettes now showed a maximum speed of just 85 miles per hour.  Although this change had started being phased in to the Corvette in some of the late 1979 production models, it was now a Federal requirement for all 1980 models – presumably in response to the newly imposed 55 miles-per-hour mandatory speed limit that had been put in place on interstates across the country.
Also, the rear storage compartments were changed from a three-lid to a two-lid design in 1980.  The battery remained in a separate compartment behind the driver, but the center and passenger-side compartments were combined and were now accessible through just a single door.
DID YOU KNOW:  By Federal mandate, the 1980 Corvette was the first year to have a speedometer with an upper limit of only 85 MPH. Additionally, The 305 cubic inch V-8 installed in 1980 California-bound Corvettes was the first Corvette engine to be monitored by a computer.
Additionally, power windows, air conditioning and tilt/telescopic steering were made standard options, a new ribbed-pattern cloth interior was introduced,  a side-shield was added to the driver side sunvisor to reduce sun glare, and the power door lock buttons were relocated to increase operator convenience.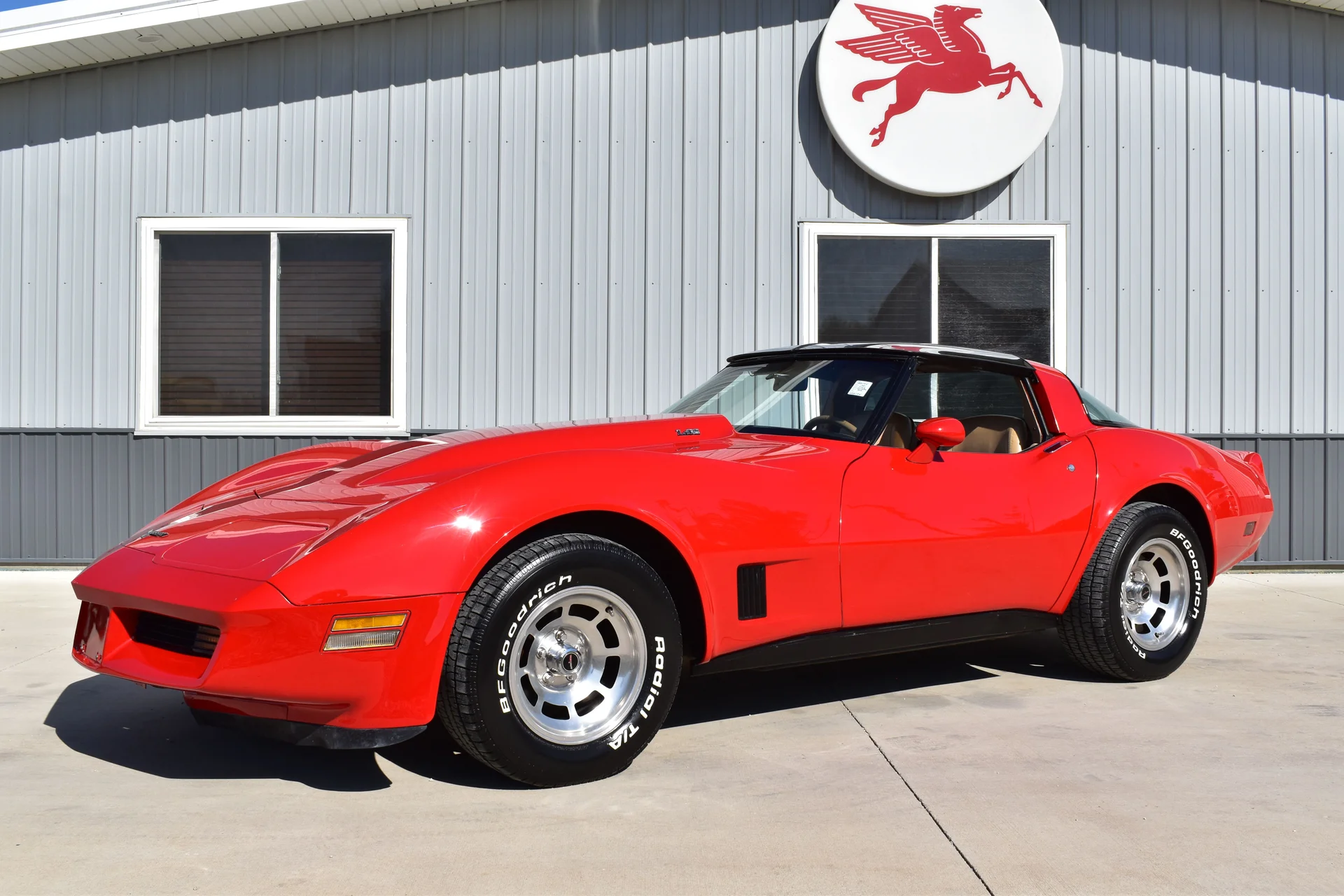 Lastly, a new convenience group was developed that included time-delayed dome and courtesy light operation, a headlight warning buzzer that signaled when the headlights were still on after the vehicle was shut off, a low-fuel warning light, intermittent windshield wipers, and a passenger-side illuminated visor mirror.
Press and public opinion of the 1980 Corvette remained divided.  For some, the car continued to impress with its more-than-respectable performance numbers.  The 1980 Corvette clocked 0-60mph times at between 7.1 and 7.7 seconds (when equipped with the L82.) However, others criticized the measure that had been taken to lighten the Corvette, and the overall emphasis on fuel efficiency.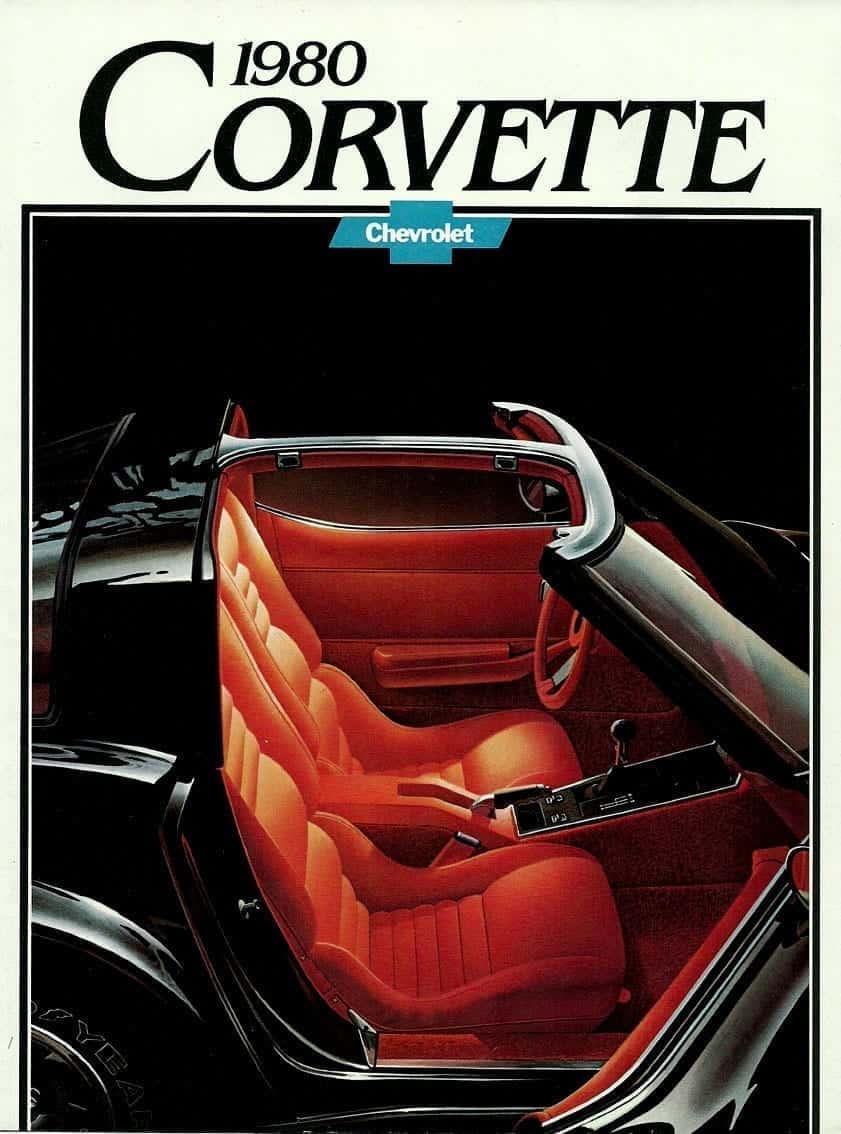 Additionally, fit and finish problems continued to be a common complaint.  Perhaps the greatest criticism of the Corvette as a whole was the fact that the C3 production continued on, when clearly it was time for Chevrolet to introduce a new-generation of Corvette, or perhaps abandon the program entirely.
However, given the sales numbers of the 1980 Corvette, there were few who believed that the Corvette would go anywhere – which reinforced the belief amongst enthusiasts and critics alike that a next-generation model was imminent.
Rich Ceppos, then Associate Editor of Car and Driver Magazine (1978–1986), had been quoted as saying: "Another year, another Corvette. Almost can't tell the new ones without a program these days.
Oh, I know that the serious-minded engineers in charge of Corvette development have shaved off some weight, smoothed out the airflow, tweaked this, and tuned that. But it still feels like the same old car to me – which is not all bad, mind you.
In fact, there's still something to be said for the old warhorse. For one thing, it's still faster than all but a few of today's new cars. Nail down the throttle and it'll go quickly enough to stir up some corpuscles. And it still packs a distinctively American brand of bad-ass driving rumble left in the cleaner-than-clean exhaust, the shift linkage will give you tendonitis, and it jumps and darts and twitches as if possessed when you try to drive it like a sports car.
And of course, the Vette still looks, well, low-down and mean. All of which is why I like the Corvette just the way it is. But it's also why I'll welcome its successor with open arms."
Production Volumes
Chevrolet sold 40,614 Corvettes in 1980, which was roughly a 20 percent decline in sales from the 1979 model year.  At the same time, the numbers were still respectable, especially given that the base price for a Corvette started the model year at $13,140.24 (not including options), and increased four times during the 1980 model year to a final base price of $14,345.24.
1980 Corvette Specifications & Performance
See the complete breakdown of technical specifications for the 1980 Corvette, including engine, suspension, brakes, body dimensions, and power. Read more: 1980 Corvette Specifications.
Engine, Transmission & Performance
1980 was not a good year for Corvette buyers living in California. They were restricted to one engine choice, a 305 cu in. motor that was common to the other Chevrolet models that year. There was also only one available transmission – an automatic – no four speeds allowed. This was the result of the state's tougher emissions regulations. Automatic transmission equipped cars are easier to pass emissions certification since pushing in the clutch on a manual transmission causes a blip in the pollution output. This is not a problem with smooth shifting automatic transmissions which are equipped with torque convertors instead of clutches. The 305 cu. in. motor that California buyers were stuck with was rated at 180 hp, 10 hp less than the 350 cu. in. motor available in the other 49 states. A $50.00 credit was some consolation, but Corvettes sold to California residents came with the California emissions certification option; RPO YF5 for $250.00. More information.
1980 Corvette Vehicle Identification Numbers (VIN)
The last six digits for the Corvette Coupe begin at 400001 and run thru 440614, accounting for all 40614 Corvette Coupes built in 1980. 5,020 Corvettes were sold in Canada. Each Vehicle Identification Number (VIN) is unique to an individual car. For all 1980 Corvettes, the location of the Vehicle Identification Number (VIN) is stamped on a plate attached to the left front body hinge pillar. Read more: 1980 Corvette VINs.
1980 Corvette Price & Options
Core Features & Factory Options
Corvettes, which had been slowly gaining weight, went on a diet for 1980. Lightened roof panels, an aluminum differential housing and crossmember along with a thinner hood, windshield, frame and door panels all contributed to the cause. Federal government regulations entered a new era of absurdity with the requirement of a speedometer limited to 85 mph. There was no limitation to the top speed of the Corvette. New bumper caps for both ends were featured in 1980, and they included integral spoilers. They were similar to the 1979 and (pace car replica) 1978 spoilers but without the seam they offered a neater appearance. Radiator airflow was improved with the new design.
Colors
White 7,780 (19.16%), Silver 4,341 (10.69%) Black 7,250 (17.85%), Dark Blue 4,135 (10.18%), Dark Brown 2,300 (5.66%), Yellow 2,077 (5.11%), Dark Green 844 (2.08%), Frost Beige 3,070 (7.56%), Dark Claret 3,451 (8.50%) and Red 5,714 (14.07%). More 1980 Corvette color information
Pricing & Options
Base Corvette Coupe with 350 cu. in. 190 hp engine: $13,140.24. Price went up a number of times during the year and settled at $14,345.24. Manual or automatic transmission was a no-cost buyers choice. California buyers got a 305 cu. in. 180 hp engine and a $50 credit.
| | | | |
| --- | --- | --- | --- |
| CODE: | DESCRIPTION: | QUANTITY: | RETAIL PRICE: |
| 1YZ87 | Base Corvette Sport Coupe | 40,614 | $13,140.24 |
| AU3 | Power Door Locks | 32,692 | $140.00 |
| CC1 | Removable Glass Roof Panels | 19,695 | $391.00 |
| C49 | Rear Window Defogger | 36,589 | $109.00 |
| FE7 | Gymkhana Suspension | 9,907 | $55.00 |
| F51 | Heavy Duty Shock Absorbers | 1,695 | $35.00 |
| K30 | Cruise Control | 30,821 | $123.00 |
| LG4 | 305ci, 180hp Engine (required in California) | 3,221 | $50.00 |
| L82 | 350ci, 230hp Engine | 5,069 | $595.00 |
| MM4 | 4-Speed Manual Transmission | 5,726 | $0.00 |
| MX1 | Automatic Transmission | 34,838 | $0.00 |
| N90 | Aluminum Wheels (4) | 34,128 | $407.00 |
| QGB | White Letter SBR Tires, P225 / 70R15 | 26,208 | $62.00 |
| QXH | White Letter SBR Tires, P255 / 60R15 | 13,140 | $426.16 |
| UA1 | Heavy Duty Battery | 1,337 | $22.00 |
| UM2 | AM-FM Radio, stereo with 8-track tape | 6,138 | $46.00 |
| UN3 | AM-FM Radio, stereo with cassette | 15,708 | $155.00 |
| UP6 | AM-FM Radio, stereo with CB | 15,148 | $168.00 |
| U58 | AM-FM Radio, stereo | 2,434 | $391.00 |
| U75 | Power Antenna | 32,863 | $56.00 |
| UL5 | Radio Delete | 201 | $126.00 |
| U81 | Dual Rear Speakers | 36,650 | $52.00 |
| V54 | Roof Panel Carrier | 3,755 | $125.00 |
| YF5 | California Emission Certification | 3,221 | $250.00 |
| ZN1 | Trailer Package | 796 | $105.00 |
1980 Corvette Gallery
See full 1980 Corvette Image Gallery