Thinking of Buying a C7 Corvette?  Here's What You Need to Know
For decades, people across North America (and around the globe) have promised themselves that, at some point in their lives, they would own a Chevy Corvette.  For some, Corvette ownership comes early in life. For others, it takes a lifetime to get there.  However, once this goal is achieved, Corvette ownership becomes an indelible part of your life.Interest in Corvette ownership has surged recently, thanks in large part to the introduction of the mid-engine Corvette in 2020.
Chevrolet's flagship sports car had found a new, younger audience.  It has also caused the prices of many of the older fifth-, sixth-, and seventh-generation Corvettes to remain a little more inflated than was the case a few years ago.  While this might seem a deterrent to some would-be consumers – especially those that thought they might scoop up an older-generation Corvette at a deeply discounted rate – the reality is that this is still a GREAT time to consider Corvette ownership, especially if you've been considering one of the newer, seventh-generation Corvettes.


Consider this – the C7 Corvette was built from 2014 to 2019 – which means that the oldest example is just seven-year young.  In many cases, Corvette owners treat their cars like "garage queens."  They pull them out, wash them, then put them away for safekeeping.  This means that many of these Corvettes have far fewer than the standard miles for a car their age.  Put that all together, and you're likely to find a newer, low-mileage, seventh-generation Corvette at a price point that is manageable for your individual budget.   Yes, you'll potentially pay more than you would for a Mustang, Challenger or Camaro, but you are going to get a lot more car for the money too.   Don't believe us?  Go take one for a test drive and you'll see for yourself.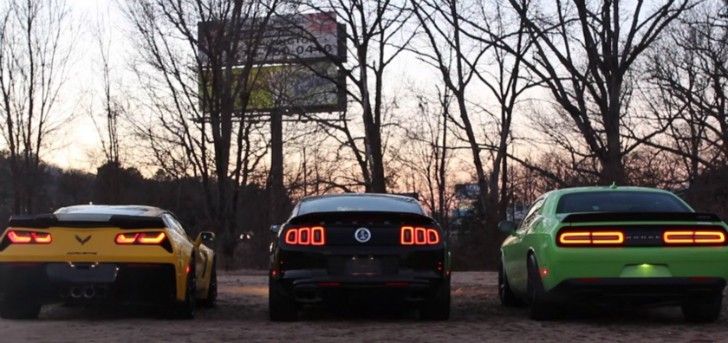 What follows below is a roadmap to help you navigate the marketplace of used Corvettes and, ideally, help you find your first (or next) seventh-generation Stingray.  If you're still considering your options – maybe even considering something other than a Corvette (gasp!) for your driving fun – then we've found each other just in time!  For everyone else – from current C7 owners to prospective first-time buyers, this C7 Corvette Buyers Guide is intended to provide some insight into the experience of Corvette ownership, and give you some valid reasons why a seventh-generation Corvette might be the perfect car for you!
Introducing the C7 Corvette Stingray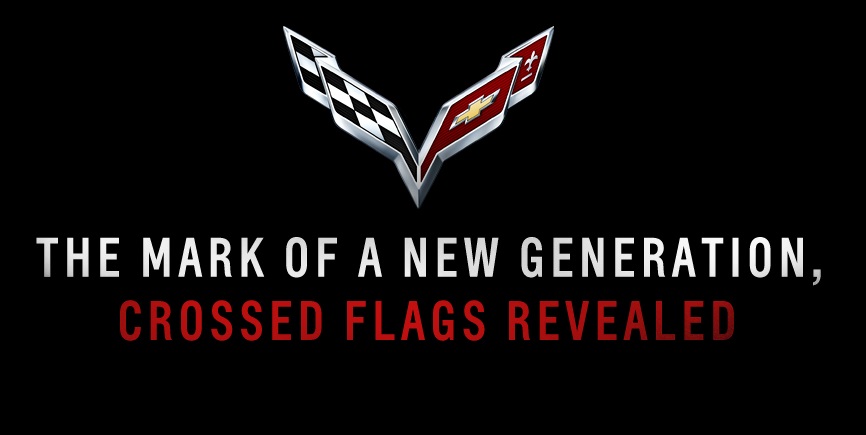 On January 13, 2013, Chevrolet unveiled the new, seventh-generation Stingray to the world.  The arrival of the C7 Corvette was the culmination of months of speculation by enthusiasts, car experts, critics, and countless fans, and was treated with more fanfare and pomp-and-circumstance than a Hollywood blockbuster movie debut.
Development of the seventh-generation Corvette began about a year after the introduction of the C6 model in 2005.  Tom Peters, Chevrolet's Design Director, had been tasked with improving upon the sixth-generation Corvette design which had already been considered such a resounding success the world over by car enthusiasts and critics alike.  Working in conjunction with Tadge Juechter, Corvette's Chief Engineer, the pair produced a vehicle that could challenge and beat the best the Germans and Italians could throw at it.
The result is that the C7 Corvette Stingray was truly a departure from its predecessor. In fact, it only shares two parts with the previous-generation Corvette – the removable roof release lever and a filter in the air filtration system. The rest of the car was completely new – including the frame structure, chassis, powertrain, and an all-new interior and exterior design.
Year By Year – What Are the Differences?
2014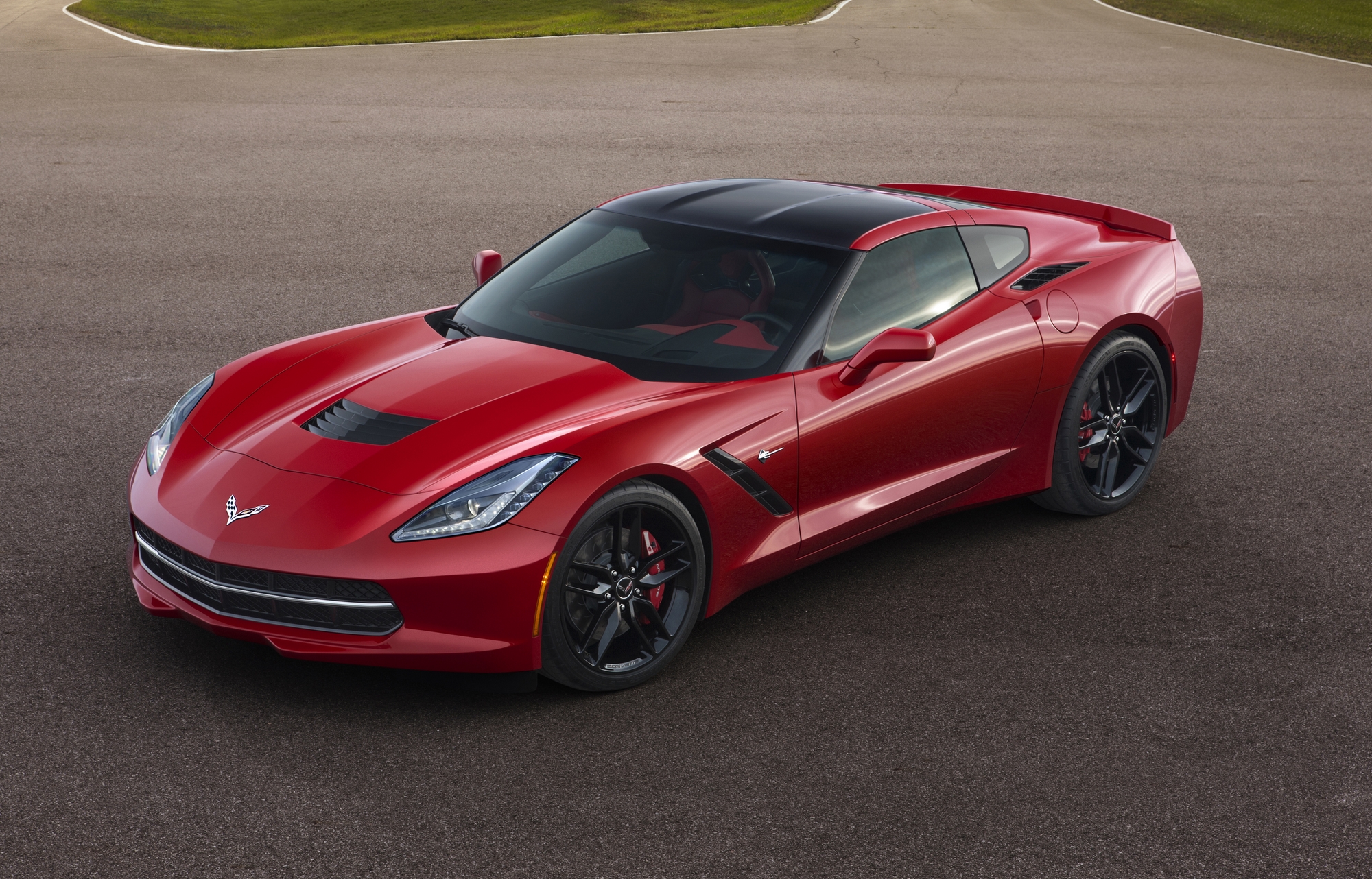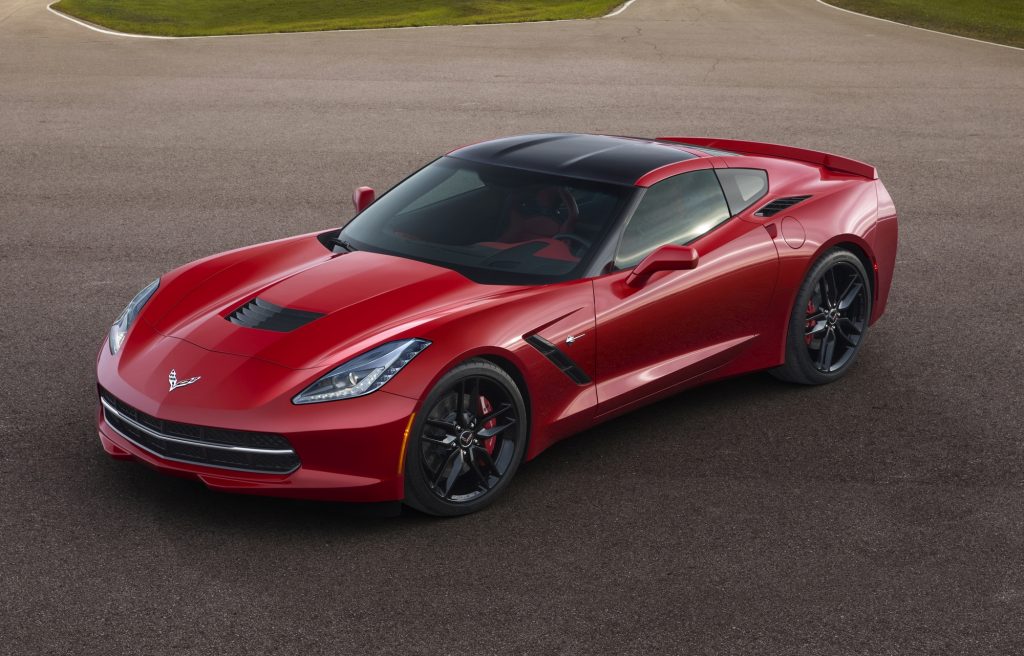 The 2014 Corvette Stingray was offered in both coupe and convertible trims.  Each version of the car was offered in three trim levels – 1LT, 2LT, and 3LT.  Additionally, all variants of the coupe and convertible were offered with the available Z51 Performance Package, which provided consumers with 19″ front and 20″ rear wheels, dry sump oil system, Electronic Limited Slip Differential (eLSD), slotted brake rotors, larger front brakes with Black calipers, specific shocks, springs and stabilizer bars, performance gear ratios, differential and transmission cooling, and an Aero Package that reduces lift for high-speed stability.
All 2014 Corvettes were powered by a new LT1 small-block 6.2L V8 engine that offered advanced consumers advanced technologies including Direct Injection, Active Fuel Management, and Continuously Variable Valve Timing.  It was the most powerful standard Corvette ever introduced by GM (to date).  The LT1 produced an impressive 460 horsepower and 460 lb./ft. of torque, and provided consumers with 0-60 times of just 3.8 seconds.
The redesigned interior featured one of the most cutting-edge cockpits ever devised for a Corvette.  Consumers could select standard GT seats for all-around comfort and support or optional Competition Sport seats for more aggressive support on the track.  The car also featured a smaller, 360mm steering wheel that was designed for optimal feel during performance driving.  Perhaps the most notable upgrades to the interior were the introduction of some truly remarkable technologies throughout.  The 2014 Corvette included the Chevrolet MyLink system which fully integrated information from several Bluetooth-enabled mobile devices, as well as access to USB ports, SD cards, MP3 players, and an audio input jack.  An 8″ LCD central display touch-screen (that lowers for device storage and allows access to a USB port inside) provided access to third-party music services such as Pandora. The car also featured a highly customizable instrument cluster, and an available Head-Up Display that was a huge leap ahead of the HUD offered in the fifth- and sixth-generation Corvettes.
2015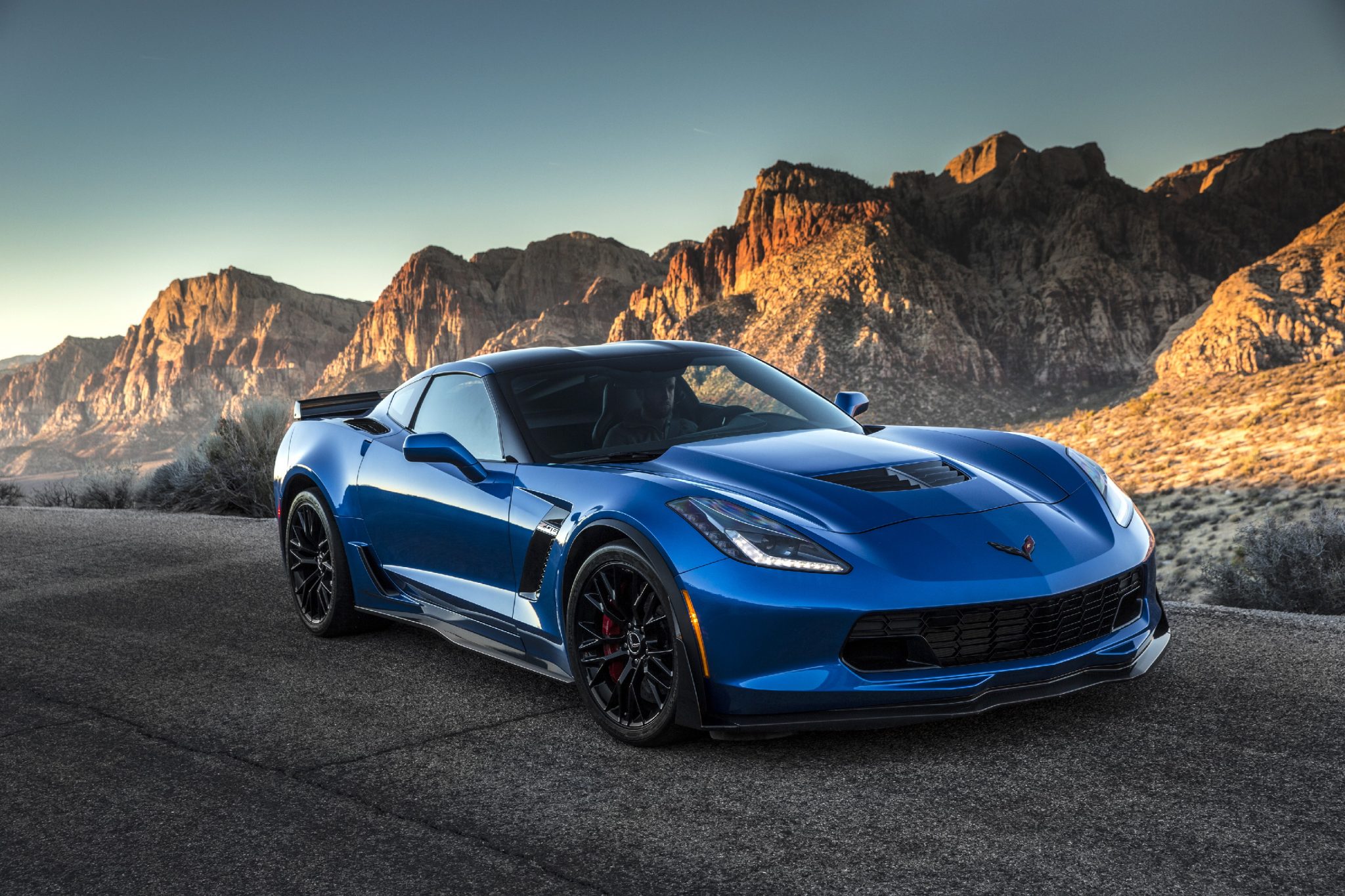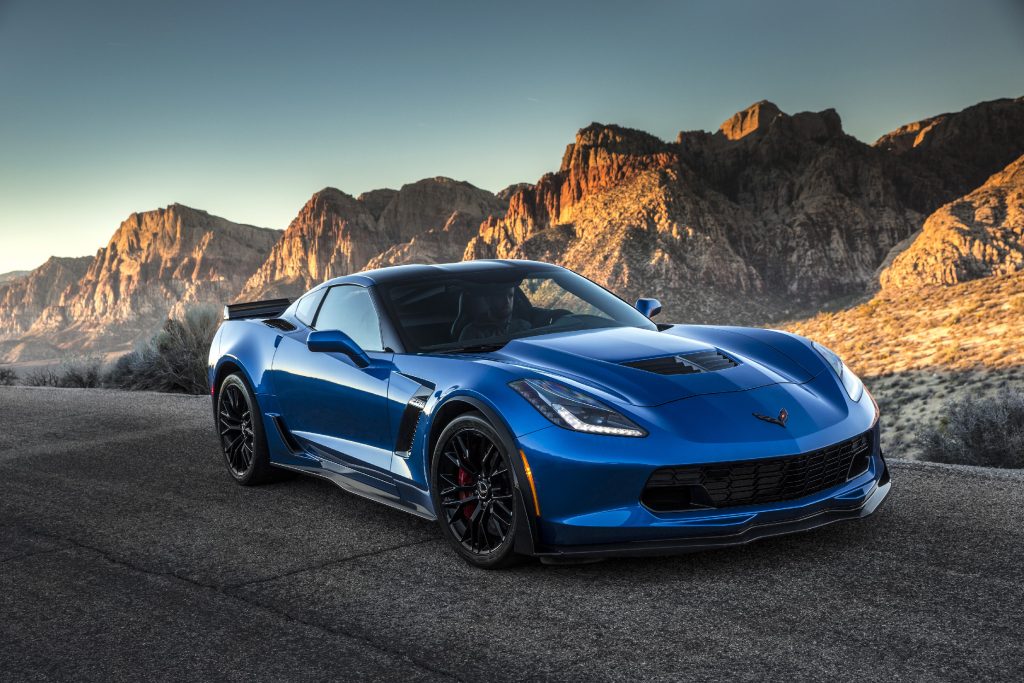 For its sophomore year, Chevrolet rolled out a considerable number of enhancements to the Stingray, including an all-new transmission, two new design packages, and a Z06 Corvette variant that would surpass any Corvette that had come before it in both power and performance.  Two new and distinctive design packages were also introduced – the Atlantic and Pacific Design Packages.  Each package was unique from the other and showed the personalization range of the Corvette Stingray.  At one end of the spectrum, the Corvette could be configured as a luxury sports GT car (the Atlantic Design Package) or as a high-performance motorsport car (the Pacific Design Package.)
The most notable improvement available to the 2015 Corvette was the introduction of an all-new eight-speed paddle-shift automatic transmission.  This transmission, which replaced the six-speed automatic featured in the 2014 model, was offered on both the Corvette Stingray as well as the 2015 Z06 coupes and convertibles.  The transmission, dubbed the Hydra-Matic 8L90, was developed and built by General Motors, and delivers world-class shift times that rival the best dual-clutch designs anywhere in the world.
Moving to the interior of the car, the other significant technology advancement on the 2015 Corvette was the introduction of an optional Performance Data Recorder, a feature that came bundled with the navigation system (RPO IO6). The Performance Data Recorder – or PDR – enabled users to record high-definition video, with telemetry overlays, of their driving experiences both on and off the track.  The PDR was developed for Corvette in conjunction with Cosworth, the motorsports-engineering company that supplies the Corvette Racing team's data acquisition and telemetry electronics system.
While all the enhancements to the 2015 Corvette Stingray coupe and convertible models helped to further advance the car's perception on the marketplace as a performance vehicle, Chevrolet also unveiled an all-new Z06 model for the 2015 lineup that was more powerful than any production Corvette that had come before it.
At the heart of the 2015 Corvette Z06 was a new LT4 supercharged 6.2L V-8 engine.  The LT4 was SAE-certified at 650 horsepower (485 kW) at 6,400 rpm and 650-lb-ft of torque (881 Nm) at 3,600 rpm.  This certified performance rating identified the Z06 Corvette as not only the most powerful production car ever built by General Motors but also one of the most powerful production cars available in the United States. The 2015 Corvette Z06 produced some truly staggering performance numbers, including:
0-60 mph acceleration in 2.95 seconds with the eight-speed automatic and 3.2 seconds with the seven-speed manual transmission.
Quarter-mile times of 10.95 seconds at 127 mph with the eight-speed and 11.2 seconds at 127 mph with the seven-speed transmission.
Lateral acceleration of 1.2 g.
60-0 mph braking in only 99.6 feet – the best of any production car tested by General Motors.
It was also the first Z06 since 1963 to be offered as either a coupe or a convertible.
2016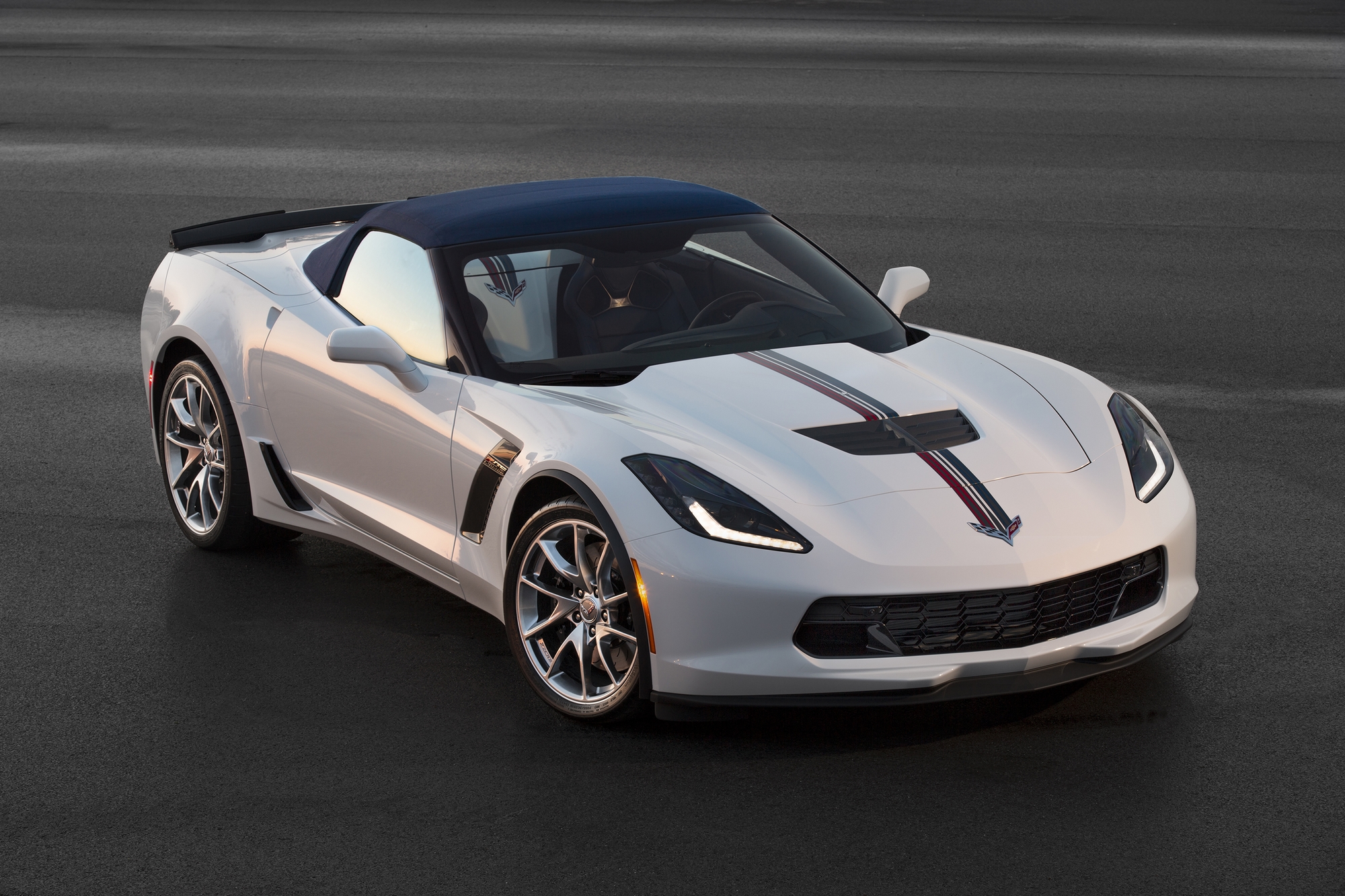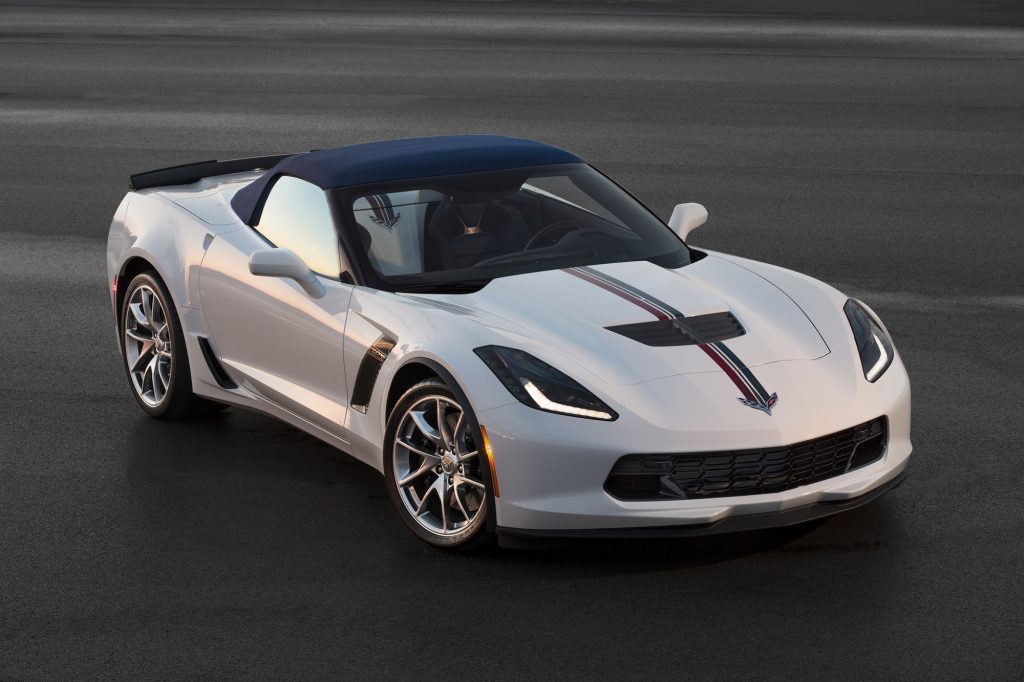 The 2016 Corvette Stingray was the first in the seventh-generation lineup not to include a special edition version. Instead, Chevrolet introduced three all-new, color-themed design packages for the 2016 model year. Finished in either Twilight Blue, Spice Red or Jet Black Suede, the special color-themed design packages offered consumers a custom-tailored appearance package that helped to elevate the Stingray's presence both on the street and on the track. Additionally, each of the customized appearance packages reflected the different roles the Corvette represented in different customer experiences – from high-performance driving to grand touring cruising.
The 2016 Corvette Stingray's most noteworthy advancements included the introduction of a front curb view parking camera which was offered on all 2LT/3LT and 2LZ/3LZ (Z06) models. This camera, while a minor enhancement to the aesthetic of the car itself, provided drivers with visibility to high-curbs and other obstructions that are known to "bite" the front end of this low-riding Corvette Stingray.  It also featured a smartphone projection technology as part of the Stingray's new MyLink system. This new smartphone technology interface enabled drivers to display content from their Apple iPhone (for iPhone 5 or later models) and select Android phones on the Corvette's eight-inch, multicolor center-console display screen. The Apple/Android CarPlay feature enabled users to utilize their phone, text messages, maps, music, and compatible third-party apps.
The 2016 Z06 Corvette was the continued embodiment of track-ready, uncompromised high-performance driving and handling. Its return for the 2016 model year provided consumers with more options to personalize their cars.  It would also finally pay homage to Corvette's racing heritage with the introduction of a special, C7.R Edition model.  It was specifically designed as a direct tribute to the Corvette Racing C7.R race cars.  It represented the closest link between the racecar and the production model of any Corvette in the car's sixty-three-year history.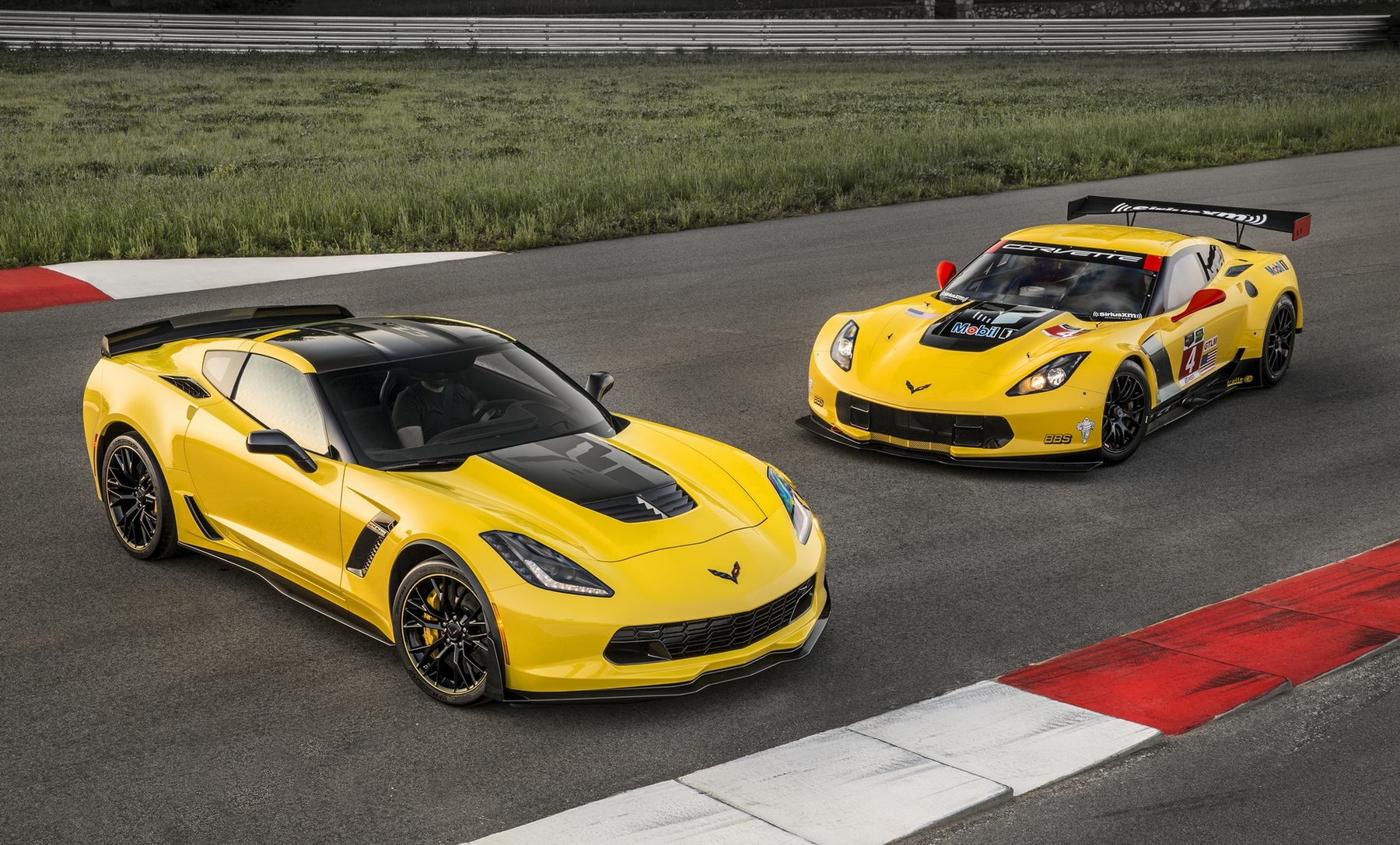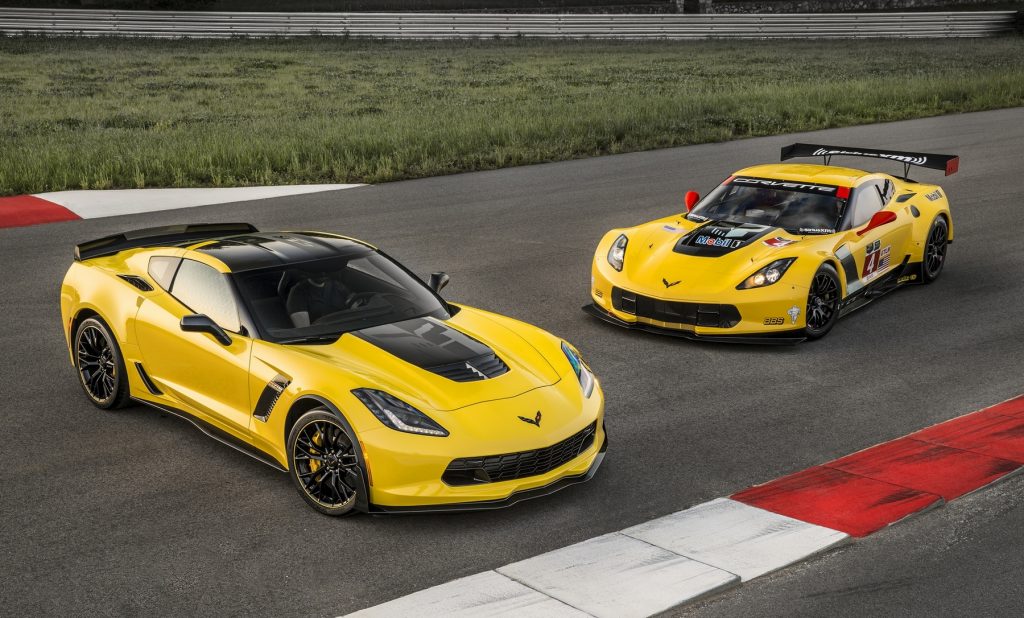 The special edition package was offered in two color schemes, both paying homage to Corvette Racing's signature yellow and black liveries. Each car featured a number of coordinated exterior and interior accents which included: A C7.R Edition graphics package, the Z07 Performance Package with Brembo carbon-ceramic brakes, and Michelin PS Cup 2 tires, yellow brake calipers, black wheels with a yellow accent stripe, and Corvette Racing-logo center caps,  a visible carbon fiber ground effects package,  a new, visible carbon fiber hood section, grilles and vents finished in Spectra Gray Metallic, a Jet Black leather interior with sueded microfiber accents on the instrument panel and doors, sueded microfiber-trimmed Competition Sport Seats, steering wheel and shifter, yellow contrast stitching throughout the car's interior, a Carbon Fiber interior trim package (high-gloss), Corvette Racing sill plates, and special indoor car cover with C7.R graphics.
Only 500 of the C7.R Edition Z06 Corvettes were built, and all 500 came equipped with the Z07 Performance Package, carbon-ceramic brakes, and a specially serialized vehicle identification number.
2017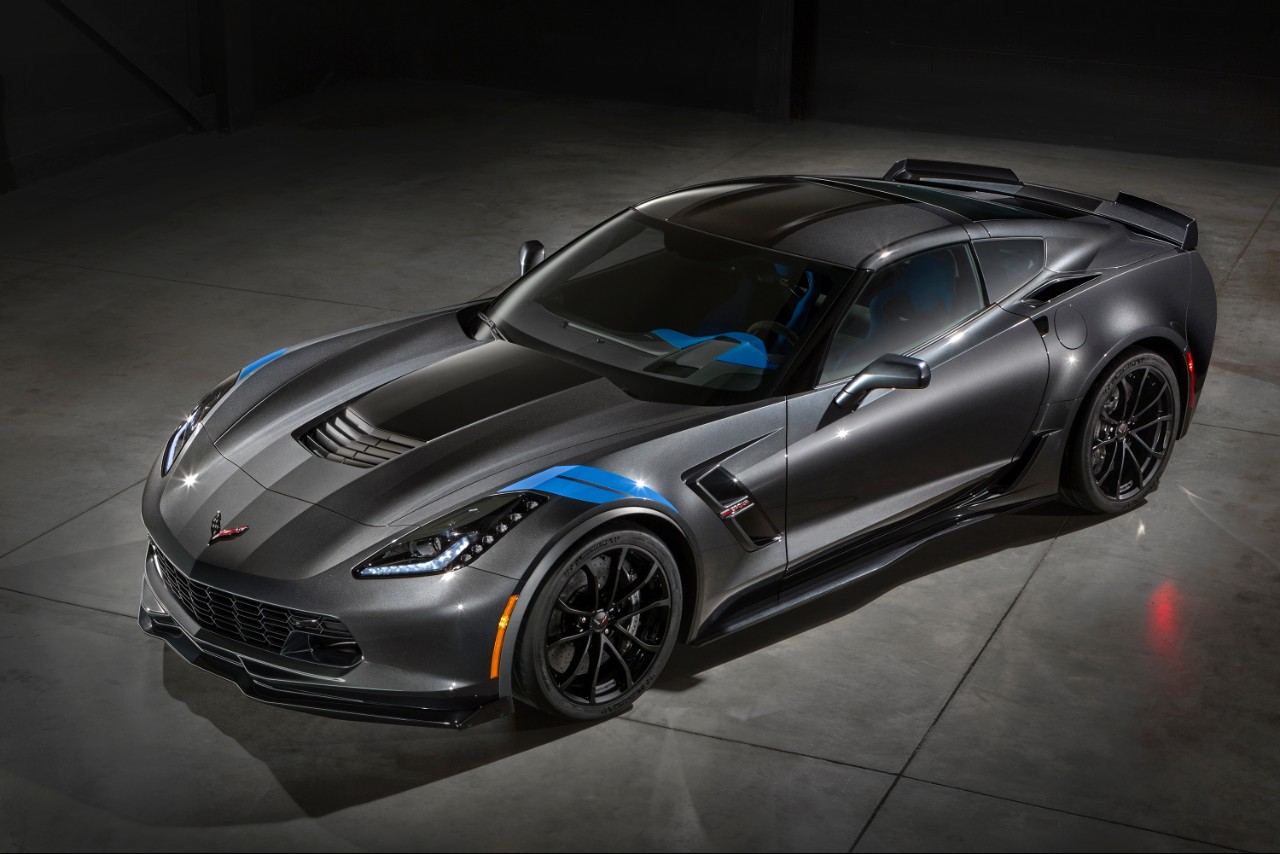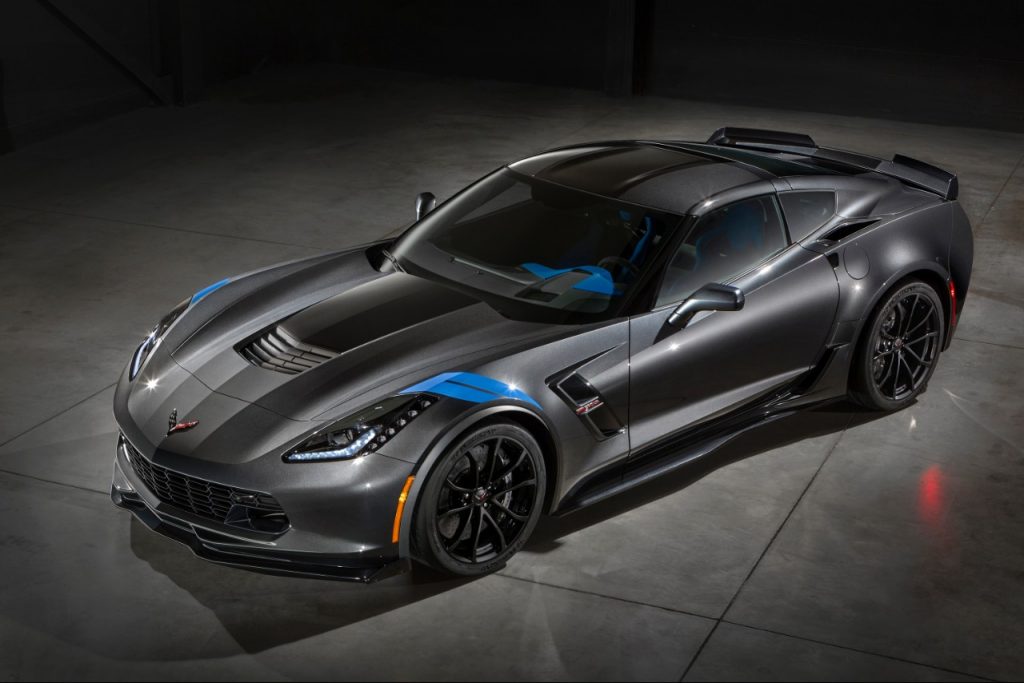 For the 2017 model year, Chevrolet unveiled its newest iteration of the Corvette Grand Sport at the Geneva Auto Show. Like the 2015 Corvette C7.R Pro race car, the new Grand Sport combined a lightweight architecture, a track-honed aerodynamics package, Michelin tires, and a naturally aspirated engine. To enhance the Grand Sport's capabilities, Corvette engineers utilized the chassis tuning, upgraded cooling systems, and the performance technologies previously developed for use in the Z06. The result is a Grand Sport Corvette that was truly derived from its race-car brethren. When equipped with the Z07 performance package, the 2017 C7 Grand Sport rivaled the performance of the previous generation's ZR1 Corvette. In fact, the Z07 equipped Grand Sport ran just a second slower than the ZR1 at GM's Milford Proving Grounds.  In addition, the 2017 Corvette Grand Sport also featured an estimated 1.05g in cornering capability and an even greater cornering capability -1.2g – when equipped with the Z07 package.
The 2017 Corvette Grand Sport was also offered to consumers in a special Collector's Edition package. The Grand Sport Collector Edition Corvette featured an exclusive Watkins Glen Gray Metallic exterior with Tension Blue hash-mark graphics, satin black, full-length stripes, black wheels, and a unique Tension Blue full leather and suede-wrapped interior.
While Chevrolet's primary focus for the 2017 model year was the introduction of the Grand Sport to the Corvette stable, Chevrolet continued to offer all of the earlier models, including the base coupe and convertible and the Z06 coupe and convertible.
2018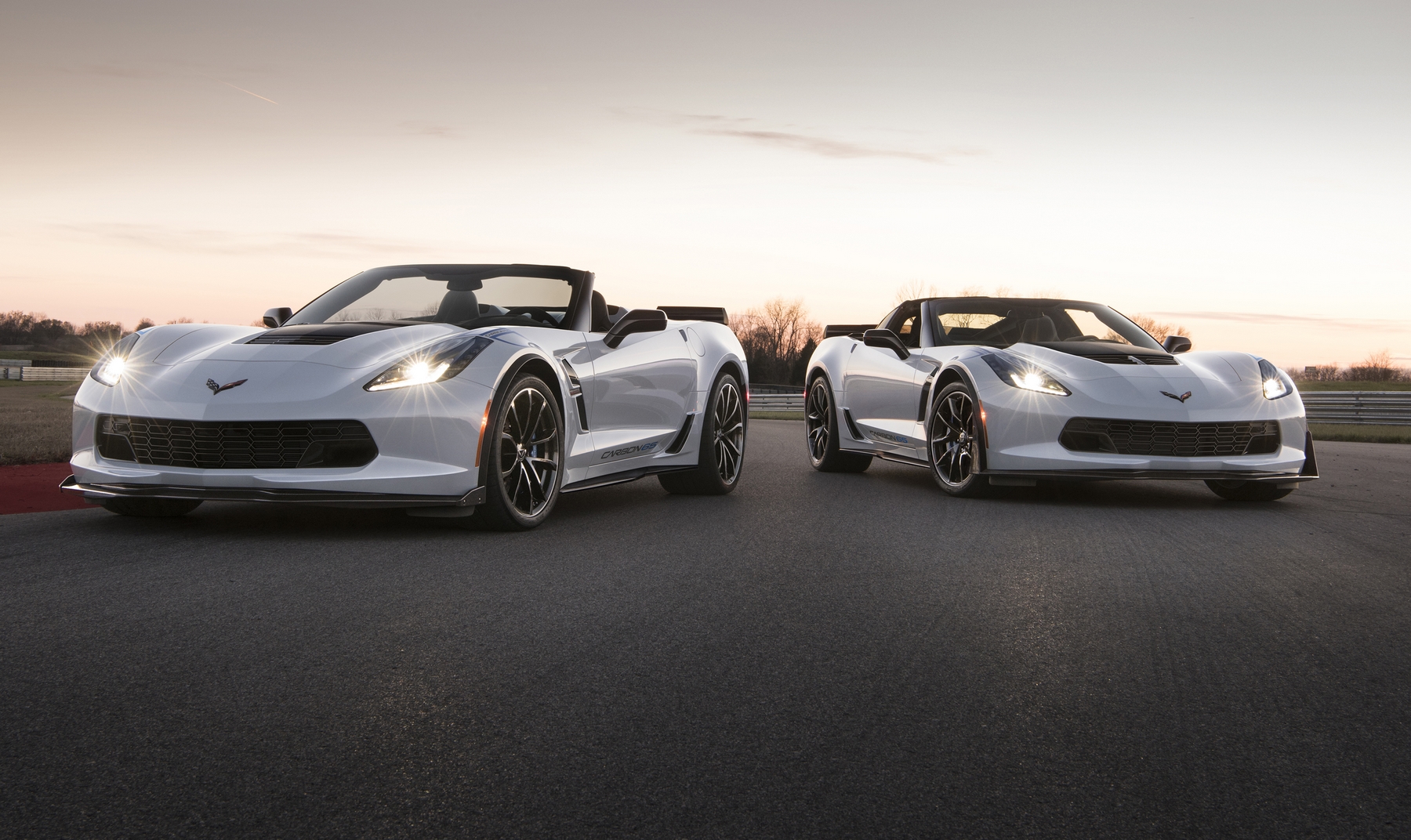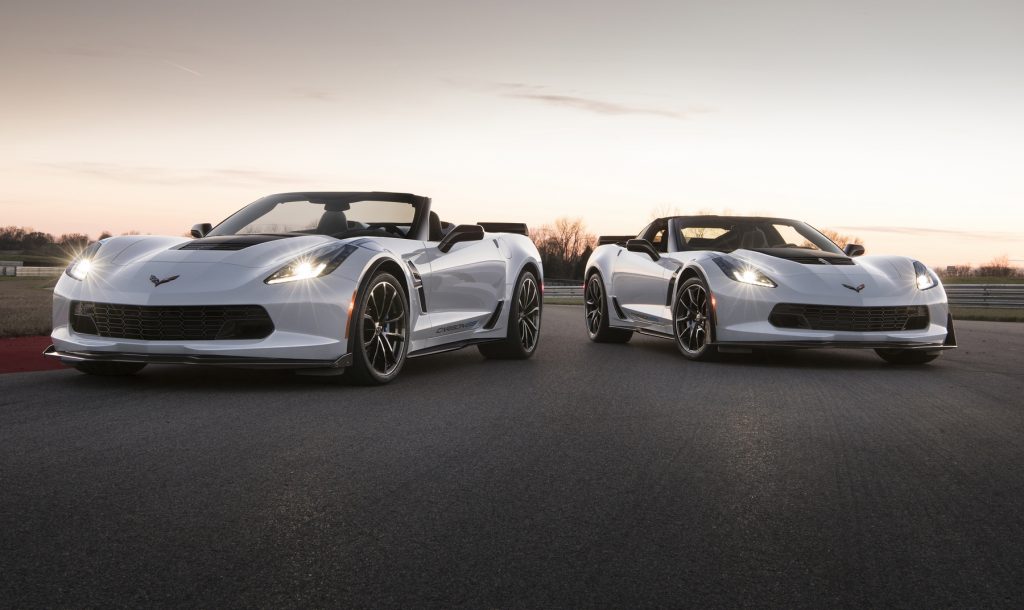 The 2018 Corvette Stingray included a Special Edition model that marked the 65th Anniversary of America's Sports Car.  Although rumors of a mid-engine Corvette were already becoming the dominant topic whenever the brand was mentioned, Chevrolet maintained its focus on the C7 Stingray platform with the introduction of the Carbon 65 Edition Corvette.  The car, which was offered to consumers as either a Grand Sport 3LT or Z06 3LZ model, was specially designed to celebrate the history and heritage of Corvette since its introduction in 1953.
The Carbon 65 Edition Corvette blended visible carbon-fiber exterior elements – most notably, a new carbon-fiber rear spoiler and quarter ducts – with a new Ceramic Matrix Gray exterior color.  On convertible models, the Cermaic Matrix Gray exterior was paired to a blue top.  Each of the Carbon 65 Edition Corvettes received unique fender stripes and door graphics, special black wheels with special center caps and machined grooves paired with summer-only tires, blue brake calipers, visible carbon-fiber ground effects, visible carbon fiber on a section of the hood and roof (on coupe models) or tonneau inserts (on convertible models.)  All variants of the Carbon 65 received new, visible carbon-fiber spoilers, special carbon flash badges, and outside mirrors, and Carbon 65 Edition sill plates.  All 2018 Carbon 65 Grand Sport models were paired with a Cup-Style wheel while its Z06 counterpart received Blade Style Wheels.
Moving to the car's interior, each Carbon 65 Corvette received a Jet-Black suede-wrapped cockpit with special blue stitching, a carbon-fiber steering wheel rim,and gloss carbon-fiber interior trim elements along with Competition Sport seats.
A limited global production run of just 650 Carbon 65 Corvettes were manufactured in 2018 – 297 of which were Grand Sport models and the other 353 were Z06's.
The 2018 Corvette Stingray coupe and convertible models now featured standard 19-inch front and 20-inch rear wheels.  These wheels were derived from the optional wheels that were previously included with the Z51 package.  They replaced the standard 18-inch front/19-inch rear wheels previously included on earlier base model Corvette coupes, convertibles, and Grand Sports.  In addition to upgrading the size of the standard wheels, Chevrolet offered consumers five new wheel design options, including both a "Torque" and "Motorsport" design.  Additionally, Magnetic Ride Control was offered for the first time as a stand-alone option.  Like the larger wheels, it had previously been bundled with the Z51 package.
The most visible changes for the 2018 Corvette Stingray came in the color choices offered. For 2018, Ceramic Matrix Gray replaced Sterling Blue for the exterior.  A Spice-Red convertible top was offered and a Spice-Red interior was offered on all 3LT and 3LZ trim packages.  A Jet Black suede-wrapped interior was offered and included a carbon rim steering wheel and gloss carbon-fiber interior trim elements.  A new interior color stitching package was also offered which included either red, yellow or blue stitching on surfaces of the interior (when so ordered as part of the 3LT and 3LZ trim packages.)
2019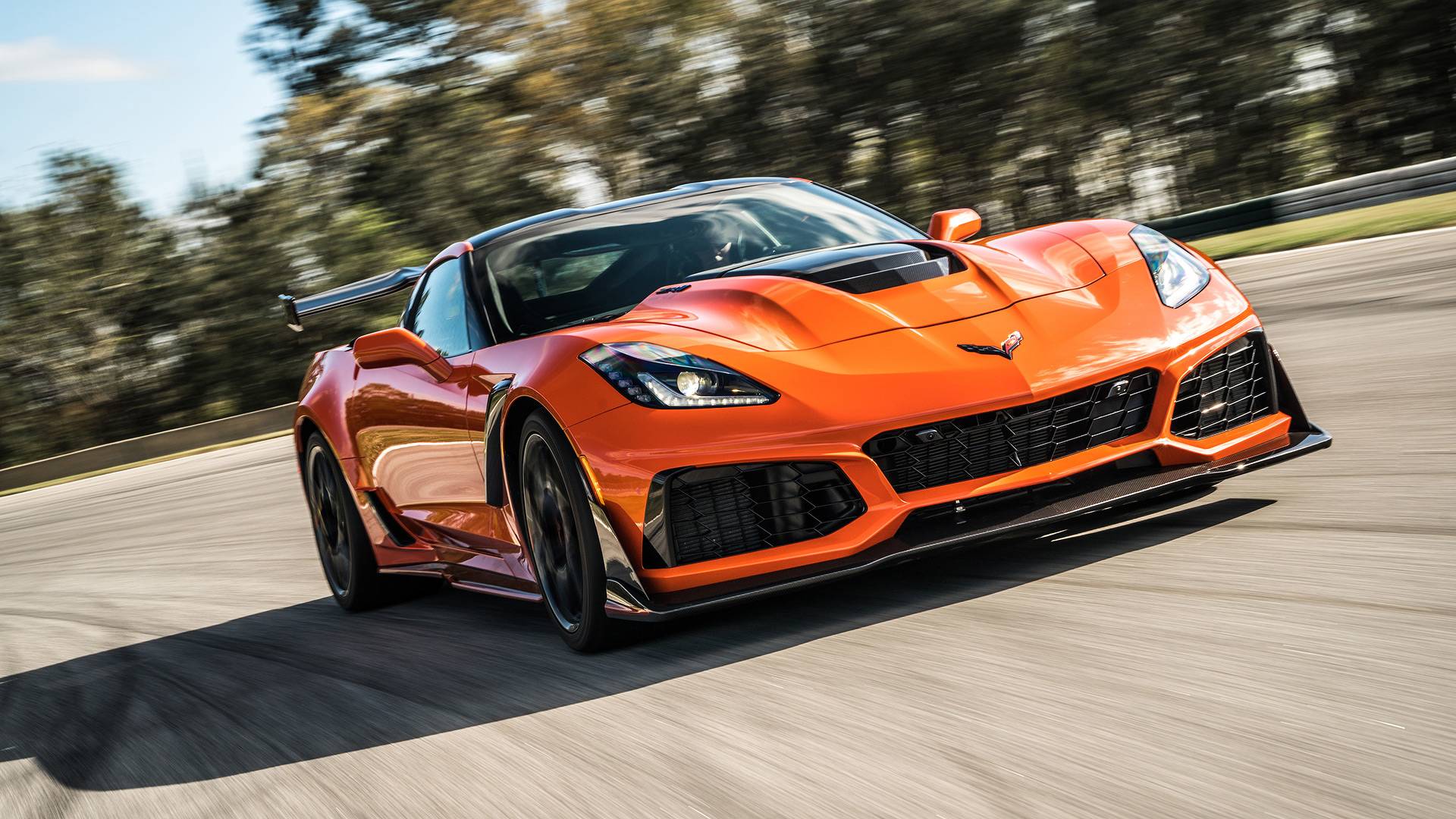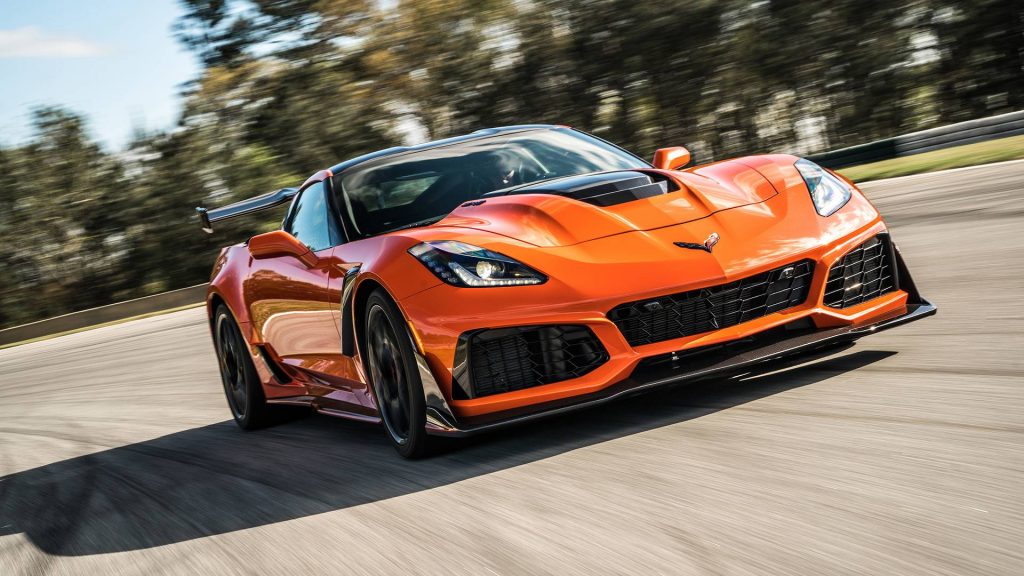 The 2019 model year marked the final year of the seventh-generation Corvette Stingray (and all its higher-performance iterations.)  It also welcomed the arrival of the ultimate rear-wheel drive Corvette – the seventh-generation, 755 horsepower ZR1.  The 2019 Corvette ZR1 was developed with the intent of building a super-car iteration of the Corvette that pushed the limits of the brand to the highest power output, greatest track performance, and most advanced technology package in its sixty-six-year production history.
The 2019 ZR1 was powered by Chevrolet's exclusive LT5 supercharged engine. Rated at an SAE-certified 755 horsepower (563 kW) and 715 lb-ft (969 Nm) of torque, the LT5 delivered the highest engine output ever for a Chevrolet production vehicle.  This incredible performance output was achieved in large part because of the new, more-efficient inter-cooled supercharger system, which offered 52 percent more displacement than the aforementioned Zo6's LT4 supercharger.  Additionally, the 2019 Corvette ZR1 featured GM's first-ever dual-fuel-injection system, which employed both primary direct injection and supplemental port injection.
The 2019 ZR1 elevated Corvette's track capability by offering consumers two wind tunnel-developed aerodynamic packages, both of which helped distinguish the car as the fastest production Corvette to date.  The first package – which featured the standard rear Low Wing  – offered consumers the option to achieve the fastest speeds on the track.  The optional High Wing offered consumers an available two-way-adjustable high-wing that produced maximum downforce on the track – about 60 percent more downforce than the 2019 Z06 with the available Z07 Performance Package.  Both variants of the 2019 Corvette ZR1 also featured a Chevrolet first – a downforce-enhancing front underwing.
While there's no question that the ZR1 was the center-piece of the 2019 Corvette model year, its arrival was still somewhat overshadowed by the certainty that GM was close to unveiling the eighth-generation, mid-engine Corvette!  In fact, the ZR1's introduction was the only appreciable change to the seventh-generation Corvette that year.  The base models, the Grand Sports, and the Z06 Corvettes all returned for the final model year as well, but without any significant changes to any of these "lesser" models.
Chevrolet did introduce two new paint colors for the 2019 Corvette – Elkhart Lake Blue and Shadow Grey.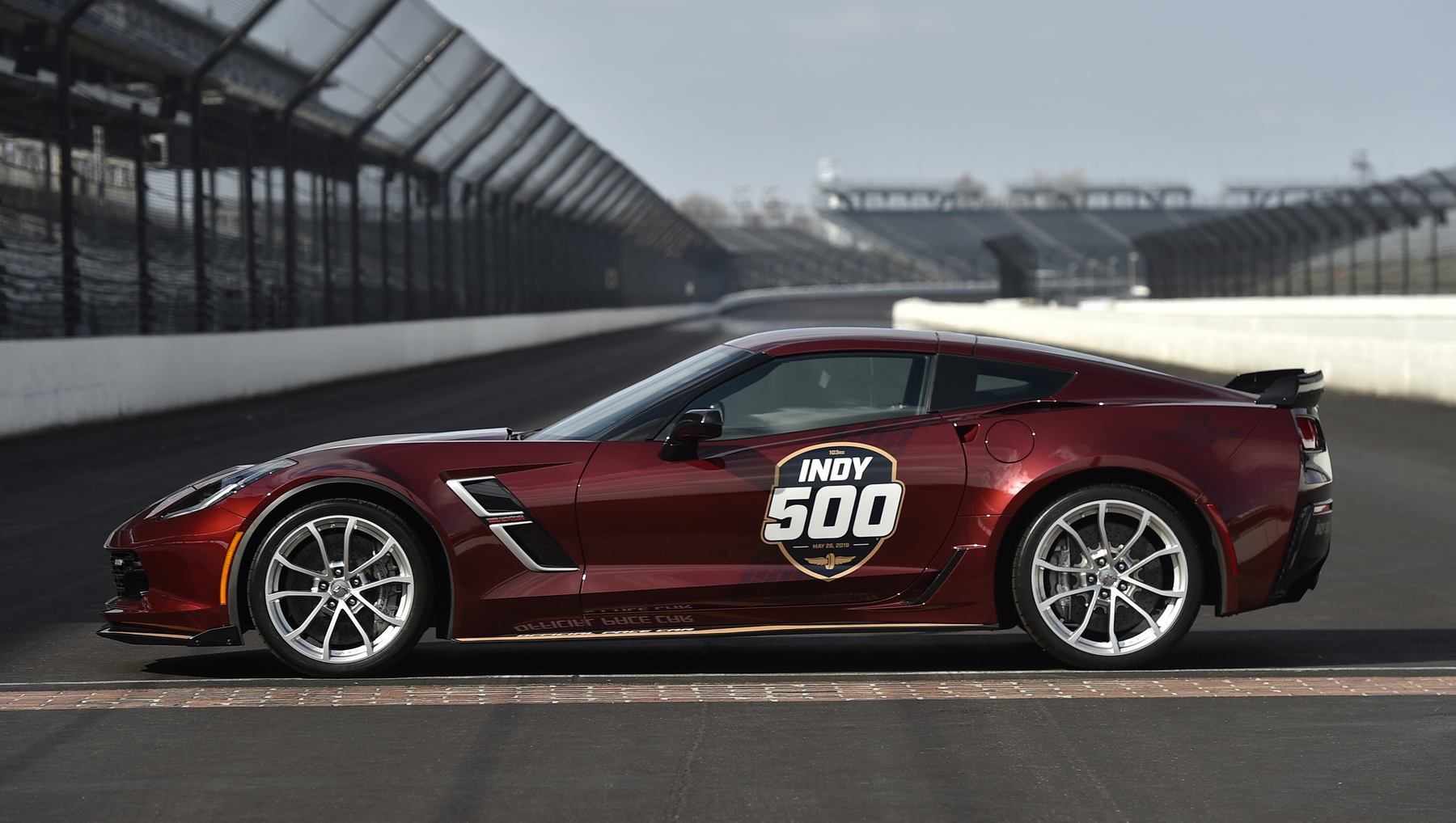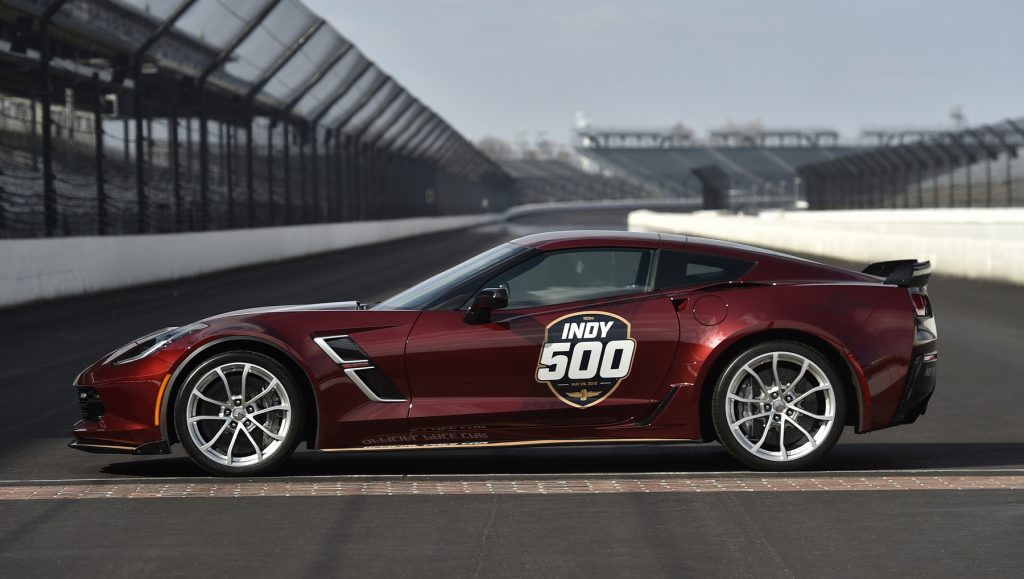 Additionally, for the 2019 running of the Indianapolis 500, Chevrolet announced that a Corvette Grand Sport Coupe would serve as the official pace car. The 2019 Corvette Grand Sport Pace Car was finished in Long Beach Red Metallic Tintcoat.  It received unique GM-designed Indy 500 decals and silver racing stripes.
C7 Corvette Stingray Buyers Guide
As we stated at the beginning of this C7 Corvette Buyers Guide article, for many of you reading this, the thought of buying ANY Corvette may be the culmination of a life-long dream.  It is important therefore to make sure that the car you purchase is going to be one that provides you many years of happiness.  While owning a Corvette can be an exhilarating, truly-one-of-a-kind experience, it can also be difficult and costly if you purchase a car without doing your homework first.
So where to start?
Whenever considering the purchase of a used vehicle, it is important to glean as much information about the car as possible.  As a general rule, a car with the lowest possible mileage and fewest owners is always preferable.  However, lower-mileage often translates into bigger dollars.  Higher-mileage Corvettes, if properly maintained (and with documentation showing proper maintenance history) are also definitely worth considering.  While these cars should definitely be looked at by someone with a trained and discerning eye, they can often be purchased at a far more affordable price and might be a great way to enter into Corvette ownership without breaking the bank.
Accidents/Damage
The seventh-generation Corvette Stingray utilized a drivable chassis with non-structural SMC (sheet molding compound/composite) panels bonded to an underlying structure.  Unlike earlier Corvettes, which featured a body bolted to a steel frame, these newer Corvettes have components that are specifically mounted to the chassis via an epoxy-type bonding material.  When looking at a prospective purchase vehicle, check for mismatched paint, narrow or wide gaps in body panels, and for paint overspray in the wheel wells.
In addition to body panels, look for scrapes beneath the car.  All seventh-generation Corvettes, save for those "garage queens" that have spent most of their lives tucked neatly away in a garage somewhere, will have at least a bit of road rash. Remember that all Corvette are going to have some amount of surface scrapes, but be wary of any cars that have significant damage to any sub-assemblies.  Dings, dents, serious abrasions, etc., are all indicators of a potential problem, so evaluate each closely when looking at the car.
CarFax/AutoFax or Insurance Claim History
One of the most insightful things any prospective car owner can do is to obtain a vehicle history report on any seventh-generation Corvette you might be considering.  It will give you a detailed look at the car's service and accident history.  It will identify how many owners (before you, potentially) owned the car you are considering, for how long, and how many miles they put on the car.  It will show a complete vehicle service history including any recalls/service bulletin work that may have been performed.  It will let you know if the car has been involved in an accident (or even multiple accidents) and/or if there any other concerns about the car that is worth noting (ex.// "rebuilt" or "salvage" title.)
Consider that the C7 Corvette (all years) is a late model production car and is definitely covered by services like CarFax.  Most reports cost less than $50.00.  While they may not tell you everything about the car, they definitely provide you a snapshot of the car's history.  This may help you make a more informed decision before investing any significant time or effort into that particular vehicle.
A couple of things worth considering:
One, if you are working with a dealership and they refuse to share a CarFax (or similar) report with you, be wary of that dealership!  While there are certainly instances (especially with smaller dealerships) where these reports are not immediately available, consider that these reports are incredibly easy to obtain (thanks to the internet.)  They should be willing to provide you with this information as part of their service to you as a prospective customer.
When dealing with a private owner, we strongly encourage you to obtain your own CarFax report.  For most cars (and certainly for all seventh-generation Corvettes), the only information you'll need is the year, make model and the VIN number.  While sellers may already have a copy of the report that they are willing to share with you, obtaining your own copy ensures that you've got all the most current information from a neutral third party.
Vehicle Inspection
Before climbing behind the wheel of the car, take some time to give the car a thorough once-over, keeping a discerning eye open for a number of specific items, including:
Tires and Brakes
The C7 Corvette Stingray is known for using up tires quickly at a rate of about 15-20 thousand miles per set.  This is a result of the type of rubber compound used that enables the car to maintain greater levels of traction and to perform at high speeds.  Keep in mind that low tire tread does not necessarily indicate aggressive driving.  Corvette tires naturally wear more quickly than conventional streetcar tires, so low tread does not automatically equal burnouts.
High-performance tires are expensive and it's not uncommon to find C7 Corvettes on the market that have tread-bare tires on them.  Sellers will often list their cars after the tires wear out because of the cost of replacing them, leaving the buyer to take on that added cost after they make the purchase.
Should this be a deal killer?  Not at all.  Just remember that you are going to incur that expense, so use it as leverage when negotiating your sale price with the seller.
It is also worth noting that while the factory setup on Corvettes calls for run-flat tires (tires that can continue to be driven on after the tire has gone flat), it is generally agreed by most Corvette owners that conventional inflatable tires ride better, are quieter and last longer than the run-flats.  However, it is also worth noting that the C7 Corvette does not come equipped with a spare tire, so if you have a tire go down during any driving condition, you may find yourself stranded until help can come and assist you.
As for the C7's braking system?  Always make a point of checking both the brakes and rotors for signs of wear or aging.  Try and determine how much material is left on the brake pad surfaces.  Also, pay special attention to the brake rotors for pitting/scarring, especially on models equipped with ceramic brakes.  Like the tires, brake work on a Corvette can be expensive.  It can also be an indicator of aggressive driving based on how the pads/rotors are worn as well as by how many miles are on the Corvette itself.
Dealer Inspection
It is always a good idea to request your local Chevy dealership perform a complete used car check on any prospective Corvette you might be considering.  Chevy's technicians are specially trained to work on all Chevrolet vehicles, including the Corvette, and will be able to provide valuable insight into the condition of any prospective car.   GM mechanics can also run a complete electronic diagnostic of the car you are considering which may identify an issue (or issues) that should be addressed by the current owner.
Similarly, if the current owner of the Corvette had his/her car serviced at a local dealer or service garage, make a point of stopping and asking for a copy of the service records.   Like the CarFax report, this information can provide valuable insight into the Corvette you are considering and will help you make the most informed decision possible.
Drive It!
This is one of the most important and valuable parts of the car buying process, but maybe not for the reasons you think.  For many consumers, test driving a "new to them" car is no different than driving a brand new car off the showroom floor.   They take the car out for a quick spin, play with all the switches, dials, and buttons on the radio, make sure everything more or less works, and return quickly to complete the deal.
The test drive is your only true opportunity to fully assess the condition of the car you may be considering purchasing.  When you get in the car, turn off the radio immediately and ask the seller to hold off on any further conversation until you complete the test drive.  If he/she decides to travel with you, make sure they understand that the purpose of the test drive is to identify any unknown squeaks, rattles, rumbling, etc.
Be intentional during the test drive to listen for any clunks, rattles, whines, or any other sound that might cause you alarm.  Does the car hesitate or stumble during acceleration? Does the car discharge any smoke (white or black?) Does the removable roof squeak (believe it or not, this is actually commonplace on many C7 Corvettes, and does not necessarily indicate a problem), is the car equipped with any aftermarket modifications?
If the answer is yes to any of these, take note of each issue and address it with a qualified mechanic.  Failure to do so will likely lead to expensive repairs later.  Remember that almost everything on a Corvette is more expensive, so you don't want to buy into somebody else's problems before you've even had time to enjoy your new car.  By the way, roof squeaking during driving conditions (especially during colder driving conditions) is simply the natural body flex of the car.  Most removable roofs make some amount of noise.  While this can be mildly irritating, it is no cause for alarm.
Prior to starting your test drive, make sure the Corvette you are considering has a full set of functional lights, blinkers, power accessories, seats, windows etc.  Take the time to check that everything operates as it is supposed to.  Turn the radio on long enough to make sure it works and listen long enough to ensure that the speakers sound clear (buzzing or crackling can indicate a blown speaker).  Check the wipers and the washer fluid, check the heat and air conditioning controls, the Heads Up Display (if so equipped) including the HUD controls (located to the left of the steering wheel), all of the vehicle information center buttons (located to the right of the steering wheel), the navigation system (if so equipped), cruise control, fuel tank release, hood release,  the parking brake (especially on cars equipped with manual transmission) and even the adjustable suspension system (again, if so equipped.)
Check Recall Data
Even if everything checks out up to this point, there are a few more items worth checking.
Ask the seller (dealer or private owner) for a list of recalls that have been performed on the vehicle.  Every C7 Corvette has a list of recalls that have been issued for each model year (you can find the recalls for most seventh-generation models on our website by visiting the model year page (links to each model year can be found earlier in this article under the section "Year by Year – What Are the Differences?")).
In theory, any recalls that have been issued should be performed/completed by an authorized GM dealership.  If the Corvette you are considering has been maintained by a Chevy dealer, these recalls would normally be scheduled during regular maintenance appointments and completed while the vehicle is in for service.  The Federal Government requires that all recalls are performed to bring the car up to proper specifications.  Obtaining this information from the seller is another measure of the care the car received from its previous owner.
Check the Factory Door Sticker
This final item might be a small detail, but definitely one worth noting.
The Factory Door Sticker will is located on the driver's side outer door jamb.  It contains a bunch of information about the Corvette you are looking to purchase including the VIN number and a breakdown of the options included on that particular car.  The VIN number on the sticker should match the VIN on the car.  If it doesn't, or if the sticker is missing, this could indicate that the car was involved in an accident that required the door to be replaced.  This is definitely NOT the only instance where the sticker may be missing, but its absence should be cause for some concern, given that it contains vital information about the car.
While most Corvette owners are ethical and part of a global community that contains some of the finest enthusiasts and owners in the world, it is also an unfortunate reality that many Corvettes do end up being stolen, stripped and sold for parts, or involved in some sort of serious accident before being rebuilt.  Taking time to evaluate all of the information – from closely inspecting the vehicle to looking for clues like a potentially missing door sticker – will help make the best choice when purchasing your first, or next, Corvette!