C6 Corvette Engines – The Full List & Guide
When developing the sixth-generation Corvette, those within GM's design and development seemed to be on a mission of sorts. This mission, of course, was to engineer a Corvette that built upon the line's performance legacy, and ensure that all doubters and critics were silenced. By all indications, this is a mission that was fulfilled.
The Corvette's engine bay was host to several outstanding GM powerplants during the C6's nine-year production run. From the base 6.0-liter LS2 to the ZR1's beastly 6.2-liter LS9, the C6-era was never short on performance. As a result, the Corvette soon found itself on the same stage as a number of perennial performers within the foreign market, including Porsche.
The following is a comprehensive guide to Corvette powerplants offered during the C6 era.
LS2 346CI 6.0L: 2005-07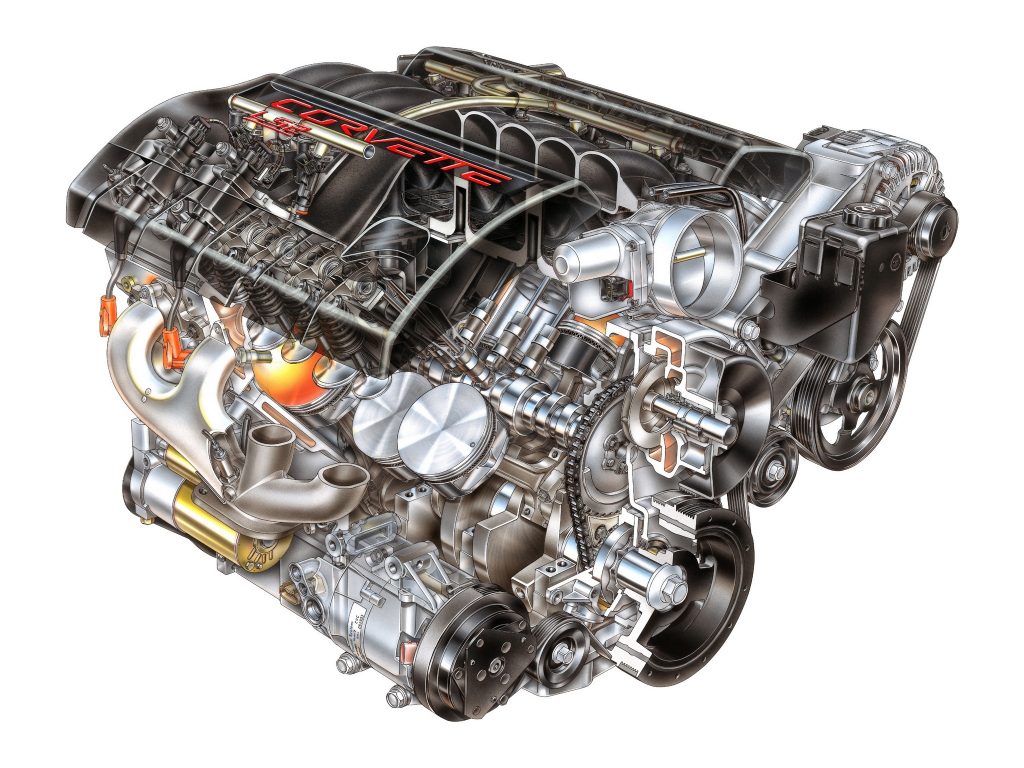 The LS2 served as a direct continuation of GM's LS small-block program, which began during fifth-generation production. However, certain liberties were taken in a bid to increase the LS2's output. The LS2 received an increase in cylinder bore diameter (4.00"), which also resulted in an increase in displacement, now totaling 364.1 cubic inches.
Interestingly, the LS2 utilized the same "243" casting heads that were used during LS6 production. However, sodium-filled valves were not employed in this application, nor was the use of the LS6's exceedingly aggressive camshaft.
The LS2 was also designed to facilitate the use of GM's new Active Fuel Management technology. This was accomplished with the introduction of specialty collapsible lifters and Lifter Oil Manifold.
Additionally, the LS2 received a revised exhaust manifold, which weighed approximately ⅓ less than its LS1 counterpart. As a side benefit, the LS2's exhaust manifold also facilitated a 4-percent increase in flow rate. This, in turn, positively impacted the LS2's performance.
All things considered, the LS2 engine produced a total output of 400 horsepower @ 6,000 RPM, as well as 400 lb-ft of torque at 4,400 RPM. This was accomplished by way of a 10.9:1 compression ratio, with the use of gasoline rated at 93-octane, or greater.
LS2 Engine Specifications
Horsepower: 400 hp @ 6,000 rpm
Torque: 400 lb./ft. @ 4,400 rpm
Compression Ratio: 10.9:1
Displacement: 364CI (6.0L)
Cylinder Bore: 4.00 inches (101.6 mm)
Stroke: 3.62 inch (92mm)
LS7 427CI 7.0L (Z06): 2006-13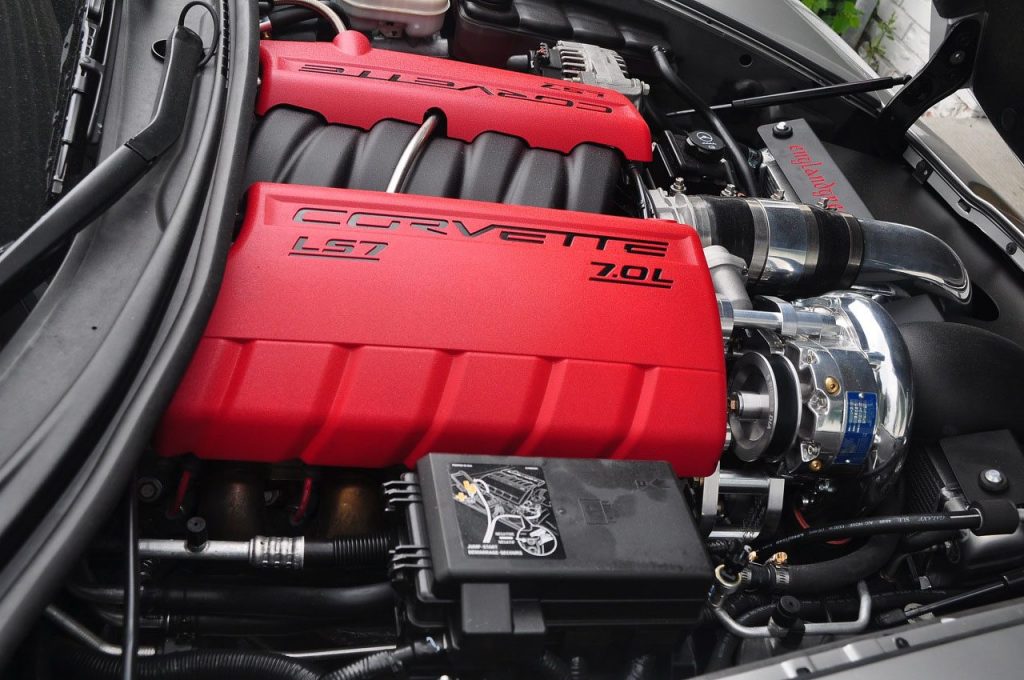 Building upon the popularity of the fifth-generation Z06 Corvette, those in the drafting room at GM understood that the release of a sixth-gen Z06 came as a matter of necessity. However, the decision was also made to withhold such a release, until a deservingly potent powerplant was developed. This would ultimately come in the form of GM's 7.0-liter LS7.
The LS7 was hand-built at GM's Performance Build Center in Wixom, Michigan, and featured an all-aluminum engine block, complete with thin-profile pressed-in liners. This powerplant also featured greater bore and stroke measurements (4.13×4.00 inches) than earlier iterations of the LS namesake. This yielded an increased engine displacement of 427 cubic inches.
Additional high-points of LS7 design included the use of specialty all-aluminum cylinder heads, complete with 2.2-inch titanium intake valves, and 1.6-inch sodium-filled exhaust valves. These heads were topped with a free-flowing CNC-machined intake manifold, designed to provide maximum inlet air delivery.
The LS7 proved quite capable, both on the street and track. This powerplant produced a peak output of 505 horsepower and 475 lb-ft of torque. The LS7-equipped Z06 posted 0-60 MPH times of just 3.5 seconds and could complete a ¼ mile pull in approximately 11 seconds.
LS7 Engine Specifications
Horsepower: 505 hp @ 6,200 RPM
Torque: 475 lb./ft. @ 4,800 RPM
Compression Ratio: 11.0:1
Displacement: 427 CI (7.0 L)
Cylinder Bore: 4.13" (104.8 mm)
Stroke: 4.0" (101.6mm)
LS3  376CI 6.2L: 2007-13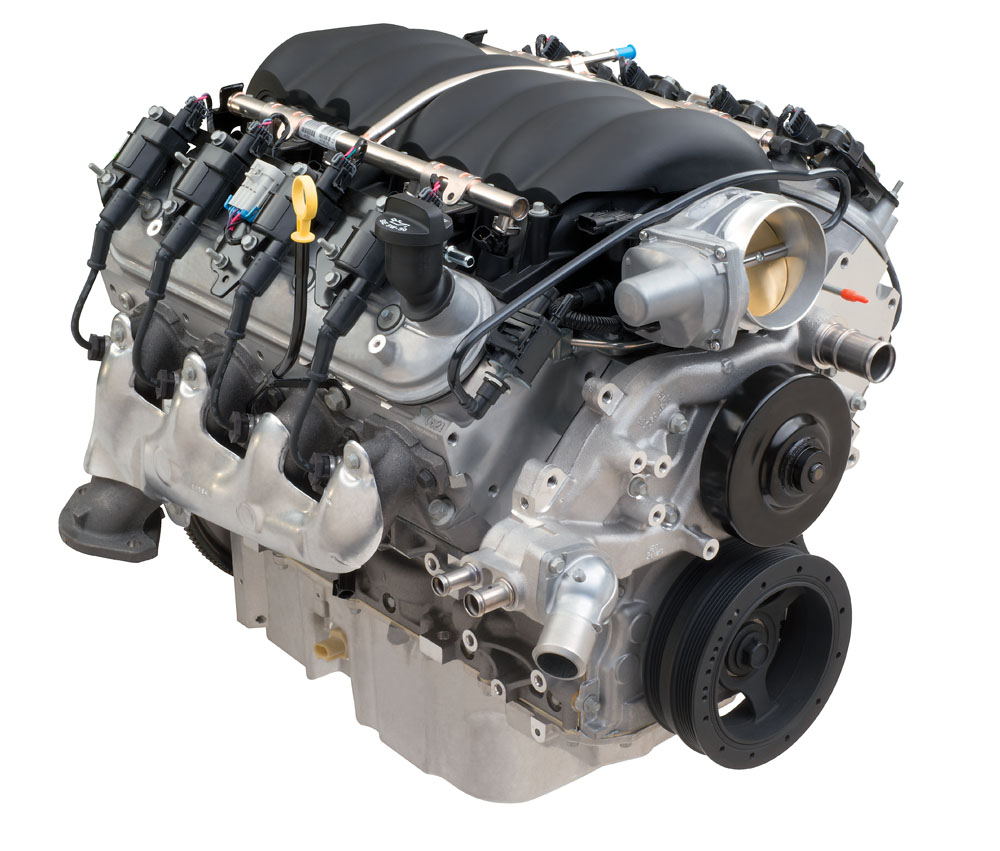 The LS2 had hardly reached a well-tenured status before its ultimate successor entered development. The staff within GM's design and development department set out to engineer a more efficient, cutting-edge variant of the earlier LS2, which would burn cleaner without sacrificing anything in the way of performance accuracy. Building upon data recorded by the Corvette Racing Team, the LS3 entered production in record time, ultimately debuting in 2007.
The LS3 was constructed with a cast-aluminum engine block, complete with a nodular-iron crankshaft and six-bolt, cross-bolted main caps. The LS3's displacement was also increased, over its LS2 predecessor, now measuring 376 cubic inches. This came on behalf of 4.065" cylinder bores, and a 4.065" stroke.
Also of note, was the LS3's use of specialty high-flow cylinder heads, which featured new, rectangularly-shaped intake ports. The LS3 also featured larger, Z06-spec 47 lb fuel injectors, and a notably more aggressive roller camshaft, which exhibited 5-percent greater lift than was offered by the outgoing LS2's cam.
In total, the LS3 produced 430 horsepower @ 5,900 RPM, as well as 424 lb-ft of torque. However, when paired with GM's Dual-Mode exhaust system, the LS3 produced 436 horsepower and 428 lb-ft of torque, respectively.
LS3 Engine Specifications
Horsepower: 430-436hp @ 5,900 rpm
Torque: 424-428 lb-ft @ 4,600 rpm
Compression Ratio: 10.7:1
Displacement: 376 CI (6.2L)
Cylinder Bore: 4.065" (103.25 mm)
Stroke: 3.622" (92mm)
LS9 376CI 6.2L (ZR1): 2009-13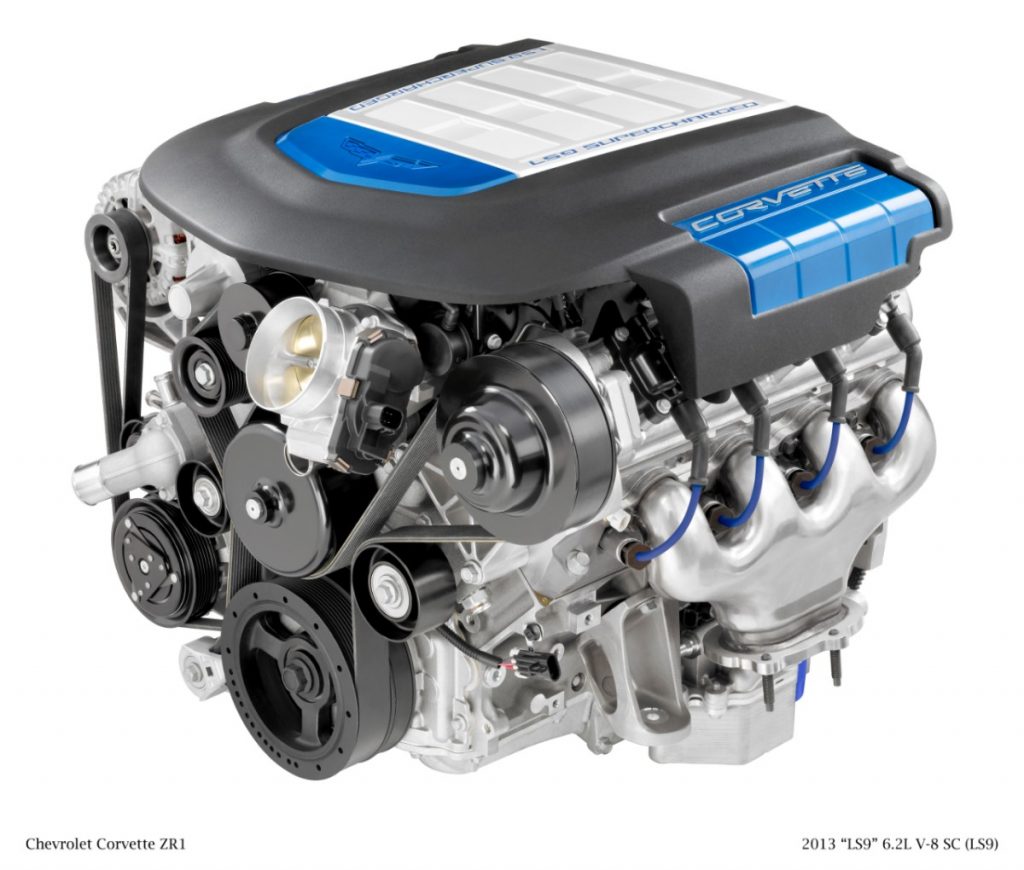 The 6.2-liter LS9 serves as proof-positive that nothing stops GM's development team from producing their most powerful Corvette to date when hell-bent on doing so—not even a financial crisis of epic proportions. Born out of the economic downturn of 2008, the LS9 certainly became one of the most infamous engines that almost never was.
The LS9 featured a 319-T7 aluminum block, complete with a dropped-forged micro-alloy steel crankshaft, cast-iron cylinder liners, titanium connecting rods, and polymer-coated forged pistons. This powerplant featured 4.065" bore diameters, and a stroke of 3.622", ultimately totaling 327 cubic inches of displacement.
The LS9 most notably included a sixth-generation, 2.3L Roots-style supercharger, which provided the engine's free-flowing intake manifold with a much higher volume of air than would have otherwise been obtainable. This supercharger is of a four-lobe design, with a maximum operating output of 15,000 RPM. Upon discharge, this air is routed through a specialty twin-brick style intercooler.
Without question, the LS9-equipped ZR1 Corvette was not for the faint of heart. This powerplant produced a total output of 638hp @ 6500 RPM, and 604 lb-ft @ 3,800 rpm while propelling the ZR1 to 60 MPH from a standstill in only 3.4 seconds.
LS9 Engine Specifications
Horsepower: 638hp @ 6500 rpm
Torque: 604 lb-ft @ 3,800 rpm
Compression Ratio: 9.1:1
Displacement: 376 CI (6.2L)
Cylinder Bore: 4.065" (103.25 mm)
Stroke: 3.622" (92mm)