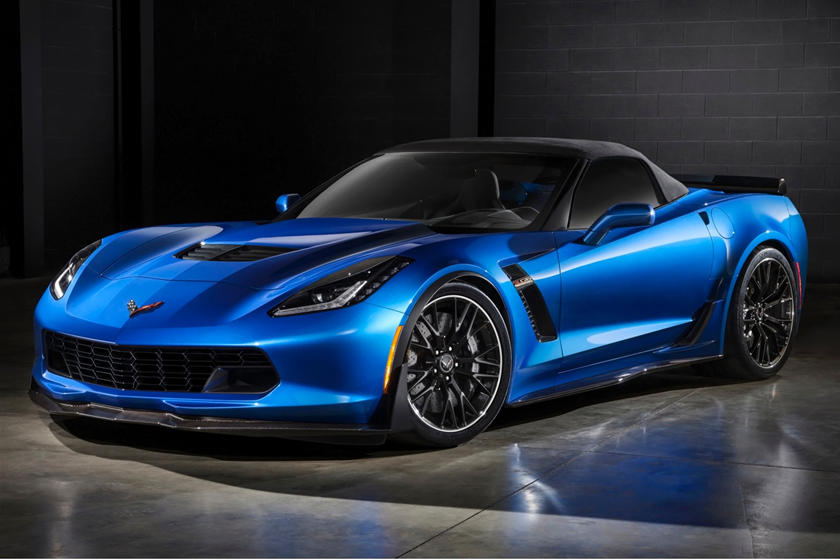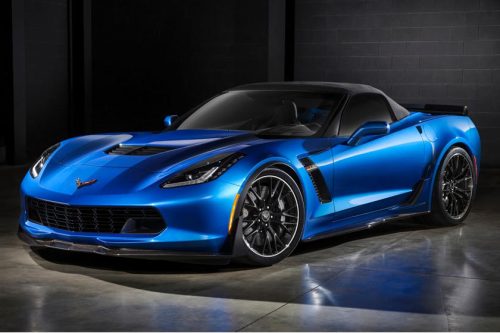 2018 Corvette – The Ultimate Guide
As has been customary with many of the milestone anniversaries of the brand, the 2018 Corvette Stingray was celebrated with a Special Edition model that marked the 65th Anniversary of America's Sports Car.  Although rumors of a mid-engine Corvette were already becoming the dominant topic whenever the brand was mentioned, Chevrolet maintained its focus on the C7 Stingray platform with the introduction of the Carbon 65 Edition Corvette.  The car, which was offered to consumers as either a Grand Sport 3LT or Z06 3LZ model, was specially designed to celebrate the history and heritage of Corvette since its introduction in 1953.
The Carbon 65 Edition Corvette
The Carbon 65 Edition Corvette blends visible carbon-fiber exterior elements – most notably, a new carbon-fiber rear spoiler and quarter ducts – with a new Ceramic Matrix Gray exterior color.  On convertible models, the Cermaic Matrix Gray exterior was paired to a blue top.  Each of the Carbon 65 Edition Corvettes received unique fender stripes and door graphics, special black wheels with special center caps and machined grooves paired with summer-only tires, blue brake calipers, visible carbon-fiber ground effects, visible carbon fiber on a section of the hood and roof (on coupe models) or tonneau inserts (on convertible models.)  All variants of the Carbon 65 received new, visible carbon-fiber spoilers, special carbon flash badges and outside mirrors, and Carbon 65 Edition sill plates.
One of the few visual differentiatiors between the Grand Sport and Z06 models (aside from the badging on the cars) was the type of wheels included with each model.  All 2018 Carbon 65 Grand Sport models were paired with a Cup-Style wheel while its Z06 counterpart received Blade Style Wheels.
Moving to the car's interior, each Carbon 65 Corvette received a Jet-Black suede-wrapped cockpit with special blue stitching, a carbon-fiber steering wheel rim and gloss carbon-fiber interior trim elements along with Competition Sport seats.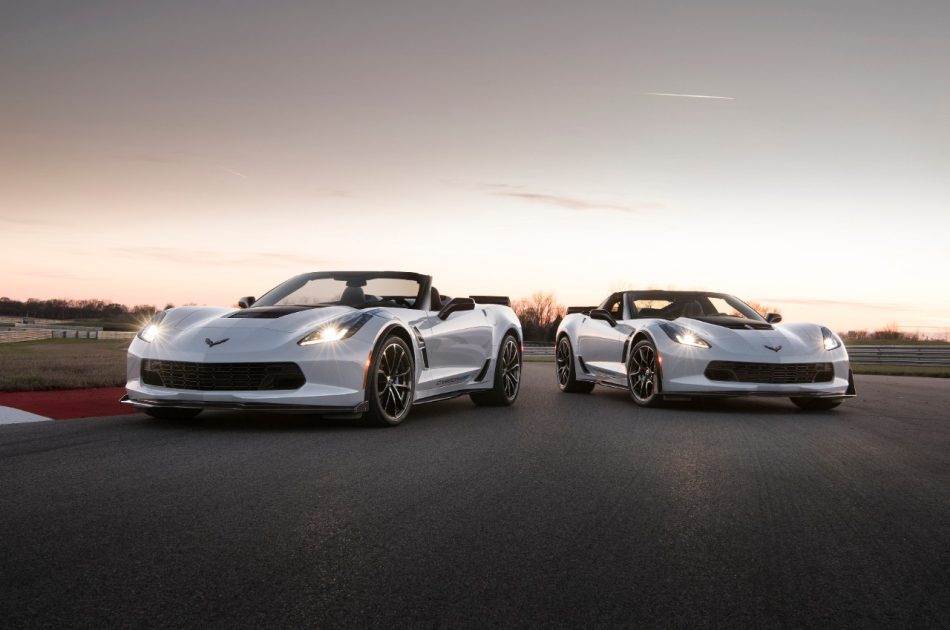 "Corvette is one of the most storied names in Chevrolet and sports car history, with a heritage few can match," said Paul Edwards, U.S. vice president Chevrolet Marketing. "The new Carbon 65 Edition honors that legacy, while offering customers another unique, special-edition model that personalizes the ownership experience."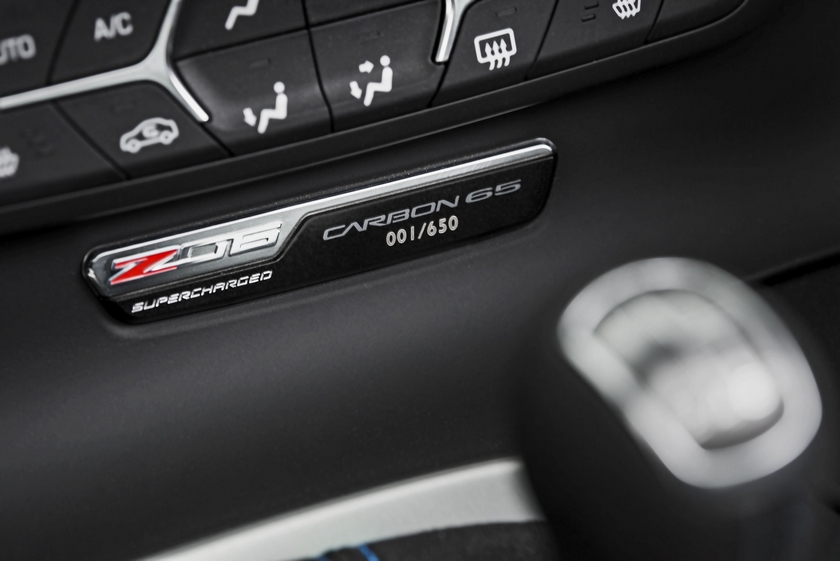 A limited global production run of just 650 Carbon 65 Corvettes were manufactured in 2018 – 297 of which were Grand Sport models and the other 353 were Z06's.   Of the 650 cars built, Chevrolet exported a total of just 150 units, with 127 of them headed to Europe, 49 to Canada, 17 to the Middle East, 12 to Mexico and 8 to Japan.
The price of a 2018 Carbon 65 Corvette added $15,000.00 to the price of the Grand Sport or Z06 when so optioned.  Prices on the 2018 Grand Sport Carbon 65 hardtop started at $81,490 and climbed to $99,490 for the Z06 Convertible.  This pricing excluded any shipping, taxes or destination charges.
The 2018 Corvette Stingray Coupe, Convertible and Grand Sport Models
Although the big announcement for 2018 was the introduction of the Carbon 65 Edition Corvette, the engineers at Corvette were still looking at ways to refine and improve upon the base model coupe, convertible and Grand Sport models.  Most of the options offered in earlier iterations of the C7 Stingray were carried forward once more for the 2018 model year.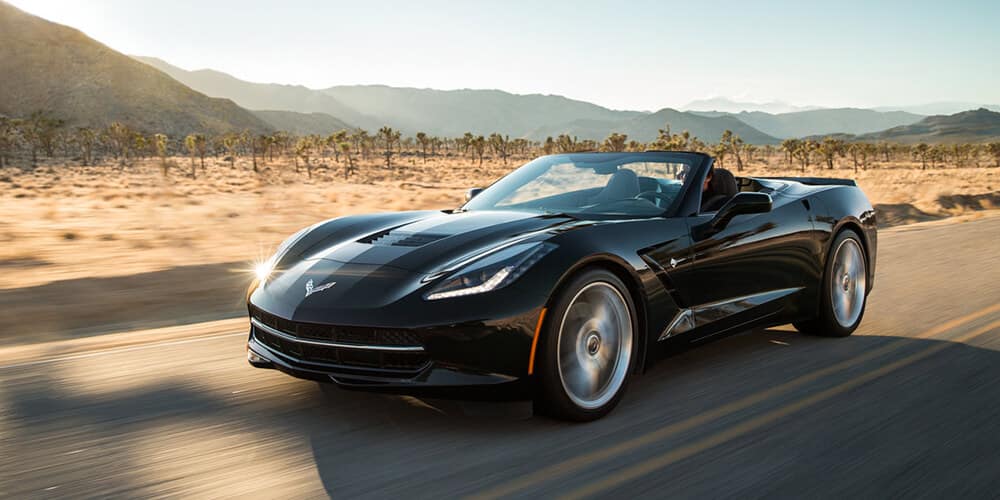 Structurally, the 2018 Corvette Stingray was composed of lightweight materials, which included an aluminum frame, a carbon fiber hood and removable roof panel, composite fenders, doors and rear quarter panels.  Additionally, carbon-nano composite underbody panels were installed to help the car achieve an optimal 50/50 front-to-rear balance.
All variants of the Corvette (including the Z06 – more below) were offered in three different trim packages – 1LT, 2LT and 3LT (or 1LZ, 2LZ and 3LZ for the Z06).  While each of these packages included specific equipment and upgrade components, the offerings were largely the same as in years past.
The 1LT was essentially a "base package" that offered standard equipment including:
6.2L V8 Engine (455hp & 460lb-ft torque)
Rear Wheel Drive
Dual Exhaust w/3-Inch Polished Exhaust Tips
Z51-Style 5-Split Spoke Aluminum Wheels (Front – 19"x 8.5") (Rear – 20" x 10")
Carbon-Fiber Removable Rood Panel
High-Intensity Discharge Headlamps (HID)
Chevrolet MyLink 8-Inch Touchscreen w/BOSE 9-Speaker Audio System
GT Bucket Seats w/Mulan leather seating surfaces
Driver Information Center w/reconfigurable 8-inch color display
Dual-Zone automatic climate control
Power tilt/telescope steering wheel
Keyless Ignition and Locks
Body-Color Removable Carbon Fiber Roof Panel
Drive Mode Selector (w/five modes)
Bluetooth, OnStar & OnStar 4G LTE w/built-in WiFi
4-Wheel Ventilated Brakes (w/ABS & panic brake assist)
The 2LT Package included all of the offerings of the 1LT package plus these additional items:
Heated & ventilated seats
Power Seats (w/power bolsters & lumbar support)
2LT Seat Trim, console, armrests & instrument panel trim
Heads-up display
Curb view front camera
BOSE 10 speaker audio system
Heated, power outside mirrors
Memory package for 8-way seats & steering wheel
Universal Home Remote
Frameless inside mirror
Theft Deterrent System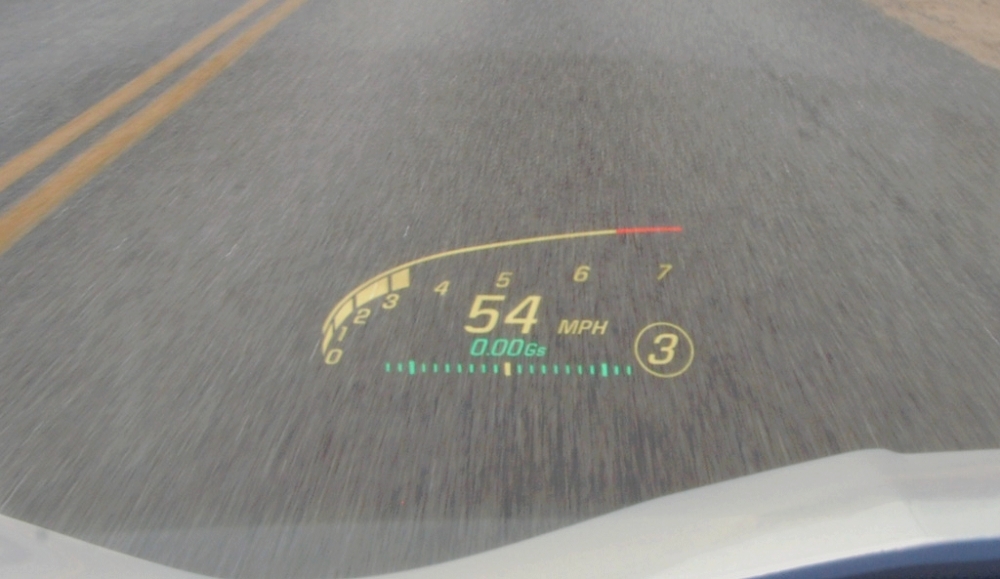 The 3LT Package (the highest available package for the Corvette Coupe, Convertible and Grand Sport platforms) included all of the equipment in the 1LT and 2LT packages plus these additional items:
Upgraded MyLink Touchscreen Display w/NAVigation, Apple CarPlay & Android Auto
Performance Data Recorder
Perforated Napa Leather Seats
Custom Leather-Wrapped Interior Package (w/leather-wrapped upper instrument panel, door trim, and console storage cover)
Sueded Microfiber-Wrapped Upper Interior Package (w/headliners, visors, trim above windshield, rear window, A-pillar trim & area around quarter window)
While these packages already offered consumers an incredible amount of infotainment and performance-enhancing technology to augment the driver experience, Chevrolet did offer a few additional performance-inspired refinements for the 2018 model.  Most of these "refinements" were really enhancements to equipment packages already included in the various trim levels, they nonetheless provided consumers with new options to consider that would separate their 2018 model from earlier seventh-generation Stingrays.
Outwardly, the 2018 Corvette Stingray now featured standard 19-inch front and 20-inch rear wheels.  These wheels were derived from the optional wheels that were previously included with the Z51 package.  They replaced the standard 18-inch front/19-inch rear wheels previously included on earlier base model Corvette coupes, convertibles and Grand Sports.  In addition to upgrading the size of the standard wheels, Chevrolet offered consumers five new wheel design options, including both a "Torque" and "Motorsport" design.  Additionally, Magnetic Ride Control was offered for the first time as a stand-alone option.  Like the larger wheels, it had previously been bundled with the Z51 package.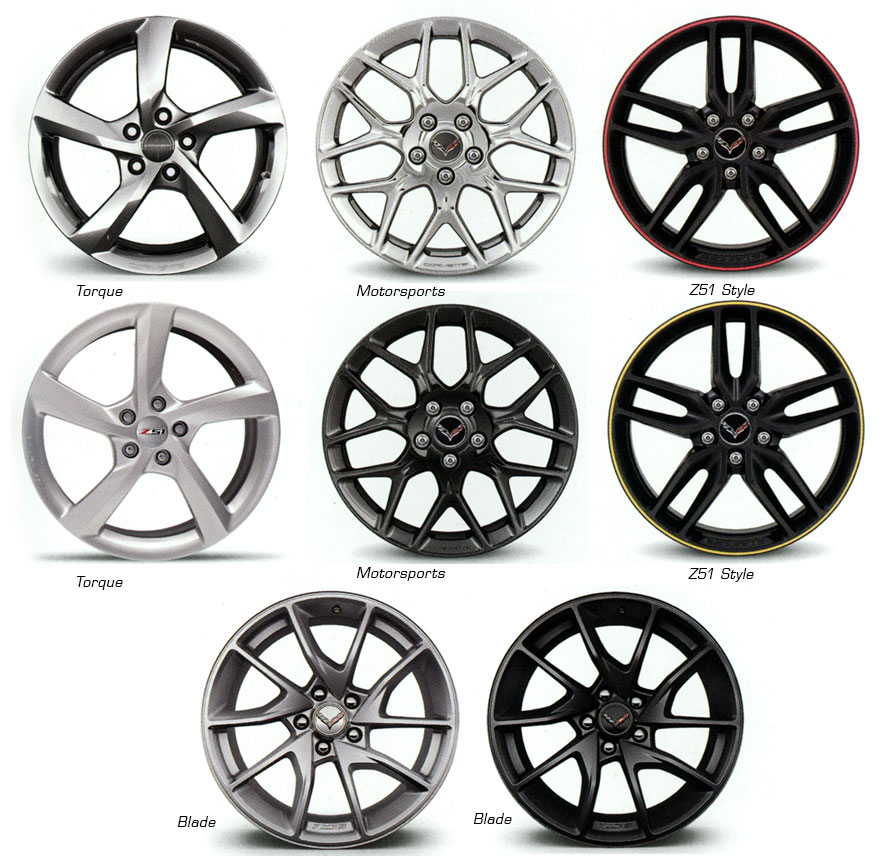 A number of refinements were also made to the technology built into the cars.  These included:
An HD Digital Radio was now standard equipment.
The rear-view camera was improved upon, providing a better image when driving in reverse.
The optional Performance Data Recorder (with Cosworth Toolbox) added four additional data channels: one that racked individual wheel speeds, one that tracked individual suspension displacements, one that measured lateral yaw rates while the car was in motion and one that measured both the intake and ambient air temperatures.
The Heads-Up Display received enhanced graphics and data for even better real-time driver data.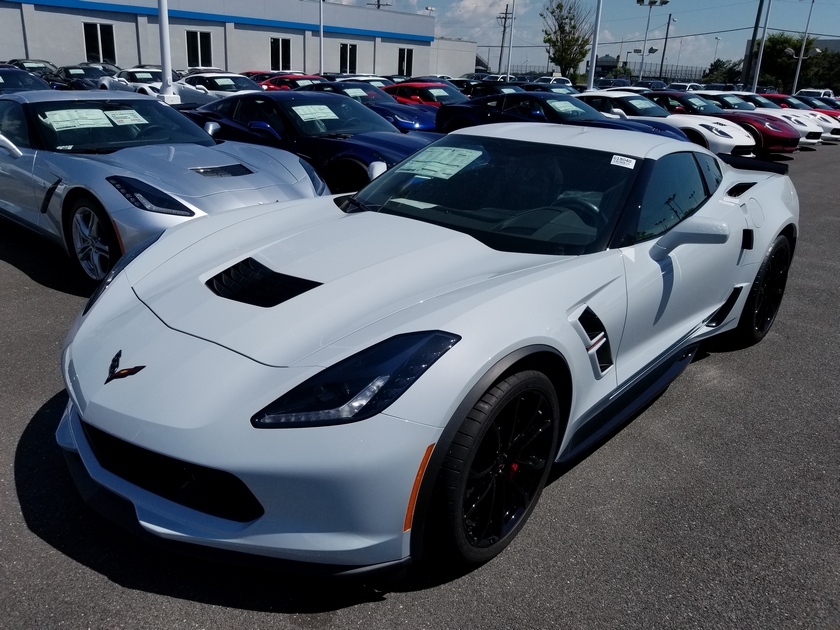 From a visibility standpoint, the most visible changes for the 2018 Corvette Stingray came in the color choices offered. For 2018, Ceramic Matrix Gray replaced Sterling Blue for the exterior.  A Spice-Red convertible top was offered and a Spice-Red interior was offered on all 3LT and 3LZ trim packages.  A Jet Black suede-wrapped interior was offered and included a carbon rim steering wheel and gloss carbon fiber interior trim elements.  A new interior color stitching package was also offered which included either red, yellow or blue stitching on surfaces of the interior (when so ordered as part of the 3LT and 3LZ trim packages.)
The 2018 Z06 Corvette Coupe and Convertible
Much like its less-powerful counterparts, the 2018 Corvette Z06 Coupe and Convertible returned featuring most of the same technologies and optional offerings as had been available when purchasing earlier models of the Z06 Corvette.  Like other C7 Z06's that came before it, the 2018 model features an LT4 supercharged 6.2L V8 engine that was SAE-certified at 650 horsepower and 650 lb-ft of torque.  While this would be surpassed a year later by the 2019 Corvette ZR1, the 2018 Corvette Z06 was (up to that point in the brand's history) the most powerful production Corvette ever built and made available to consumers in the open market.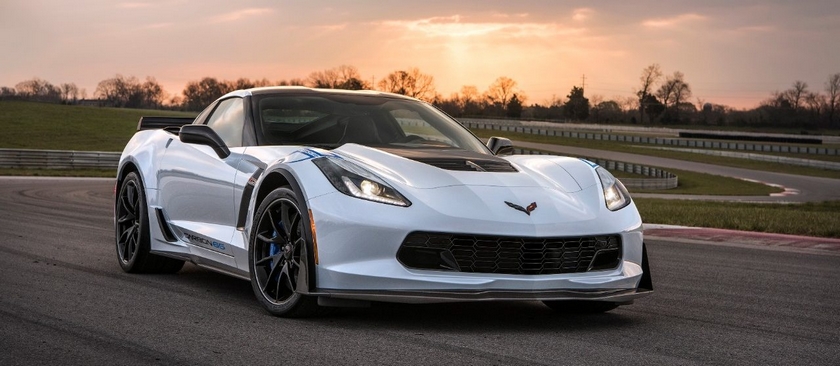 The car boasted other features that set it apart from the standard coupe and convertible models.  For starters, the car featured standard Michelin Pilot Super Sport P285/30ZR19 front tires.  These tires were 1.5 inches wider than those found on the base Stingray models.  The rear wheels received 335/25ZR20 tires that were two inches wider.  Additionally, the car featured a unique, purpose-driven exterior that featured a number of components designed to reduce lift and accommodate the cooling requirements for the engine and braking systems.
Once more, the 2018 Corvette Z06 featured a five-position Drive Mode Selector that tailored 12 vehicle attributes to fit the driver's specific operating environment.  It also featured standard Magnetic Ride Control and Performance Traction Management.  An available Z06 package added adjustable front and rear aero components for unprecedented aerodynamic downforce, Michelin Sport Cup 2 Tires for enhanced grip, and Brembo carbon ceramic-matrix brake rotors that offered improved braking performance while contributing to greater handling through reduced unsprung weight.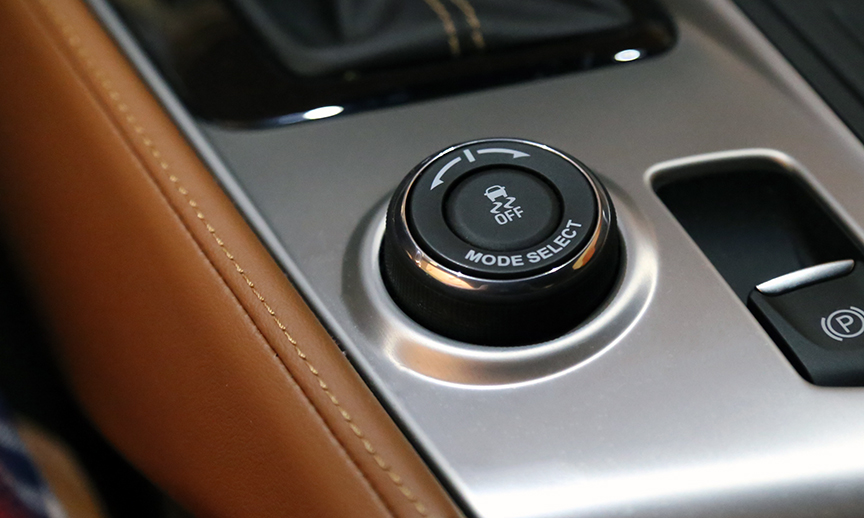 Like the Coupe, Convertible and Grand Sport models, the 2018 Z06 Corvette did receive a few refinements for this model year, including:
All Z06 Corvettes included two new wheel choices: a black Z06 wheel with yellow stripe and a Pearl Nickel Blade design.
A Gray Interior was offered
Spice Red convertible top
Spice Red interior offered on 3LT and 3LZ trims
Jet Black sueded-wrapped interior includes carbon rim steering wheel and gloss carbon fiber interior trim
New interior color stitching packages (red/yellow/new blue) offered on 3LT and 3LZ trims
HD digital radio standard
Available Performance Data Recorder/Cosworth Toolbox offers four additional data channels: individual wheel speeds, individual suspension displacements, yaw rate and intake and ambient air temperatures
Improved rear-view camera image
Enhanced Head-Up Display rotation setting
The Return of the King
By the end of 2017, there was a maelstrom of information (and mis-information) on the internet speculating about the arrival of two new Corvettes – a seventh-generation Corvette ZR1 and a possible mid-engine variant that was (at least at that time) more theory than substance.  Still, there was considerable buzz throughout 2017 that a new super-car edition of the C7 Corvette Stingray was under development.  As images of test-mules began surfacing across the internet, it became clear that Chevrolet was at work on something big – something powerful.  Speculation abounded but most agreed – Chevrolet was in development of another ZR1 edition Corvette.  Moreover, the ZR1 would be known as the "swan song" for the seventh-generation Corvette.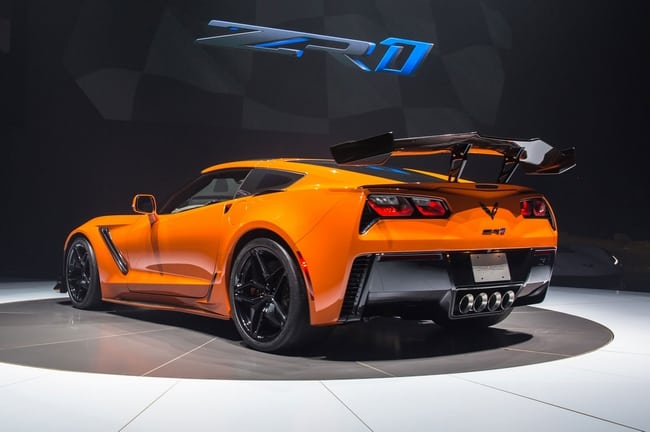 On November 12, 2017, Chevrolet officially unveiled the all-new Corvette ZR1 as a 2019 model.  The car boasted a powerful LT5 6.2L V-8 supercharged engine which dramatically advanced the supercharging technologies first introduced in the 2009 sixth-generation Corvette ZR1 and continued with the 2015 seventh-generation Z06 Corvette.  The engine, which was officially rated with an SAE-certified 755 horsepower (563 kW) and 715 lb-ft of torque (969Nm), established an entirely new benchmark in Chevrolet performance.  The 2019 Corvette ZR1 was unveiled in Dubai  and was finished in the Sebring Orange Design Package.  The car, whose exterior was finished in the Sebring Orange Tintcoat, also includes orange brake calipers, orange rocker and splitter accent stripes, orange seat belts, orange interior stitching and unique, bronze aluminum interior trim.
The car officially went on sale in the spring of 2018 with an initial base price of $120,900, making it the first production Corvette to cost over one-hundred thousand dollars.