The build has been progressing smoothly, for the most part, with every episode reminding us how talented Carl is. Before we dive into today, if you missed any previous episodes for Carl's 10-second turbo build, (or need a review), here are the links: part one, part two, part three, part four, part five, part six, part seven, part eight, part nine, and part ten. Each episode is a quick read, with lots of pictures, with episodes two and three featuring some cool videos.
Viewer Advisory: This build has some serious meat on the bones, as Carl has some crazy technical skills (especially with electronics), and he is going to tap into all of them to turn his 1977 Stingray into a 10-second quarter-mile monster!
Last week after finishing numerous projects, Carl teased us with an announcement that a major milestone was about to be reached. So, without further hype, here it is, directly from Carl!
"Today, the car moved under its own power for the first time in 20 years!!!!
The first drive was to my friend Chris's shop."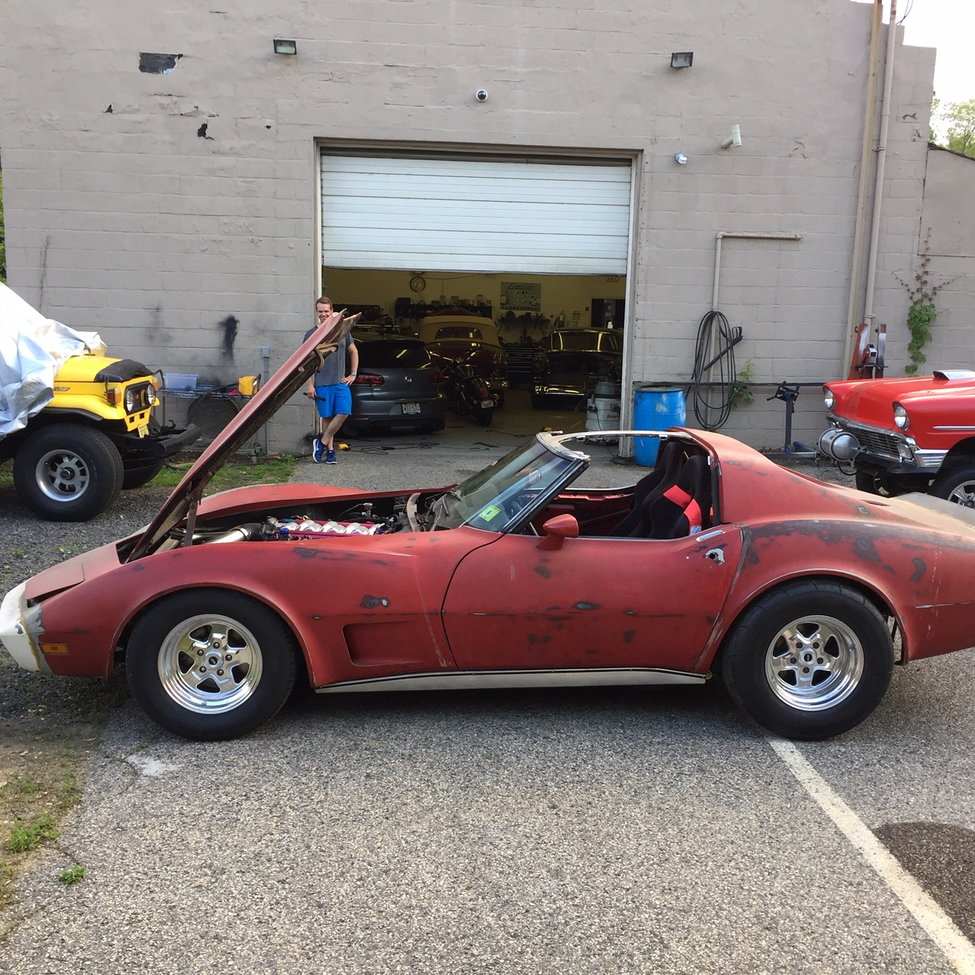 A huge congratulations to Carl! Here are more details about how that ride felt:
"I smiled so much my face hurt. It's been five years in my garage. The ride was short but great. Front end felt very soft, rear end much stiffer. Luckily I've got dual adjustable rear shocks. Sounded pretty good, the turbo really quiets things down. First comment I got was that it sounded like my BMW (also a turbo car)…"
Here is the exhaust side of the Corvette.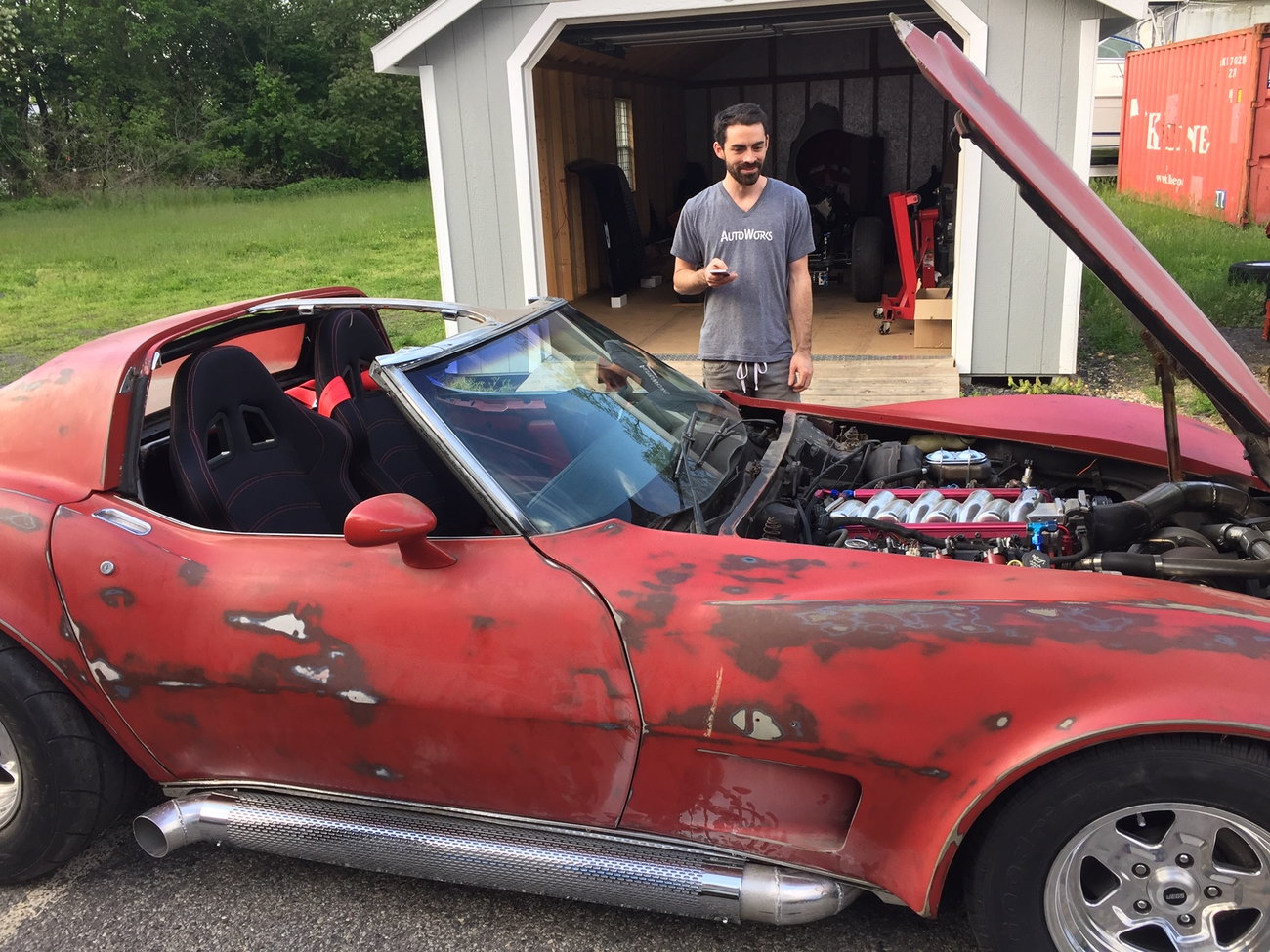 And readers, we have a surprise bonus video for you!
This means the build is done, right? Well, not exactly, if it were only that easy. There are many projects lingering before Carl's project is done and this 1977 Stingray is ready for the track. First, Carl remarks, "Just took about a 10 mile drive and I'm not liking the coolant temp. It went as high as 210, no steaming. Gets higher when I go faster and a little lower when I stop. I'm going to check that all the air is out of the system and if that's the case, I'm thinking that I may have made the supply and return hoses too small a diameter. Also I'm going to lower the target AFR from 14.7 to somewhere around 14 and see what difference that makes. The cold side of the radiator was at 160 and the hot side was at 220…"
After some quick troubleshooting, it was a much more straightforward diagnosis, with Carl noting, "Apparently, I was low on coolant and I also added an expansion tank. It stayed under 206 degrees this time with stock thermostat. Drove the Vette to its first Cruise Night. Behaved well, no issues."
The perfectionists will appreciate this next section, as Carl begins to list everything he would do differently after spending some time with his build on the road.
"Now that I've driven the car some, I can see that I could have done better on some designs. I think the rear shock are too short, not enough range. I was trying to build the shocks in an area where it wouldn't interfere with the body, so I went for a short shock. Maybe over the winter, I'll redo the rear shocks and mounts.
The rear spring is too stiff. Since it's a solid axle, the rear springs no longer have to support the weight of the rear end and all of the rear end supports. Now there is very little weight on the spring. Didn't think of that when I ordered the springs. I'll change that when I redo the rear shock mounts.
When I'm driving in 4th gear with the converter locked up, it stays engaged too long when I get off the gas or hit the brake. I'm going to change the lockup logic to look at the TPS and/or the brake pressure sensor to unlock the converter sooner. That's just a software change in the transmission controller.
When I changed over from the belt driven power steering pump to the A/C compressor, I also added a spring loaded idler in the serpentine belt setup. But I screwed up and put the idler in the wrong place. Now, I'm getting a little slip at the alternator under heavy load. Haven't decided how to fix that.
For the time being I have an air filter right at the turbo inlet which is picking up warm air from the radiator. I planned to build a cold air pipe but it will be a tight squeeze. Really wish I did that while the body was off.
The Ford 8.8 rear with 9″ internals came with 4.10 gears and posi. I've got no complaints since the entire rear cost me $100. But I'm thinking that I'll be doing more highway driving with this car than I originally planned, so I'm considering a lower gear ratio. I think I can still be in the 10s at the track with 3.31 or 3.55…"
As you can see, there is still a lot of "fun" left in this build, both for Carl and for us! We have the fastest-growing Corvette community on our Facebook page, with over 157,000 followers (38,000 since January!). Come join other hardcore enthusiasts and let me know what you think so far of Carl's 10-second turbo build, Douglas B.