The 2013 C6 Corvette Marks 60 Years of American Sportscar Leadership
The arrival of the 2013 Chevrolet Corvette was greeted with a lot of grandeur by Corvette owners and enthusiasts the world over.  In part, the 2013 Corvette was celebrated for marking the sixtieth anniversary of the beloved sports car.  Additionally, the 2013 Corvette marked the end of one era, and the imminent arrival of a successor –  one which would be unveiled early in the 2013 model year as the 2014 C7 Corvette Stingray during the annual "Corvette Bash" at the National Corvette Museum.  Ultimately, though, the 2013 Corvette represented the pinnacle of the C6 generation, and in keeping with tradition of earlier generations that had come and gone before it, the final C6 Corvette would celebrate its departure with a very special, "special edition" model.
Model:
2013 Corvette
Generation:
C6 Corvette
Type:
Coupe, Convertible, Z06 Coupe, 427 Collector Edition Convertible, Grand Sport Coupe, Grand Sport Convertible, ZR1 Coupe
Original Price:
$44,995.00 (Coupe)
$52,910.00 (Convertible)
$66,955.00 (Indy. Conv.)
$70,000.00 (Z06)
$77,500.00 (Ron Fellows ZO6)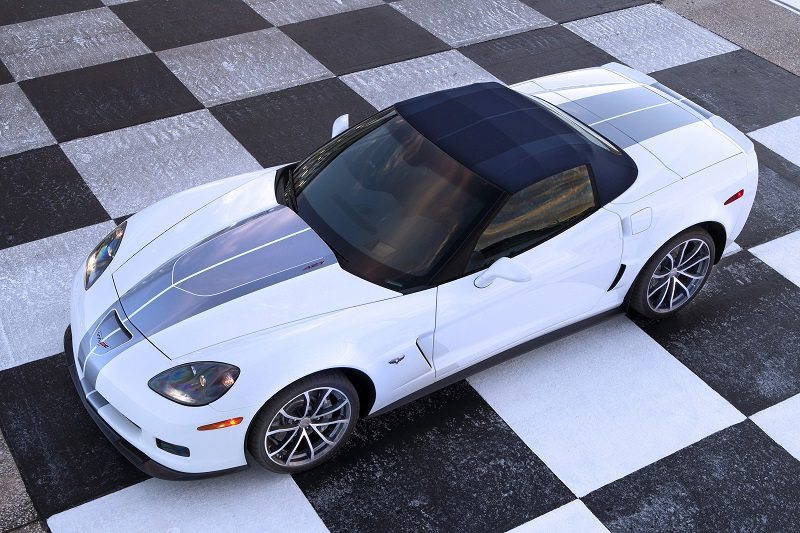 As with other anniversary years before it, the sixtieth-anniversary Corvettes marked another milestone year for the car, and Chevrolet certainly took a moment to recognize the Corvette with a special edition package available on all variants of the 2013 Corvette.  Available to consumers are Regular Production Option (RPO) Z25, the 60th Anniversary Design Package featured a Corvette finished in an Arctic White exterior, a Blue Diamond leather-wrapped interior with blue stitching, specific interior and exterior identifiers – including the "60th" logo on the wheel center caps, steering wheel and seat head restraints, suede accents for the steering wheel shifter, parking brake, armrests and doors, a ZR1-style spoiler, a blue top for the convertible models, and gray-painted brake calipers.  For those looking to add even more dynamic elements to the car, the optional RPO Z30 could also be integrated into the sixtieth anniversary Corvettes which added full-length racing stripes in Pearl Silver Blue and tonal convertible top stripes stitched into the convertible top, thereby extending the graphic theme over the roof.
While this package could be added to any variant of the Corvette, it was limited to the following trim levels: on the coupe, convertible and Grand Sport models, the car had to be equipped with trim level 4LT.  On the Z06 Corvettes, it was limited to cars equipped with the 3LZ trim package.  And, finally, on the ZR1 models, it was limited to cars equipped with the 3ZR packages.   In all cases, the cars had to already be equipped with the highest trim level package available in class before they could be modified to include the sixtieth anniversary package.   Despite this, Chevrolet sold 2,059 Corvettes equipped with the Z25 package, which accounted for one-sixth of the total Corvettes sold that year!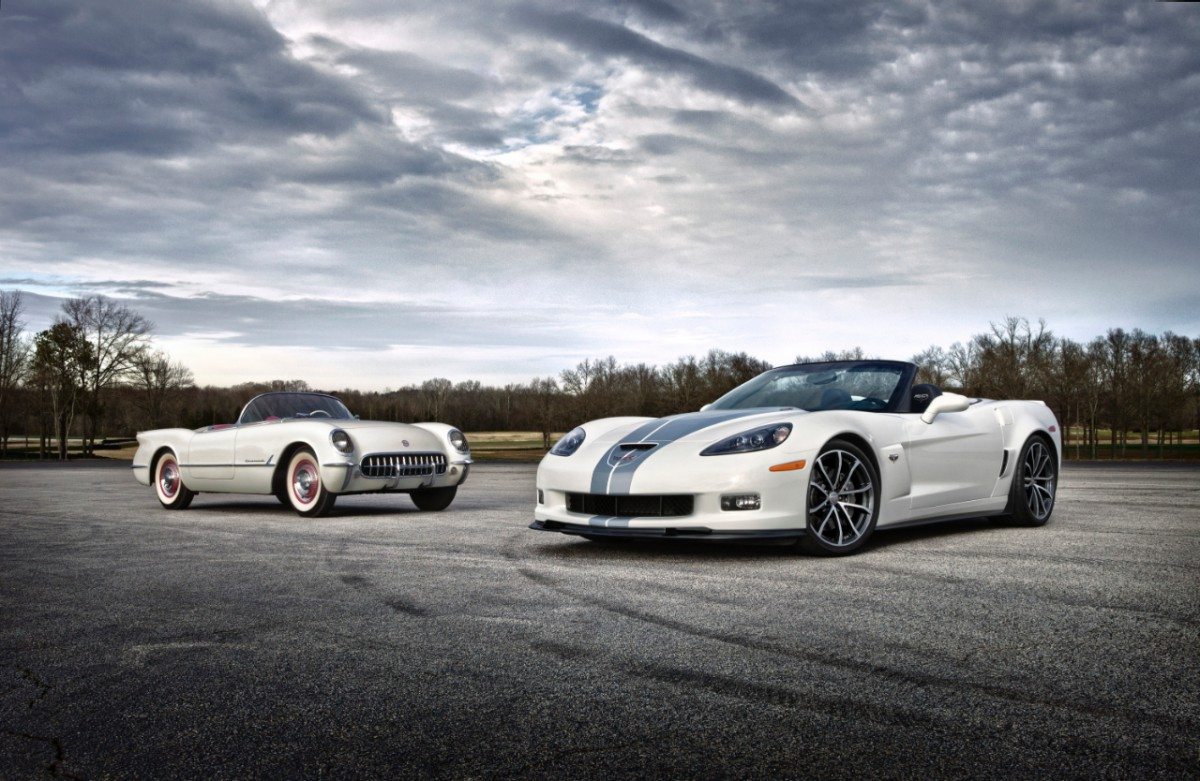 While the anniversary package enabled consumers to commemorate sixty-years of Corvette, Chevrolet felt the need to not only commemorate the impressive production milestone, but also to provide the C6 with a proper send-off that would pay homage to the current production car as well as those that had come before it.  It was with that intent in mind that designers introduced the Corvette 427 Convertible Collection Edition Corvette.
Evoking the heritage of early 427-powered Corvettes, the 427 Convertible Collection edition model takes Corvette convertible performance to an entirely new level.  It combines the convertible found in the base model and Grand Sport editions, and fuses it with elements from the Z06 and the ZR1 Corvettes, making it the fastest and most-capable convertible in Corvette's history.  The car's powertrain is the same as the Z06 coupe, including its 505 horsepower, 427 cubic-inch LS7 engine with dry sump.  Also like the Z06 Corvette, the 427 Convertible was only offered with a manual transmission.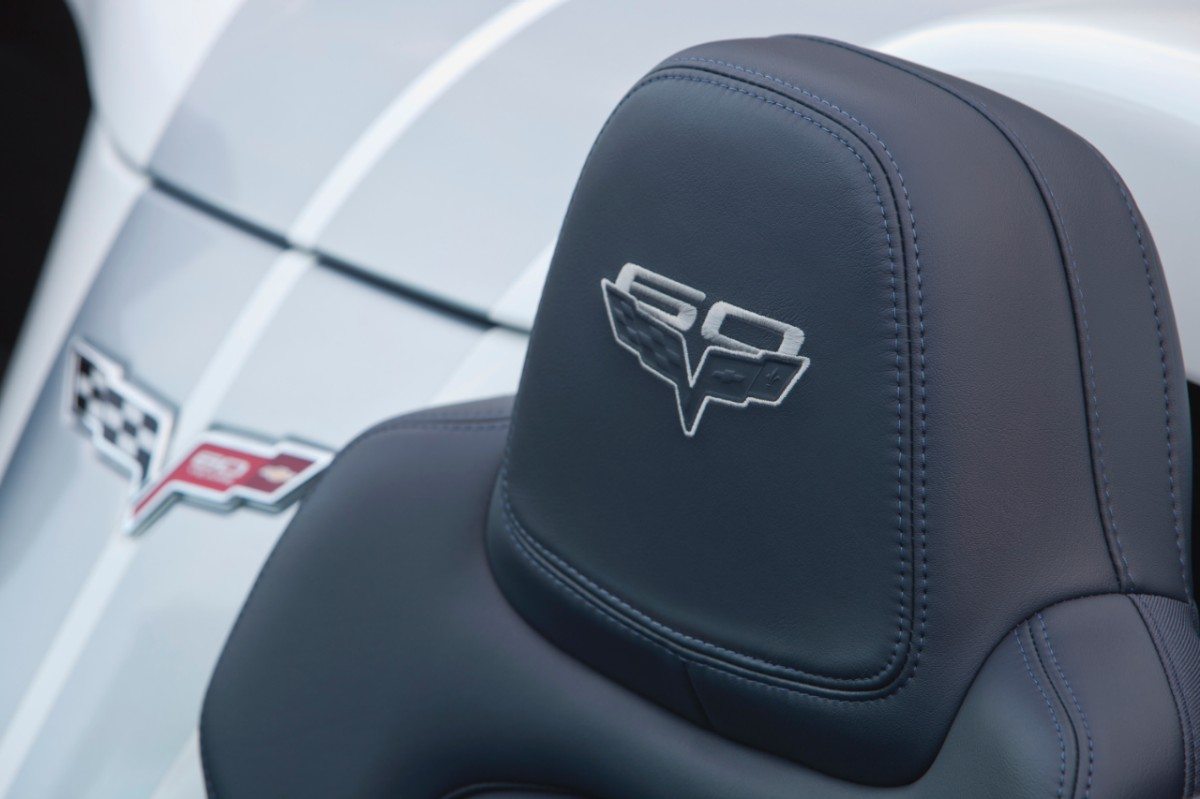 With a curb weight of just 3,355 pounds (1,522 kg), the 427 Convertible was designed to be lighter than other 2013 Corvette convertibles.  Combined with the LS7 engine, the Corvette 427 Convertible produced a power-to weight ratio of 6.64 – or hone horsepower for every 6.64 pounds of vehicle mass.  Comparatively speaking, that's a better power-to-weight ratio than that found in an Audi R8 Spyder or a Ferrari California.    This combination of low mass and high output made the 427 Convertible one of the fastest convertibles in the world, deliver an estimated 0-60 performance time of just 3.8 seconds, a quarter mile time of just 11.8 seconds, a lateral acceleration of 1.04 g and a top speed of more than 190 miles per hour!
This collector edition Corvette was made available to consumers with all the exterior colors offered in 2013, as well as with the 60th Design Package and a Heritage Package.  All 427 Convertibles came equipped with a manual transmission, 427 hood badging, ZR1-style rear spoiler, and carbon-fiber hood, fenders and floor panels.    Wheels were machine-face cup style (black cup wheels and chrome ZR1 wheels were optional) and included nineteen inch wheels up front and twenty inch wheels in the back.

All 2013 Corvettes, even those purchased without the 60th Anniversary Design Package, received special "60th Anniversary" badges on the front and rear fascias and on the "waterfall" panel on convertible models.  On the interior of the car, the "60th" logos were also added to the instrument panel gauge cluster and on the sill plates.   Additionally, the 2013 Corvette also featured some optional upgrades including available black-painted five-spoke aluminum wheels, designed specifically to both the base Corvette coupe/convertible and Grand Sport models, as well as an optional ZR-1 style rear spoiler that could be integrated into the coupe/convertible and Grand Sport models.  For 2013, the only new paint color was Night Race Blue Metallic.
As with previous model years, the 2013 Corvette was available to consumers in five distinct body styles which included:
The standard coupe and convertible models, which were powered by the 430-horsepower LS3 V-8 engine (436-horsepower when equipped with the optional exhaust.
The Grand Sport models – also offered in both a couple and convertible – which combined the Corvette's powertrain with wide-body styling, a wider track and a racking-bred suspension for a distinctive model that delivered greater handling performance than the base coupe/convertible. The Grand Sport also comes equipped with wider wheels and tires, revised shocks, stabilizer bar and spring specifications, and specific gearing intended for performance driving.
The 427 Convertible Collector Edition which included a hand-built, 505-horsepower LS7 engine, which was the first time an LS7 engine was offered in a convertible.
The Corvette Z06 which married the LS7 engine to a light-weight, aluminum chasing, creating a Corvette that was truly inspired by its race-car counterpart, the Corvette C6.R.
The Corvette ZR1, which is powered by the LS9 supercharged 6.2L engine. For its time, it was the fastest, most powerful production car ever offered by Chevrolet, with a recorded top speed of 205 miles-per-hour.
All variants of the 2013 Corvette included dual projector-beam, high-intensity discharge headlights.  These headlight assemblies were available with color contrasting headlamp housings that came in either Blade Silver Metallic, Cyber Gray Metallic, or Black.   Heated outside mirrors with a driver's-side, auto-dimming feature came standard.  Convertibles equipped with a the 3LT and 4LT trim packages, as well as all Grand Sport Convertibles included a power-folding convertible top.  Customer-selectable brake caliper colors were also available in either red, yellow, silver or gray.
The base coupe and convertible models came equipped with standard five-spoke, silver-painted aluminum 18 x 8.5-inch front wheels and 19 x 10-inch rear wheels, all of which were matched with Goodyear Eagle F1 run flat tires.  Optional color variants for the coupe and convertible wheels included a five-spoke chrome aluminum, machine-face aluminum and black aluminum finishes.  Similarly, the Grand Sport Corvettes featured 18 x 9.5-inch front and 19 x 12-inch rear wheels.  Grand Sport wheels came standard in a silver-painted finish, while black and chrome finishes were also available.  The Grand Sport Wheels are wrapped in large 275/35ZR18 tires in front and 325/30ZR19 tires in the rear.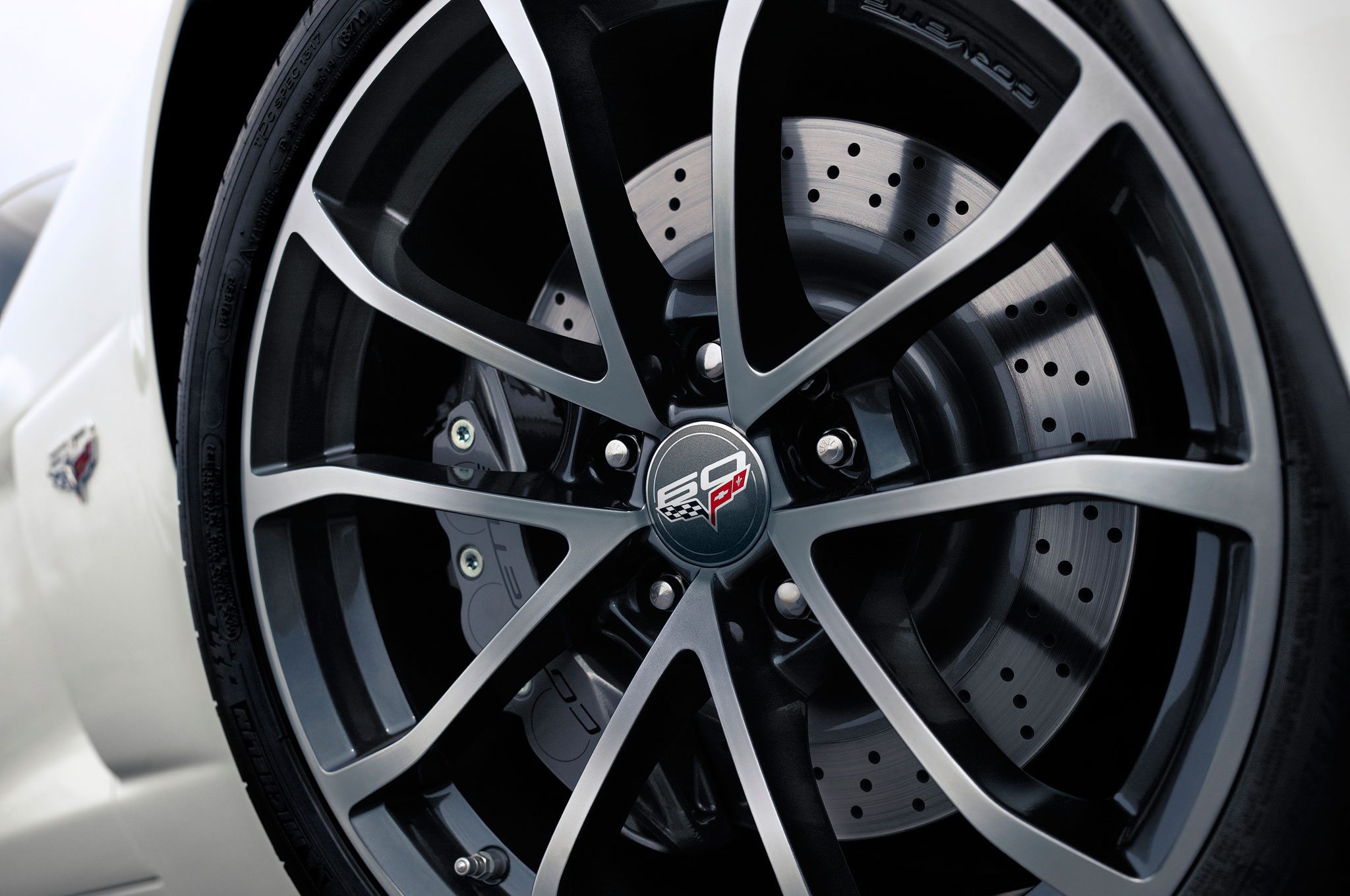 The upper echelon Corvettes – including the 427 Convertible Collectors Edition, as well as the Z06 and ZR1 coupes also offered consumers a few options when selecting the wheels for their cars.  On the 427 Convertible, the aforementioned Machined-face Cup-style aluminum wheels came standard, although optional Black Cup-style wheels and ZR1-style 20-spoke chrome wheels were also available to consumers.  On the Z06, a ten-spoke wheel design was introduced (18-inch in the front, 19-inch in the rear) which included a new black spider-design wheel set for the 2013 model year.   On the ZR1,  twenty-spoke painted aluminum wheels were offered – 19×10 inch in the front and 20×12 inch in the rear –as standard equipment, although a chrome-aluminum version was also available.  As an optional wheel, consumers could purchase new black-painted aluminum wheels and the lightweight cup-style wheels that came as part of the PDE ZR1 High Performance Package.  Machined Cup wheels with gray pockets were also made available on any ZR1 sold that year.
While the final year of the C6 Corvette was met with a fair amount of pomp-and-circumstance, its departure was most definitely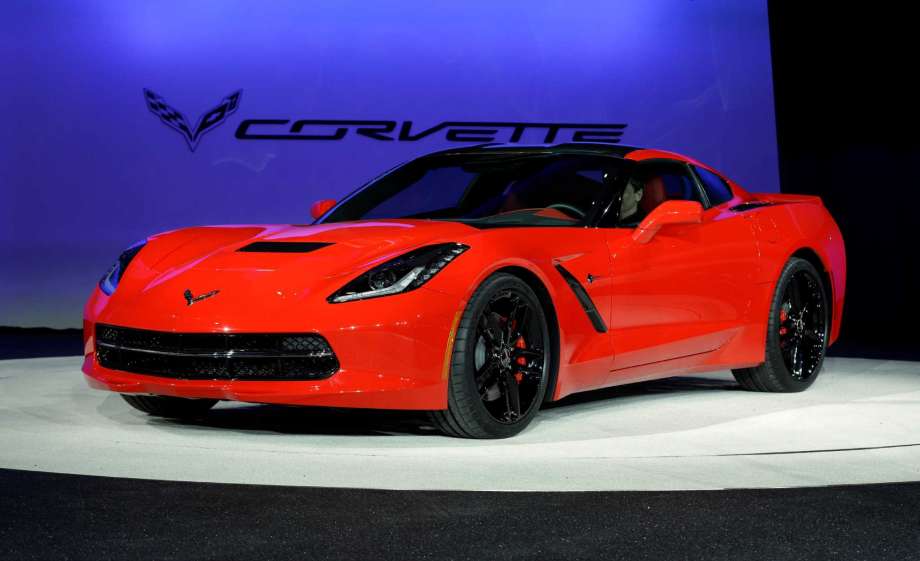 overshadowed by the arrival of the 2014 Corvette Stingray.  Even as the production of the 2013 Corvette was still underway, Chevrolet introduced the new C7 Corvette at an invitation-only "reveal" in Detroit on January 13, 2013.  The public debut of the new Corvette (a coupe) was introduced a day later at the North American Auto Show at Detroit's Cobo Hall.  The C7 Corvette convertible would make its grand debut in Geneva on March 5th, 2013.  Each of these public unveilings was met by live-streaming across the internet, making these unveilings two of the most publicly viewed events in automotive history. The car itself was a continuation of the front-mounted V8 with rear-mounted transaxle configuration that had been introduced on the C5 and C6 models, although almost all of the 2014's components were either new or redesigned.
Production of the 2013 Corvette would ultimately be cut short, with the final C6 Corvette rolling of the Bowling Green Assembly plant's production line on February 28, 2013.  This early shut-down of production would enable GM to vastly re-tool the Assembly Plant to begin production of the seventh-generation Corvette.
But the 2013 model year would also see a few other triumphs for the last of the sixth-generation Corvettes.  While production halted early, Chevrolet had manufactured way more than enough models to continue to compete in the manufacturers' and team championships in the American Le Mans series.  In October, 2013, drivers Antonio Garcia and Jan Magnussen closed the ALMS series by winning the GT drivers' championship at the Petit Le Mans.  The duo of drivers, joined by Jordan Taylor, took a sixth-place finish in their No. 3 Compuware Chevrolet Corvette C6.R, but the team had accumulated enough points throughout the 2013 season to win the championship.   The team had also clinched the GT manufacturer's and team championships in the previous ALMS round at the Virginia International Raceway nearly two weeks before, meaning that the duo had swept the championships for the 2013 season – marking a fitting end to an impressive racing era as well as a notable conclusion to the sixth-generation Corvette.
2013 Corvette Image Gallery
See full 2013 C6 Corvette Image Gallery
2013 Corvette Specifications
2013 Corvette Main Specs
| | |
| --- | --- |
| MODEL: | 2013 Chevrolet Corvette |
| BODY STYLE: | Two-door Coupe, Convertible, Hard Top front engine, rear wheel drive |
| MANUFACTURING LOCATION: | Bowling Green, Kentucky |
| VEHICLE NUMBERS (VIN): | TBD |
| CONSTRUCTION: | Composite body, hydroformed steel frame with aluminum & magnesium structural & chassis components. |
2013 Corvette Powertrain Specifications
Engine
Type:
LS7
Valvetrain:
OHV
Valves per cylinder:
2
Number of Cylinders
8
Displacement (cc/cid):
7,008 / 427
Fuel induction system:
Sequential Fuel Injection
Horsepower (SAE net @ rpm):
505 @ 6,300
Torque (lbs.-ft. @ rpm) (manual):
470 @ 4,800
Bore x stroke (mm.):
104.8 x 101.6
Compression ratio:
11.0:1
Engine Materials
Block:
Cast Aluminum
Cylinder Heads:
Cast Aluminum
Fuel Economy
Fuel Required:
18/28 (City/Hwy)
EPA – Manual Transmission
15 mpg (City), 24 mpg (Hwy)
Max cruising range
432 miles
Transmission (Manual)
Standard Transmission Spec
Type:
Six Speed Manual
Gear Ratios
1st Gear:
2.66:1
2nd Gear:
1.78:1
3rd Gear:
1.30:1
4th Gear:
1.00:1
5th Gear:
0.74:1
6th Gear:
0.50:1
Reverse:
2.90:1
Final Drive Ratio:
3.42:1
---
2013 Corvette Wheels, Suspension & Brakes
Suspension
Front Suspension 
Front Suspension

Type: Short/Long arm (SLA) double wishbone

Features: Cast aluminum upper and lower control arms, Transverse-mounted composite leaf spring, Monotube shock absorber, Magnetic Selective Ride Control

Rear Suspension 
Rear Suspension

Type: Short/Long arm (SLA) double wishbone

Features: Cast aluminum upper and lower control arms, Transverse-mounted composite leaf spring, Monotube shock absorber, Magnetic Selective Ride Control
Brakes
| | |
| --- | --- |
| Type | Front and Rear Power-Assisted, Four-Wheel Vented Disc, Six Piston front and four piston rear calipers, cross-drilled rotors |
| Anti-lock system (Standard): | ABS |
| Rotor diameter x thickness, front (in.): | 14.0 x 1.3, 13.4 x 1.0 |
| Rotor diameter x thickness, rear (in.): | 309 / 269 |
Wheels & Tires
| | |
| --- | --- |
| Wheels & Tires | Coupe/Convertible |
| Front Tires | 285/30ZR19 |
| Rear Tires | 335/25ZR20 |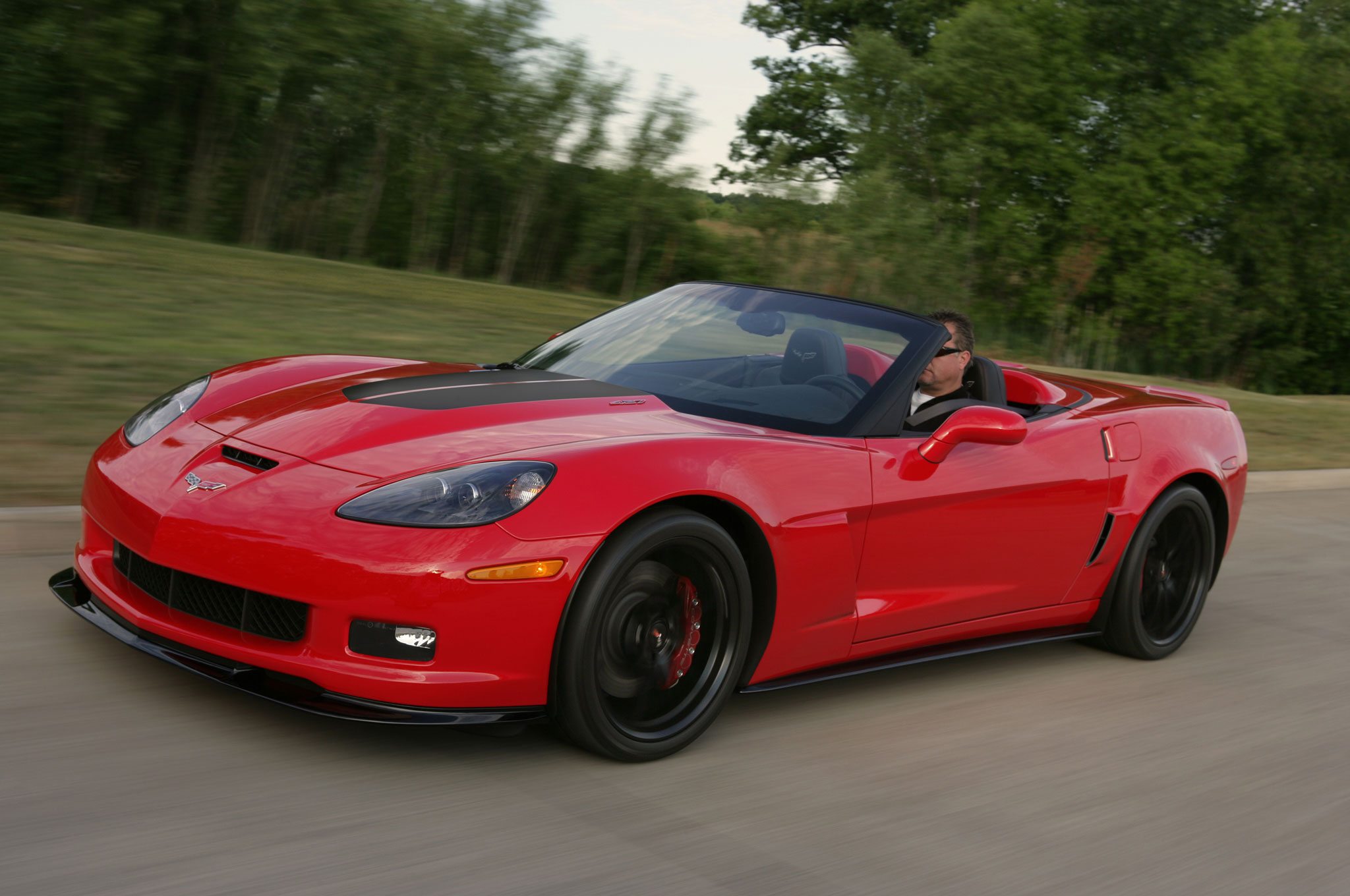 2013 Corvette Exterior Dimensions

Exterior Dimensions
Exterior Dimensions
Model
Coupe
Convertible
Wheelbase
105.7 Inches
105.7 Inches
Overall Length
175.6 Inches
175.6 Inches
Total Body Width
72.6 Inches
72.6 Inches
Overall Height
49.0 Inches
49.1 Inches
Front Track Width
62.1 Inches
62.1 Inches
Rear Track Width
60.7 Inches
60.7 Inches
Interior Dimensions
Interior Dimensions
Model
Coupe
Convertible
Headroom
37.9 Inches
37.9 Inches
Shoulder Room
55.2 Inches
55.2 Inches
Hip Room
53.7 Inches
53.7 Inches
Leg Room
43.0 Inches
43.0 Inches
Capacities
Capacities
Model
Coupe
Convertible
Passenger Capacity
2 – Driver & Passenger
2 – Driver & Passenger
Curb Weight
3,179 lbs.
3,199 lbs.
Cargo Volume (cu.ft):
22.4 Cubic Feet
10.4 Cubic Feet
Fuel Capacity (GALLONS)
18 gallons
18 gallons
Engine Oil Capacity (QTS)
5.5 (with filter)
5.5 (with filter)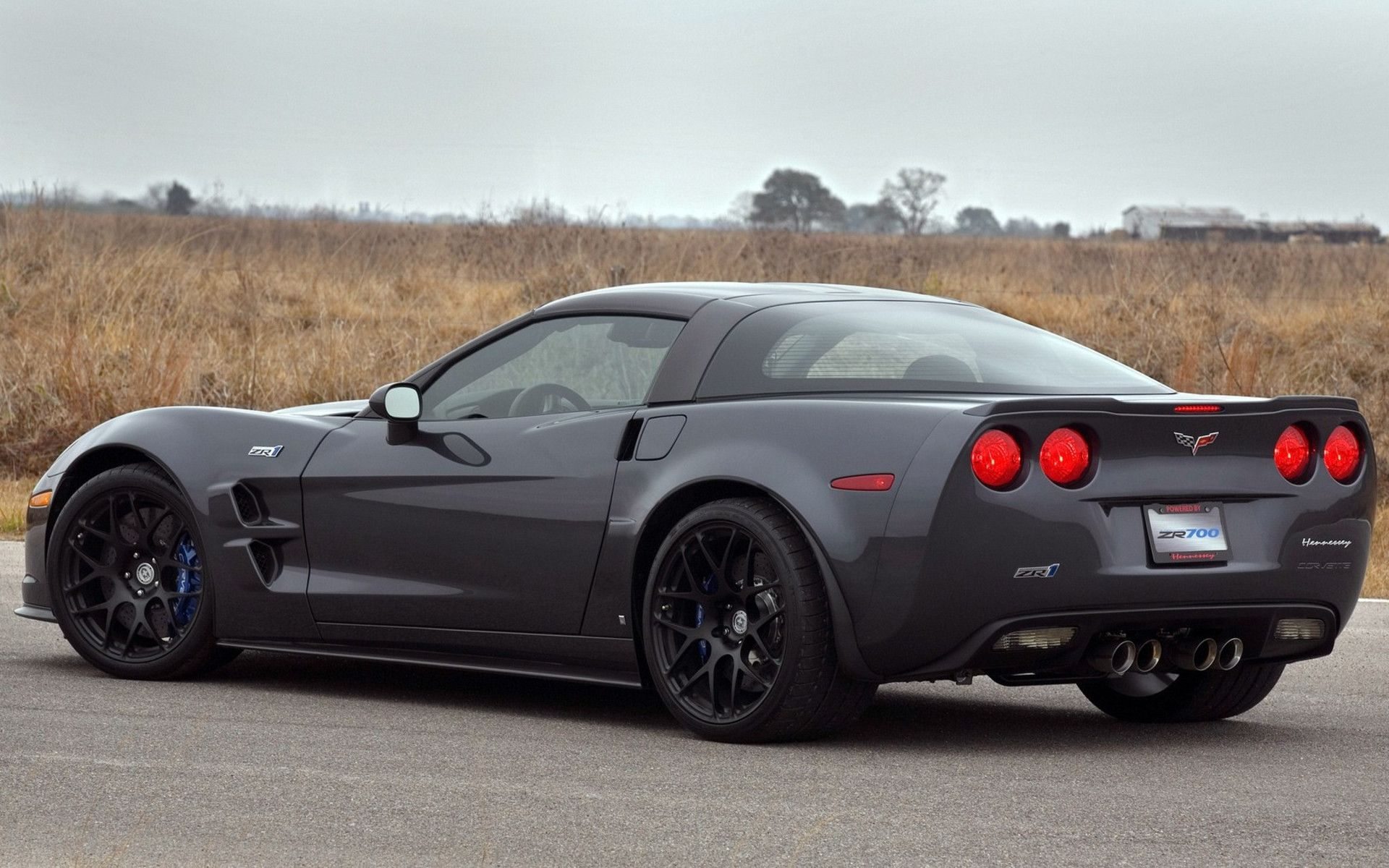 2013 Corvette Performance Results
| | |
| --- | --- |
| 0-60 MPH: | 3.8 Seconds |
| QUARTER MILE: | 11.80 Seconds |
 2013 Corvette Owners User Manual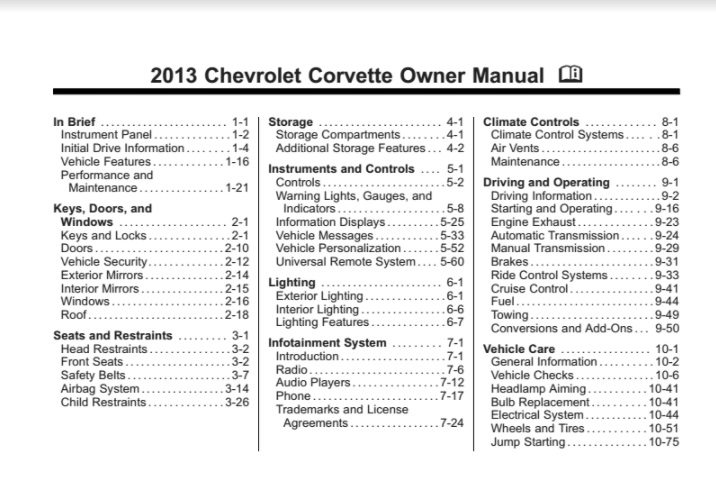 You can download for free this exclusive 2013 Corvette User Manual for more information about the car.
Download 2013 Corvette Owners User Manual