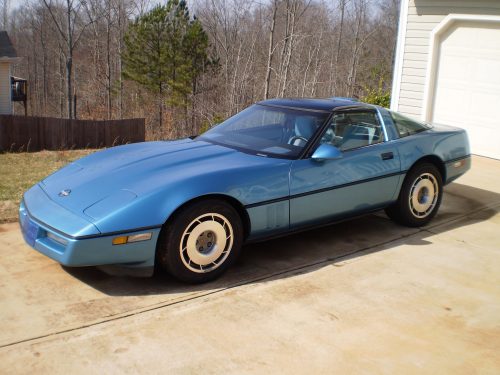 1987 Corvette – The Ultimate Guide
During the middle of the 1986 model year, General Motors had acquired a controlling interest in Lotus; a small, British automotive manufacturing company. Already known around the world for having an enviable reputation in Formula One Grand Prix racing and building some truly amazing automobiles, General Motors saw in their acquisition the opportunity to explore advancements in their own engine development programs.
In fact, Tony Rudd, Lotus's technical director, had entered into an agreement with GM to design twin-cam, sixteen-valve cylinder heads for the L98 engine.  The challenge that they were to be faced with was how to squeeze the additional hardware into an already limited amount of engine space.
At the same time, other significant advancements were being made within the existing Corvette program.  The return of the Corvette Convertible in 1986 had represented the first re-uniting of the coupe and the convertible (offered in the same model year) in more than a decade.  Despite less than stellar sales numbers in its first year, the return of the convertible option was well received by critics and Corvette enthusiasts alike.
Many Corvette purists pointed out that the Corvette had began its existence as a convertible, and it seemed only logical that General Motors should continue to offer the convertible option as part of the Corvette's heritage.  In fact, many Corvette enthusiasts had strongly criticized the absence of a convertible option when it had been previously discontinued at the onset of the 1976 model year. So, for 1987, both the coupe and the convertible returned, but not without some noteworthy changes to both variants of the vehicle.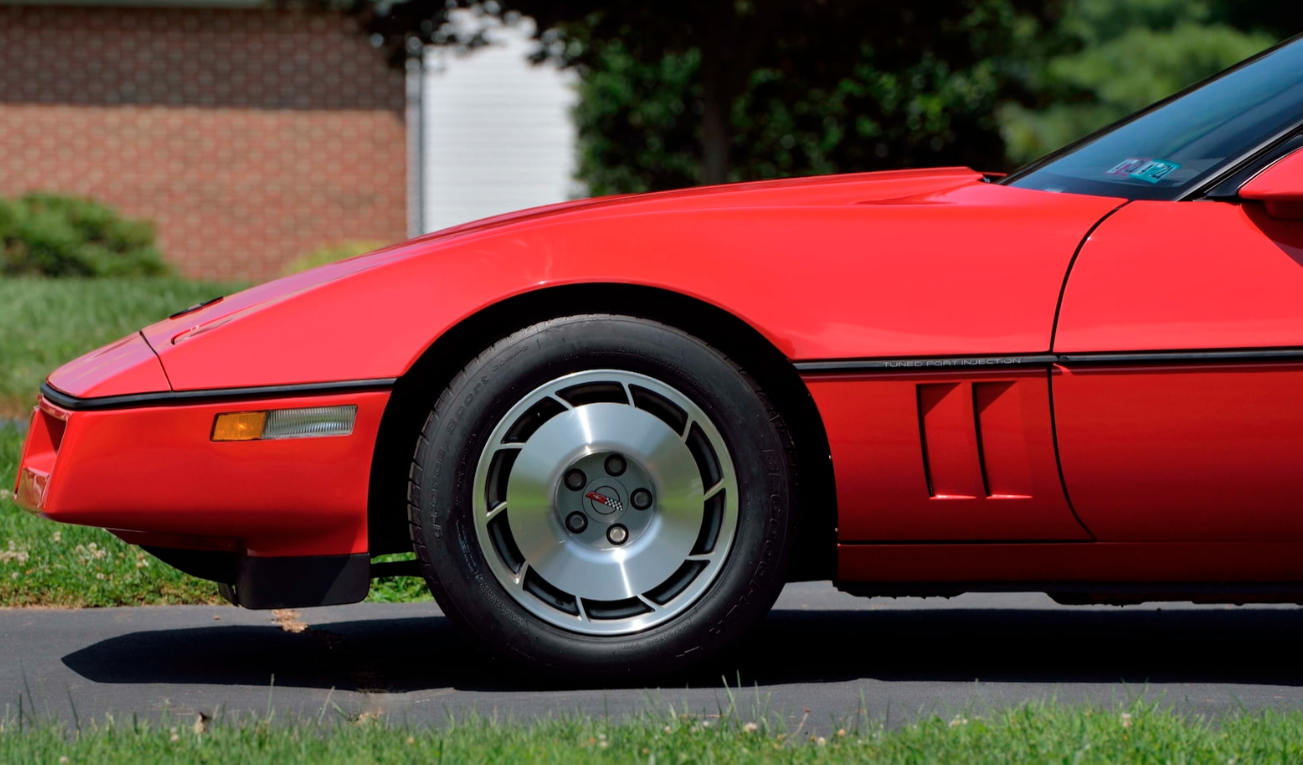 Cosmetically, the Corvette was virtually unchanged from the 1986 model, save for one, immediately identifiable feature – the wheels.  For the 1984 and 1985 models, the wheels center cap and radial slots had been painted black.  In 1986, only the slots featured the black paint.
For the 1987 model year, the black paint was eliminated completely from the wheels, and both the caps and slots were now treated to an argent gray coloring.
In an ongoing effort to reduce engine friction with the intent of improving both engine performance and fuel economy, Chevrolet added rollers to the hydraulic lifters.  In doing so, the engine performance of the 1987 Corvette was increased by ten horsepower, taking the engine's overall horsepower rating to 240hp.  The engine torque was also improved by 15lbs/ft., bringing it to a total of 345.  In addition to the rollers, they also added rocker-arm covers with raised rails to help prevent oil leaks.  A thicker-core radiator and a second electric cooling fan were also included to further aid in maintaining cooler engine temperatures.
Additionally, a finned power-steering cooler was included.
DID YOU KNOW: Although Callaway Cars, Inc. is known around the world for its prestigious, high-performance, turbocharged variants to high-end production sports cars, they garnered this reputation by developing a number of special edition Corvettes. Perhaps their most impressive accomplishment to date is the development of the "Sledgehammer Corvette", a specially modified C4 Callaway Corvette which is capable of reaching speeds in excess of 250mph, with a current, recorded top speed of 254.76 miles per hour!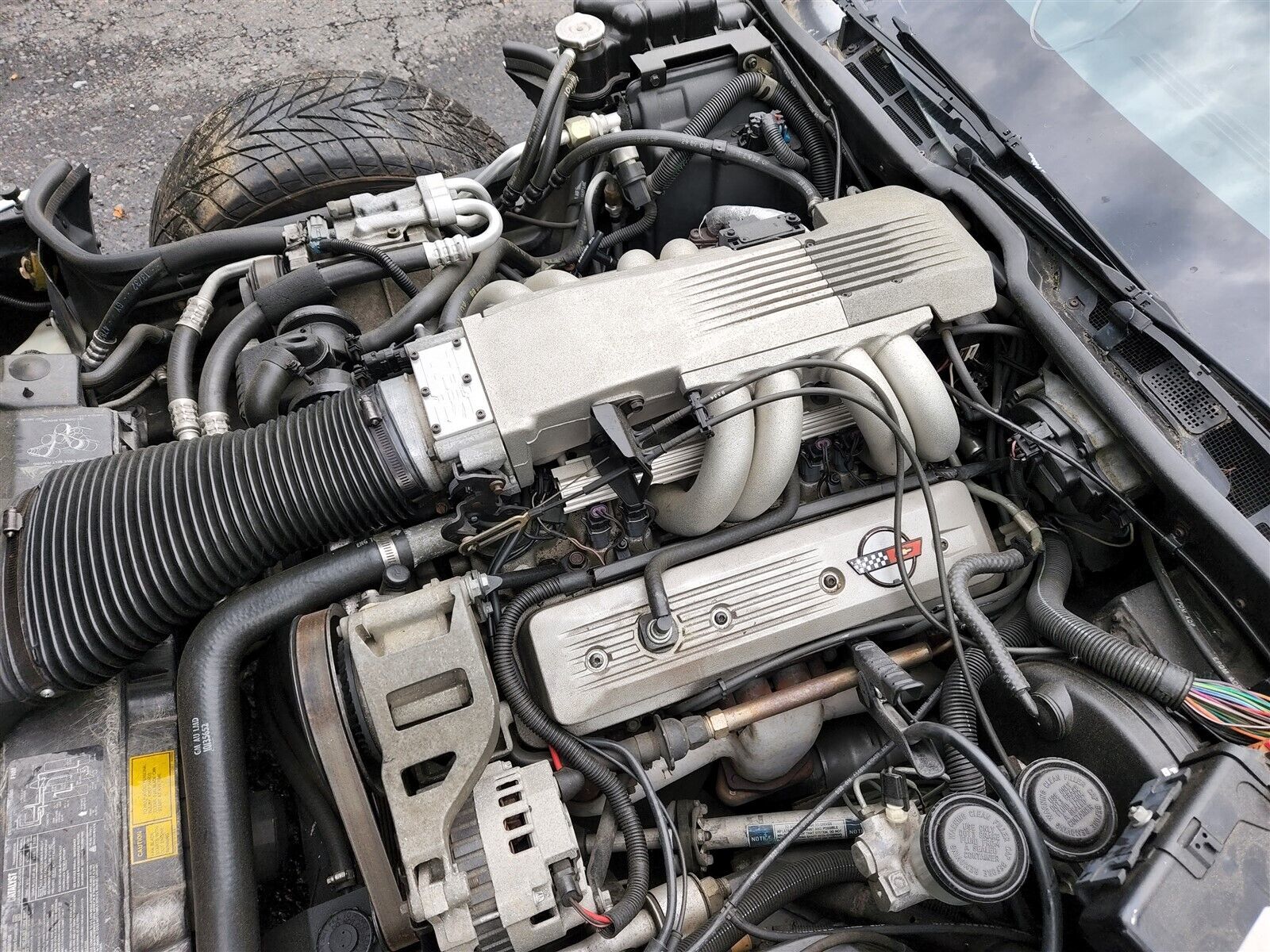 In addition to the engine upgrades, a second suspension option was made available, but only on manual-transmission-equipped coupes. Designated with option code Z52 and priced at $470.00, this "sports handling package" option was essentially a softer version of the Z51 package, with the wider 9.5 inch wheels, plus a solid and thicker front anti-roll bar, new gas-charged shocks, quick-ratio steering, and all but one of the chassis stiffeners originally developed for the convertible.
Spring rates and bushings were carried over from the base chassis.  The original Z51 package was also offered as an option in 1987, and featured much of the same hardware as the Z52 option, although it included much stiffer springs and front lower-control-arm bushings, plus a solid (instead of link type) rear stabilizer.
The Z52 option was praised by automotive enthusiast magazines for its improved ride quality and its relatively unchanged handling differences.
A couple of other options found their way into the 1987 Corvette.  Although these options were not new to General Motors as a whole, they were unique to the Corvette in that they had never been featured in any of its earlier forms.  A low-tire pressure indicator made a brief appearance in late 1986 (for the 87 model year).  The low-tire pressure indicator signaled a drop in pressure of one pound per square inch on any wheel, via a dash panel display.  Carrying a hefty price tag of an additional $325 dollars, it was soon discovered that some of the installed units could actually trigger the same hardware in other Corvettes equipped with this same option, causing false alarms and inaccurate pressure reporting for both vehicles.
Ultimately, this option was short lived in the 1987 Corvette, though it would later return for the 1989 model and be met with resounding success.  Another "existing option" that made its way into the 1987 Corvette was electronic air conditioning.   While it had been available in the Corvette coupe in 1986, the option was made available for both the coupe and the convertible for the 1987 model year.
Throughout the history of the Corvette, a number of talented individuals have contributed to the advancement of the advancement of this amazing sports car as it forged a name for itself at the racetrack. Perhaps the most famous of these individuals is Zora Arkus-Duntov, whose history with the Corvette is so significant, that he has often been nicknamed the "Father of the Corvette." Further, his technical contributions to the C1 and C2 Corvette combined with his unrelenting commitment to the idea that the Corvette should be recognized as a world class contending race-car helped to solidify Corvette's place in some of the most prestigious racing circuits around the world.
New for 1987 was an aftermarket option that was offered to consumers when ordering their Corvettes from the factory.  Although it was not a factory option, speed-thirsty consumers could order a Callaway Twin-Turbo Engine package through participating dealerships.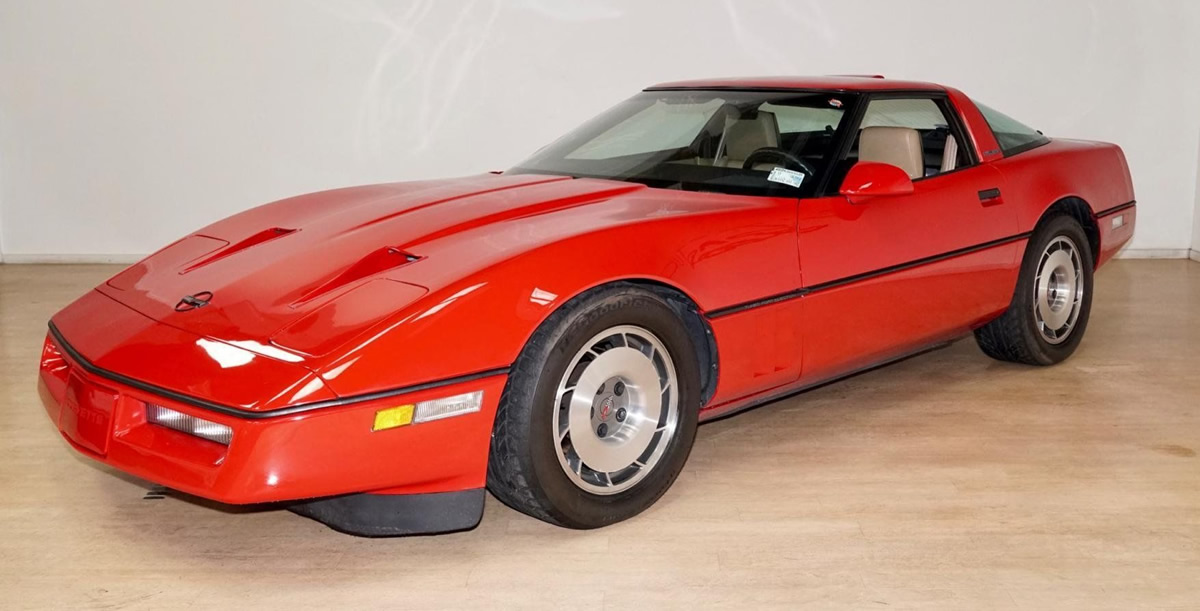 Under the designation RPO B2K, the twin turbo option was rated at 345 bhp and 465 lbs/ft of torque.  When installed, it allowed the Corvette to reach a top speed of 177.9 miles per hour with .60 overdrive gearing.  Unfortunately for most consumers, the Twin-Turbo Engine package included a steep price tag of an additional $19,995 (over the base price of the Corvette), putting it well out of reach for many Corvette consumers.  Still, for those that did order their Corvette with this option, their Corvette would be shipped from Bowling Green (upon its completion) to Callaway Engineering in Old Lyme, Connecticut where it would be modified to include the B2K option.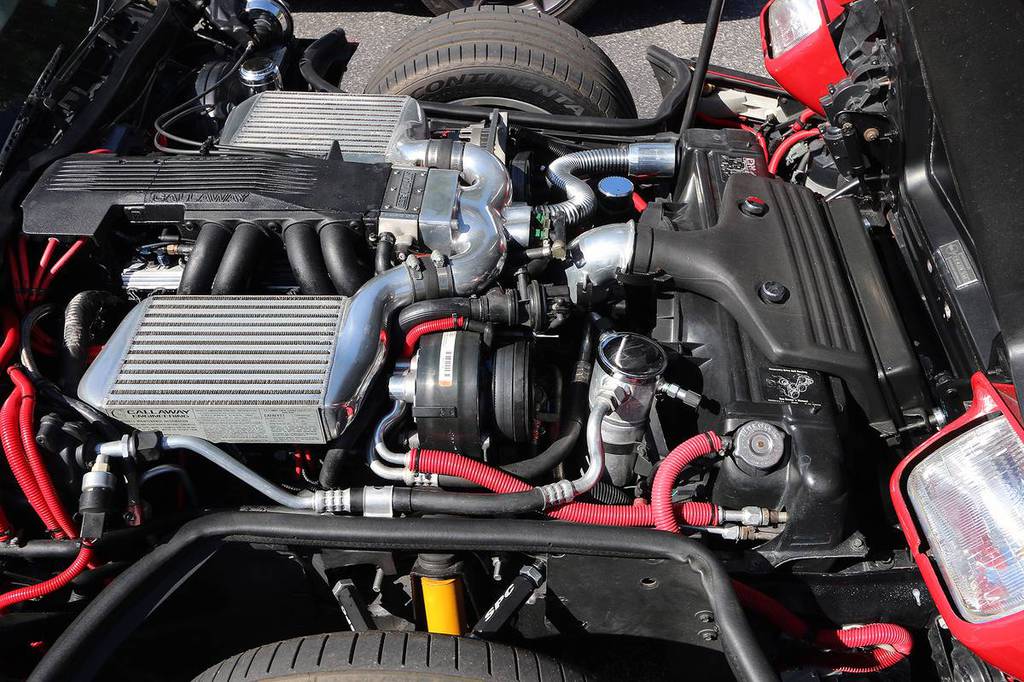 Even in its base form, the 1987 Corvette was proving itself as a genuine performance car.  Motor Trend Magazine performed a series of time trials with a Corvette Convertible and recorded some remarkable results for its day. Equipped with a manual transmission and the newly improved 240 horsepower version of the L98 engine, the 1987 Corvette Convertible accelerated from 0-60 in just 6.3 seconds and ran a respectable 15.11 seconds in the quarter mile, reaching a speed of 93.8 miles per hour.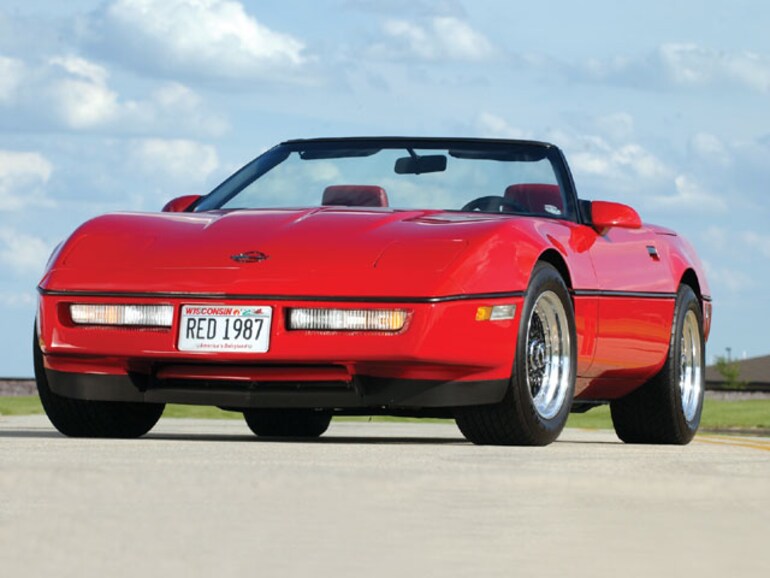 By the end of the 1987 model year, Tony Rudd came back to David McLellan with the conclusion that there was no viable way to re-invent the L98 engine. While General Motors had managed to moderately push the L98's horsepower limitations in the mid-eighties, the respectable, though relatively unimpressive numbers represented the restrictions built into the engine itself.
After much review with McLellan of the many modification pursuits he'd undertaken to improve the performance of the L98 engine, Rudd ultimately won his case that GM's only chance for success was to take this engine program in an entirely new direction.
Ironically, in pursuing this endeavor, Rudd would begin a journey that would ultimately lead to the development of the latest, and arguably one of the greatest, engine incarnations of all time – the LT5 – but that development would be another three years in the making.
Production Volumes
Although Corvette's performance numbers were steadily on the rise, so too was its price.  At $27,999 for the coupe and $33,172 for the convertible, many critics felt the Corvette was becoming too pricy for its own sustainability.  Still, when compared to European cars of the same caliber, Corvette was still a better value then most exotic cars in its price range. For the 1987 model year, Corvette sales did continue to decline, although overall sales were still respectable with a total sales yield of 30,632 cars total, of which the Corvette convertible accounted for 10,625 units, which was actually an increase of 3,400 convertible sales over the 1986 model year. Additionally, a total of 184 Callaway twin-turbo models were also sold that year.
1987 Corvette Specifications & Performance
See the complete breakdown of technical specifications for the 1987 Corvette, including engine, suspension, brakes, body dimensions, and power. Read more: 1987 Corvette Specifications.
Engine & Transmission
Though the engine was the same Tuned Port Injection 350 CID small block V8 that had been used since 1985, the addition of the aforementioned lifters and rocker-arm covers increased horsepower from 230 to 240. And buyers could be thankful that these additions also saved them some money at the pumps. Also as a result of these additions, torque increased by 15 lbs/ft to 345.
Performance
The 1987 Corvettes continued the trend of Chevy making small but very important and useful tweaks that were continuing the evolution of the Corvette into the world class sports car it claimed to be. The 1988 Corvette would continue that trend even further. 0 – 60 mph for the 1987 Corvette came in at 5.8 seconds while the quarter mile was 14.4 seconds. Top speed was 150 mph. Read more: 1987 Corvette Performance.
1987 Corvette Vehicle Identification Numbers (VIN)
The last six digits begin at 100001 and run thru 130632, accounting for each of the 30,632 Corvette Coupes/Convertibles built in 1987. Each Vehicle Identification Number (VIN) is unique to an individual car. For all 1987 Corvettes, the Vehicle Identification Number was stamped on a plate on the inner vertical surface of the left windshield pillar visible through the windshield. Read more: 1987 Corvette VINs.
1987 Corvette Price & Options
Core Features & Factory Options
A nice option was the Z52 performance suspension package. The stiff ride of the Corvette, particularly when outfitted with the Z51 performance package, had been inspired by complaints with Corvette driers and critics since the fourth-generation models of the cars were introduced in 1984. And though suspension had been retuned and improved since that time, the Z52 was a great middle ground for those that wanted better performance without a horrible ride. The Z52 package featured wider wheels and a solid and thicker front anti-roll bar. It also included quick-ratio steering and new gas-charged shocks. A thicker radiator was included along with a second electric cooling fan.
The Z51 performance package, on the other hand, was still available and was basically a stiffer version of the Z52. Along with the features of the Z52, it also featured stiffer springs and front lower-control-arm bushings and a solid rear stabilizer. This option added $795 to the base price.
Colors
Silver Metallic, Medium Grey Metallic, Medium Blue Metallic, Yellow, White, Black, Gold Metallic, Silver Beige Metallic, Copper Metallic, Medium Brown Metallic, Dark Red Metallic, Bright Red, Silver/Grey, Grey/Black, White/Silver, Silver Beige/Medium Brown. Of the 16 colors available, once again Bright Red was most popular, making up 27% of total production. Black and White were also popular, with 16.65% and 10.11% of total production respectively. Dark Metallic Red became really popular this year with 18.21% of total production.
Pricing & Options
The Base Corvette Coupe with 350 cu. in. 235 hp engine and four speed automatic transmission started at $27,999 for 1987, while the Base Corvette Convertible with 350 cu. in. 235 hp engine and four speed automatic transmission was $33,172. Both body styles were $1,000 more expensive than they had been the previous year. Notable options were the Z52 and Z51 options. The Z52 package added $470 to the base price of the car., while the Z51 option added $795 to the base price.
| | | | |
| --- | --- | --- | --- |
| CODE | DESCRIPTION | QUANTITY | RETAIL PRICE |
| 1YY07 | Base Corvette Sport Coupe | 20,007 | $27,799.00 |
| 1YY67 | Base Corvette Convertible | 10,625 | $33,172.00 |
| AC1 | Power Passenger Seat | 17,123 | $240.00 |
| AC3 | Power Driver Seat | 29,561 | $240.00 |
| AQ9 | Sport Seats, leather | 14,119 | $1,025.00 |
| AR9 | Base Seats, leather | 14,561 | $400.00 |
| AU3 | Power Door Locks | 29,748 | $190.00 |
| B2K | Callaway Twin Turbo (not GM installed) | 188 | $19,995.00 |
| B4P | Radiator Boost Fan | 7,291 | $75.00 |
| C2L | Dual Removable Roof Panels (coupe) | 5,017 | $915.00 |
| 24S | Removable Roof Panel, blue tint (coupe) | 8,883 | $615.00 |
| 64S | Removable Roof Panel, bronze tint (coupe) | 5,766 | $615.00 |
| C68 | Electronic Air Conditioning Control | 20,875 | $150.00 |
| DL8 | Twin Remote Heated Mirrors (convertible) | 6,840 | $35.00 |
| D74 | Illuminated Driver Vanity Mirror | 14,992 | $58.00 |
| D84 | Two-Tone Paint (coupe) | 1,361 | $428.00 |
| FG3 | Delco-Bilstein Shock Absorbers | 1,957 | $189.00 |
| G92 | Performance Axle Ratio, 3.07:1 | 7,286 | $22.00 |
| KC4 | Engine Oil Cooler | 6,679 | $110.00 |
| K34 | Cruise Control | 29,594 | $185.00 |
| MM4 | 4-Speed Manual Transmission | 4,298 | $0.00 |
| NN5 | California Emission Requirements | $5,423.00 | $99.00 |
| UL5 | Radio Delete | 247 | -$256.00 |
| UM6 | AM-FM Stereo Cassette | 2,236 | $132.00 |
| UU8 | Stereo System, Delco-Bose | 27,721 | $905.00 |
| V01 | Heavy-Duty Radiator | 7,871 | $40.00 |
| Z51 | Performance Handling Package (coupe) | 1,596 | $795.00 |
| Z52 | Sport Handling Package | 12,662 | $470.00 |
| Z6AE | Rear Window+Side Mirror Defog (coupe) | $19,043.00 | $165.00 |
Read more: 1987 Corvette pricing and factory options.
1987 Corvette Gallery
The the 1987 Corvettes appeared on the surface to be nearly carbon copies of the 1986 Corvette. See full 1987 C4 Corvette Image Gallery
1987 Corvette Videos
See more 1987 Corvette Videos