1978 Corvette Overview
The arrival of the 1978 Chevy Corvette would happen just a few months after the 500,000th model rolled off the St. Louis assembly line (see the "1977 Corvette Overview" for further detail).  As significant as that milestone had been as a benchmark of Corvette's success, the 1978 model would mark a second milestone – Corvette's Silver Anniversary.
Just as the Corvette had been America's only true production sports car in 1953, the 1978 Corvette continued to carry that mantle 25 years later, and with similar distinction.
Model:
1978 Corvette
Generation:
C3 Corvette
Type:
2 Door Coupe
Available Colors:
Classic White, Silver, Silver Anniversary, Black, Black/Silver, Corvette Light Blue, Corvette Yellow, Corvette Beige, Corvette Light Beige, Corvette Red, Corvette Mahogany, Corvette Dark Blue, Corvette Dark Brown
Engine:
350ci, 185HP Engine (standard), 350ci, 220HP Engine
VIN:
1Z87L8S400001 – 1Z87L8S440274 (Corvette Coupe)
1Z87L8S900001 – 1Z87L8S906502 (Corvette Pace Car)
Transmission:
4-speed manual (standard), 4-speed manual (close ratio), 3-speed Turbo Hydra-Matic automatic (optional)
Original Price:
$9,351.89 (Coupe), $13, 653.21 (Pace Car Replica)
Units Produced:
46,776
Specs:
1978

Corvette

Spec List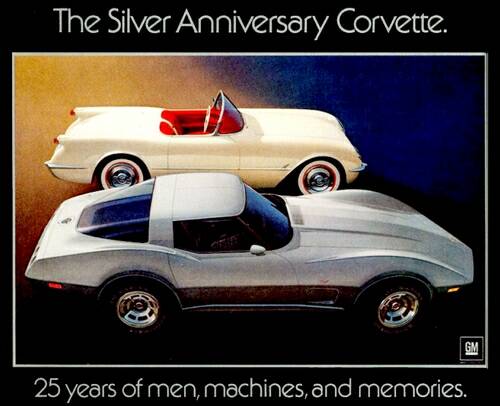 Despite being a dramatically different – and far more challenging – automotive market than the one that had existed when Harley Earl's prototype first graced General Motors Motorama in New York City, the 25th Anniversary Corvette would still enable General Motors to commemorate the anniversary with class.
There were, of course, concessions that had been made by automotive manufacturers both in the United States and around the world.  Sports cars as a whole had become a dwindling commodity.  With each passing year, manufacturers had to deal with a broader (and ever growing) array of political, environmental, and financial challenges that made building expensive sports cars increasingly impractical.
The oil embargo of 1973 – 1974 had caused consumers to shun the gas-guzzler automobiles that had been popular just a decade earlier.  Instead, the big sales winners were fuel efficient cars like those being built by the Japanese.
What made that even more desirable was that, in addition to being good on gas, they were far more dependable than most of the automobiles being built in the United States.  In addition to fuel costs, higher insurance premiums, increased engineering requirements to further regulate engine emissions, and subsequently, higher car prices themselves made buying new cars less and less practical.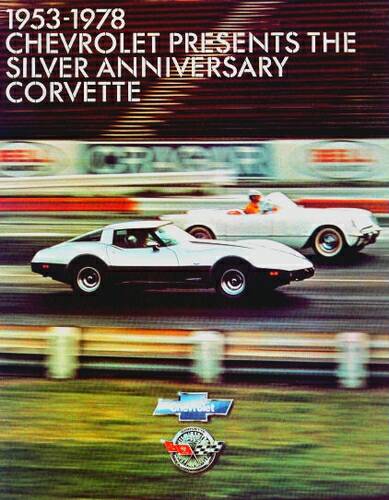 Still, General Motors had recognized that the Chevy Corvette was indispensable as a high-profit personal car that doubled as a showcar that got spectators into the automobile showrooms.  They recognized that Corvette owner loyalty was fiercer than it had ever been.  As such, they saw no need to re-vamp the current Corvette design, especially when the current car was still selling at or near its all-time-high volume.
Additionally, General Motors recognized that there were many other models in their automobile portfolio that needed to be reworked to survive the rising costs throughout the entire automobile industry.  As such, a new, fourth-generation Corvette would not be seriously considered for several more years, though the idea of updating (or even replacing) the current model was not completely forgotten.
While work towards a new front-engine Corvette got underway during Corvette's 25th year, no timetable was attached to the completion of the new model.
Instead, to celebrate 25 years, executives within Chevrolet decided that something special had to be done to the current Corvette to commemorate the car's silver anniversary.  The question that followed this decision was this: how could Chevrolet make a notable modification to the current model on a very limited budget?  The answer was simple: trim away the old "flying buttress" sail panels and substitute a large, compound curved rear window.  In so doing, Chevrolet engineers not only gave the aging third-generation Corvette a new look, but they also brought about the return of the Corvette fastback, which had been notably absent since 1967.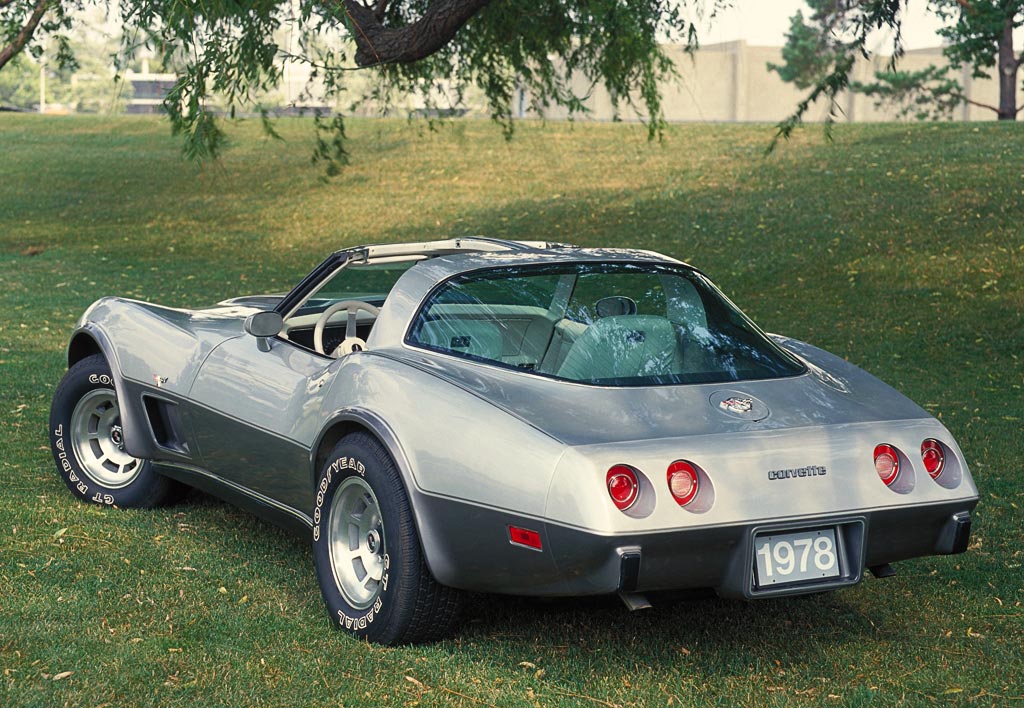 DID YOU KNOW:  While the 1978 Corvette Pace Car Replica is arguably one of the most popular examples of the C3 Corvette, its original design was very different from the car that everyone knows today. In the design phase, the original Pace Car design was to feature a two-tone silver paint with red striping, and was to feature special Goodyear tires with the word "CORVETTE" imprinted in raised, white, sidewall lettering. Additionally, only 300 of these collector Pace Cars were going to be produced in commemoration of the original 300 Corvettes built in 1953.
While a lot of discussions had centered around making the rear window a hinged, lift-up hatchback design, Dave McLellan, Chief Engineer of the Corvette, opted not to complicate the design for the 1978 model (though he would later introduce the option as part of the Collector Edition Hatchback model in 1982.)
Though not a hatchback, the addition of a curved window to the C3 not only improved the car's overall appearance, it enhanced rearward visibility while also providing nearly three times the available luggage room of earlier models and greater ease of access.  A retracting cover was also added to the rear compartment to offer added security and protection from the sun.
In addition to the new rear window, Chevrolet also felt that the 1978 model warranted a special "25th Anniversary" package to commemorate the car's silver anniversary.  Bill Mitchell had suggested a Silver Anniversary model in his favorite color – silver (which seemed appropriate) – and so it was decided that the 1978 "25th Anniversary Corvette" would indeed include a silver paint scheme.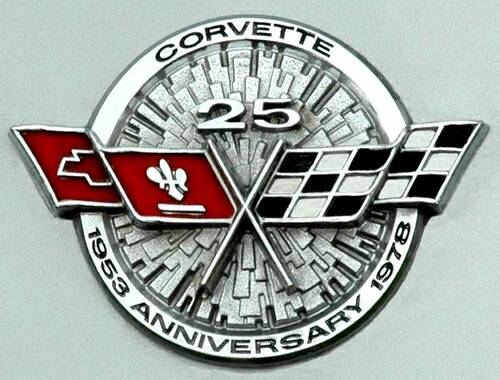 Additionally, the car received a special striping package.  Though inexpensive to manufacture, the striping package would be viewed by many consumers as a desirable package and, as such, GM would be able to mark up the package considerably.  Ultimately, the "25th Anniversary" paint scheme ended up being two-tone; silver over a gray lower body with a separating pinstripe.
Listed as RPO B2Z, the special paint package cost an additional $399 over the base price of the car.  It was also the first factory optioned two-tone Corvette offered since 1961.  The anniversary car also received special "Silver Anniversary" badges, aluminum wheels, and dual "sport" outside mirrors as mandatory options, which added another $380 to the total cost of the car.
To further commemorate Corvette's 25th anniversary, Chevrolet had negotiated with the Indianapolis Motor Speedway to allow a modified Corvette to serve as the pace car for the 1978 running of the Indianapolis 500.
The car, much like the Silver Anniversary Edition, featured a special, two-tone paint scheme, although for this model, the color choice was black over silver metallic with a bright red pinstripe between the two tones of paint.
The Corvette Indy Pace Car also featured a front and rear spoiler, both of which added a more dramatic appearance to the car, though neither offered much in the way of additional downforce (or other functionality.)  The front spoiler was similar to the one installed on the 1978 Pontiac Trans Am.  It wrapped under and around the front of the car, blending into the wheel wells.  The rear spoiler, on the other hand, curved down at its outbored ends to meet the bodysides of the Corvette.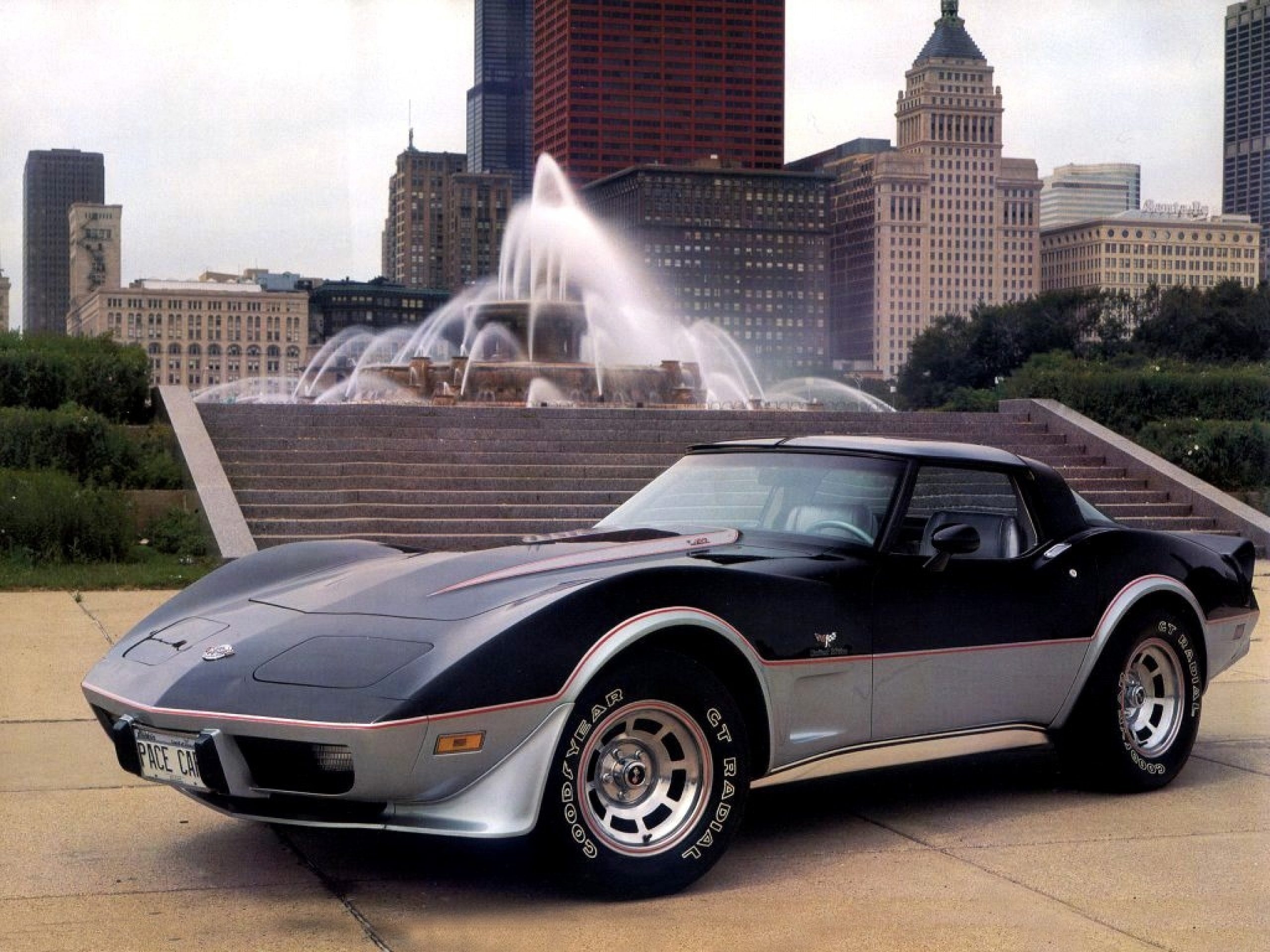 The interior of the Corvette Pace Car was directly influenced by Bill Mitchell and featured either full silver leather or leather/gray cloth upholstery and gray carpeting.  Chevrolet introduced a new, thin-shell seat design that featured more lumbar support.  Although these seats were originally slated for the 1979 model, the development program was accelerated so that these new seats could be introduced as part of the 1978 Pace Car package.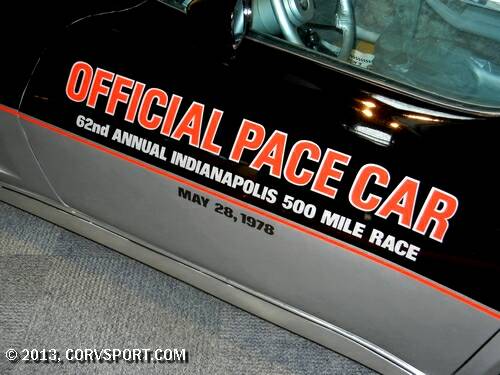 Naturally, development of a special Corvette Pace Car meant an opportunity to market the design to consumers.  Chevrolet initially decided that they would produce 2,500 Indy 500 Pace Car replicas or 100 cars for each year of Corvette's production since 1953.  Each of these cars would be sold on a "first come, first serve" basis.
However, as Chevrolet already had 6,200 established dealerships at the time, it was quickly decided that a minimum order of 6,200 units should be built so that each showroom could have at least one.  As such, the "Limited Edition Indy Pace Car Replica" Corvette actually accounted for 15 percent of all the Corvettes manufactured that year.
Like the Silver Anniversary model, the Pace Car Replica was actually offered to consumers as an option package – RPO Z78.  Like the actual pace car, it featured the same black over silver paint scheme, the same pin striping and spoiler kit, and the same interior.
Additionally, all the replicas included the new glass T-tops, alloy wheels, power windows, rear window defogger, air conditioning, sports mirrors, tilt/telescopic steering wheel, a heavy duty battery, an AM/FM stereo equipped with either an eight-track tape player or a CB radio, and power door locks.  In addition to these features, each Indy Pace Car Corvette replica owner would receive a set of regalia decals that they could install at their discretion.  The decal set included the famous "winged wheel" Indy Speedway logos for the rear fenders, as well as large door emblems that read "Official Pace Car, 62nd Annual Indianapolis 500 Mile Race, May 28, 1978."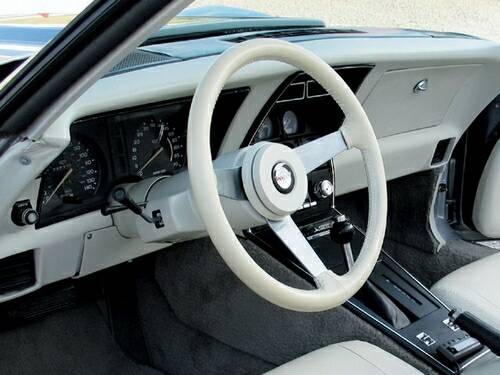 Of course, all of the 1978 Corvettes received other updates as well.  While a lot of time and attention had been given to the two special edition cars, all Corvettes would undergo a series of cosmetic and functional updates that would make the newest entry unique, regardless of which package prospective consumers ultimately purchased.
All 1978 Corvettes received special "Silver Anniversary" badging on the exterior of the car.  The interior received far more attention.  The speedometer and tachometer were now encased in squared-up instrument panel housings, matching the previous year's revamped console gauges. A genuine glovebox was added.
The interior door panels featured an all-new design with armrests that were screwed onto the door instead of being molded into the door as they had been since 1965.  The doors now also featured integral door pulls.  A single piece, fully padded dashboard with a front mounted cluster was developed for easier removal in such cases where service was required.  Windshield and wiper controls were moved back to the instrument panel, but the dimmer switch remained on the steering column.  The three-point seat belts were given a single inertia reel, and belt guides were eliminated.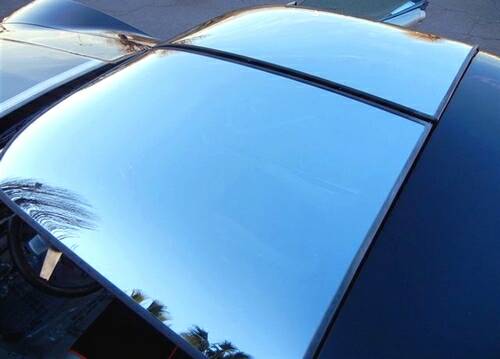 All of the 1978 Corvettes also featured an updated anti-theft system.  The new security system, which was installed as a standard option on all Corvettes, was modified from previous years to include activation in the event that the T-tops were to be tampered with in any way.  As the T-tops were a valuable item to car thieves, this additional security proved most valuable, as the 1978 Corvette was identified by law enforcement that year as one of the most frequently stolen cars.
Glass T-tops were offered for the first time in 1978, though GM had originally intended for them to be available on the 1977 model.  Both the glass tops and the normal fiberglass T-top panels were modified to provide additional headroom to both the driver and passenger, and both included a key-lock assembly that helped further secure them to the vehicle by securing each T-top latch from being operable when locked.
Mechanically, the car remained very similar to the 1977 Corvette that had come before it.  A few changes were made, including a larger fuel tank, which now held 24 gallons of gas (versus the 17 gallon tank used on the previous year.)  The tank itself features an internal molded plastic liner cased inside of a steel shell. To accommodate the larger fuel tank, Corvette introduced a smaller, lighter weight spare tire.  Wider 60-series tires were also introduced on the 1978 Corvette as an option, and the installation of these would require fender trimming at the Corvette assembly path to ensure proper fit.  The tires, manufactured by Goodyear, were sized at 225/60R-15's.  Aramid-belt construction in the tires contributed to a claimed improvement in ride smoothness.
Power ratings diminished some as a result of stricter emission standards, and also as a result of the government's new Corporate Average Fuel Economy (CAFÉ) mandates that took effect that year.  As with the 1977 Corvette it, the 1978 model featured two basic versions of the 350 CI small-block V-8 engine from which consumers could choose.  The base L48 produced 185 brake horsepower in every state except California.  For California and high-altitude areas, the engine generated 175 bhp.  For consumers looking for a car with some additional power, the optional L82 engine could be purchased for an extra $525.  The L82 featured an output of 220 brake horsepower via a dual-snorkel air intake system which allowed the delivery of a larger volume of cool air into the engine while a revamped exhaust system that featured larger exhaust and tailpipes along with lower restriction mufflers had been designed to reduce back pressure.
A close-ratio four-speed manual transmission returned as an exclusive option for the L82 engine, and a 3.70:1 rear axle made this combination the best performing setup available to consumers that year.  The same gearset was also offered for the L82 with the wide-ratio four-speed transmission, while the L48 engine came with a 3.36:1 axle (which was also available on the L82 with the wide-ratio setup.)  Additionally, the L82 was offered with a revised Turbo Hydra-Matic that featured a low-inertia, high-stall-speed (2,400rpm) torque converter.  Corvettes equipped with the automatic transmission featured a 3.55:1 final drive, with the exception of the L48 at high altitudes, where the ratio was 3.08:1.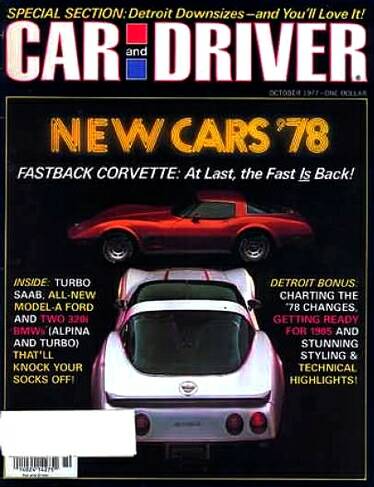 The FE7 Gymkhana Suspension package was again available for the 1978 Corvette, though its price had increased considerably from its original $7.00 price-tag in 1974.  Now selling for an additional $41.00, the suspension package included heavy-duty shocks and higher-rate springs for all four wheels, plus a rear anti-roll bar and a thicker front stabilizer bar.
The arrival of the 1978 Corvette was met with a great deal of praise, especially for its more refined ride and appearance, both of which seemed to revitalize the car in the public eye.
The addition of the larger wrap around rear window earned the car praise, especially from reviewers like Car & Driver who stated "the large rear window freshened up the Corvette's profile, and it also added space and light to help relieve the claustrophobia inside this, the most tightly coupled car known to man."
Automobile critics praised the car's performance aspects too – especially those Corvettes equipped with the L48 engine/automatic transmission combinations.  When so equipped, the Corvette boasted 0-60mph times of just 7.8 seconds and a top speed of 123 miles per hour.
At the same time, critics were also quick to point out that the Corvette's cockpit continued to feel cramped and uncomfortable, and that the car's front to rear axle weight distribution was uneven, causing the back end of the car to "step out" during sharp cornering maneuvers.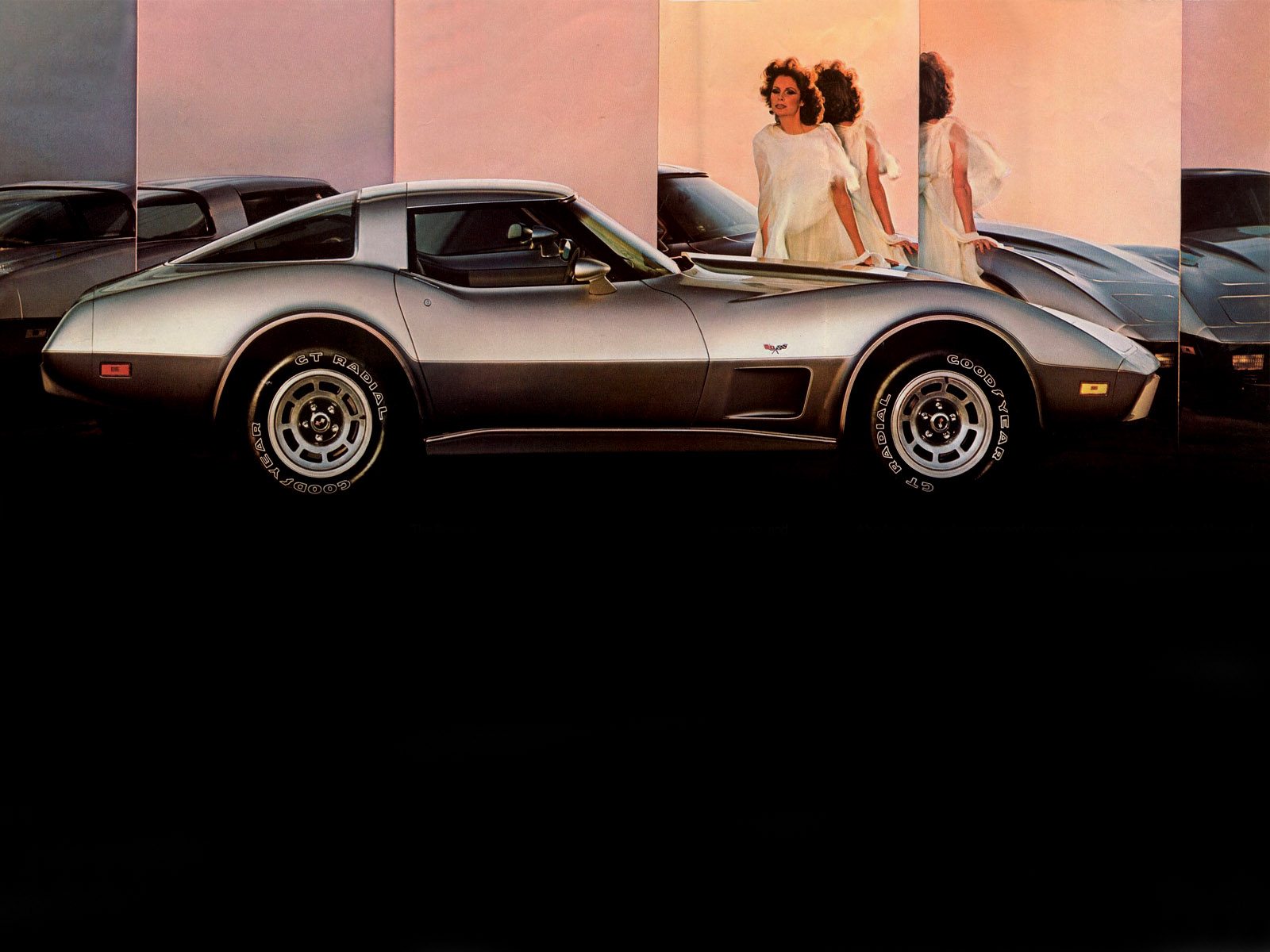 Still, the 1978 Corvette sold quite well, moving 46,776 units in all.  Of these, 6,502 sold were the limited edition Corvette Pace Car model, which retailed for more than $4,000 over the standard model.  While the base coupe started at $9,351.00, the Pace Car had a sticker price of $13,653.21.  Still, the Pace car had a unique "collector's quality" about it which made it extremely desirable to consumers – so much so that every Pace Car in 1978 sold for more than list price.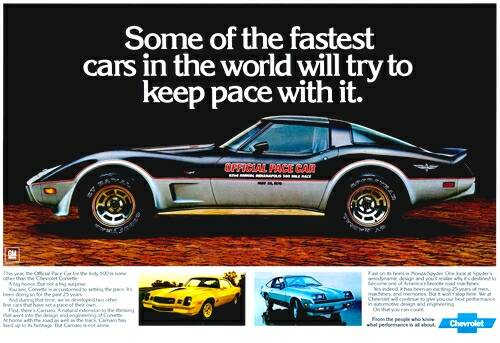 The Pace Car look was so popular that it actually tempted some owners of the standard 1978 Corvette coupes to create a "clone" that they could pass off as the Pace Car model.
While many of these "clones" were very convincing, there were (and still are for those consumers looking to buy one) some key indicators that helped spotters identify the real Pace Car replicas from the homemade knock-offs.  For one, most counterfeiters would never replace the factory installed seats with the special edition seats used in the pace car.  For another, the Pace Car edition Corvettes featured a special vehicle identification number (VIN).
The 1978 Corvette Pace Car VIN numbers had the number "9" as the eighth digit in the thirteen-digit sequence as opposed to the number "4" associated with all other 1978 models.
From a historical perspective, the 1978 Corvette Pace Car also set an important milestone when it paced the Indianapolis 500 that year.  It represented the first time that an unmodified, truly stock machine paced the annual Memorial Day race.  The Corvette that led the pack of drivers (which included Tom Sneva, Al Unser Jr., Rick Mears, along with 30 other drivers on May 28, 1978) was almost identical to the Pace Car replica which was sold to consumers that year, save for the two openings made in the back of the car for the required flag poles mounted on the actual pace car.
In all, the 1978 Corvette saw the resurgence of a car brand that had begun to falter some throughout the previous decade. Between the Silver Anniversary and Pace Car Limited Edition Corvettes, and the overall look and feel of the 1978 model as a whole, there was no doubt that Corvette was moving in a better direction once more.
As stated in Car & Driver Magazine, "After a number of recent Corvette editions that prompted us to mourn the steady decline of both performance and quality in this once-proud marquee, we can happily report the twenty-fifth example of the Corvette is much improved across the board.
Not only will it run faster now – the L82 version with four-speed is certainly the fastest American production car, while the base L48 automatic is no slouch – but the general drivability and road manners are of a high order as well."
1978 Corvette Image Gallery
See full 1978 Corvette Image Gallery
1978 Corvette Specifications
See the complete breakdown of technical specifications for the 1978 Corvette, including engine, suspension, brakes, body dimensions, and power.
Read more: 1978 Corvette Specifications.
1978 Corvette Pricing & Options
| | | | |
| --- | --- | --- | --- |
| CODE: | DESCRIPTION: | QUANTITY: | RETAIL PRICE: |
| 1YZ87 |  Base Corvette Sport Coupe |  40,274 | $9,351.00 |
| 1YZ87 / 78 | Limited Edition Corvette Pace Car | 6,502 | $13,653.21 |
| A31 | Power Windows | 36,931 | $130.00 |
| AU3 | Power Door Locks | 12,187 | $120.00 |
| B2Z | Silver Anniversary Paint | 15,283 | $399.00 |
| CC1 | Removable Glass Roof Panels | 972 | $349.00 |
| C49 | Rear Window Defogger | 30,912 | $95.00 |
| C60 | Air Conditioning |  37,638 |  $605.00 |
| D35 | Sport Mirrors |  38,405 |  $40.00 |
| FE7 | Gymkhana Suspension |  12,590 |  $41.00 |
| |  Optional Rear Axle Ratios |  382 | $15.00 |
|  K30 |  Cruise Control | 31,608 | $99.00 |
|  L82 |  350ci, 220hp Engine | 12,739 | $525.00 |
|  M21 |  4-Speed Manual Trans, Close Ratio | 3,385 | $0.00 |
|  MX1 |  Automatic Transmission | 38,614 | $0.00 |
|  NA6 |  High-Altitude Emission Equipment | 260 | $33.00 |
| N37 | Tilt-Telescopic Steering Column |  37,858 | $175.00 |
|  QBS | White Letter SBR Tires, P255 / 60R15 |  18,269 |  $216.32 |
|  QGR |  White Letter SBR Tires, P225 / 70R15 | 26,203 | $51.00 |
| UA1 | Heavy Duty Battery | 28,243 | $18.00 |
| UM2 | AM-FM Radio, stereo with 8-track tape | 20,899 | $419.00 |
| UP6 | AM-FM Radio, stereo with CB | 7,138 | $638.00 |
| U58 | AM-FM Radio, stereo | 10,189 | $286.00 |
| U69 | AM-FM Radio | 2,057 | $199.00 |
| U75 | Power Antenna | 23,069 | $49.00 |
| U81 | Dual Rear Speakers | 12,340 | $49.00 |
| YF5 | California Emission Certification | 3,405 | $75.00 |
|  YJ8 |  Aluminum Wheels (4) | 28,008 | $340.00 |
|  ZN1 |  Trailer Package | 972 | $89.00 |
| ZX2 |  Convenience Group | 37,222 | $84.00 |
Read more: 1978 Corvette pricing and factory options.
1978 Corvette Vehicle Identification Numbers (VIN)
For all 1978 Corvettes, the location of the Vehicle Identification Number (VIN) is stamped on a plate attached to the left front body hinge pillar. Read more: 1978 Corvette VINs.
1978 Corvette Recalls, Technical Service Bulletins, & Maintenance Schedule
The information contained on this page is for reference only.  The time and mileage intervals for each of the maintenance items included on this page were established by General Motors with the introduction of the 1978 Chevy Corvette.  Please note that the original service intervals may not reflect the standard service intervals used in current automobile engines.
Read more: 1978 Corvette Recalls, Technical Service Bulletins, & Maintenance Schedule.
1978 Corvette Dealers Sales Brochure
See the original 1978 Corvette sales brochure here.
See Also