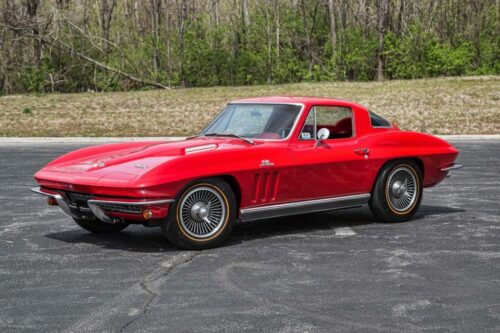 1966 Corvette Overview – The Ultimate Guide
With the 1966 Corvette arriving after General Motors' recent, overwhelming success with the 427 Sting Ray, there was no question that the newest Corvette model would continue to feature big-block engines.
This turnabout in events was rather interesting, especially given GM management's earlier decree that no car line smaller than a full-size model would carry an engine larger than 400 cubic inches.  Perhaps fortunately for Corvette, it was Carroll Shelby's two-seat Cobra, which featured its own 427 cubic inch V8 engine that prompted the change of opinion.
Chevrolet now felt it would also need a 427 cubic inch engine, and it materialized for the 1966 model year.
Although it was effectively a 396 cubic inch engine with a larger 4.25-inch bore, the new 427 big-block engine came in two forms: the relatively mild L36, which featured a hydraulic-cam and produced 390 horsepower on 10.25:1 compression, and the truly awesome L72, a 425 horsepower engine with 11:1 compression, larger intake valves, a bigger Holley four-barrel carburetor on an aluminum manifold, mechanical lifters, and four-hole (instead of two-hole) main bearing caps.
Though it had no more horsepower than the previously developed 396 cubic inch engine, the 427 did pack quite a bit more torque-460lbs/ft instead of 415.
Given the fact that, especially in the Sixties, engine outputs were sometimes deliberately understated, it is not unreasonable to assume that the output of these two engines was closer to 420 and 450 horsepower respectively.
There were limitations to ordering the big block 427 cubic inch engine.  First, it had to be ordered in combination with Positraction and the close-ratio Muncie four-speed transmission.  It also required that the Corvette was equipped with an upgraded suspension, similar to the setup on the 396 package.  Lastly, it required stouter, shot-peened half shafts and U-joints, as well as a higher-capacity radiator and sump.
DID YOU KNOW: The 427 cubic-inch engines were introduced in the 1966 model. Corvettes equipped with this type of engine received a special bubble hood first seen on the 1965 Corvettes equipped with the 396 cubic inch engine. Although initially listed as a 450hp engine, the solid lifter 427ci engine's rating was later reduced to 425hp shortly after its introduction for reasons unknown. Similarly, the 390 horsepower engine was initially rated at 400 horsepower. When the official ratings were reduced, the decision to make this change was purely administrative and was not the result of any changes made to the engines.
The introduction of the big-block V-8 engine captured the imagination of Corvette consumers the world over, and in no time at all, the demand for big-blocks far surpassed those of the conventional 327 small block Chevy engine.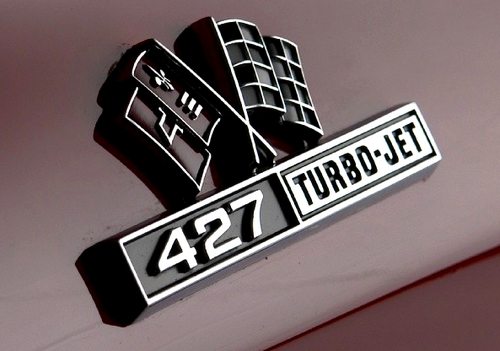 As a result, the small-block engine options were reduced from five to two for the 1966 model year, with only the 300-horsepower (L75) and 350-horsepower (L79) versions remaining available to prospective consumers.  Even amongst the earlier small-block options that had been available on earlier Corvettes, these two engines were arguably the best all-around engines.
Additionally, both could be paired with the Powerglide automatic, the standard three-speed manual, or either of the optional four-speed manual transmissions.
With the exception of the dramatic new lineup of engine choices, there was little else that was deemed "new" for the 1966 model year.
There were minor modifications made to the Corvette's appearance.  For one, the Sting Ray's front end was mildly altered with the introduction of an "egg-crate" grille insert which replaced the previously installed horizontal bars.
Restyled wheel covers were introduced along with an all-new rocker trim.  Also, the coupe lost its roof-mounted extractor vents, which had proven to be inefficient in earlier model years.
Lastly, less notable upgrades like the addition of "Corvette Sting Ray" scripts to the hood and the introduction of standard backup lights were introduced.
Likewise, the interior went largely unaltered from 1965.  The interior electric ventilation system was dropped (in conjunction with the aforementioned exterior vents), extra pleats were added to the Sting Ray's bucket seats, chrome door pull handles were introduced, headrests were made optional, and a vinyl-covered foam headliner replaced the previously used fiberboard.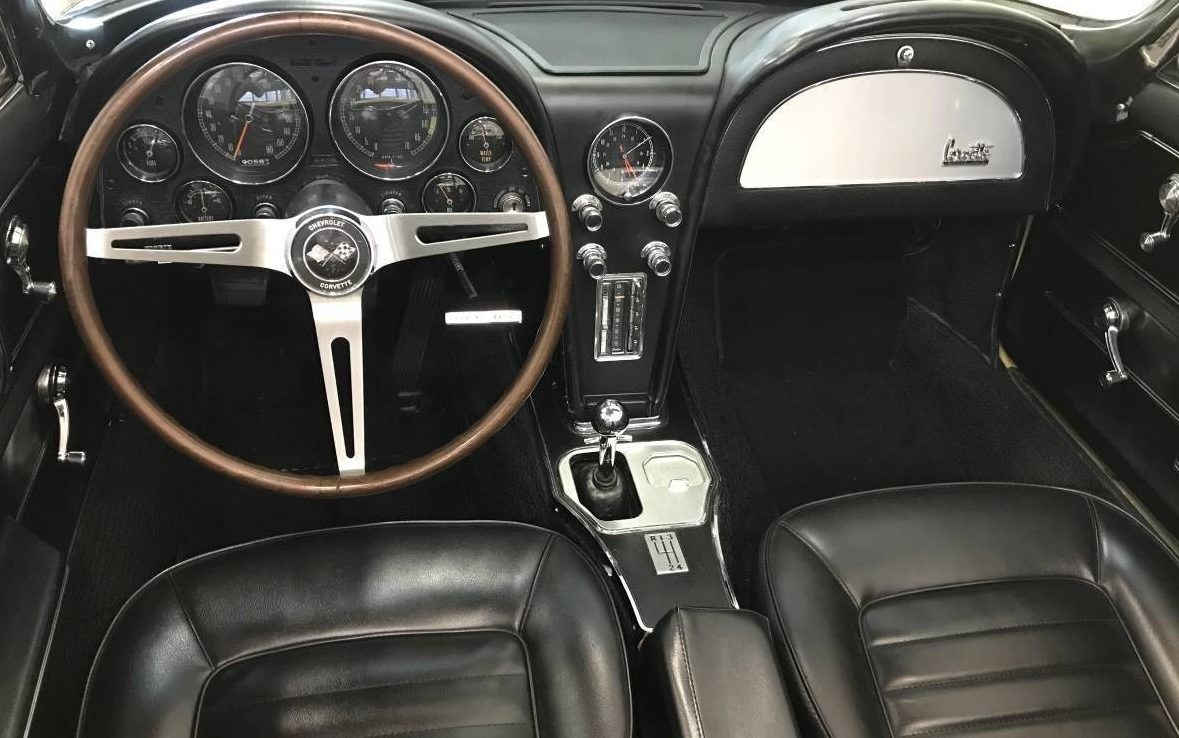 Given that these were among the only notable changes from 1965 to 1966, there was a good deal of reasonable speculation that an all-new Corvette was slated for 1967
Consumers found that the new Corvette, especially one equipped with the 427 big-block, had all the refinement it needed.  The 427 Sting Ray was an astonishingly fast car, with 0-60 times of just 4.8 seconds, 0-100 mph times of 11.2 seconds, and a top speed of 140 miles per hour (when properly equipped with the short 4.11:1 gearing.)  Even in cars equipped with the somewhat less sensational 3.36:1 ratio, the Corvette was still able to run 0-60 times of 5.4 seconds with a standing quarter of 12.8 seconds at 112 miles per hour (source Car and Driver).
Impressive as those numbers were, the intent of the 427 cubic inch engine had been to meet the Shelby Cobra head-on and give it some staunch competition.  However, even despite the staggering horsepower and the impressive performance numbers, the fact remained that the Corvette was half a ton heavier than the Shelby Cobra so, even with the same horsepower rating, it was considered less than a threat.  Still, the Corvette did not go home empty-handed.  The Corvette still took a number of victories in endurance racing including Penske's team's 12th place overall in the GT class.
Production Volumes
The lack of changes for the 1966 model year did not hurt Corvette's popularity with consumers.  In fact, 1966 would prove to be another record-breaking year in Corvette sales, with volume rising to 27,720 units sold – an increase of more than 4,200 units over 1965's sales of 23,562 units. See the total 1965 production volume breakdown.
1966 Corvette Specifications & Performance
See the complete breakdown of technical specifications for the 1966 Corvette, including engine, suspension, brakes, body dimensions, and power. Read more: 1966 Corvette Specifications.
Engine & Transmission
The first big block V8, a 396 CID version, was introduced to the Corvette in 1965, and that proved to be a foreshadowing of what was to come. That engine was only used for one year, and was replaced by the 427 CID engine in the 1966 models. Maximum horsepower was not actually increased with the larger engine for 1966, though the new engine did have significantly more torque. The lesser of the two 427 models was rated at 390 horsepower, and the other was rated at 425. Some critics believe that those ratings may be on the conservative side, and feel the actual ratings were closer to 420 and 450 for the two engines. The base model Corvettes, however, still came with the 327 CID V8 that had been used since 1962. However, base horsepower was 300 in 1966, up from 250 the year before. More on 1966 Vette engines here.
Performance
Car and Drive tested the 1966 Corvette and managed a 12.8 second quarter mile at 112 mph in 427ci/425hp configuration. The company estimate said 5.7 second 0 – 60 mph time was possible, but we couldn't validate that anybody had tested that. Read more: 1966 Corvette Performance & Specifications.
1966 Corvette Vehicle Identification Numbers (VIN)
The last six digits begin at 100001 and run through 127720, accounting for all 27,720 Corvette Coupes/Convertibles built-in 1966. Each Vehicle Identification Number (VIN) is unique to an individual car. For all 1966 Corvettes, the location of the Vehicle Identification Number (VIN), body style, body number trim, and paint combination can be found on the instrument panel brace under the glove box. Read more in our 1966 Corvette VINs page.
1966 Corvette Price & Options
Core Features & Factory Options
The standard features for the Corvettes (which were identical for the coupe and convertible models, included bucket seats, simulated walnut steering wheel and complete instrumentation. Options included an air conditioner that added $413 to the price and an AM/FM radio which added $173. Additional options included leather seats, tinted glass and white wall tires.
Corvette-buyers that ordered the 427 engine were treated to a few standard features that were optional on the 327 models, including Positraction limited slip differential, an upgraded suspension and a four-speed manual transmission. Buyers that chose the smaller engines also could choose a three-speed manual transmission or the Powerglide automatic transmission. The cars with 427 engines also included special '427' racing emblems.
Colors
Colors for 1966 included Tuxedo Black, Ermine White, Rally Red, Nassau Blue, Laguna Blue, Trophy Blue, Mosport Green, Sunfire Yellow, Silver Pearl, Milano Maroon. Color breakdown in terms of production numbers was the following: Tuxedo Black 1,190 (4.29%), Ermine White 2,120 (7.65%), Rally Red 3,366 (12.14%), Nassau Blue 6,100 (22.01%), Laguna Blue 2,054 (7.41%), Trophy Blue 1,463 (5.28%), Mosport Green 2,311 (8.34%), Sunfire Yellow 2,339 (8.44%), Silver Pearl 2,967 (10.70%) and Milano Maroon 3,799 (13.70%)
Pricing & Options
The Base Corvette Coupe with 327 cu. in. 300 hp engine and three speed manual transmission started at $4,295, while the Base Corvette Convertible with 327 cu. in. 300 hp engine and three speed manual transmission started at $4,084. Below we have outlined the pricing and options, but we also have a more detailed page here.
| | | | |
| --- | --- | --- | --- |
| CODE: | DESCRIPTION: | QUANTITY: | |
| 19437 | Base Corvette Sport Coupe | 9,958 | $4,295.00 |
| 19467 | Base Corvette Convertible | 17,762 | $4,084.00 |
| 402 | Genuine Leather Seats, Black | – | $79.00 |
| 408 | Genuine Leather Seats, Red | – | $79.00 |
| 415 | Genuine Leather Seats, Bright Blue | – | $79.00 |
| 419 | Genuine Leather Seats, Dark Blue | – | $79.00 |
| 421 | Genuine Leather Seats, Saddle | – | $79.00 |
| 427 | Genuine Leather Seats, Silver/Black | – | $79.00 |
| 431 | Genuine Leather Seats, Green | – | $79.00 |
| 451 | Genuine Leather Seats, White/Blue | – | $79.00 |
| A01 | Soft Ray Tinted Glass, All Windows | $79.00 | $79.00 |
| A02 | Soft Ray Tinted Glass, Windshield | 9,270 | $79.00 |
| A31 | Power Windows | 4,562 | $57.95 |
| A82 | Headrests | 1,033 | $42.15 |
| A85 | Shoulder Belts | 37 | $26.35 |
| C07 | Auxillary Hardtop (for convertibles) | 8,463 | $231.75 |
| C48 | Heater and Defroster Deletion (credit) | 54 | -$97.85 |
| C60 | Air Conditioning | 3,520 | $412.90 |
| F41 | Special Front and rear Suspension | 2,705 | $36.90 |
| G81 | Positraction Rear Axle, all ratios | 24,056 | $42.15 |
| J50 | Power Brakes | 5,464 | $42.15 |
| J56 | Special Heavy Duty Brakes | 382 | $342.30 |
| K19 | Air Injection Reactor | 2,380 | $44.75 |
| K66 | Transistor Ignition System | 7,146 | $73.75 |
| – | 427ci, 390hp Engine | 5,116 | $181.20 |
| L72 | 427ci, 425hp Engine | 5,258 | $312.85 |
| L79 | 327ci, 350hp Engine | 7,591 | $105.35 |
| M20 | 4-Speed Manual Transmission |  10,837 |  $184.35 |
| M21 | 4-Speed Manual Transmission, Close Ratio |  13,903 |  $184.35 |
| M22 | 4-Speed Manual Trans., Close Ratio, Heavy Duty |  15 |  $237.00 |
| M35 | Powerglide Automatic Transmission |  2,401 |  $194.85 |
| N03 | 36 Gallon Fuel Tank (for coupe) |  66 |  $198.05 |
| N11 | Off Road Exhaust System |  2,795 |  $36.90 |
| N14 | Side Mount Exhaust System |  3,617 |  $131.65 |
| N32 | Teakwood Steering Wheel |  3,941 |  $47.40 |
| N36 | Telescopic Steering Column |  3,670 |  $42.15 |
| N40 | Power Steering |  5,611 |  $94.80 |
| P48 | Cast Aluminum Knock-Off Wheels (5) |  1,194 |  $316.00 |
| P92 | Whitewall Tires, 7.75 x 15 (rayon cord) |  17,969 |  $31.30 |
| T01 | Goldwall Tires, 7.75 x 15 (nylon cord) |  5,557 |  $46.55 |
| U69 | AM-FM Radio |  26,363 |  $199.10 |
| V74 | Traffic Hazard Warning Switch |  5,764 |  $11.60 |
1966 Corvette Gallery
The styling of the 1966 car remained very much a carryover from the year before. Other than the egg crate grille that replaced the previous horizontal bars, the 1966 models were nearly identical to the 1965 models. See full 1966 Corvette Image Gallery