1975 Corvette Overview
The 1975 Chevy Corvette, along with the automotive industry as a whole, would experience a significant transformation at the onset of the new model year.  Because of serious health issues and environmental contamination associated with the use of lead fuel, it was determined that the automotive industry would – and should – phase it out.
Tetraethyllead (also known as TTL, or simply "lead") was introduced in the 1920's as an additive to prevent fuel from auto-igniting in high compression, internal combustion engines.  While the lead additives allowed engine designers to produce more powerful, higher compression engines, it also produced a dangerous neurotoxin through exhaust emissions, which resulted in many cases of acute, and widespread lead poisoning, especially in children.
Additionally, the lead component was destructive to catalytic converters, which were to become a Federally mandated requirement to aid in the control of damaging exhaust emissions.
| | |
| --- | --- |
| Model: | 1975 Corvette |
| Generation: | C3 Corvette |
| Type: | 2 Door Coupe/Convertible |
| Available Colors: | Classic White, Silver, Bright Blue, Steel Blue, Bright Green, Bright Yellow, Medium Saddle, Orange Flame, Dark Red, Mille Miglia Red |
| Engine: | 350ci – 165HP Engine (standard),  350ci – 250HP Engine |
| VIN: | 1Z37J5S400001 – 1Z37J5S438465 |
| Transmission: | 4-speed manual (standard), 4-speed manual (close ratio), 3-speed Turbo Hydra-Matic automatic (optional) |
| Original Price: | $6,810.10 (Coupe), $6,550.10 (Convertible) |
| Units Produced: | 38,465 |
| Specs: | 1975 Corvette Spec List |
For Chevrolet in general, and the Corvette in particular, the 1975 model year marked a turning point in the car's history.  Zora Arkus-Duntov, who had been instrumental in breathing life into the Corvette, retired on January 1, 1975 after 21 years and 7 months with General Motors.
Duntov's legacy with Corvette started in 1953 when he saw the original Harley Earl Corvette prototype on GM's Motorama stage in New York.   He had come to work for Chevrolet later that same year after writing to Ed Cole with his insights about the Corvette Prototype.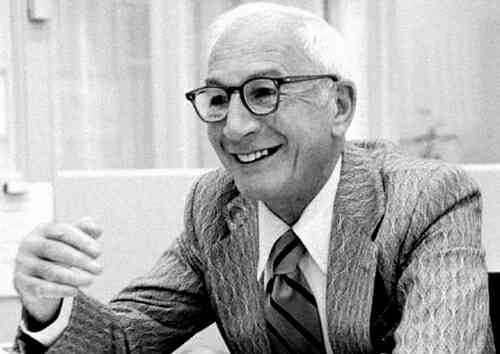 While working on other projects for Chevrolet, Duntov had begun "fiddling on the side" (his words) with the Corvette throughout  the 1953 and 1954 model  improvements to the car's overall design along the way.
By 1956, he had been named the division's director of high-performance vehicle design and development.
While he would continue to be partnered with the Corvette throughout his career, he was not officially named Corvette's Chief Engineer until 1968.  Even so,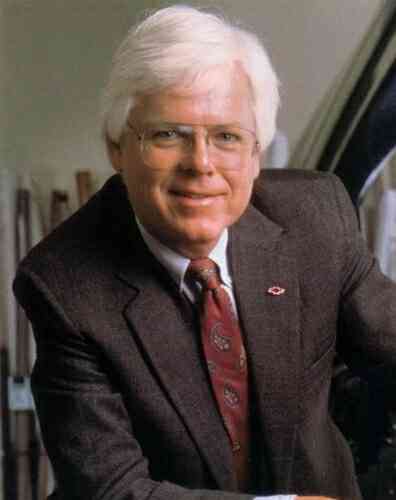 Given Zora's incredible reputation, his history with Corvette, and the legacy, of incredible cars that he was instrumental in developing for more than two decades, there were many who questioned how anyone could fill the hole that was left behind by his retirement.
The person tasked with the challenging position – and the sizable shoes to fill – was David Ramsay McLellan, who had worked with Duntov and had been groomed for the job after joining General Motors in 1959.
McLellan had spent most of 1973 and 1974 at the Massachusetts Institute of Technology's Sloan School of Management at GM's direction, and then, with his master's degree in hand, had returned to Chevrolet as one of Duntov's staff engineers.
When Zora Arkus-Duntov resigned his post just six months later, it was understood that McLellan would fill the post that he had been so carefully groomed for.
Despite this, McLellan would not have a significant influence on the design of the Corvette until the introduction of the C4 Corvette some eight years later.
The 1975 Corvette look was almost identical physically to the 1974 model.  The one notable change to the car's exterior design was the introduction of a pair of front and rear bumper pads.  These pads were integrated into the soft front and rear bumpers with the intent of providing the Corvette with additional protection in parking lots (and similar environments where the car might make contact with a curb, or even another vehicle.)
Beyond the introduction of these parking pads, the structure of both the front and rear bumpers were modified slightly as well.  The front bumper now featured an inner honeycomb core which offered added rigidity.  The rear bumper received inner shock absorbers to reduce damage in the event of an impact condition.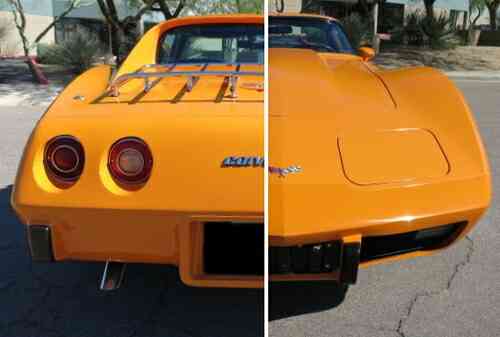 Lastly, the rear bumper fascia was molded as a single urethane plastic component, unlike the 1974 model which featured two separate urethane assemblies that mated down the centerline of the car.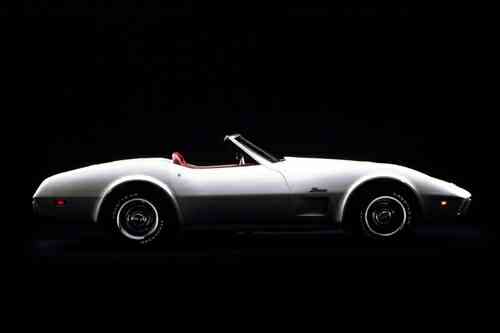 A significant milestone that was also represented in the 1975 model year had nothing to do with what the Corvette introduced as a new option, but rather what it was about to eliminate as a production option for nearly the next decade.
The 1975 Corvette would be the last of the third-generation Corvettes to be offered as both a coupe and a convertible.  Because convertible volumes had continued to diminish year after year, Chevrolet had already considered eliminating the option, but when the government threatened to enact legislation that would have effectively banned fully open cars in the United States after the 1975 model year, it sealed the deal. The decision was made to discontinue production of a Corvette convertible and the last C3 Corvette convertible rolled off the assembly line in late July, 1975.
While the legislature surrounding convertibles never actually materialized, it had given domestic automotive manufacturers the excuse they'd been looking for to discontinue production of slow-selling convertible rag-tops.  Naturally, there was a fair amount of discontent by enthusiasts about the decision, especially given that the Corvette had existed as a convertible/rag-top since its inception in 1953.
Despite this, the decision would stand for an entire decade and would mark the last time in Corvette's history when a convertible was actually less expensive than a coupe.
Engine options for the 1975 Corvette were more limited than any second- or third-generation Corvette that had come before it.  While GM did briefly offer an optional big-block V-8 engine, it was dropped very early in the production run, leaving the stock, 165 horsepower, 350 cubic inch engine, and the optional RPO L82 205 horsepower, 350 cubic engines as the only available choices.
Not since the 1955 Corvette model had such a limited number of engine options been made available to consumers.  Additionally, it was the first year since 1967 that only a single engine displacement was offered.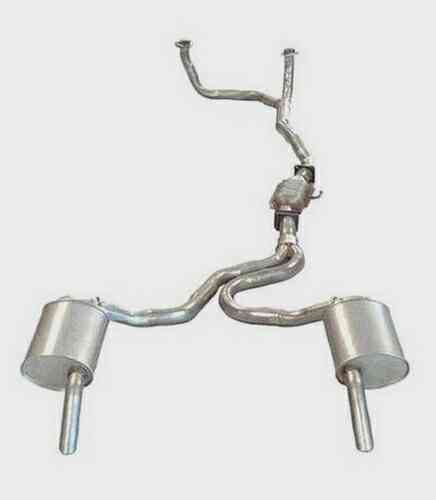 Just as there were few changes to its appearance, there were equally few changes to the car's mechanical and structural makeup.  However, 1975 was a significant year, not only for Corvette, but many production automobiles as it was the year that the catalytic converter was formally introduced and adopted by manufacturers across the United States.
The catalytic converter was designed to convert toxic byproducts produced by internal combustion engines into a less toxic substance via catalysed chemical reactions.  This method of managing emissions was considered far more efficient than earlier, less conventional emission control methods, and may actually have prevented Corvette's horsepower ratings from dropping even further than they had.
As a result of the introduction of the catalytic converter, the 1975 Corvette was also the first model not to feature dual exhaust.  Instead, the exhaust left both manifolds via a Y-pipe, passed through the catalytic converter, and then split again to a pair of muffler/tailpipe assemblies.
Under the hood was a new, breakerless electronic ignition system known as HEI (High Energy Ignition). Quite different from the transistor ignition systems that had been available previously, the HEI ignition was the first ignition on a Corvette to feature a distributor that did not require a points and condenser setup.  In conjunction with the new electronic ignition system, Chevrolet also introduced the first electronic (instead of mechanical) tachometer drive.
While tachometers had previously been driven off of the distributor, the new distributor would receive an electrical signal which was translated into the output seen by drivers on the dashboard.  Additionally, the 1975 Corvette was the first model year to feature the "Kilometers Per Hour" subtext beneath the standard "Miles Per Hour" on the speedometer.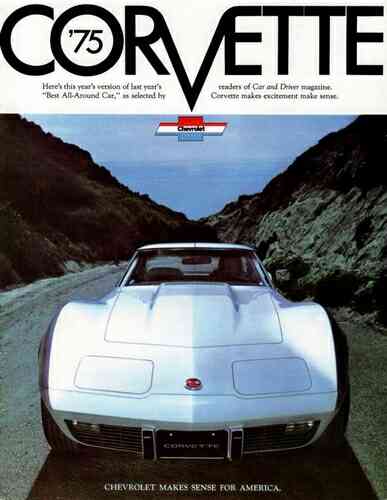 Elsewhere on the 1975 Corvette, a headlights-on warning buzzer was added per a federal mandate.  An internal bladder was added to the fuel tank to help prevent gas fumes from escaping while also keeping air from entering and/or getting trapped in the tank.
Hood emblems featuring the engine designation "L82" were introduced in 1975, though many Corvettes built that year did not include the emblem.
Lastly, the 1975 Corvette was the final model year to feature the Astro Ventilation system which had been introduced as part of the third-generation Corvette in 1968.
Despite these minimal changes to the car, the 1975 Corvette's sales numbers continued to rise over the previous model year.
In total, 38,465 Corvettes were sold that year, which was within 300 units of the 1969 model year, which was still – to that point in time – the best production year ever for Corvette.
The coupe accounted for all but 4,629 units sold that year, which once more reinforced Chevrolet's decision to discontinue the Corvette convertible.
See Also
1975 Corvette Image Gallery
See full 1975 C3 Corvette Image Gallery
---
1975 Corvette Specifications
See the complete breakdown of technical specifications for the 1975 Corvette, including engine, suspension, brakes, body dimensions, and power.
Read more: 1975 Corvette Specifications.
1975 Corvette Pricing & Options
| | | | |
| --- | --- | --- | --- |
| CODE: | DESCRIPTION: | QUANTITY: | RETAIL PRICE: |
| 1YZ37 | Base Corvette Sport Coupe | 33,836 | $6,810.10 |
| 1YZ67 | Base Corvette Convertible | 4629 | $6,550.10 |
| – | Custom Interior Trim | — | $154.00 |
| A31 | Power Windows | 28,745 | $93.00 |
| A85 | Custom Shoulder Belts (std with coupe) | 646 | $41.00 |
| C07 | Auxiliary Hardtop (for convertible) | 2,407 | $267.00 |
| C08 | Vinyl Covered Auxiliary Hardtop | 279 | $350.00 |
| C50 | Rear Window Defogger | 13,760 | $46.00 |
| C60 | Air Conditioning | 31,914 | $490.00 |
| FE7 | |  3,194 | $7.00 |
| – |  Optional Rear Axle Ratios |  1,969 | $12.00 |
| J50 | Power Brakes |  35,842 | $50.00 |
| L82 | 350ci, 205hp Engine | 2,372 | $336.00 |
| M21 | 4-Speed Manual Transmission, close-ratio | 1,057 | $0.00 |
| M40 | Turbo-Hydro-matic Automatic Transmission | 28,473 | $0.00 |
| N37 | Tilt-Telescopic Steering Column | 31,830 | $82.00 |
| N41 | Power Steering | 37,591 | $129.00 |
| QRM | White Stripe Steel Belted Tires, GR70x15 | 5,233 |  $35.00 |
| QRZ | White Letter Steel Belted Tires, GR70x15 |  30,407 |  $48.00 |
| U05 | Dual Horns | 22,011 | $4.00 |
| U58 | AM-FM Radio, Stereo | 24,701 | $284.00 |
| U69 | AM-FM Radio | 12,902 | $178.00 |
|  UA1 | Heavy Duty Battery |  16,778 | $15.00 |
| UF1 | Map Light (on rearview mirror) | 21,676 | $5.00 |
|  YF5 | California Emission Test | 3,037 | $20.00 |
| Z07 | Off Road Suspension and Brake Package |  144 | |
Read more: 1975 Corvette pricing and factory options.
1975 Corvette Vehicle Identification Numbers (VIN)
For all 1975 Corvettes, the location of the Vehicle Identification Number (VIN) is stamped on a plate attached to the left front body hinge pillar. Read more: 1975 Corvette VINs.
1975 Corvette Recalls, Technical Service Bulletins, & Maintenance Schedule
The information contained on this page is for reference only.  The time and mileage intervals for each of the maintenance items included on this page were established by General Motors with the introduction of the 1975 Chevy Corvette.  Please note that the original service intervals may not reflect the standard service intervals used in current automobile engines.
Read more: 1975 Corvette Recalls, Technical Service Bulletins, & Maintenance Schedule.
1975 Corvette Dealers Sales Brochure
See the original 1975 Corvette sales brochure here.
See Also