1990 Corvette Overview
Although the C4 had already proven itself throughout the second half of the nineteen-eighties, there was no question that the Corvette would be transformed forever with the arrival of the 1990 model year.
In its entire history, there have been few model years that were so widely anticipated as the 1990 Corvette ZR-1.  Although the ZR-1 had originally been slated for a midyear-1989 release, it had been delayed until the 1990 model year because of engineering and design refinements that prevented it from being ready prior to 1990.
Now, as Chevrolet moved into a new decade, it did so with the most technologically advanced, and one of the most powerful Corvettes of all time.
Model:
1990 Corvette
Generation:
C4 Corvette
Type:
2 Door Coupe, 2 Door Convertible
Available Colors:
White, Steel Blue Metallic, Black, Turquoise Metallic, Competition Yellow, Dark Red Metallic, Quasar Blue Metallic, Bright Red, Polo Green Metallic, Charcoal Metallic
Engine:
Base Model: 350CI 240/245 Horsepower, Tuned-Port Fuel Injected L98 V8 Engine. ZR-1: 350CI 375 Horsepower, LT5 V8 Engine
VIN:
1G1YY2380L5100001 – 1G1YY2380L5120597 (Corvette Coupe & Convertible)
1G1YZ23J6L5800001 – 1G1YZ23J6L5803049 (ZR-1 Corvette)
Transmission:
4-speed automatic (standard), 6 speed manual (optional)
Original Price:
$31,979.00 (Coupe), $37,264.00 (Convertible)
Units Produced:
23,646
Specs:
1990 Corvette

Spec

List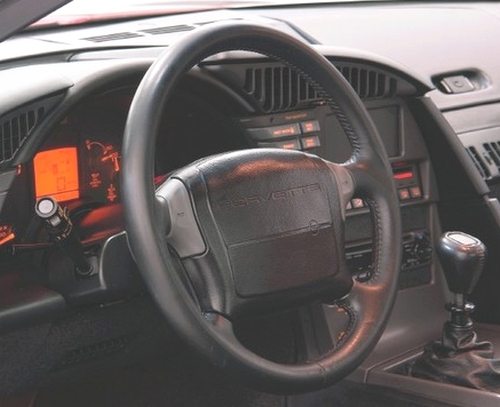 Although the automotive world was focused on the arrival of the ZR-1, all Corvettes built-in 1990 received some minor improvements.  In an ongoing effort to meet the first phase of the federal government's "passive restraint" crash protection regulations, Chevrolet introduced a standard driver's side airbag to its entire fleet, including the Corvette.
The supplemental inflatable restraint (SIR) airbag system was a first of its kind.  Additionally, the Corvette's antilock braking system was upgraded with improved yaw control that allowed for more secure handling.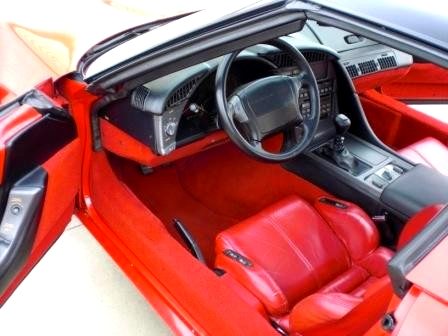 The L98 engine received a slight increase in power, boosting engine performance to 245 horsepower, thanks to the addition of an added air-intake speed density control system, a revised camshaft and an increased engine compression ratio.
A more efficient radiator was installed.  It worked so well that there was no longer a need for the optional boost fan (RPO B24) which had been offered from 1986 to 1989
The interior of the Corvette received some minor improvements as well.  A newly revised instrument display was introduced in the 1990 Corvette.  The new display now combined a digital speedometer with an analog tachometer, fuel gauge, oil pressure gauge, battery gauge, (and others).
An engine-oil monitor, which provided drivers with a display that calculated the useful oil life remaining and indicated when an oil change was necessary, was installed as part of the driver information center.
As CD technology was quickly replacing cassette tapes as the standard form of music media, Corvette offered a newly available Delco-Bose compact disc player audio system as an option in the 1990 model year.  When ordered, the CD player included a special lock-out feature to discourage theft; in the event that the stereo was removed from a car, it would require a special code to be entered to reactivate it or the stereo head unit would remain inoperative.
Also new was a glove box on the passenger side dashboard.  Lastly, the optional leather seats became available for all 1990 models.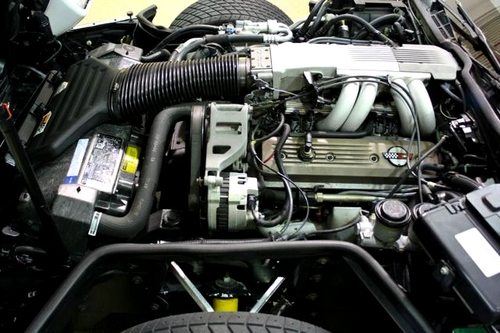 Without question, the most significant change for 1990 was the introduction of an entirely new option (RPO ZR1) that would transform the Corvette line for all time.  While the ZR-1 was not a separate model in the Corvette line, its introduction represented a return to the glory days of the Corvette, when such engineering legends as Zora Arkus-Duntov and Bill Mitchell were building Corvettes that could be optioned out for their drivability and performance.
For many within General Motors, the ZR-1 literally marked a return to the days of "Detroit Muscle", though this new Corvette would neither be built in Detroit (as all Corvettes since 1981 were built in Bowling Green, Kentucky) nor would it rely solely on sheer engine displacement to provide its unparalleled acceleration and drivability.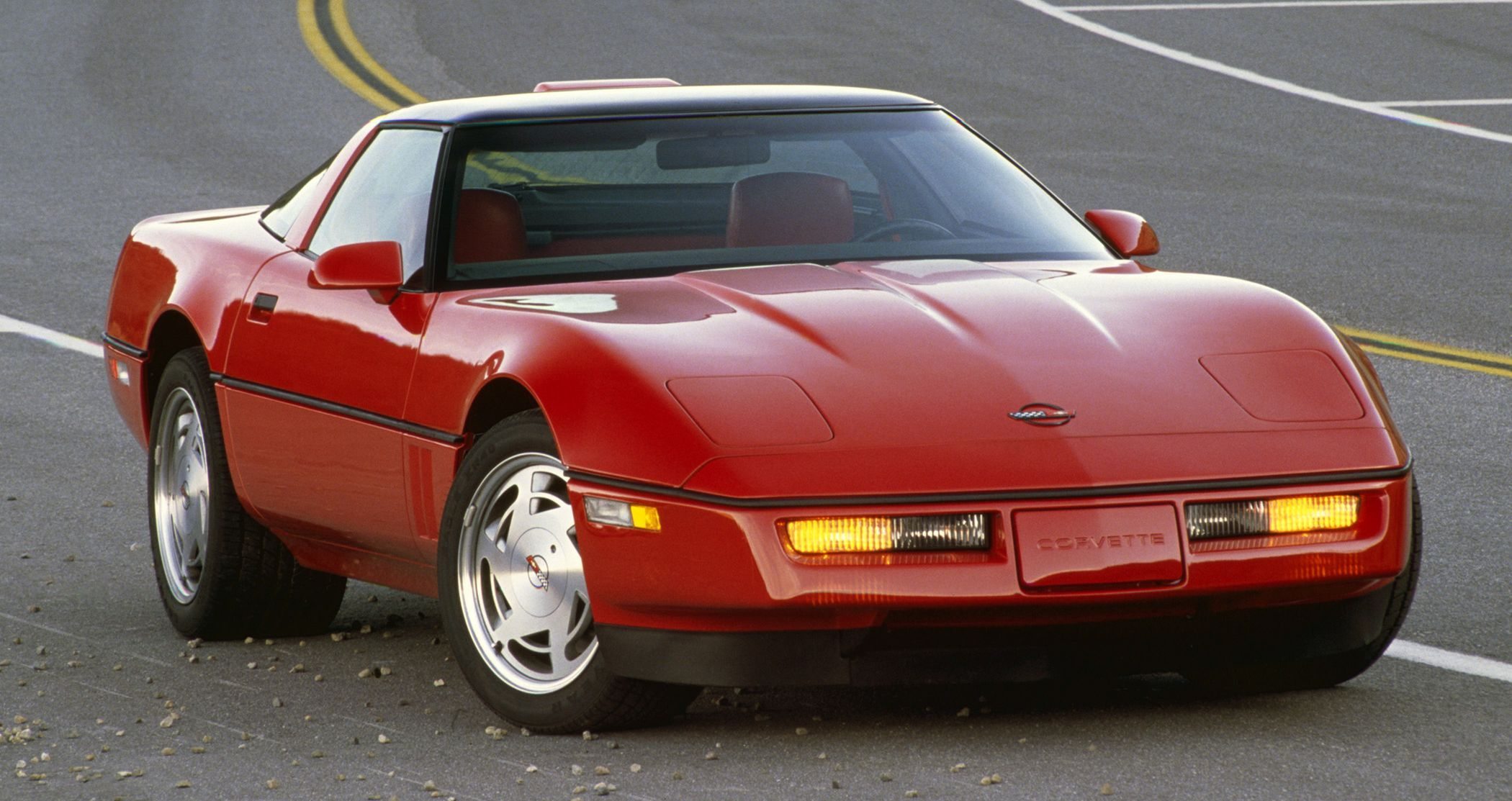 The ZR-1 was a costly option that would transform conventional Corvettes into a sports car that would truly rival the likes of Ferrari and Lamborghini.  Priced at $27,016 above the base model 1990 Corvette, the total sales price of the ZR-1 was a then-staggering $58,995, which, for its time, put the ZR-1 financially out of reach for many consumers – even those who had considered purchasing a base model Corvette.  Still, despite its costly price tag, it was still far more affordable than its Italian counterparts, making the ZR-1 a very desirable entry in the world of performance super cars.
At the time that the C4 had been introduced in 1984, it inherited an engine which was subpar to many of the engines that preceded it in earlier Corvettes.  The standard low-tech overhead-valve V8 engine was anything but impressive from a performance standpoint, and it had been outclassed by more powerful and better engineered engines of the European GT class vehicles of that same era.  Because of corporate policies and financial limitations, the design teams behind the Corvette – including Chief Engineer Fred Schaafsma and Corvette Engineering Chief Dave McLellan – were unable to truly grace the early C4's with an engine that would properly serve to give Corvette its place in the venerable world of performance cars.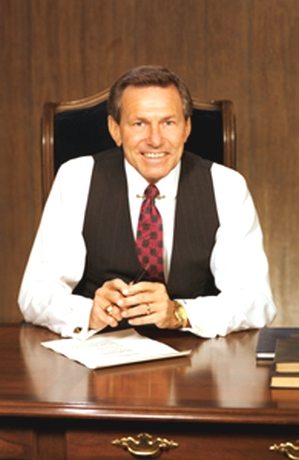 Still, General Motors' people had begun considering the Corvette's near future even before the first C4 had rolled off the production line.  Lloyd Reuss, who had spent much of his career working for General Motors as a powertrain engineer, would be promoted to General Motors Vice President in 1984 and would doubly serve as the general manager of the newly formed Chevrolet-Pontiac-Canada (CPC) group.
It was Reuss who insisted on keeping Chevy's "halo vehicle" (as Reuss himself called the ZR-1 in its earliest days) as a top priority, despite corporate pressure to abandon the project.  He believed that the Japanese sports car lines would move in, take over, and eventually dominate the American sports car market if manufacturers like GM could not produce a vehicle that could more fully satiate the appetites of performance driven consumers.
Ironically, the staff behind the Corvette had long been exploring a number of ideas to increase the car's performance numbers.  McLellan and Reuss turned to Powertrain Engineering Director Russ Gee to head up an endeavor to explore the development of new engine concepts to power the Corvette.  In turn, Gee assigned Roy Midgley, Chief Engineer of V-type Engines to the assignment and, working with Gee, the pair began to explore the options that were available to them.  Gee and MIdgley had solicited outside firms for engineering concepts that would help push the performance of small block engine performance well beyond the limitations of the day.
Out of the many conceptual ideas emerged an array of V6 and V8 engines, many of which included twin turbochargers, and a naturally aspirated V8 capable of producing up to 600 horsepower.  Ultimately, the turbo V6 was dismissed as running too harsh for conventional use in the Corvette.  Besides, it was long believed that no Corvette owner would ever be satisfied with a 6-cylinder Corvette, regardless of horsepower.  McLellan was interested by and supportive of the twin turbo V8 engine, but their fuel consumption and emissions were ultimately too high to be acceptable for use in a Corvette.
DID YOU KNOW: In the early development phases of the powertrain for the C4 Corvette, a number of turbocharged V6 and V8 engines were produced, including a twin-turbo V8 engine that gained considerable support amongst GM insiders. It was this early engine design, and a total of 14 prototypes that featured the twin turbo V8 engine, that led General Motors to ultimately "green-light" the Callaway Twin Turbo conversion option for the 1987 model year.
After extensive conceptual development, the realization was made that in order for Corvette, and moreover, a performance driven variant of the Corvette, to co-exist both as a true super car and as a conventional street car, it would have to include an engine and drivetrain that was considered "bi-modal".  Effectively, this meant that the engine had to be quiet, docile, smooth, unobtrusive and undemanding in routine driving, yet be able to summon race-car speed and handling at a moment's notice.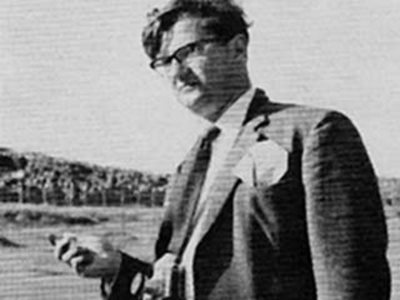 To accomplish this, General Motors turned to England's Group Lotus, a world renowned builder of championship Formula 1 cars and a leader in high-output engine technology.
As General Motors entered into negotiations to purchase Lotus in the spring of 1985, the Corvette Group met with Tony Rudd (Lotus's Managing Director), to discuss adapting Lotus's four-valve head technology to the Corvette's 350-cubic inch V8 engine.
After extensive experimentation with the existing L98 V-8 engine, Rudd proposed building an all–new engine that would meet Chevrolet's performance, emissions, and fuel-economy targets.  With continued prodding from Chevrolet's engineering team, a lot of powerful support from Reuss and GM Board Chairman Roger Smith, and moreover, with Chevrolet's acquisition of Lotus in 1986, GM management approved the development of a "brand-new no-holds-barred" V8 engine.
Of course, developing a high performance engine was not enough.  General Motors established specific guidelines that were to be strictly adhered to throughout the development of this new V8 engine.  First, the new engine was to provide acceleration that was second to none while simultaneously maintaining superior drivability at all speeds.  It had to have a fuel economy that was comparable to the existing L98 engine.  It had to be adaptable to the existing body/chassis structure of the current Corvette (meaning that no structural modifications were to be required for installation of the engine).
The desired power and torque gains of the new engine were to be at least 50% greater than the existing L98 and this increased power was to come from a modern engine having four valves per cylinder and twin overhead camshafts per cylinder bank.  A mandate was issued that the engine was to have electronically controlled ignition, fuel delivery and throttle actuation to ensure good drivability while maintaining an overall fuel economy of at least 22.5 miles per gallon and the ability to meet all U.S. emissions requirements.
Lastly, the new engine would have to have a pleasing underhood appearance, with no compromise in reliability or durability.
By the time the ZR-1 arrived in the automotive world, the rivalry between Corvette and Porsche had already been established. Even so, ZR-1's arrival changed everything. Automotive reviewers like Car & Driver, Road & Track (and others) began performing comparisons of the ZR-1 Corvette and the Porsche 911. In almost all instances, it was universally agreed that the Corvette simply outperformed the Porsche 911. Further, the ZR-1 cost about half of the 911, making it the best "bang for the buck" between the two.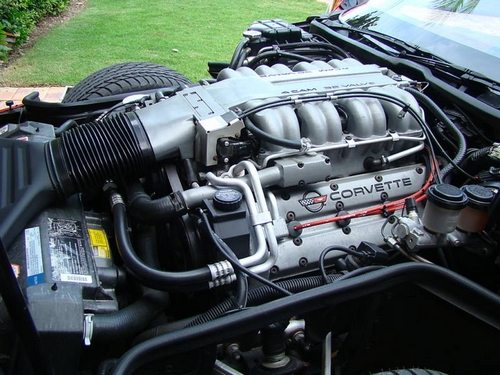 Despite this long laundry list of specific requirements, the combined Lotus/Chevrolet-Pontiac-Canada engineering groups were up for the challenge.  Denoted "LT5", this new power plant would become the latest in a long and sorted line of L-badged Corvette performance engines.
The LT5 was to be a 5.7 liter/350 cubic inch diameter 90-degree V8 engine with 4.4 inches between bore centers. Beyond its general similarities to the L98 engine in size and spec, the LT5 was unlike any other engine that had breathed life into a Corvette before it. An all-aluminum construction was deemed mandatory from the beginning of the LT5's development because of aluminum's ability to rapidly dissipate heat. Additionally, the use of aluminum would result in a much lighter engine than its cast-iron counterpart, which, when combined with its heat dissipating capabilities, would lead to increased operating efficiency and fuel economy.
Because of the location of the front frame rails on the existing C4 chassis, it was determined that the valve angle of the new engine would have to be 22 degrees to make the four-valve V8 as narrow as possible.  At its widest point, the new Corvette engine measured just 26.6 inches, which meant that the new engine would seat itself in the same engine bay space as the L98 had before it.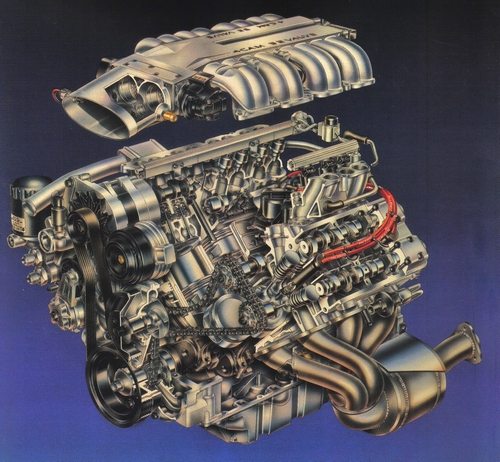 At its core, the engine utilized separate, "wet" cylinder liners, which were also constructed of aluminum.  These reduced bore by 0.1 inch compared to the L98 engine, thereby increasing stroke from 3.48 to 3.66 inches to maintain the 5.7-liter displacement.  The cylinder liners were specially matched to their bores, into which they locked via a simple slip-fit.
The interior surfaces were coated with Nikasil, a nickel-silicon alloy that provided an extremely durable but plaint surface for the specified lightweight cast-aluminum Mahle pistons.  The connecting rods and crankshaft were forged of steel to maximize their strength and durability.  To enhance the overall strength of the engine as a whole, the block was heavily ribbed and gusseted.  The usual five main crankshaft bearings were supported by a special one-piece aluminum cradle that attached to the block by no fewer than 28 bolts.  The bearings were oversized at 70 millimeters, which was considered necessary for reliable, sustained operation at 7,000 rpm.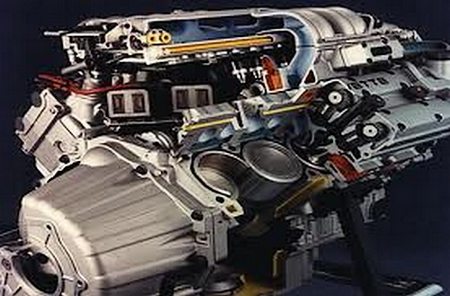 While the engine was fabricated to incorporate exacting standards and minimal tolerances between moving parts, a great deal of effort was also placed into ensuring proper lubrication within the engine.
The LT5 crankshaft was cross-drilled for internal centrifugal oiling from the front of the crank to the conrod pin bearings and main bearing journals.
The engine included a separate oil cooler with thermostatic control, and the crankcase consisted of a two-piece aluminum assembly with an integral pickup that assured proper feed and bottom-end oiling during hard cornering, (when sloshing oil might otherwise leave part of the oil sump momentarily dry.)
From an engineering standpoint, one of the most fascinating aspects of the LT5 engine is the unique three-stand engine induction system.  Much like the Tuned Port Injection that was used on the L98 engine since 1985, it took advantage of "Ram-effect" tuning.  A large, forward mounted air cleaner would feed a cast-aluminum throttle-body assembly with three throttle blades – a primary blade of 0.87-inch diameter and two larger, secondary blades measuring 2.32 inches across.  The throttle body, in turn, connected to an aluminum plenum chamber that branched into 16 individual runners, one for each intake port.  Eight of these would feed the primary ports and would operate continuously; the other eight had individual throttles for supplying the secondary ports under certain conditions. Each runner was given its own fuel injector that was supplied by twin tank-mounted electric fuel pumps and was activated in sequence by the engine control module (ECM).
The injection system of the LT5 actually operated in three, progressive stages.  In the "first stage" mode, air would be drawn into the throttle body and past the primary throttle blade to the plenum, from which it was distributed to the eight primary ports.  During this stage, the secondary throttle blades remained closed below 80 degrees (approximately) of the primary blade opening, which equated about 70 miles per hour on the road.  During the "second stage" mode, the secondary throttle blades would open to add air to the eight secondary runners and ports, providing that the ECM was satisfied that full power would be required.  In that event, the ECM would trigger the vacuum actuator to open the secondary runner throttles.  The third "mode" of the LT5 engine was commonly referred to as the "Valet Mode".  Because the engine management system operated in stages that were mechanically controlled, the second stage performance could literally be locked out with a key.  The actuator could be manually disabled via a mechanism in the center console, engaging the "valet" mode, which inhibited full-power operation when handling the car over to parking-lot attendants or other vehicle operators who might otherwise not be trusted with the car.
>Like the 1989 L98 engine before it, the new LT5 engine was fitted with the new Multec (Multiple Technology) fuel injectors developed by General Motor's Rochester Products division.  The new fuel injectors provided improved fuel atomizing and spray control.  They also claimed to require less operating voltage for improved cold-weather cranking performance and were less susceptible to clogging than earlier fuel injection designs.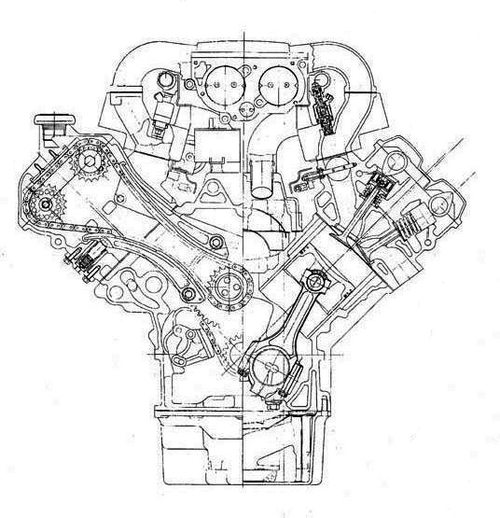 The LT5 came with a total of four camshafts, two per cylinder bank, one for each set of intake and exhaust valves.  Valves were actuated directly from the lobes on the cams, and the intake cams featured distinct primary and secondary lobe profiles to match the valve operation of the staged induction system.  Each bank's pair of camshafts was driven by a steel duplex roller chain with a hydraulic tensioner.  An ECM-governed fuel shutoff limited the engine to a maximum rpm of 7,200 rpms
Engine valves were canted at 11 degrees to their respective ports in a classic cross-flow cylinder head.  Essentially a modified pentroof type, it allowed the spark plugs to be centrally placed for good flame propagation and thus faster, more complete combustion, for better efficiency and emission control.  With this combustion-chamber shape and slightly dished pistons, the engine's compression ratio was a high 11.25:1.  Despite this, the fast burn design combined with the new injection system enabled the LT5 to run easily on regular (87 octane) unleaded fuel.
Although the plan had initially been to have Lotus design and GM construct it, it was determined by Manufacturing Manager Dick Donnelly that General Motor's engine people were far too busy to take on such a complicated, small-volume project.  As with before, Russ Gee instructed Midgley to again seek outside help.  Although he reached out to a number of companies, including Lotus and another British firm known as Coventry Climax, none of these facilities offered the required production capabilities.
Ultimately, Chevrolet contracted with Mercury Marine, a company based out of Stillwater, Oklahoma that specialized in marine engines, to build the LT5 engine for the ZR1.  They were also contracted to develop a marine version of the new powerplant, which was fitting as many of Mercury Marine's "Mercruiser" engines had originated as GM designs.  Given the anticipated low production numbers that were anticipated for the ZR-1, it was reasonable to assume that Mercury Marine would have no issues keeping up with the demand for these specialized, high performance engines.    Interestingly, whenever an LT5 engine required any major mechanical service, A Chevy Dealer's service department would have to remove the engine and ship it back to Mercury Marine.  Once that happened, the car's owner would have one of two possible choices:  They could either receive an entirely new engine or they could get the original engine repaired. This practice would continue through the end of calendar-year 1993, at which point Chevrolet assumed all service responsibilities for the powerplant.
Upon the completion of the engine's fabrication and assembly in Stillwater, they would be loaded on a flatbed and shipped to the Corvette Assembly Plant in Bowling Green, Kentucky.  The LT5 engine weighed in at only 39 pounds more than the L98, which was amazing since it produced a noted 60 percent increase in horsepower over the base model Corvette.  These new engines would turn even the largest cynics into believers.  Yes, despite its near-staggering performance numbers, the LT5 maintained a respectable fuel economy – approximately 22 miles per gallon city/highway.
The engine was mated to the rear axles and, in turn, the rear wheels by a brand new six-speed transmission.  The transmission was developed by General Motors and a renowned German transmission company called Zahnradfabrik Friedrichshafen AG – better known simply as ZF.  As all ZR-1 Corvettes were to include six-speed manual transmissions, this new transmission was a vast improvement over the inefficient (and often clunky) 4+3 Overdrive manual transmission that preceded it.
In both the standard Corvette and the ZR-1 variant, the ZF gearbox offered two important new features over the previous Corvette transmission.  First, its gears were arranged to minimize synchronizer loads.  Second was the inclusion of Computer-Aided Gear Selection (CAGS) which was included to help improve fuel economy.  The CAGS system was not solely intended for the Corvette, but was also used on Chevrolet Camaros and Pontiac Firebirds that were equipped with a six speed manual transmission.
The CAGS system utilized an integral-rail shift linkage with a solenoid actuator that guided the lever from first gear directly to fourth whenever the car was running at 12-19 miles per hour with at least a partly warm engine and a throttle opening of no more than a third.  While the CAGS system did tend to restrict drivability of the car by limiting the driver's ability to manually shift the transmission at their discretion, it also helped to prevent the ZR-1 from falling prey to the gas-guzzler tax.
Regardless of drivers' varying opinions of the CAGS system, there was no question whatsoever that the new ZF gearbox was a major improvement over the clunky, awkward 4+3 manual transmission that preceded it.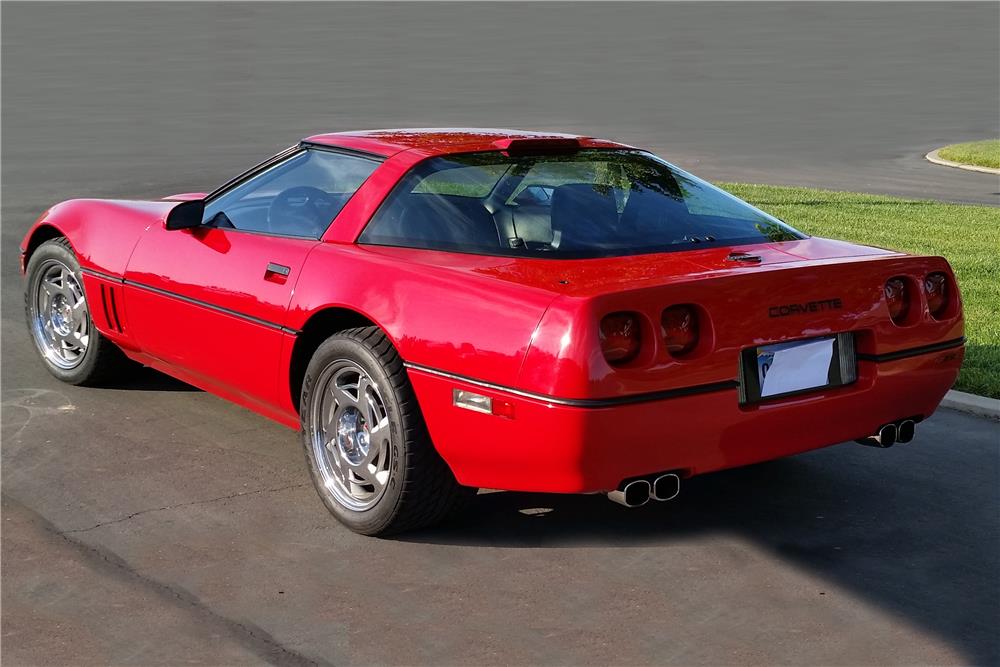 Early "complete car" testing, both in England and America, involved the installation of the brand new LT5 engines in stock-bodied Corvettes.  From the onset however, Reuss and McLellan knew that a new look would be required to differentiate the ZR-1 from the base model Corvette.  For Reuss, it was important that the "King of the Hill" stand out from the crowd even more than a typical Corvette.
McLellan's motivation involved fewer form considerations but an increased focus on functionality. Ultimately, the ZR-1 Corvette featured a variety of subtle, but notable changes to the base model Corvette.  The car's rear fenders were pushed out three inches wider than those on the L98 models. The sole reason for this modification was to a accommodate the ZR-1's massive 315/35ZR17 rear tires.  These tires, which measured 11 inches wide, added 1.5 inches of surface contact/traction when compared to the standard-issue 275/40ZR17's (which were still on the front axles, as on L98 models.)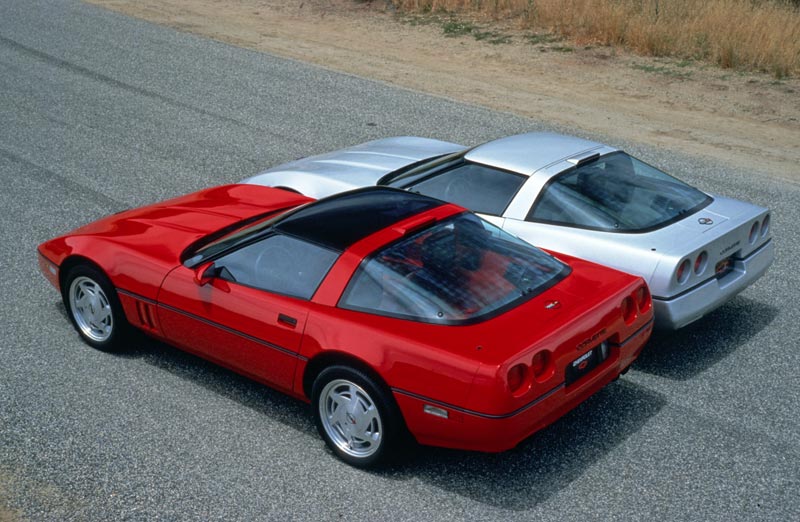 Aside from the rear fenders, the only notable cosmetic change to the car was the introduction of a new rear bumper.  Where the base model Corvette featured a concave bumper with round taillights, the ZR-1's rear bumper was three inches wider, convex in shape and included squared off taillights. Corvette engineers claimed that the convex rear end would provide greater aerodynamics to the car (it would become standard on all 1991 (and later models) C4 Corvettes.)  Additionally, a ZR-1 badge was added to the rear bumper (mounted to the far right just below the perimeter rub strip).  Lastly, a high mount taillight was installed above the rear windshield which would remain a unique identifier of the ZR-1 line until the car's retirement in 1995.  Despite the dramatic and extreme upgrades that were made to the mechanical systems of the ZR-1, this upgraded Corvette was scarcely discernible to the casual observer.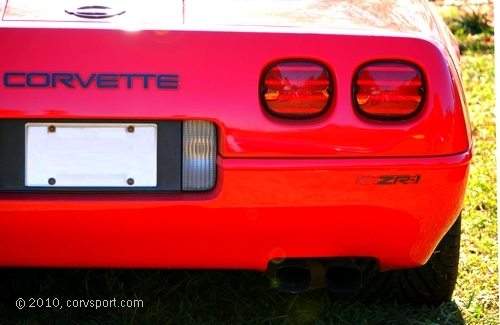 While the engine and transmission upgrades were the most notable of the mechanical upgrades, other modifications that were part of the ZR-1 package included a heftier differential, 13-inch twin caliper front disc brakes (which had been previously introduced on the 1988 Z51 package), and a reinforced front-end structure designed to help with counter cowl shake on rough roads.  The race-oriented Z51 handling package was also included as part of the ZR-1 option as was the Selective Ride Control suspension option that was added elsewhere in the line as optional equipment for 1989.
As was expected, motoring and automotive journalists were quick to praise the ZR-1's increased muscle, and their reviews featured performance figures that were unparalleled with anything else in its class.  The top reviewers recorded unprecedented 0-60mph times ranging from 4.5 to 4.9 seconds, racing though the quarter mile in just 12.8 seconds at a speed of 111 mph.  Testers reached top speeds as high as 175 miles per hour.
Not only was the ZR-1 eagerly anticipated, it created an instant sensation in the marketplace.  Even before the ZR-1 was officially made available, Corvette enthusiasts were clamoring for the opportunity to own Chevrolet's latest and possibly greatest Corvette ever.  A total of 3,049 fanatics paid well in excess of the already incredibly expensive suggested retail price for the chance to be the first to own one of the fastest cars in the world.   It has been reported that some dealers initially asked for – and received –as much as $100,000 for the first commercially available ZR-1s.
While reviewers praised the car for its uncompromising acceleration, the ZR-1 was also criticized for its high sticker price, its unpopular CAGS skip-shift feature, and most especially its general lack of unique body styling.  With the exception of the aforementioned items, the physical appearance of a ZR-1 and a standard L98 Corvette were virtually indistinguishable to the causal observer, and critics noted that individuals who were going to spend the additional twenty-seven thousand (or more) dollars for a unique, one-of-a-kind sports car should receive just that.
Still, despite its commonplace appearance, the ZR-1 was anything but commonplace when it came to breaking performance records.  In March, 1990, a stock ZR-1 would set 12 FIA (Fédération Internationale de l'Automobile) world records for speed and endurance at the Firestone's 7.7 Mile Test Track in Stockton, Texas.  Three of these records were set regardless of classifications – which was the first time in 50 years that they had been claimed by a regular production car.  The ZR-1's level of performance was so advanced for its time that no competitor would touch its records until 2001 when a specially built, 600 horsepower, Volkswagen prototype known as the "W-12" would go on to surpass it.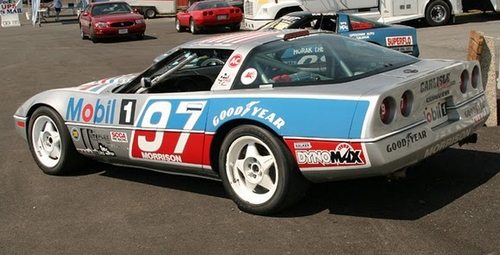 With the ZR-1 now commercially available, the Callaway twin-turbo Corvette would quickly fall out of favor with consumers everywhere.  In 1990, the Callaway Corvette sold just 58 units, compared to the 3,049 ZR-1 equipped models which were sold – most to buyers who had been put on a waiting list until its official introduction.  Twenty-three Corvettes were built with heavy-duty suspensions for use in the 1990 new World Challenge racing serie and could readily be ordered via regular dealer channels.  Buyers could choose a Chevy engine or they could provide their own engines.  In either case, any modifications from the factory engine were the responsibility of the owners/racers.
Overall, sales of the Chevy Corvette dropped slightly in 1990, with a total sales of 23,646 units.  Despite this decrease in sales, there was no question that Corvette had achieved an incredible success with the introduction of the ZR-1.Without question, "the King" had arrived.
1990 Corvette Image Gallery
See full 1990 C4 Corvette Image Gallery
---
1990 Corvette Specifications
See the complete breakdown of technical specifications for the 1990 Corvette, including engine, suspension, brakes, body dimensions, and power.
Read more: 1990 Corvette Specifications.
1990 Corvette Pricing & Options
| | | | |
| --- | --- | --- | --- |
| CODE: | DESCRIPTION: | QUANTITY: | RETAIL PRICE: |
| 1YY07 | Base Corvette Sport Coupe | 16,016 | $31,979.00 |
| 1YY67 | Base Corvette Convertible | 7,630 | $37,264.00 |
| AC1 | Power Passenger Seat | 20,419 | $270.00 |
| AC3 | Power Driver Seat | 23,109 | $270.00 |
| AQ9 | Sport Seats, leather | 11,457 | $1,050.00 |
| AR9 | Base Seats, leather | 11,649 | $425.00 |
| B2K | Callaway Twin Turbo (not GM installed) | 58 | $26,895.00 |
| CC2 | Auxiliary Hardtop (convertible) | 2,371 | $1,995.00 |
| C2L | Dual Removable Roof Panels (coupe) | 6,422 |  $915.00 |
| 24S | Removable Roof Panel, blue tint (coupe) |  7,852 | $615.00 |
|  64S | Removable Roof Panel, bronze tint (coupe) |  4,340 | $615.00 |
| C68 | Electronic Air Conditioning Control | 22,497 | $180.00 |
| FX3 | Selective Ride and Handling, electronic | 7,576 | $1,695.00 |
| G92 | Performance Axle Ratio | 9,362 | $22.00 |
| K05 | Engine Block Heater | 1,585 | $20.00 |
| KC4 | Engine Oil Cooler | 16,221 | $110.00 |
| MN6 | 6-Speed Manual Transmission | 8,101 | $0.00 |
| NN5 | California Emission Requirements | 4,035 | $100.00 |
| UJ6 | Low Tire Pressure Warning Indicator | 8,432 | $325.00 |
| UU8 | Stereo System, Delco-Bose | 6,701 | $823.00 |
| U1F | Stereo System With CD, Delco-Bose |  15,716 |  $1,219.00 |
|  V56 |  Luggage Rack (convertible) |  1,284 | $140.00 |
|  Z51 |  Adjustable Handling Package (coupe) |  5,446 | $460.00 |
| ZR1 | Special Performance Package  (coupe) | 3,049 | $27,016.00 |
Read more: 1990 Corvette pricing and factory options.
1990 Corvette Vehicle Identification Numbers (VIN)
For all 1990 Corvettes, the Vehicle Identification Number was stamped on a plate on the inner vertical surface of the left windshield pillar visible through the windshield. Read more: 1990 Corvette VINs.
1990 Corvette Recalls, Technical Service Bulletins, & Maintenance Schedule
The information contained on this page is for reference only.  The time and mileage intervals for each of the maintenance items included on this page were established by General Motors with the introduction of the 1990 Chevy Corvette.  Please note that the original service intervals may not reflect the standard service intervals used in current automobile engines.
Read more: 1990 Corvette Recalls, Technical Service Bulletins, & Maintenance Schedule.
1990 Corvette Common Issues
The following list of common issues is intended for individual reference only, and may not reflect the specific issues of every 1990 Corvette.  This information comes from a variety of sources including the NHTSA Defects Reports pages.  While the intent of this page is to identify the common issues pertaining to the 1990 Corvette, it is not an all-inclusive list and should be used for reference only.
Read more: 1990 Corvette Common Issues.
1990 Corvette Dealers Sales Brochure
See the original 1990 Corvette sales brochure here.