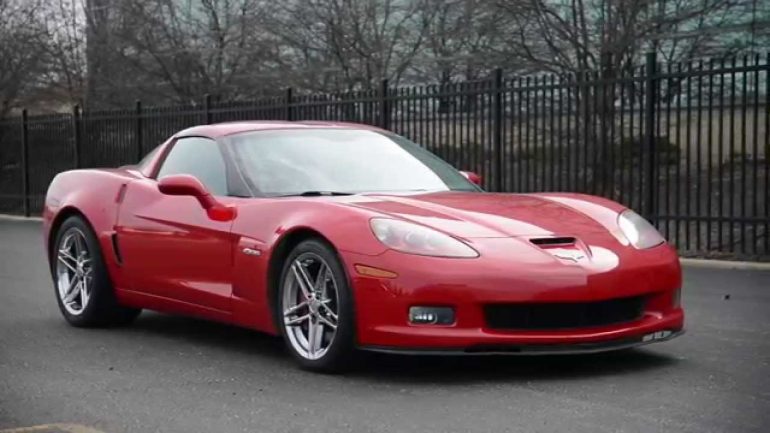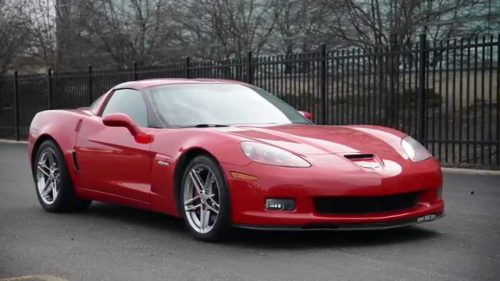 2006 Corvette – The Ultimate Guide
While the 2006 Corvette base coupe and convertible were virtually unchanged from the previous model year, the C6's sophomore year promised to propel the emerging supercar to even higher levels of power and performance.  The introduction of the C6 in 2005 had surpassed the expectations of even the most discriminating critics, and propelled the Corvette beyond any that had come before it.
An automotive reviewer for Car and Driver magazine summarized the C6 perfectly when he was quoted as saying, "it seems reasonable to say that we're in the golden age of Corvette."
That's not to say there weren't any changes to the Corvette platform. Airbag sensing technology was embedded in the driver and passenger seats, allowing activation of the airbags only in situations where the vehicle's seats were actually occupied.
The installation of an XM radio, which had been a $325 option in 2005, was made standard for the 2006 model (with the exception of Corvettes equipped with RPO US8 – the base sound system available that year.)  A smaller, three-spoke steering wheel replaced the 2005's four-spoke unit.
The steering wheel, which measured 9.4 inches (240 mm), provided drivers with a better hand grip and improved turn-in when driving through corners.  But all of these items were small changes. In fact, only two significant improvements would be made to the Corvette in 2006 – one that would affect the coupe and convertible platform, and one that would introduce a whole new vehicle to the Corvette family.
The one major improvement that arrived for the 2006 Coupe and Convertible was the introduction of a six-speed automatic transmission to replace the earlier four-speed automatic transmission.  Electronically controlled by an internally-mounted, 32-bit processor, the optional six-speed automatic transmission included paddle shifters, which offered the driver the option of manually shifting the transmission while operating the car in "Sport" – one of two selectable transmission modes (the other being "Drive").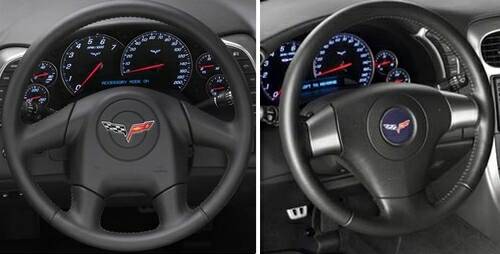 DID YOU KNOW: The 2006 Corvette Z06 Coupe included the all-new 505 horsepower, 427-cubic-inch small block V-8 engine which featured a racing-inspired dry-sump engine oiling system with titanium connecting rods, titanium intake valves and a 7000 RPM redline. Each of these engines were hand-built at General Motor's Performance Build Center in Wixom, Michigan. It was opened in 2005 to begin building engines for the 2006 model year. The facility cost $10 million to create and was developed specifically to produce hand-built, high-performance engines.
The 32-bit electronic "brain" of this new transmission also governed shifting and utilized smaller "steps" between each of the gears for improved smoothness over the old automatic transmission.  The additional gearing afforded Chevrolet with the ability to install a longer-striding 2.56:1 rear-axle ratio into the 2006 automatic models (with the manual models continued to feature the 3.42 gearing ratio.)
The introduction of the larger axle ratio was mainly to improve the Corvette's fuel economy, though actual reports of how the change improved the car's gas mileage were mixed.  The EPA highway test resulted in a 2 MPG (Miles Per Gallon) increase, but city driving actually resulted in a loss of 1 MPG.
The other major and most significant "improvement" to the Corvette was the return of the Z06 model in early 2006.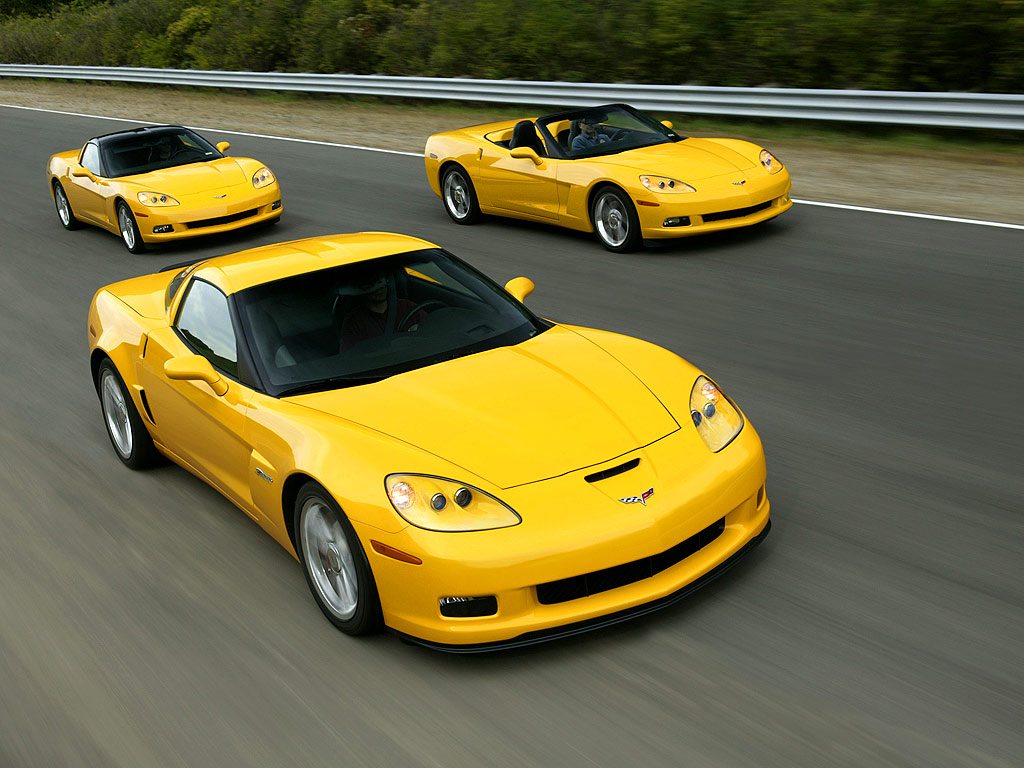 By 2005, the Z06 marquee had already gained credibility with Corvette fans.  When it emerged from the shadow of the Corvette FRC (Fixed Roof Coupe) in 2001, the Z06 (whose names can be traced back to the competition-prepared Stingrays of 1963) transformed the Corvette from just a sports car to something far greater – a car that could contend with the likes of Viper, Ferrari, and Porsche. Yet while the C5 had "paved the way" for a new, sixth-generation Corvette, fans of the Z06 couldn't help but question whether or not GM would make the decision to build another "super" Corvette and, if they did, what form it would take?
The answer came in the third quarter of 2005, when Chevrolet took off the camouflage wrappings and revealed to the world the most powerful Corvette ever built up to that point in the car's spirited history.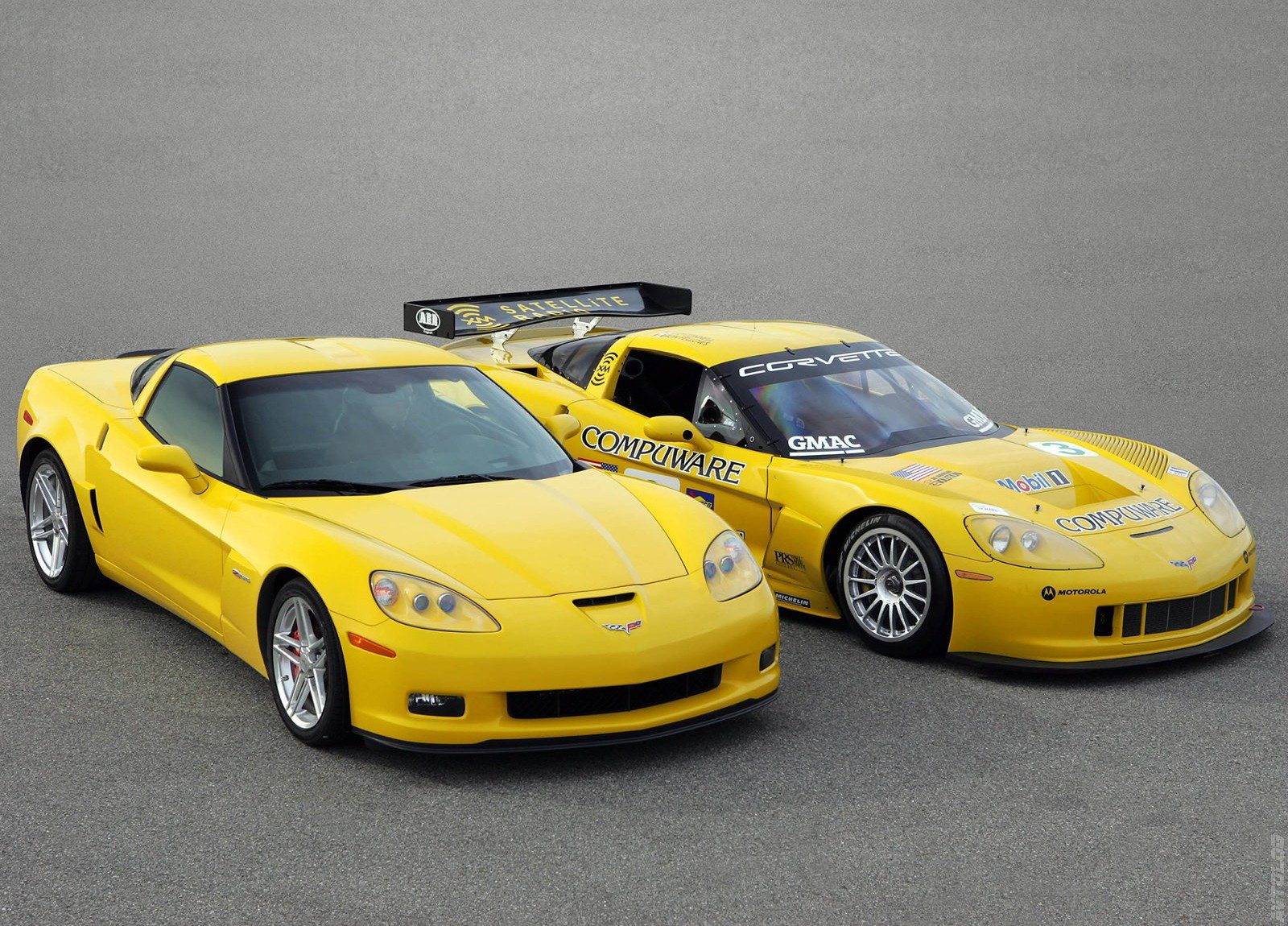 Corvette Chief Engineer Dave Hill and his team developed the new Z06 from lessons learned with the C5.R Corvette Race Car during the previous American Le Mans and 24 Hours of Le Mans racing season. Interestingly, the development of the C6 Z06 would also serve as a starting point for the creation of the C6.R, and would evolve in conjunction with the newest Corvette race car, demonstrating unequivocally the growing connection between the Corvette production vehicle and its race track counterpart.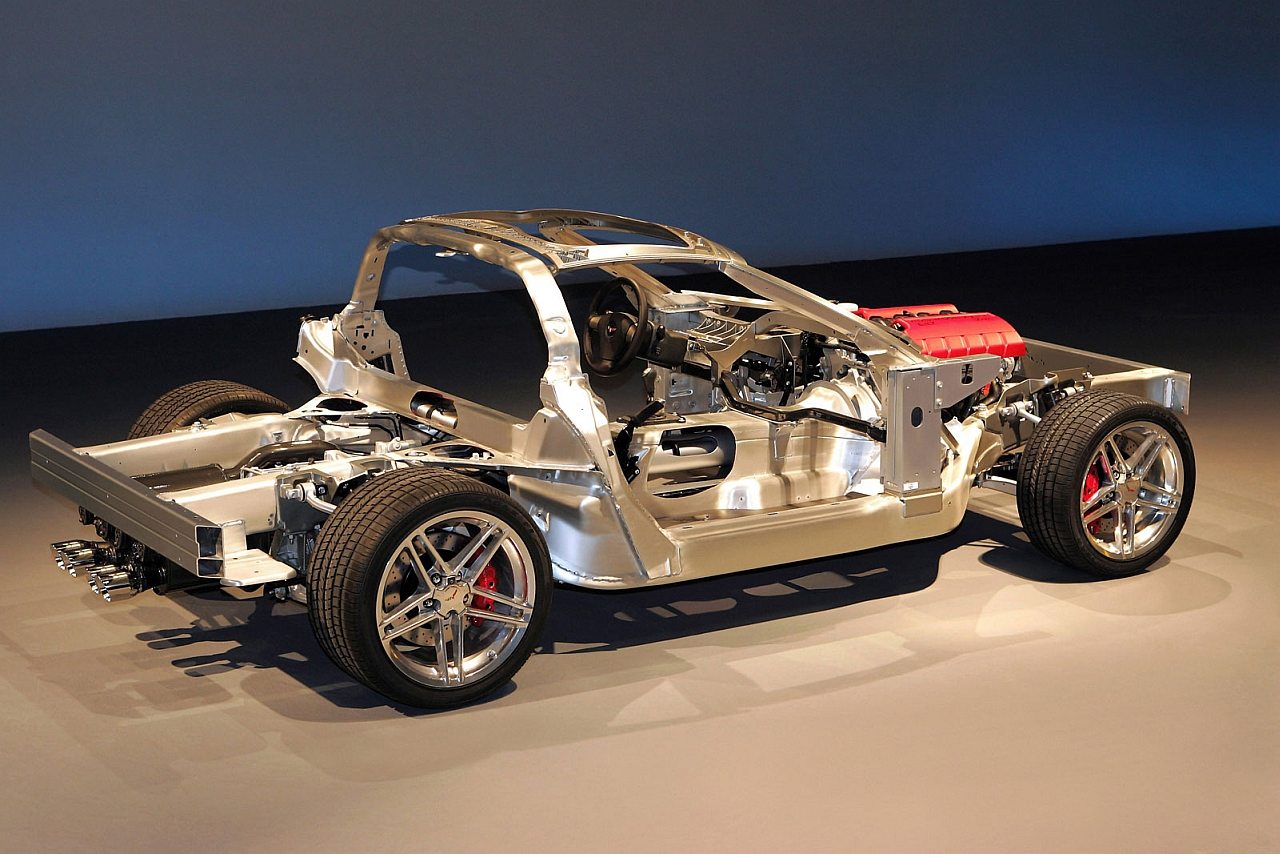 The new Z06 was based on the 2005 hatchback coupe, with a concentrated focus on taking the coupe's design and improving its high-speed aerodynamic performance.  While the outward appearance of the car would strongly resemble the base coupe, the Z06 would receive some significant modifications to improve its overall structural strength.  To start, the Z06 was developed with a fixed roof panel that would improve the car's rigidity over its "targa coupe" counterpart. Moreover, the C6 Uni-frame structure was re-engineered using aluminum, which would help offset the increased weight that the C6 Z06 would incur due to the absence of a notchback.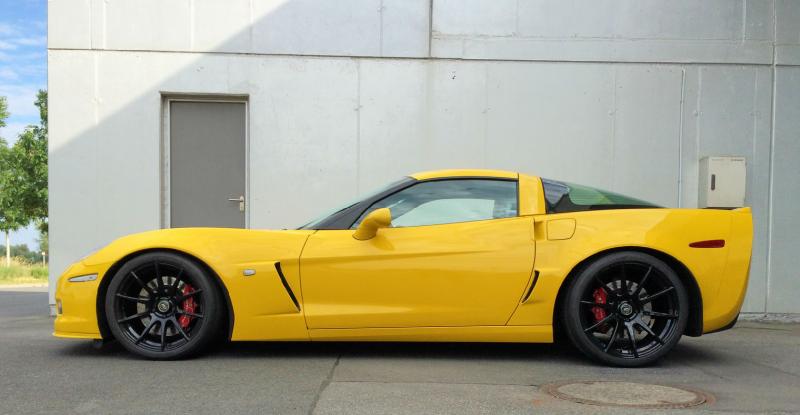 In additional to improved structural rigidity, the Z06 featured a number of other notable design cues that made the "super-Vette" readily identifiable for the base model coupe.  Up front, a slightly altered fascia was installed that included a cold-air scoop in the nose that fed cool, dense air into the intake.  In addition, the lower air dam was deeper, incorporating a larger lower grille opening and functional front splitter to aid in down force (to that end, a small rear spoiler was also fitted to the rear deck above the center high-mounted brake light.)
The size of the front wheel openings was increased to accommodate a pair of Goodyear Eagle F1 P275/35R18 tires mated to a pair of five spoke 18 x 9.5 wheels.  The rear quarter panels received a pair of functional air scoops, located just behind the driver and passenger doors, which served as cooling ducts for the rear brakes. Much like the front fenders, the rear quarter panels included more pronounced flaring and larger wheel openings to house the even more impressive Goodyear Eagle F1 P325/30ZR19 tires, which were mated to a similar pair of five spoke wheels.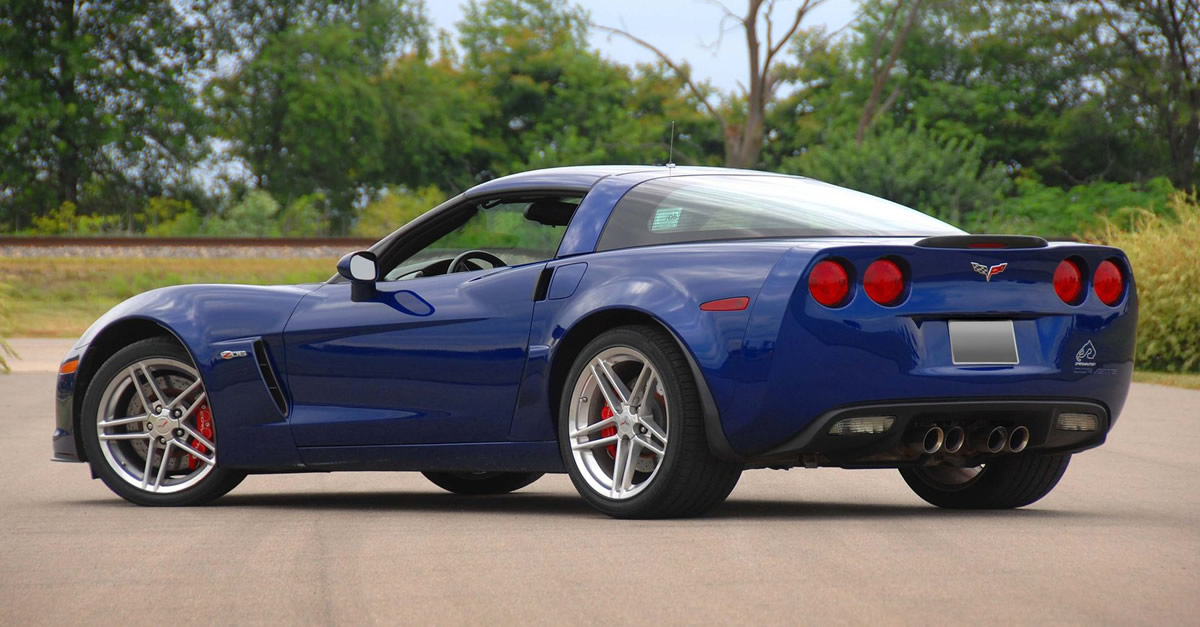 However, the rear wheels measured an impressive 19 x 12 inches, the largest rim/rubber configuration ever used on a Corvette up to that point. There tires, when mated to factory sponsored 12-inch wide rims, helped to give the car a look very similar to the C6.R race car.
Moving inward, the details that defined the Z06's cockpit details were fewer, but included a two-tone color scheme, a slightly smaller steering wheel, and different seats with larger, non-adjustable side bolsters.  Like the coupe and convertible models, the Z06's interior did come with a flourish of options that helped make it equally versatile on the road or the racetrack.
The Z06 featured heated leather seats, a leather-wrapped steering wheel, a premium Bose sounds system with a six-disc CD changer, satellite navigation, GM's OnStar tracking/assistance feature, and an XM satellite radio system.  In some instances, the base model coupe actually featured options that the Z06 did not.
Gone from the Z06 interior were power controls for the passenger seat, and less sound deadening material.  The latter of these items was intended to help in the reduction of the Z06's overall weight as well as to provide drivers a more robust exhaust rumble inside the car – a quality that consumers of this type of car had come to expect.
In an interview with the editors of Consumer Guide, Dave Hill said (regarding the weight reducing processes used in the development of the 2006 Z06), "It's like a whole different car.  It was an extremely large stretch to take 136 pounds out of something that only weighted about 350 (pounds) to begin with – a revolutionary improvement."  In total, the 2006 Z06 Corvette would weigh 3,130lbs, which proved to be 49 pounds lighter than the base model coupe.
If the car's appearance was impressive to would-be consumers, the powertrain beneath the hood would be downright stunning.  For 2006, the Z06 Corvette received a big, new V-8 engine.  Carrying the official designation "LS7", the new 427 cubic inch engine was designed to function like the big-blocks of the past.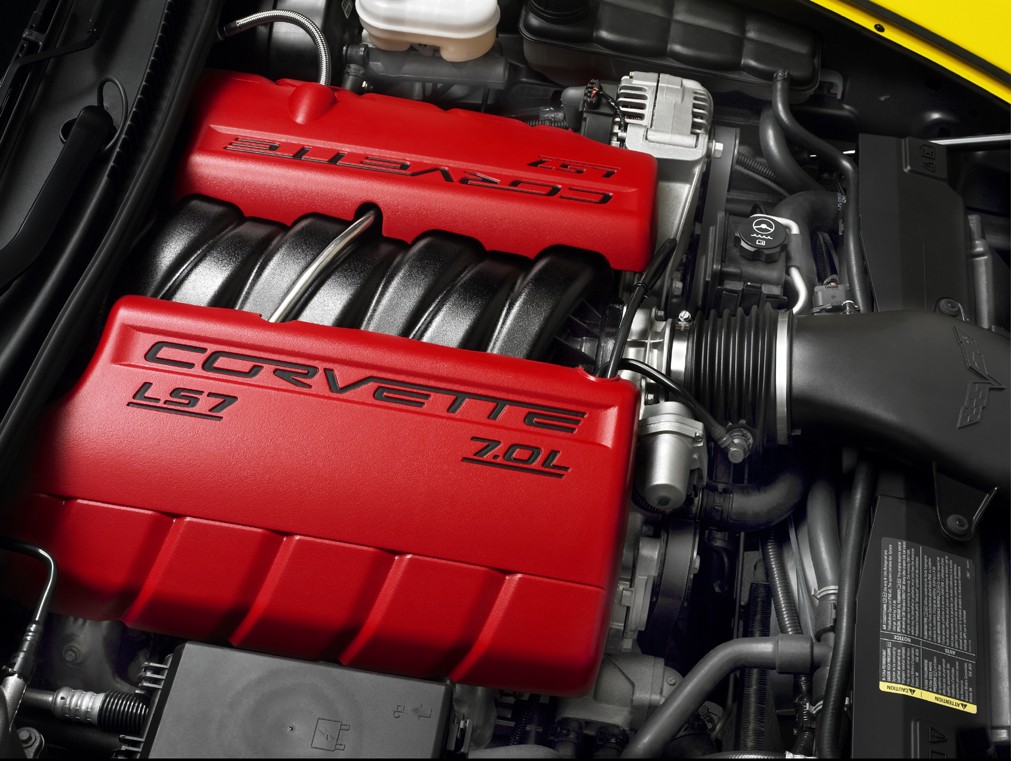 The LS7 was manufactured by hand at the GM Powertrain's brand new Performance Build Center in Wixom, Michigan.  It featured a unique block with thin pressed-in liners that allowed a larger bore-and stroke of 4.13×4.00 inches (104.8×101.6mm).  Its pistons were forged (not cast) and flat-topped for a high 11.0:1 engine compression ratio.
A forged-steel crankshaft with forged-steel main bearing caps worked connecting rods made of costly, lightweight titanium.  Titanium was also utilized in the intake valves (which replaced stainless steel), pushrods and all valve springs.
Additionally, the intakes grew to 2.2 inches across, while new 1.61-inch exhaust valves were lined/filled with sodium to aid in heat dissipation and durability.  The engine valve angles were narrowed from 15 to 12 degrees to provide optimal breathing, and the valve lift was increased to 0.591-inch.
A slow-restriction air filter was specified to feed a new intake manifold that included a 3.5-inch-wide throttle body assembly.  To provide smoother airflow through the manifold, all of its ports were CNC-machined to minimize any imperfections.
On the exhaust side of the engine, new hydroformed "four-into-one" headers were installed.  These headers fed back to a pair of large, three-inch exhaust pipes mounted aft of the engine on both sides of the car.  Each pair of these pipes fed into a "bi-modal" muffler system.  When the Z06 operates below 3,500RPM, a single pipe per side handles all of the exhaust flow.  This is done to reduce the amount of noise the car generates during normal driving conditions.  In turn, when the engine RPM exceeds 3,500, a vacuum-operated bypass engages and re-routes the gases through a second, nearly straight pipe for maximum power and minimum restriction.
RACING: The 2006 Corvette Racing Team of Oliver Gavin and Oliver Beretta capped Corvette's 50th anniversary in international road racing by sweeping the American Le Mans Series manufacturers, drivers and team championships. Corvette's first class victory at the 12 Hours of Sebring in 1956 was the first step onto the world stage that established Chevy's sports car as a contender in top-level competition. Fifty years later, Corvette Racing began the year with a victory at the same 12 Hours of Sebring. In June of that same year, Corvette celebrated its fifth win in the 24 Hours of Le Mans, the world's greatest sports car race.
To ensure adequate and continuous lubrication of the LS7 engine during vehicle operation, a new, racing-inspired dry-sump oil system was introduced.  This oil system included an eight-quart reservoir.
While the specifications behind the Z06 engine sounded impressive enough, the real numbers were centered around how well the engine actually performed.  In its inaugural year, the LS7 engine delivered a staggering 505 brake horsepower at 6,200rpm, with a rev capacity of up to 7,100, making it one of the few pushrod engines of all time that could achieve such a high RPM, (according to Chevrolet.)  The LS7's engine torque peaked out at 475 lb./ft. at 4,800rpm, though it produced an impressive 385 lb./ft. at just 1,600rpm.
As with all other Z06 models (save for the 2015 Z06 Stingray, which features an optional 8-speed automatic), the 2006 C6 Z06 version came equipped with a beefed-up six-speed manual transaxle.  Unlike the coupe and convertible models from the previous year, which offered both manual and automatic transmission options, the C6 Z06 would only be offered with a manual transmission.  In addition to the transmission, the Z06 also received an uprated clutch, half-shafts, U-joints and limited-slip differential.  Another of the race-car inspired touches that were to be included in the C6 Z06 centered around the introduction of a special transmission oil pump that sent fluid to the car's main radiator, a secondary heat exchanger, before returning to the gearbox, where it could aid in cooling the differential oil, especially during more rigorous driving conditions.
In addition to its aluminum structure, the C6 Z06 found additional weight savings by utilizing a magnesium front engine cradle (one that replaced the aluminum cradles that were used on other Corvette models.) Additionally, the car's floor boards were re-skinned with carbon fiber.  In addition to the floor boards, carbon fiber was also used to fabricate the front and rear fenders.
The Z06's braking system featured larger, 14-inch front rotors and 13-inch rear rotors, all of which were cross-drilled for added cooling.  Larger-than-stock, one-piece calipers were mated to these rotors.  The front calipers featured a six-piston braking system while the rears included a four-piston system.  All of the calipers were painted bright "Corvette Red" which was a defining characteristic of the C6 Z06.
Interestingly, the suspension system for the Z06 remained mostly the same as the base model coupe, featuring independent short/long aluminum control arms and transverse leaf springs.  However, the Z06 suspension did feature different, higher rate springs, special mono-tube dampers and larger sway bars that worked in conjunction with the larger tires and wheels. The suspension system also featured an active handling system which allowed drivers to select various driving modes during vehicle operation.
Production Volumes
Naturally, the Z06 came with a more-robust price-tag than the coupe or convertible models, but it also provided drivers an experience behind the wheel that was on-par with many of the premier sports cars from around the world.  The 2006 Z06 Corvette had a base price of $65,800.00 (excluding any available options) compared to the Corvette coupe's base price of $44,600, a price difference of over $20,000.00.  Yet, despite the dramatic price increase, the Z06 accounted for 6,272 units (nearly 20% of all Corvette sales) in 2006.  By comparison, 16,598 coupes and 11,151 convertibles were sold that same year.
2006 Corvette Specifications & Performance
See the complete breakdown of technical specifications for the 2006 Corvette, including engine, suspension, brakes, body dimensions, and power. Read more: 2006 Corvette Specifications.
Engine & Transmission
The base LS2 V8 in the Corvette was largely unchanged for 2006, with horsepower coming in at 400HP @ 6,000 RPM and torque of 400 lb-ft @ 4.400 rpm.
The LS7 in the Z06 was the real news for 2006. It was hand-built at GM's Performance Build Center in Wixom, Michigan, and featured an all-aluminum engine block, complete with thin-profile pressed-in liners. This powerplant also featured greater bore and stroke measurements (4.13×4.00 inches) than earlier iterations of the LS namesake. This yielded an increased engine displacement of 427 cubic inches. While the specifications behind the Z06 engine sounded impressive enough, the real numbers were centered around how well the engine actually performed. In its inaugural year, the LS7 engine delivered a staggering 505 brake horsepower at 6,200rpm, with a rev capacity of up to 7,100, making it one of the few pushrod engines of all time that could achieve such a high RPM, (according to Chevrolet.)  The LS7's engine torque peaked out at 475 ft lbs at 4,800rpm, though it produced an impressive 385 ft lbs at just 1,600rpm.
Performance
The base Corvette was good for a 0 – 60 mph time of 4.2 seconds (with Z51 packages) and a decent 4.8 seconds in base trim. It was the top-dog Z06 though that impressed, with a 0 – 60 mph time of just 3.6 seconds, which was insane in the mid-2000s. Find more performance data at 2006 Corvette Specifications.
2006 Corvette Vehicle Identification Numbers (VIN)
The last six digits begin at 100001 and run thru 133992. Early Z06 Corvettes (100001 thru 100162) had a Y engine code. Ending VIN (133992) did not match the total quantity of Corvettes built because 2006 production included 29 non-salable prototype builds. Each Vehicle Identification Number (VIN) is unique to an individual car. For all 2006 Corvettes, the Vehicle Identification Number (VIN) was stamped on a plate on the inner vertical surface of the left windshield pillar visible through the windshield. More 2006 VIN information here. 
2006 Corvette Price & Options
Core Features & Factory Options
Z06 Coupe
Corvette Z06 is a fixed-roof hatchback coupe.
LS7 7.0L (427 Cubic-Inch) V-8 engine with 505 horsepower (377 kw) and 7000-rpm redline.
Dry sump engine oil system, oil cooler, power steering cooler, transmission cooler and axle cooler.
Front P275/35ZR18 and rear P325/30ZR19 extended mobility Eagle F1 Supercar tires.
Unique front fascia with upper inlet, specific grille, fenders, quarters and rear spoiler.
Aluminized stainless-steel, dual-mode 3-inch exhaust with 4-inch polished stainless steel tips.
Features an all-aluminum frame structure with magnesium engine cradle.
Carbon-fiber fenders and floor panels.
Special Ebony seats available with red or gray accents and Z06 embroidery.
Rear-mounted battery for improved weight distribution.
Six-piston high performance cross-drilled front brakes and 4-piston cross-drilled rear brakes.
Front splitter, front and rear wheel opening extensions.
New For 2006 Corvette Coupe & Convertible
6-speed Paddle Shift automatic transmission available on Coupe and Convertible.
Three-spoke, 370 mm (9.4 in) diameter steering wheel.
Advanced dual-stage frontal air bags with GM Passenger Sensing System.
XM Satellite Radio included with Bose stereo (48 states).
Two exterior colors: Velocity Yellow Tintcoat and Monterey Red Metallic Tintcoat.
Titanium gray interior color.
Storm Gray convertible top color.
Colors
Eight colors were available for the 2006 model year Corvette. Red came back after a slow 2005 to claim the most popular color variant with over 17% of total production. The full breakdown of colors and production is as follows: , Arctic White 1,588 (4.67%), LeMans Blue 3,459 (10.17%), Black 7,243 (21.29%), Velocity Yellow 4,122 (12.12%), Machine Silver 4,984 (14.65%), Sunset Orange 1,729 (5.08%), Victory Red 5,844 (17.18%), Monterey Red 5,052 (14.85%). Important to note that all colors available with Z06 except Arctic White and Monterey Red. Read more: 2006 Corvette colors
Pricing & Options
The Base Corvette Coupe with 346 cu. in. 400 hp engine and six speed manual transmission started at $44,600, while the Base Corvette Convertible with same set up was $52,335. The Base Corvette Z06 Coupe with 427 cu. in. 505 hp engine and six speed manual transmission was over $20,000 more expensive than the base Corvette, coming in at $65,800. Learn more about prices and packages here. 
| | | | |
| --- | --- | --- | --- |
| CODE | DESCRIPTION | QUANTITY | PRICE |
| 1YY07 | Base Corvette Coupe | 16,598 | $44,600 |
| 1YY67 | Base Corvette Convertible | 11,151 | $52,335 |
| 1YY87 | Z06 Corvette | 6,272 | $65,800 |
| 2LT | Equipment Group – Coupe | 1,904 | $1,495 |
| 2LZ | Preferred Equipment Group – Z06 | 4,854 | $2,900 |
| 3LT | Preferred Equipment Group – Coupe | 10,953 | $4,795 |
| 3LT | Preferred Equipment Group – Convertible | 9,972 | $3,395 |
| C2L | Dual Removable Roof Panels (Coupe) | 3,726 | $1,400 |
| CC3 | Removable Roof Panel, Transparent (Coupe) | 3,561 | $750 |
| CM7 | Power Convertible Top (3LT Required) | 8,537 | $1,995 |
| F55 | Magnetic Selective Ride Control (Coupe/Convertible) | 5,709 | $1,695 |
| MX0 | Six-speed Paddle Automatic Transmission (Coupe/Convertible) | 19,094 | $1,250 |
| Q44 | Competition Gray Aluminum Wheels (Z06) | 279 | $295 |
| QG7 | Polished Aluminum Wheels (Coupe/Convertible) | 16,133 | $1,295 |
| QL9 | Polished Aluminum WHeels (Z06) | 3,449 | $1,295 |
| QX1 | Competition Gray Aluminum Wheels (Coupe/Convertible) | 887 | $295 |
| QX3 | Chrome Aluminum Wheels (Coupe/Convertible) | 2,803 | $1,995 |
| R8C | Corvette Museum Delivery | 1,172 | $490 |
| UE1 | OnStar System (Coupe/Convertible, 3LT Required) | 12,869 | $695 |
| U3U | AM/FM CD, DVD, Nav XM ($3,340 with 1LZ) | 17,474 | $1,600 |
| US9 | AM/FM 6-CD, Bose, XM (with 1LZ, no-cost option with 3LT) | 10,690 | $1,740 |
| Z51 | Performance Package (Coupe/Convertible) | 10,338 | $1,695 |
| 19U | LeMans Blue Exterior Paint | 3,459 | $300 |
| 45U | Velocity Yellow Exterior Paint | 4,122 | $750 |
| 80U | Monterey Red Exterior Paint | 5,052 | $750 |
Read more: 2006 Corvette pricing and factory options.
2006 Corvette Gallery
See full 2006 C6 Corvette Image Gallery
2006 Corvette Videos
We have included a few of the original reviews of the 2006 Z06 below, but also have loads of other videos for you in our video section. See more 2006 Corvette Videos