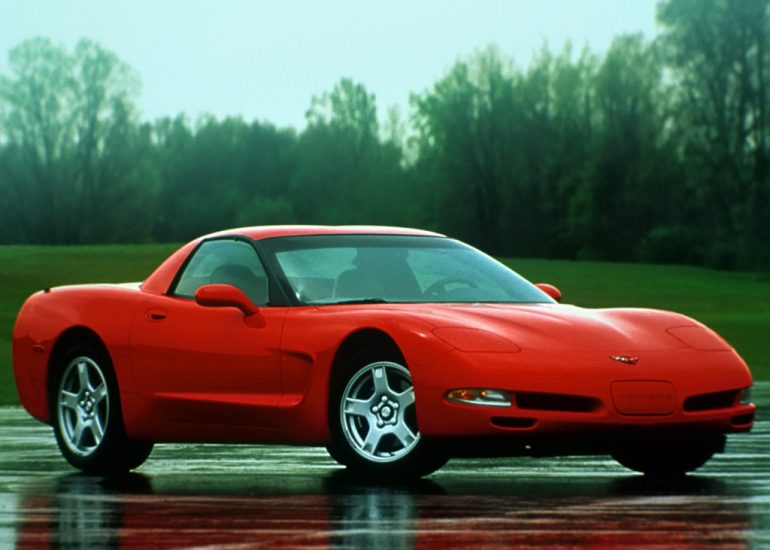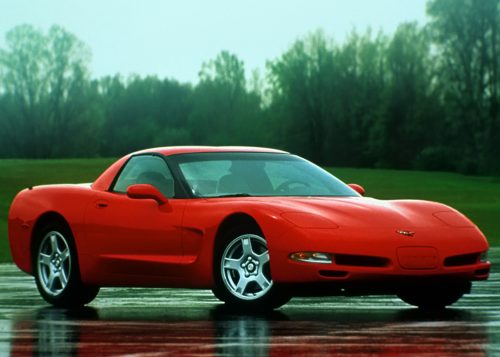 1999 Corvette – The Ultimate Guide
From its inception in 1953, the Chevy Corvette has always been recognized as a vehicle that was a "step above the common car. Beginning with its earliest Motorama concept, to its first production models and beyond, the Corvette quickly became recognized and universally accepted as "America's sports car" and, over time, became increasingly synonymous with the American dream – a dream in which every American could aspire to own a house, have 2.5 kids, and afford a sporty, two-seat, convertible coupe.
Even as it evolved through the 1960's and 1970's, Corvette had remained an attainable dream for many, though, as technology evolved and the cars became more sophisticated, more powerful, and, well, more sporty, so too did the price tag for the cars increase. Over time, the Corvette became a luxury item that fewer and fewer enthusiasts could readily afford to purchase.  While this helped add an aura of exclusivity to the car, it also caused some within the General Motors corporation to question whether the Corvette franchise was headed down a path where increasing exclusivity might actually bring about an even greater decline in sales.
It was from this concern that actions were put into motion during the early planning phases of the C5 Corvette.  Chevrolet had begun exploring the idea of creating a less-expensive, somewhat-stripped-down variant of the C5 coupe that could be marketed as a "budget-conscious" Corvette.  This lower-cost "stipped" model would feature fewer amenities than its coupe and convertible counterparts.  Early considerations included offering manual windows, cloth seats (versus the standard leather available on the other variants of the car), and even smaller wheels and tires.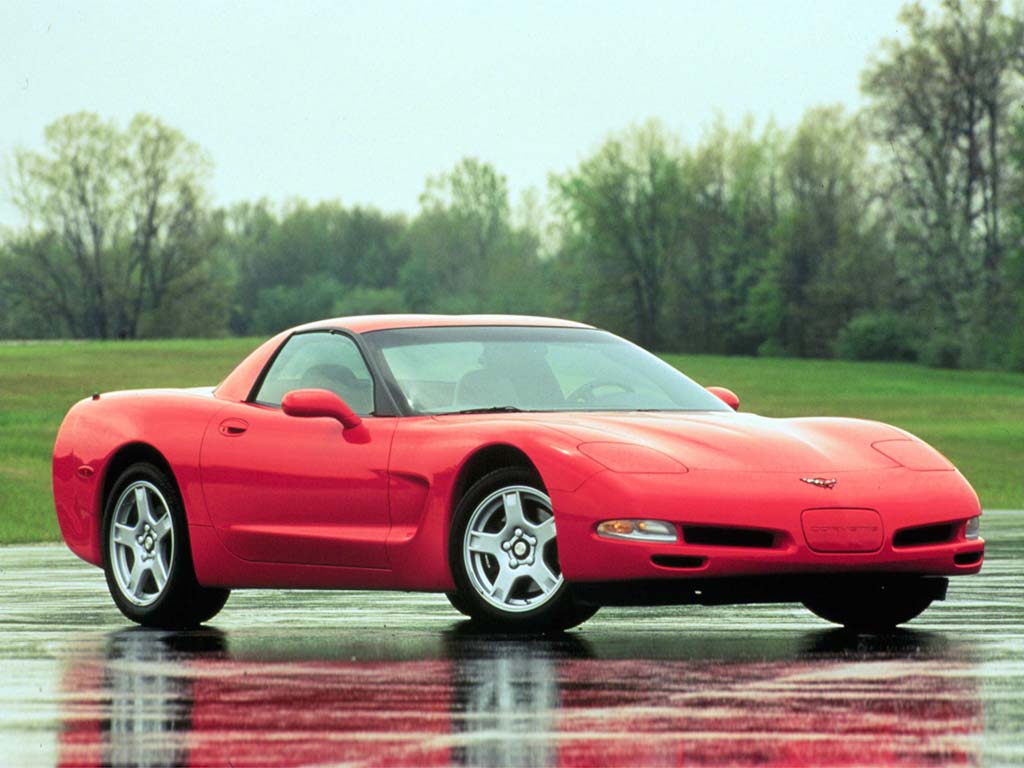 During the course of the C5's development, a few prototypes were manufactured that represented this "no-frills" version of the very successful C5 Corvette.  Surprisingly, when these cars were submitted to GM research clinics and shared with potential customers in test markets, the overall response to this new Corvette was fairly negative.  While a few responded that there was a market for a budget-oriented Corvette, most agreed that developing a "cheaper" version of the very successful C5 would not only hurt sales of the other, more expensive variants, but It would also adversely impact the public's perception of the Corvette.  It seemed that the exclusivity of Corvette ownership that many within GM feared would hurt sales numbers was actually the thing that helped promote them.
Despite this revelation about their flagship automobile, the concept of producing a "stripped-down" Corvette continued to be an appealing idea for the car's development and marketing managers.  While sales campaigns would have to be selectively tailored to properly reflect the added benefit of purchasing a no-frills Corvette, it was decided that, for the 1999 model year, Chevrolet would move forward with a new variant of the Corvette – one that would focus on eliminating otherwise "unnecessary" features in favor of producing a performance-enhanced, reduced-weight vehicle.  It was with this notion that the C5 hardtop Corvette was born.
What would come to be known as the FRC Corvette (Fixed Roof Coupe), the 1999 hardtop was essentially a convertible with a fixed fiberglass roof.  As was indicated during development, the FRC Corvette was cast as a Corvette for serious performance enthusiasts – and there was some truth to this marketing approach.  The hardtop's stockier construction made the car's body 12 percent more rigid than the Coupe (even with the Coupe's targa top in place).
Additionally, this new variant weighed approximately 92 pounds less than the coupe.  This small, but significant, weight reduction combined with the stiffer overall structure of the body, did make the FRC more appealing to performance enthusiasts.  What's more, the FRC retained the convertible's external trunk – a feature that many found both useful and appealing.
While GM's marketing group was selective in advertising the FRC as a "less expensive" variant of the Corvette coupe, it actually was – although only be $394.00.  While the price difference was not significant, it still offered a certain appeal, especially given the fact that the hardtop coupe still included the same 345 horsepower LS1 small-block V-8 engine.  It was also fitted with the same six-speed manual transmission offered with both the coupe and convertible.  While an optional upgrade on the other Corvettes, the six-speed gearbox was the only transmission available for the FRC, and was generally considered to be another price savings benefit when purchasing the hardtop.  Afterall, the coupe and the convertible were only available with a six-speed when it was purchased as an upgrade (at an additional cost).  Another included option was the Z51 Performance Handling suspension which was otherwise an $1165.00 option upgrade on the coupe and convertible.
There were limitations to purchasing the FRC Corvette.  First, the color choices were far more limited than on the other variants.  The only exterior color options available when ordering a hardtop were blue, pewter, red and white.  Moreover, only the base black leather seats were available, and these came installed without any power adjustments.  Whether actually a cost savings approach or a genuine weight reducing decision, it was marketed as the latter.  In addition to the seat motors, other weight increasing options were unavailable on the hardtop including Real-Time Damping suspension and a number of comfort-and convenience items.
Despite these limitations, the overall response to the hardtop Corvette was generally favorable, though the increased performance aspects of the FRC were debatable at best.   In an automotive review performed by Car and Driver magazine, the hardtop's 0-60 time was compared to that of the coupe, and the difference was 1/10th of a second between the coupe, which made the run in 4.9 seconds, and the hardtop which did in 4.8 seconds.  The same was true for the quarter mile times with the coupe running the quarter mile in 13.3 seconds at a speed of 109 miles per hour compared to the hardtop running it in 13.2 seconds at a speed of 110 miles per hour.    Additional tests demonstrated that the hardtop's exterior was actually somewhat less aerodynamic than the targa coupe, resulting in a slightly lower top speed of 169 miles per hour to the coupe's 171 miles per hour.  However, even given the marginal variances between the two cars, Chevy still managed to sell 4,031 hardtops during the 1999 model year – a number that was considered respectable enough by GM to continue production of the FRC for a second year.
While the hardtop coupe was certainly a major focus of the 1999 model year, there were also a considerable number of new features presented for the targa-top coupe and convertible as well.

One of the most exciting new features offered in 1999 was the "Heads-Up Display" (RPO UV8), a sophisticated and high-tech system that projected the instrument cluster readouts onto the windshield so that the driver could view a compliment of readings – from speed to engine RPMs – without taking their eyes off of the road.  The display appeared in the lower left-hand area of the windshield, right in line with the driver's line-of-sight.  The display was customizable and included a "check gauges" warning that would indicate when drivers needed to pay attention to a dashboard gauge that was not included as part of the heads up display.  A relatively inexpensive option at $375.00, it quickly became a highly desirable option and was included on a number of 1999 coupes and convertibles.
Another convenience option that was made available on the coupes and convertibles was a Telescoping Steering Column (RPO N37) for an additional $350.00.  This option offered drivers the ability to automatically extend or retract the steering column 20 millimeters of travel in either direction.  This option operated independently of the standard tilt-steering wheel function which remained a manual operation controlled by engaging/disengaging a small lever located on the steering column.  Also returning as an optional upgrade for the coupe and convertible were the Magnesium Wheels option (RPO N73) at an extra cost of $3,000.00.  Lastly, automatic-engaging "Twilight Sentinel" headlamps (RPO T82) were offered, though neither these, the Magnesium Wheels nor the Telescoping Steering Column were made available when ordering a hardtop/fixed roof coupe.
All three variants of the 1999 C5 Corvette received modifications to the car's magnetically variable power-steering system, which was implemented to make steering more sensitive and reduced the tendency for the car to "wander" when traveling at highway speeds.  Other modifications for all 1999 variants included the introduction of a "next-generation" airbag system that deployed with less force than earlier versions, thereby reducing the severity of airbag-induced injuries sustained in collisions during deployment.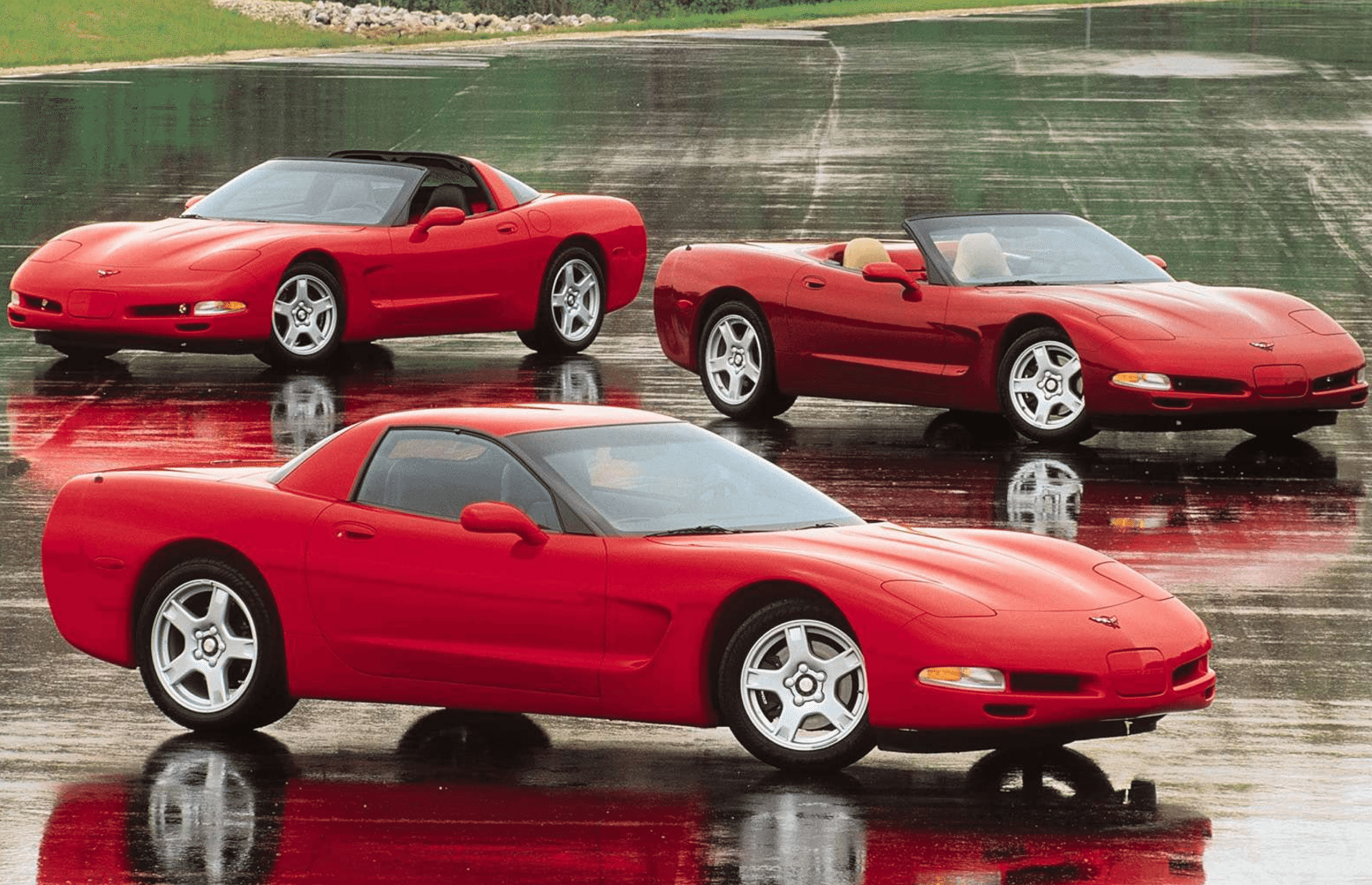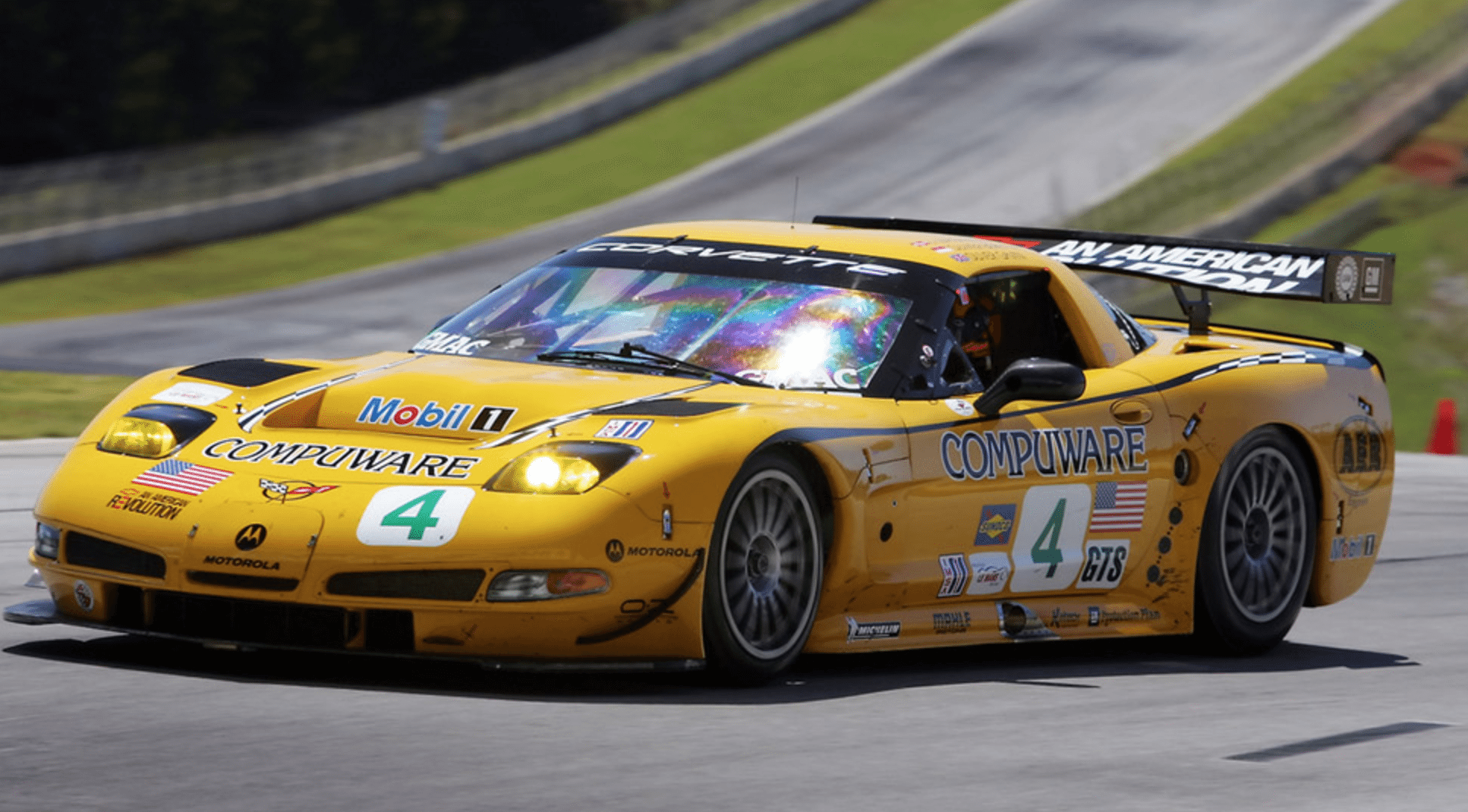 In fact, recognizing Corvette's successes over the past three years, Chevrolet decided it was time for the Corvette to return to factory backed racing, from which it had been absent since the early 1960's.  Competing as a production-based sports car, the new C5-R Corvette was developed to compete as a GTS-class race car that maintained the integrity of the production Corvette and shared a number of standard-issue components with it.  These included the stock Corvette frame, engine block, windshield, taillights and marker lights, power steering pump, steering rack, alternator, water pump, and assorted suspension components.  Despite these similarities, the C5-R was approximately four inches wider, had a body produced of carbon-fiber that as only loosely based on the production C5's body, and featured an engine that produced an additional 255 horsepower over the stock Corvette.
Still, the development of the C5-R race car was a significant milestone for Chevrolet.  It declared unequivocally that the Corvette had found a renewed momentum – both in commercial sales and on the racetrack.  At long last, after years of hardship and dwindling sales, America's legendary sport car was thriving.
Production Volumes
Total sales of the 1999 Corvette increased from the previous model year by more than two-thousand units, totaling 33,270 Corvettes in all.  The Hardtop Coupe (FRC) Corvette certainly helped in this department, accounting for 4,031 of the total Corvettes sold that year.  Priced at $38,197.00, the hardtop was certainly the least expensive of the Corvettes that year, though only by a few hundred dollars.  For 1999, coupes sold for $38,591.00 and the convertible sold for $44,999.00.  While Chevrolet's focus continued to be to increase total units sold, 1999's production run was certainly respectable – and promising that the Corvette's long-term future looked increasingly optimistic. The final breakfown was Coupes 18,078, Convertibles 11,161, Fixed Roof Coupes 4,031.
1999 Corvette Awards & Accolades
Car and Driver (January 1999): "10 Best Cars"
Autoweek (July 5th, 1999) Readers Pick: "America's Best Car"
Kiplinger's Personal Finance: "Best New Car"  (for Corvette Hardtop, cars over $35,000)
Automobile Journalists Association of Canada: "Best New Performance Car" (for Corvette Hardtop)
Ward's Auto World: "10 Best Engines"  (for the LS1 5.7 Liter OHV V8)
IntelliChoice: "Best Overall Value of the Year, 'Corvette 2 Door Coupe, Sport 1999′"
As stated by MotorTrend Editors: "Any enthusiast with a drop of oil coursing through his/her veins will be seduced by the magical [1999] Corvette in one short test drive."
1999 Corvette Specifications & Performance
See the complete breakdown of technical specifications for the 1999 Corvette, including engine, suspension, brakes, body dimensions, and power. Read more: 1999 Corvette Specifications.
Engine, Transmission & Performance
No changes.
1999 Corvette Vehicle Identification Numbers (VIN)
The last six digits begin at 100001 and run thru 133283. The pilot and prototype cars were given a VIN number in this VIN series. Each Vehicle Identification Number (VIN) is unique to an individual car. For all 1999 Corvettes, the Vehicle Identification Number was stamped on a plate on the inner vertical surface of the left windshield pillar visible through the windshield. Read more: 1999 Corvette VINs.
1999 Corvette Price & Options
Core Features & Factory Options
The new hardtop Corvette was the first Corvette since the 1967 coupe that was not an open car. The "hardtop" name was derived from the fact that it looked much like a convertible with a hardtop attached. It was actually closer to the convertible than the coupe since it shared more parts with the fully open family member, such as the trunk. For 1999 it featured the same LS1 engine but an automatic transmission would not be available. The competition oriented Z51 suspension system was standard on every hardtop.
A new optional Heads Up Display (HUD) allows drivers to view vital instruments including speedometer, tachometer and a selected gauge without taking their eyes off the road. The HUD was not available in the FRC. The HUD is adjustable so that drivers of any height can see the display, the gauge that is displayed is also selectable. Also optional on the 99 Vette was Twilight Sentinal, this feature turns on the headlights when the vehicle detects that it is in the dark. Again option is the Active Handling System (AHS) which monitors the car for slides and applies brakes on single wheels to keep the car straight. Competition mode is also included with the AHS option.
Colors
The colors broke out like this for 1999: Arctic White 2,756 (8.28%), Light Pewter Metallic 6,164 (18.53%), Sebring Silver Metallic 3,510 (10.55%), Nassau Blue Metallic 1,034 (3.11%), Navy Blue Metallic 1,439 (4.33%), Black 7,235 (21.75%),  Torch Red 8,361 (25.13%), Magnetic Red Metallic 2,733 (8.21%), All colors were available with the hardtop except Sebring Silver Metallic and Magnetic Red Metallic. The Hardtop was limited to a black interior. Read more: 1999 Corvette colors
Pricing & Options
The Base Corvette Coupe with 346 cu. in. 345 hp engine and four speed automatic transmission started at $39,171, while the Base Corvette Convertible with 346 cu. in. 345 hp engine and four speed automatic transmission was $45,579. The cheapest option was the Base Corvette Hardtop with 346 cu. in. 345 hp engine and six speed manual transmission that started at just $38,777. Standard equipment with the hardtop included the six speed manual transmission which was a $825.00 option on the convertible and coupe.
| | | | |
| --- | --- | --- | --- |
| CODE | DESCRIPTION | QUANTITY | RETAIL PRICE |
| 1YY07 | Base Corvette Sport Coupe | 18,078 | $39,171.00 |
| 1YY37 | Base Corvette Hardtop | 4,031 | $38,777.00 |
| 1YY67 | Base Corvette Convertible | 11,161 | $45,579.00 |
| AAB | Memory Package | 23,829 | $150.00 |
| AG1 | Power Driver Seat (Hardtop) | 3,716 | $305.00 |
| AG2 | Power Passenger Seat (Coupe & Convertible) | 27,089 | $305.00 |
| AQ9 | Sport Seats (Coupe and Convertible) | 24,573 | $625.00 |
| B34 | Floor Mats | 32,706 | $25.00 |
| B84 | Body Side Moldings | 19,348 | $75.00 |
| CC3 | Removable Roof Panel, Blue Tint (Coupe) | 5,235 | $650.00 |
| C2L | Dual Removable Roof Panels (Coupe) | 6,307 | $950.00 |
| CJ2 | Electronic Dual Zone Air Conditioning | 25,672 | $365.00 |
| D42 | Luggage Shade and Parcel Net (Coupe) | 18,058 | $50.00 |
| F45 | Selective Real Time Damping (Coupe & Convertible) | 7,515 | $1,695.00 |
| G92 | Performance Axle Ratio (3.15 ration) (automatic) | 14,525 | $100.00 |
| JL4 | Active Handling System | 20,174 | $500.00 |
| MN6 | 6-Speed Manual Transmission (Coupe & Convertible) | 13,729 | $825.00 |
| N37 | Telescopic Steering, Power (Coupe & Convertible) | 16,847 | $350.00 |
| N73 | Magnesium Wheels | 2,029 | $3,000.00 |
| T82 | Twilight Sentinal (Coupe & Convertible) | 18,895 | $60.00 |
| T96 | Fog Lamps | 28,546 | $69.00 |
| TR9 | Lighting Package (Hardtop only) | 3,037 | $95.00 |
| UN0 | Delco Stereo System with CD | 20,442 | $100.00 |
| UV6 | Head Up Display (HUD) | 19,034 | $375.00 |
| UZ6 | Bose Speaker Package (Hardtop) | 3,348 | $820.00 |
| U1S | Remote Compact 12-Disc Changer | 16,997 | $600.00 |
| V49 | Front License Plate Frame | 17,742 | $15.00 |
| YF5 | California Emissions | 3,336 | $170.00 |
| Z51 | Performance Handling Package | 4,249 | $350.00 |
| 86U | Magnetic Red Metallic Paint (Coupe & Convertible) | 2,733 | $500.00 |
Read more: 1999 Corvette pricing and factory options.
1999 Corvette Gallery
See full 1999 C4 Corvette Image Gallery
1998 Corvette Videos
See more 1999 Corvette Videos