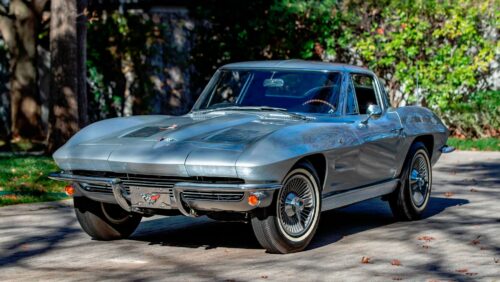 1963 Corvette – The Ultimate Guide
The 1963 Chevy Corvette was the final result of more than a half-decade's worth of research both on and off the racetrack.  Conceived by Bill Mitchell and Zora Arkus-Duntov, the second-generation Corvette literally evolved from a racecar – namely the Stingray racer that Mitchell created (and privately funded out of his own pocket.)
Even its title, which was an axiom deliberately given to the race car because of its resemblance to an actual stingray, stuck and further defined the C2 for all time as the "Corvette Sting Ray."
The car was an instant marketing success.  Given its improved and re-imagined styling from the C1, and the impressive advancements made to the car's performance and handling, there had been no doubt that the second-generation Corvette would be a triumph.  Even so, nobody could have guessed that Mitchell's ingenious design and Duntov's engineering wizardry would produce a sports car that would become as popular or as successful as the 1963 Corvette ended up being.
"Only a man with a heart of stone could withstand temptation like this" was what the inaugural Sting Ray ad copy had read.  The words would prove to be prophetic.
When the 1963 Corvette finally made it to market, its sales numbers jumped off the charts, literally skyrocketing Corvette sales to levels never before experienced – even in 1953 when the original C1 had originally been marketed to enthusiastic soldiers returning home from overseas.
"Only a man with a heart of stone could withstand temptation like this"
The car was exactly the "shot in the arm" that the Corvette program had needed.  To help with the increasing demand, Chevrolet's St. Louis factory (where the 1963 C2 Corvette was assembled) increased production by adding a second shift.  Even so, the demand continued to outgrow GM's ability to manufacture the new car, and so customers were forced to wait – sometimes up to two months – to take delivery of their new Corvettes.
Even more impressive than the wait was that many of these customers paid full retail price for the "privilege" of being the first to own a 1963 Corvette.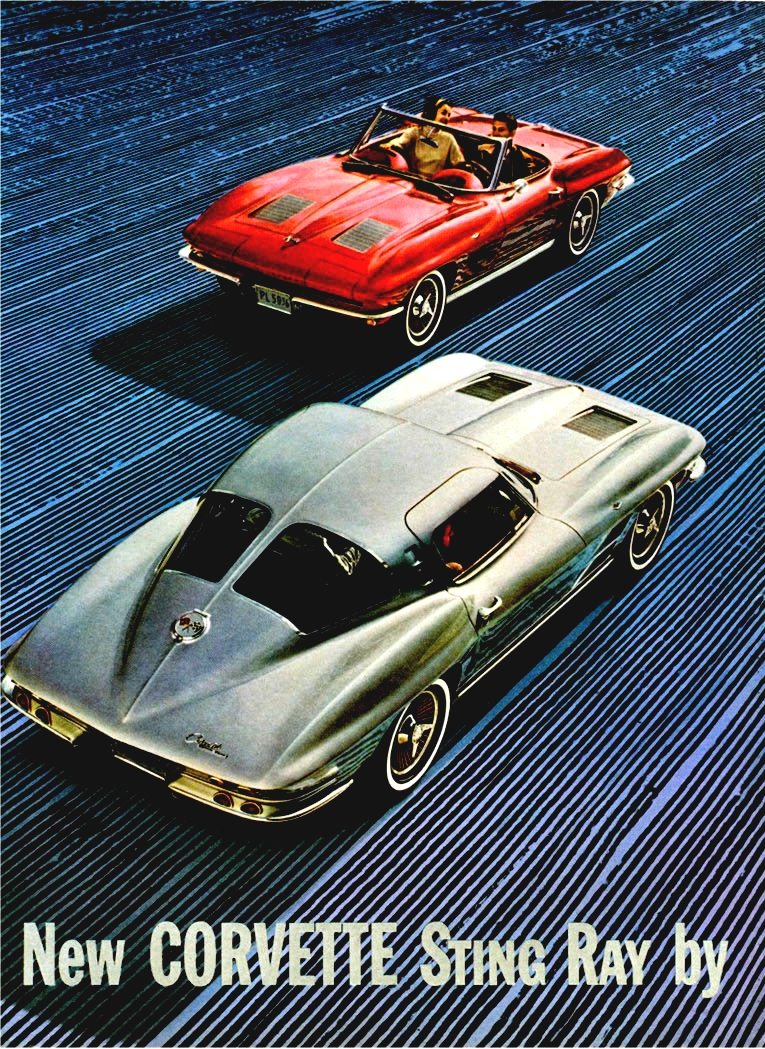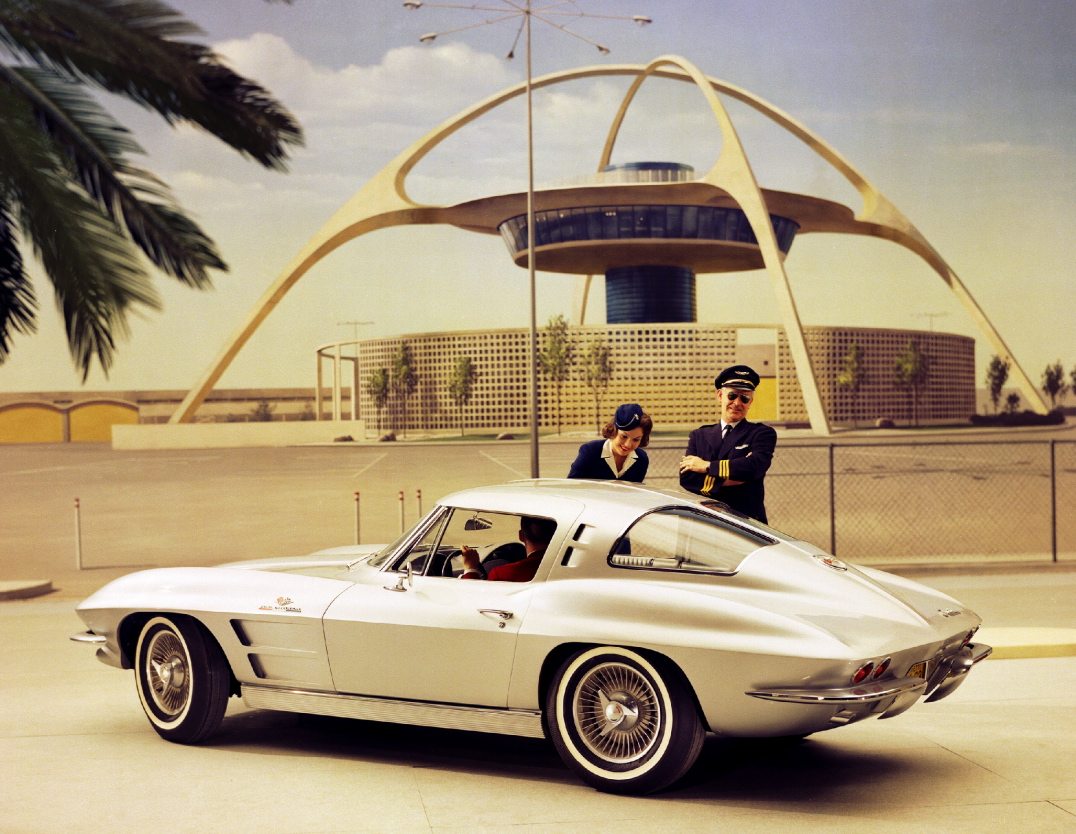 Perhaps as impressive as the sales numbers that were being reported for the second-generation Corvette almost immediately after the car hit the retail market was the fact that the first-generation Corvettes began to increase in popularity – so much so that the previous used car value of these Corvettes actually increased beyond their original sell prices, making Corvette one of the first postwar cars to outsell its original list price on the collectors market.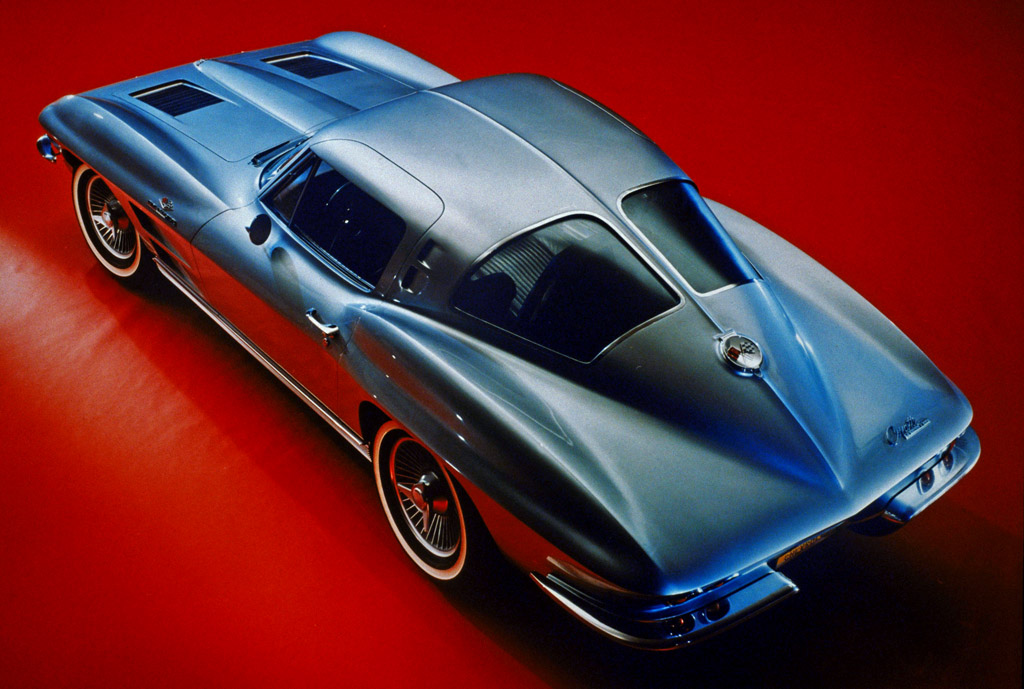 While nobody could have predicted it then, the C2 Corvette would become one of the most desirable – and most collectible – Corvettes of all, and none more so than the 1963 model year. While the C2's styling was both aggressive and radically advanced for its time, there were a number of other advancements made to the second-generation Corvette that also attributed to the Sting Ray's success.
The Sting Ray had a newly designed chassis that featured a shorter wheelbase and a faster "Ball-Race" steering (a name that was developed by the ad copy (advertisement) writers in 1963,) both of which attributed to providing the car with improved maneuverability and handling.
While having a shorter wheelbase might normally imply a choppier ride, the design of the C2 partially compensated for this by redistributing the weight of the car from front to rear.  By moving some of the weight out of the end, steering the car became more manageable – especially given the fact that the 1963 Corvette did not include power steering as a standard feature.  At the same time, Corvette engineers moved approximately 80 additional pounds on/over the rear wheels, which improved the car's traction, especially during moments of more aggressive acceleration.
DID YOU KNOW: The original 1963 Sting Ray Coupe is considered to be one of the most collectible Corvettes of all time because of its unique split rear window design. Surprisingly, many split-window coupes were modified by customizers, some of whom replaced the small, individual panes of glass with a one-piece window made of Plexiglass. Even more surprising is that Chevy began offering replacement one-piece windows through its dealerships. As a result, a good many 1963 Corvette coupes lost a considerable amount of their collector value.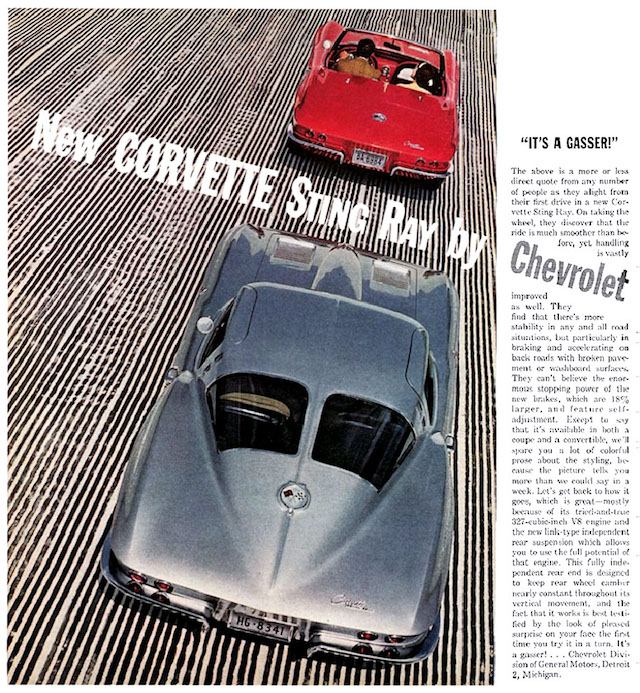 A number of items did carry over from the C1 Corvette.  Included in these was a collection of four small-block, 327C.I. V-8 engines, a trio of transmissions, and six axle ratios.  The engines that were offered for the 1963 Corvette included three carbureted versions; a 250-, 300-, and 340-horsepower variants, as well as a 360-horsepower fuel-injected powerhouse engine, which was made available to consumers for an extra $430.40.  As in the 1962 Corvette before it, the base and step-up engine units utilized hydraulic lifters, a mild cam, a forged-steel crankshaft, 10.5:1 engine compression, a single-point distributor, and a dual exhaust system.  Additionally, the 300-horsepower engine produced some additional power via a larger, four-barrel carburetor, plus larger intake valves and exhaust manifold.
The car's standard three-speed transmission also carried over from the 1962 model year, and remained available in 1963 though neither it nor the optional Powerglide automatic transmission were installed into many second-generation Corvettes.  Instead, the preferred gearbox continued to be the Borg-Warner manual four-speed transmission.
An optional upgrade priced at $188.30, the Borg-Warner gearbox was delivered with wide-ratio gears when mated to the 250- or 300-horsepower engines, and a close-ratio gearing when mated to the top two powerplants.  The standard axle ratio for the three-speed manual transmission or the Powerglide automatic was 3.36:1.  Comparatively, the four-speed manual came standard with a 3.70:1 final drive ratio, although 3.08:1, 3.55:1, 4.11:1 and 4.56:1 gear sets were also made available.  While most of these were desirable alternatives to the standard gear ratio, the last of these (the 4.56:1 ratio) was quite rare in production model Corvettes.
While the powertrain/drivetrain may have been a carry-over from the first-generation Corvette, there were a number of enhancements to the rest of the C2 Corvette that were vast improvements from its predecessor.  Just as the steering/maneuverability had been improved, so too was the Sting Ray's stopping ability.
The new Corvette came equipped (standard) with wider, four-wheel cast-iron 11-inch drum brakes, which provided a more effective braking area, which, in turn, produced shorter stopping distances.  Optionally, consumers had the ability to order special, sintered-metallic linings that were segmented for better cooling.  They also had the option of ordering finned aluminum ("Al-Fin") drums, which not only provided faster heat dissipation, but also less unsprung weight.  Optional power assist was available for both braking packages.
Other major improvements that were introduced on the 1963 Corvette included positive crankcase ventilation, a smaller flywheel, and an aluminum clutch housing.  A more-efficient alternator also replaced the old-fashioned generator.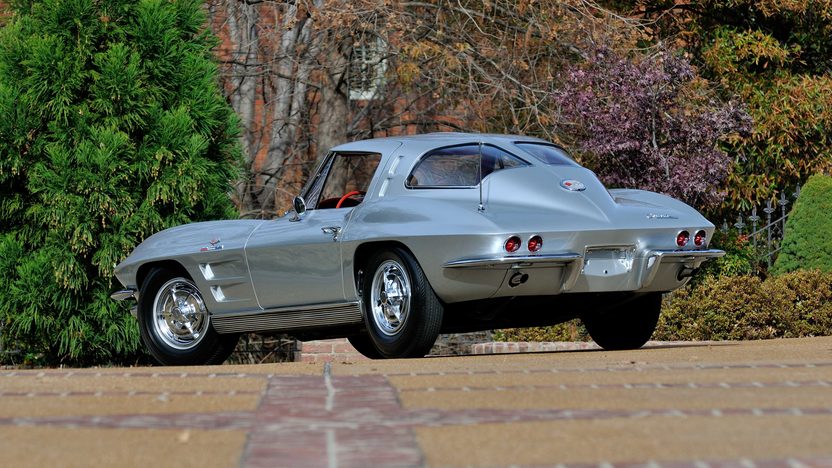 In 1957, the Automotive Manufacturers Association (AMA) introduced a racing ban that prohibited automotive manufacturers from participating in sanctioned racing events. While General Motors had been an active participant in the ban since its inception, Zora Arkus-Duntov had been against the ban, and had become determined to provide consumers with the ability to build a race-ready Corvette, even after General Motors officially banned their production.
To get around the ban, Duntov had made it possible to turn any Corvette into a racer by informing consumers which options to order when buying their cars.  When he and Bill Mitchell completed the design and development of the second-generation Corvette, he had become more determined than ever to ensure that anyone who wanted to race his sophisticated new Sting Ray should have the ability to do so.  It was with this rationale in mind that he developed RPO Z06 – a new competition-oriented package.
In order to purchase the Z06 option, consumers first had to specify that they were purchasing a fuelie (fuel-injected) coupe equipped with a four-speed manual transmission and a Posi-traction limited-slip differential.  After selecting these options, consumers could add the Z06 option for an additional $1,818.45, which was a formidable up-sell in 1963.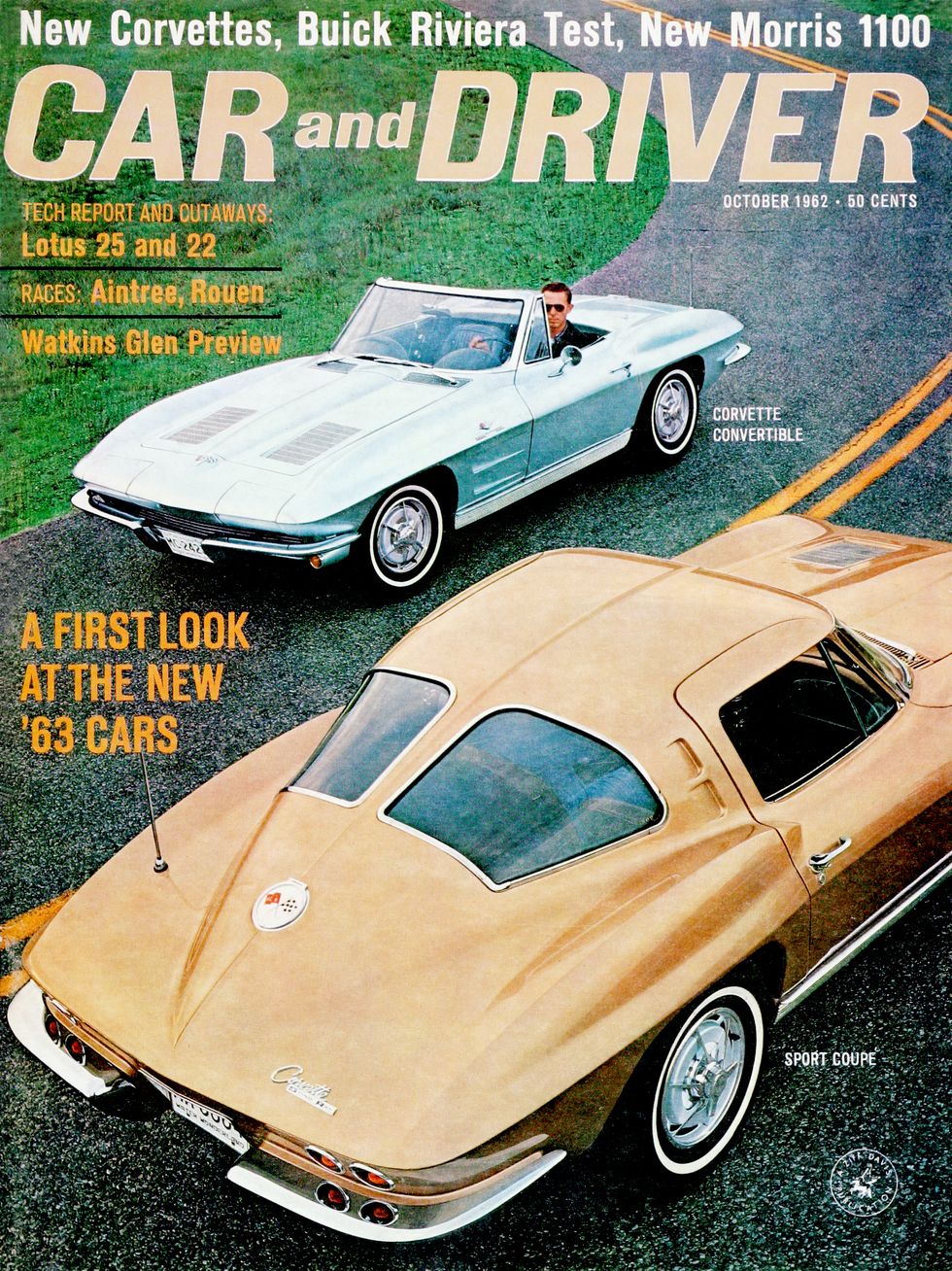 Consumers that ordered the Z06 option received the top-line Al-Fin power brakes with sintered metallic brake linings, a heavy-duty front stabilizer bar, stronger shocks, much stiffer springs, a dual master cylinder, and a long distance 36.5 gallon fuel tank. Additionally, Chevrolet had intended to include a set of beautiful, cast-aluminum wheels with tri-spinner knock-off hubs as part of the Z06 package (and as a separate option.)
However, Chevrolet dropped the wheels from the optional factory equipment for 1963 due to casting problems that made the wheels so porous that they wouldn't hold air in the tires.  Interestingly, Chevrolet listed RPO Z06 as an option when building a Convertible as well, but Chevrolet production records show that no such cars were ever built – which is doubly interesting since all previous Corvette racers had been open-cockpit roadsters.
The 1963 Sting Ray was not only a commercial success, but was hailed by the automotive press as one of the best Corvettes of all time.  It was praised almost unanimously for its handling, road adhesion, and unrelenting horsepower.  Car Life magazine presented its annual Award for Engineering Excellence on the 1963 Corvette Sting Ray.  It was noted to have a significant edge over past models in both traction and handling because the new independent rear suspension reduced wheel spin considerably compared to the live-axle cars.  Chevy's small-block V-8 engine, which was recognized as being the most consistent component of past Corvette performance, was rated by car buffs as being even better in Sting Rays.
Although the performance aspects of the 1963 C2 Corvette were hailed by the press, there was one item on the new Sting Ray which received a great deal of criticism by the automotive press – namely the rear split-window design.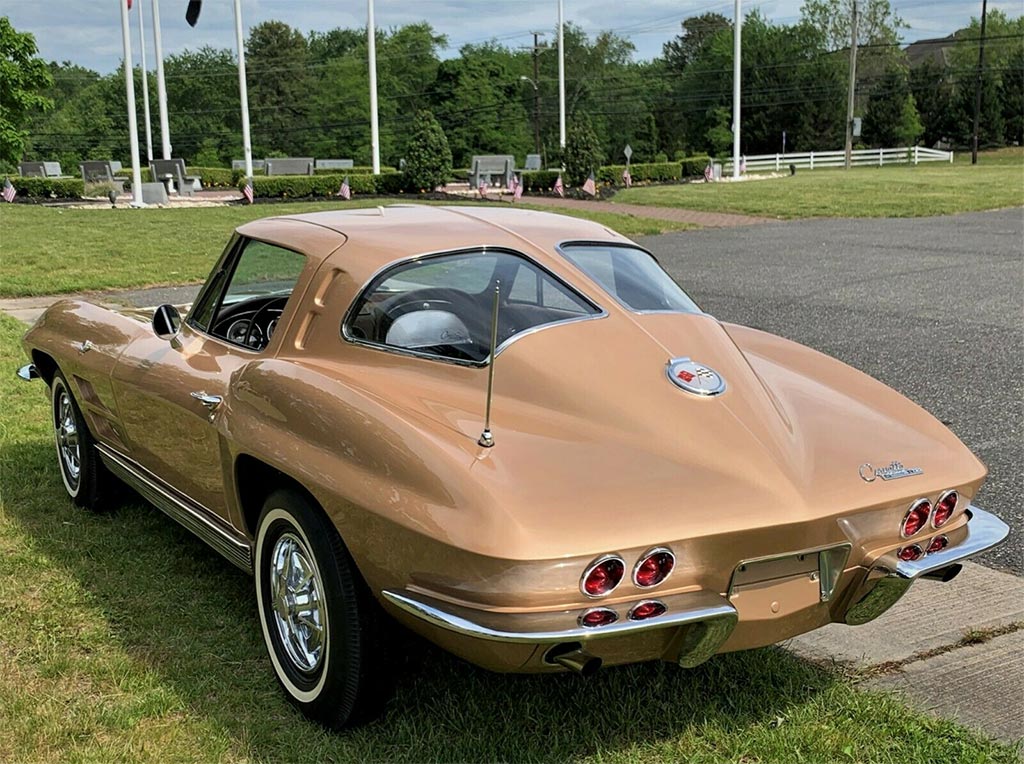 Although the split-window Sting Ray would become one of the most sought after Corvettes of all time, the initial reviews from the press criticized the rear window as being a failure both from a design standpoint as well as hampering the driver's rear view during vehicle operation.
Bill Mitchell, who envisioned the original split-window design and had become a proponent for it even in the face of earlier, but similar, criticisms from Zora Arkus-Duntov, relented – perhaps prematurely – and eliminated the split-window design for the 1964 (and all following) model years.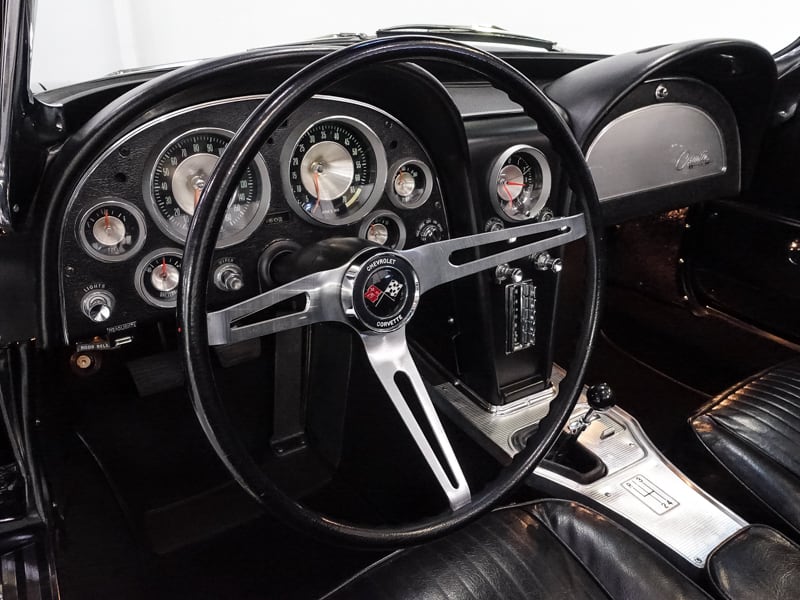 Aside from the critical reviews of the rear window, the 1963 Corvette received few other complaints, save for the somewhat inconvenient accessibility of its luggage compartment.  This one item notwithstanding, the Corvette was praised for its current creature comforts – an area that was notably lacking on the first-generation Corvettes.
Not only was the new C2 a vast improvement over its predecessor in this regard, but it was considered a step-above many of the best European sports cars. It featured a great deal of "creature comforts" including contoured bucket seats, functional meeting the rigorous demands of the varying North American climate. Overall, this new Corvette Sting Ray was the most sensational Corvette yet and one of the most refined, well thought out sports cars found in any market.
The optional equipment installations for the 1963 Corvette definitely reflected the consumers' higher expectations of what they wanted in a sports car.  During the initial production year, 15 percent of the Corvettes built were equipped with power brakes, 12 percent with power steering – both of which were features that were absent in the earlier Corvette.  At the same time, creature comfort alone did not dictate the demand.  Items like air conditioning and leather upholstery were only ordered on a few hundred cars each.  However, almost 18,000 of the 1963 Sting Rays were ordered with a manual four-speed gearbox, which equated to about 4 out of every 5 Corvettes built that year.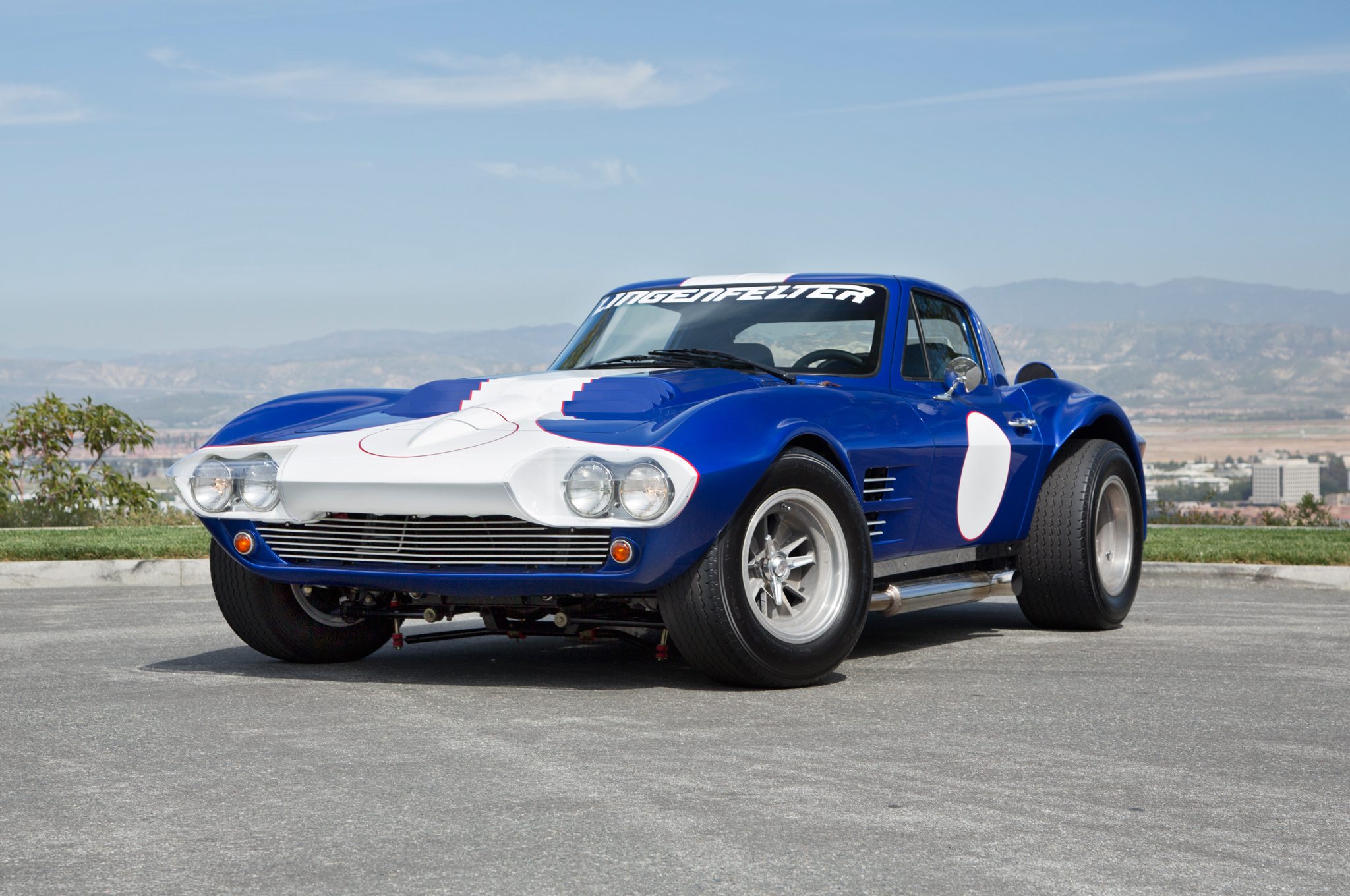 Serious drivers – and racers of course – were indifferent about the many amenities being offered by Chevrolet.  Instead, they sought out the aforementioned Z06 package that had been prescribed by Zora Arkus-Duntov as the key to turning the Sting Ray into a successful race car.  Duntov had been determined that the Sting Ray coupe should be a GT class and SCCA contender, and the Z06 had certainly become the key to making it so.  Even with the Z06 option in place however, Duntov's ultimate goal was to manufacture a full-blown competition-version of the Sting Ray Corvette – a dream which would be realized, though briefly, in the 1963 Corvette Grand Sport.
The Grand Sport was built in response to Duntov's general disdain for the AMA ban on racing.  Since GM would not allow commercial models to compete in factory sponsored racing events, Duntov circumvented the situation by building a race car version of the second-generation Corvette.  The car featured heavily modified variants of the factory components installed in the second-generation coupe, including a 327cubic inch V-8 engine that produced 550 horsepower at 6,400rpm, and a massive 500ft/lb of torque at 5,200rpm.  Cosmetically, the car shared similar body-lines to Bill Mitchell's fastback coupe, though it featured key design characteristics essential for its successful operation on the race track.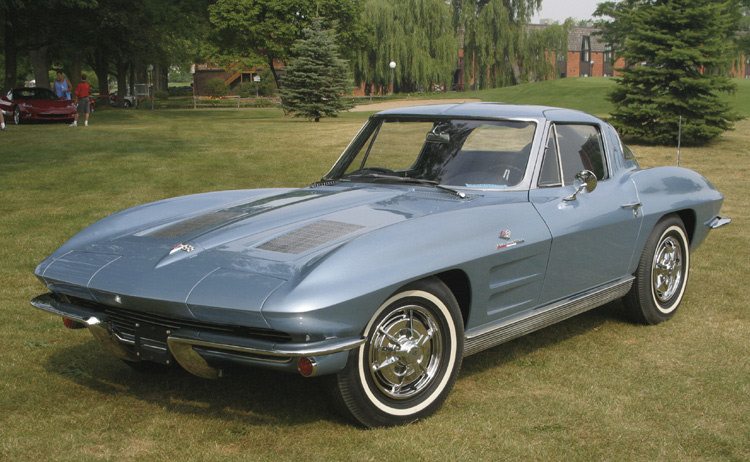 And race it did, at least briefly.  Ultimately, the AMA racing ban would catch up with the Grand Sport Corvette, bringing its promising career as a race car to an end almost before it began.  In all, only five Grand Sport Corvettes were manufactured before an internal crackdown within General Motors required that Duntov and his team discontinue any further work on the development of the Grand Sport Race car.   Still, for the short period of time that these cars ran on the track, they proved that they were more than capable of competing (and beating) their competition – including the already famous Shelby Cobra, which had dominated the field prior to the Grand Sports introduction.
Production Volumes
In all, an amazing 21,513 production model Corvettes would be manufactured for the 1963 model year, which was a 50 percent improvement over the record-setting 1962 model year.  Production was split almost evenly between the convertible and coupe models, with a total of 10,594 couples built (base price of $4,257.00), and a total of 10,919 convertibles built (base price of $4,037.00,) with more than half the convertibles being ordered with an optional lift-off hardtop. Still, while the novelty of the Corvette Coupe certainly drew a strong response from consumers, it would not sell as well again for the remainder of the second-generation's production run. In fact, the next time that sales numbers of coupes would outnumber convertibles would be in 1969, when Chevrolet would introduce the first coupe with removable T-top panels.
1963 Corvette Specifications & Performance
Engine & Transmission
The base Corvette game with a 327ci V8 that outputs 250 horsepower and 350 lb-ft of torque. Upgrading to the L75, L76, or L84 V8 would up horsepower to 300, 340, or 360 horsepower respectively, with torque ranging from 360, 344, and 352 lb-ft respectively. The '63 Vette was available with either a three or four-speed manual, or a Powerglide automatic transmission, and was fitted with 11″ front and rear drum brakes. See all 1963 Corvette specifications
Performance
Several magazines tested the 1963 Corvette and the performance was strong. In 327ci/360hp guides, Road and Track managed to get a 5.9 second 0 – 60 mph time and a 14.9 second quarter mile time. Motor Trend tested the same set up and managed a 6.2 second 0 – 60 mph time and a 14.6 second quarter mile time. With the optional L84 V8 engine top speed was north of 130 mph. Car Life tested the 327ci/300hp and 0 – 60 mph was (as expected) slower at 7.2 seconds, with a quarter mile. See all performance figures.
1963 Corvette Vehicle Identification Numbers (VIN)
In 1960 Chevy changed the Corvette VIN. They went from 10 digits up to a 12 digit VIN. The added 2 digits distinguish between coupe and convertible body style. There was also a change in the designation of the Corvette series by Chevy to 08. The digit order was also changed slightly. These changes carried over into the C2 generation for 1963 and 1964 model years.
The last six digits begin at 100001 and run thru 121513, accounting for each of the 20,536 Corvette Coupes/Convertibles built in 1963. Each Vehicle Identification Number (VIN) is unique to an individual car. For all 1963 Corvettes, the location of the Vehicle Identification Number (VIN), body style, body number trim and paint combination can be found on the instrument panel brace under the glove box.
See full VIN details for the 1963
1963 Corvette Price & Options
Core Features & Factory Options
The chassis also saw significant changes, so there was a lot more going on in 1963 than just an updated shape. The new independent rear suspension made a huge difference in every performance area, with improved ride and driving experience as part of the bargain.
Designer Larry Shinoda was not a tall man, but he did accommodate them by supplying a cut out in the roof to make entry / exit easier for taller enthusiasts in the low slung Corvette coupe. The hood of all 1963 Corvettes had faux vent grills. The story is that originally they were functional but the hot air escaping from the engine found its way into the passenger area via fresh air venting in the cowl.
Colors
The 1963 Corvette was manufactured in seven great colors, which were Tuxedo Black, Ermine White, Riverside Red, Silver Blue, Daytona Blue, Saddle Tan, and Sebring Silver. See the colors in detail here. 
Pricing & Options
The Base Corvette Coupe with 327 cu. in. 250 hp engine and three speed manual transmission could be yours for $4,252. The Base Corvette Convertible with 327 cu. in. 250 hp engine and three speed manual transmission would cost you $4,037. Options included the L75, L76, and L84 V8 engines, power windows, and the Z06 performance package.
The new Corvette Stingray featured full instrumentation and a telescoping steering wheel. As in previous years, the dashboard center included a clock, heater / ventilation controls and radio. Air conditioning (RPO C60; $422) was available for the first time in a Corvette, although only 278 (1.29%) were so equipped for 1963. Another first for the 1963 Corvette Stingray: power steering. Seats were reasonably comfortable, especially considering the other domestic offerings of the time. If "Saddle Tan" interior was ordered the seat material was leather, also a Corvette first.
Amazingly enough, the one thing that didn't change in 1963 was the engine selection, which was the same as 1962. The standard engine was a 327 cubic inch 250 horsepower unit. Also available were 300 horsepower (RPO L75; $53.80) and (above left) 340 horsepower (RPO L76; $107.60) engines.
See the complete 1963 Corvette pricing and option codes.
1963 Corvette Gallery
Our images galleries are updated often (and you can send any great ones you find our way). Have a look at some of the great photos of the 1963 Corvette below, or check out our full 1963 Corvette Image Gallery for even more Sting Ray goodness!