1994 Corvette Overview
For both owners and enthusiasts alike, 1994 was a significant year for the Chevy Corvette – not because of any significant changes to the car itself, but because of two key announcements made by Chevrolet.   First, after years of planning and fund-raising on the part of both Chevrolet and private contributors, the Corvette Museum would finally open on September 2, 1994.
Model:
1994 Corvette
Generation:
C4 Corvette
Type:
2 Door Coupe, 2 Door Convertible
Available Colors:
Arctic White, Admiral Blue, Black, Bright Aqua Metallic, Polo Green Metallic, Competition Yellow, Copper Metallic, Torch Red, Black Rose Metallic, Dark Red Metallic
Engine:
350CI, 300

Horsepower,

Multi-Port Fuel Injected LT1 V8 Small Block Engine.
VIN:
1G1YY22P9R5100001 – 1G1YY22P9R5122882 (Corvette Coupe & Convertible)
1G1YZ22J9R5800001 – 1G1YZ22J9R5800448 (ZR-1 Corvette)
Transmission:
4-speed automatic (standard), 6 speed manual (optional)
Original Price:
$36,185.00 (Coupe), $42,960.00 (Convertible)
Units Produced:
23,330
Specs:
1994 Corvette Spec List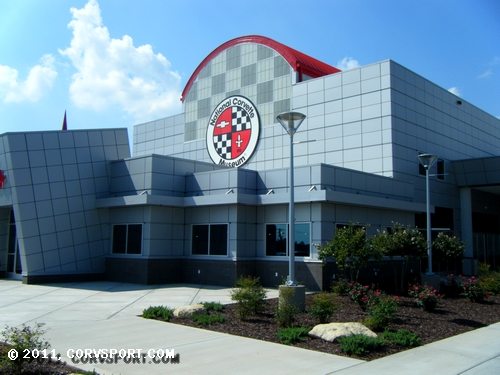 For the grand opening ceremonies, four-thousand Corvettes from virtually every one of the Continental United States would be present.  Throughout the three days of opening festivities, 118,000 visitors would tour the museum.
Chevrolet provided a number of significant Corvettes "on permanent loan" to the museum – including the original Sting Ray and the Mako II.  Both Zora Arkus-Duntov and Dave McLellan were present for the event.  Second, General Motors announced that an all-new C5 Corvette was on track for the 1997 model year.
In fact, much of the Corvette design team had been re-assigned to the C5 program and were already focused on testing the new model, which was why the C4 remained mostly unchanged for 1994.
That's not to say that there weren't any changes made in the 1994 model year.  The LT-1 engine was bolstered up to include a more powerful ignition system for shorter starting times, especially in cold weather.  Additionally, a new sequential fuel injection system was introduced for better throttle response, idle quality, overall drivability and lower tailpipe emissions.
DID YOU KNOW: Twenty five Corvette convertibles were deemed "official cars" for the inaugural NASCAR Brickyard 400 race at the Indianapolis Speedway. In all, twelve black and thirteen red Corvettes were produced for this historic occasion. All twenty-five of these Corvettes received a boost in horsepower, enabling them to be used to run "Hot Laps" at the Indianapolis Speedway. Additionally, these Corvettes were used for specific pre-race parade vehicles to transport NASCAR drivers around the track.
Matching the engine's refinements was the Corvette's first electronically controlled automatic transmission, which offered drivers smoother and more consistent shifting than the previous model's all-mechanical four-speed.   Additionally, a lockout switch was installed on the new automatic gearbox which required drivers to depress and hold the brake pedal before shifting out of "park".  This last addition was installed as a response to industry concerns regarding "unintended acceleration."  For its own part, the ZR-1 received a boost in performance to 405 horsepower (a fact which would eventually make the 1994-1995 ZR-1 Corvettes the most desirable and collectible of them all.)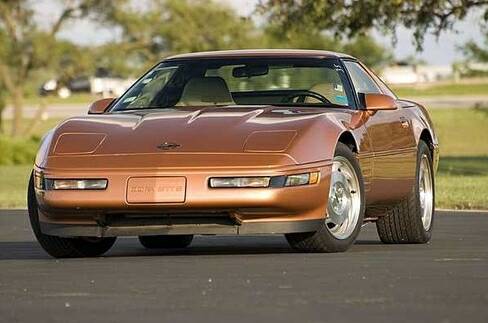 There were no cosmetic changes made to the exterior of the 1994 Corvette.  The only visible difference that differentiated the 1994 Corvette from earlier years was the introduction of two new colors – Admiral Blue and Copper Metallic (although Copper Metallic was limited to only 116 cars due to limited availability).
For the ZR-1 Corvette, non-directional, five-spoke wheels were introduced and included as part of the RPO ZR1 package option.  These wheels were not made available on the base model coupe or convertible (although the same five spoke wheel package would be offered on the Grand Sport and Collector's edition Corvettes 1996.)
A significant, functional improvement was made to the tires on the 1994 Corvette.  While the Corvette was already equipped with "Z-rated" tires, optional Goodyear "run-flat" tires were offered to consumers for the first time.  These Goodyear Extended Mobility tires (RPO WY5) were developed with special bead construction that enabled them to be driven on with no air.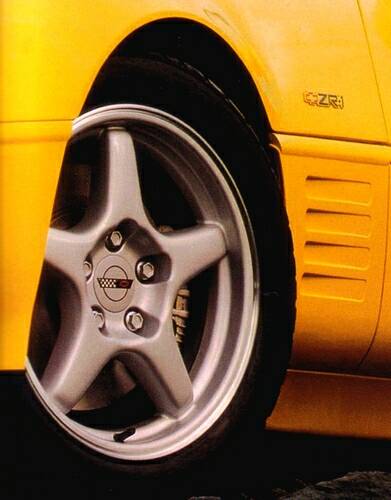 When ordering this option, consumers were also required to purchase the low pressure tire warning system option (RPO UJ6) because if the tire was to run deflated for a distance greater than 50 miles, damage to either the tire, the rim, or both could result.
However, despite the potential for damage to these components, the safe driving range on a deflated tire was considerably further than 50 miles.
The interior of the 1994 Corvette received virtually no upgrades either, although a few standard options were added including a passenger side airbag and knee bolster – both of which were introduced to help bring the Corvette into compliance with the second phase of the federal governments "passive restraint" safety requirements.
The passenger side airbag actually took the place of the dashboard glovebox and, as a result, stowage compartments were incorporated into each of the door mounted arm rests to compensate for this loss of storage.
Leather seats were also made standard and were available in both base and "sport" versions.  Less restrictive bolsters were included to accommodate larger passengers and to facilitate easier entry and exit.  The seat controls were moved from the front of the seats to the center console of the Corvette, and these controls allowed considerable control of the sports seats, including adjustable lumbar support and side bolster adjustments.
The most notable physical design change to the 1994 Corvette was the redesigned steering wheel.  To most critics, the new design, which featured a simplified, two-spoke steering wheel, was actually considered a functional downgrade from its predecessor, which had featured spokes at the "10" and "2" positions in addition to the remaining two spokes which carried over into the 1994 design.
After a 20 year absence from participation in the 24 Hours of LeMans, a special edition Corvette, prepared by Reeves Callaway, out-ran every competitor in the GT2 Class during qualifying. After running in first place for 6 hours, it would later run out of gas due to a fuel consumption mis-calculation. However, the Corvette would achieve a greater measure of success later that same year when it would outrun ten Porsche 911 racers and finish first in the GT class and second overall at a four-hour endurance race in Vallelunga, Italy.
There were other changes made to the interior as well.  A one-touch "express down" driver's side power window was added to the 1994 Corvette.  Additionally, new dashboard instrumentation had been modified.  The interior dashboard light colors were changed from white to tangerine.   Environmentally friendly R134 refrigerant replaced the ozone-layer-damaging R12 Freon.  On the convertibles, the rear windows were now made out of glass instead of plastic and now included a standard rear-window defogger.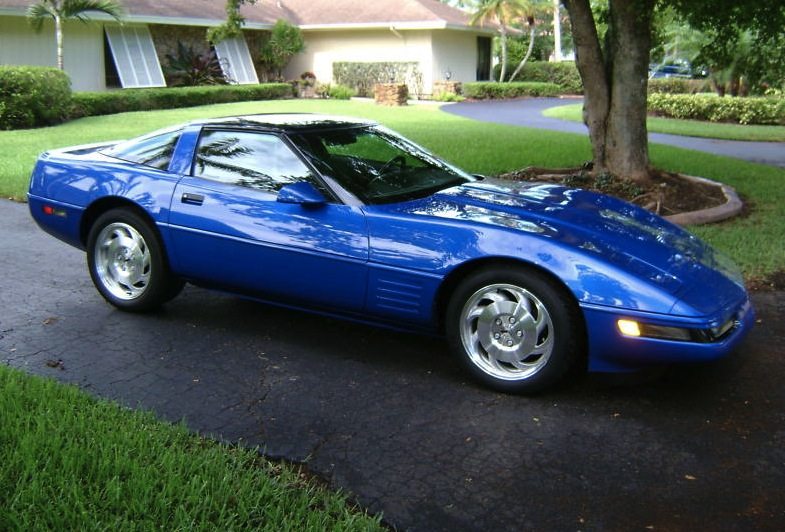 Despite the limited number of cosmetic and mechanical changes, the sale of 1994 Corvettes actually rose to 23,330 units despite a modest price increase to $36,185.  Even with the increase in Corvette sales, the ZR-1 Corvette sales continued to suffer with only 448 units sold in 1994.  Given the year over year decline in ZR-1 sales, it was announced by General Motors that 1995 would be the last year for their "King of the Hill".
A sufficient number of LT5 engines had been assembled by Mercury Marine to allow for the production of 448 Corvettes a year through the end of 1995 and it was only because of this fact that the ZR-1 continued production at all, especially given the overall lack of sales of the high end Corvette.
Still, even with the arrival of the C5 Corvette on the horizon, there were those within the Corvette design and engineering teams that were pushing for a unique, special edition Corvette to close out the C4's thirteen year run.   While these special edition Corvettes were still two years into the future, the foundation was already being laid within GM by many of it's key players – including then Chief Engineer John Heinricy and Dave Hill – to introduce a final iteration of the C4 Corvette to the world.
With many pitfalls still ahead of them, it seemed uncertain that anyone would embrace the idea, but through the insistence and determination of Heinricy throughout the remaining years of the C4's production, the best was still to come.
1994 Corvette Image Gallery
See full 1994 CY Corvette Image Gallery
1994 Corvette Specifications
See the complete breakdown of technical specifications for the 1994 Corvette, including engine, suspension, brakes, body dimensions, and power.
Read more: 1994 Corvette Specifications.
1994 Corvette Pricing & Options
| | | | |
| --- | --- | --- | --- |
| CODE: | DESCRIPTION | QUANTITY | RETAIL PRICE: |
| 1YY07 | Base Corvette Sport Coupe | 17,984 | $36,185.00 |
| 1YY67 | Base Corvette Convertible | 5,346 | $42,960.00 |
| AC1 | Power Passenger Seat | 17,863 | $305.00 |
| AC3 | Power Driver Seat | 21,592 | $305.00 |
| AQ9 | Sport Seats, leather | 9,023 | $625.00 |
| CC2 | Auxiliary Hardtop (convertible) | 682 | $1,995.00 |
| C2L | Dual Removable Roof Panels (coupe) | 3,875 | $950.00 |
| 24S | Removable Roof Panel, blue tint (coupe) | 7,064 | $650.00 |
| | Removable Roof Panel, bronze tint (coupe) | 3,979 | $650.00 |
| FX3 | Selective Ride and Handling, electronic | 4,570 | $1,695.00 |
| G92 | Performance Axle Ratio | 9,019 | $50.00 |
| MN6 | 6-Speed Manual Transmission | 6,012 | $0.00 |
| NG1 | New York Emission Requirements | 1,363 | $100.00 |
| UJ6 | Low Tire Pressure Warning Indicator | 5,097 | $325.00 |
| U1F | Stereo System With CD, Delco-Bose | 17,579 | $396.00 |
| WY5 | Tires, Extended Mobility | 2,781 | $70.00 |
| YF5 | California Emissions Requirement | 2,372 | $100.00 |
| Z07 | Adjustable Suspension Package (coupe) | 887 | $2,045.00 |
| | Special Performance Package  (coupe) | | |
Read more: 1994 Corvette pricing and factory options.
1994 Corvette Vehicle Identification Numbers (VIN)
Each Vehicle Identification Number (VIN) is unique to an individual car. For all 1994 Corvettes, the Vehicle Identification Number was stamped on a plate on the inner vertical surface of the left windshield pillar visible through the windshield. Read more: 1994 Corvette VINs.
1994 Corvette Recalls, Technical Service Bulletins, & Maintenance Schedule
The information contained on this page is for reference only.  The time and mileage intervals for each of the maintenance items included on this page were established by General Motors with the introduction of the 1994 Chevy Corvette.  Please note that the original service intervals may not reflect the standard service intervals used in current automobile engines.
Read more: 1994 Corvette Recalls, Technical Service Bulletins, & Maintenance Schedule.
1994 Corvette Common Issues
The following list of common issues is intended for individual reference only, and may not reflect the specific issues of every 1994 Corvette.  This information comes from a variety of sources including the NHTSA Defects Reports pages.  While the intent of this page is to identify the common issues pertaining to the 1994 Corvette, it is not an all-inclusive list and should be used for reference only.
Read more: 1994 Corvette Common Issues.
1994 Corvette Dealers Sales Brochure & Service Manual
See the original 1994 Corvette sales brochure and service manual here.