C7 Corvette Engines – The Full List & Guide
Many consider the Corvette's seventh generation to be the period in which GM's iconic sports car finally came of age. It was during this time that the Corvette made some of its most extensive performance gains, upon which the entire racing community was quite keen. At last, the Corvette was poised to take on all competition, both domestic and foreign.
Much of these performance gains can be attributed to the development in engine technology that took place during this era. During the C7's production run, the Corvette was offered with several available powerplants, all of which proved to be exceedingly potent in their own regard.
The following is a comprehensive guide to Corvette powerplants offered during the C7 era.
LT1 376 CI 6.2L: 2014-2019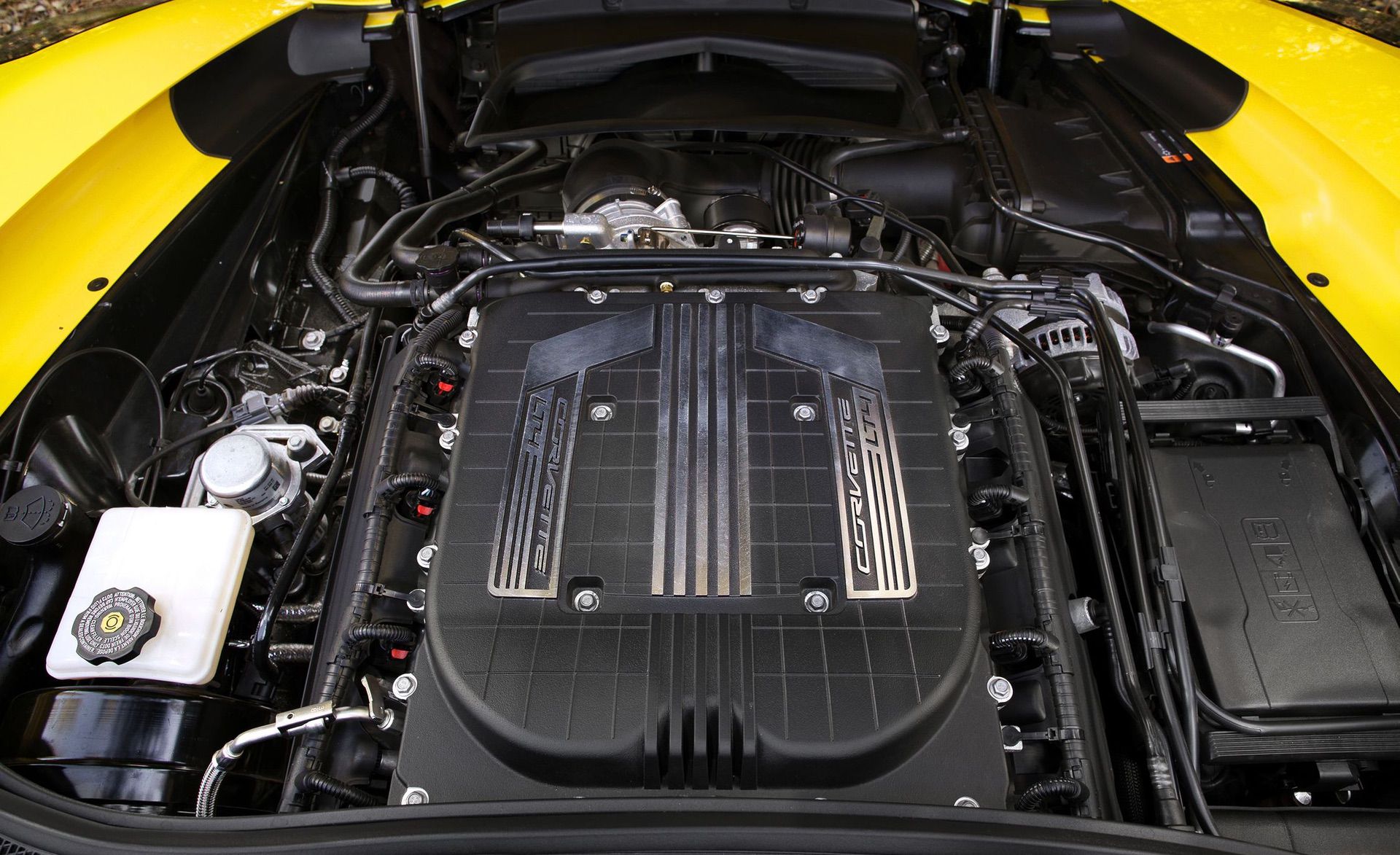 GM's 6.2-liter LT1 served as the C7 Corvette's base engine since the earliest days of seventh-generation production. The all-aluminum LT1 featured a forged-steel crankshaft, powdered metal I-beam connecting rods, and Hypereutectic Cast Aluminum Alloy pistons. This powerplant operated on a relatively-high 11.5:1 compression ratio.
Much of the LT1's efficiency came courtesy of an all-new, free-flowing intake manifold, which featured individual runners to direct incoming airflow. Other technical features of the LT1 included GM's Active Fuel Management, as well as variable valve timing technology.
All things considered, the LT1 produced 460 horsepower at 6,000 RPM and 465 lb-ft of torque at 4,600 RPM. This performance proved potent enough to propel the LT1-equipped C7 to a 12-second ¼ mile, as well as sub-4 second 0-60 MPH times.
LT1 Specs Index
Horsepower: 460 hp @ 6,000 rpm
Torque: 465 lb.-ft @ 4,600 rpm
Compression Ratio: 11.5:1
Displacement: 376 CI (6.2L)
Cylinder Bore: 4.065" (103.25 mm)
Stroke: 3.622" (92 mm)
LT4 376 CI 6.2L Supercharged Z06: 2015-19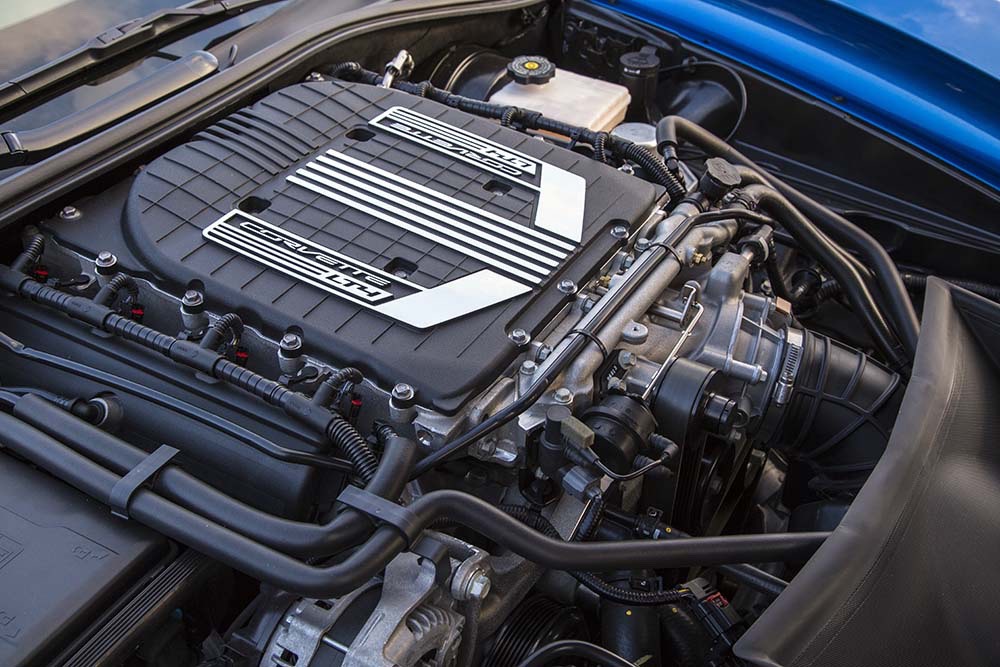 The LT4, released in 2015, served as GM's powerplant of choice for the C7 Z06 Corvette. At the time of its release, the LT4 was the most powerful production engine ever released by General Motors, producing a maximum output of 650 horsepower at 6,400 RPM, and 650 lb-ft of torque at 3,600 RPM.
While the LT4 was somewhat similar in design to the C7's base LT1 powerplant, the LT4 capitalized upon forced induction to pack more than a few additional ponies beneath the hood. The LT4 featured an R1740 TVS 1.7-liter supercharger, which was specifically chosen for its ability to produce a substantial boost, even at lower RPMs.
The LT4 also featured a wealth of additional cutting-edge tech, most notably including direct fuel injection, continuously variable valve timing, and GM's Active Fuel Management. Also of significance was the LT4's use of specialty Rotocast aluminum cylinder heads, which were specifically designed to withstand significant heat and pressure.
LT4 Specs Index
Horsepower: 650 @ 6,400 RPM
Torque: 650 @ 3,600 RPM
Compression Ratio: 10.8:1
Displacement: 376 CI (6.2L)
Cylinder Bore: 4.00" (101.6mm)
Stroke: 3.48" (88.39mm)
LT5 376 CI 6.2L Supercharged ZR1: 2018-19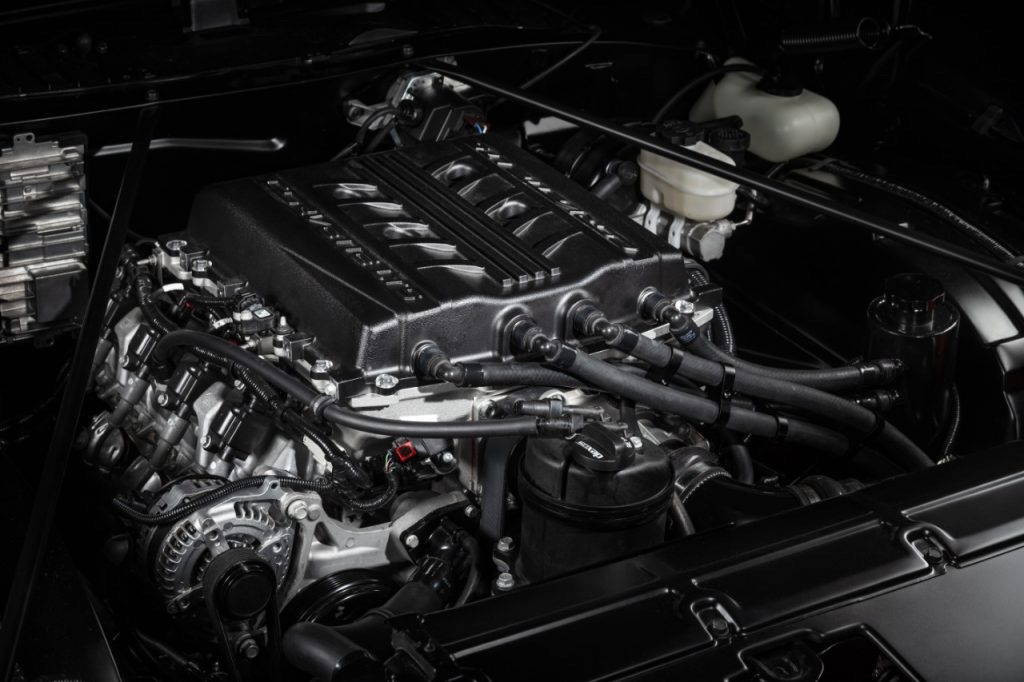 Further building upon the LT4's supercharged legacy was the LT5, released in 2018. This 376 cubic-inch V8 served as the motivating force beneath the hood of the C7 ZR1 Corvette, proving even more formidable than the LT4 before it. While each of these two engines was comprised of the same general construction, the LT4 featured a larger 2.65-liter supercharger.
Another high point of the LT5's design was the use of both port and direct injection. The LT5 featured two independent sets of fuel injectors, which were activated at various times to compensate for the engine load. This effectively created a dual-stage fuel system, which provided significant power anywhere within the ZR1's RPM range.
The LT5 posted some of General Motors' most outstanding performance figures to date, producing a maximum output of 755 HP at 6,300 RPM, and 715 lb-ft of torque at 4,400 RPM. Perhaps even more impressive was the fact that the LT5 propelled the C7 ZR1 to a top speed of 212 MPH while laying down sub-3 second 0-60 MPH times.
LT5 Specs Index
Horsepower: 755 @ 6,300 RPM
Torque: 715 @ 4,400 RPM
Compression Ratio: 10:1
Displacement: 376 CI (6.2L)
Cylinder Bore: 4.06" (103.25mm)
Stroke: 3.62" (92mm)