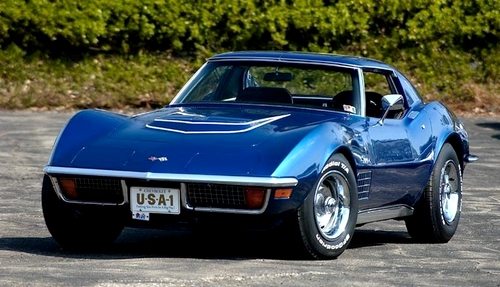 1970 Corvette – The Ultimate Guide
The arrival of the 1970 Corvette happened somewhat later than was typical in the automotive manufacturing industry, due in part to the incredible sales backlog that had occurred during the 1969 model year and also due in part to the UAW (United Workers) strike, which delayed the new Corvette from reaching showrooms until February.
The decision to prolong the '69's production had been made by then Chevrolet President, John Z. DeLorean, who had taken the helm of the company on February 1, 1969.  Along with the Camaro and the Pontiac Firebird, DeLorean believed that prolonging production of the earlier models into the winter of 1969-70 would help Chevrolet make up ground on an order backlog that had occurred in part because of the two-month automotive workers strike at GM plants early in 1969.
It was because of this extension that the 1969 Corvette had set record sales numbers for the model year.
On November 7, 1969, Chevrolet manufactured its 250,000th Corvette since production of the sports car had begun on June 30, 1953.  Although technically the model should have been a 1970 Corvette, it was still recognized as a 1969 because of the aforementioned production extension.  The car, which rolled off the production line at 10:32 a.m., was a convertible painted in Riverside Gold.  The car was originally purchased by George Dyer of Montebello, California.
Interestingly, the 1970 Corvette's arrival would come at a time when, despite the Corvette's incredible popularity, it was simultaneously falling under increasing scrutiny for its general lack of overall production value and build quality.
In 1970, Road & Track Magazine surveyed 177 Corvette owners and found most agreed that "the worst thing about Corvettes, according to the owners, is the workmanship – or the lack of it.
Whereas 18% of the owners of 1963–67 models considered workmanship the worst feature of the car, an astounding 40% had that comment to make about the 1968–69 models!  Seventeen percent of the owners of both series listed squeaks and rattles as the worst feature."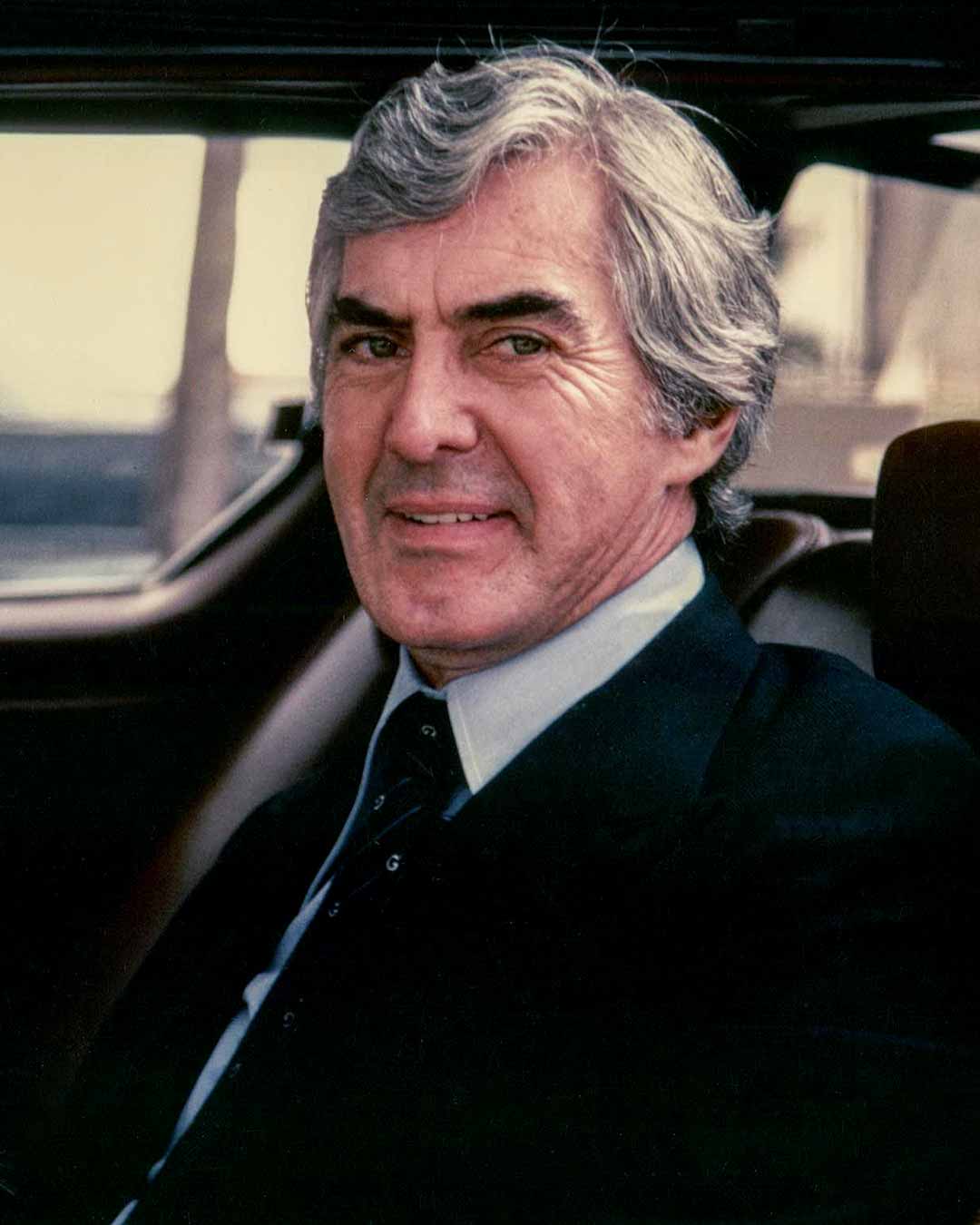 While to diminish the demand for the Corvette in any way, Chevrolet recognized that this issue presented a genuine challenge for them. In order to keep up with demand, GM had been forced to add a third shift in their St. Louis plant to keep production on schedule.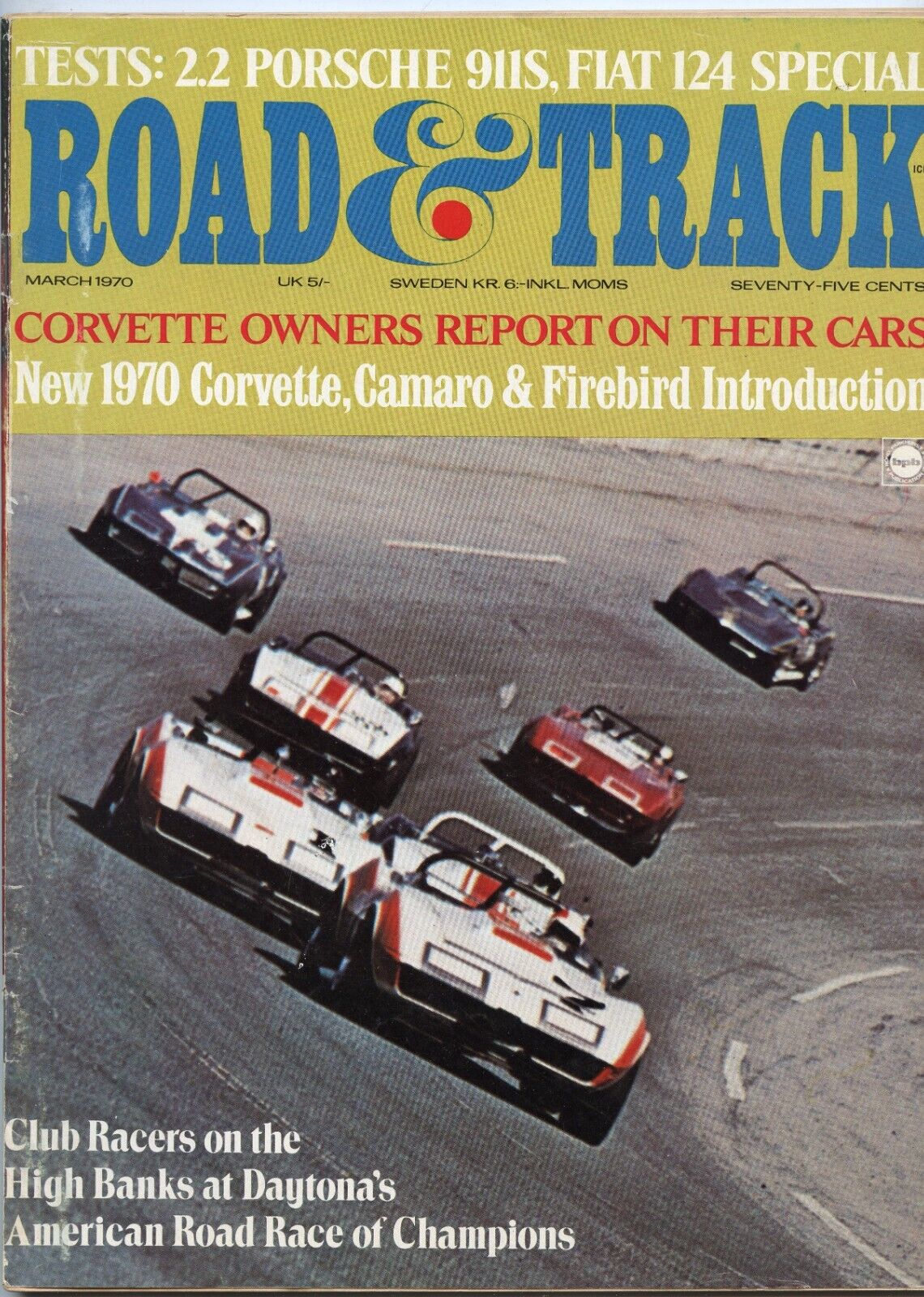 Despite the realizations of production quality being compromised, the result of such high volume (for both the 1968 and 1969 model years, as well as the preparatory work for the 1970) was that quality control was barely able to hold its own, let alone have any chance of improving.  It was during this time period that production quality had reached an all-time low.
The 1970 Corvette actually made its formal debut in late February and introduced the world to a number of small, but improved design styling touches.  These design changes, which had been introduced on a show car known simply as the Aero Coupe, had included many elements which suggested that the designers were looking to move away from Corvette's current role as a pure sports car (the ZL-1 notwithstanding) and more towards the blended role of becoming a Luxury Sports car.
The Aero Coupe had featured an egg-crate patterned grille, matching louvers along the fenders (which replaced the four gills of the 1968 and 1969 model years), and more deeply flared wheel house introduced to reduce the severity of the bodyside tuck-under, which had been discovered as being susceptible to stone damage.
The exterior of the 1970 Corvette also featured a number of other design cues that were new for the model year.  Amongst these, the parking lights were now squared off and set into the corners of the grille. Mandatory side marker lights at the front and rear of the car were larger and better integrated into the design than those of earlier model years.  In the back of the car, new rectangular exhaust pipe tips were recessed into the underside of the tail in a manner inspired by the Mako Shark II.  A number of detail refinements were also made to the taillights and the stainless steel rocker moldings.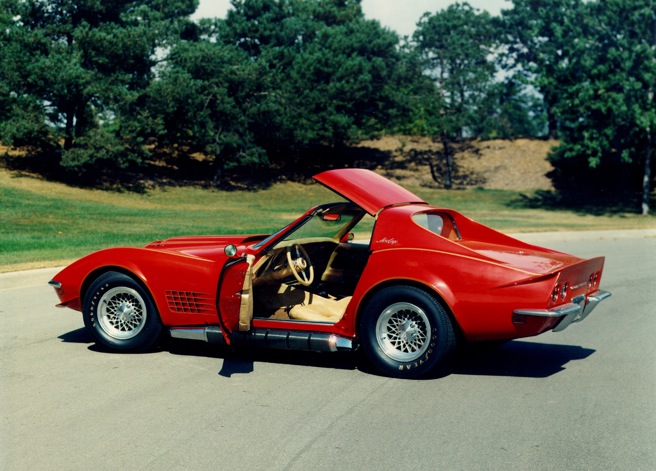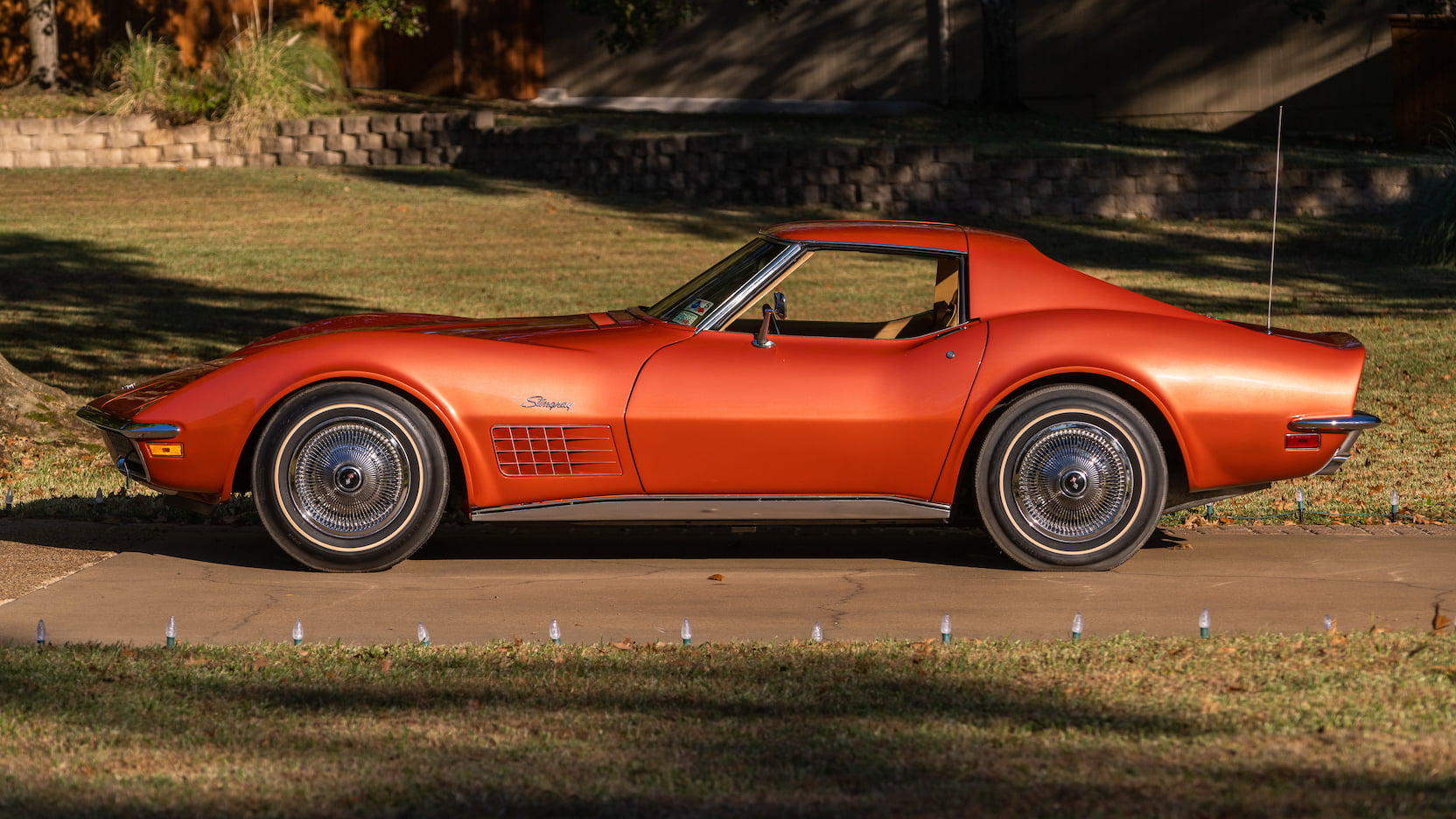 Additionally, the headrests were integrated into the seat design and a more accessible release button was introduced for the seat back hinge.  The inertia reels for the shoulder harnesses were tucked away more neatly in the rear quarters, thereby opening up more space in the trunk area.  The seatbelts themselves were now being fed through slots in the seat backs that made them feel built into the design.
The interior of the 1970 Corvette was improved upon in a number of areas.  The seats, which had been re-designed in 1969, underwent another design change that added an inch of urgently needed headroom as well as better lateral support.
A new option was introduced for the 1970 Corvette that could be ordered at a small, added cost to the customer. The "custom interior" option, though it had no separate RPO code associated with it, sold for an additional $158.00 on top of the base coupe or convertible price.  The custom interior gave the Corvette a "dressed-up" look, a subtle touch of plushness that offset the minimalist character of the usual Corvette interior.  Leather-trimmed seats, cut-pile, door-to-door carpeting, a leather boot (for manual transmission shift levers), and wood-grain trim on the console and doors were all introduced to provide an additional layer of warmth to the interior of the 1970 Corvette.
The previously optional Soft-Ray Tinted Glass option (RPO A01) was made standard equipment for the 1970 model year.  As a result, all 1970 Corvettes received evenly tinted glass on all windows.
In addition to the window tint, a number of other options were made standard for the 1970 model year including Positraction differentials (formerly RPO G81) and the four-speed manual transmission (formerly RPO M20/M21), of which consumers could choose to install wide-ratio, close-ratio, or have it swapped all together for the Turbo Hydra-Matic at no additional cost.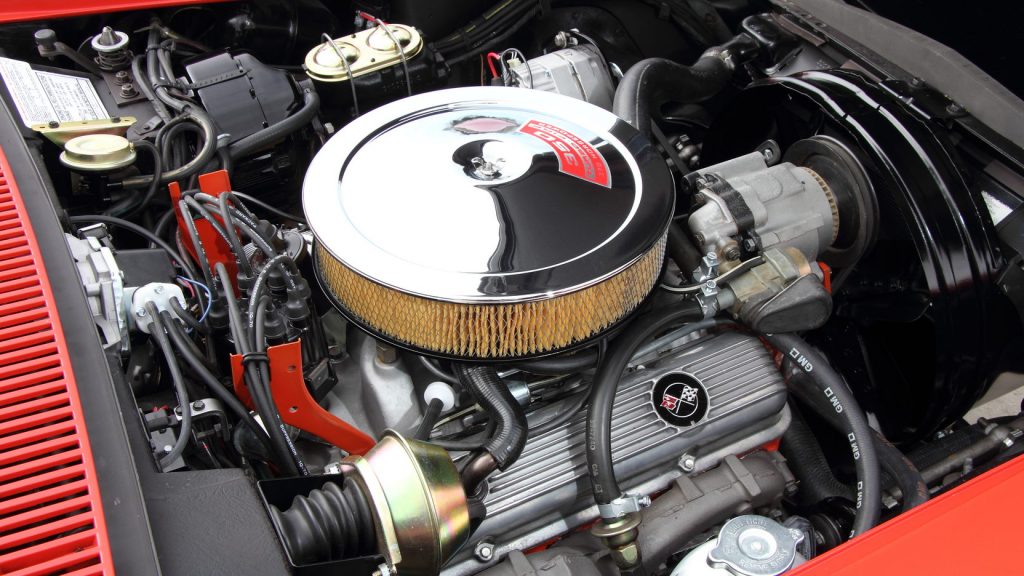 Mechanically, there were many carryovers from the previous model year.  The small-block engine lineup remained the same at the two lower power ratings (300 horsepower and 350 horsepower respectively). However, GM did introduce a new solid-lifter, small block engine that they designated the LT-1.
Corvettes equipped with this engine received a special hood dome surrounded by striping and "LT-1" lettering.  While these markings were certainly a differentiator between which engine a particular Corvette was built with, it was also readily obvious to anyone who heard the unique rumble from the exhaust pipes and the tapping of its mechanical lifters that they were in the presence of an LT-1 engine.
Corvettes equipped with the LT-1 engine also came standard with a larger bore – two-and-a-half inch – exhaust system, and a larger carburetor – an 850 CFM Holley four-barrel with vacuum controlled secondary throttles.  Although only a small-block, the Holley four-barrel was actually the same carburetor that GM had specified for Corvette's big-block engine setups.  In conjunction with the massive fuel delivery system, Corvette engineers also included a transistorized Delco ignition system, which helped produce reliable high-speed operation (with a redline of 6,500 rpm) in the LT-1 engine. The numbers that the LT-1 engine produced were impressive, and certainly consistent with the performance expectations that individuals like Zora Arkus-Duntov had for the Corvette.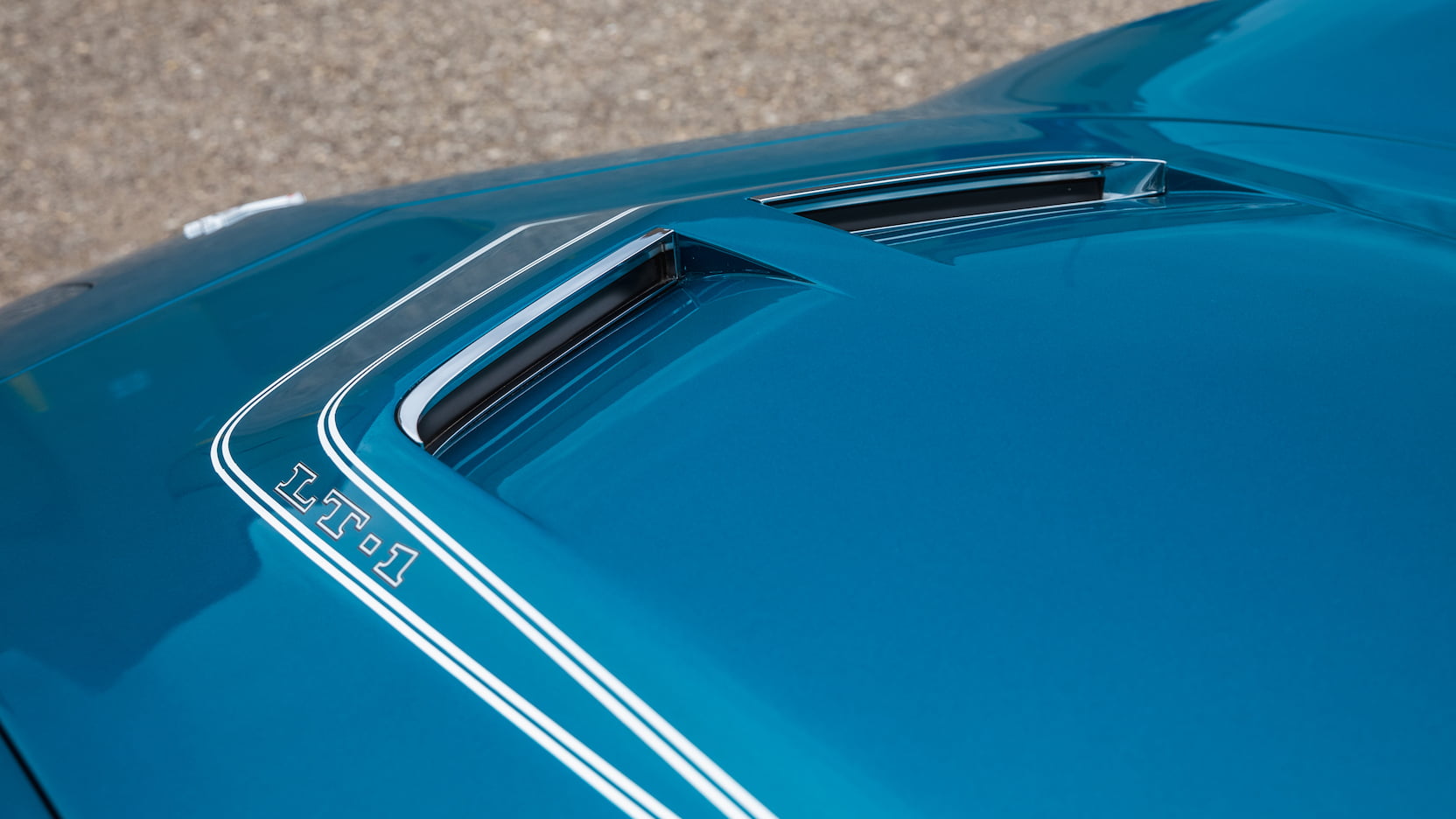 The LT-1 equipped Corvettes could manage a quarter mile run in just 14.2 seconds with a top speed of 102 miles per hour, indicating that GM's published ratings of 370 BHP (brake horsepower) at 6,000rpm and 380lb/ft of torque at 4,000rpm were both on the conservative side.
In point of fact, the LT-1 engine was actually specified for use in the SCCA's Class B Production car series.  For racers wishing to purchase a Corvette so equipped, they would need look no further than the factory options order sheet, introduced that included the LT-1 engine as well as a cold-air hood and all of the relevant brake and chassis racing equipment.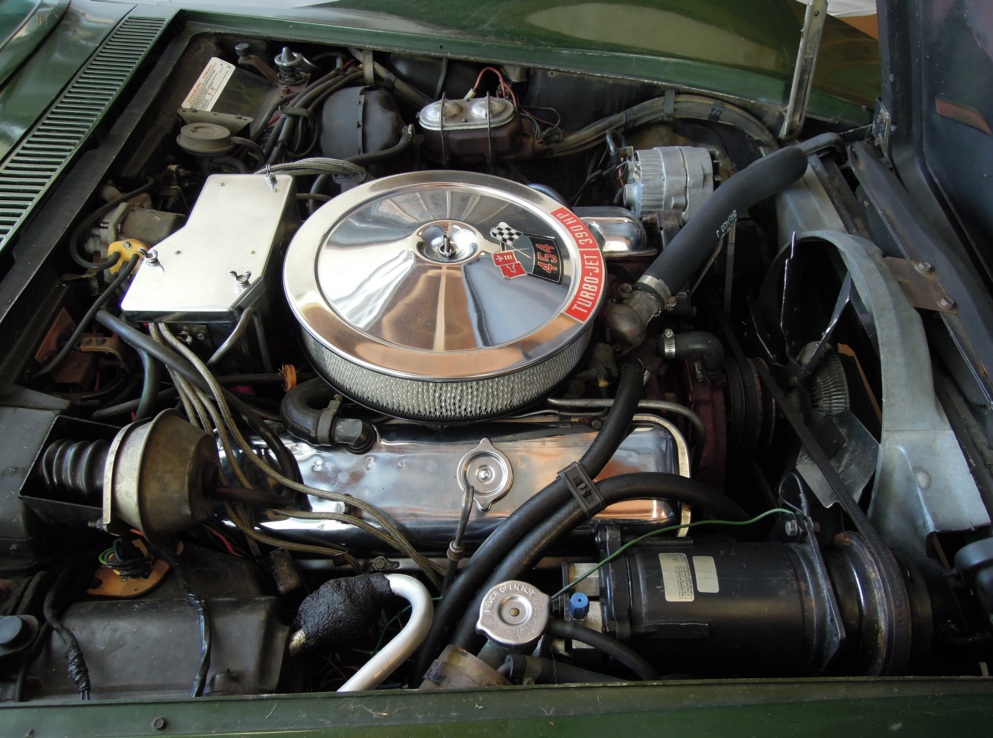 Of course, many racers looking to utilize the performance and handling aspects of the Corvette were not going to invest their money into a small-block, despite the performance numbers it was capable of producing.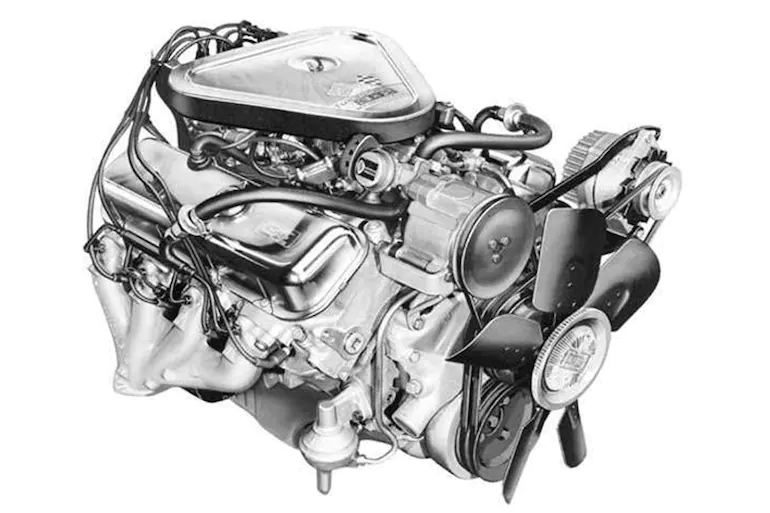 Serious racers knew that, if they were able to sort through the options presented to them, they should have been able to assemble a race car that would rival anything on the track.   While earlier Corvettes were capable of being equipped with such options as the ZL-1, (which featured a setup that included the 427 cubic inch L88 engine,) the 1970 offerings were a little harder to come by.
For the 1970 model year, Chevrolet introduced a big block 427 that was stroked out to a full 4.00 inches and 454 cubic inches.  It was the first time that the stroke had been increased since the engine had been introduced in its more conservative iteration – a 396 cubic-inch big block – in 1965.  While the arrival of the 454 was considered by some to be in response to Corvettes increasing presence on the racetrack, the truth is actually more intriguing.  The added cubic inches in the Corvette were actually the byproduct of Chevy's need to expand the engine's size to counterbalance the loss of performance in its regular passenger cars due to the mandatory reductions in exhaust emissions as required by state and federal laws.
Still, there was the question of how racers could build a serious track car by using the right combination of production codes.   The aforementioned L88 and ZL1 options were even offered for 1970 (though Chevy continued to sell Can-Am engines to bona fide race teams).  Instead, GM announced that it would be offering two big-block options: RPO LS5 and LS7.  The LS5 would come equipped with hydraulic lifters, 10.25:1 compression, a single, four-barrel carburetor, and was rated at 390 bhp (at 4,800 rpm) with a massive 500lbs/ft of torque.
DID YOU KNOW: In 1970, big block engines increased from 427 to 454 cubic inches and the powerful 370 HP LT1 small block engine made its debut. Also, the first ZR1 performance package appeared in 1970 (not 1990, as some might believe) and included the 370 HP LT1 engine and a host of other performance items.
The LS7, on the other hand, became known merely as a "legendary engine".   GM did publish specs on the LS7 engine, and articles about the engine were published in many automobile magazines, but the engine itself was never made available for purchase.
That's not to say that the engine never came into being.  Quite to the contrary, GM did produce an LS7 equipped Corvette in December, 1969 that was driven from Los Angeles to Detroit by Paul Van Valkenburgh, a writer from the magazine Sports Car Graphic.  He stated that, "with a full tank, two aboard and a full load of luggage the car would still turn the standing quarter mile in 13.8 seconds with a top speed of 108 miles per hour."  He further went on to write that "never have we tested a car that had such a secure speed potential.  This car gives the impression that it could do anything you demanded."  Depending on the source of information, the LS7 engine's output was rated at either 460 or 465 horsepower.
Exterior Features
Functional front fender louvers.
Hide-A-Way windshield wipers
Wide-oval F70x15 tires and 15×8 wheels.
Body sill moldings
Wheel trim rings and center caps.
Bright roof drip and rear window molding
Flush mounted door handles.
Removable roof panels and rear window.
Astro-ventilation outlet grilles on rear deck
Twin unit taillights/backlights with bright bezels.
Wrap around rear bumper with built-in guards
Bright outlined front fender louvers
Sports-styled steering wheel with black rim
7000-rpm tachometer
Anti-theft steering column lock
Ammeter, temp,  fuel, & oil pressure gauges
Light monitoring system alert panels
Seat belt, door and light position indicators
Interior Features
Luxurious all-vinyl interior styling
High-back, slim-tapered bucket seats
Utilized seat and shoulder belt buckle design
Tinted glass in all windows
Molded door panels with built-in armrests
Full door-glass styling and Astro Ventilation
Folding seat back latches
Custom-Deluxe color-matched seat belts
Handy map and storage pockets
Glare-resistant padded instrument panel
Parking brake and brake system warning light
Seat belt retractors
Deep-twist, color-keyed floor carpeting
Courtesy lights with automatic door switches
Suspended accelerator pedal
Carpeted rear compartment storage wells
Removable roof panels
Vinyl plastic rear window
Unfortunately for Corvette owners, the LS7 engine program was cancelled by GM's own internal discouragement of producing cars with excessively high horsepower (which is ironic because at the time the decision was made, Ed Cole (one of the engineers behind the very first Corvette) was president of General Motors and would have been capable of overruling that decision).  In addition, Chevrolet had begun a campaign to "weed out" costly options that would clog up their assembly lines.  This campaign became known as the "de-proliferation" program.  The LS7 fell prey to the "de-pro" program, and ceased its existence almost before it had begun.
The 1970 Corvette was one of the first cars during John DeLorean's tenure as President of General Motors to fall prey to a new pricing plan that took advantage of the car's unprecedented popularity.  DeLorean contested that since each year's production quota was usually spoken for, and secured by concrete dealer and buyer orders (usually in as early as March or April), that it seemed reasonable that General Motors should actually increase the price of the Corvette more substantially than it had in previous year – and that is exactly what happened.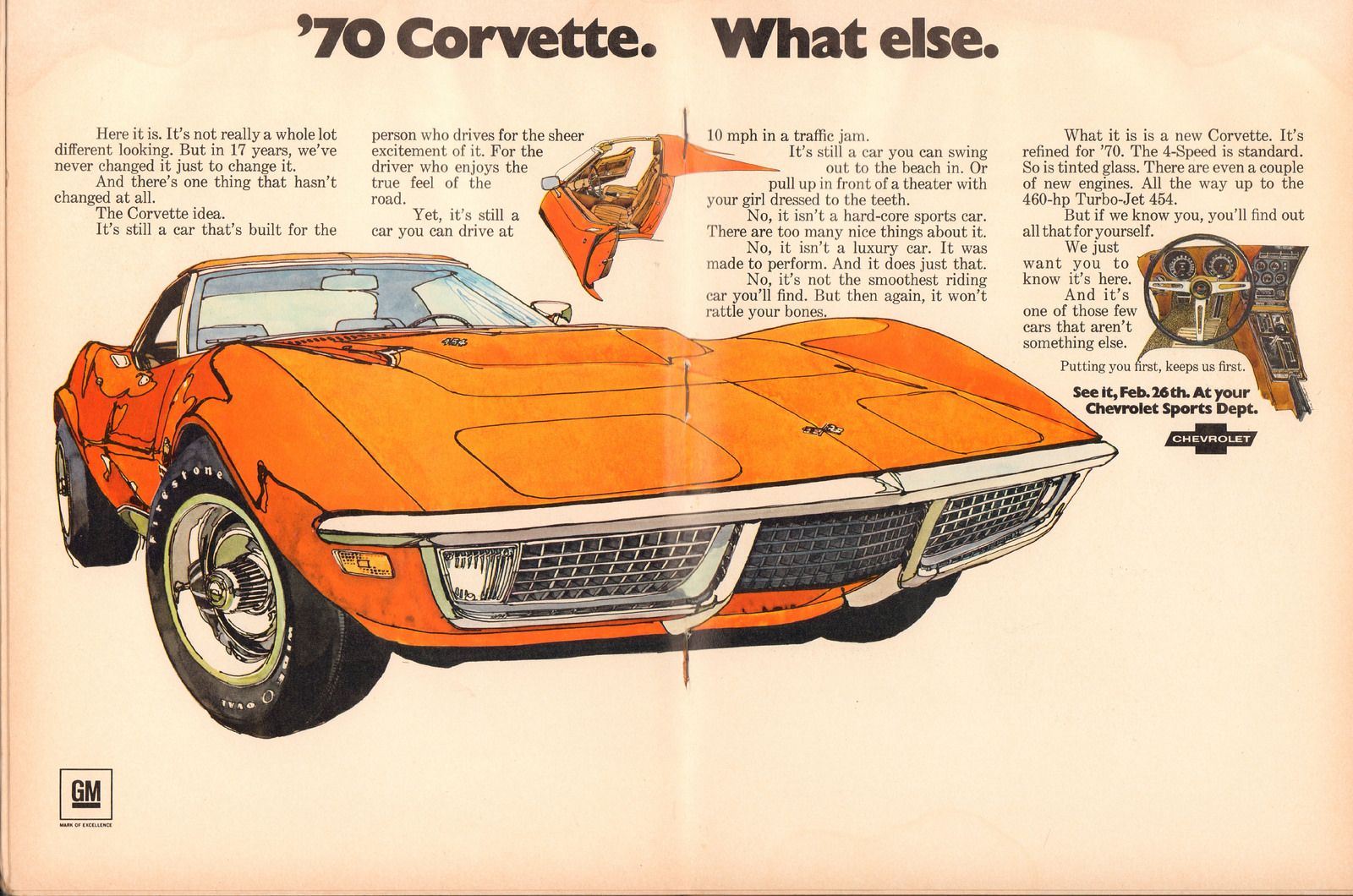 Corvette prices jumped dramatically from the mid-$4000 price range in 1969 (depending on coupe or convertible (see 1969 Specifications Page for more information)), to over $5000 in 1970.  The base coupe (without extra options) now retailed for $5,192.00.
The convertible on the other hand, while still somewhat less expensive, sold for $4,849.00.  While the sudden price increase doubtless had some impact on some customers' willingness to purchase a new Corvette, it was really the late production start as the result of the UAW strike which most adversely impacted the total sales numbers on the 1970 Corvette.  The coupe sold just 10,668 units, whereas the convertible sold an abysmal 6,648 1970 saw the sale of only 17,316 Corvettes, which was the lowest sales number for Corvette since 1962.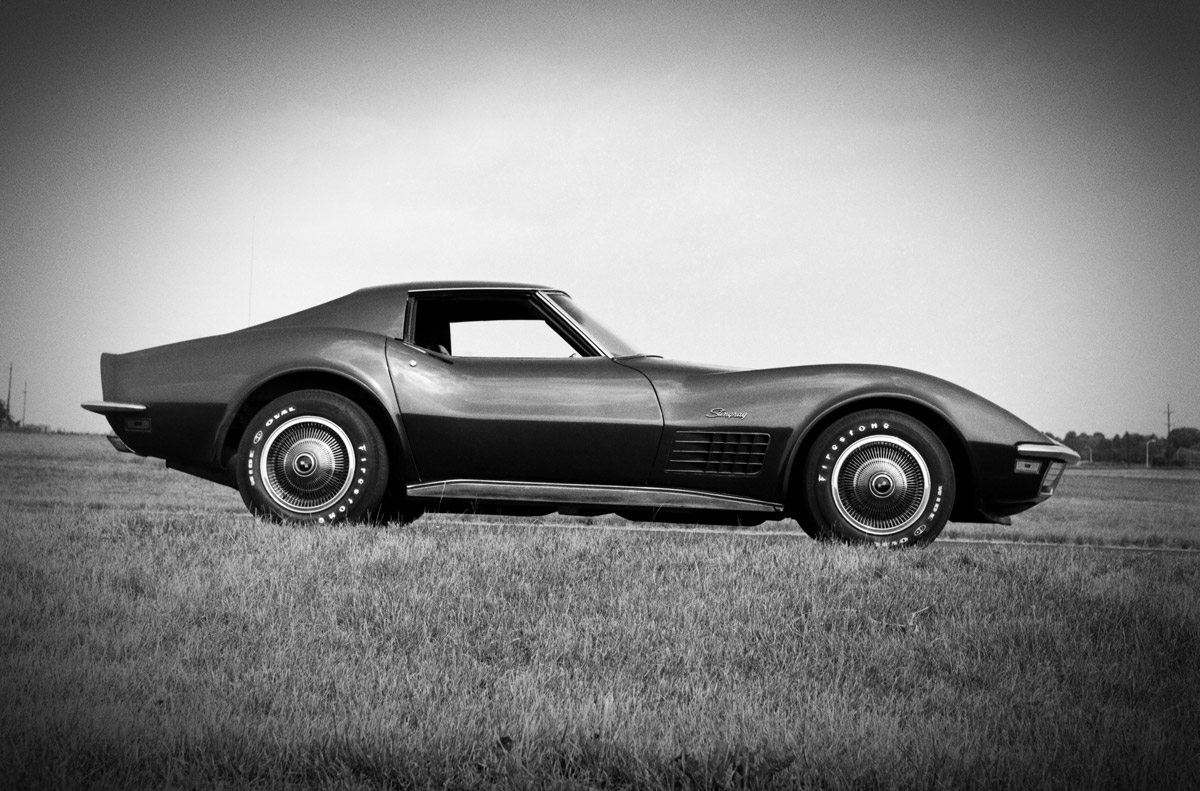 Road & Track Magazine tested an LS5 equipped Corvette with an automatic transmission and was able to manage a 0-60 time of 7.0 seconds, a quarter-mile time of 15.0 seconds at 93 miles per hour, and a top speed of 144 miles per hour.  While these performance numbers were impressive, the testers criticized the suspension, complaining that it "suffered from both excessive harshness over irregular surfaces and a certain flatness at speed."
Production Volumes
While these criticisms were certainly noteworthy, they also turned out to be irrelevant.  The 1970 model year would mark the end for the big-block, high-power Corvettes as they had been known up to this point.  A number of factors played into this decision, including skyrocketing insurance rates and a large decline in the sale of sports cars, but the largest contributing factor was a decision made by GM President Ed Cole's desire to eliminate low-volume options.  Further, he dictated that all engines would be required to be able to run on 91-octane fuel, a decision that was made because of the anticipation of the ever tightening emission regulations that would govern future automotive production.
1970 Corvette Specifications & Performance
See the complete breakdown of technical specifications for the 1970 Corvette, including engine, suspension, brakes, body dimensions, and power. Read more: 1970 Corvette Specifications.
Engine & Transmission
There was only one 454 engine used in the 1970 Corvettes, which was a 390-horsepower 4-barrel version of the engine. There was also technically an LS7 version of the 454 that was officially rated at 460 horsepower. However, the $3,000 more than the base price this option carried was so great that no record has been found that any were ever built.
On the small-block side of things, the 350 CID V8 that had been introduced the previous year got an additional option that greatly helped out its power. While the standard Corvettes still came with a 300-horsepower version of the engine, the LT1 bumped that horsepower up to 370.
And even though the maximum available horsepower for Corvettes was disappointing, the next few years would prove even worse for the performance of the car. The government had been consistently introducing new emissions and safety regulations since 1968, and things would really get tight by the following year. After 1970, it would be quite a while before Corvette got its power back.
Performance
Hot Rod magazine tested the 1969 Corvette with the 427ci/430hp engine and managed a 13.6 sec @ 111.1 mph quarter mile, while Motor Trend tested the 427ci/460hp and got that down to 10.9 sec @ 130.0 mph. Read more: 1969 Corvette Performance.
1970 Corvette Vehicle Identification Numbers (VIN)
The last six digits begin at 400001 and run thru 417316, accounting for all 17,316 Corvette Coupes/Convertibles built in 1970. Each Vehicle Identification Number (VIN) is unique to an individual car. Read more: 1970 Corvette VINs.
1970 Corvette Price & Options
Core Features & Factory Options
The 1970 Corvettes weren't drastically different from the 1969 models, but there were quite a few distinguishing factors worth mentioning, including the new engine lineup. Changes for the 1970 Corvette included more comfortable seats (left), a squared off clear turn signal indicator backed by an amber bulb (although many had an amber lens with a clear bulb) surrounded by an "ice cube tray" style grill (middle) and fender louvers (right). Cool air for the radiator was blocked by the headlights when they were in the down position so airflow to the radiator was mostly pulled from under the car. Other updates included a better seat belt shoulder retractor and headlight washers.
Center console plaque offered 1970 Corvette LT-1 specs. Later LT-1 engines (it was available in 1971 and 1972) had lower compression ratios. Right: LT-1 tachometer with the 6,500 RPM redline, part of the secret to the LT-1 horsepower rating. 1970 is famous for being the last year that high compression engines were available. Unleaded gasoline was in the future and high octane gasoline was becoming harder to find, causing GM to limit compression ratios after 1970.
Colors
Exterior colors included Classic White, Monza Red, Marlboro Maroon, Mulsanne Blue, Bridgehampton Blue, Donnybrooke Green, Daytona Yellow, Cortez Silver, Ontario Orange, Laguna Gray and Corvette Bronze. See all the details on 1970 colors here. 
Pricing & Options
The Base Corvette Coupe with 350 cu. in. 300 hp engine and wide ratio four speed manual transmission started at $5,192, while the Base Corvette Convertible with 350 cu. in. 300 hp engine and wide ratio four speed manual transmission started at $4,849.00.
| | | | |
| --- | --- | --- | --- |
| CODE: | DESCRIPTION: | QUANTITY: | RETAIL PRICE: |
| 19437 | Base Corvette Sport Coupe | 10,668 | $5,192.00 |
| 19467 | Base Corvette Convertible | 6,648 | $4,849.00 |
| – | Custom Interior Trim | 3,191 | $158.00 |
| A31 | Power Windows | 4,813 | $63.20 |
| A85 | Custom Shoulder Belts (std with coupe) | 475 | $42.15 |
| C07 | Auxiliary Hardtop (for convertible) | 2,556 | $273.85 |
| C08 | Vinyl Covering (for auxiliary hardtop) | 832 | $63.20 |
| C50 | Rear Window Defroster | 1,281 | $36.90 |
| C60 | Air Conditioning | 6,659 | $447.65 |
| G81 | Optional rear Axle Ratio | 2,862 | $12.65 |
| J50 | Power Brakes | 8,984 | $47.40 |
| L46 | 350ci 350hp Engine | 4,910 | $158.00 |
| LS5 | 454ci 390hp Engine | 4,473 | $289.65 |
| LT1 | 350ci 370hp Engine | 1,287 | $447.60 |
| M21 | 4-Speed Manual Transmission, Close-Ratio | 4,383 | $0.00 |
| M22 | 4-Speed Manual Transmission, Close Ratio Heavy Duty | 25 | $95.00 |
| M40 | Turbo-Hydro-matic Automatic Transmission | 5,102 | $0.00 |
| NA9 | California Emissions | 1,758 | $36.90 |
| N37 | Tilt-Telescopic Steering Column | 5,803 | $84.30 |
| N40 | Power Steering | 11,907 | $105.35 |
| P02 | Deluxe Wheel Cover | 3,467 | $57.95 |
| PT7 | White Stripe Tires, F70x15, Nylon | 6,589 | $31.30 |
| PU9 | White Letter Tires, F70x15, Nylon | 7,985 | $33.15 |
| T60 | Heavy Duty Battery (std with LS5) | 165 | $15.80 |
| UA6 | Alarm System | 6,727 | $31.60 |
| U69 | AM-FM Radio | 14,529 | $172.75 |
| U70 | AM-FM Radio, stereo | 2,462 | $278.10 |
| ZR1 | Special Purpose Engine Package | 25 | $968.95 |
Read more: 1970 Corvette pricing and factory options.
1970 Corvette Gallery
The most notable exterior styling distinction between the 1969 and 1970 models were the cross hatch side vents. These matched well with the egg crate grille that had been used for a couple of years at that point. Other changes included smaller, round front parking brakes and rectangular dual exhaust outlets that had previously been round. See full 1970 Corvette Image Gallery