When your car design becomes an American classic, it's not surprising that companies and artists around the world are inspired to capture part of that history. In this case, we're looking at die-cast models that come fully assembled and ready for you to add to your collection.
We've looked through hundreds of available models across all Corvette generations, and picked out the ones that we think will become the cornerstone of your collection.
Note: we have posted links to the products we call out here. Some of these products are available on Amazon or eBay, where we have an affiliate relationship. If you purchase a model via these links, we may receive a small commission (at no additional cost to you). This is how we fund our site 🙂
C1 Corvette Models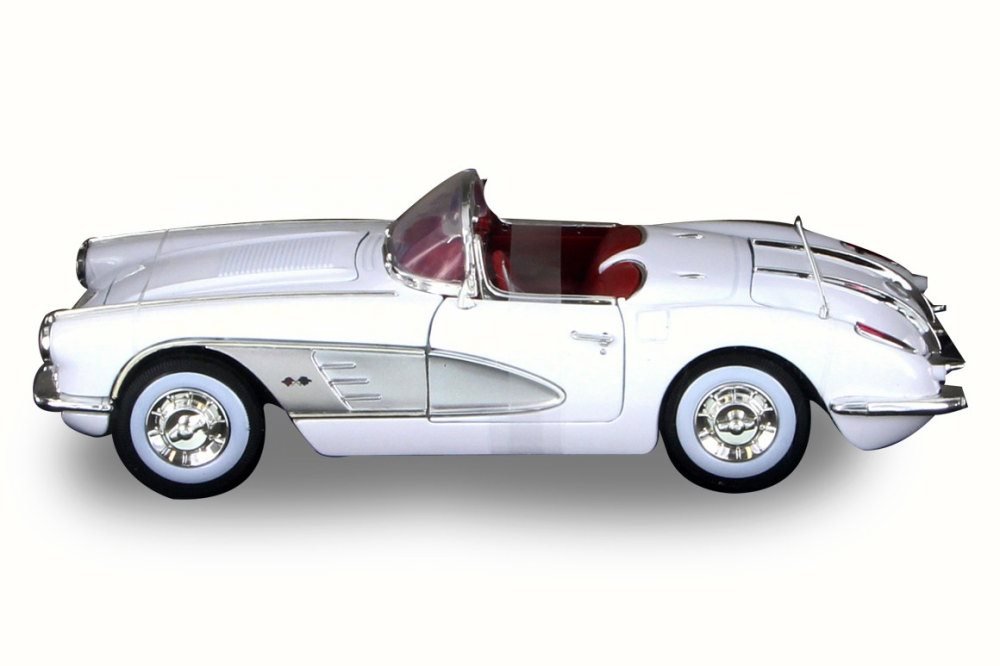 Motor Max 1958 Corvette Convertible
We love this model for three very specific things. The first is the pop up hood and the incredibly detailed Chevy 283 V8 under there, including a chrome finished carburetor top. Secondly, the accuracy in the cabin, from the sweeping, column hugging speedo to the fact that there are three pedals on the floor, where many companies skip over the driver's footwell as it's rarely seen. Third, at 1:18 scale, this beauty is perfect for a desk, a shelf, even a display case, where it will stand out as the centerpiece of your C1 collection.
C2 Corvette Models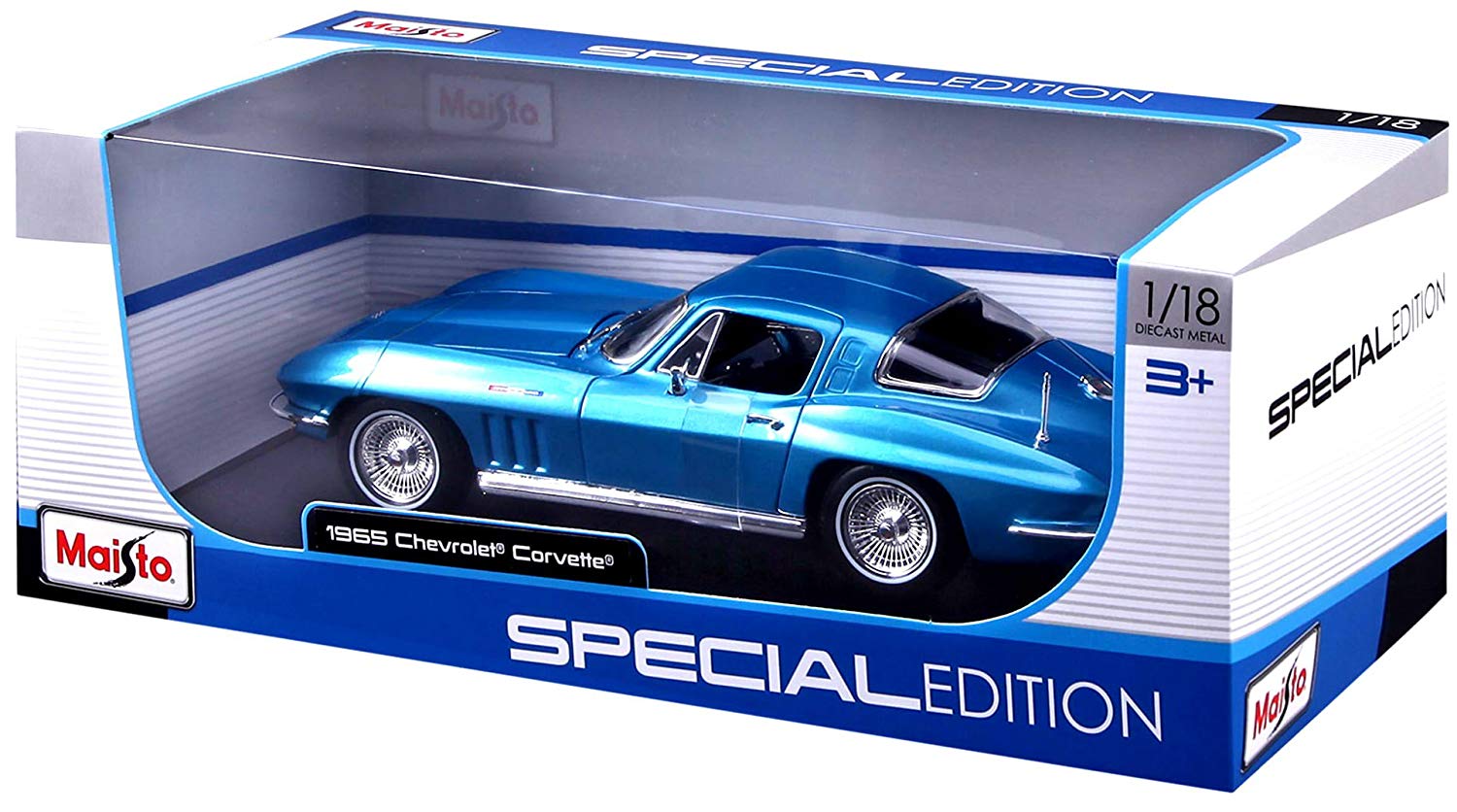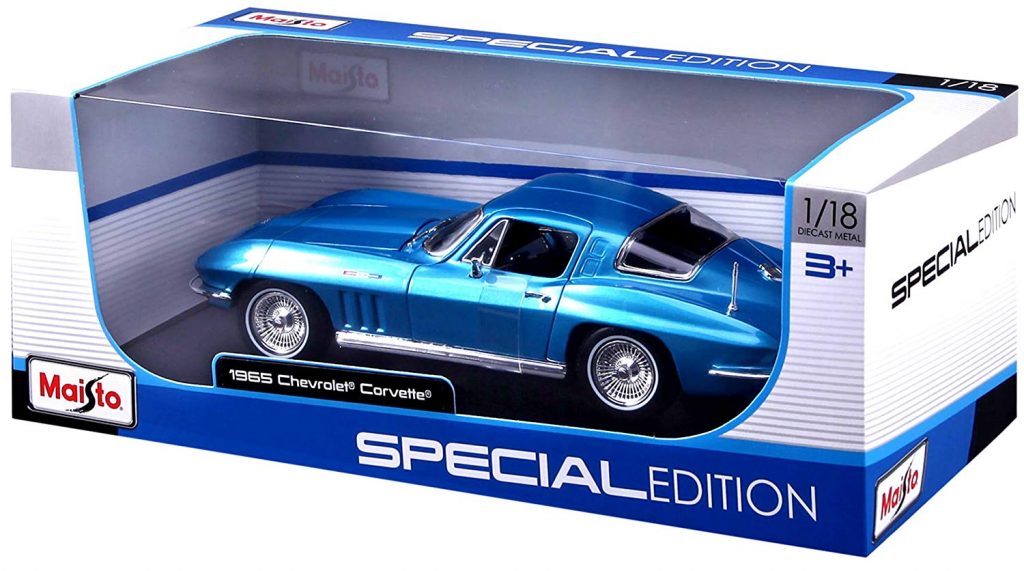 Maisto Die Cast 1:18 1965 Corvette Special Edition
Price: $29.99 on Amazon
Scale and measurements: 1:18, approximately 9.6 x 3.9 x 2.7 inches
As mentioned in our Best Corvette Model Kits article, this Maisto Special Edition Stingray is just a joy to behold. While many die-cast models of the C2 generation take some liberties with accuracy, Maisto makes models to be as close to the original, even down to the rake and reach of the steering wheel inside the cabin. A definite must for anyone looking for a centerpiece for their C2 collection.
C3 Corvette Models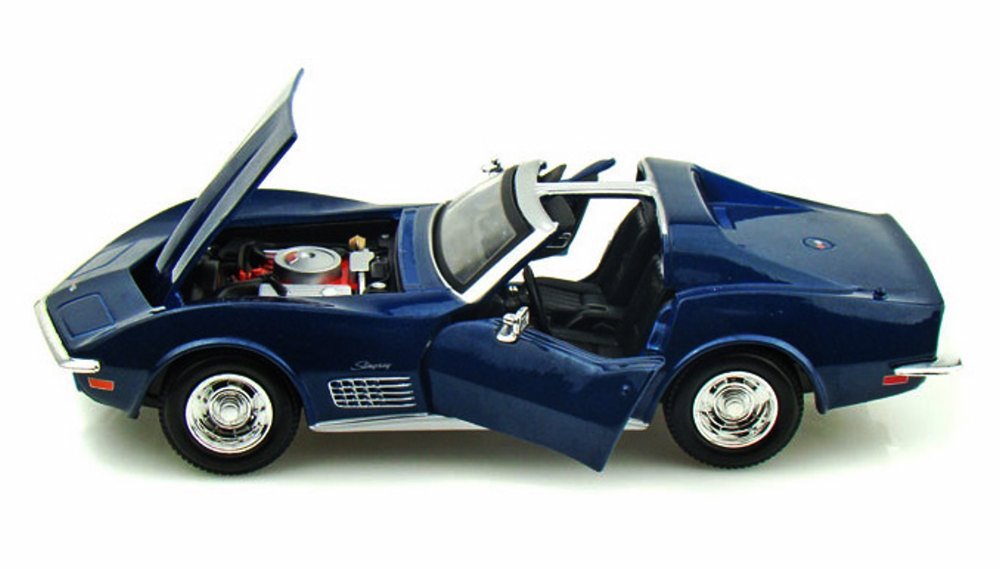 Maisto 1970 Corvette T-Top Stingray

Price: $21.75 on Amazon.com
Scale and measurements: 1:24, approximately 7.5 inches x 2.75 inches x 2 inches
It is surprising how few die-cast models out there forget that the 1970's was a time of American extravagance. Bell bottom jeans, loud neon shirts, and cars that you could take roof panels out of without it being a full convertible. We love this Maisto model because it remembers that. The big surprise is that despite being made mostly of plastic, this model feels rigid, solidly assembled, and the hood and door mechanisms feel tight without any play in them at all. A very well presented and put together 70's classic.
C4 Corvette Models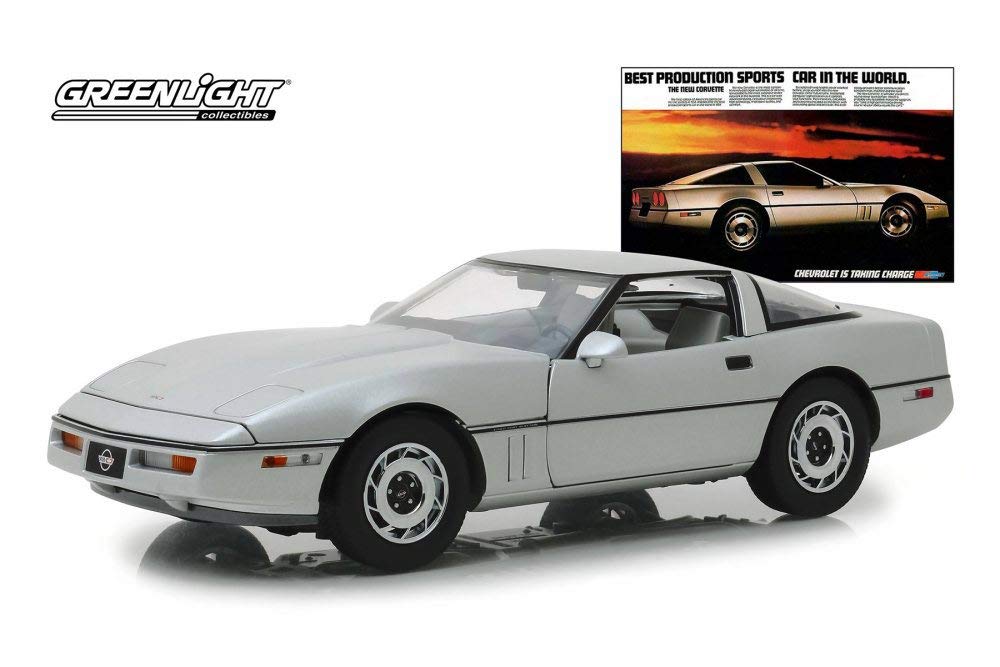 Greenlight Collectibles 1984 Corvette Hardtop

Price: $60.00 on Amazon.com
Scale and measurements: 1:18, approximately 10 inches x 4.25 inches x 2.75 inches
Let's face it, grey was such an 80's color. Grey suits, grey office buildings, grey cars. However, Chevy was able to make an exciting shape with the C4, and Greenlight Collectibles has made an intensely detailed die-cast model of that generation definition car. What impressed us most about this model was just how solidly thought through it was. It's built tough, with high grade plastics that won't snap or break without needing significant force. It has chrome touches where chrome existed on the real thing. And best of all, it's a targa top, so you can take out the roof if you want to admire the details that Greenlight have recreated in the cabin.
C5 Corvette Models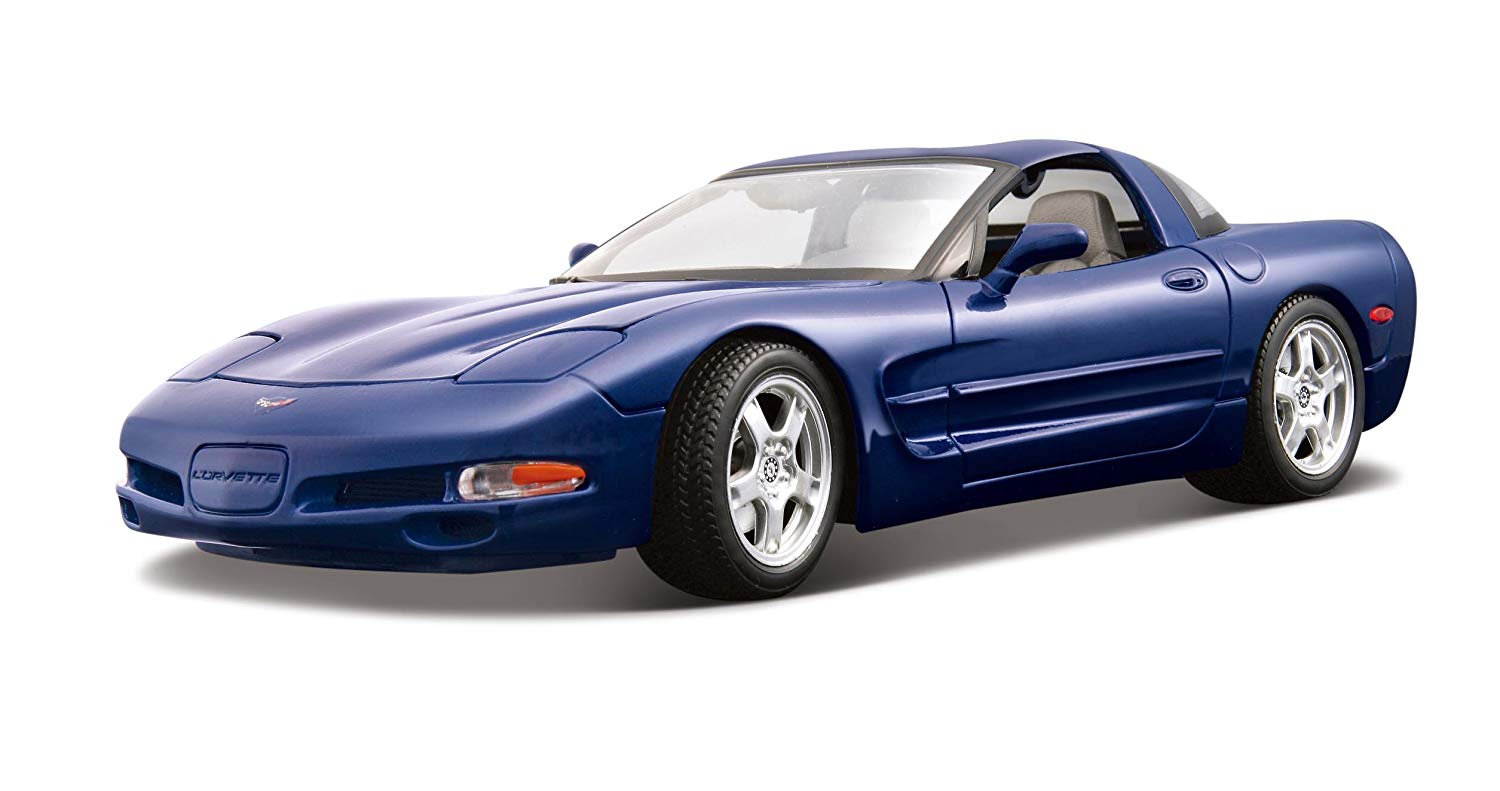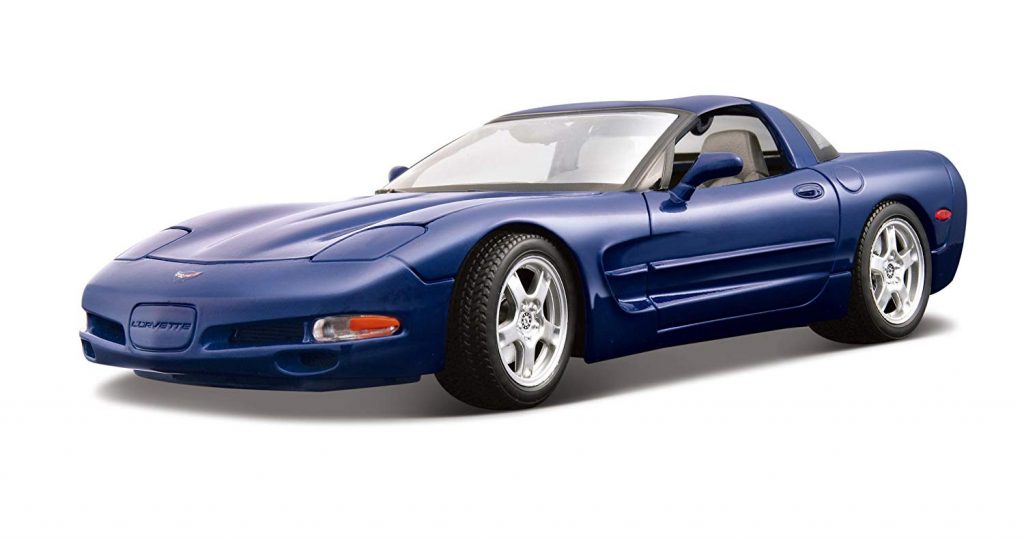 Bburago Corvette C5

Where do we start with this one? Quite possibly the best Corvette C5 die cast model, of any scale, that we've seen. Everything opens on this beautiful car, the trunk, the hood, the doors, even the front wheels will turn. A true centerpiece, this model was built to be posed however you want it to be when you put it on display, and it shows. High quality materials throughout at a price that is affordable simply seals the deal.
C6 Corvette Models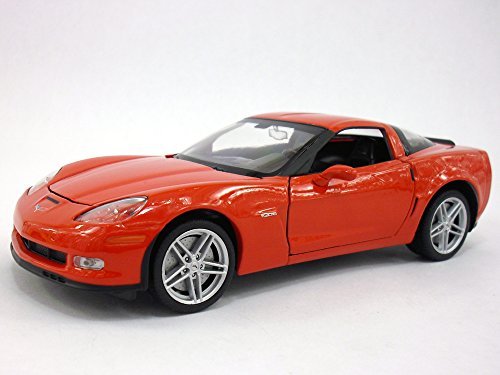 Welly Models 2007 Corvette Z06 Metal Body

While many die-cast models come build out of plastic, we can appreciate the subtle touch that having metal for the body of a model car can make. The paint on this model looks great, and as the official information notes, Welly will try to color match to actual paint colors used. On top of looking spectacular, this model has a fully functional hood and doors, and has soft touch rubber for the tires with accurate tread to match the factory run-flat tires that came with the C6. This one was made to be put under good lighting, as it will shine just like the real thing.
C7 Corvette Models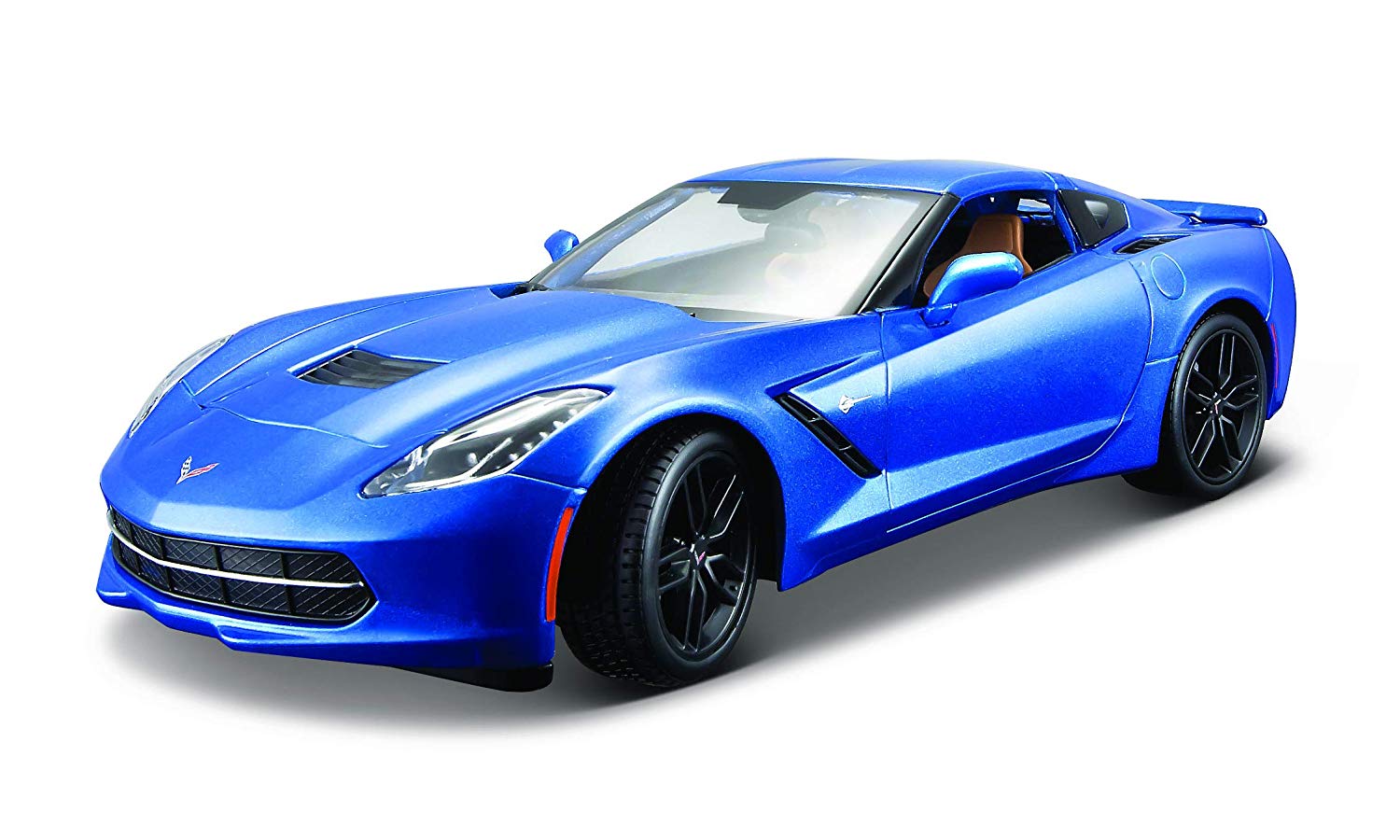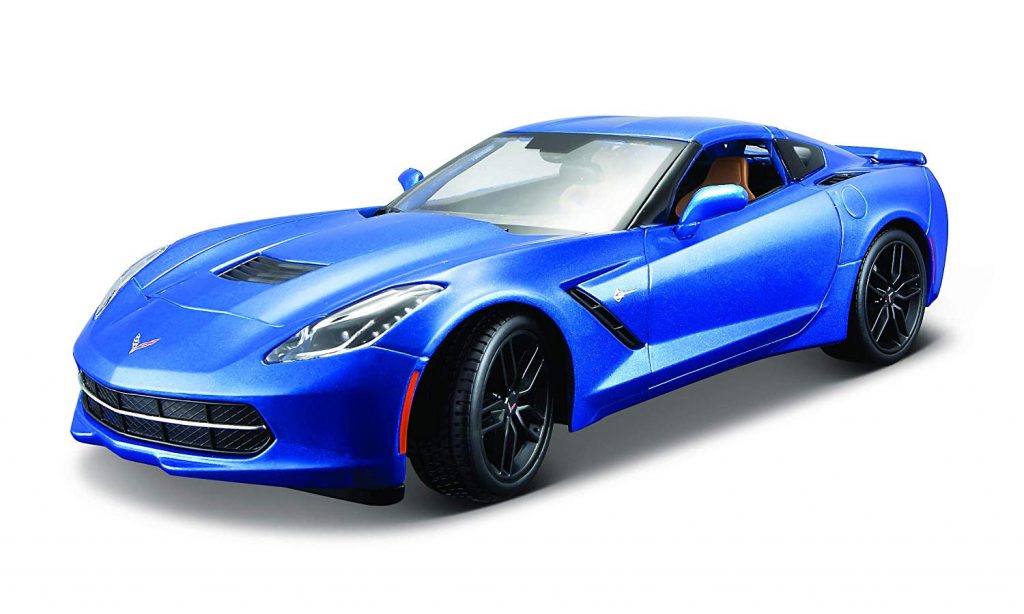 Maisto 2014 Corvette Stingray Z51

Price: $44.99 on Amazon.com
Scale and Measurements: 1:18, approximately 10 inches x 4.5 inches x 2.5 inches
Maisto once again comes through with a top of the line die-cast model that not only we at Corvsport.com love, but pretty much every collector loves as well. What makes this model so good? Metal body: check. Everything opens: check. Detailed engine bay with an LT1 as the centerpiece: check. Wheels that turn, with tires with factory accurate tread: check. And then, the paint. It's so incredibly rare to find die-cast models with accurate paint details, but the metallic paints, especially on the blue color model, shine through. A true masterpiece by Maisto, and deserving to be the top and center of your collection