Corvette Model Kits
The Corvette, when launched, was one of those cars that was destined to become an instant classic. A car with a shape that defined a decade, with performance that helped kickstart the muscle car craze of the 60's and 70's, everyone has their own favorite model and type. The classic lines of the C1. The aggressive, shouting angles of the C7. The raw power projected by the C5.
Yet, it is not entirely practical to park a full sized car on your shelf or desk for you admire as you go about your day. And let's face it, if you love American Muscle, you're a hands on type, so not only do you want something to look at, you also want to build it yourself. Well, we have you covered there with the best model Corvette kits we could find, broken down into each generation.
Note: we have posted links to the products we call out here. Some of these products are available on Amazon or eBay, where we have an affiliate relationship. If you purchase a kit via these links, we may receive a small commission (at no additional cost to you). This is how we fund our site 🙂
C1 Corvette Model Kits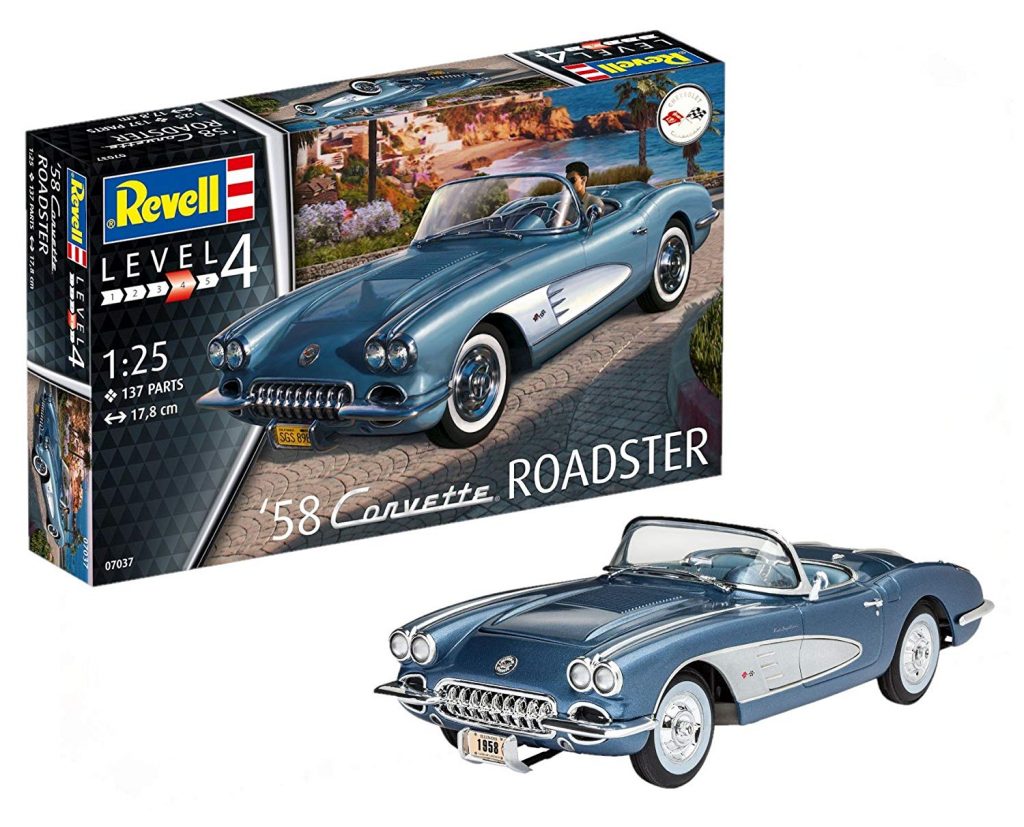 Revell 1958 Corvette Roadster Model Kit
Price: $39.95 on Amazon
Scale and measurements: 1:25, approximately 13.8 x 8.3 x 2.6 inches
The classic that started it all. Revell's kit is the highest rated C1 Corvette kit on the market, and with 137 parts, we can believe it. Every little detail down to the shape of the shifter, the arch of the wheel wells, even the brakes inside the wheels where you won't see them once completed, is recreated and allows for a true enthusiast model kit that will reward you with one of the best looking models out there.
C2 Corvette Model Kits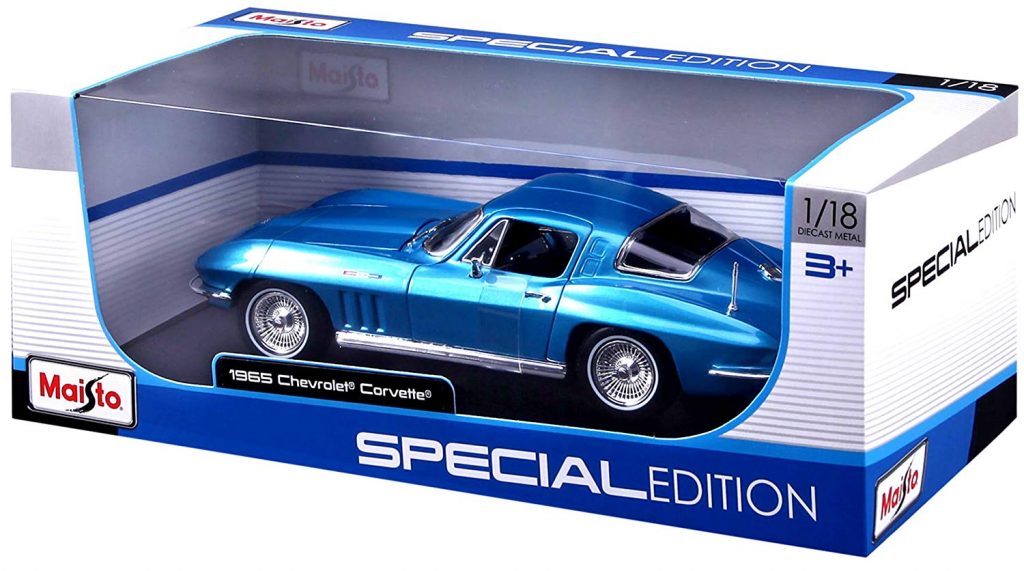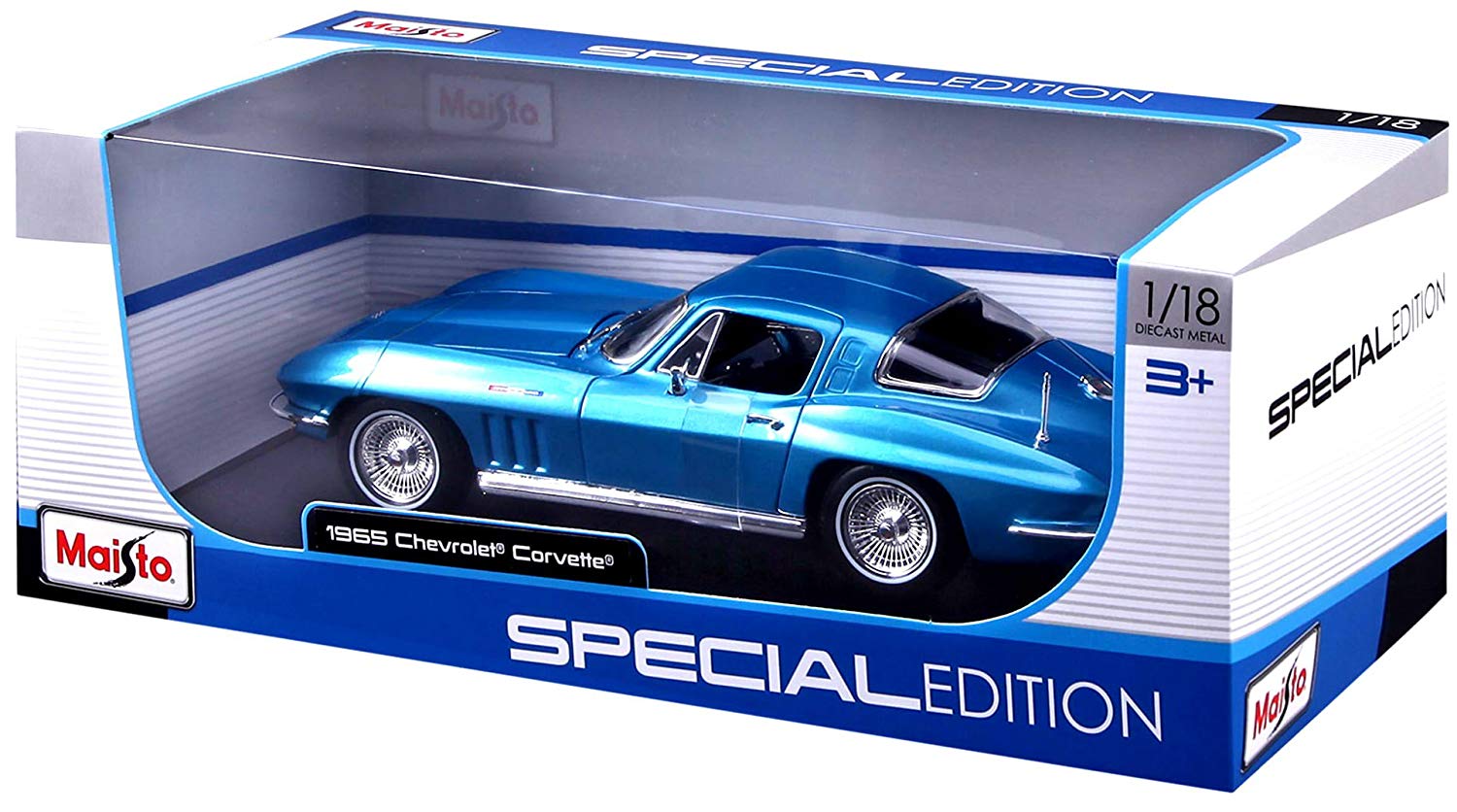 Maisto Die Cast 1:18 1965 Corvette Special Edition
Price: $29.99 on Amazon
Scale and measurements: 1:18, approximately 9.6 x 3.9 x 2.7 inches
While we have been trying to avoid die-cast and pre-assembled kits in our recommendations, we could not pass up recommending this absolute beauty of a model. You can read more about it here on Corvsport!
C3 Corvette Model Kits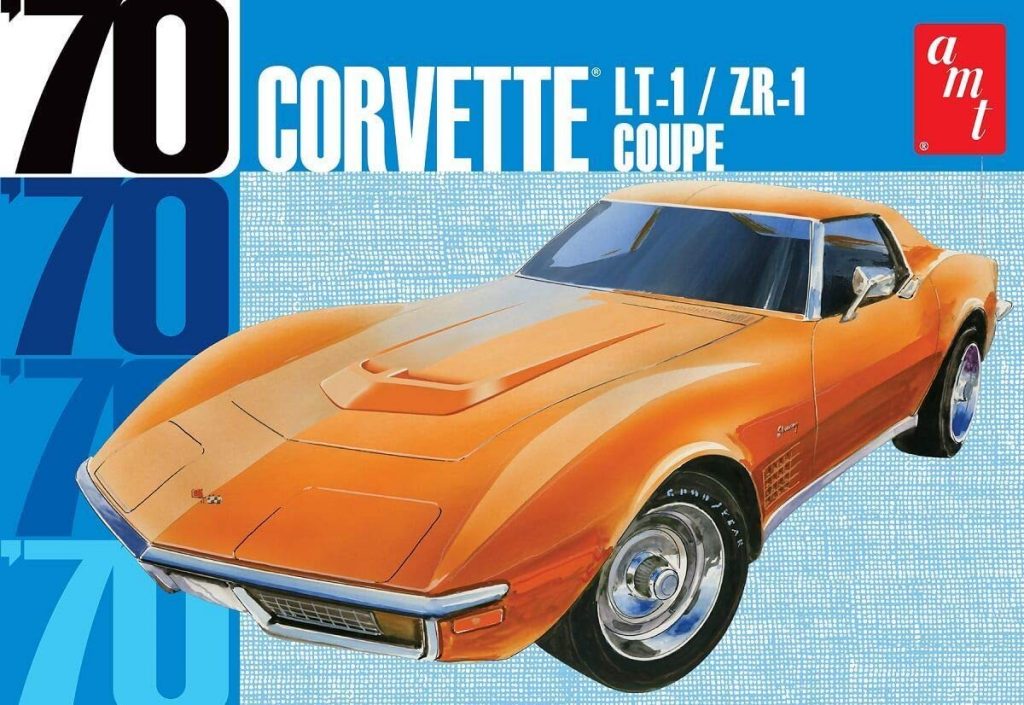 AMT Corvette LT-1/ZR-1 Coupe Model Kit
Price: $27.50 on Amazon
Scale and measurements: 1:25, approximately 6 x 2 x 2 inches
That rarest of C3's with a 427 big block chucking out 390 horsepower, only 53 ZR-1's were made between 1970 and 1972. The extra flare to the fenders, the classic fastback coupe look, all are captured excellently in this model. As well, AMT are known for their quality models, and although it is plastic, the plastic used takes paint well so you can customize what color you want your very own ZR-1 to be.
C4 Corvette Model Kits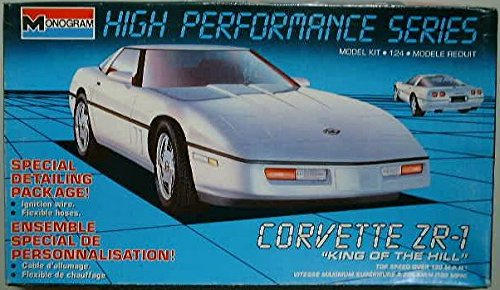 Monogram "King of the Hill" C4 Corvette ZR-1 Model Kit
Price: $35.00 and up on Amazon
Scale: 1:24
C4 lovers, this is the kit you want if you can get your hands on one! In an odd turn, however, it is exceedingly rare for more than 3 or 4 kits to be available at any one time on any marketplace. This is most likely due to the fact that this kit is well revered as a classic kit for unparalleled accuracy in the recreation of details, and that it was only produced for two years in the late 1990's. If you can get your hands on an unopened, factory sealed box, your model building dreams may have just come true.
C5 Corvette Model Kits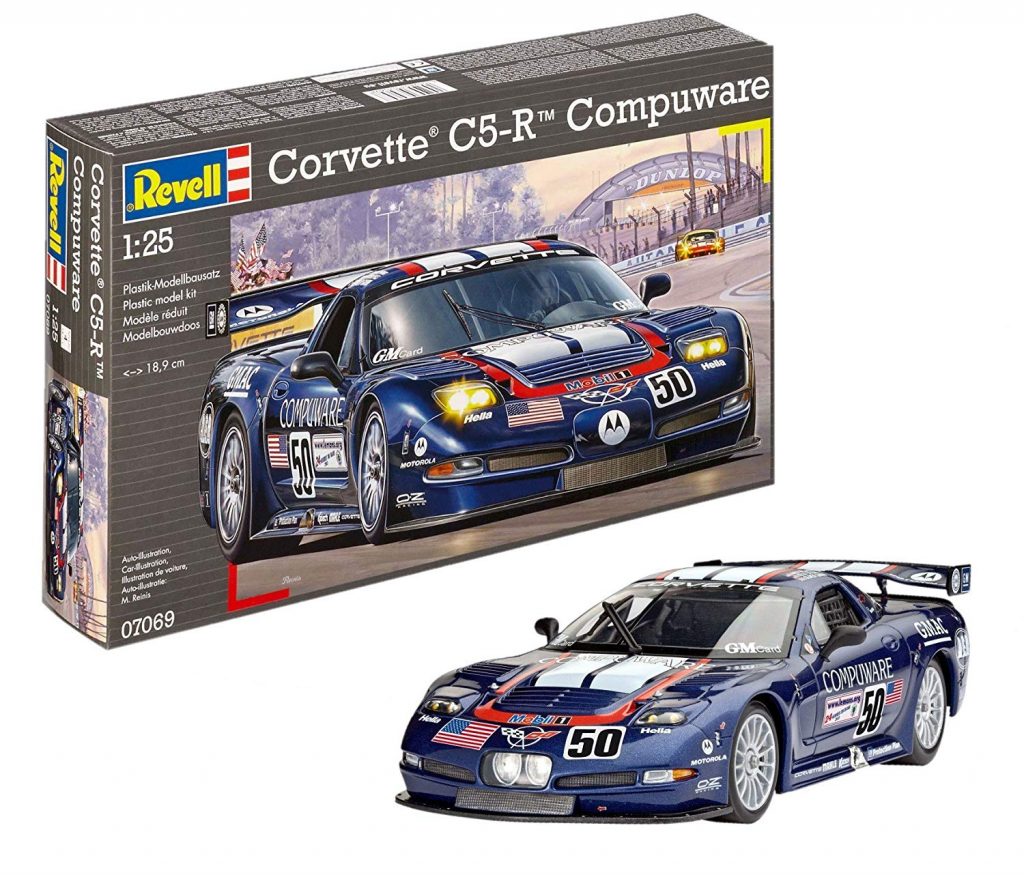 Revell Corvette C5-R Compuware Model Kit
Price: $24.99 on Amazon
Scale and measurements: 1:25, approximately 14 x8.5 x 2.5 inches
By now, you will have noticed that many of the best kits being recommended come from Revell. There is a reason that their kits are so highly rated, mostly due to the attention to detail, high quality plastics, and ease of assembly that almost all of their kits have. This C5R kit is no different, accurately capturing the spirit of the C5R, America's first foray back into the GT racing world in the 21st Century.
C6 Corvette Model Kits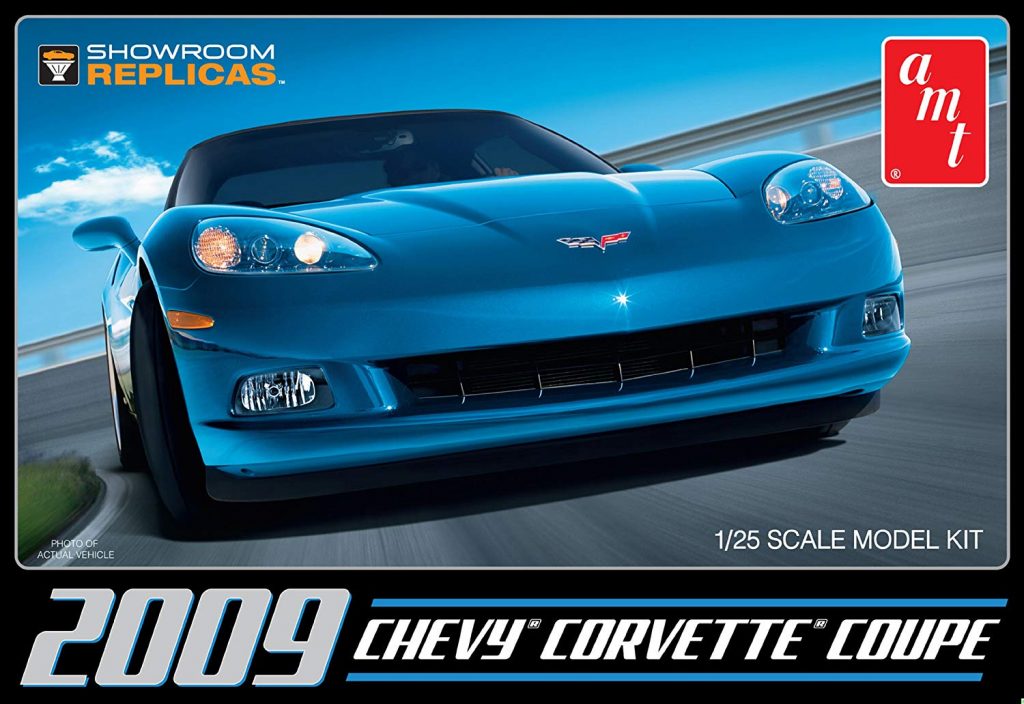 AMT Showroom Replicas 2009 Corvette Coupe

Price: $24.99 on Amazon
Scale and measurements: 1:25, approximately 10 x 4 x 7 inches
While reviewing models for this list, we came across many snap together kits, and a lot of die cast models. The build-your-own market for the C6 generation was looking pretty dry, until we stumbled upon this gem of a model. A moderate skill level model, which can be custom painted whatever color you want, that also looks great and, when completed, is sturdy and won't age quickly? Sign us up!
C7 Corvette Model Kits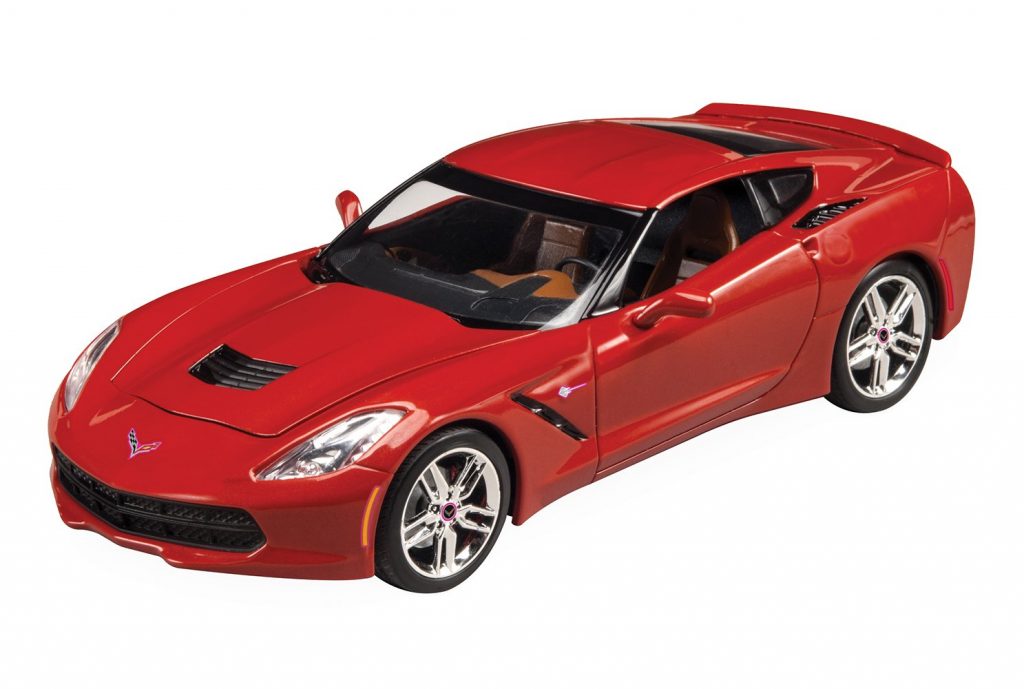 Revell Corvette 2016 Stingray Model Kit
Stingray is an iconic name when it comes to Corvettes. This model is perfect for those looking to have a Stingray on their desk or at their workspace, but without taking up the space a 1:18 scale model would. Simple, yet elegant and aggressive.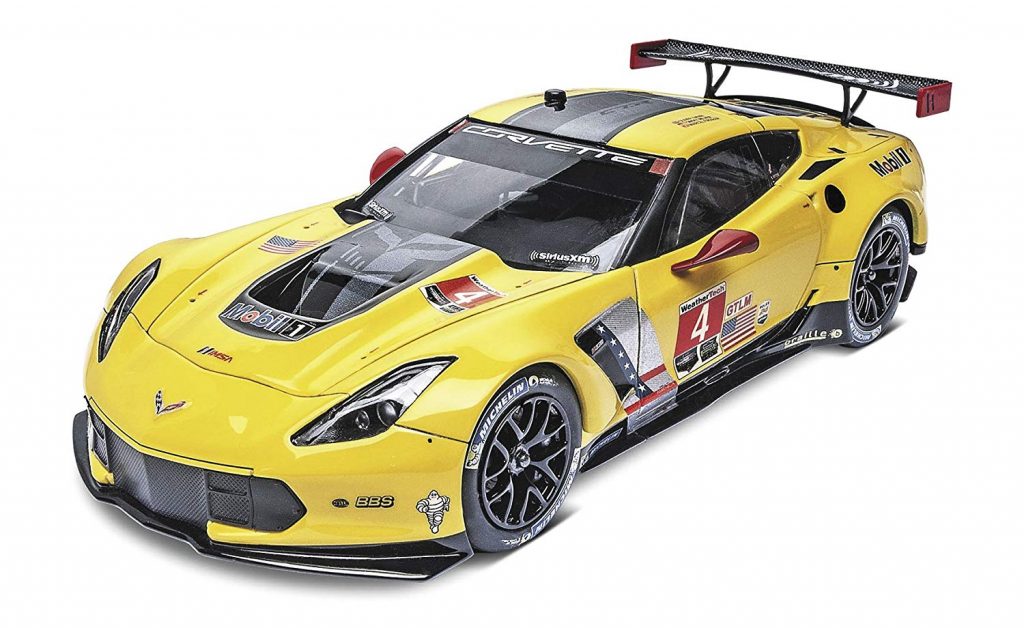 Revell Corvette C7.R Model Kit
Price: $24.99 on Amazon
Scale and Measurements: 1:25, approximately 7 x 3.5 x 2 inches
Quite possibly the best looking race car in Daytona GT, IMSA and Le Mans GT racing over the past few years, although we might be a little biased on that one. This kit has a special feature in that you can remove the body shell to show a detailed interior including full roll cage. As well, all the decals are series accurate for GTLM in IMSA, so the car on your shelf reflects the actual race car.