For us petrolheads, the garage is our sanctuary. We go there when we want to admire our cars, work on said cars, or as our own little cave where the stresses of the outside world can melt away for a few minutes. Some of us take the garage to the next level, with TV's and sound systems that allow us to watch the latest races or classic car shows while wrenching away.
No matter what quality garage you have, every garage can always use a bit of a personal touch. Some like to have the walls painted a certain color. Some like to have their flooring covered with black and white checker print. And many of us like to hang signs of our favorite cars and brands around the garage. Naturally, being a Corvette site, we've gone out and found what we feel are some of the best Corvette signs you can use to spruce up your sanctuary into a fully-fledged temple of Corvette.
Best Corvette Signs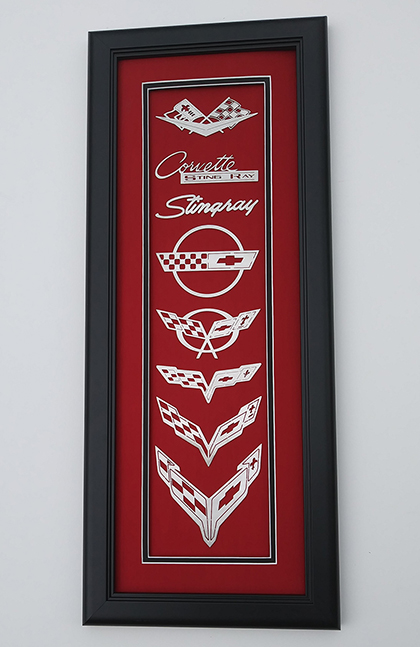 2020 Corvette C1 to C8 Stingray Metal Emblems Sign

When we saw this sign, we knew that it had to be on this list, even though it borders on being more a piece of art than being a sign. However, it is advertised as a sign, so we're running with it!
Every Corvette logo, including the Sting Ray variants on the models that carried that moniker, precision cut from brushed stainless steel and "floated" between a red mat and a carbon fiber patterned mat. We're not entirely sure how they did it, but it is a beautiful sign that would be right at home as the centerpiece of any garage.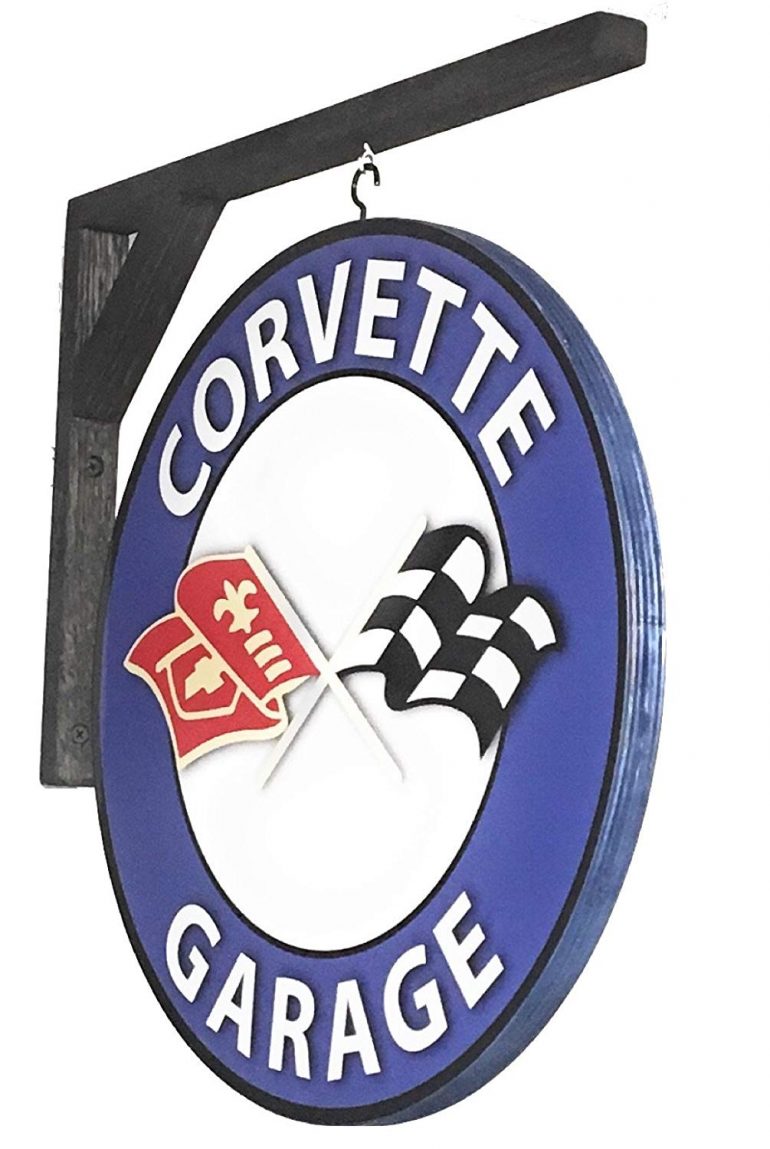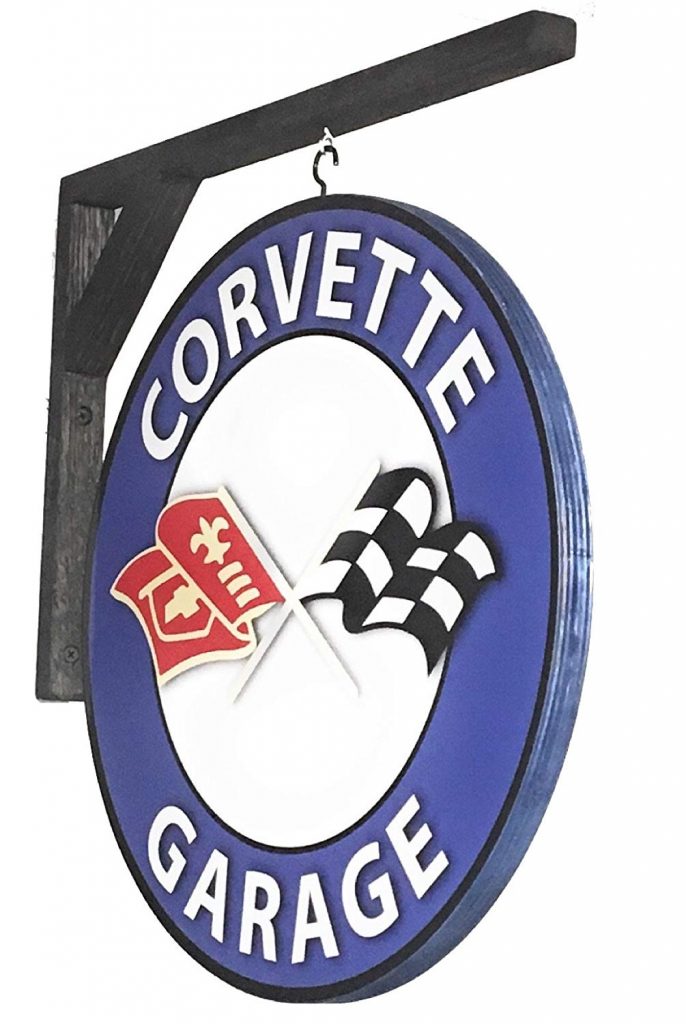 Corvette Garage Sign – Vintage

Price: $65.00 on Amazon
Measurements: Sign itself: 15 inches diameter x 1.125 inches thick
Most signs you can buy these days are made of metal, which, while durable and appealing, does lack a bit of that "old school" feel that classic car collectors like. The reason we love this sign is that it is made entirely out of wood, with the sign disk being solid pine and the bracket made of hardwood.
We also love the fact that its free-hanging, so if you ever need to clean up the garage or wipe down the walls after some extensive work, you can simply slip it off the mount and it's out of the way.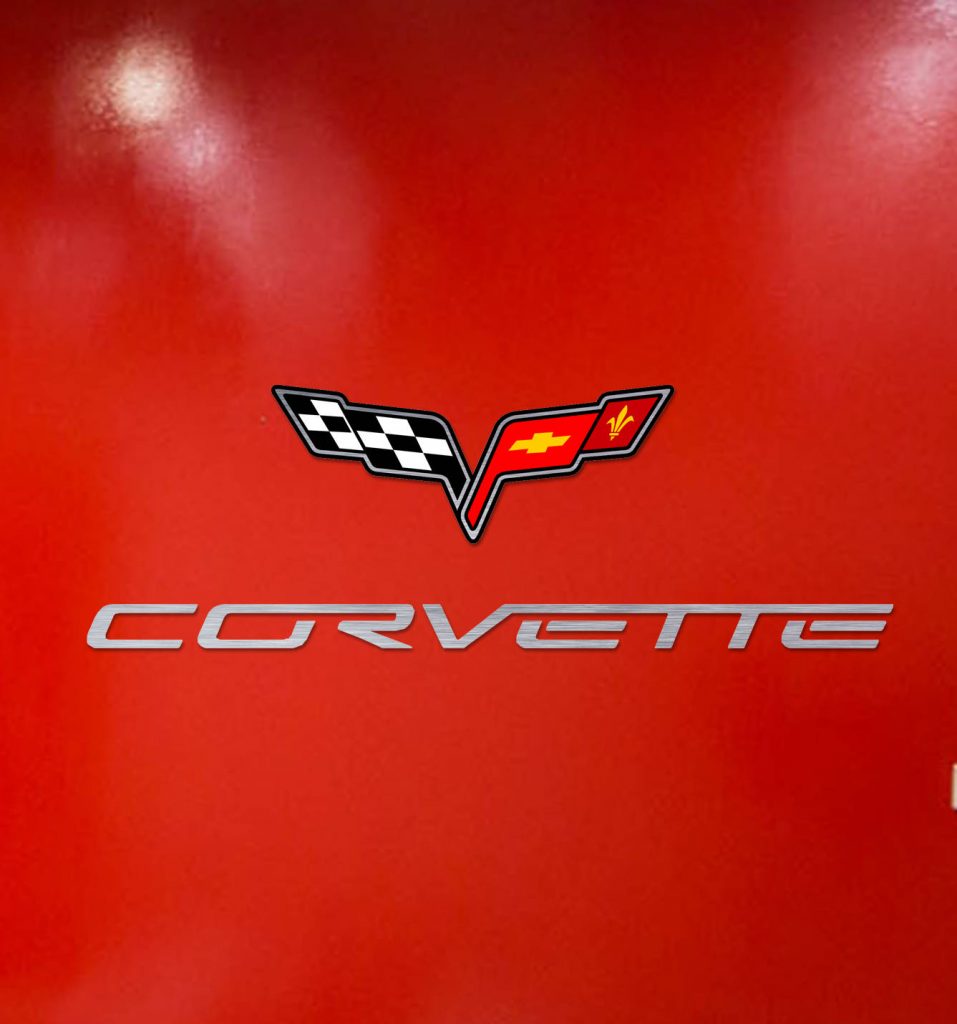 Corvette C6 Logo And Letters Brushed Aluminium Sign

Price: $199.00+ on Etsy

Measurements: Logo: 24 inches x 9.5 inches  Lettering: 48 inches x 2.7 inches
For your Corvette garage, what more appropriate signage could you get apart from the actual logo and lettering from your favorite car? This sign is handmade out of brushed aluminum mounted on composite backing for strength, and comes in three sizes, with the lettering spanning 4 feet across, 6 feet across, or even 8 feet across, and the logo adjusting along with it.
The 6-foot option is $249.00 and the 8-foot option is $349.00. No matter which size you go with, we think this would be a great addition to any Corvette owner's garage.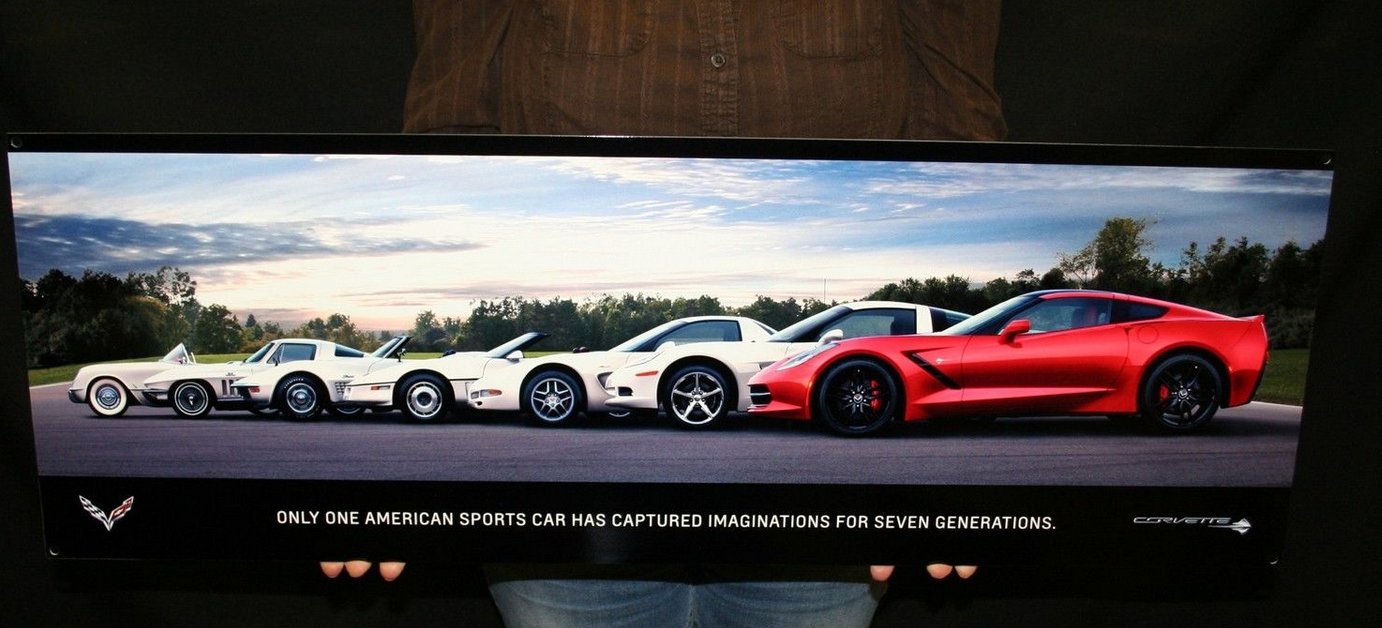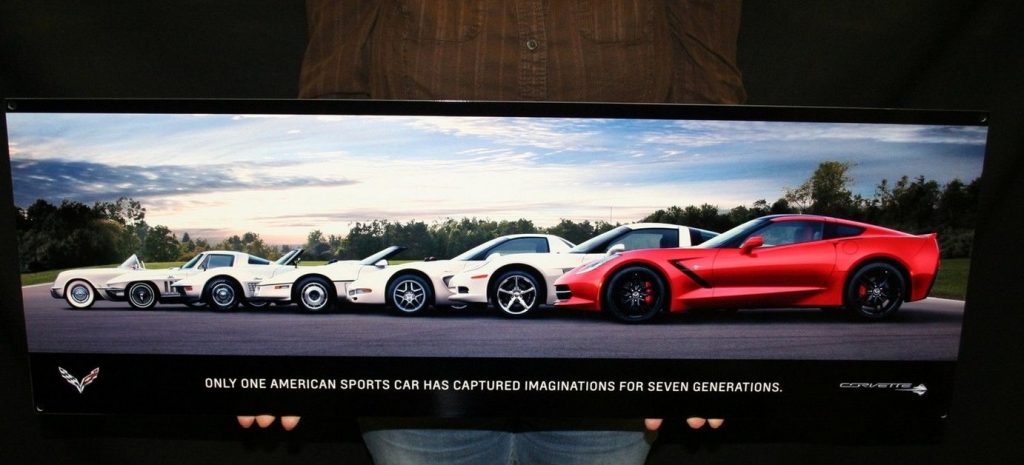 Corvette C7 Stingray "Generations" 2014 Metal Sign

It's hard to believe that this is actually a metal sign, not a paper poster, yet it is made of flat-rolled 14 gauge treated steel. With advances in technology, much like the Corvette itself, this sign literally has the print integrated into the metal itself using a substrate printing method. What results is a sign that virtually impossible to damage and won't fade over time.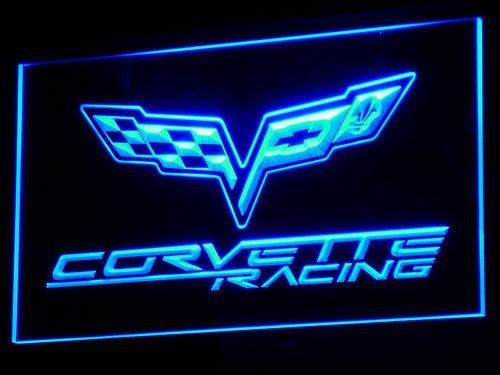 Corvette Racing C6.R "Neon Blue" LED Sign

The only lit sign we could find that we actually liked! During our searching for Corvette Racing signs, as we know many of you out there follow the racing side of Corvette, this sign from the C6.R generation car was the only one that truly captured our attention.
It's also a smaller sign than most, and the way that it is made means that it can be stood on a bench hung on a wall, or rest on top of your tool cart. As well, being made of acrylic with LED lighting, it can take a few bumps without showing damage or scratches.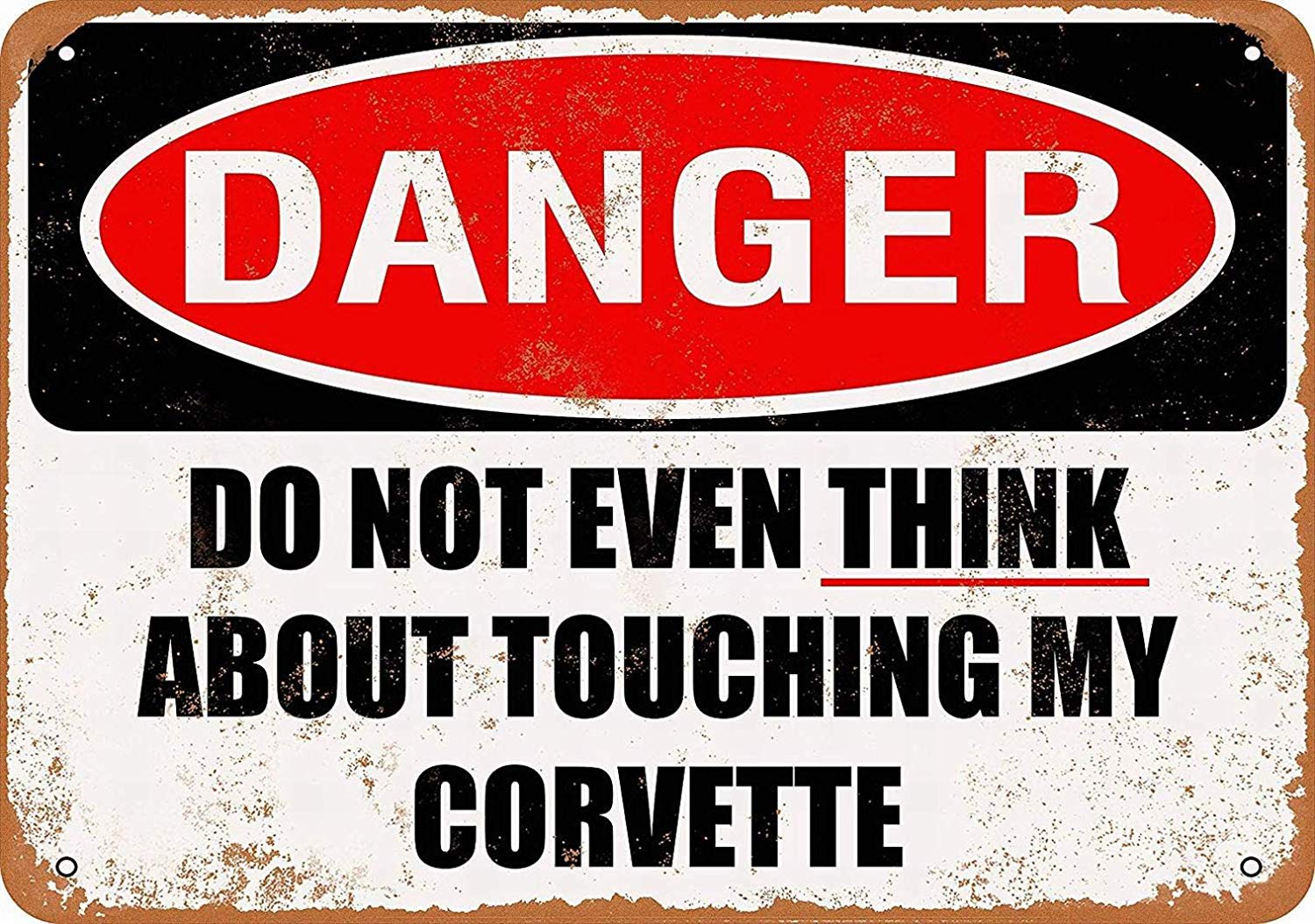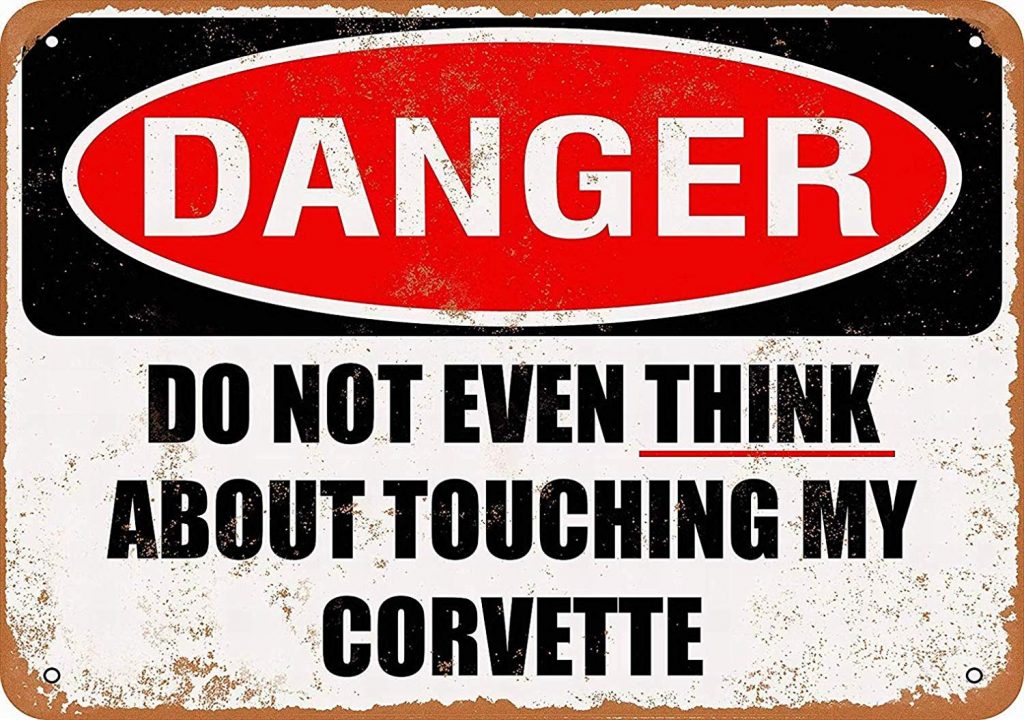 Do Not Touch My Corvette Metal Sign

Come on, do we really need to say anything here? We've all thought this, no matter what our car is. In terms of the sign, we loved the intentionally distressed look of the sign, as well as the fact that it is flat-rolled aluminum, with a baked-on image that bonds with the metal. It won't fade or flake and comes with four mounting holes that make hanging it anywhere easy peasy.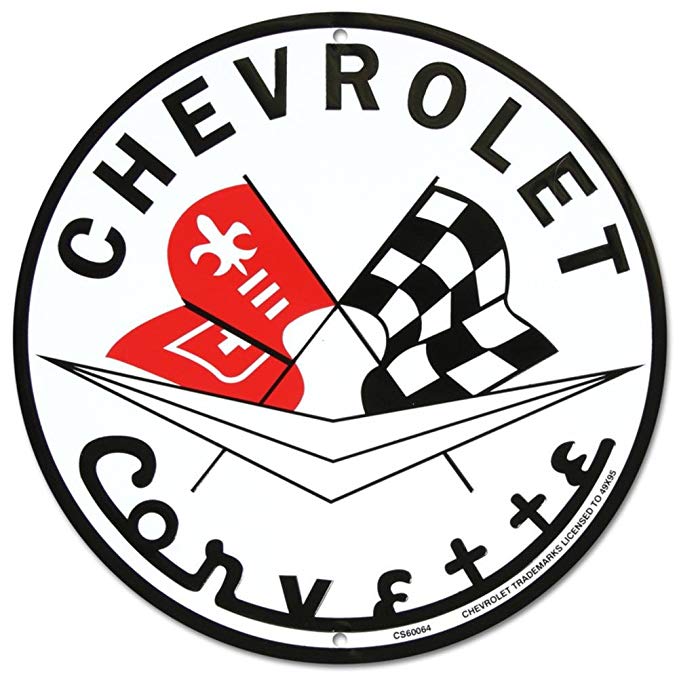 Chevrolet Corvette Classic Metal Sign

While this sign may be low price, we don't think it's cheap by any means. The classic C1 logo and lettering for the discerning classic car collector. What impressed us about it compared against many other signs with the same C1 logo incorporated is just how clean this sign looks.
Other signs try to fit the logo into a square or rectangular space, whereas a simple, clean circle with clear lettering and design works just fine.