If you are a Corvette fan and love collecting memorabilia, then you have come to the right place. Etsy has one of the best collection of Corvette memorabilia, which you can collect over the years and pass it to your children or grandchildren in the future if you share the same passion with them.
The Best Corvette Memorabilia You Can Buy on Etsy
Here are some amazing Corvette memorabilia from Etsy that you should definitely purchase:
1. Corvette Art Posters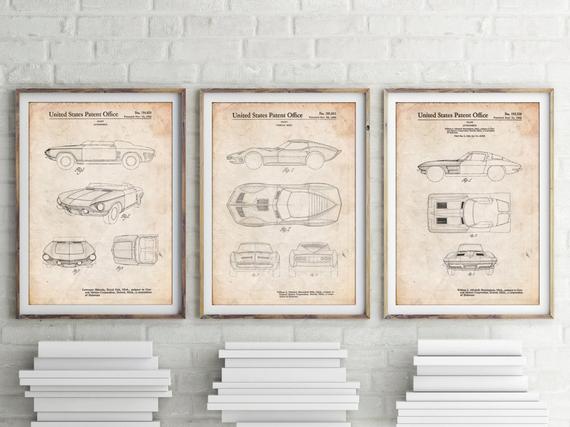 Perfect for hanging up in your home office, this vintage art poster from Patent Prints is available in various print sizes. The art is printed on archival quality card stock paper that lends the poster incredible color accuracy and high definition delivery. Its design is an original patented blueprint, so you are not going to find it anywhere else.
There are multiple model options to choose from, which gives you the flexibility of selecting a model that goes exactly with the room decor. You can either purchase it framed or unframed. The frames are available in white or black, with further choice in clear styrene glass and white matting.
2. Chevrolet Corvette Keychain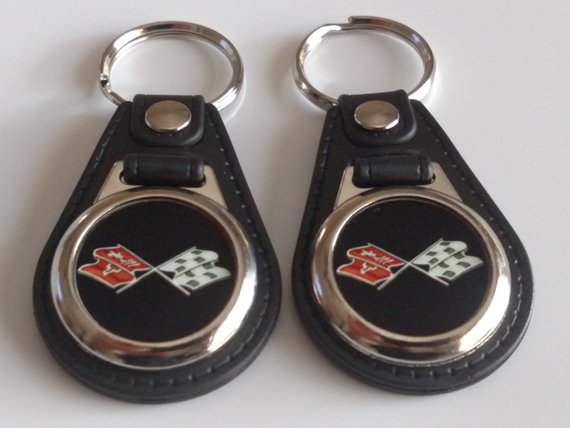 Simple yet stylish, every Corvette lover should definitely have one of these keychains. They come in a set of two and are made with the best quality materials. The Chevy cross flag image is covered with an acrylic dome and sealed shut with a stainless steel enclosure.
You can ask the Etsy shop owner to customize it, so you can gift it to a Chevy and Corvette lover as a Christmas gift.
3. Chevy Corvette C6 LED Display Table Lamp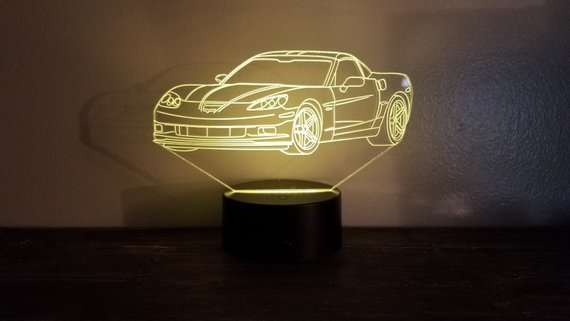 An ideal side table lamp for your kid's bedroom, Corvette C6 LED Display Table Lamp has a 6" x 7" solid base that shines LED lights in six different colors including yellow, green, white, purple, red, and blue. You can also put it up in your office or man cave for an added effect.
The table lamp comes with remote control, so you can change the change the colors. You can choose to either keep them flashing repeatedly, keep one color all the time, or fade one color into another.
4. Classic 1950-60s Chevrolet Corvette Owner Pin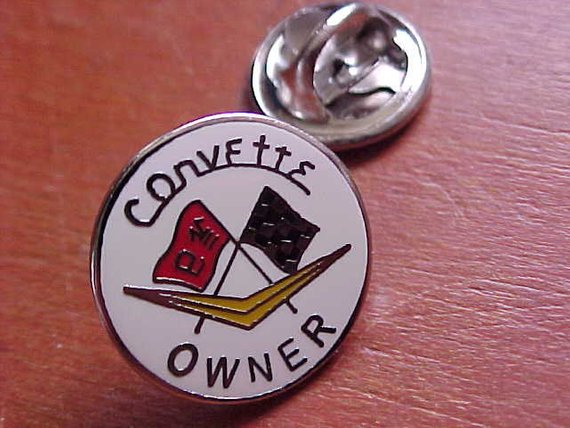 This Corvette Owner pin is limited edition memorabilia by TJ MARZ that you should definitely own. It is 5/8″ in diameter and is a wonderful gift for a Corvette lover because it is very difficult to find. The pin is made out of chrome metal and has a vintage double clutch military styled pin fastener, which is included in the package. TJ MARZ offers worldwide delivery on this product.
5. Corvette Embroidered Luxury Car Armrest Cover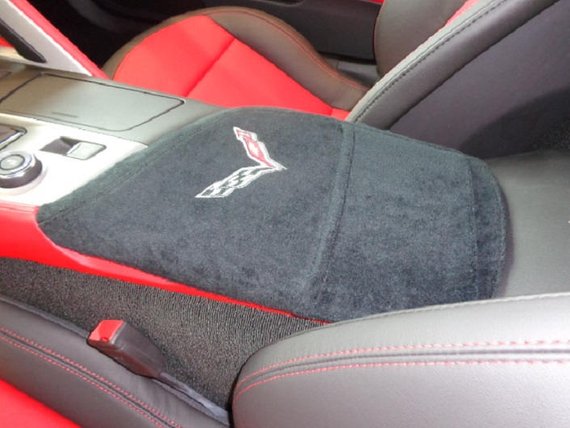 This Corvette Embroidered Cover is a comfortable 100 percent cotton terry velour armrest cover that adds a stylish touch to your car decor. It is cold, resistant, heat resistant, and stain resistant. The cover has an easy slip-on mechanism installation, which doesn't require any tools.
It comes with a big sleeve pocket that can comfortably hold your phone, chapstick, and other go-to items. Last but not least, it has the beautiful Corvette logo embroidered at the very center, which goes well with a red or black car decor.
6.  My First Corvette – Infant One Piece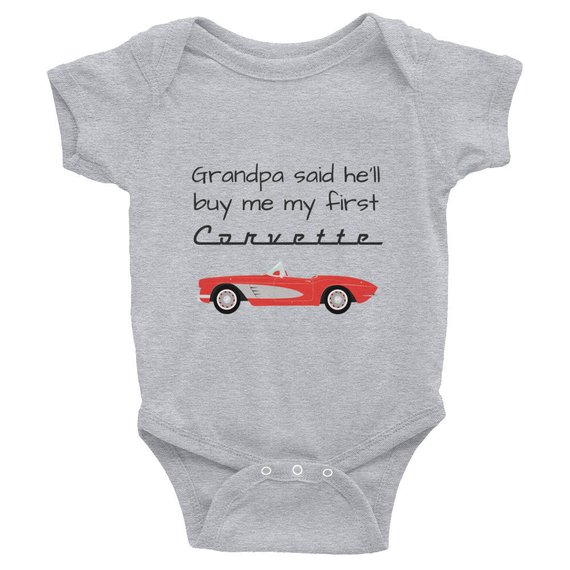 If your father is a Corvette fan, the best way to surprise him with your pregnancy is by giving him this cute little one piece. It is made with 100 percent cotton threads that are ring spun in 1×1 baby rib weave.
The one piece has a reinforced three-snap closure for binding and lap shoulders are easy changing. You can buy it in two colors, including white and heather. It is available in a wide range of sizes including a newborn, six months, 12 months, 18 months, and 24 months.
7. 1958 Chevy Corvette Single Light Switch Cover Plate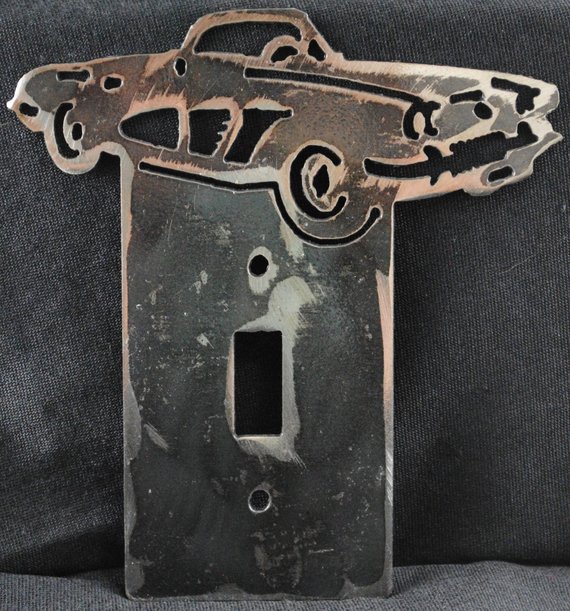 Switch the boring white switch covers in your garage and office with this fancy Corvette-themed one. The 1958 Chevy Corvette light switch cover comes in three different models from one light to four lights. The cover is handcrafted and made out of 14 gauge steel. You can use it for outdoor purposes as well.
Also, you can choose between four finishes according to the office or garage decor. It is easy to install and all you need is a screwdriver. It is a wonderful Christmas gift as it can be completely customized, which can take around two to three weeks.
8. OCD Chevy Corvette Coffee Mug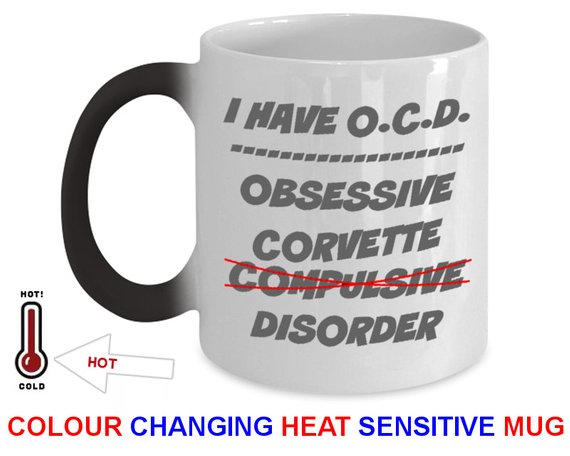 A cool color changing mug, the OCD Chevy Corvette Coffee Mug will look amazing as you sip your morning coffee while answering to emails in the morning.
Like you know, it is a heat sensitive black mug, so when you pour hot water in it, the black color starts to fade and is replaced by a hidden message, which reads Obsessive Corvette Disorder. The design is printed on both sides of the mug and is easy to clean. You don't have to worry about the color changing print to fail after multiple washes.
9. Vintage Corvette T-shirt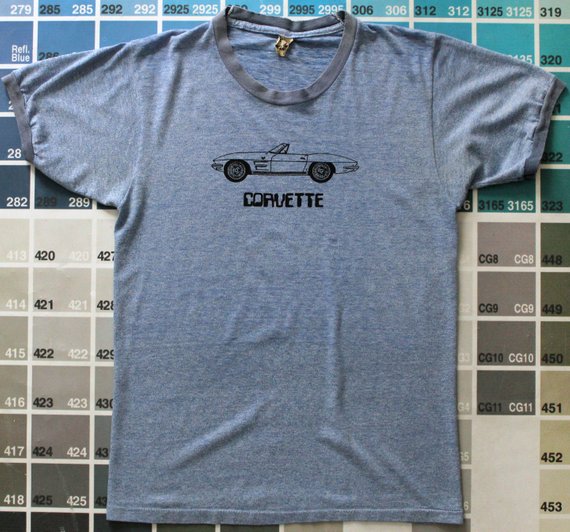 This is a vintage Corvette t-shirt from the 1980s and we definitely know you'd want to own it. It has a retro graphic chest print of a Corvette car and is 18" from pit to pit. The t-shirt is made with 50 percent cotton and 50 percent polyester, which makes it breathable and sweat absorbent. It can comfortably fit men in small size and women in large size.
You should know that it is previously owned but it is completely clean and has a ringer collar.
10. Vintage 1993 ERTL Classic Vehicles 1960 Corvette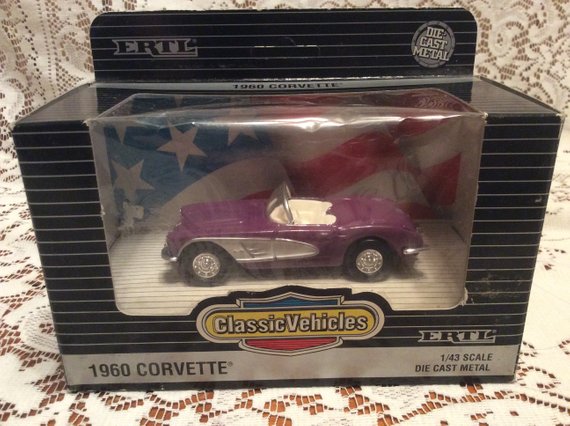 The ERTL Classic Vehicles 1960 Corvette model is from 1993 and is an all-new packed piece. The packaging reads that Corvette titled this model like a dream car, which was an experimental version. It is made out of die-cast metal.
The car was promoted among the American youth as an economical sports car after World War II. Wolf Cats This and That has similar models available, which you can check as well.
11. 1954 General Motors Motorama Coin Gold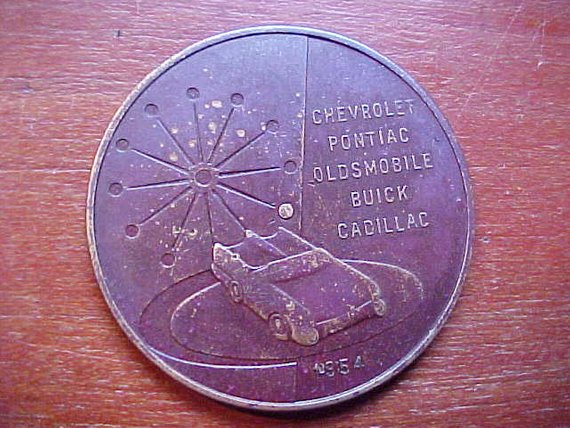 A vintage model from the 1950s, the 1954 General Motors Motorama Coin Gold features iconic Corvette cars, which include Firebird XP-21, three Fiberglass Body Corvettes, and Cadillac La Espada. It was recently displayed at Waldorf Astoria Hotel in New York City.
You have the chance to own this cool memorabilia because it is limited edition and only a few pieces are left. You can also gift it to a Corvette fan on Christmas and it'll be the best one he received ever.
12. 1953-1962 Vintage Chevrolet Corvette C1 Logo Patch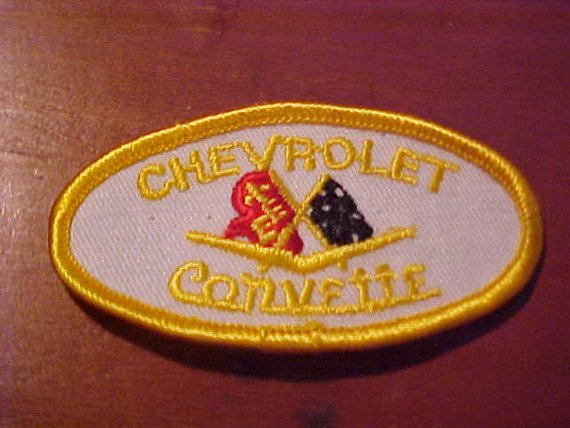 Another vintage memorabilia, the Chevrolet Corvette C1 logo patch was made between 1953 – 62 for First Generation Vette. The patch is a NOS, which means it was made back in the 50s or 60s but was sitting in the inventory until now and hasn't been used yet.
It is 3″ x 1 ½" in size, so you can pin it on your shirt. It comes with a sticky patch at the back or you can sew it as well. The patch has a retro appeal to it, which looks good on a work shirt or jacket. It is very hard to find, so you better purchase before it is out of stock.
13. Vintage 1980's Corvette Tie Lapel Pin Antique Car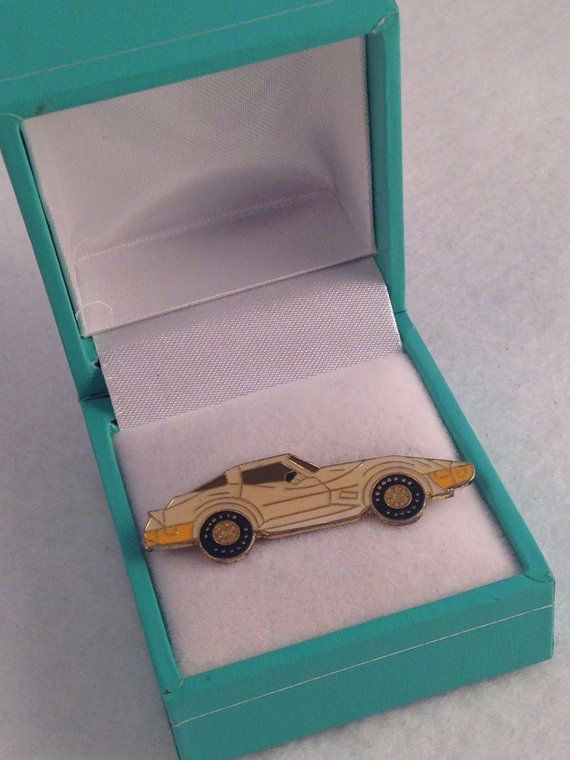 Great Gatsby's is one of the best stores on Etsy when it comes to vintage products. This Corvette Tie Lapel Pin is from the 1980s and hasn't been used until now. It is made out of 100 percent composite brass material with enamel paint on it. The pin is only 1" long, so it sits perfectly on your tie. After you place the order, you will receive the product in just three days.
14. 1958 Chevy Corvette 16 Automotive Art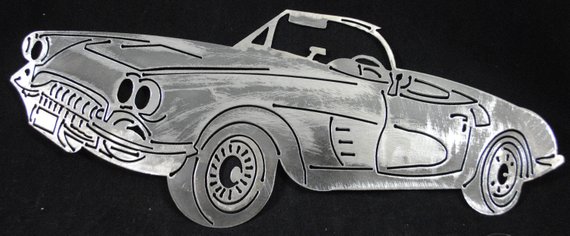 A great addition to your man cave or office, the sleek 1958 Chevy Corvette 16 Automotive Art is made out of 14 Gauge Steel. You can choose between three finishes – bluing, grinding, and blue grind finishes.
The art piece is made using a CNC machine along with a plasma cutter, which makes the design very accurate. Since it is finished with a clear powder coat, you can hang it outdoors as well.
The art piece will go on undamaged for years because it is of heirloom quality, which means it looks better the older it is. You will need two standard size screws to hang it u, which aren't included in the package.
15. Chevy Corvette Vette Sports Collectible Memorabilia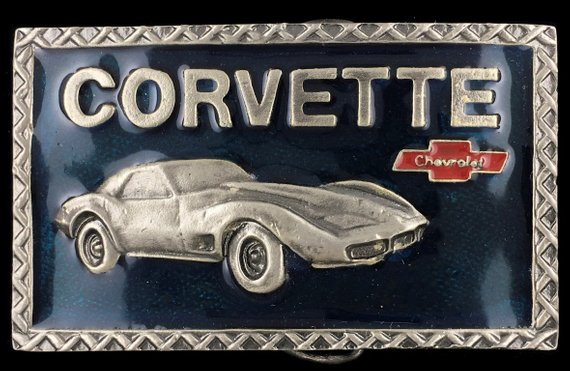 The Chevy Corvette Vette Sports belt buckle is an original from the 1970s. It is ready to wear. All you have to do is attach it to a belt. Even though it is was previously owned, it is in mint condition and has been treated with chemicals and preserved for future use.
The buckle is a silver plated metal with enamel paint on top. When you shop multiple items from the store, you will get free shipping.