Do you want a junk-filled garage or something that you are proud to show off? We often ignore our garage and fill up with things that are too dear to us to throw but are completely useless. Decorating and organizing the garage takes minimal efforts. Just paint it and add random signs on the walls.
The Top 15 Corvette Signs You Need in Your Garage
You can put up Corvette signs if you want to give your garage a vintage or a retro feel. You can choose between an embossed, three dimensional, and flat metal signs. Here are 15 Corvette signs you need in your garage:
1. Corvette C6 Metal Sign
A large metal sign made in 14 gauge steel, this Corvette sign is a two dimensional one of the 2005 to 2013 era front emblem. You can mount it in your garage or on the outside as it comes with pre-made holes for mounting. The metal sign is hand-finished, which gives it a personalized touch. You can see the imperfections in the casting, which is exactly the effect you should be looking for.
2. Chevy Corvette Stingray Tin Sign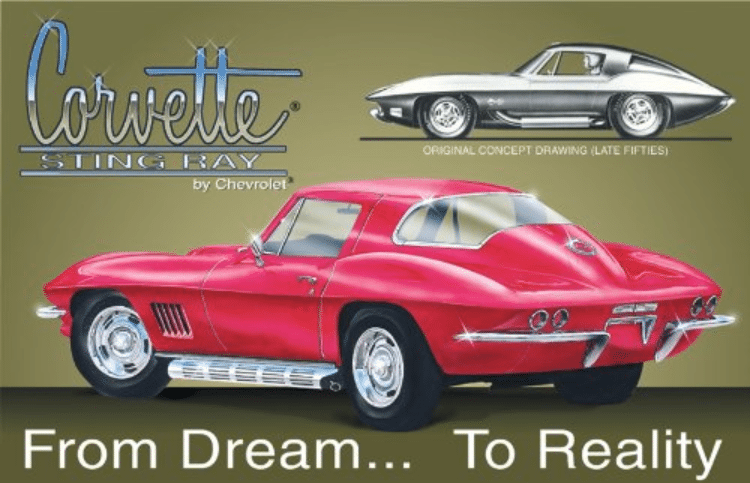 Chevy Corvette Stingray sign is a simple vintage Corvette sign made out of tin. The car models displayed on the sign belong to the late 50s and 1967 Corvette.
It has a Chevrolet seal on it, which makes it an authentic sign you'd definitely want to own. You can buy of these and put it on a wall to give it a bunched up effect. Quality of material used is excellent and won't rust. It definitely worth the price you pay.
3. Corvette Metal Sign C5 COR13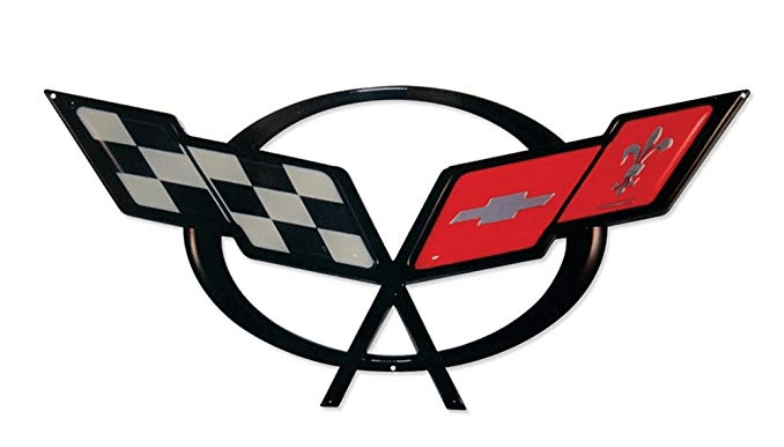 A unique-looking vintage sign, the Corvette Metal Sign C5 COR13 is officially licensed by Chevrolet. You can hang it in the inside or outside. Since it comes with a chrome glare finish, the colors won't fade if you put it up outside your garage. Even though it is a two-dimensional metal sign, the finish gives it a three-dimensional look.
Other than that, it comes with pre-made holes for easy mounting. There are slight imperfections in the sign, which is because of Photo Steel's casting but it is done deliberately to give it a unique feel.
4. Corvette Garage Sign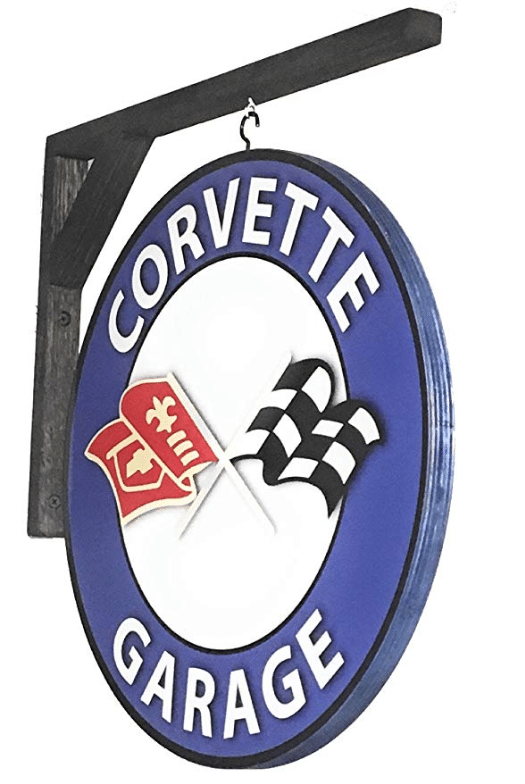 Another vintage garage sign to hang on the outside, it is made with 3/4th birch ply. The packaging also includes the hanging bracket, which is made of 100 percent hardwood.
It comes with a hook so that you can install it on the bracket without any trouble. The hanging bracket comes with pre-made holes to mount it on a wall. It is finished with a high-resolution laminate paint, which protects the color from fading away.
5. Chevy Parking Only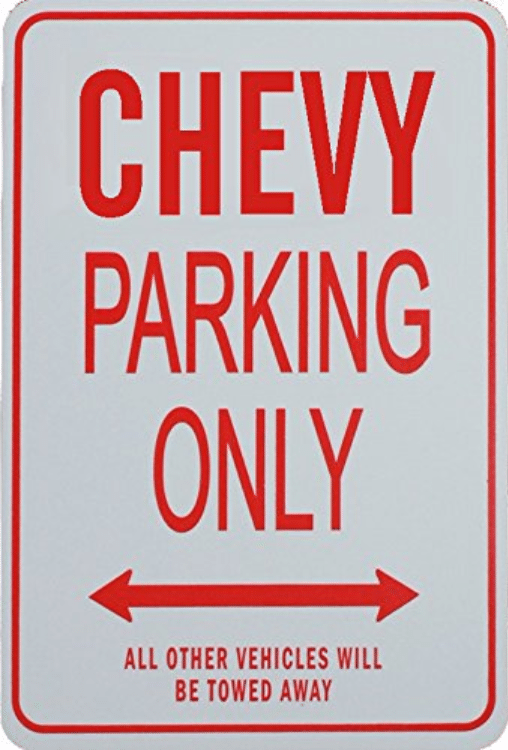 A wonderful gift to a Chevrolet lover, the Chevy Parking Only is made out of hard plastic. It is smaller than a regular parking sign. If you own a vintage Chevy yourself, you can hang it on your garage door to set the mood going.
Since it is waterproof, don't worry about it getting ruined if you hang it outdoors. You can also use it outside a restaurant or bar where Chevrolet enthusiasts come often.
6. 1975 Corvette Stingray Acrylic Lighted Edge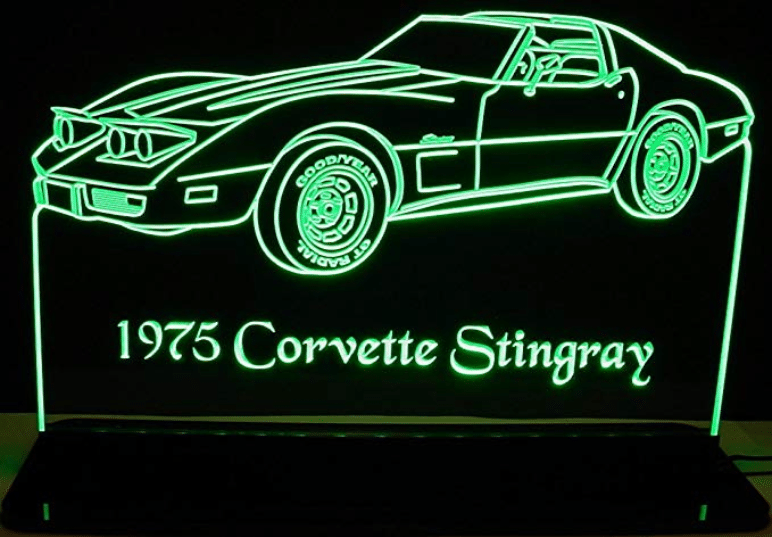 A classy addition to your garage decor, the 1975 Corvette Stingray Acrylic Lighted Edge is quite a steal. It comes in two sizes – 12″ and 21″ and the number of bulbs differ accordingly. The sign is made with ¼" inch thick rigid acrylic and has a black mirror reflective base. The 12" one comes with 15 LED lights, while the 21" sign has 30 LED lights.
Valley Designs ND offers you a variety of LED light colors to choose from including blue, turquoise, red, purple, green, amber, and white. The package also includes an AC adapter.
7. 1963 Corvette Metal Sign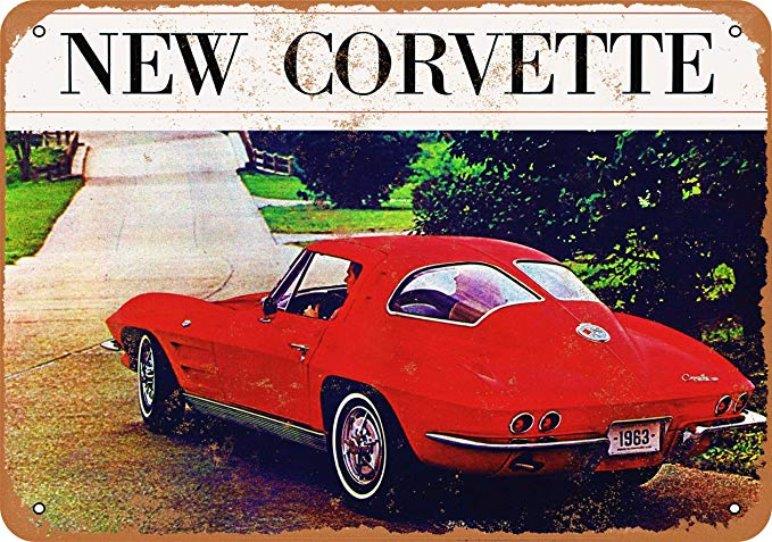 Constructed using durable aluminum, the 1963 Corvette Metal Sign is a recreation of a vintage design. The rustic image that is printed on the plate is a newspaper cutout, which is from the year. It is available in two sizes including 7" x 10" and 9" x 12".
The second size is that of an average MacBook Air. Both sizes have rusty ends to give a faded and vintage effect. If you want, the manufacturer can make it without rusty ends at no additional costs. Overall, it has a satin finish that is aimed to create a lustrous but not a glossy look. It has four pre-made holes so that you can mount on the wall easily.
8. 1969 Chevrolet Chevelle Metal Sign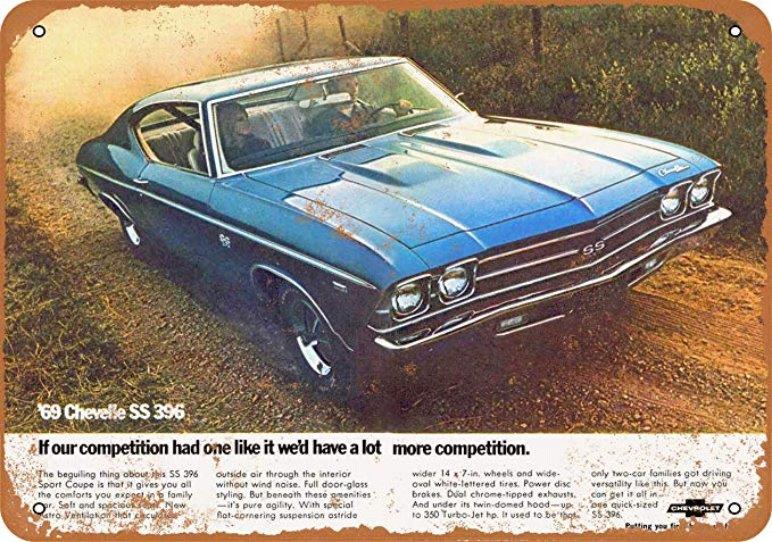 Another classic recreated newspaper article garage decor piece; the 1969 Chevrolet Chevelle Metal Sign comes in two sizes – 7" x 10" and 9" x 12". It usually comes with simulated rusty edges, but you can mention to the manufacturer, Wall Color, to not give the effect.
The image is baked on durable aluminum and is faded out on purpose to give it is a vintage look. If you notice, there are scratches on it, which are again simulated for effect. Other than that, there are four pre-made mounting holes. It has a non-glare satin finish to maintain the metal signs vintage appearance.
9. Corvette LED Neon Sign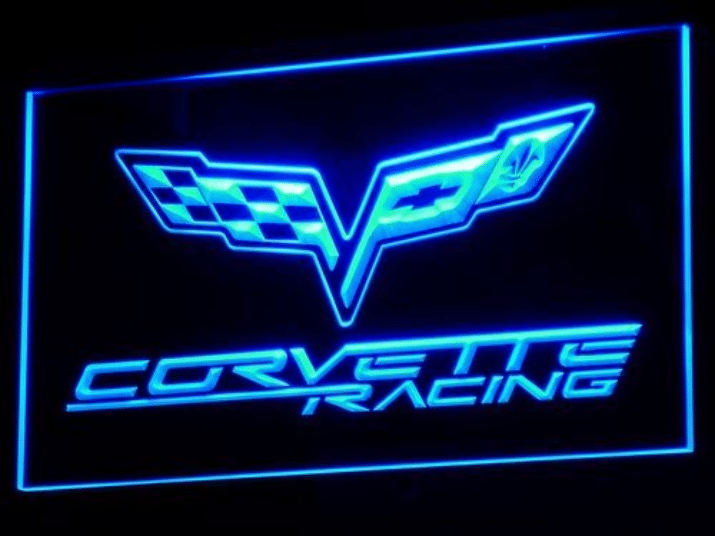 A super affordable 3D sign, the Corvette LED Neon Sign is the perfect gift for a Chevy lover. It comes in seven different LED light colors, making it an ideal choice to hang in cafes, pubs, and bars.
Since Old Books & Plans on CD is an international company, the voltage of the LED lights battery differs from 110v to 240v. The battery has a life of 100,000 hours and can be easily found online or in your nearest electronics store. On/off switch differs depending on whether you are in the United States and Canada, the United Kingdom, and Australia.
10. Authentic Street Signs Corvette Drive C7 Red Sign

No garage decor is complete without this heavy-duty gorgeous Corvette Drive C7 Red Sign from Authentic Street Signs. It is made with 100 percent 18 gauge steel. Letters are embossed on it to give it an irresistible charm.
The sign weighs a total of 3 lbs and comes with two pre-made holes at the very end. It is painted with automotive grade acrylic enamel. Lastly, the red metal sign is finished with a powder coating to ensure that the colors are preserved as long as it is in use.
11. 1958-1962 Corvette Emblem Metal Sign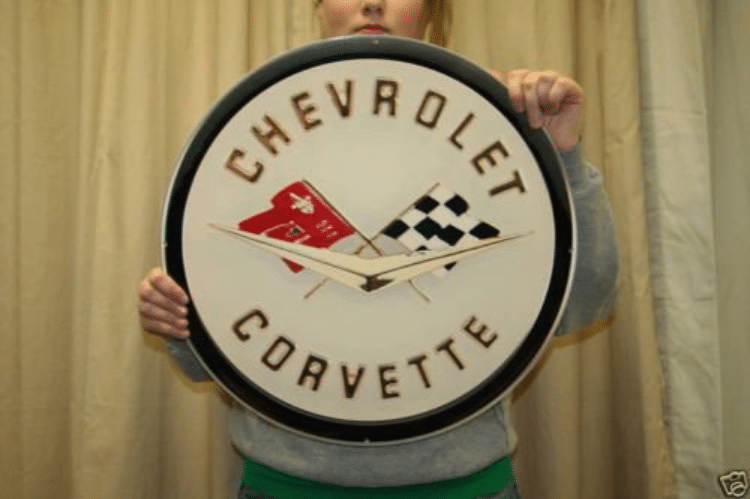 A replace of the 1958-1962 Corvette Emblem Sign; the self-titled metal sign is officially licensed. Even though it is a flat metal sign, it looks three dimensional because of use of high-quality paint and glare finish. You can hang it on the outside without worrying about the pain fading out.
If you look closely, you will notice that there are some imperfections from the casting, but they are completely intended. It is 19" x 19" in size and is made with 14 gauge metal. It comes with two pre-made holes, one at the very top and other at the bottom for mounting it on the wall.
12. C4 Corvette 1984-1990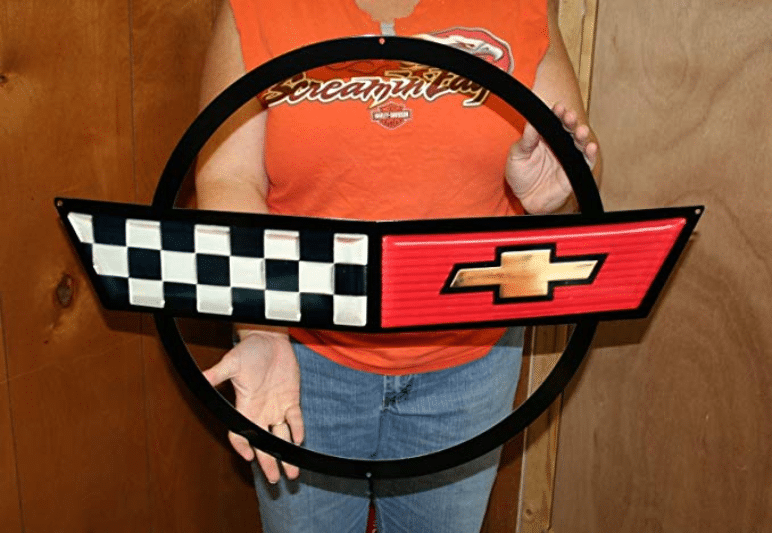 This huge metal sign by West Coast Corvette / Camaro is the C4 Corvette emblem that was in use between 1984 and 1990. The manufacturer has paid minute attention to details that make it such a valuable piece.
It is actually a flat sign but because of the paint and finish it has a three-dimensional appearance. It has four pre-made holes for easy mounting. The sign is made using 14 gauge metal and has a glaring look that comes from its chrome finish and slight imperfections from the casting. These two things give the metal sign a unique touch.
13. Chevrolet Chevy Super Service Garage Marquee Sign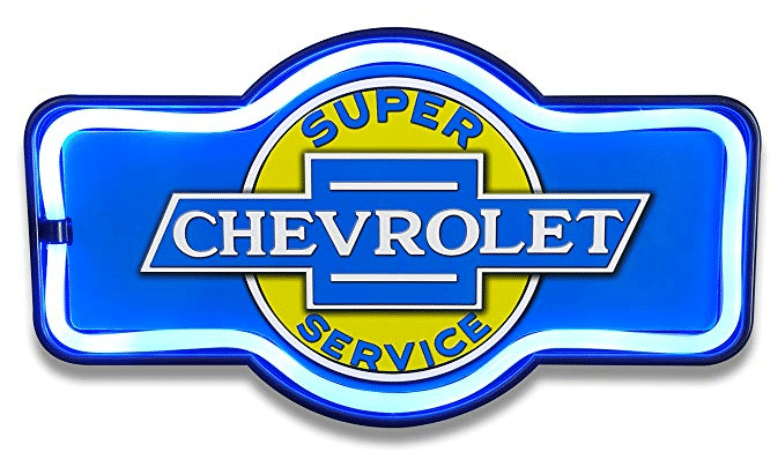 Fitted with LED light rope technology, the Chevrolet Chevy Super Marquee Sign is the perfect decor piece for your garage. You can either light it up using batteries or a USB cord that isn't included in the package. The light only comes in blue color. Instead of drilling holes into the sign, the manufacturer has special arrangements at the back so that you can hang it on nails on the wall.
14. LDGJ Neon Light Sign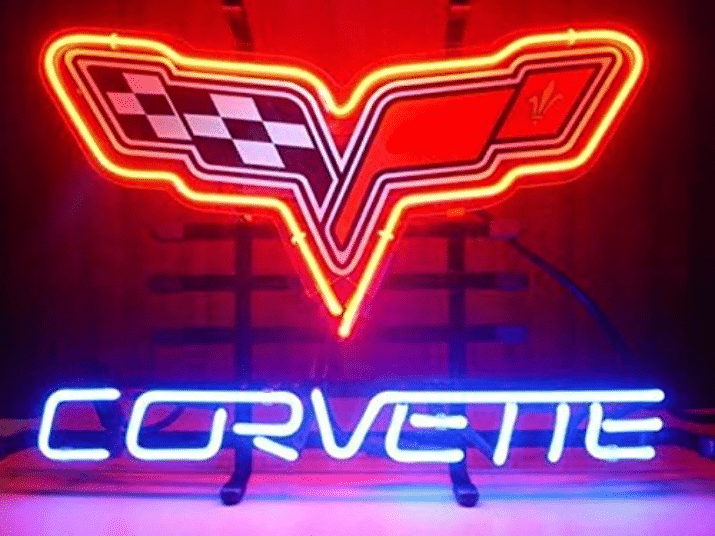 One of the best quality neon Corvette signs you'll ever find, the LDGJ Neon Light Sign is an irresistible choice. The colorful neon sign is completely handmade, which gives it a personalized touch. It has a stand of our own and can also be hung, both indoors and outdoors. LDGJ is the only company that offers one year warranty on their products. Also, in case you don't like the quality, the company has a 100 percent money back guarantee.
15. 1968 Chevrolet Corvette – Vintage Look Reproduction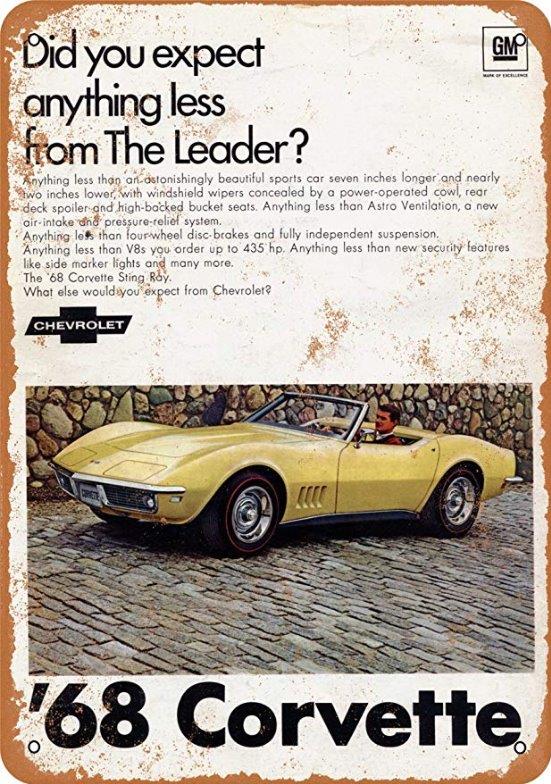 A reproduction of the 1968 Chevrolet Corvette newspaper article, it is a wonderful addition to your Corvette collection. You can buy it in two sizes – 7" x 10" and 9" x 12". It has simulated rusty edges, faded paint, and cracks for a vintage look. You can choose not to have the rusty finish and go for a plain look at no added costs.
It is made with durable aluminum material, while the image has a satin finish for a non-glare appearance. Don't worry about the image fading if you hang it outdoors because of the finish. Also, the metal sign has four pre-made holes for easily mounting it on the walls.