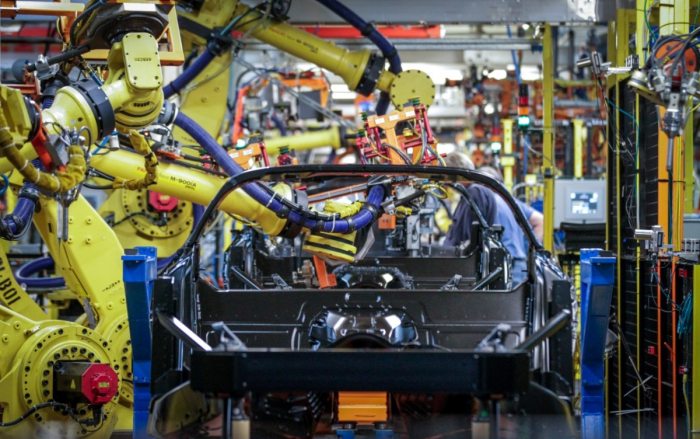 BOWLING GREEN, Ky. – Torch Red, Shark Gray Metallic and Laguna Blue Tintcoat, three popular palate choices on the 2015 Corvette, kept the marketers who make up names working late. Now they can dream about more painstakingly precise pigments, thanks to a new paint shop that is among $439 million being invested at the only plant in the world that builds Chevrolet's iconic sports car.
General Motors announced the moves today that include retaining 150 jobs and building the 450,000 square-foot paint shop that is almost half the size of the entire current production facility. The investment builds on approximately $135 million GM has invested in the plant over the last four years for the new Corvette Stingray and Performance Build Center. The announcement was followed by a groundbreaking event for the new paint shop.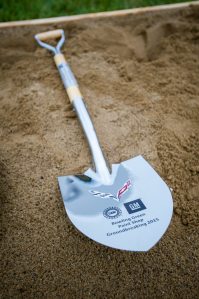 "The Corvette is one of Kentucky's most-cherished icons," said. Lt. Gov. Crit Luallen. "Such a significant expansion of the Bowling Green Assembly Plant will help the company remain competitive in the region and around the world."
Construction of the new paint shop, which includes substantial technology upgrades, is planned to begin this summer and take approximately two years to complete. Corvette production schedules will be unaffected by the construction.
Along with new tooling and robots, the paint shop's state-of-the-art environmental and efficiency enhancements include:
Dry Scrubber Booth Technology with Limestone Handling System designed to eliminate sludge water and waste
Light-emitting diode, or LED, lighting for process decks for improved visual inspection as well as energy savings
State-of-the-art FANUC robots with Versa-bell 3 electrostatic applicators for an extremely smooth finish and maximum transfer efficiency, saving 25 percent of the paint material used, which also benefits the environment
Longer, high-efficiency baking ovens for exceptional paint finish and lower energy use.
"With this major technology investment, we can continue to exceed the expectations of sports car buyers for years to come," said North American Manufacturing Manager Arvin Jones. "These types of investments are evidence that the customer is at the center of every decision we make."
Said UAW Vice President Cindy Estrada: "This new paint shop will mirror the efficiencies and technologies of the new body shop, installed with the launch of the Stingray. Hardworking UAW members have proudly built vehicles in Bowling Green for more than 30 years, and we are pleased to be a part of such a significant facility upgrade."
Corvette production began in 1981 in Bowling Green following assembly in Flint, Mich., and St. Louis. Each has been an exclusive home of the Corvette, contributing to its distinction as the world's longest-running, continuously produced passenger car. More than 1.6 million have been produced in 62 years.
Since the launch of the all-new 2014 Stingray, the Corvette has won more awards than any other car in the industry,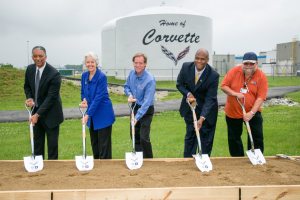 including the 2014 American Car of the Year, Car & Driver's 10 Best and Automobile Magazine's Automobile of the Year.
Building on that recognition, Corvette sales reached an eight-year high in 2014 with almost 38,000 cars sold globally. The
plant welcomed a record 56,000 tourists last year.
The new Performance Build Center opened last year and in March began hosting customers in the Build Your Own Engine program. More information about Bowling Green Assembly is available at corvetteassembly.com
The investments in Bowling Green are part of the $5.4 billion that GM said April 30 it would invest in U.S. facilities over the next three years.
Founded in 1911 in Detroit, Chevrolet is now one of the world's largest car brands, doing business in more than 115 countries and selling around 4.8 million cars and trucks a year. Chevrolet provides customers with fuel-efficient vehicles that feature engaging performance, design that makes the heart beat, passive and active safety features and easy-to-use technology, all at a value. More information on Chevrolet models can be found at www.chevrolet.com.