The 2024 Chevrolet Corvette E-Ray – The First-Ever Corvette Hybrid
We've all heard the rumors that Chevrolet was moving away from internal combustion in favor of electric….even with its flagship sports cars.  Sadly, the Camaro will not make the transition and is likely headed to pasture in 2024.  The Corvette, however, stands a much better chance of surviving the transition.  In the latest reports to leak out of the Corvette camp, it appears that America's Sports Car will be electrified as early as next year with the arrival of the 2023 Chevrolet Corvette E-Ray.
What is it? The 2024 E-Ray is best thought of as a hybrid Corvette.  Yes, it will still feature an internal combustion engine as it creeps further and further over the boundary lines between fuel and electric, but it will also feature an "all-wheel-drive" platform of sorts – a 70-year first for the Corvette – as the front wheels will be equipped with electric drive motors that will help power the front wheels and increase the Corvette's overall horsepower exponentially by doing so.   This E-Ray is not to be confused with the announcement made by GM president Mark Reuss in April 2022 in which he stated that an all-electric Ultium-based Corvette was in development.
But why build a hybrid Corvette?  The answer, at least as explained by the folks at Motor Trend, is pretty clear.  Their argument is that the Corvette has "long been regarded as the most daily-drivable of high-performance sports cars, so adding a hybrid all-wheel-drive variant with price and performance in between the base Z51 and Z06 models extends its general usability by improving traction in foul weather—and when trying to route an extra 100-plus horsepower to the ground."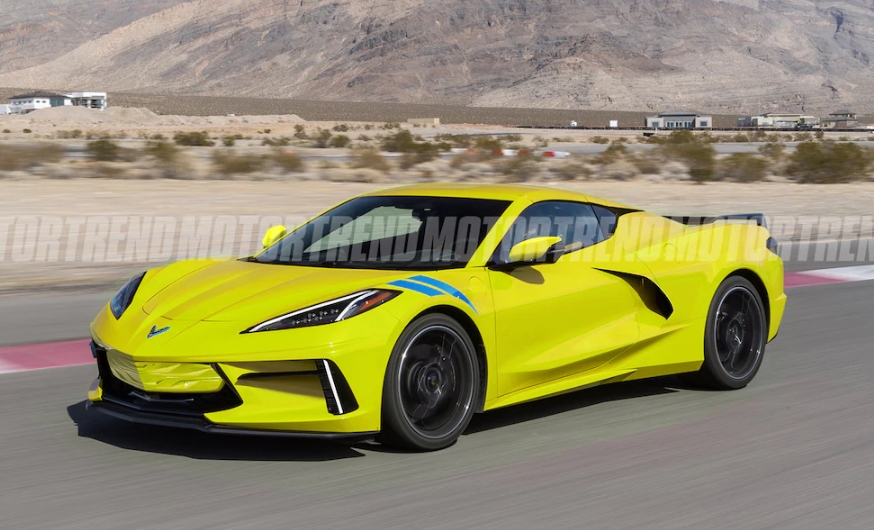 Corvette certainly wouldn't be the first to offer such a setup.  In fact, many of Europe's biggest and baddest – including Porsche, Ferrari, and Lamborghini – have all taken the route of creating hybrid performance with electric drive wheels paired with an internal combustion engine of some sort.  Chevrolet is just doing it cheaper than these other guys, offering options that include both a conventional 6.2-liter V8 engine along with the wilder  5.5-liter twin-turbo flat-plant V-8 (allegedly planned for the Corvette Zora model.)  Assuming that each of the electric motors placed at the front wheels produces an estimated 50 horsepower, then it is possible that some of these hybrid E-Ray's could easily be pushing the 600+ horsepower threshold….and when it comes to electric, there's no optimized power band.  The acceleration curve is not a curve at all, but a line that accelerates at a constant from zero to whatever top speed said motors can manage.
Given that early spy photos of these electric Corvettes don't readily reveal any charging ports, there is considerable speculation as to whether these cars will be charged solely by internal generators.  It also suggests that there will be more (or larger…or BOTH) batteries to help power those electric from wheels.  This could cause a partial elimination of the front trunk (FRUNK), but that remains to be seen.
While nothing official has been announced, speculation amongst those in the know put the price of the 2024 Corvette eRay at/around $90,000, putting it snugly between the base model coupe and convertible and the far more robust Z06.    It is believed that the 2024 Corvette E-Ray hybrid will go on sale sometime in 2023.