As if there isn't already enough excitement around the Corvette brand with the Z06 release, an oopsie moment by GM on their website visualizer reveals details on the upcoming E-Ray.
The E-Ray is slated for the summer of 2023 arrival (see more about the '23 Corvette), but I wouldn't hold your breath given how supply chain issues and other factors have delayed production times, leaving enthusiasts feeling like a 9-year-old eagerly waiting for Santa. While not fully an EV, the E-Ray will continue to use the LT2 V8 from the Stingray and add electric assist motors on the front axles, effectively making it the brand's first all-wheel drive Corvette.
These initial visualizer renderings show the widebody borrowed from the Z06, but it does appear all the trim will be in body color.  A tastefully located E-Ray badge is on the lower rear quarter panel and the corner-mounted exhausts from the Stingray are back, versus the center-mounted from the Z06.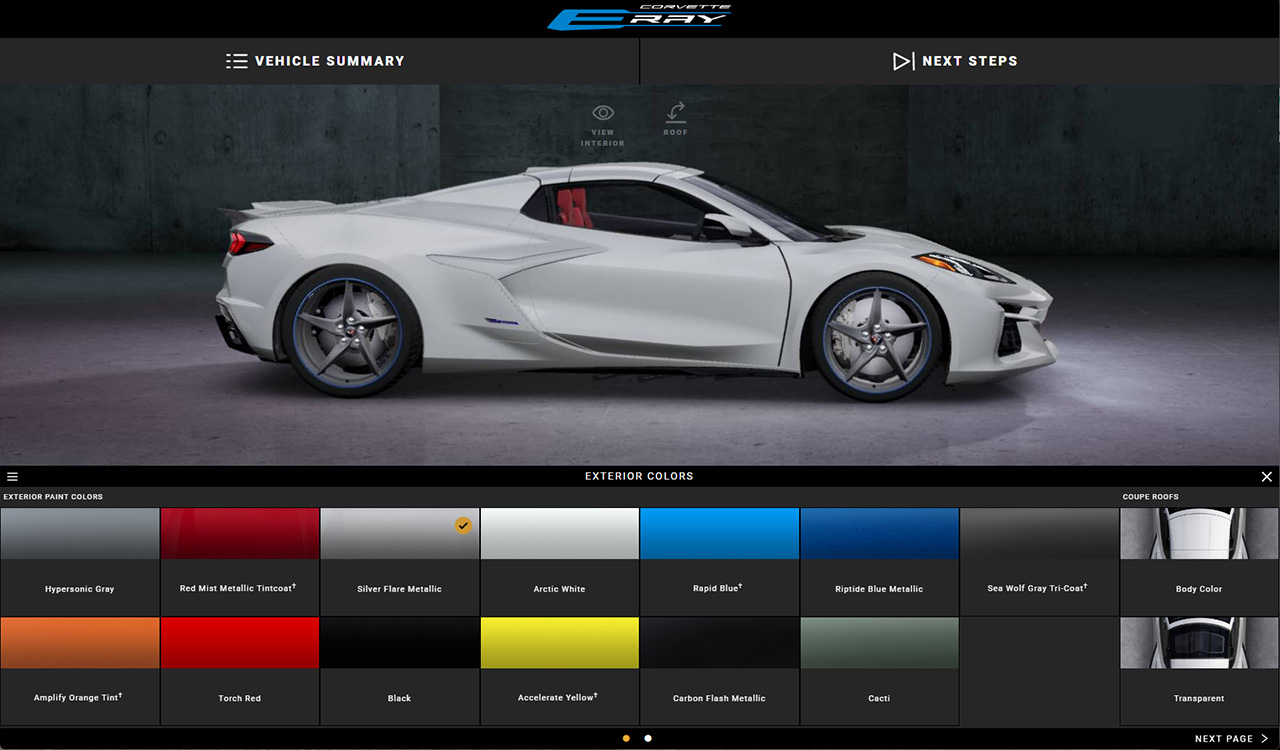 The visualizer also revealed that the 2024 E-Ray will have its own Performance Package, known as ZER.  When checked your E-Ray will come with Carbon Fiber wheels, Michelin Pilot Sport 4S tires, underbody strakes for aero efficiency, and possibly Carbon Ceramic brakes and the high wing from the Z07.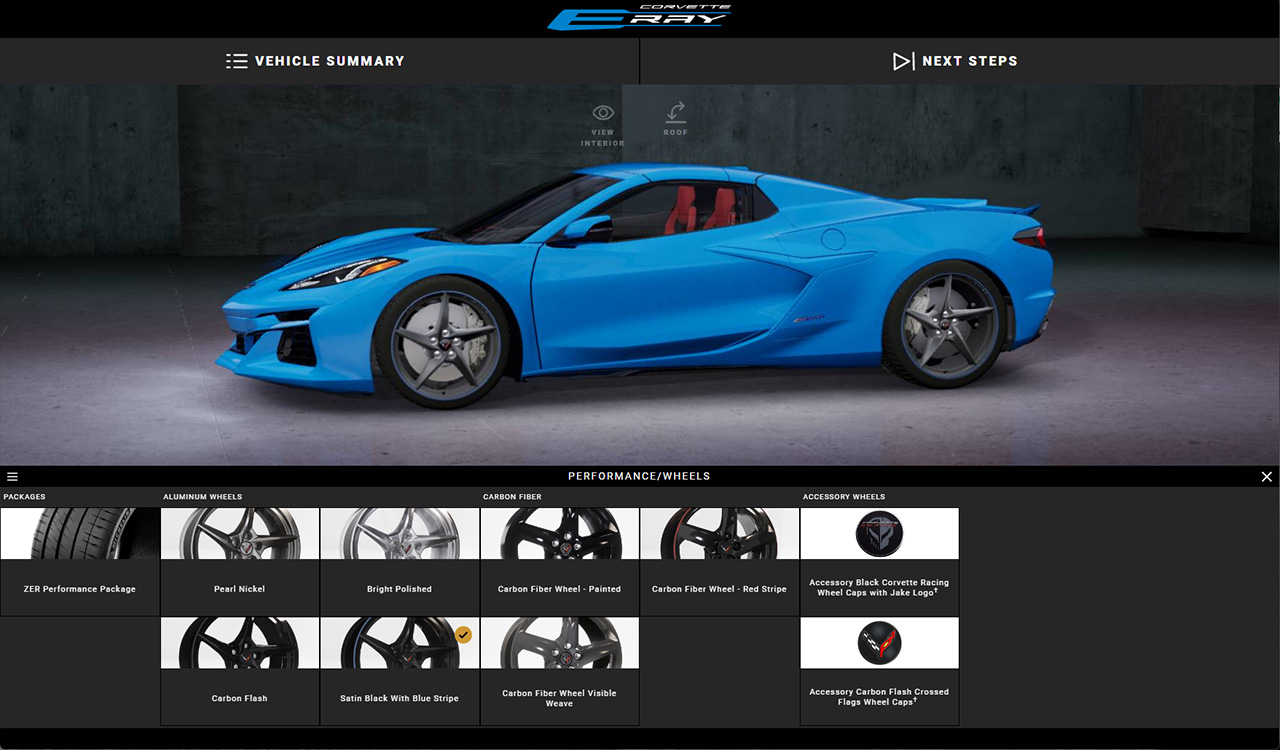 The interior is reported to have only minor changes, notably a button subtly located below where your elbow would be, which would be for a ReGen on Demand system that uses the electric motors to slow down the car and charge the batteries when the driver lifts off the accelerator.  A second button is also unique to the E-Ray and would allow for the driver to control turning off the motor while stationary.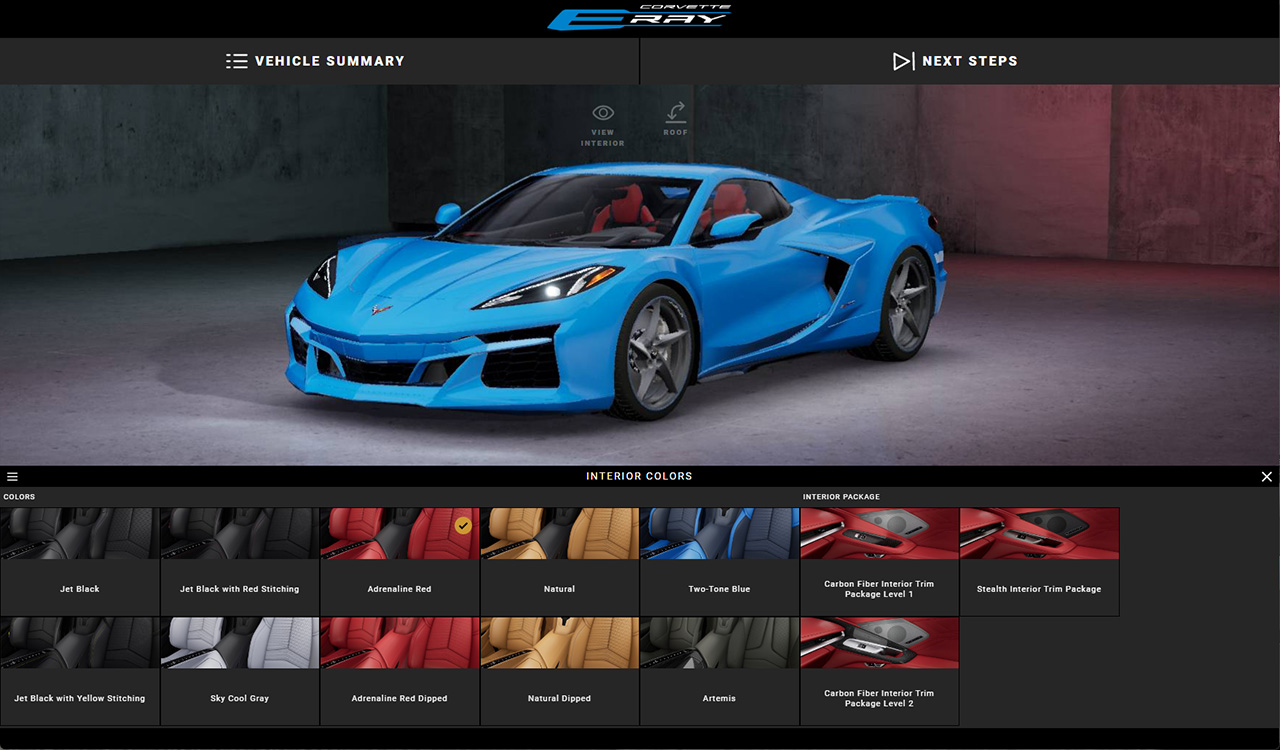 According to Rick Conti's Youtube channel, some other unique features will be an updated infotainment screen which will show "E-AWD" data like system charge level, gained boost, and calculated fuel savings, and of course some cool E-Ray specific animations.  And the Driver Information Center (DIC) will now have an E-AWD light that will be illuminated while the system is engaging.
All this E-Ray tech is predicted to put the horsepower over 600 and raise the torque substantially over the 460 ft/lb from the LT2. There's a lot more excitement circling this new hybrid Corvette, so be sure to check back often.  The visualizer wasn't up for long before GM realized it's mistake.  Their parting words: "Looks like the holidays came early for a few astute Corvette fans. Stay tuned for more," a company spokesman said.
I'd love to hear your comments and thoughts, scroll all the way down and hit "show comments" to open up the "Leave a Reply" box and let's get the conversation started!  Douglas B.