A little while back, we brought to you a feature on the awesome new aftermarket parts offered for the Corvette C8 by American Hydrocarbon. The feature was so well received that we thought it was something owners of the last front-engined Corvette, the mighty C7, would also be interested in.
American Hydrocarbon, for those that did not see the original article, is a 100% United-States-of-America-based, owned, and operated company that specializes in Corvette aftermarket parts. What sets them apart from a lot of other third party companies, however, is that they also manufacture all of those parts right here in the USA. Even better is that for most of the products they make for each generation of Corvette, they are recognized by GM as being OEM grade replacement parts.
Of course, with the Corvette C7 having been out for a much longer time than the C8 has been, their catalog of parts for it is quite extensive and includes much more than just engine covers. It is our intention with this feature, then, to showcase what we think are the best of the best parts in each catalog category while also giving you a good overview of what some plain old American design and engineering can do.
Corvette C7 Engine Bay
Just as with the C8, the biggest section of the catalog for the C7 from American Hydrocarbon is the engine bay. No matter what you need—from an engine cover to a brake booster cover or one of the available full kits that adds a completely new look to your engine bay—it's available here.
OEM Replacement Fuse Box Cover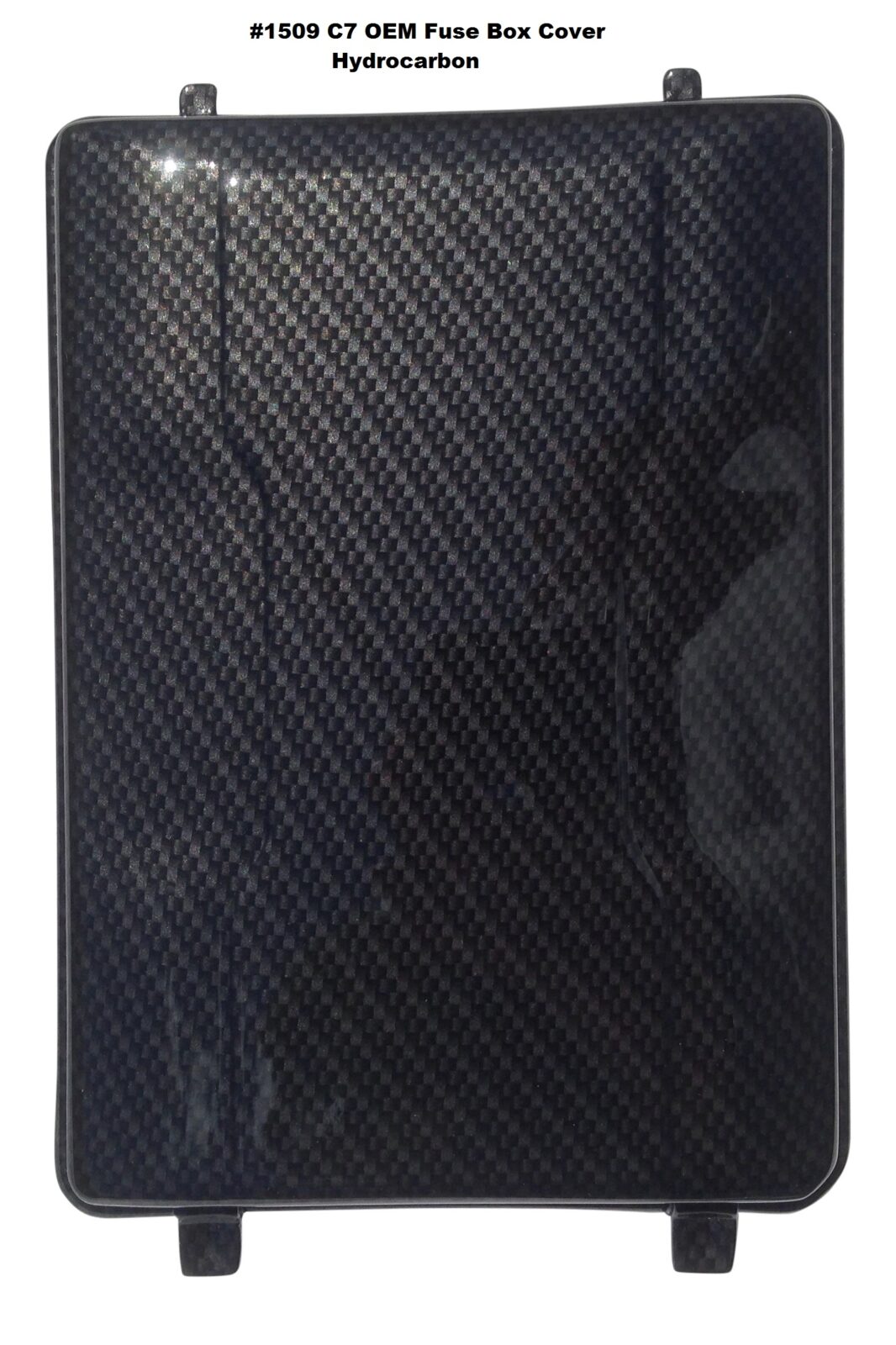 Yes, it is a piece of the whole car that is rarely seen. But who said you can't spruce up a Corvette C7 for your own enjoyment? That's where this full carbon fiber fuse box replacement cover comes in, giving even the electronics of your car that premium look instead of the regular black plastic cover. It may not be seen by many, but every time you need to inspect a fuse or change one out, you'll get that little smile tugging at the corner of your lips.
Corvette C7 Engine Bay Starter Pack, 3 Pieces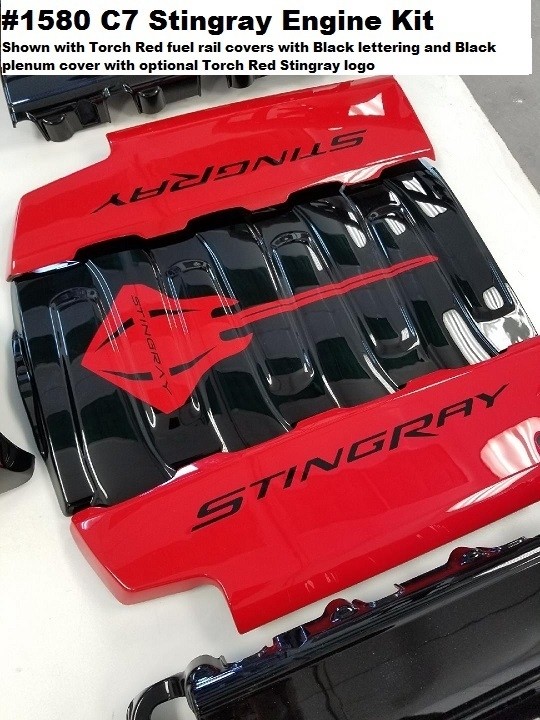 For those wanting to dip their toes into engine bay aesthetic mods, American Hydrocarbon has a starter pack that is perfect for you. Consisting of an intake plenum cover and two fuel rail covers, the 3 Piece Starter Pack adds a bit of visual punch without needing you to spend a full day buried up to your elbows to make things look good.
Made from automotive grade fiberglass, you also don't have to worry about heat warping or melting like you do with most plastic aftermarket mods. A variety of logos, color combinations, and lettering is also available, all made to order.
Corvette C7 Engine Bay 5-Piece "Other Covers" Kit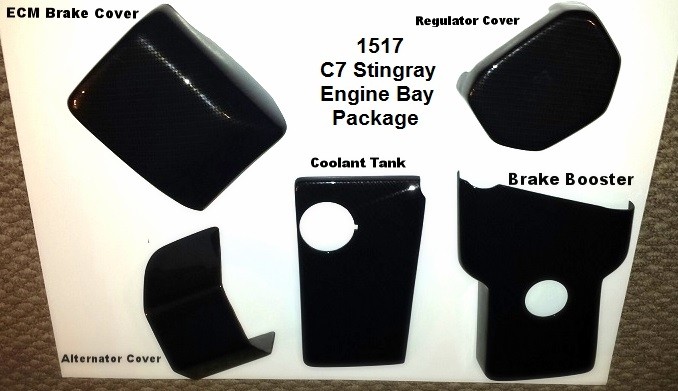 In case you were worried that American Hydrocarbon had forgotten about the non-engine covers that are in the C7's engine bay, they haven't. While each of these covers are available individually, by buying all these "Other Covers" in a 5-piece kit, you not only get them all made at the same time out of hand-laid automotive grade fiberglass; you also end up saving a good chunk of change as well.
As with all American Hydrocarbon pieces, it's not just a make-and-ship set. Each piece is painted to the color and pattern you select, and then is sealed in five coats of PPG UV clearcoat, so if your Corvette C7 is going to be a show car, you can have the hood open all day outside in the sun without having to worry about fading.
Corvette C7 Engine Bay 14-Piece Show Kit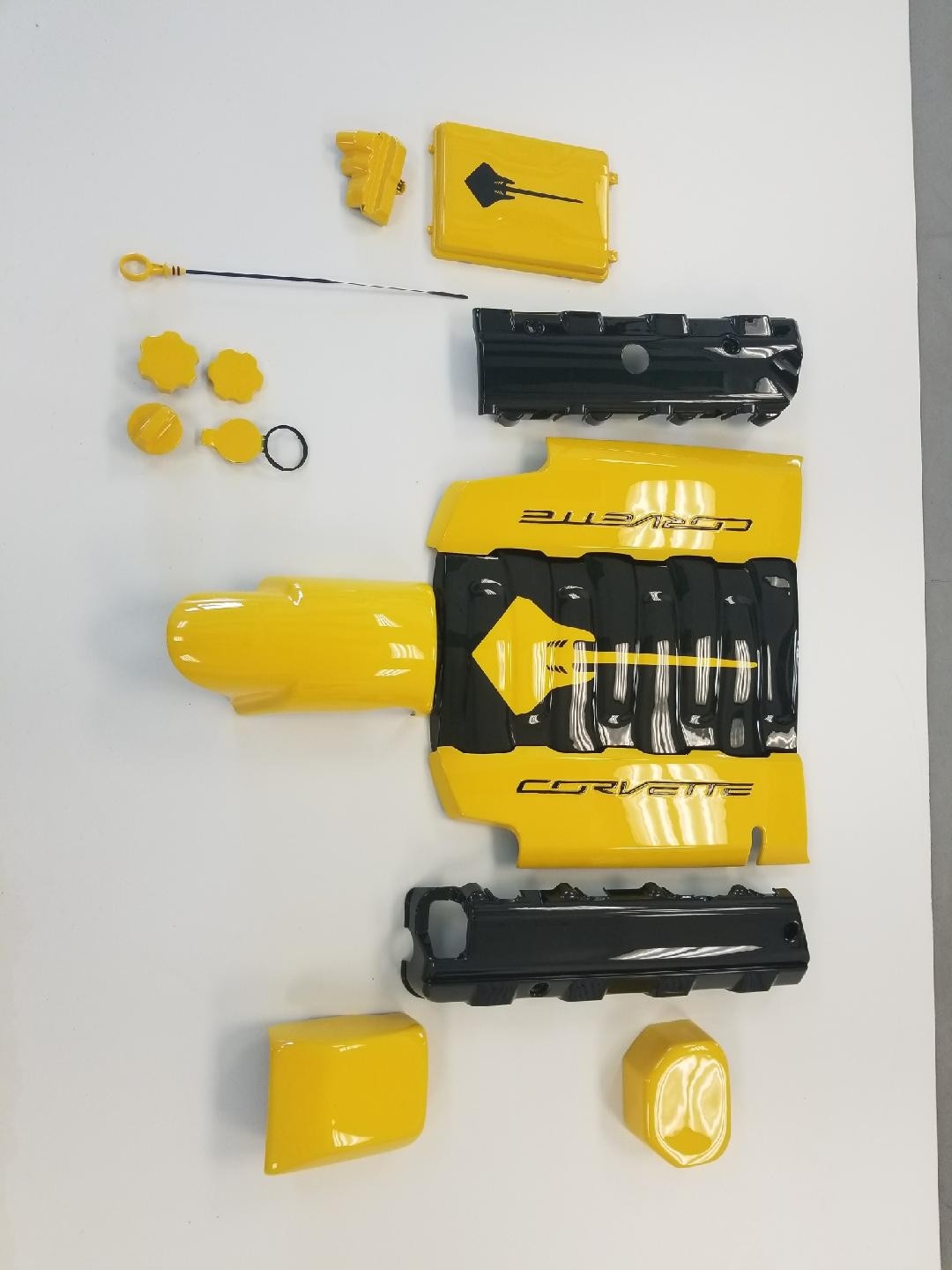 Jumping a bit in price, but also in the amount of things you get in the kit, the 14 piece Show Kit has everything you need to impress the judges of any competition that has the "Aftermarket Mods" class trophy up for grabs.
The 14 pieces are 2x OEM lower coil pack covers, 2x OEM fuel rail covers, a full plenum cover, 4x OEM engine fluid replacement caps with a replacement dipstick, an OEM fuse box cover, a brake booster/regulator cover, an alternator cover, an ECM cover, and a throttle body shroud/cover.
When installed, the full kit from the picture above looks like this, with the alternator cover and brake booster cover emphasized in red: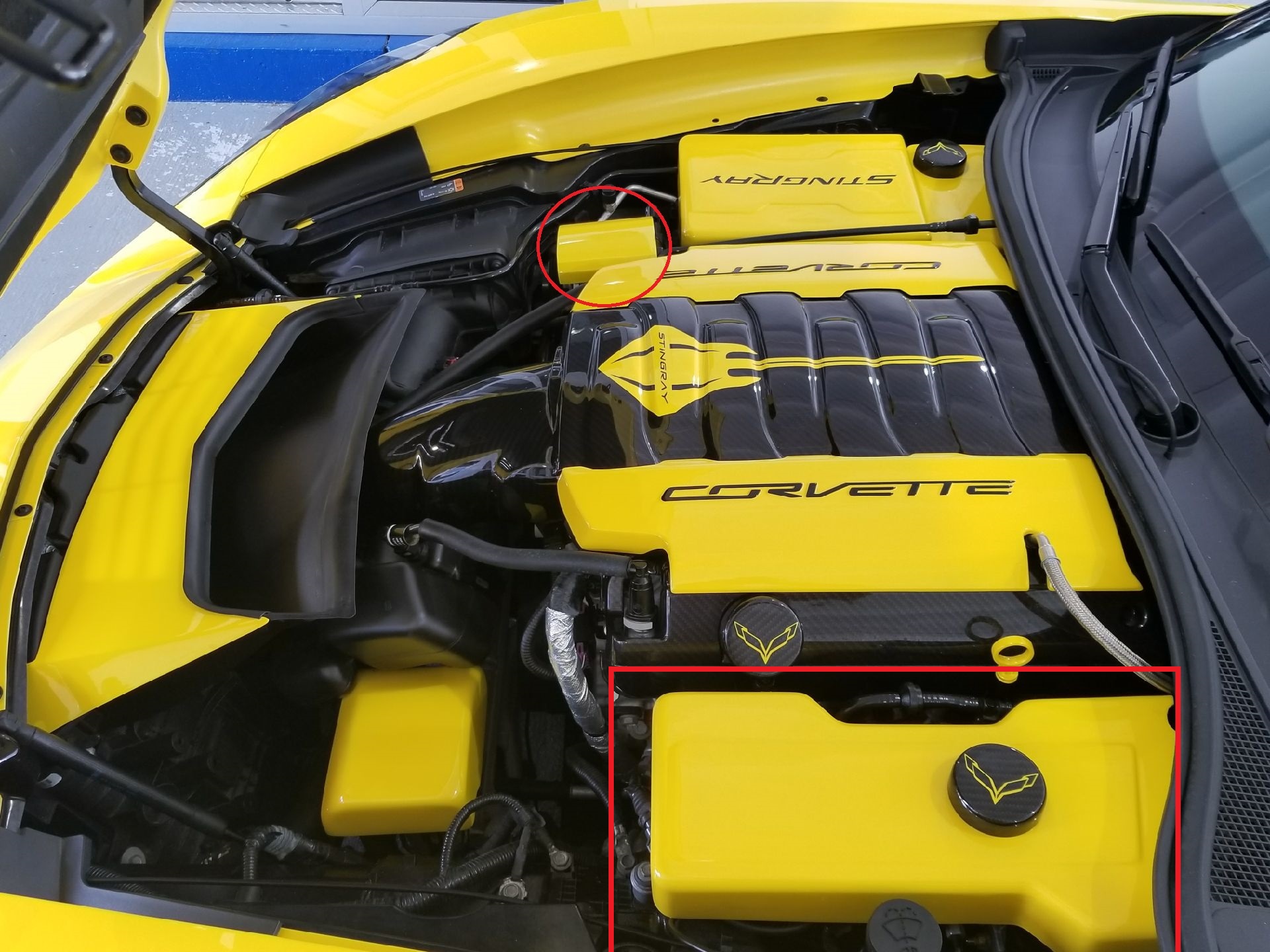 You can have all the pieces in one color, or select a two-tone pattern such as with the yellow and black combo that is on the American Hydrocarbon demonstrator. Of course, by buying the kit instead of individual pieces, there are some built in savings, and as each kit is made to order, competition grade quality is assured each and every time.
Corvette C7 21-Piece Complete Engine Bay Kit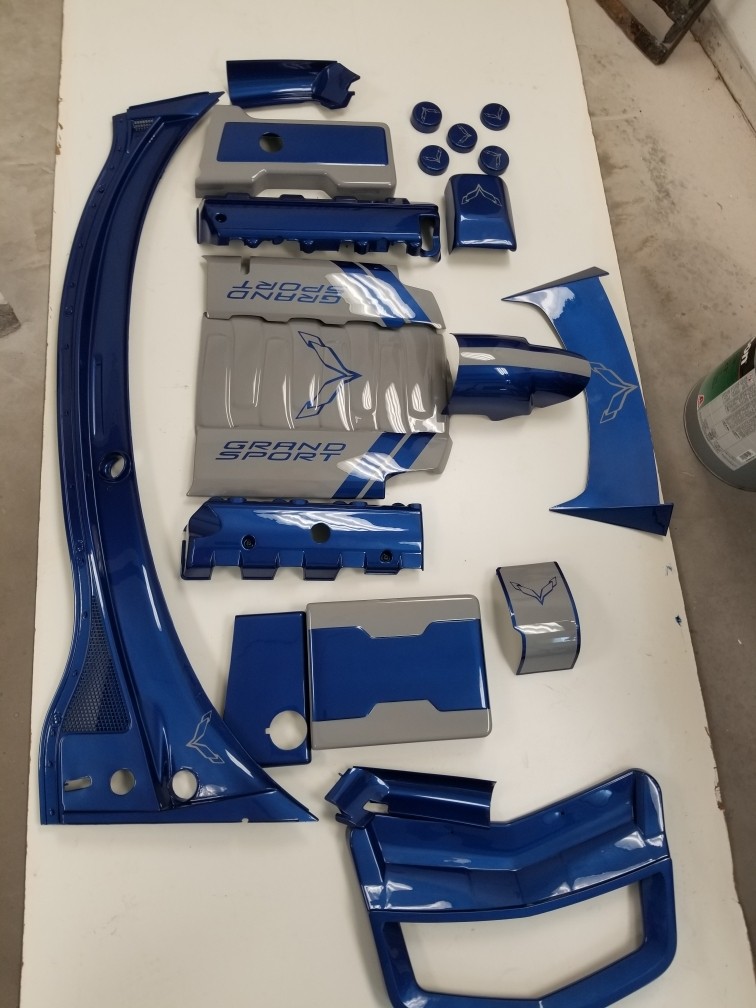 This is the kit that you get when you want to completely change the look of your engine bay. It's not called the 21-piece Complete Engine Bay kit just because it sounds cool. If it can be changed out or covered, this kit has the parts for it.
As with the other covers and pieces, everything is hand-laid automotive-grade fiberglass, painted and protected with five coats of PPC UV clear. Because of the tight relationship between American Hydrocarbon and GM, each piece has been verified to fit as OEM replacement pieces, or to tightly fit over OEM parts for things such as the brake booster cover.
Corvette C7 Interior
While engine bay mods are awesome, they are often only seen when the hood is open. By also making a full series of Corvette C7 interior replacement pieces and covers, not only can you have a kickass engine bay, but an interior to match as well!
Corvette C7 Custom Door Sills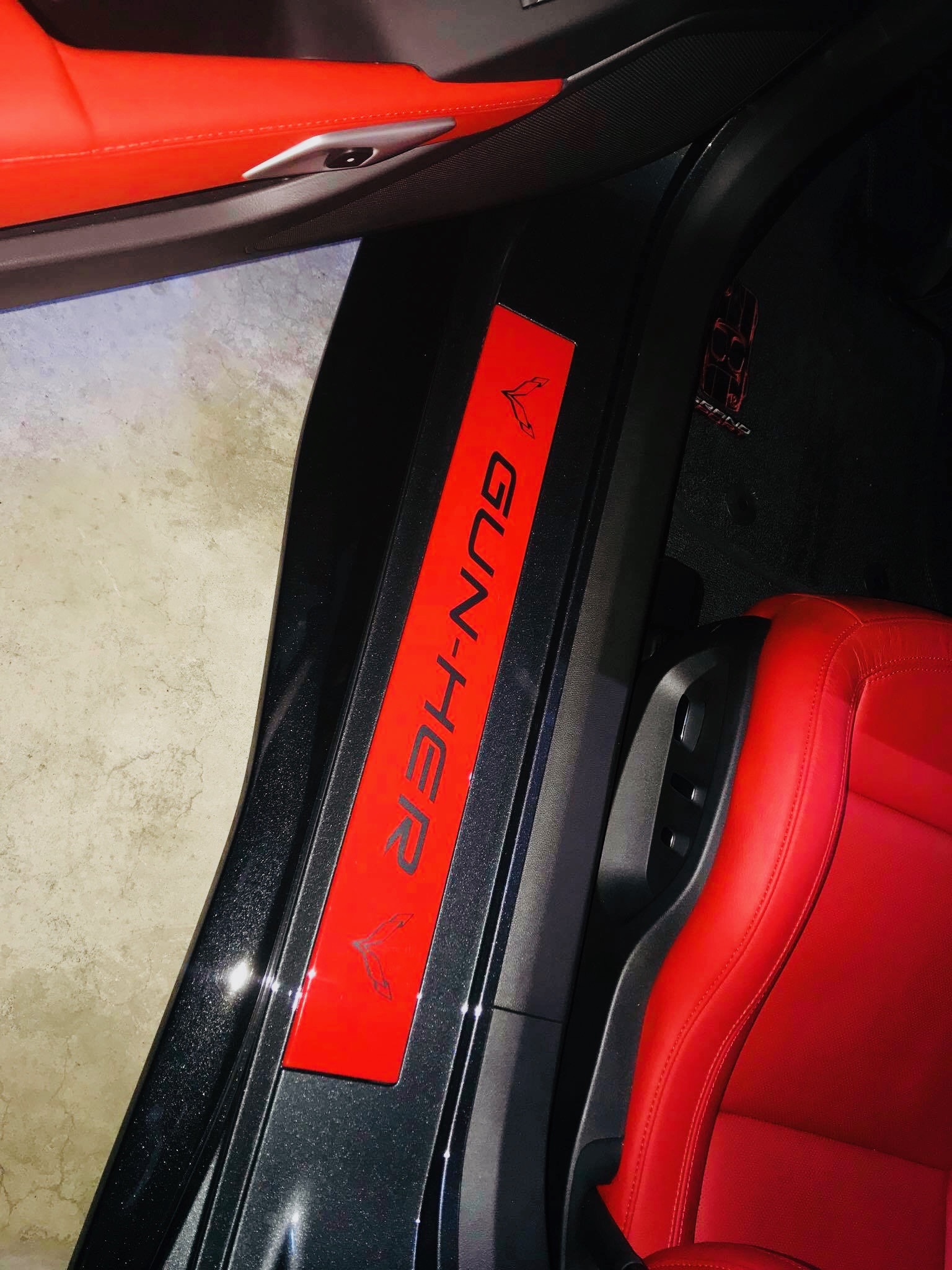 Named your car? Want to add a bit of flair when you open the doors? American Hydrocarbon can make custom door sill panels to add that personal touch you've always wanted. As standard, there are multiple options of the Corvette name, model name, the flag logo, or combination of flags and names, in a variety of color combinations and texture options.
For an added $75, however, you can have a custom logo and/or custom name, lettering, and color combination made just for your car, and your car alone. An example are the two Corvette flag logos on either end of the custom name (pictured above) that suggest what an American V8 is good at doing…
As the C7 Z06 has slightly differently-shaped sills, there is a separate option for those sill plates specifically—but the prices remain the same for any of the standard or custom options.
Price:

$495.00 (add $75.00 for customized name/logo)
Corvette C7 Replacement Shifter Console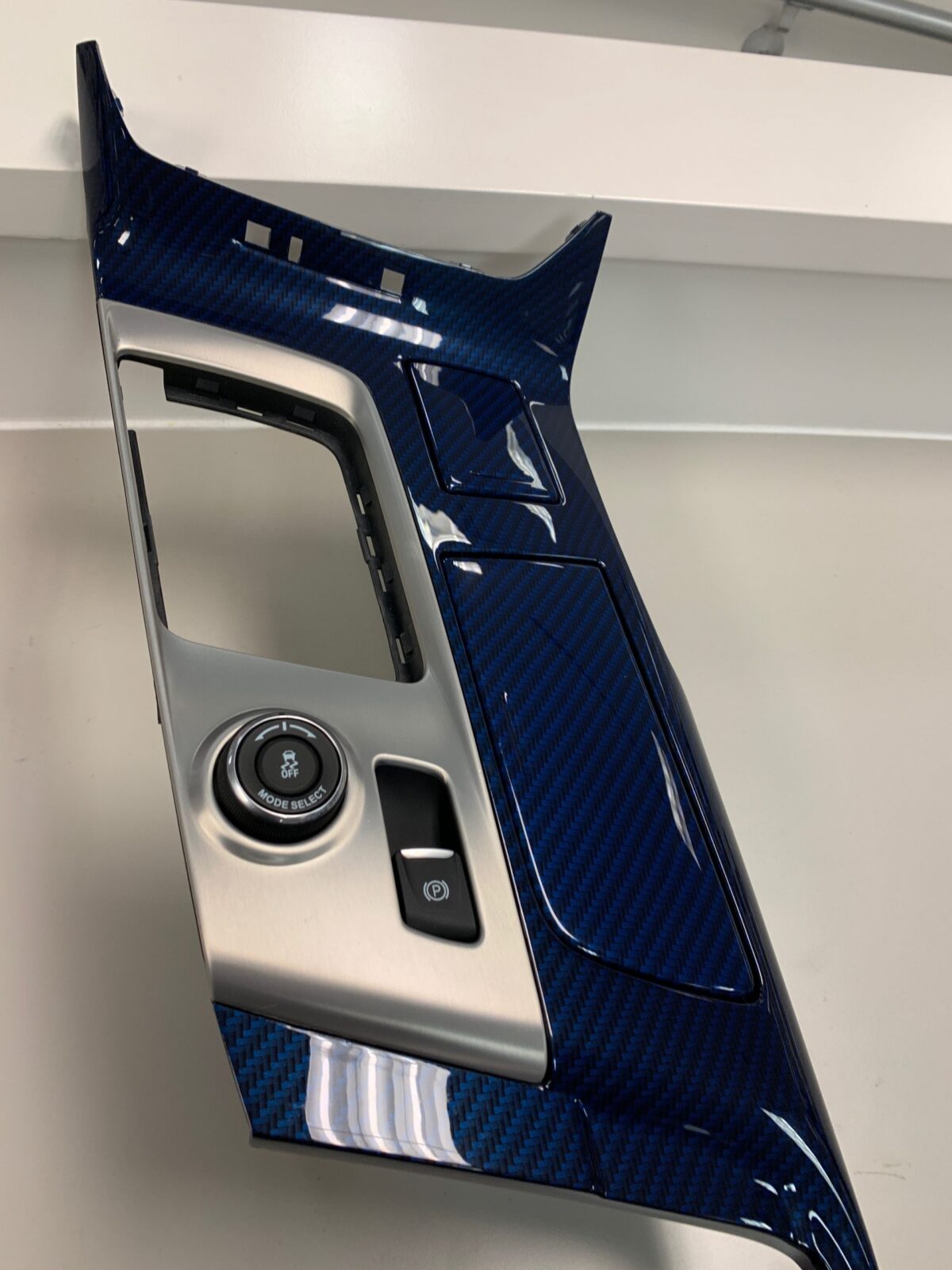 Ever wanted to give the shifter console your own custom look? Then American Hydrocarbon has you covered. With literally hundreds of color and texture combinations possible, you can make your shifter console area completely your own!
What is particularly noteworthy here is that unlike many other aftermarket console replacement pieces, this one comes with the cup holder door and power socket cover included at no extra charge—and made to the exacting standards of American Hydrocarbon. You can also go so far as to have the silver shifter surround painted to different colors and textures.
A piece with the silver plate also painted, however, looks like this when installed on the American Hydrocarbon demonstrator car: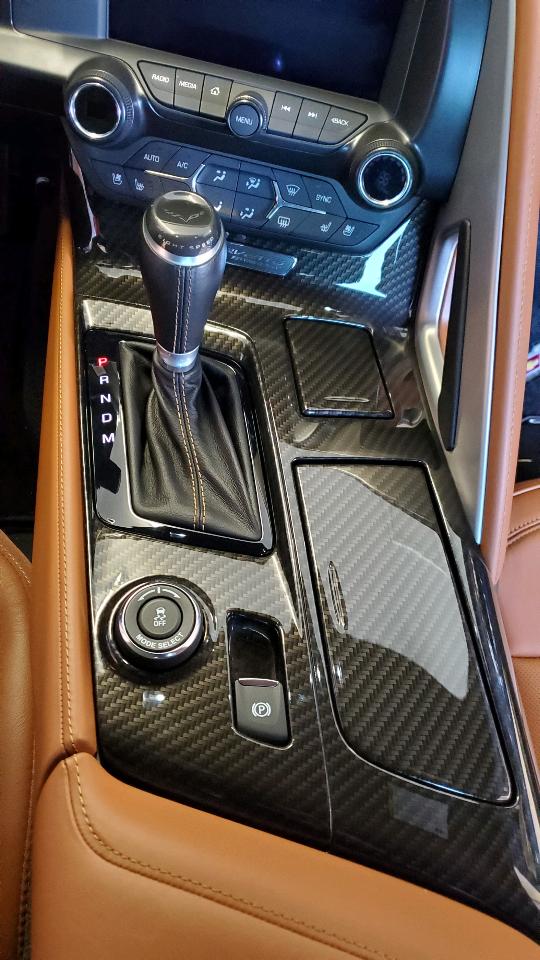 Basically, mix and match to your heart's content!
Price:

$595.00 (add $25.00 to paint the silver shift plate as well)

Where to Buy:

American Hydrocarbon
Corvette C7 Seat Back Panels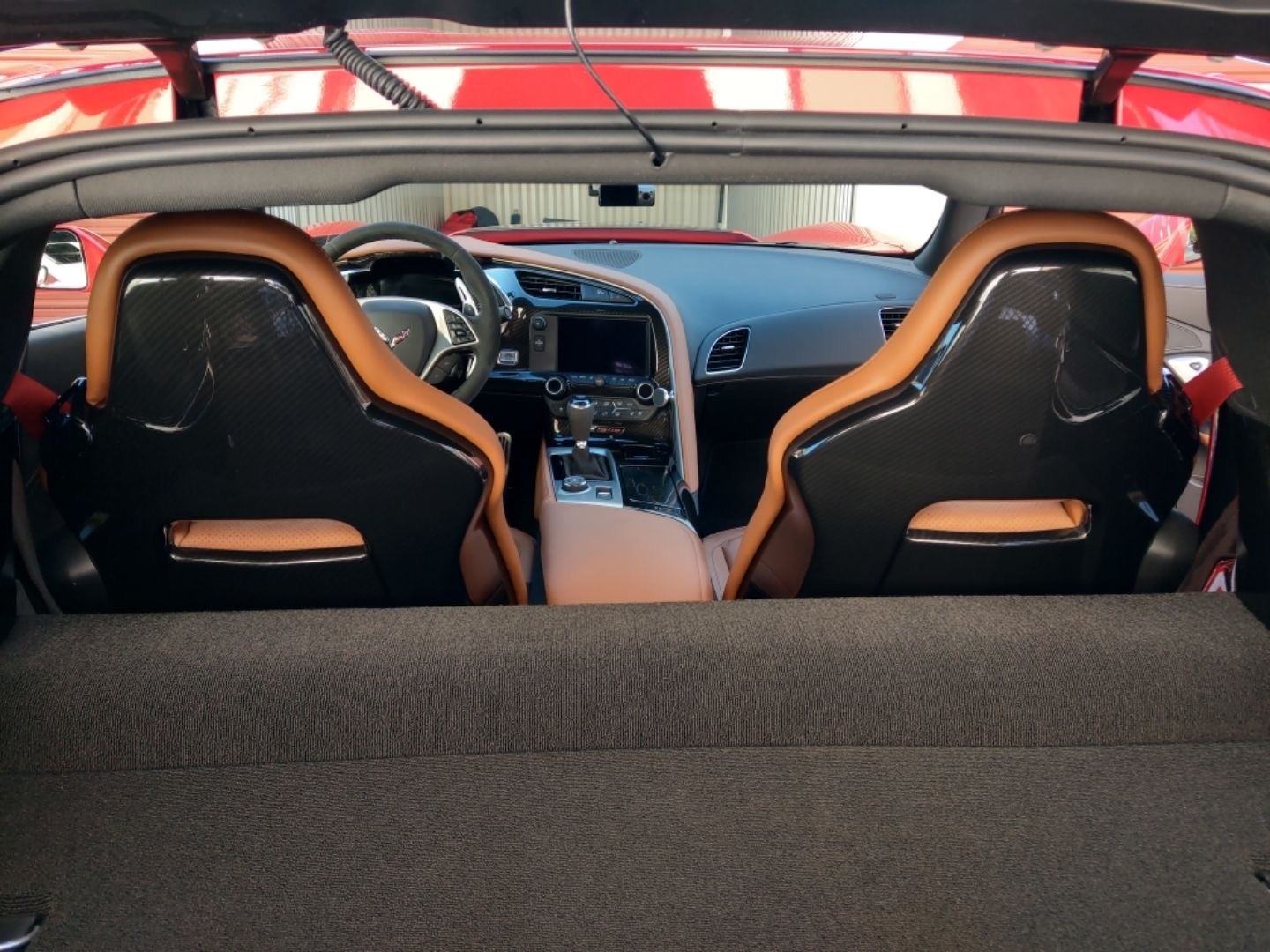 When American Hydrocarbon says that they do aftermarket bits for almost every part of a Corvette's aesthetics, you think they'd stop at the seat backs for the C7? Hell no!
You can customize the color, the texture, what cargo pockets are included, and even the targa top holders of the seat backs. Also, being GM OEM authorized, these replacement seat back panels are guaranteed to fit 100% of the time, so you can order without worry!
Corvette C7 Complete 12-Piece Interior Conversion Kit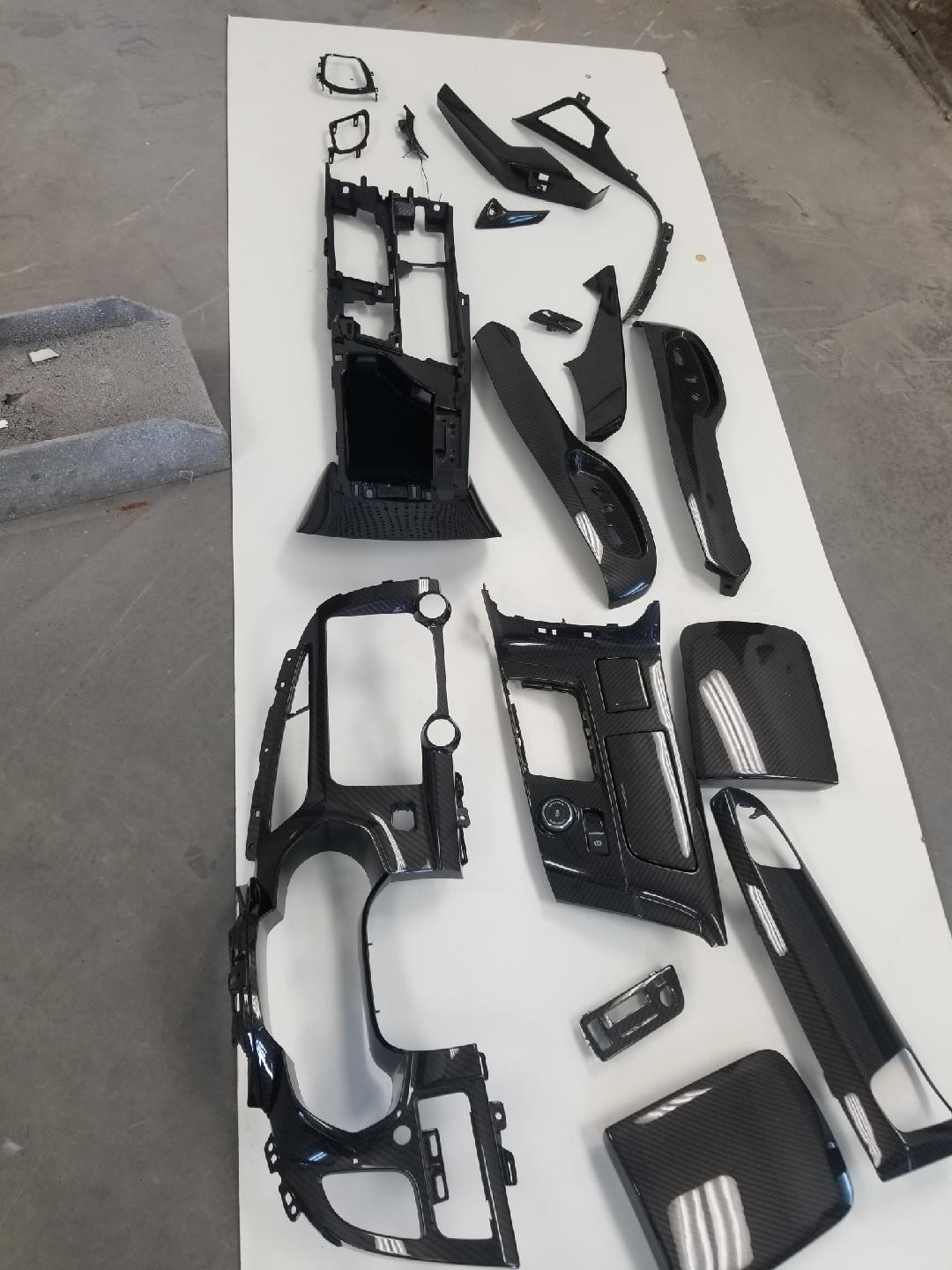 Much like with the engine bay pieces, American Hydrocarbon has also assembled a complete interior panels replacement kit including 12 parts that are individually available. When bought as a kit, however, you'll save upwards of $700!
This kit will replace the outer seat control covers, the main dash surround, the HUD cover, the center console and central arm rest, the passenger grab handle, the door window control surrounds and trim, and the door button bezels.
You can also optionally add replacement door sill kick plates and lower trim plates, or replacement B pillar covers for $1,100 or $900 (respectively)—but are not forced to in any way.
Corvette C7 Exterior
While the catalog here is not as in depth as the interior and engine bay options, most of the aftermarket pieces by American Hydrocarbon for the C7's exterior are aerodynamically functional as well as highly aesthetic.
Corvette C7 Door Holders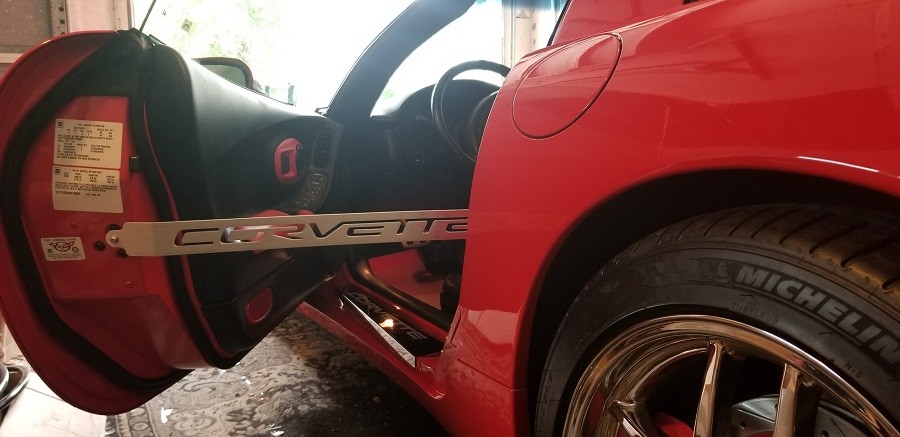 Something we had never thought of was an upgrade that would hold a Corvette door open, but not wide open on a hinge stop, nor almost closed. What American Hydrocarbon has made with these door holders is something useful both for entering your Corvette into shows as well as for working around or under the door if you need it open.
These milled Aluminum holders act like the door mechanism, clicking into place with one end over the door pin, and the other with a pin that slots home into the door release. This prevents the door suddenly being whipped open in a gust of wind, or closing if the car is on a slight incline to either side. These are perfect for outdoor show-and-shines as well, letting people see the work you've done on the interior while also providing a natural barrier so they don't lean in too close.
Corvette C7 OEM Or Carbon Fiber Replacement Rear Valance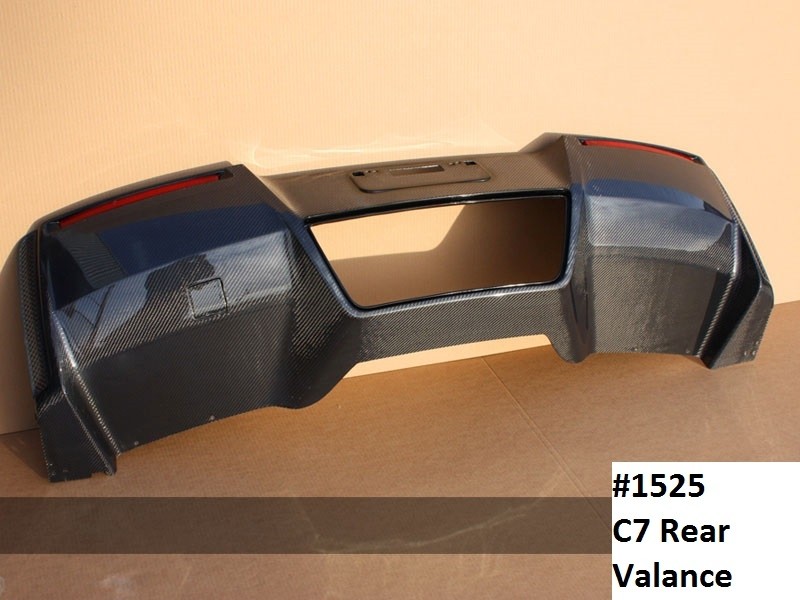 Whether you're looking to replace a cracked or mildly-damaged valance and want to spruce up the looks of your car or you're going for a full carbon fiber replacement of the lower valance, American Hydrocarbon has options for both.
If you are looking to have a spruced up replacement, you can choose the color and pattern you would like to have applied, as well as whether you want it to be glossy for a show car, or matte for daily driving. However, if you want to have the valance made out of actual carbon fiber, it's only in the name of the company: American Hydrocarbon.
Hand-laid in Florida, the carbon fiber is resin pre-impregnated and shaped to a mold before being baked in an autoclave at very high heat in a vacuum to set. Once it's set, it is hand-trimmed to make sure there are no unsightly burrs or threads of carbon sticking out. It is then polished and sealed with a PPG UV clear coat.
Corvette C7 Grand Sport & Z06 OEM Appearance Package Stage 2 / 3 Front Splitter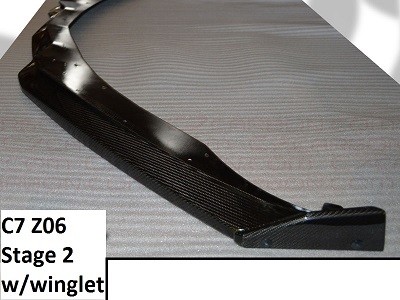 Apart from being a mouthful, the fact is that you can get an OEM grade stage 2 or 3 front splitter, with or without winglets, which was an option for the Grand Sport and Z06 Corvettes as part of the appearance and performance packages.
What's more, with American Hydrocarbon being GM certified for OEM replacements, you'll get the quality of hand-laid automotive fiberglass construction coupled with the option to customize or even personalize the splitter.
These splitters are guaranteed to fit the Z06 and Grand Sport, but with a little wiggling, will also fit the standard Corvette C7. The stage 2 splitter can be ordered with or without winglets, and the Z07 Performance Package stage 3 splitter can also have the winglets removed if you don't want them.
In other words, as with most of American Hydrocarbon's products, it's up to you to determine exactly what you want, and they will build it to order for you!
Should You Customize Your Corvette C7 With American Hydrocarbon?
While only some of the hundreds of modifications that American Hydrocarbon makes for the Corvette C7 have been highlighted above, there have been two recurring themes throughout all the featured products: they are American made, and they are fully customizable.
What happens with a lot of aftermarket modding companies is that they will say that they are all-American, and will have their designers and engineers based in the USA, but will outsource their actual fabrication offshore. Often, you will find a little sticker or note on the shipping box that will say things like "Made in [Insert Offshore Country]," "Basic production in [Country], finished in America," and the like.
Not so with American Hydrocarbon. Headquartered in North Carolina, the headquarters is also where their production of hand-laid fiberglass OEM parts is handled, and they ensure their fiberglass, if at all possible, is made in America as well.
For the higher end carbon fiber pieces, they also have a production facility in Florida, where expert craftsmen lay down, bake, set, trim, polish, and paint each piece by hand.
Because of this production process, it also means that turnaround times from order to delivery are cut nearly in half compared to other companies, which need to ship the finished pieces to the USA first before they go out for delivery. You will often find that your American Hydrocarbon parts arrive in less than four weeks. It also means that a whole slew of customization options are available, from custom lettering, names, and logos, to fully custom pieces made out of fiberglass or carbon fiber!
To top that even further, every part manufactured and sold by American Hydrocarbon, as long as it is handled and installed as per the provided instructions, carries a lifetime warranty against cracking, fading, or peeling. If any of those things happen, you can simply contact the customer service department, and they will handle everything needed from there at no extra charge to you!
All images via American Hydrocarbon.