While the Corvette, in its current form, is synonymous with unrelenting power and performance might, this was not always the case. Quite the contrary, the Corvette barely mustered 150 HP upon its initial release in 1953. Even by the standards of yesteryear, one would be hard-pressed to have referred to the earliest of Corvettes as fast or performance-minded, by any stretch of the imagination.
This fact was widely known and often ridiculed by critics, as many questioned what role of significance the Corvette would truly play in the American sports car market. These early criticisms were widely reflected by sales numbers of the era, as only 700 Corvettes were sold during the car's first year on the market.
Following only two years of production, the Corvette's future appeared bleak, as talk began to circulate about discontinuing the line in its entirety. However, the well-timed advent of Chevrolet's newest powerplant would soon rescue the Corvette from almost certain demise.
For more information on the C1 Corvette, head over to the C1 Corvette buyers guide.
265ci V8 History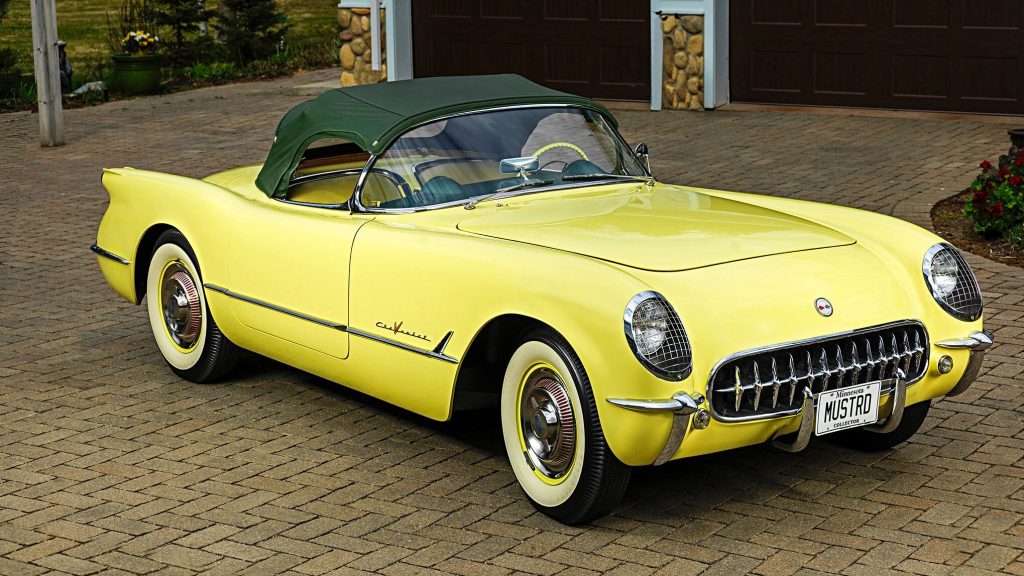 With the Corvette on the ropes, all within Chevrolet's design department knew that change had to come quickly if a premature end to their flagship project was to be avoided. Few within Chevrolet's ranks were as adamant in their insistence toward boosting the Corvette's output as newly-hired engineer, Zora Arkus-Duntov. Duntov, an avid racer and virtuoso of all things performance, knew that the Corvette stood little hope of surviving, without an optional V8 engine.
In fact, Duntov had penned a memo entitled, "Thoughts Pertaining To Youth, Hot Rodders, and Chevrolet," two years prior, which was addressed to Chevrolet Chief Engineer, Ed Cole. Luckily, Cole never forgot Duntov's memo and had since begun work on a small-block V8 powerplant, which he felt held significant potential.
Coincidentally, it would be Duntov himself who would contribute numerous performance-related modifications to Cole's new small-block, which would ultimately prove to be immensely popular with consumers.
Initial plans had been scrambled for the development and production of a 231 cubic-inch small-block, though Cole himself later opted for an increase in displacement to 265 cubic-inches. He then calculated the exact bore and stroke figures that were needed in order to achieve this desired displacement.
With the assistance of fellow engineers, Ed Kelly and Harry Barr, Cole began pre-production and testing of his newly designed small-block V8. The engine platform itself proved viable, though it still lacked a certain degree of performance acuity.
In a bid to bolster the 265 cubic-inch small block's output, Arkus-Duntov engineered a revolutionary high-lift camshaft, which would prove to be of significant value. Known internally as the "Duntov Cam", this camshaft provided the 265ci V8 with an additional 33 HP, bringing total engine output to 195 HP at 5000 RPM, and 260 lb-ft of torque at 300 RPM.
With developmental efforts complete, factory production of the 265ci small-block V8 began. This engine would be offered as an upgraded powerplant option for the 1955 model year and would become standard in 1956.
265ci Small-Block Tech Specifications and Configurations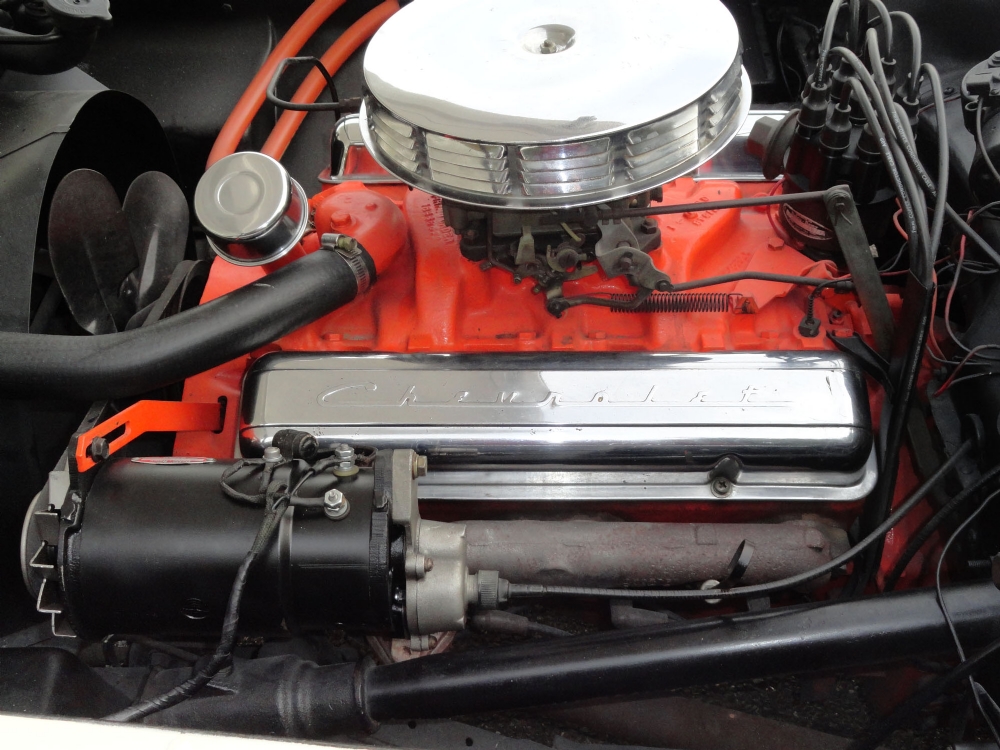 The 265 cubic-inch V8 featured a cast-iron engine block, as well as cast iron cylinder heads, and utilized a press forged steel crankshaft. Autothermic aluminum three-ring pistons were also standard fare. The 265ci featured 3.5" bore diameters and a 3" stroke, with 4.4" bore spacing. All 1955 model engines also carried an 8.0:1 compression ratio.
When equipped in the Corvette, the 265ci small-block featured a high-lift "Duntov" camshaft, which actuated a set of hydraulic lifters. Atop these lifters resided hollow push rods, which provided splash lubrication for the engine's rocker arms and valve stems.
Of significant interest was the 265ci's valvetrain. This engine utilized independent rocker arms, as opposed to a single common rocker shaft. Each rocker arm was retained by an individual fulcrum ball and locknut. While this design is run of the mill by today's standards, it was considered groundbreaking technology in 1955.
Chevrolet's revolutionary small-block was fitted with a specialty intake manifold, which supplied water to both heads through a common outlet. This intake was topped with a single four-barrel carburetor.
When fitted with the 265ci small-block V8, the 1955 Corvette was capable of reaching top speeds in excess of 120 MPH and could accelerate from 0-60 MPH in 8.5 seconds. The 1955 Corvette also posted ¼ mile times of only 16.5 seconds. While these figures do not seem overwhelming by today's standards, they were considered exemplary in 1955.
265ci Specs Index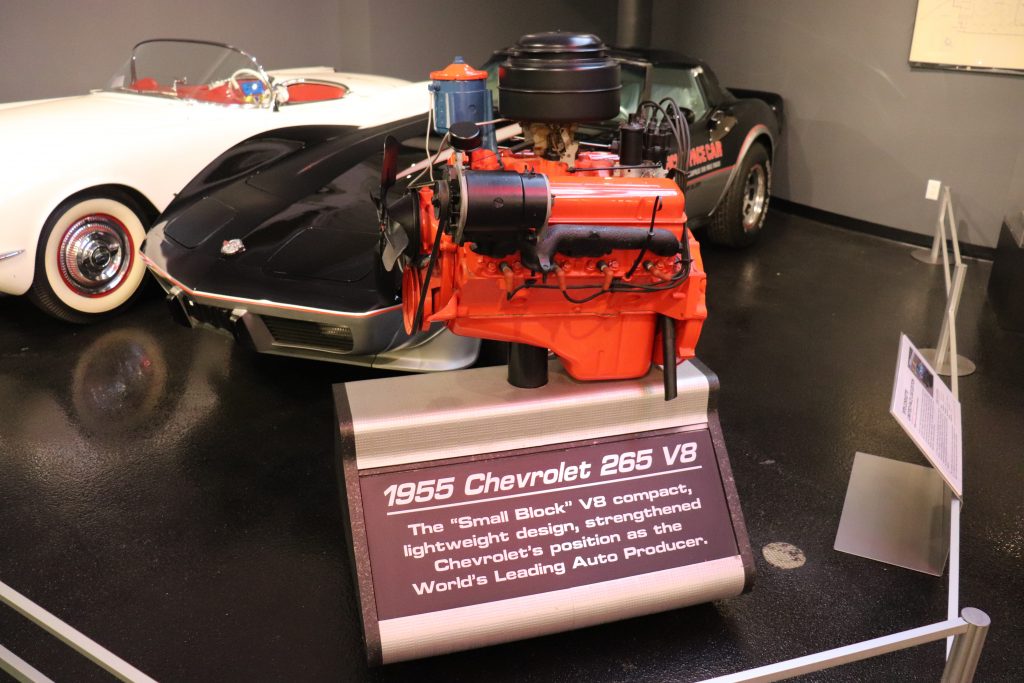 Horsepower: 195hp @ 5000 RPM
Torque: 260 lb-ft @ 3000 RPM
Compression Ratio: 8.0:1
Displacement: 265 cubic inches (4.3L)
Cylinder Bore: 3.5" (88.9mm)
Stroke: 3.0" (76.2mm)
Alternative Uses
The 265 cubic-inch small-block V8 was also used in a number of GM's passenger cars during the mid-1960s, perhaps most notably in conjunction with the Bel Air. However, in its passenger car form, the 265ci was tuned down, providing suppressed performance over that which found its home under the hood of the Corvette. In fact, when equipped in the Corvette, the 265ci produced an additional 33 HP, over Chevrolet's standard small-block offering.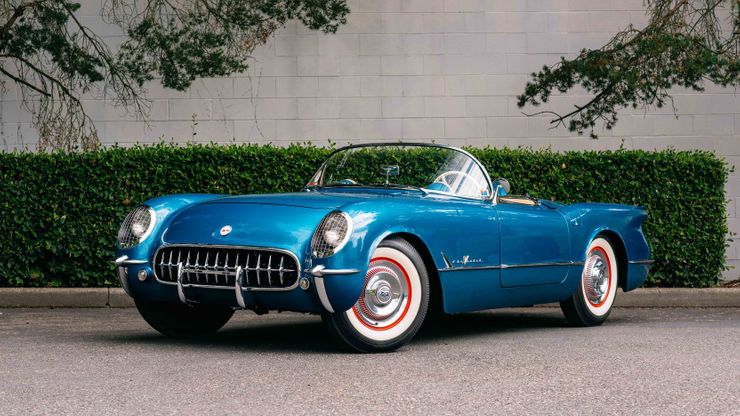 The Birth Of A Legend
At the time of its development, few could have imagined just how long-lasting the 265ci small block's impact on Corvette production would be. Today, it would be difficult to imagine the Corvette without a GM engineered small-block under the hood. However, in 1955, the Corvette was simply fighting for survival, and the newly designed small-block V8 rescued the iconic American sports car line from an imminent demise. For all intents and purposes, without the 265ci small-block V8, the Corvette would have never made it out of its infancy.