The 1963 Split Window Is Voted – BY YOU – as the Greatest Second-Generation Corvette of All Time!
We asked and you answered!  Last week, we posted a poll on our Facebook page asking you to tell us which second-generation (C2) Corvette you thought was the "Greatest Of All Time (GOAT)"? While a lot of you agree with us that the 1967 L88 Corvette was a definite contender, it was the 1963 Split-Window Corvette that reigned supreme as the fan favorite…and so, we felt compelled to do-what-we-do-best – namely, dive into the history of this amazing machine so we could share with you everything that makes the 1963 Corvette the greatest second-generation Corvette of all time!
Origins
To fully appreciate the 1963 Split-Window Corvette, you must also appreciate the events that led to its creation.
The 1963 Stingray evolved from two separate GM-back projects: the Q-Corvette and Bill Mitchell's race-version Stingray.  The Q-Corvette briefly saw life in 1957 as a new, small concept-Corvette that utilized a rear-mounted transaxle and rear-suspension package that added considerable front-to-rear-wheel weight balance.   The car's exterior would provide considerably improved aerodynamics with peaked fenders, a long nose and short, bobbed tail.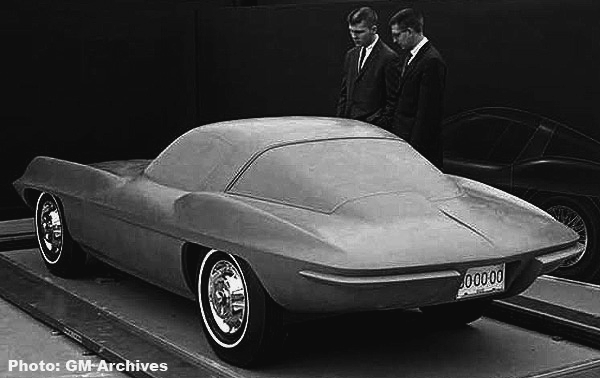 The 1959 Corvette Stingray Racer was a concept car that was privately-and-personally funded by Bill Mitchell, GM's Vice President of Styling.  The design was based on a sketch by designer Peter Brock, who was also responsible for the overall shape/design of the Q-Corvette.  While the Q-Corvette never made it past the clay model phase (due in large-part to engineering budget cuts made by GM), Mitchell's privately funded Stingray Race car made it past development to production.
The Stingray made its racing debut on April 18, 1959 at the Marlboro Motor Raceway.  The car was piloted by Dr. Dick Thompson at its inaugural event, finishing in fourth place overall and first in its class.  A year later, with Will Thompson behind the wheel, the 1959 Stingray Racer went on to win the SCCA National Championship in 1960.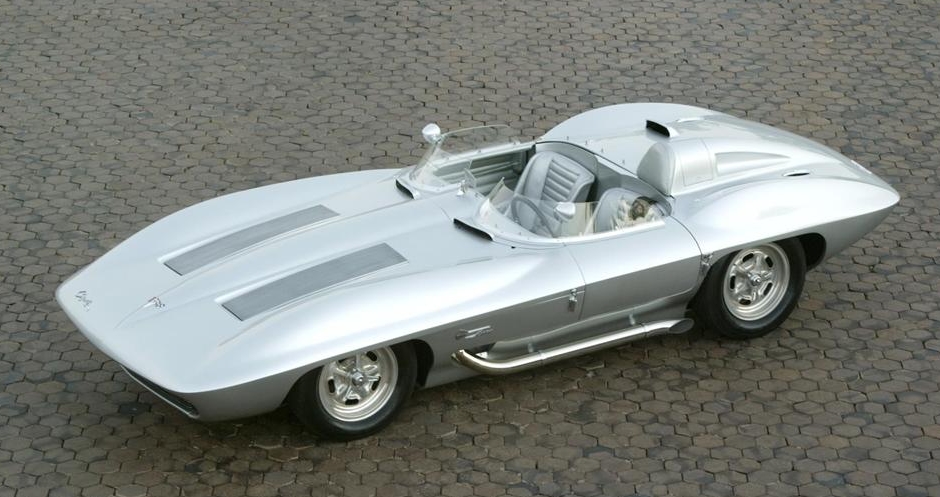 Despite being raced as a private entry, Bill Mitchell was pressured by GM to withdraw his car from competition to comply with the AMA racing ban.  He eventually acquiesced and the Stingray was retired from racing.  Mitchell had his Stingray modified to include a full-width front windshield and a passenger seat, both of which were required to make the car legal for use on public roads.  Mitchell began using his Stingray Racer as his personal vehicle – and leveraged its design cues as the production designs for the second-generation Corvette started to take shape.
Designers of the 1963 Corvette Stingray incorporated much of the look of the Stingray racer into the production model.  In turn, Duntov utilized elements of the Q-Corvette when developing a new chassis for the second-generation Corvette -and the first-ever production Corvette Coupe.
Exterior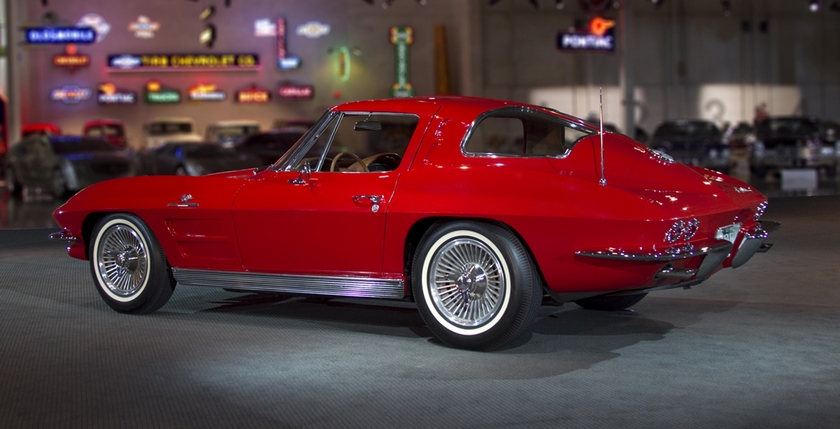 The 1963 Corvette Stingray featured a fastback body with a long hood and a raised wind-split that ran the length of the roof and continued down the car's back on a pillar that bisected the rar window into right and left halves.  This new Corvette carried forward the quad-headlight configuration from its first-generation predecessor, only now the headlamps were tucked away behind a rotating housing that blended with the front-end bodylines when closed.  This feature became so synonymous with Corvette that the "hidden headlamps" feature would remain part of Corvette design for more than forty years (until the arrival of the C6 Corvette in 2005.)
The second-generation Corvette featured doors which were cut into the roof.  This new door design made it easier for occupants to enter and exit the low-sitting sports car.  Faux vents were incorporated into the car's hood and rear pillars.  While these vents were originally intended to be functional, cost restrictions forced GM to cut these elements from the final design.  Still, the vents remained (presumably for consumers who might wish to modify the air-intake on their Corvettes at a later date.)
Chassis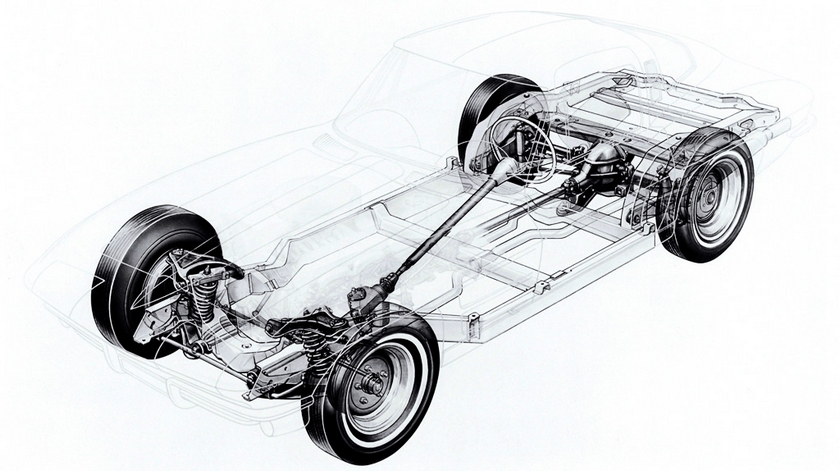 The 1963 Corvette Stingray featured a newly-designed chassis that featured a shorter wheelbase and faster "Ball-Race" steering (a name that was developed by the ad copy (advertisement) writers in 1963,) both of which attributed to providing the car with improved maneuverability and handling.  While having a shorter wheelbase often translated into a choppier ride, the design of the C2 partially compensated for this by redistributing weight from the front of the car to the rear.  By transferring the weight out of the front end, steering the Corvette became more manageable – especially given the fact that the 1963 Corvette did not include power steering as a standard feature.   At the same time, Corvette engineers moved approximately 80 additional pounds on/over the rear wheels, which improved the car's traction, especially during moments of more aggressive acceleration and handling.
The car came equipped (standard) with wider, four-wheel cast-iron 11-inch drum brakes which provided a more effective braking area and resulted in shorter stopping distances.  Optionally, consumers had the ability to order special, sintered-metallic linings that were segmented for better cooling.  They also had the option of ordering finned aluminum ("Al-Fin") drums, which not only provided faster heat dissipation, but also less unsprung weight.  Optional power assist was available for both braking packages.
Powerplant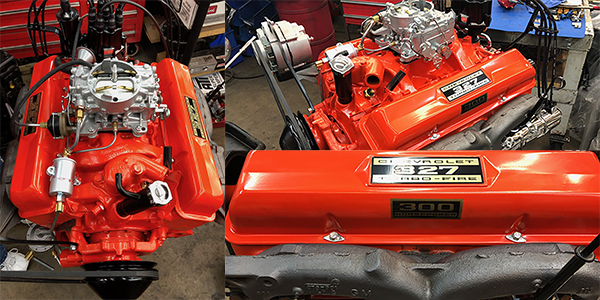 The 1963 Corvette featured four different  engines.  Each engine was a 327-cubic inch V8 with a 4-inch bore and 3.25 stroke.
The standard (base engine) was rated at 250 horsepower, featured a single 4-barrel carburetor, 10.5:1 compression ratio, hydraulic valve lifters, 4-quart oil capacity and a dual exhaust system (which was new for the 1963 model year.)
The L75 engine was rated at 300 horsepower and featured a larger 4-barrel carburetor, larger intake valves and a 4-quart oil capacity.
The L76 engine (rated at 340 horsepower) and the L84 engine (rated at 360 horsepower) both featured cylinder heads with large ports, domed aluminum pistons, 11.25:1 compression ratio, high-speed valve systems with specifically finished exhaust valves, mechanical valve lifters, ribbed aluminum rocker covers, special camshaft and 5-quart oil capacity.  The L84, when equipped with fuel-injection, also included a larger-volume manifold with improved ram pipes and a warning buzzer for the tachometer.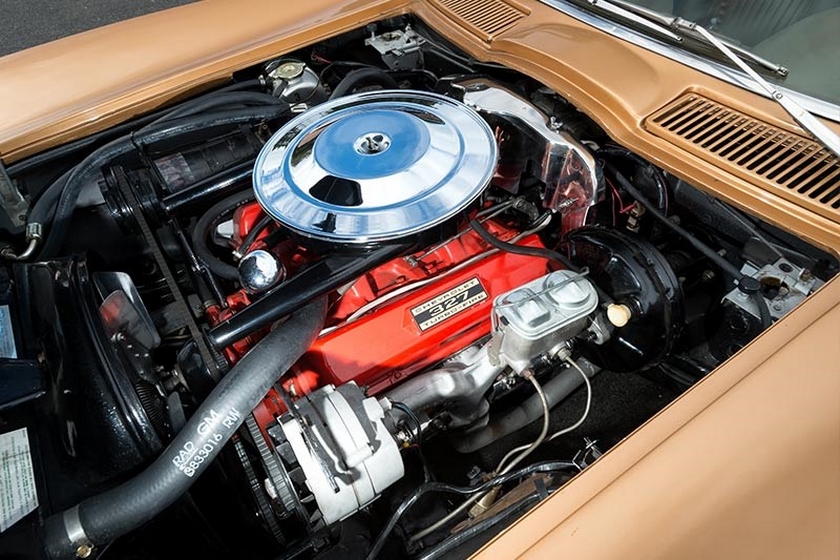 Each of these engines was mated to either a three-speed or four-speed manual transmission or the Powerglide automatic transmission.  Each transmission could be paired to most of the engines listed above, but gear ratios varied depending on engine selection.  Additionally, the Powerglide automatic transmission.  While each of these transmissions were utilized in 1963, the preferred gearbox continued to be the Borg-Warner manual four-speed transmission.
An optional upgrade priced at $188.30, the Borg-Warner gearbox was delivered with wide-ratio gears when mated to the 250- or 300-horsepower engines, and a close-ratio gearing when mated to the top two powerplants.  While the standard axle ratio for the three-speed manual transmission or the Powerglide automatic was 3.36:1, the four-speed manual came standard with a 3.70:1 final drive ratio, although 3.08:1, 3.55:1, 4.11:1 and 4.56:1 gear sets were also made available.  The last of these (the 4.56:1 ratio) was quite rare in production model Corvettes.
Engine Specifications
Feature
Base Engine
RPO L75
RPO L76
RPO L84
Type
V-8, Overhead Valve
Block
Cast Iron Block
Displacement
327 cid
Bore & Stroke
4.00 x 3.25
Compression ratio
10.50:1
11.25:1
Brake horsepower
250 @ 4400 rpm
300@5000 rpm
340@6000
360@6000 rpm
Torque
350 lb-ft @ 2800 rpm
360 lb-ft @ 3200 rpm
344 lb-ft @ 4000 rpm
352 lb-ft @ 4000 rpm
Main bearing
Five
Valve lifters
Hydraulic
Mechanical valve lifters & Duntov camshaft
Carburetor
Carter four-barrel Type WCFB Model 3501S
Carter aluminum Type AFB* four-barrel
Ram-Jet Fuel Injection
Interior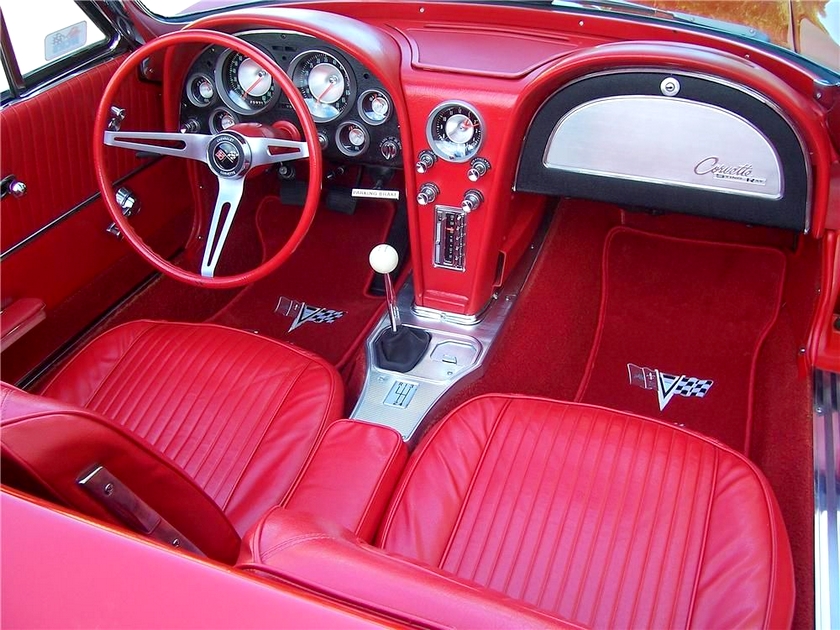 The interior of the 1963 Corvette was a major improvement over that of the outgoing C1-generation.  Designers developed the C2 interior to be both aesthetically appealing as well as durable for prolonged reliability.
The 1963 Stingray's interior took many familiar elements from its predecessor and literally "stood them on end."  The twin cowl interior that had been utilized in the C1 Corvette since 1958 was re-imagined for the second-generation Corvette.  Where the C1's dashboard featured a pair of semi-circle cowls that had receded away from the driver and passenger as part of the dashboard motif, the C2's cowls were stood upright, which was not only more aesthetically pleasing to the eye, but was more practical as well.
The new design now incorporated a spacious glove box, an improved heater, and the aforementioned cowl-ventilation system.  The vertical dashboard cowling now allowed for a larger dashboard that featured a full set of easy-to-read round gauges. These gauges included a speedometer and tachometer set directly in the driver's line of site.
The center console was somewhat slimmer than before, and included a clock and a vertically situated radio with special dials that were oriented to match. Interior luggage space was improved, although accessibility remained a challenge.  Because the new design lacked a rear deck/trunk lid, cargo had to be loaded into the car thru the cabin behind the seats.  This made loading and un-loading luggage (or other peripheries) into the storage space of the car a little impractical, but not impossible.  
The 1963 Corvette – The Greatest Second-Generation Corvette Of All Time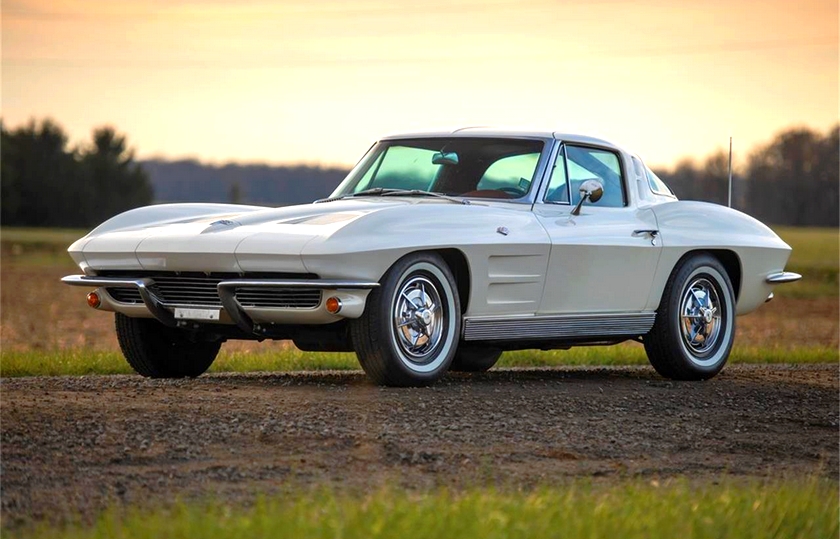 The 1963 Stingray was not only a commercial success, it was also hailed by the automotive press as one of the best Corvettes of all time.
The car was praised almost unanimously for its handling, road adhesion, and unrelenting horsepower.  Car Life magazine presented its annual "Award for Engineering Excellence" to the 1963 Corvette Stingray.  It was noted as having a significant edge over the first-generation models in both traction and handling because of the new independent rear suspension.  Chevy's small-block V-8 engine, which was recognized as being the most consistent component of past Corvette performance, was rated by car buffs as being even better in Stingrays.
"Only a man with a heart of stone could withstand temptation like this" was what the inaugural Stingray ad copy had read.  The words would prove to be prophetic.  When the 1963 Corvette finally made it to market, its sales numbers jumped off the charts, literally skyrocketing Corvette sales to levels never before experienced – even in 1953 when the original C1 had originally been marketed to enthusiastic soldiers returning home from overseas.
Today, the original 1963 Stingray Coupe is considered to be one of the most collectible Corvettes of all time because of its unique split rear window design.  In fact, the re-sale price on an unmolested 1963 Coupe with the split-window in-tact will sell for 50-to-100 percent more than a similarly equipped 1964 Coupe.
Surprisingly, back in 1963, many split-window coupes were modified by customizers, some of whom replaced the small, individual panes of glass with a one-piece window made of Plexiglass. Even more surprising is that Chevy began offering replacement one-piece windows through its dealerships. As a result, many 1963 Coupes have depreciated in value because of these modifications.
The next time you are at a car show, in a parking lot or on the open road and you happen to see a 1963 Split-Window Corvette Stingray, take a moment to appreciate this increasingly rare to spot and increasingly collectible sports car.  For many of us in the Corvette community, the split-window is a "holy grail" of Corvettes.  It is beheld with a reverence and respect that hails back to the glory days of this amazing brand.  While the newer Corvettes may be faster, with better technology, horsepower and handling than anything built in the 1950's or 1960's, there is no question that the 1963 Corvette Coupe will forever be the greatest second-generation Corvette of all time!