Each year, as the holiday season approaches, people of all ages begin to assemble their Christmas wish lists, with the hopes that good ol' Saint Nicholas, (or a loving relative) might use it to fill their tree with all sorts of delectable delights. Children – both young and of the adult variety – dream of unwrapping the most popular toys, the newest electronics, or – in the case of Corvette owners – a Paxton supercharger or a new set of Borla ATAK mufflers!
Corvette owners – just like all good children – are almost always found at the very top of Santa's "nice" list.  After all, there are few things nicer than owning a Corvette, except being able to drive it in the summer and, just as important, customize it over the long, cold winter.
It is with this thought in mind that we bring you our warmest holiday greetings, and present our own "Corvette Lover's Christmas Wish List" to help you prepare for the arrival of the most important of all holidays (according to retailers everywhere) the Christmas shopping season!
The Holiday Humbugs – Where Do I Begin?
While the market is literally flooded with branded and trademarked products wearing the "Corvette" logo or emblems, most Corvette Christmas related items can be classified in one of four categories – auto parts, accessories, memorabilia and outerwear.
To help simplify your shopping experience, and to ensure that you find exactly the right item for the Corvette owner or enthusiast in your life, we are going to provide some of the most popular examples under each of these categories.  We'll also make some recommendations on the best places to find all of your Corvette Christmas Presents.
Auto Parts
You might be thinking to yourself – auto parts for Christmas?  If your significant other is even a part-time tinkerer, the answer is ABSOLUTELY YES!
Corvettes were made to be modified.  In the past 20 years, Corvette auto parts and accessories retailers have taken over the internet.  They have saturated the market with an almost unlimited assortment of aftermarket components.  From engine mods to bodykit bolt-ons, there perfect auto-part Christmas present is out there.
But where to start?  What to buy?  
For the mechanically inclined Corvette owner, nothing enhances the joy of the holiday like extra horsepower.  While some of these items can get quite pricey, we recommend the following ideas to help you get started with your Corvette Christmas wish list.  (We visited Zip Corvette for this section of the article, and this is where our pricing guidelines originated.  Zip is a great retailer of Corvette aftermarket parts and accessories, and we encourage you to check them out!)
Cold Air/Performance Air Intake System
Cold Air/Perforamce Air Intake Systems are a great way to quickly bolster engine performance.  Available from a number of well known automotive manufacturers including K&N, Mamba and BBK, a cold air intake add horsepower and additional torque to any Corvette, which is sure to bring a smile to your Corvette owner's face.  While prices will vary, most cold air intake systems range between $400-700.00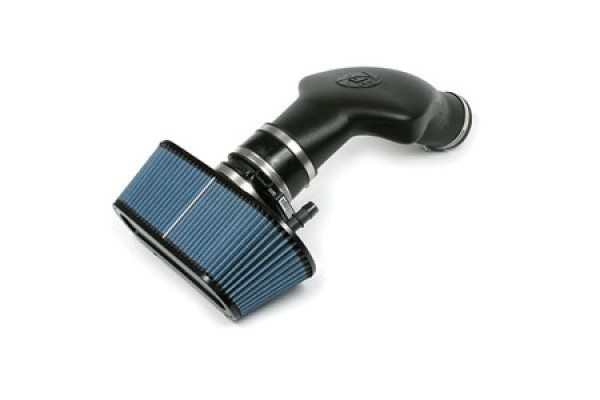 Exhaust Systems
Factory Corvette's are fast and sound good.  Corvettes with an aftermarket exhaust system are faster and sound even better.  As with the Cold Air Intake System above, prices can vary dramatically, but we recommend looking at buying an exhaust system from the X-pipe (behind the catalytic converters) back.  Keep in mind that every exhaust system has its own, unique sound.   Prices vary, but most Corvette exhaust systems range from $800-$2,500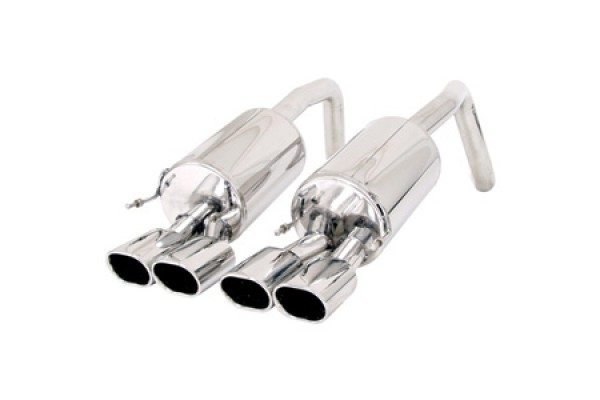 While horsepower is fun, feeling connected to your car can be one of the most satisfying experiences of driving of owning a Corvette.  As such, we recommend enhancing your Corvette owner's driving experience by buying them a short throw shifter.
Reasonably easy to install and much easier on the pocketbook than an exhaust system or cold air intake system, a short throw shifter increases the driver's connectivity to the driving experience by providing more decisive, shorter shifts (manual transmissions only).  The result is a race-inspired driving experience that is sure to satisfy.  And, with short throw shifters ranging from $250-350, you can  share some holiday love without breaking the bank!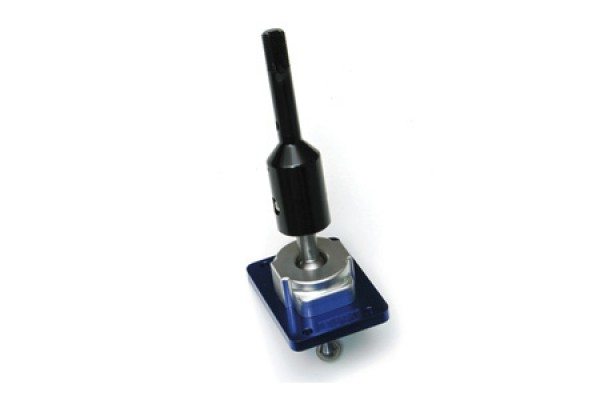 Accessories
So the Corvette in your life is already producing all of the horsepower that can be squeezed from its small-block engine, but you still want to surprise your special someone with a Corvette Christmas present that celebrates the holiday and their car in equal measure. Not to fret, for within the remaining three shopping areas, you're certain to find that special "something" that you've been looking for!
Corvette accessories come in all shapes and sizes, though many (if not most) are still designed to either enhance the factory look of the car or to provide your Corvette owner with the tools to clean and protect their prized investment.  Sure, there are crazy body kits and XXL spoilers that look utterly ridiculous, but for most Corvette owners, having the correct accessories for their car is almost as important as increasing horsepower, handling, and performance.
As accessories go, the choices are endless: everything from tools (like a jack-stand or torque wrench), or something that adds that perosnalized touch to a 'Vette. There are too many choices to possibly list here, but we've found a few items that we believe would make outstanding additions to any Corvette, and so we'll list some of our favorites here.
Car Covers
Whether storing a Corvette in the garage or out in the elements, protecting that fiberglass beauty can be as simple as providing it with the right car cover!  In today's market, form fitting covers provide protection to the car's finish, while exterior covers can ensure protection from harmful UV light, damaging rain and even from hail!
Although prices vary, each of the following covers would make an amazing Christmas present which your Corvette owner is sure to use and cherish for the life of their car:
Of course, these are but a couple examples of the many available covers out there, and when considering a cover for your special someone's Corvette, you should start by determining where they'll be storing their car, how long and/or how frequently they'll be covering it, and which best suits their individual needs.
Fender Gripper Front End Covers
Nothing is more frustrating to any mechanic – professional or the backyard "do it yourself(er)" – than scratching the front fender of a car when trying to work under the hood.  Because of their low height and wide stance, accessing the engine of almost any Corvette can be challenging, and will result in constant contact with the car's exterior – which means one thing, SCRATCHES!
To help eliminate the worry of working on your car's engine, a number of third-party manufacturers have produced front end covers for just about every generation of Corvette.  These covers, which are custom designed to fit perfectly with the generation of Corvette for which they were designed, will protect your car's exterior while working under the hood.
Memorabilia
When it comes to finding something special for the Corvette enthusiast who has yet to purchase a Corvette, or even for those that have their dream car tucked nicely away in the garage for its "long winter nap", you are bound to find the perfect Christmas present by shopping the vast-and-ever-expanding market of Corvette memorabilia.
The word "memorabilia" applies to just about anything that can be labeled and marketed with the Corvette logo that doesn't bolt onto an engine or a Corvette chassis.  From salt-and-pepper shakers, to custom Corvette office furniture, there is a multitude of merchandise available today that bears the famous crossed-flags logo and unmistakable "Corvette" script.
But where to begin?  How does one decide what to purchase?  Sure, we know that he/she loves the Corvette, but buying your special someone a matching set of Corvette grill utensils might fall short of "best gift ever" if they're not into the whole grilling experience.
Start by asking yourself this – what does my Corvette enthusiast enjoy (besides their Corvette?)  Once you've given it some thought, begin the process of searching for items that align both with that interest and their Corvette love affair.  Think we're joking?  Check out some of these unique (and amazing) Corvette Christmas gift ideas:
The Corvette gaming chair immerses your special someone in their favorite video game, music or movie by providing them a comfortable, ergonomic chair with built in speakers, stereo control and headset jacks.  The chair, which is available from the Corvette Store, can be customized to showcase the logo of your enthusiasts favorite generation of Corvette (from C1 to C7).  And, at a sell price of just $169.95, this would be an ideal gift for that special person in your life who enjoys spending their freetime playing video games or watching the Velocity channel!
Also, when you purchase from the corvettestore.com, the proceeds of your purchase are actually used to fund the National Corvette Museum in Bowling Green, Kentucky!  So not only are you buying a present for your special someone, but you are helping fund one of the greatest museums in the world!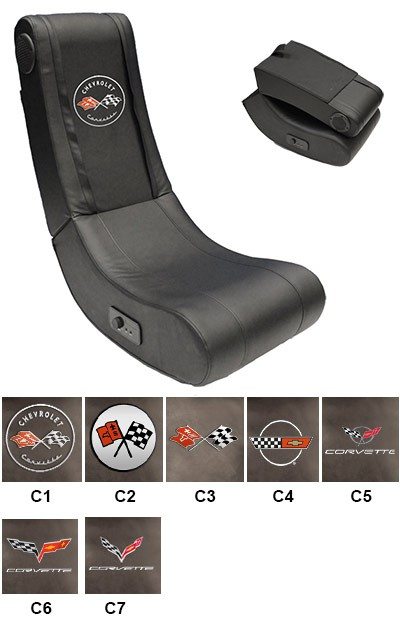 Few things are more festive than drinking egg nog at Christmas, or raising a tasty libation to toast in the New Year.  But what if you could celebrate the holidays by drinking your favorite beverage from a Corvette glass?  Well now you can!
Brought to you by the Corvette Store, the Corvette Generations Glass Set is a set of six 14 oz. glasses. Each glass is etched with the emblem of the first six-generation of the Corvette (C1-C6).   Priced at $65.95, this glass set is great for every special occasion (and will make every day feel like a special occasion!)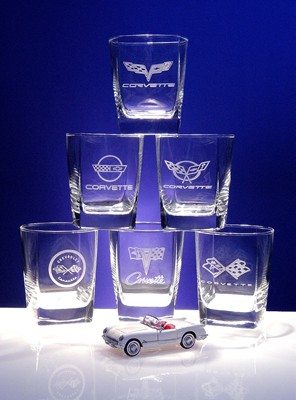 Corvette 4-Piece BBQ Grilling Utensil Set
Sure it's cold outside right now, but in just a few, short months, summer will return, and nothing say summertime fun more than driving a Corvette – except maybe grilling out after a long day on the open road!
Yes, we mentioned it above, and we were serious.  If the Corvette enthusiast in your life enjoys spending their time over the open flames, cooking up a massive steak, some delicious ribs, or even burgers and brats for your next family reunion, then the Corvette 4-piece BBQ Grilling Utensil Set will only improve their experience!
The set includes everything you need for your backyard barbecue – tongs, a marinade brush, a two-prong fork and a spatula – and each utensil is labeled or engraved with the Corvette logo of their favorite generation.
While these grill sets vary in price depending on where you find them – most can be purchased for between $35 and $40.00.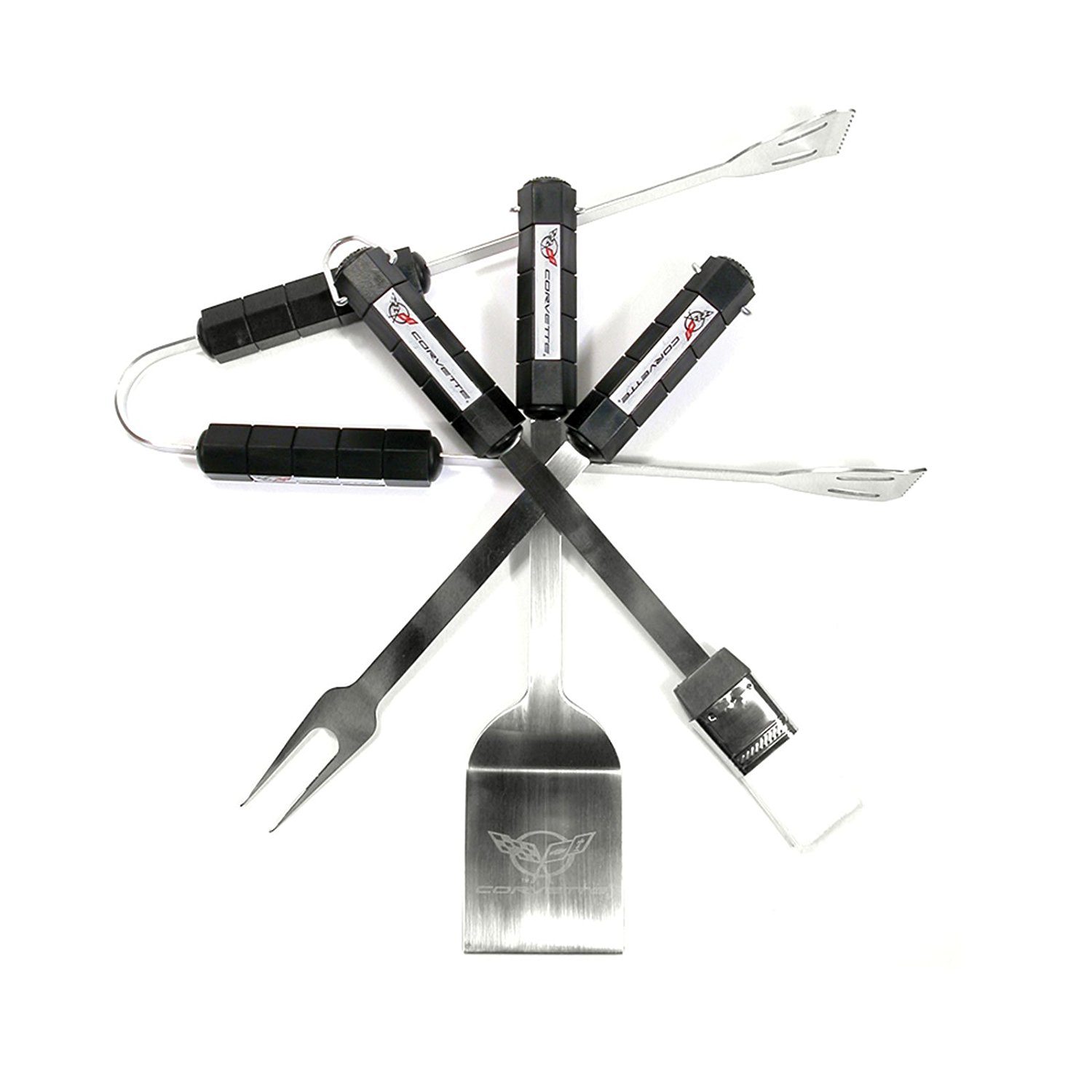 The Corvette Wireless Mouse
Let's face it, the Corvette lifestyle can be an expensive hobby to properly maintain, and many Corvette owners balance the lifestyle by also maintaining a strong work ethic to fund the dream.  If your Corvette enthusiast spends more time in the office than they do in their car, then this final item on our memorabilia list is a "must-have" for either their home office or workplace.
The Corvette wireless mouse is a computer mouse with 2.4 GHz wireless technology.  It functions as a "plug and play" mouse that connects to any computer via a small USB receiver that plugs into any computer or laptop.
The unit adds a cool factor with light-up headlights and taillight, while also providing complete functionality as a computer mouse.  Again, prices may vary, but the Corvette wireless mouse normally range in price from $40-$50.00, and are available online everywhere – including markets like Amazon.com.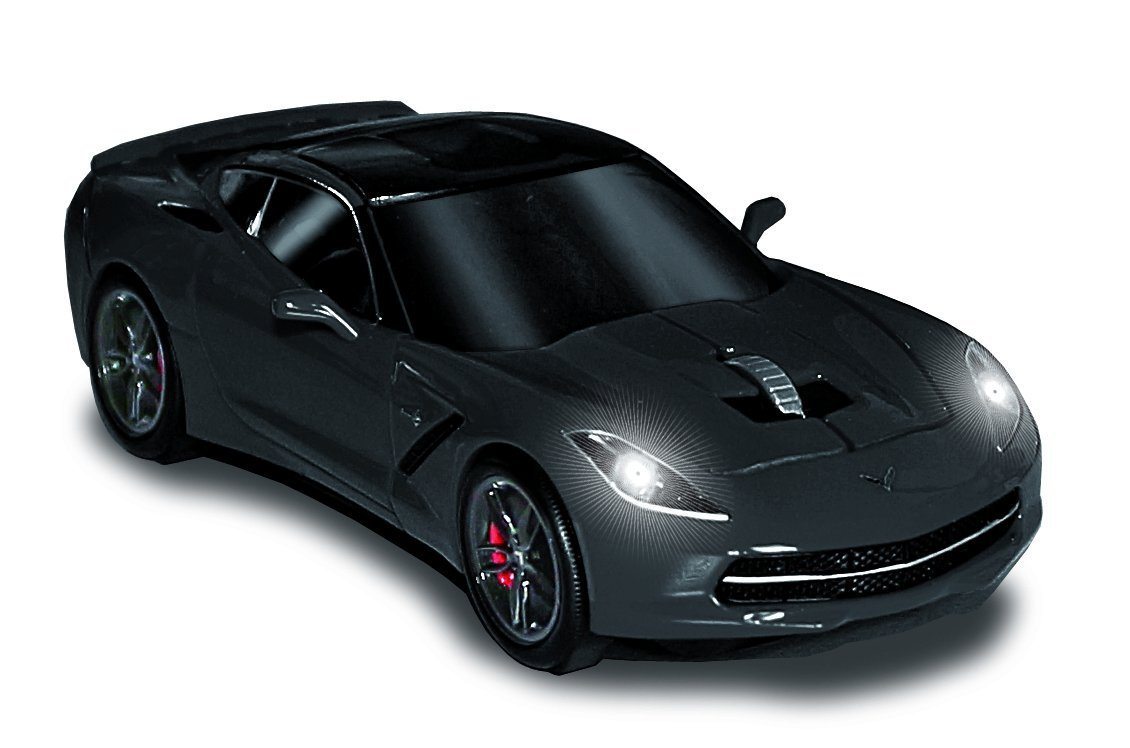 Outerwear
Our final shopping recommendation for the perfect Corvette Christmas present is a staple for every person who ever purchased (or even thought about purchasing) an ugly Christmas sweater or a box of socks.  However, we think we've found a solution to this age-old dilemma that stems from buying something they need with something they'll want.  Of course – put the Corvette logo on it!
From socks to pajama pants, there is Corvette outwear for every shape and size.  Like everything else in the Corvette lifestyle, Corvette clothing is a massive market that only continues to grow with each passing year.
The genius of this section of our recommended Christmas shopping list is that you can find something uniquely Corvette on any budget – and you will be guaranteed to bring a smile to every face – even if you end up buying the socks (see No. 3 below)!
Corvette Driving Shoes
Developed by Piloti – the company that developed the driving shoe for professional drivers/racers – the Corvette Piloti Driving Shoes are an ideal gift for the Corvette owner in your life – especially for those that have Corvettes equipped with a manual transmission.
These shoes feature a special "Roll Control" heel which provides spherical cushioning behind the heel bone – which is a critical pressure point for drivers.  The soles are designed to provide drivers with improved grip and feel, as well as protection from heat and vibration.  The shoes enable drivers to experience easier downshifts and pedal transitions – just like the shoes worn by the professional racer.
Available in either a C7 red/black or a C7.R racing yellow/black option, the Piloti driving shoes can be purchased online for $135.00.  Speaking from personal experience (I own the yellow/black C7.R shoes), these are a great value and provide a vastly improved driving experience.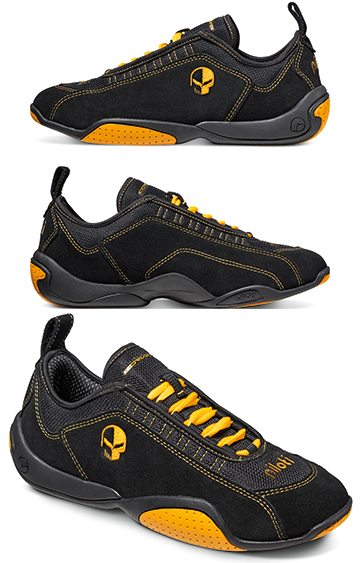 Corvette Pajamas
It's snowing outside, all the presents are opened, and now you sit back with a glass of wine and a roaring fire.  You've slipped out of the hustle and the bustle of the Christmas holiday and instead enjoy snuggling up with your special someone in your Corvette flannel pajama pants!
Available for both men and women, the Corvette Pajama pants are a soft flannel pant with elastic waistband that features the logos of the first six Corvette generations (though we're quite certain that there are C7 pajamas out there too).  The logos, which are screen-printed onto the flannel material, provide year round comfort and proudly display your Corvette enthusiasts favorite passtime – that is, when he/she isn't wrapped up in front of a fire with you!
Priced at $45-$50, these pajamas can be found at most online retailers.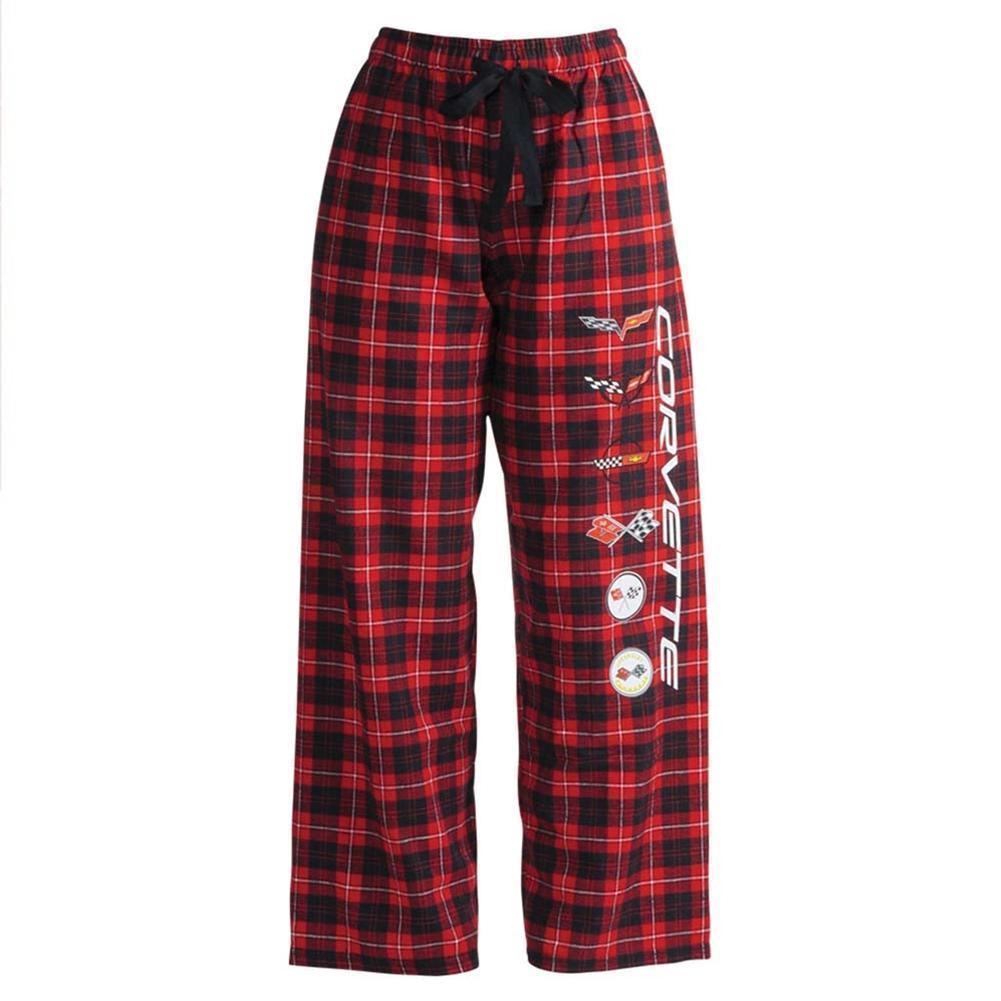 Corvette Socks
We know – you are probably thinking, I've come all the way thru this list of amazing Corvette Christmas ideas, only to end up with a recommendation to buy socks?
We'll retort with this – wouldn't you be buying socks for Christmas this year anyway?
Socks are one of the largest sellers during the holiday season, and we felt that the Corvette community should get on the action and be aware that there is a better alternative than the boring white or black tube socks that almost everyone gives/receives during the holidays.
And so, yes, we end our Corvette Christmas wish list with the most essential Christmas present of all – the Corvette Emblem socks!
Available thru the Corvette Store, the Corvette emblem socks (available in several generations – shown in the C7 pattern here) are an affordable stocking stuffer or an awesome little under-the tree filler because they're both practical and awesome at the same time.  The socks feature both the car's emblem and the "Corvette" script for the specific generation, and come in an assortment of cool color combinations including red/black and white/black.
Best part of all, they are just $9.00 per set, so you can stock up on Corvette socks for all the enthusiasts in your life.  Take our word on this, you'll be glad you did!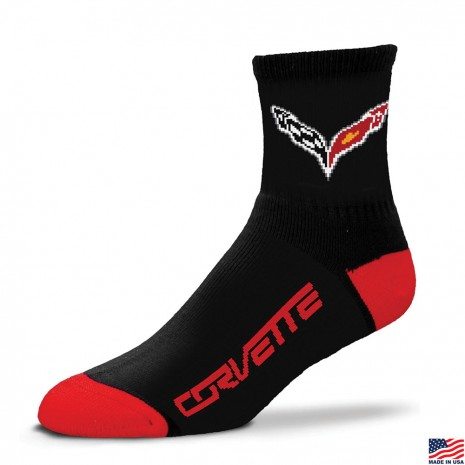 Happy Holidays
We hope that our first-ever Corvette Christmas Wish List helped you with your holiday shopping, and maybe even helped you discover the perfect gift for your favorite Corvette enthusiast.  We also hope that this article finds you in a festive spirit and with a merry heart.
From all of us here at Corvsport.com, we'd like to wish you and yours a Very Merry Christmas!