I've done the legwork for you, and am in all the crevices of the Corvette Internet world, searching day in and day out for stories of interest. Here are some top stories from the Corvette community.
1) Hundreds of Corvettes Sitting Outside Bowling Green Assembly Plant
One of the largest Corvette forums is abuzz with members complaining about their Z06s just sitting outside at Bowling Green, stuck at 3800 status. The member who started the discussion says, "Does anyone know why a car would be stuck in 3800 for 3+ weeks? Dealer or concierge wasn't able to tell me. Does it mean something went wrong in assembly?" As the discussion reached 100-plus posts, other soon-to-be owners joined in to confirm they were in the same boat, and the frustration illustrated at this forum is echoed across other Corvette forums and social media pages.
What is the problem?
At first, it was speculated this was related to the UAW strike, and CorvSport reported here it could be due to the transporter not crossing over the picket line. Our friends over at the Corvette Blogger reached out directly to Chevrolet, and they finally responded with this:
"The industry continues to experience temporary parts shortages due to a number of circumstances. Bowling Green has been impacted by this so we have taken steps to keep production running to meet continued strong demand. As a result, we are building some vehicles without specific parts and will retrofit those vehicles as the parts become available before they are shipped to customers. We are working to resolve these issues as soon as possible."
So, the parts shortages that have affected Corvette production numerous times during this bizarre Covid Era strike again! Numerous reports indicate GM's suppliers seem to be experiencing difficulty in getting enough carbon fiber parts manufactured for the automaker's needs, so the hold-up for the Z06 is understandable, given how many carbon fiber parts the Z07 Performance Package has, as well as carbon fiber packages for the interior.
2) GM Hopes to End Strike With 6th Offer to UAW
When we last left off, the Bowling Green Assembly Plant was still up and running, and the UAW had expanded its strike to eighteen GM parts and distribution sites across the country. As of today, the plant is still cranking out 2024 model-year Corvettes, and GM is trying its best to restart the affected plants and parts/distribution facilities.
As reported by Reuters just hours ago, GM indicated their most recent offer was its sixth since talks with the UAW began, and on Monday the UAW presented yet another contract offer to GM. GM said on Monday that despite the offer, "significant gaps remain." Today GM went on to say, "We believe we have a compelling offer that would reward our team members and allow GM to succeed and thrive into the future."
A source familiar with the negotiations said there had been movement in a few key areas, but on Wednesday GM secured a new $6 billion line of credit, signaling that they are still bracing for a possible long-term fight. Stay tuned to CorvSport's Weekly News Recap for next week's UAW update.
3) VIN #001 Delivered at National Corvette Museum
A big congratulations go out to Jeff and Missy Garner from Smiths Grove, Kentucky, who selected the Museum delivery option (RPO R8C) and took delivery of the first 2024 eighth-generation Corvette to roll off the Bowling Green Assembly Plant!
As reported by the NCM, the story and car are even more special for the Garners, who previously owned a 2019 Watkins Glen Grey Grand Sport. Sadly their beloved C7 was damaged by a storm at their Kentucky home, and with NCM insurance at their side, the expedited claim process and customer service made the timing to take delivery of VIN #001 easier and more efficient.
Jeff Garner exclaims, "The new Corvette is an amazing car, and I'm most excited to get out and enjoy a drive. Our 2019 was a special car as that was a gift from my wife Missy, but to have a VIN #001 car, and take delivery at the Museum, makes this my dream Corvette."
The couple received a thundering boom of applause as they motored that special mid-engine C8 off the Museum's Corvette Boulevard, marking not only the historic VIN but also the start of 2024 model year deliveries at the Museum.
CorvSport did a full feature on the National Corvette Museum delivery option, so click here if you are interested. Also, if you already own a Corvette and want a similar experience to the R8C option code, the Museum has the solution for you. Click here for a feature I did on what they call, "The NCM Experience".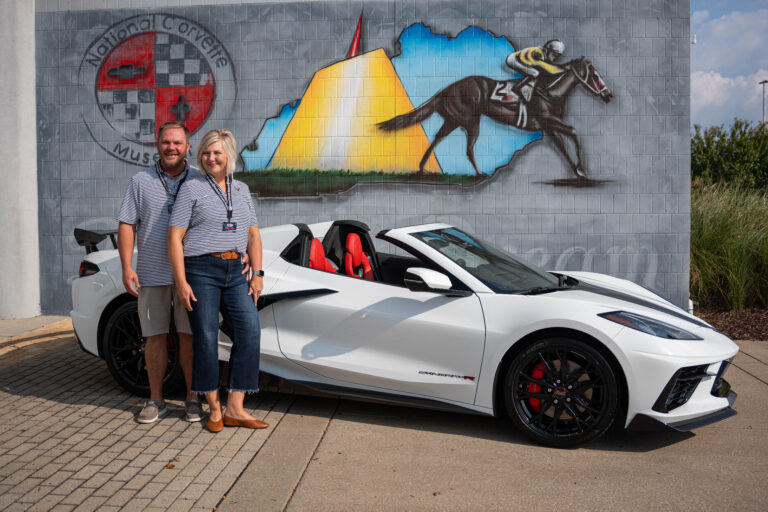 I hope you have found this short but concise recap informative. We have the fastest-growing Corvette community on our Facebook page, with over 155,000 followers (36,000 since January!). Come join other hardcore enthusiasts and say hello, Douglas B.