I've done the legwork for you, and am in all the crevices of the Corvette Internet world, searching day in and day out for stories of interest. Here are some top stories from the Corvette community.
1) More ZR1 Prototypes Caught on Video
Welcome to the hottest debate for 2023, as the highly anticipated 2025 ZR1 is causing a great divide in the Corvette community. Will this 800+ horsepower beast be powered by a twin-turbocharged LT6, or will it be propelled by the naturally aspirated 670hp LT6 (plucked from the Z06) in concert with the E-Ray's 160hp 1.9 kWh electric motor on the front wheels?
CorvSport is still the first to piece together the powerplant puzzle from two key videos and make an official call. I'm still as confident today as I was last Friday when I went on record with this proclamation.
CorvSport Calls It: ZR1 will be a Hybrid with 830 HP and AWD!
Is this new idling video definitive, with enough evidence to completely rule out a hybrid ZR1? Compare video 1 to video 2, which caught two ZR1s quietly accelerating past Aaron Branham in Colorado (where all the recent sightings have occurred).
Listen to each and tell me what you think when this feature pops up on our Facebook page. And it's okay if you think I'm completely wrong, as a bit of friendly debate is what makes it fun! Before you make your final prediction, keep in mind that well-known Corvette enthusiasts and Youtubers "Brink of Speed" have a "higher up" source at GM that confirms the ZR1 Hybrid theory (see video 3)
Video 1
Video Source: Corvette Blogger/filmed by Ron Droel
Video 2
These prototypes recorded by Aaron Branham seem awfully quiet.
Video 3
At the 7:00 timestamp, Brink of Speed says, "I used to believe what the rumors were out there, of this [the ZR1] being an LT6 with twin turbos… however, since then, I have heard from someone who is a very high up at GM, confirming that the ZR1 is going to be a HYBRID…"
2) UAW Strike Expansion Likely to Affect the Corvette
When we last left off, the Big Three domestic automakers had until Friday (9/22/2023) to meet the UAW's demands, or the "Stand Up Strike" would expand from the three plants affected by the initial rollout (the GM plant in Wentzville, Missouri, the Stellantis plant in Toledo, Ohio, and the Ford plant in Wayne, Michigan). That deadline has come and gone with no resolution, and reports coming out do not look encouraging.
Where are we now?
While the Bowling Green Assembly Plant, (where Corvettes have been rolling off the line since 1981), is still up and running, the UAW has expanded its strike to these parts and distribution sites (as initially reported by Corvette Blogger).
GM parts and distribution sites on strike:
• Pontiac Redistribution – Pontiac, Mich.
• Willow Run Redistribution – Belleville, Mich.
• Ypsilanti Processing Center – Ypsilanti, Mich.
• Davidson Rd. Processing Center – Burton, Mich.
• Flint Processing Center – Swartz Creek, Mich.
• Lansing Redistribution – Lansing, Mich.
• Cincinnati Parts Distribution – Westchester, Ohio
• Denver Parts Distribution – Aurora, Colo
• Hudson parts Distribution – Hudson, Wisc.
• Chicago Parts Distribution – Bolingbrook, Ill.
• Reno Parts Dis. Center, Reno Nev.
• Rancho Cucamonga Parts Distribution – Ranch Cucamonga, Calif.
• Fort Worth Parts Distribution, Roanoke, Texas
• Martinsburg Parts Distribution – Martinsburg, W. Va.
• Jackson Parts Distribution – Brandon, Miss.
• Charlotte Parts Distribution – Charlotte, N.C.
• Memphis AC Delco Parts Distribution – Memphis, Tenn.
• Philadelphia Parts Distribution – Lang Horne, Penn.
This next move by the UAW is already sending ripples through the community, as General Motors was recently forced to pause the Fairfax Assembly Plant in Kansas City (due to a parts shortage caused by the initial walkout at its Wentzville plant in St. Louis).
As expected, the Bowling Green Assembly Plant is already having some parts supply issues and these warehouse closures will certainly exacerbate the situation. It's also logical to expect that these closures will affect dealer service departments receiving replacement parts as well. Stay tuned to CorvSport's Weekly News Recap for next week's UAW update.
In the meantime, here are the instructions from the UAW to its workers who are still working.

3) The Fall Heard Around the Community
If it hurts a little inside when you see this video, you are not alone, as this viral surveillance video is causing a stir in the community. How does this even happen? According to the YouTuber who posted the video, "The lift arm wasn't properly positioned which led to the Corvette getting sliced like butter." This sentiment was echoed by several members of the Corvette Forum. There are no reports yet on what repercussions the GM tech faced. What a shame.
Ouch!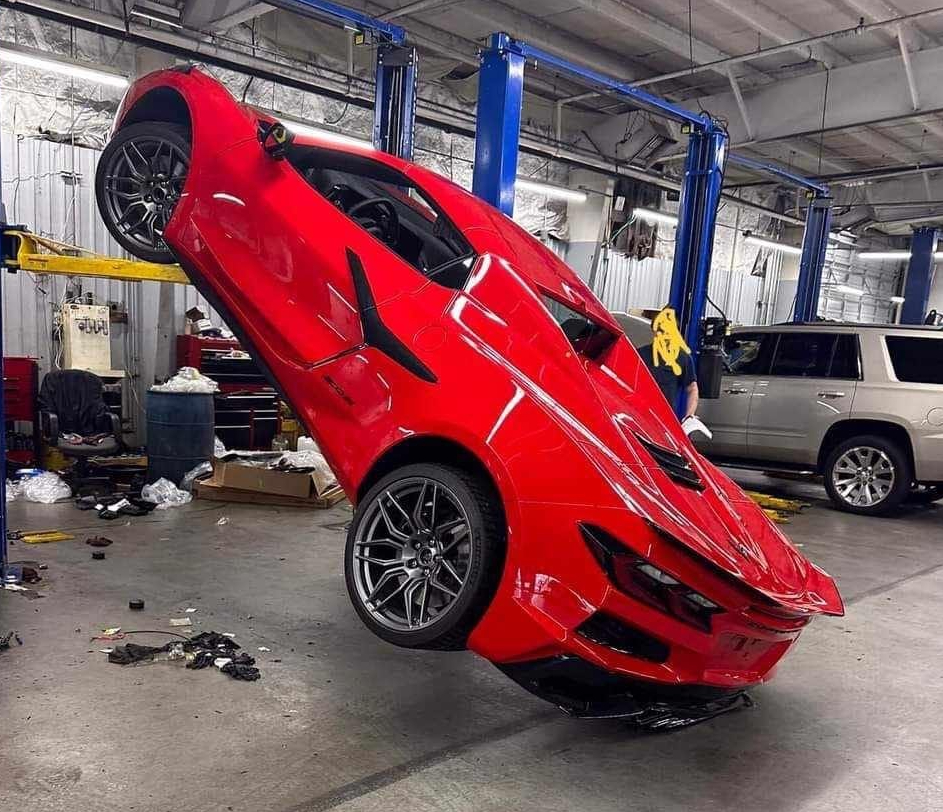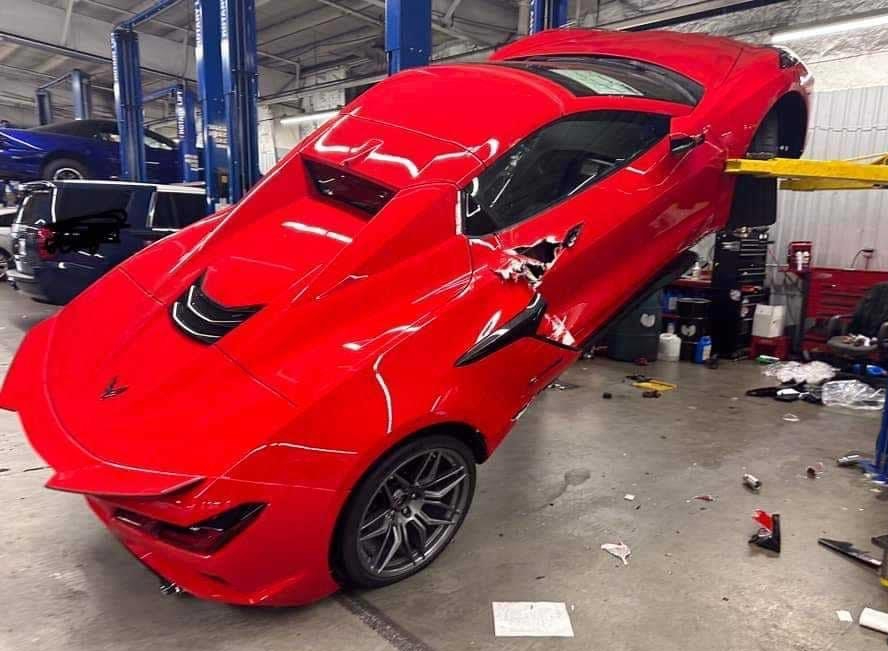 I hope you have found this short but concise recap informative. We have the fastest-growing Corvette community on our Facebook page, with over 154,000 followers (35,000 since January!). Come join other hardcore enthusiasts and say hello, Douglas B.