I'm on all the notable Corvette forums and social media pages all day every day, and I've done the legwork for you. Here are some compelling stories from the Corvette community.
1) GM Parts Catalog Now Shows LT7 ZR1 Engine as 4.3L V6 Diesel Engine
I recently reported on the speculation that a lot of the leaks and "intel" from higher-ups at GM are a controlled effort to throw us reporters off the scent, and this latest attempt by GM to confuse us certainly substantiates this speculation. Last week viral catalog leaks appeared to confirm that the LT7 will be a DOHC 5.5L Twin-Turbo V8 with direct injection (DI), variable valve timing (VVT), and active fuel management (AFM)–the AFM has since been debunked.
Here is that screenshot.

Corvette forum member "JMB", who is credited with breaking the above leak, took his stellar investigative skills to the next level and found this gem of GM reversals. That's right folks, this Corvette engine dropdown confirms the ZR1 LT7 is now a diesel, which is good news for those worrying about low-end torque! [Insert LOLs here] JMB went on to note that the LT7 RPO code was originally used in the 1980s when it was actually a 4.3L V6 diesel. Well, hold on enthusiasts because I think this rollercoaster speculation ride is going to be bumpy and fun!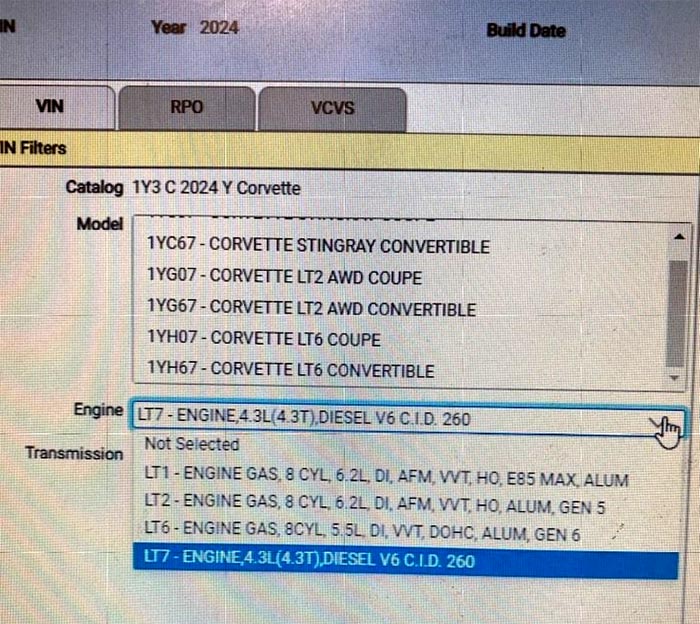 Summary of ZR1 powerplant theories:
LT7 Twin-Turbo based on the flat-plane crank 5.5L LT6 out of the C8 Z06
670hp LT6 in concert with the E-Ray's 160hp 1.9 kWh electric motor on the front wheels
LT6-based Twin-Turbo with TWO electric motors
6.2L cross-plane crank V8 (most likely with twin turbos)
5.5L cross-plane crank Twin-Turbo LT7 with VVT and AFM
2) Fully-Electric Corvette EV is Inevitable
News began breaking earlier this week that GM's Lansing Grand River plant in Michigan could be where the fully-electric Corvette will be built. I know the news of a Corvette EV shocks (sorry for the pun) many purists, but the writing is on the wall. Given the excitement over the hybrid E-Ray and pressures for manufacturers to move to EVs, it was inevitable the Corvette brand would move in this direction.
As initially reported by Reuters:
"GM is considering whether to build a lower-cost version of the Bolt electric utility vehicle at the Fairfax plant in 2025 and the premium EVs for Cadillac and Chevy — including a pure electric performance model with the Corvette name — in Lansing beginning in 2027, according to sources familiar with the automaker's thinking, who asked not to be identified."
Once again, we have more sources who asked not to be identified (toe tap).
How committed is GM to this? Well, these product expansions for the Bolt, Cadillac, and Corvette are part of its planned $13.3 billion in investments in U.S. facilities, sources told Reuters. The outline of GM's planned investments through April 2028 was laid out on Saturday in a UAW summary of the new contract it negotiated with GM. The UAW document noted that GM expects to invest $1.25 billion in its Lansing Grand River plant in Michigan.
---
I hope you have found this short but concise recap informative. We have the fastest-growing Corvette community on our Facebook page, with over 160,000 followers (41,000 since January!). Come join other hardcore enthusiasts and say hello, Douglas B.