Corvette enthusiasts around the country, effectively around the world, have been on high alert as the midnight deadline approached yesterday. Perhaps you've seen the rhetoric from both sides, with union apologists (usually current and former union members) battling the anti-union camp on who is "right" in this latest battle.
On the positive side, the UAW strike that officially begins today, 9/15/2023, does not directly affect the Bowling Green Assembly Plant (YET), where our beloved Corvette has been produced since 1981. As you can imagine, despite not currently directly affecting the Corvette plant, enthusiasts from around the internet are still very vocal about this development. Social media pages have lit up with remarks and concerns, because despite Bowling Green not shutting its doors, most believe the Corvette will still be affected.
More on the community reaction and exactly how the Corvette will be affected in a moment, but first, the 11th-hour offer from GM that the UAW shot down.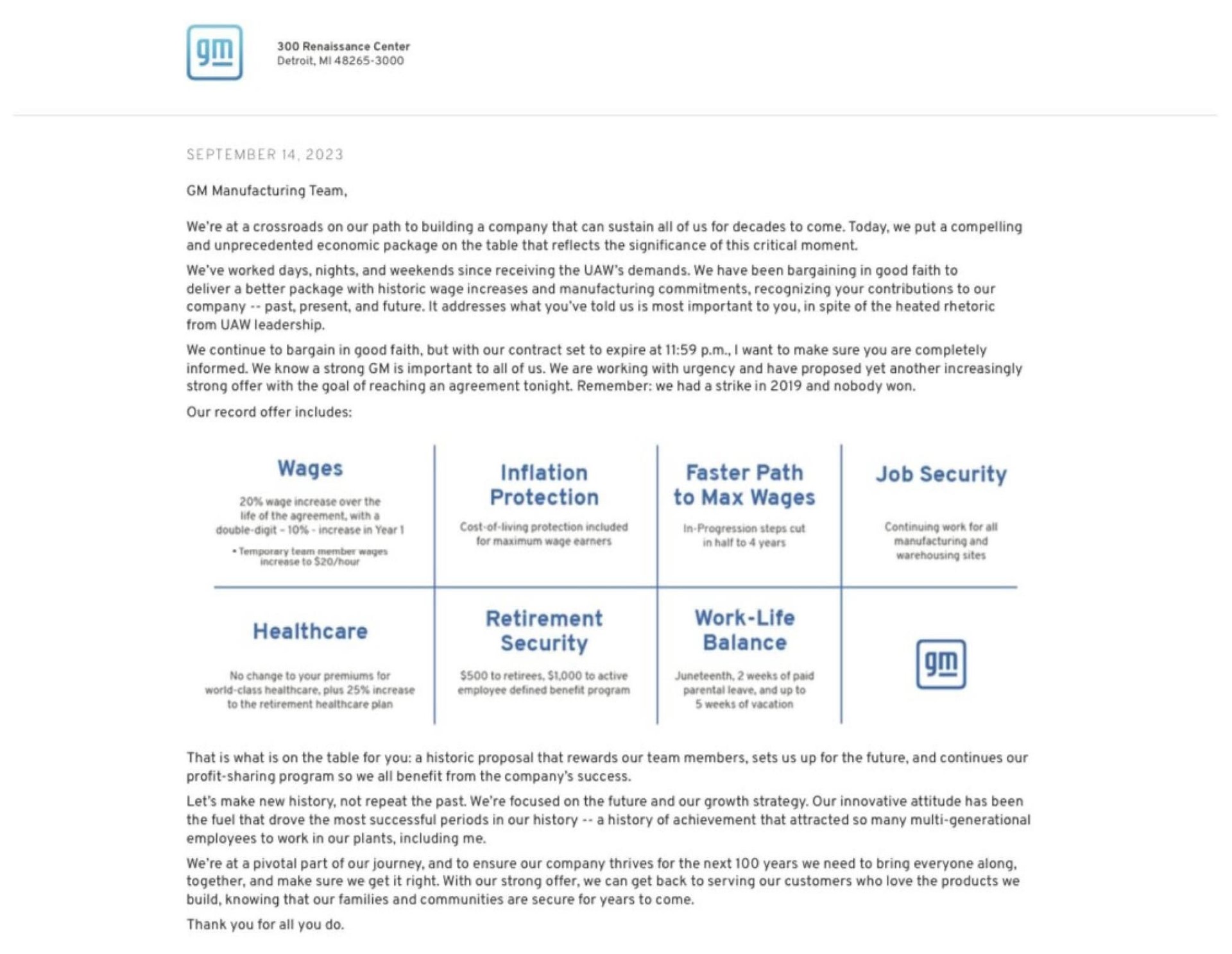 You can click on the letter to enlarge it, but here are the cliff notes of what GM's CEO Mary Barra calls a "historic" offer.
A 20% wage increase over the life of the agreement with a 10% raise in year one. Temporary employees' wages would increase to $20 from $16.67.
Cost of living "inflation protection" is included for maximum wage earners. GM did provide specifics.
Faster path to maximum wages. It is currently eight years, GM offers four years.
Under 'Job Security,' GM wrote "Continuing to work for all manufacturing and warehousing sites." It did not offer further explanation.
No change to health care premiums for workers, plus a 25% increase to the retirement health care plan.
Lump sum cash payment of $500 to retirees and $1,000 lump sum to active employee defined contribution plan.
Juneteenth as a paid holiday, two weeks of paid parental leave, and up to five weeks of vacation.
GM plant in Wentzville, Missouri: (Colorado, Express, Canyon, Savana)
Stellantis plant in Toledo, Ohio: (Gladiator, Wrangler)
Ford plant in Wayne, Michigan: (Ranger, Bronco)
How Could Corvette Production be Affected?
1) As part of the "Stand Up Strike" approach, union leaders have said they will select new target plants to take out on strike in various waves if negotiations continue to fail to land new agreements with the auto companies. Currently, 12,700 UAW members across the three plants are on strike, and this strike is being reported as historic, as it's the first time all 3 domestic manufacturers have been hit at the same time.
2) It's been reported that deliveries of Corvettes from the Bowling Green Assembly Plant to dealers will halt. According to the Corvette Blogger, "It's our understanding that Jack Cooper Transport, which is a Teamster Union shop, will not be crossing the UAW picket lines at any of the Big Three automakers it ships vehicles for."
Here are exclusive real-time aerial shots from the Corvette Blogger showing completed Corvettes sitting.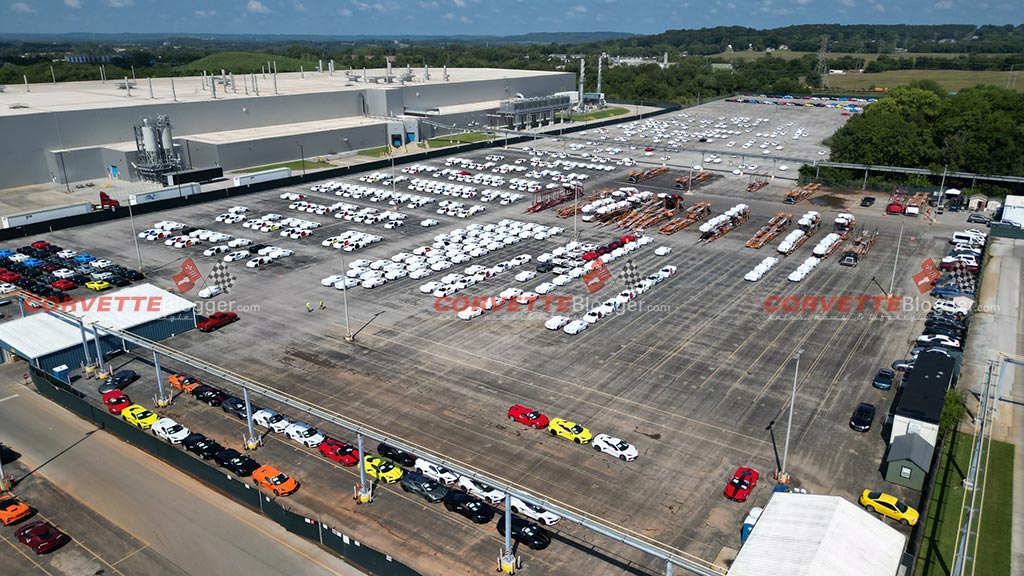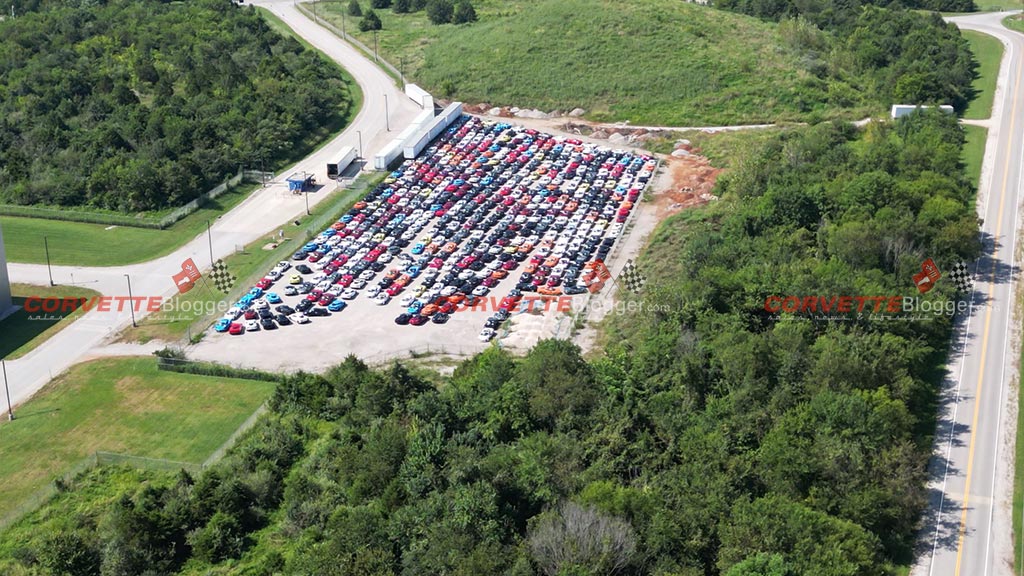 3) Corvette Parts Availability. Once again reported by our friends at the Corvette Blogger:
"Another issue facing Corvette owners will be the availability of replacement parts. Depending how long the strike lasts, Corvette dealerships may also run into a real problem of getting parts for repairs. We have heard that the Big Three automakers are prepared to have salaried employees switch to parts warehouse fulfillment jobs if the strike gets underway, but even without a strike there are just some parts for the Corvette that take a while to come in. Things like windshields, transmissions and other 'must-repair' issues could be held up for quite some time, and Corvettes brought to dealerships for warranty work may require replacement parts that may be hard if not impossible to source. So unless your Corvette is dead in the water, you might want to wait before taking your car in for repairs."
Reaction From the Corvette Community
This is just a small sample, but summarizes some of the sentiments and concerns well.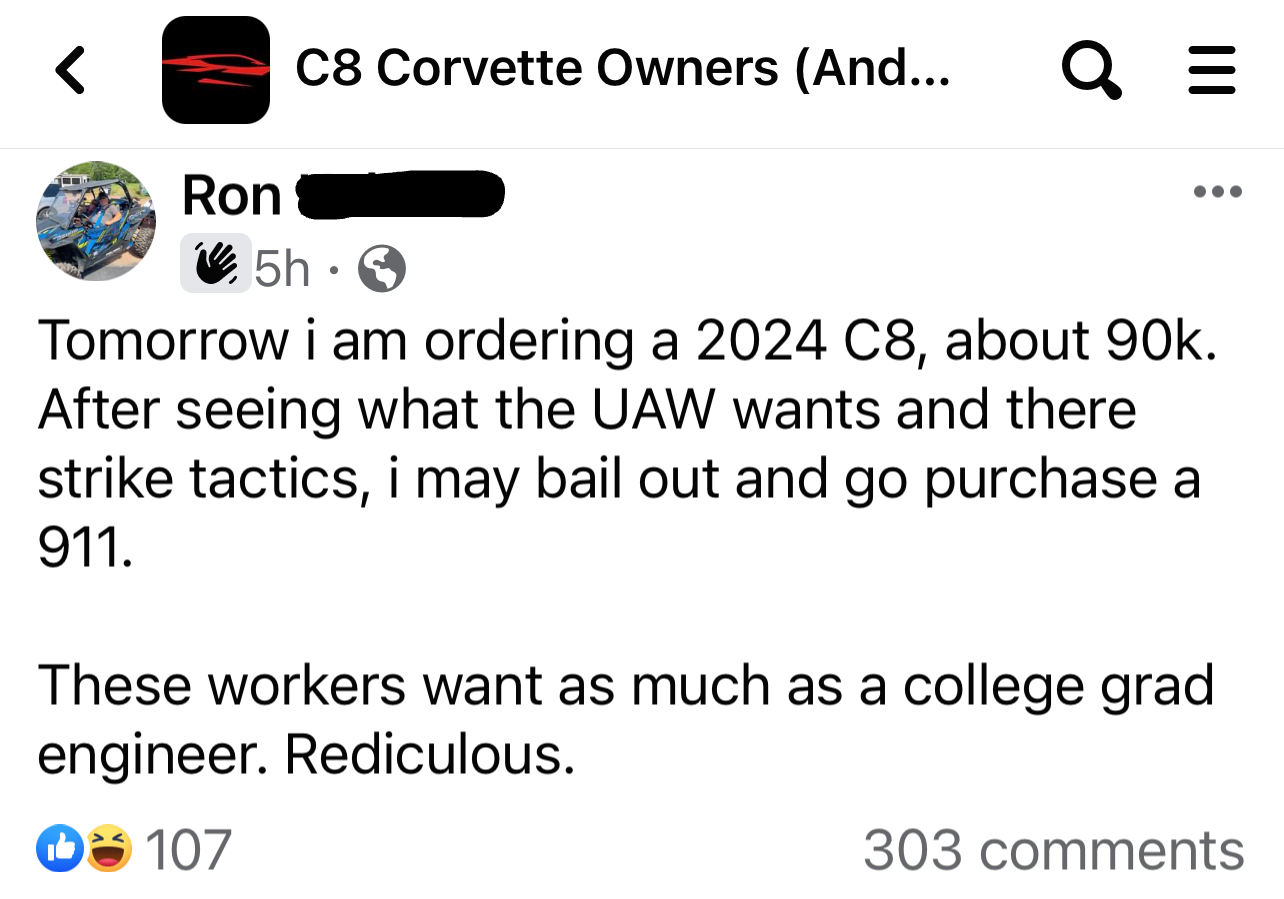 As you can see, in just this one discussion there are over 300 comments with 107 reactions.
This is a lot to digest, and the next days and weeks will be telling as GM and the other automakers digest the UAW calling their bluffs. What do you think about this UAW strike? Are you worried it may affect your Corvette experience? We have the fastest-growing Corvette community on our Facebook page, with over 152,000 followers (33,000 since January!). Come join other hardcore enthusiasts and say hello, Douglas B.