Much like interior stylings in a home, the characteristics of vehicle interiors have changed throughout the years, serving as a reflection of the times. Just as shag carpet and rugs do not foster the same admiration that they once did, particular vehicle stylings have also fallen from favor, and new renditions have taken their place.
With nearly 70 years, and 8 successive generations of production having come to pass, it goes without saying that the Corvette has seen its share of interior redesigns. However, a number of these particular interiors, and the features that they have included, still draw an enthusiastic glance and nod of approval from many automotive enthusiasts.
The following are 5 of the most highly regarded Corvette interiors of all time.
Early C1 (1953-1955)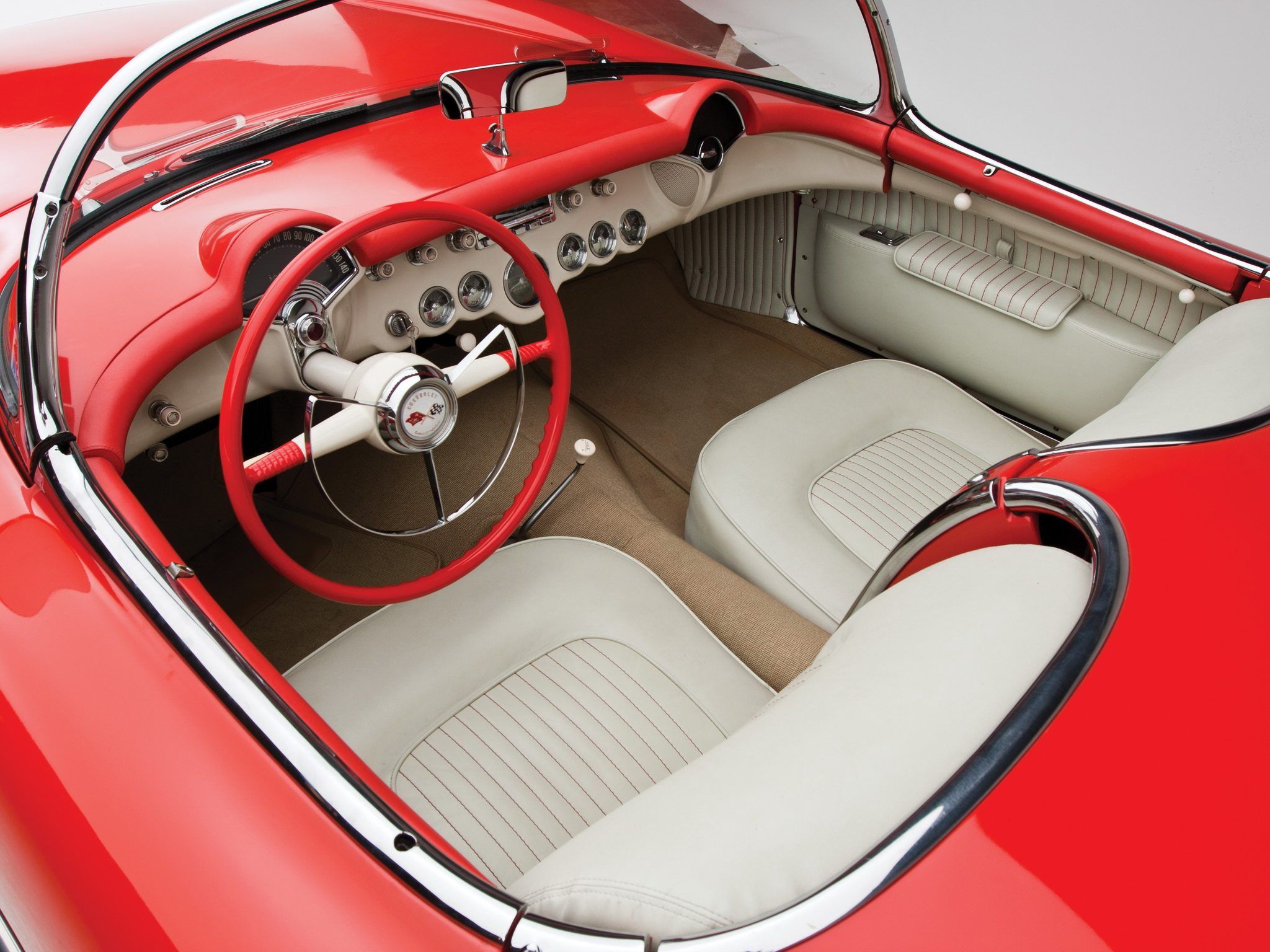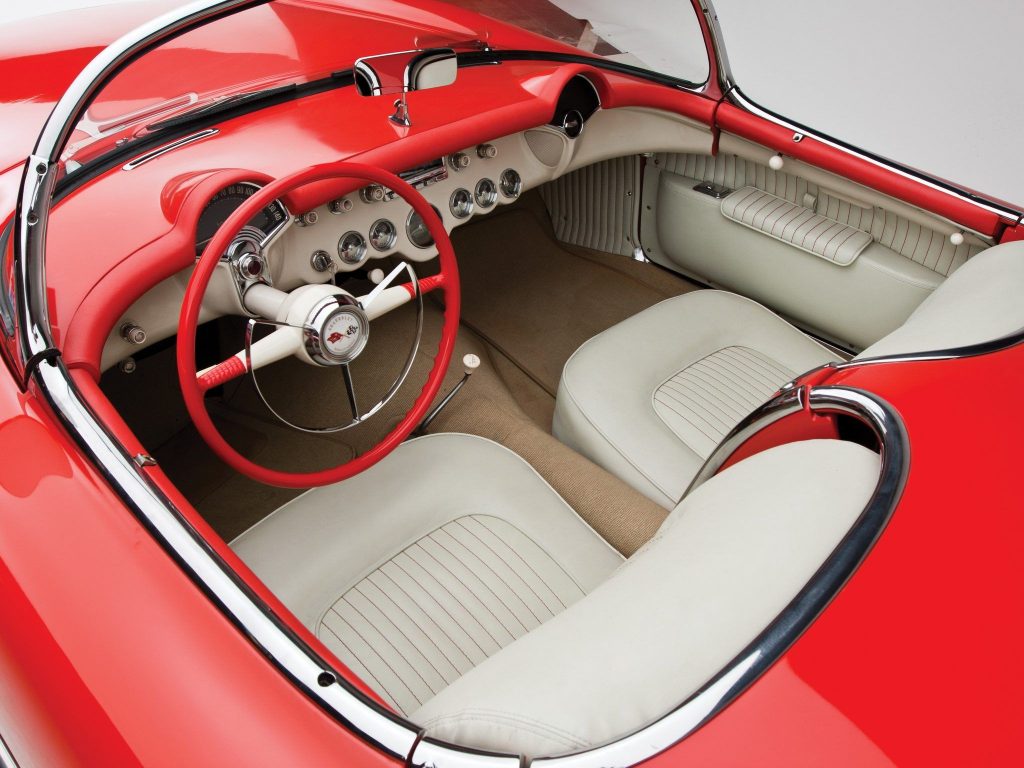 Few who have ever sat in the driver's seat of an early C1 Corvette can honestly say that they did not feel like they were in an episode of Happy Days. The interior of these Corvettes, even today, serve as a time capsule of sorts, oozing nostalgia at every turn.
This interior was notable for its color scheme. You had but one interior color choice in 1953, and that was Sportsman Red. This color scheme encompassed both seats, the upper dashboard, and door panels. Despite the lack of variable color choices, Sportsman Red serves the C1 well, especially in combination with the vehicle's Polo White lower dash. This dash was adorned by circular analog gauges that were arranged horizontally across the dash's central region, and also featured a Delco signal-seeking radio.
One of the most notable design features of the early C1 Corvette interior is its distinctive steering wheel. While later C1 steering wheels received a level of fanfare all their own, these earlier renditions stood out for their Polo White outer diameter segment and Sportsman Red central hub. This was beautifully accented by the wheel's chrome horn button with attached horn ring.
Late C3 (1977-1982)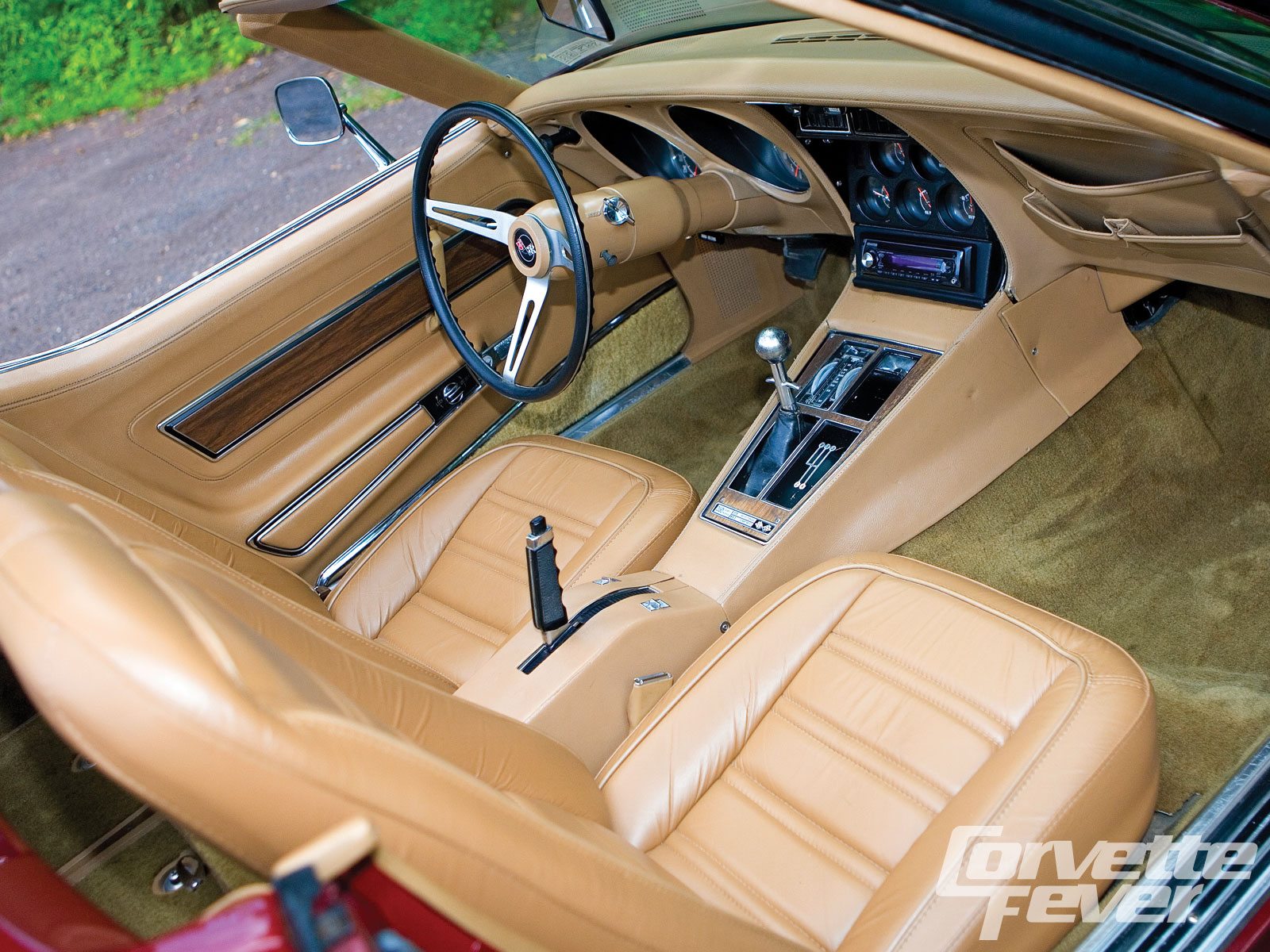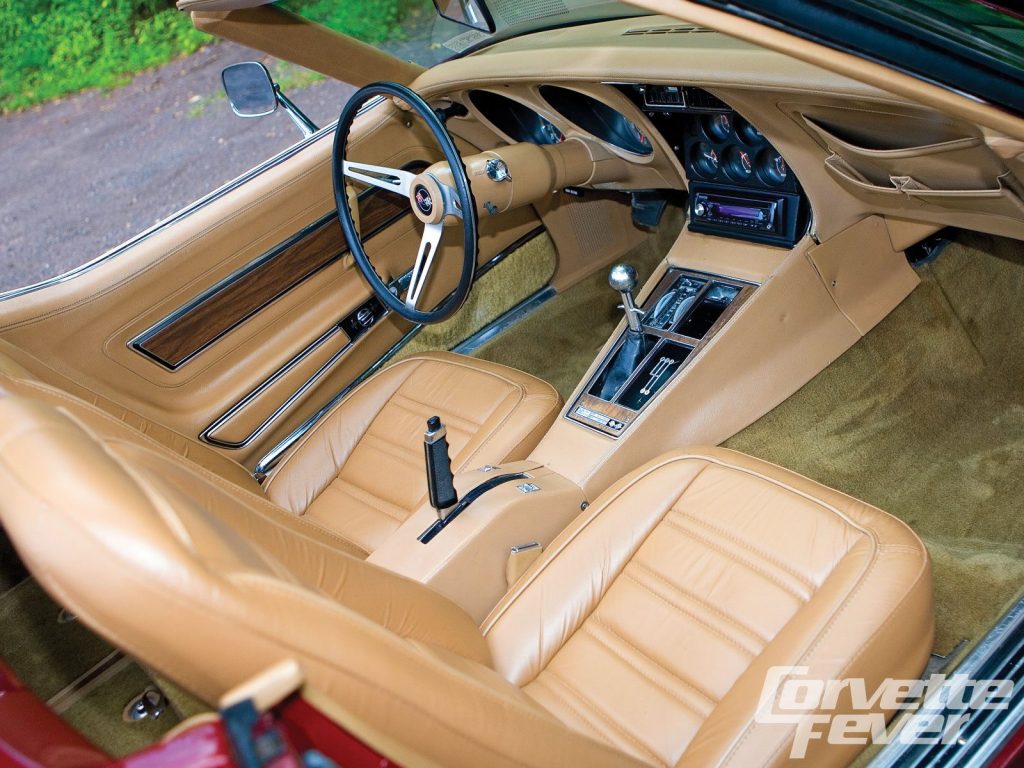 The interior of Corvettes from the latter half of the third generation fell into a sweet spot of sorts. Earlier C3 interiors, while not distasteful overall, somewhat lacked in the areas of functionality and convenience, and the yet to materialize C4 went on to rack up a number of less than stellar reviews regarding cockpit dimensions and interior fit, finish, and quality. However, later C3 Vettes fell between these two time periods and were the benefactor of mid-generation interior updates.
Some of the most notable of these updates included an improved dashboard, redesigned center console, and the inclusion of leather seats as a standard option. Many of the individual elements of this interior redesign, came as functions of necessity for an improved driving experience. Dashboard instruments were adapted to offer greater visibility, manual transmission shift levers were lengthened (enhancing comfort and improving accessibility to the shifter knob), and the steering column was shortened by two inches as a matter of safety in the event of a collision.
Other notable improvements included a redesigned console radio receptacle, simplified climate controls, revised sun visors that could be manipulated to shield side window locations, and a relocation of the rearview mirror to the windshield, from its previous location above the windshield.
C5 (1997-2004)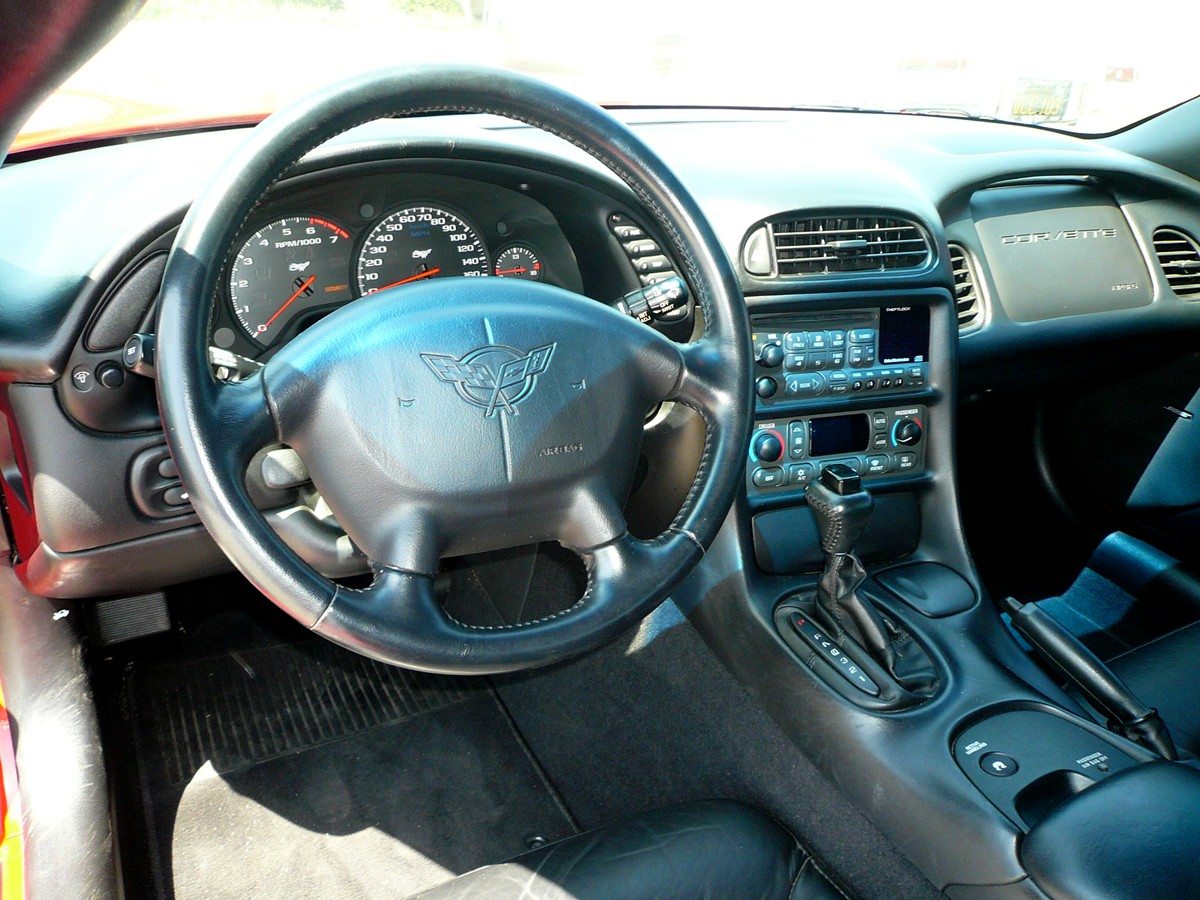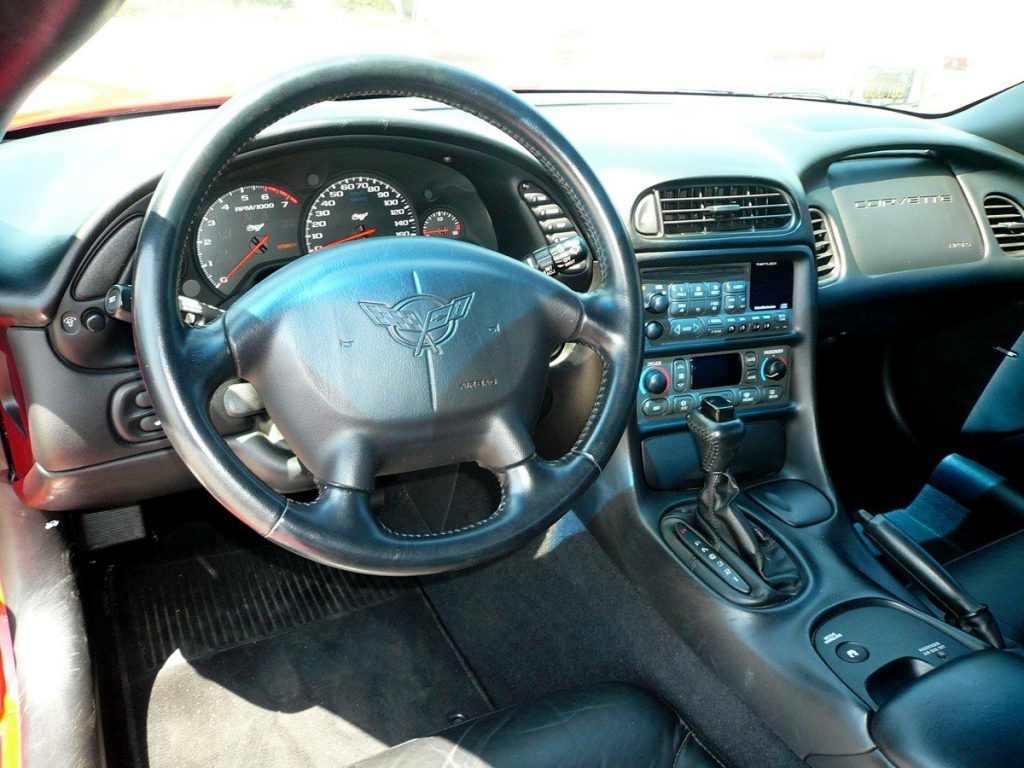 As the hype surrounding the impending release of the C5 in 1997 continued to build, many Corvette enthusiasts eagerly wished for the inclusion of a vastly improved interior, over that of the C4, which was often regarded as lacking in more ways than one. Fortunately, those that were part of the C5 design team were thinking along the same lines.
The fifth-generation Corvette was far more than merely an adaptation of what came before, instead coming as a complete reimagination of what the Corvette was, and what it could be. The C5's newly redesigned interior showcased this fact quite well, as the cockpit was substantially more spacious than previous generations, and featured a black light illuminated cluster, soft touch-pad material throughout, and a more conveniently located, console integrated emergency brake.
Overall, the C5's interior provided a far more sophisticated feel than that of the C4, eliminating much of the unremarkable plastic molding and accents that adorned the interior of Vettes prior. The C5 also paid homage to classic stylings of past generations, with perhaps the most notable example being its dual-cove dash design that came as a memorable visual concept included in the Corvette's second generation.
C7 Corvette (2014-2019)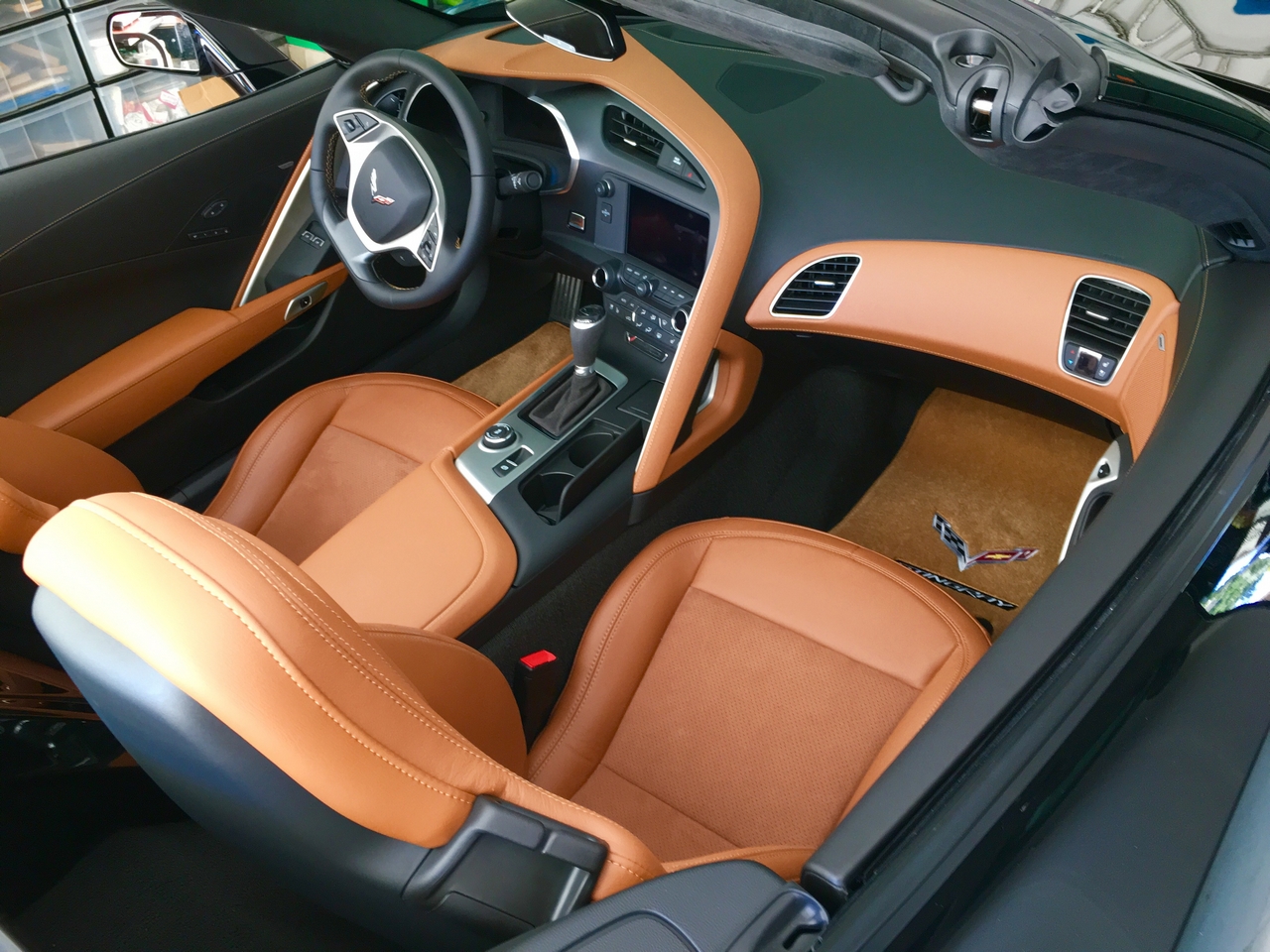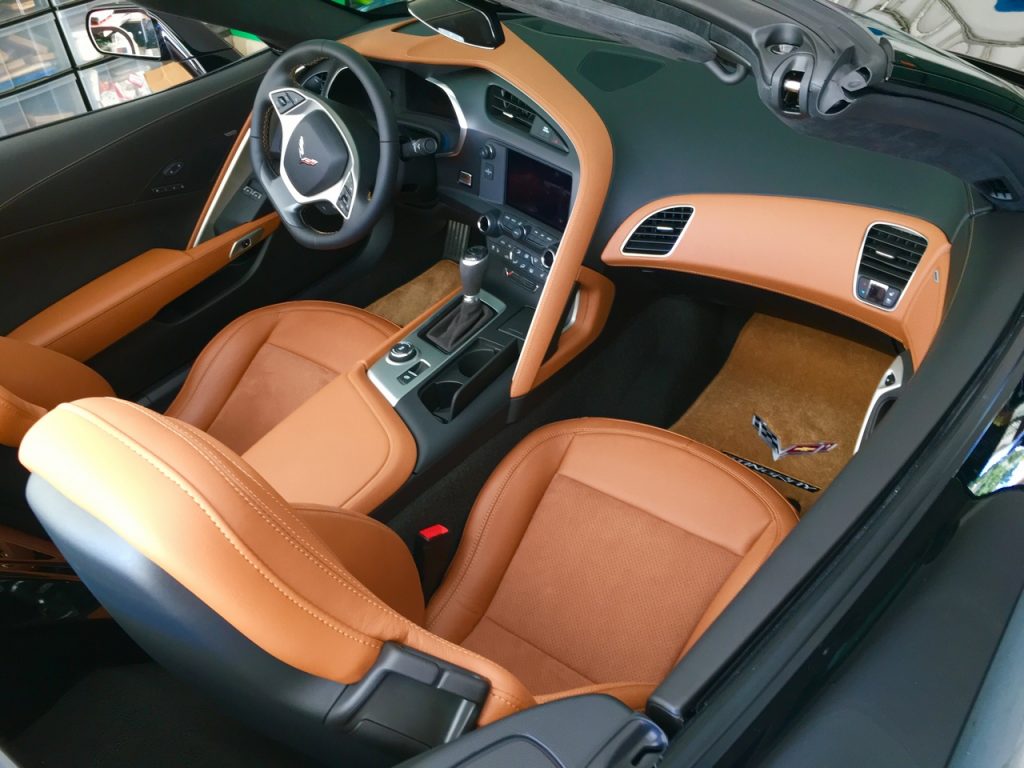 With the release of the C7 Corvette in 2014, Chevrolet's flagship brand finally had an answer to one of its most long-standing criticisms. For a notable period prior to the C7's release, the Corvette had received numerous lackluster reviews regarding elements of its interior. However, in 2014, all doubts were banished as to whether or not the Corvette would ever showcase an interior that was on par with many of its foreign competitors.
When the 2014 C7 Corvette came onto the market, consumers were greeted by an array of luxury and performance-minded interior features, including Chevrolet MyLink Radio, dual climate control, performance data/recording capabilities, fully functional navigation and entertainment interfaces, and a 10-speaker Bose system.
The C7 design team also took comfort far more seriously than that of past generations. The Corvette's interior featured the availability of Napa leather, aluminum, carbon-fiber, and micro-suede trim accents, soft-touch materials on all surfaces, and a fully wrapped steering wheel.
C8 Corvette (2020+)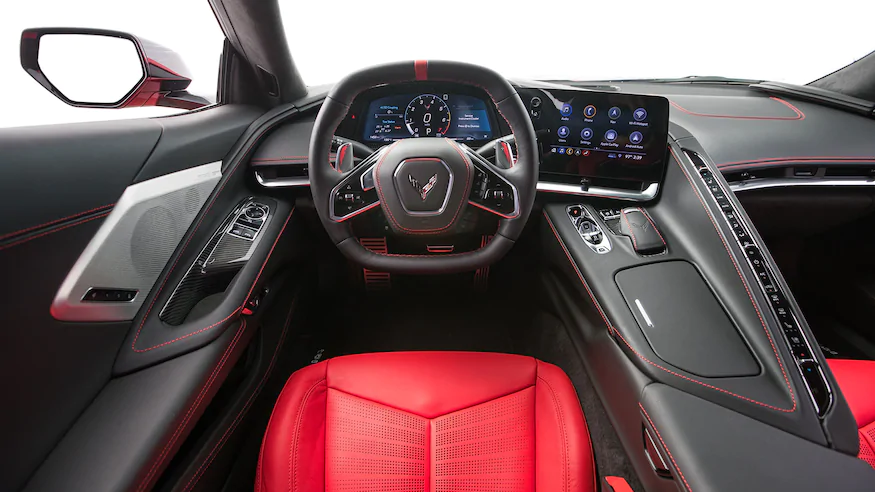 Coming off of a monumental high note with the prosperity of the C7's interior, the GM design team strived to build upon this momentum as they developed the eighth-generation Corvette. By all accounts, what resulted was nothing short of stellar success. The C8 Corvette employs futuristic design elements that present its owner with a driving experience like none other.
The eighth-generation Corvette's list of functional features is lengthy and broad in its reach, allowing a custom experience for every driver that sits behind the wheel. Some of these features include Chevrolet's Infotainment 3 Plus interface, voice recognition, HD radio, satellite radio, dual-zone climate control, wireless device charging, performance data recording capabilities, and a 10-speaker Bose premium sound system.
The C8 also provides consumers with the ultimate in comfort, cutting no corners. Leather upholstery, eight-way power-adjustable seats, and a leather-wrapped steering wheel with a full range of powered adjustments come standard on the 2020 Corvette. Optional interior features include heated/ventilated seats, programmable seat adjustments, and a heated steering wheel.