Extreme Corvettes: Custom Builds That Are Both Crazy….and AWESOME!
We've all seen them – a custom-built sports car or off-road vehicle with a blower popping out of the hood, 60-inch wheels beneath a 15-inch lift, or a wide-ass backend that looks more at home on a dragstrip than the open road.  People have been building their stock cars into custom-built racers, cruisers, mountain crawlers, and road warriors for generations.  Now, more than at any other point in the history of the automobile, there is an abundance of bolt-on parts that can help transform (just about) any car from mild to INSANELY WILD.  Drive down the road for even a few minutes, and you'll likely pass a half dozen Jeep Wranglers that have been lifted, with wider wheels, custom grills, one-of-a-kind light packages, etc.   Go to a local car show and you'll find dozens (if not hundreds) of Mustangs with obnoxiously loud exhaust, custom ground effects and light kits, and so on.
But what about Corvettes?  How often have you seen a Corvette that's been dramatically transformed into something a little more extreme?  Sure, we've all seen Corvettes with a built engine loaded down with an oversized cam, supercharger(s), maybe even full-blown internals that were engineered to bolster horsepower into the lower stratosphere.  But how many of you have seen a Corvette that is as wild in its appearance as it is in its under-hood performance?
Many Corvette purists will argue that "mutilating" a Corvette's appearance is borderline sacrilegious.  Sure, you'll find plenty of examples out there that have some sort of custom wheels, maybe a widebody kit, chrome accents, racing stripes, and so on…but it is far less common to find a Corvette that has been transformed beyond these mild modifications.
That's what we're here to share….some of the most "extreme" Corvettes we've seen on the road today!  And while we're certain that some here will be mortified by our findings, we suspect a great many more will be blown away by all the AWESOMENESS that is about to follow.
And so we are pleased to present – EXTREME CORVETTES that are both batshit crazy…and TOTALLY AWESOME!
The "MadMax" C7 Stingray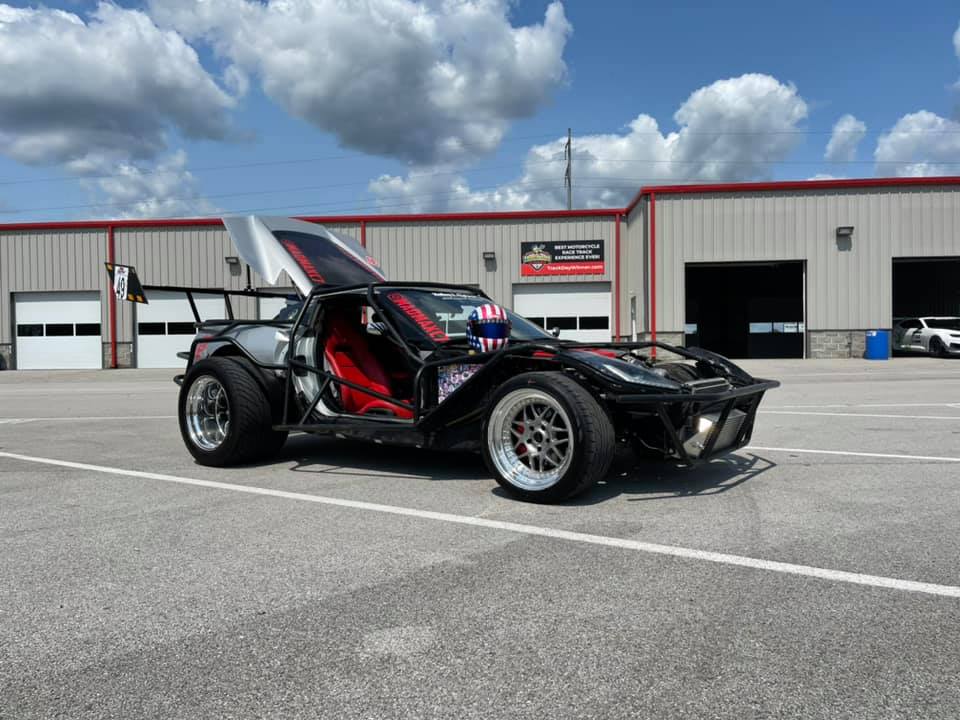 This C7 Corvette was modified by Facebook user Mike Mahdi.We start our list of "extreme" Corvettes by bringing you one of the most radical builds we've ever seen. This seventh-generation Corvette Stingray first came to our attention when Facebook user (and owner of said car) Mike Mahdi published images of his build online.  At first, we were completely baffled as to why anyone would chop up a Stingray to create something that looked at home in a post-apocalyptical nightmare….but, not being too quick to judge, we started following Mahdi's progress with interest.  Now, with his project complete, we're fairly blown away by his INSANELY COOL Corvette. One might assume that this car started life as a boneyard survivor, but the truth of the matter is that Mahdi began the transformation of his Stingray when the car had just 12 miles on the clock!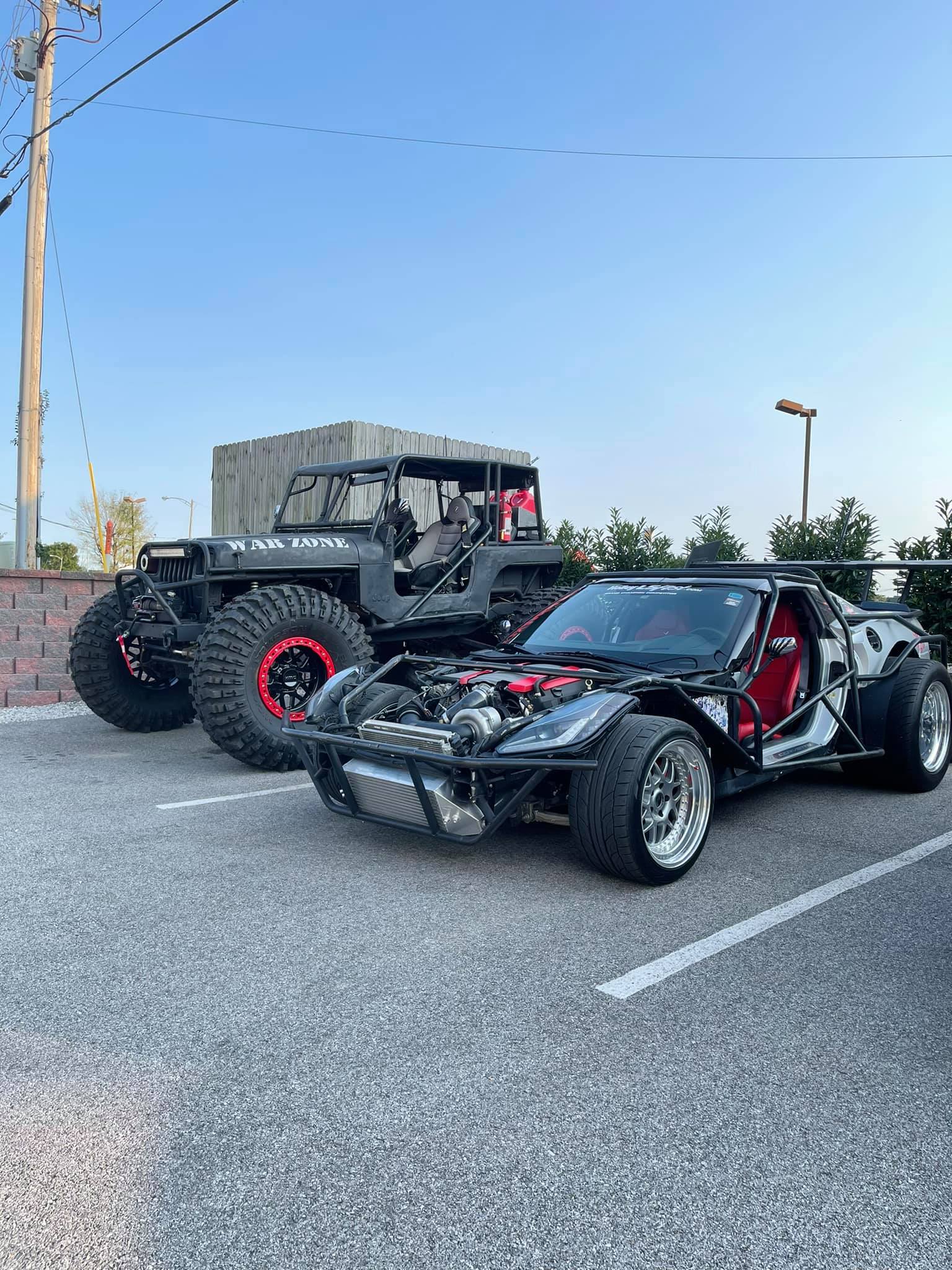 Based on information found on Mahdi's Instagram page (madmaxc7), the transformation of the Stingray into the "Mad Max Corvette" began in October 2019.  The car, which started life as a silver coupe, was painstakingly transformed over the past two years into the car pictured here.   Visit Mahdi's Instagram or Facebook pages, and you'll see dozens of photos and videos of the car – both as he metamorphized the car into the create it would be come, and after.  It's nothing short of spectacular! And, while you might wonder if this car really holds up – it does.  Mahdi's car has been tracked at LS Fest, at the NCM Motorsports Park, and elsewhere.  Its also been featured in a number of automobile publications, and can be seen on a variety of social media sites (in addition to those already listed).
So what's next?  Mahdi's Facebook page hints that he might take on a C8 next…and if he does, we'll be watching with great interest!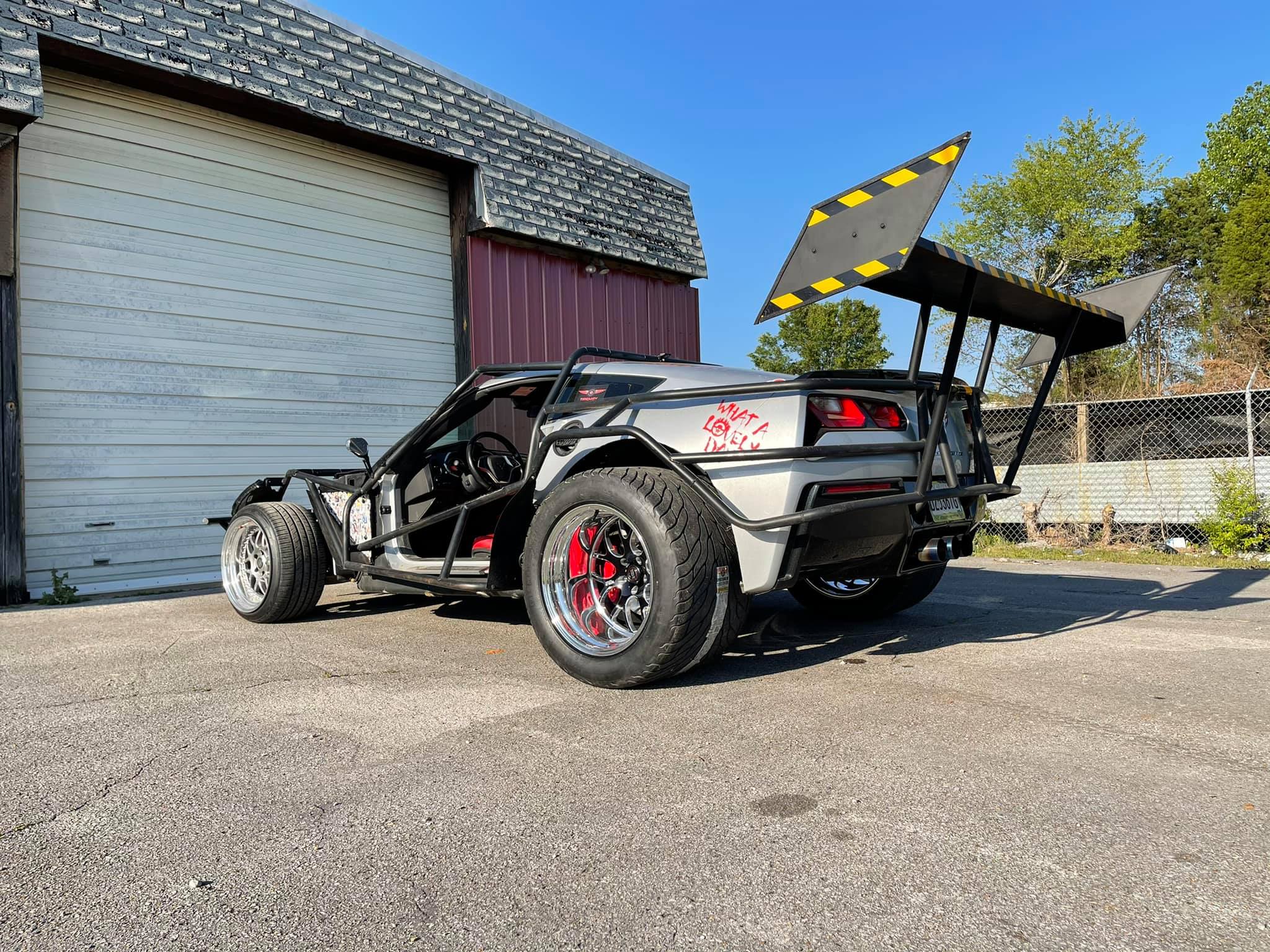 The Valarra C6 Body Kit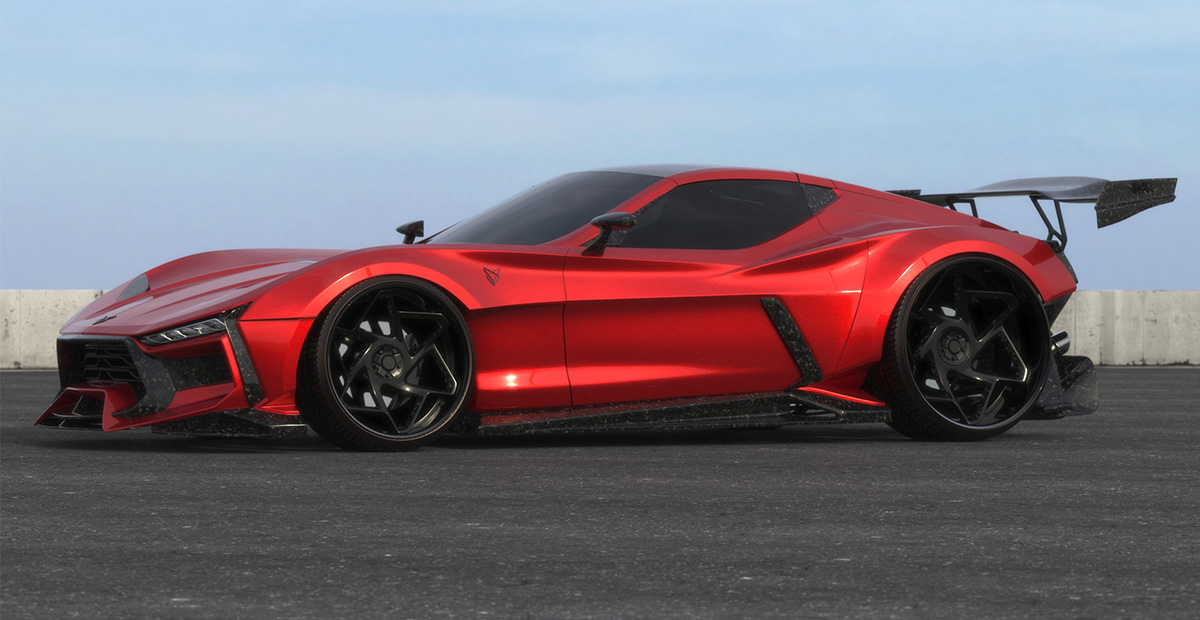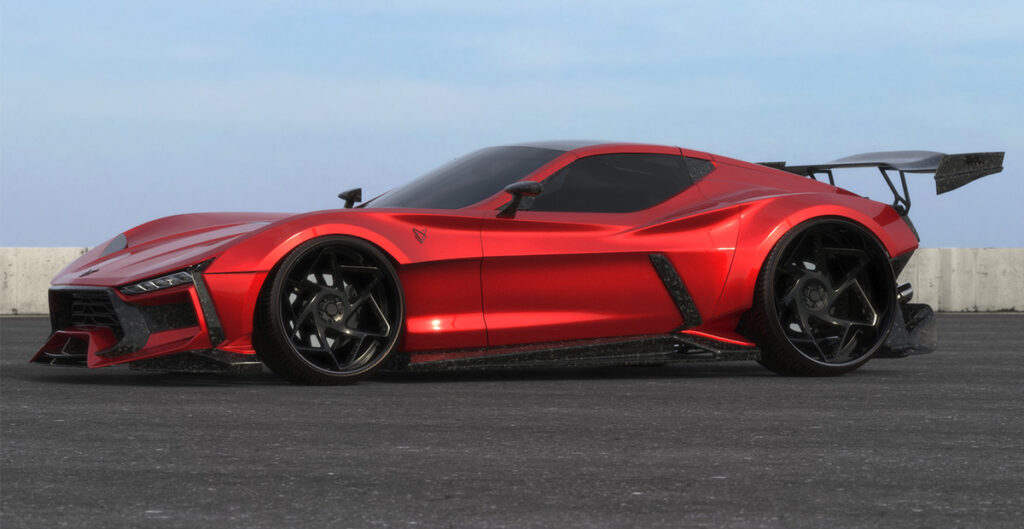 Our next "Extreme Corvette" is an insane custom body kit that can transform any sixth-generation Corvette 2005-2013) into a "supercar like no other."  The concept, developed by fabricator Matthew Mcentegart of Mattao Concepts in Pinellas Park, Florida, transforms a stock C6 Corvette into this radical looking machine.  The Valarra kit costs $18,000 and includes all the body panels required to create what you see here.  It does not, however, include the extreme wheels or the oversized spoiler – though each can be purchased at an additional charge.
Mcentegart's design was inspired (in part) by the bodykit that he created for the Joker's car in the "Suicide Squad" movie.  This kit, which incorporates elements from the movie car, along with a number of other unique, exotic details that are completely unique to the Valarra concept, is one of the most radical – and (in our opinion) AWESOME LOOKING – kits available for any Corvette today.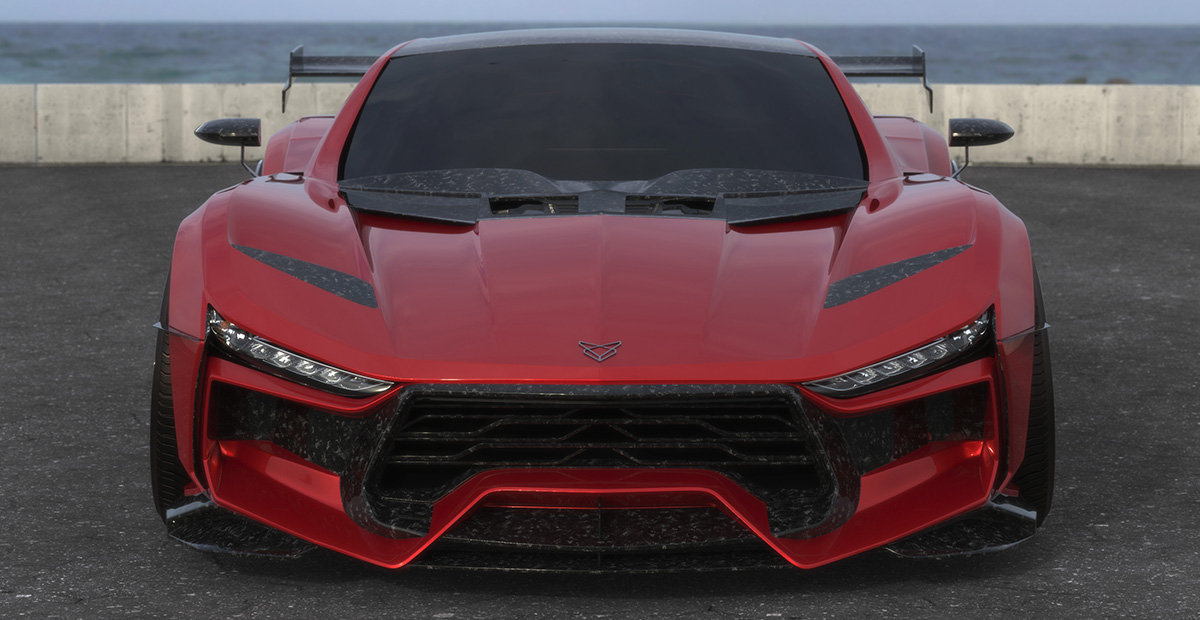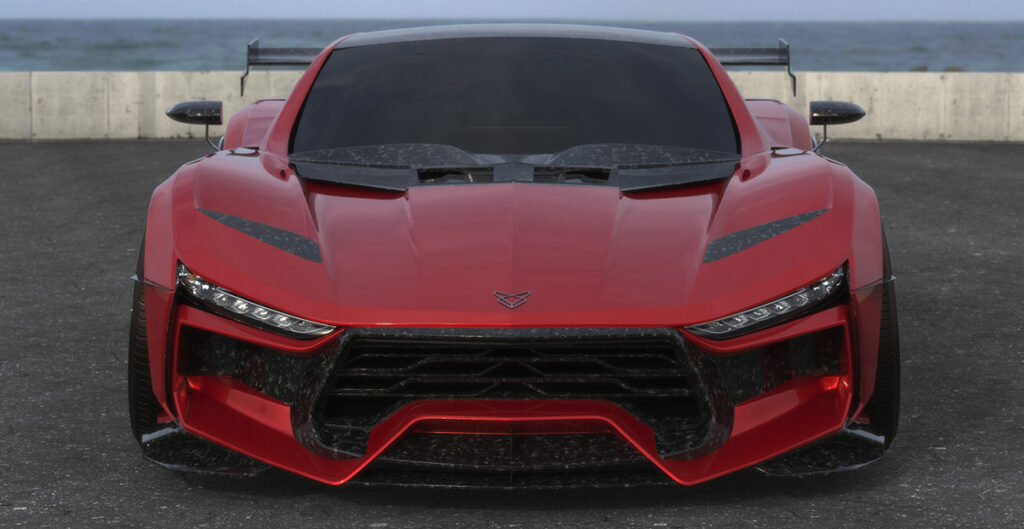 And is there a demand for such an extreme makeover?  You bet there is.
In addition to selling the body kit, Valarra sold a limited number of slots to perform the transformation on their customers' cars.  Unfortunately, all available slots for 2021 are filled up.  You can still purchase the body kit, but only if you are interested in performing the installation at home.  For those of you that ARE interested, you can contact the company by emailing [email protected] for bodykit orders.  There are many options available.
But why transform a sixth-generation Corvette?
Consider this – you can purchase a C6 Corvette with reasonable miles for less than $30k, with many options going for at/around $20k.  Tack on another $18-25k (you'll want the wheels and spoiler as well as the body kit) and some elbow grease (for all you do-it yourselfers out there), and you'll have a supercar that looks every bit as exotic as anything else on the road today…and at a fraction the cost of a Ferrari, Lamborghini or McLaren.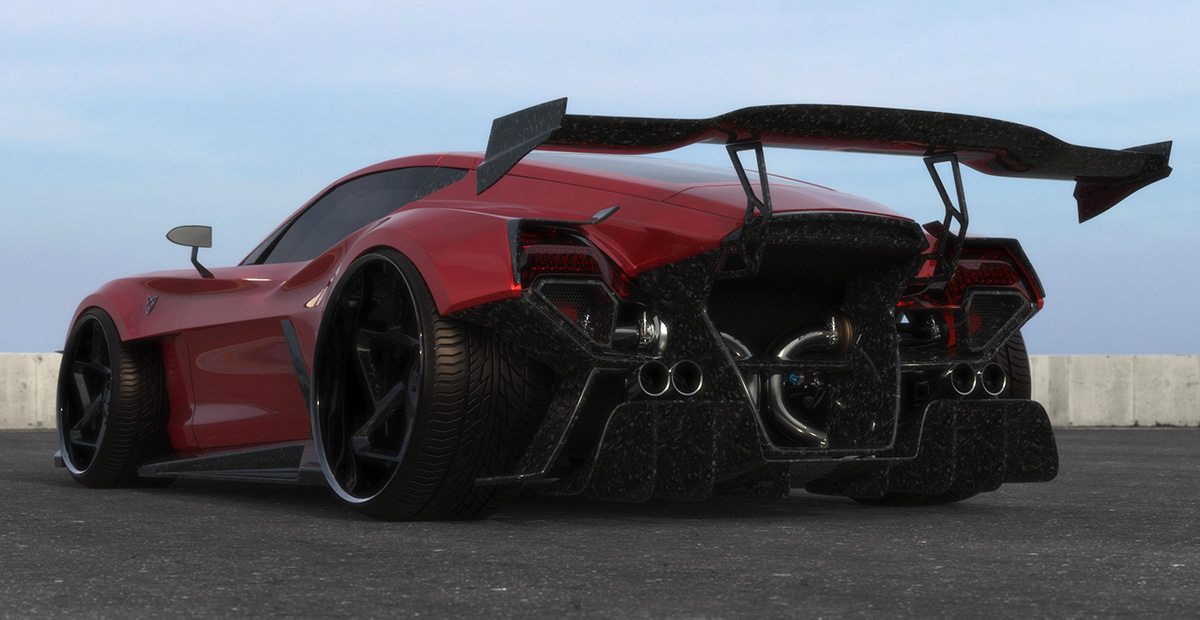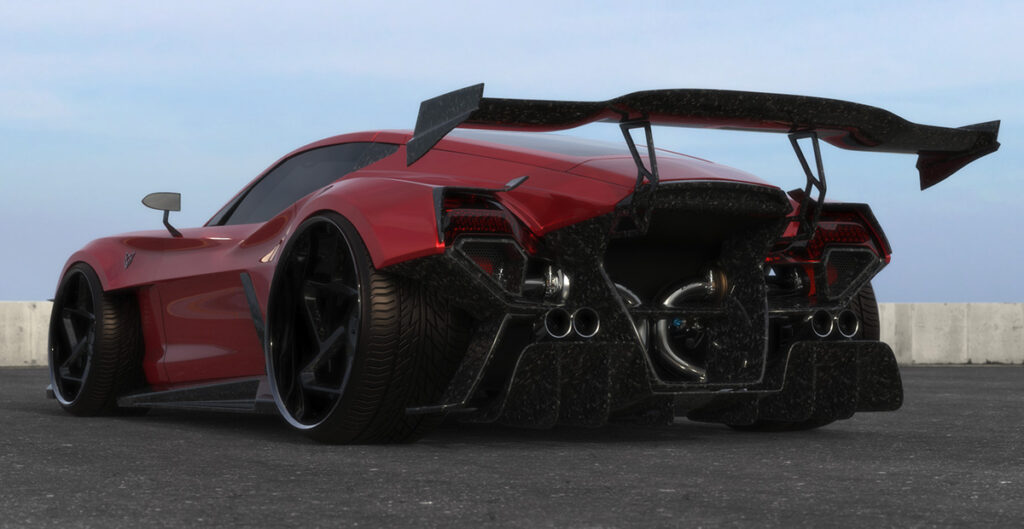 While we've not yet seen one of these cars in-person, we've got our eyes peeled.  If you happen to spot one on the open road, take some pics and share them with us.  If you happen to own one of these cars, we'd love to hear from you too!
Twin-Engine GT-55C Corvette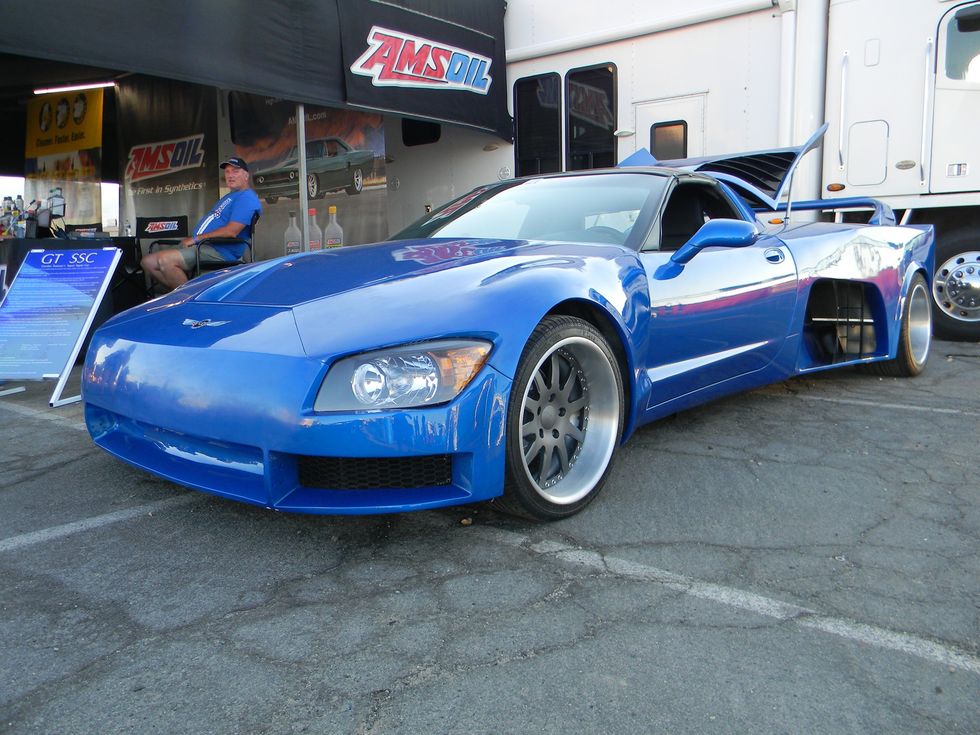 The third entry on our list is a car we talked about recently.  However, we couldn't talk extreme Corvettes without this badboy making this list. The Twin-Engine GT-55C Corvette was developed by Gordon Tronson, a custom fabricator known for building some of the most insane automobiles on the planet.  His work includes a four-engine Ford Econoline and a four-engine Harley motorcycle.  He also fabricated a twin-engine Model-T Ford…powered by two Ford-sourced racing engines.  His latest monstrosity – the GT-55C – is a mid-engined 2001 C5 Corvette (in principal at least) powered by a pair of  Chevrolet LT-4 V8 engines.  Based on the estimated 650 horsepower each V8 produces, Tronson claims his GT-55C produces a staggering 1,300 horsepower (969-kW) and has a top speed of between 290-300 miles per hour!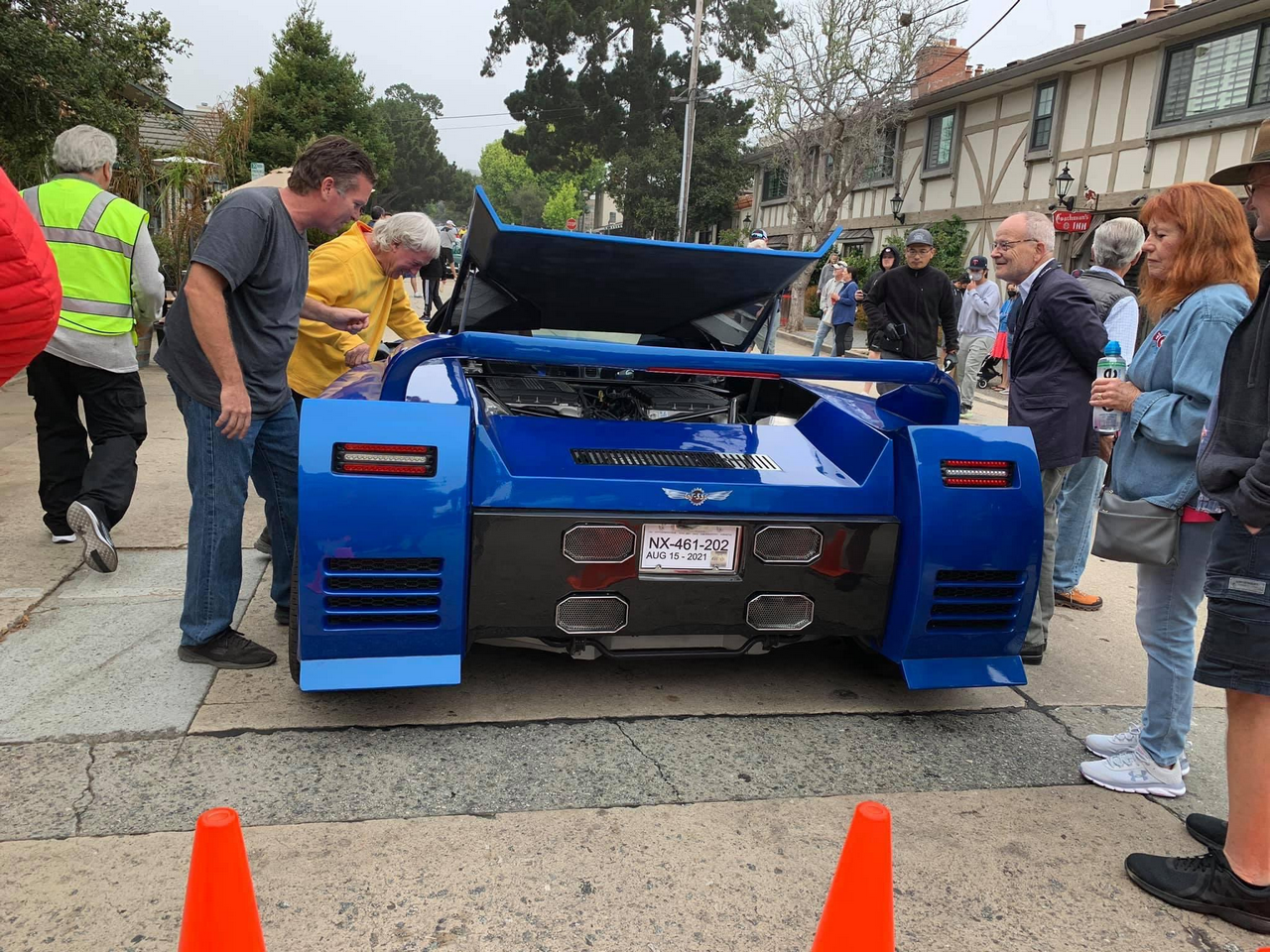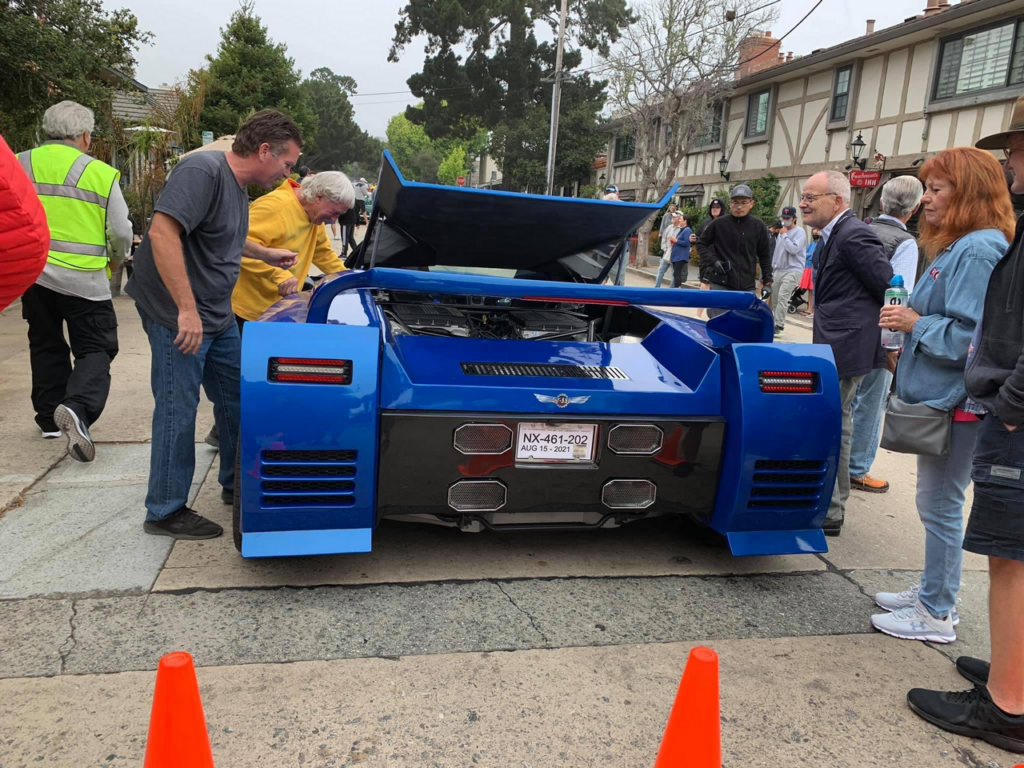 While we wont' rehash all the details about this car again (you can see our original article by clicking HERE), we will say that this beastly machine is more show car that race car.  It looks fairly menacing with its insanely wide rear stance (Burton's Batmobile from the 1989 Batman movie wasn't as wide as this car), but we've heard that the car lacks a lot of the engineering required to get the weight bias right, meaning that transferring power to those FAT rear wheels may still cause more wheel skip that transfer of horsepower to all that asphalt it touches.
Still, for sheer spectacle, the GT-5C is nothing short of spectacular….and as a one-of-a-kind beasty, definitely one worth keeping an eye out for!
The 1976 Corvette Monster Truck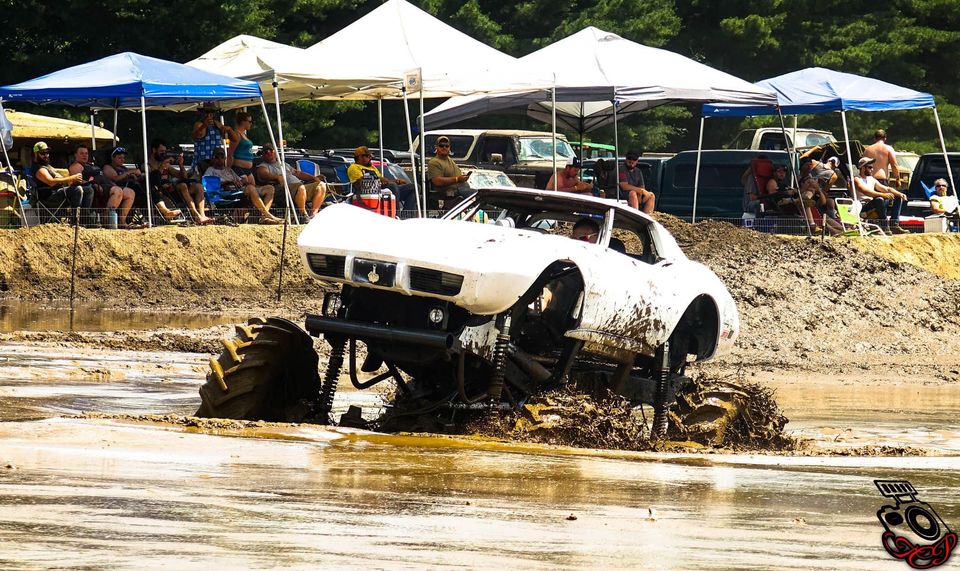 The last entry in this piece is a unique creation unto itself.  Part car, part truck, all BADASS TOMFOOLERY!
In my household, we own both a Jeep Wrangler and a Corvette.  The argument always goes something like this: "You can go fast but I can go anywhere." (The Jeep belongs to my wonderful wife, and she's quick to remind me that her adventure is just beginning when mine literally comes to and end at, well, the end of the road.
But what if you could have BOTH?  What if, instead of simply going fast on a flat, dry surface, you could drop your Corvette into four-wheel LOW and take that bad boy into the woods, the hills, or even a treacherous rock-climbing course?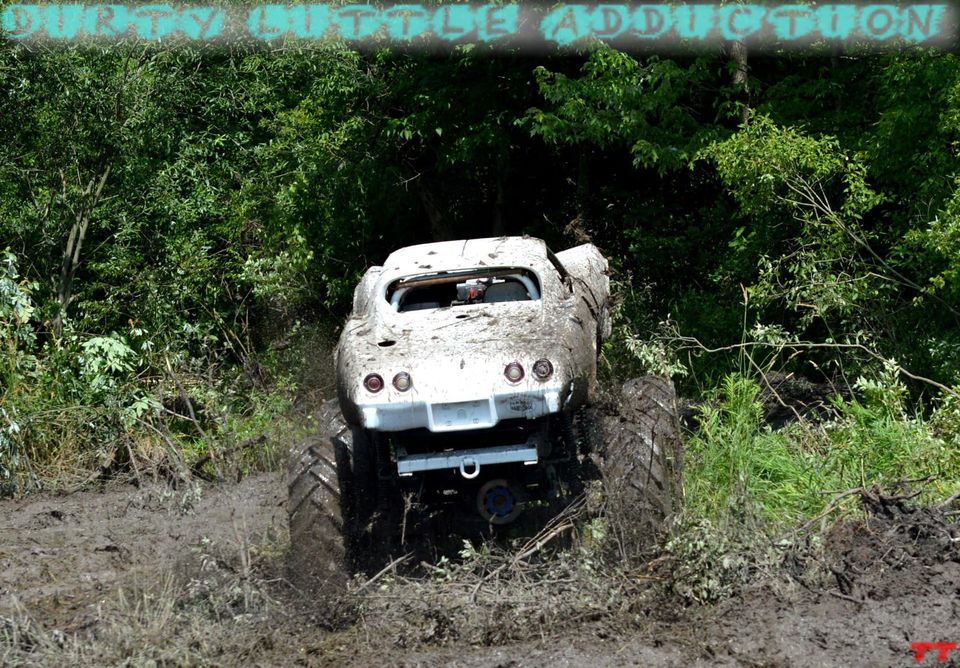 This 1976 Corvette made a recent appearance as a "for sale" opportunity on Facebook Marketplace.  The Extreme Corvette, which was listed by Gerrin Gonsalves of Hastings, Michigan, shared a number of images of his massive off-road vehicle romping around in the mud and the muck without concern to the fact that it's body was that of a third-generation Corvette.   Clearly, Gonsalves enjoyed driving his 'Vette, but without the limitations that a car which normally sits a few inches off the ground presents.  Instead, his Corvette was as much off-road monster truck as anything that would identify itself as a boulevard cruiser.
Gonsalves Corvette made an appearance in Road and Track magazine, where it was discovered (does indecency towards this poor Corvette know no end?) it was powered by a Ford-sourced V8 engine.  No wonder that damn thing was so slow! (We kid, well, sort of…)  The engine – presumably a Ford 351M or 400 – was paired to the transmission out of a C6 Corvette.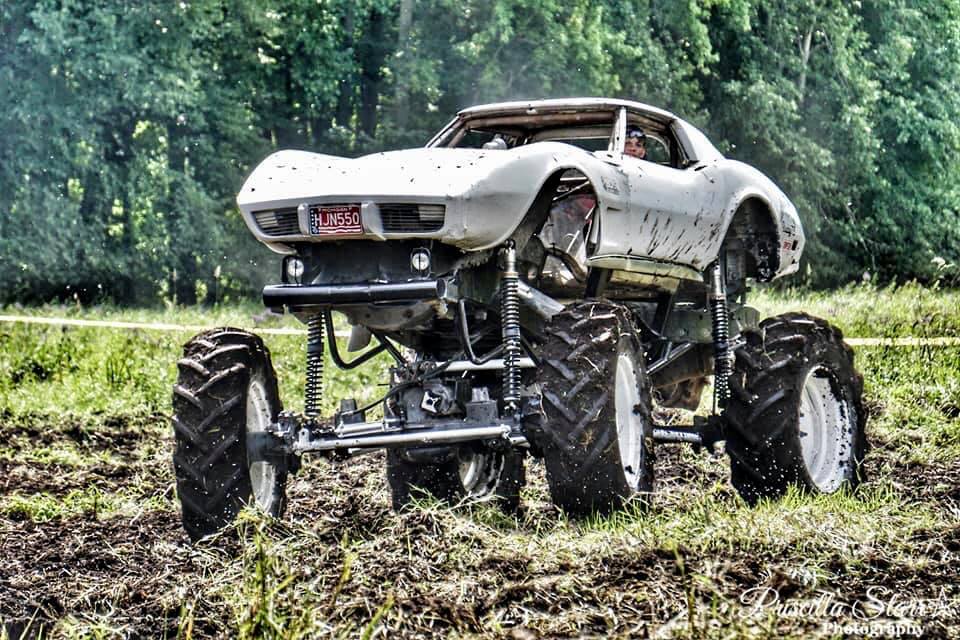 While the interior of this monstrosity needed a LOT of work, from a  "pure fun" standpoint, it looks like had the goods.  If nothing else, it was affordable with an asking price of just $8,500 (or best offer.)
Let us know what you think of our list of extreme Corvettes!  If you've seen others that belong on a list like this, please send us some pics and the story that goes with them.  We look forward to hearing from you!!!